As a busy family, we are always looking for ways to make dinner a SNAP! Let's face it, even on busy nights you still want a dinner full of flavor! Cue the SIMMER SAUCES!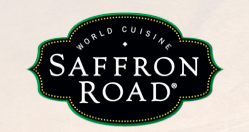 I have been a fan of many of the Saffron Road products for several years now.  I think it was in late 2012 that I first tried some of their products.  For me, I look for products that taste good, are easily to use, easy to find and it is an extra bonus if the company has a great story behind it. Well Saffron Road, checks off all my boxes.
The journey of CEO and founder Adnan Durrani is an amazing one. Adnan witnessed in person the horrible tradegy of 9/11.  Through this event, he was deeply affected and wanted a way to " soothe political, religious, cultural and social dissonance." He took part in the Silk Road Project in 2002, which eventually led him to create the company Saffron Road. The brand launched in 2010 with frozen Indian entrees and has since expanded.
Today I want to talk about the simmer sauces!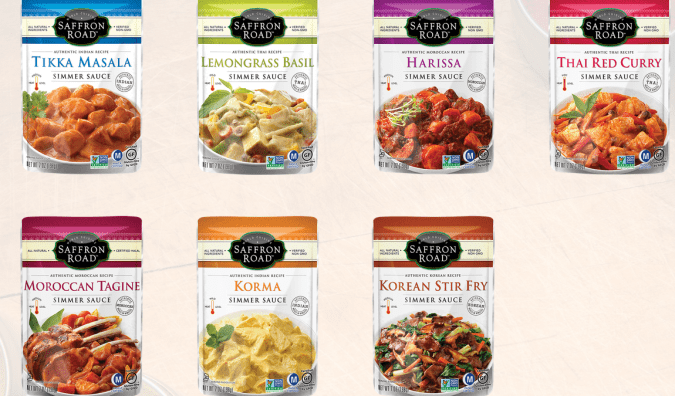 Just take a moment to look at that flavor line up!  There is something for everyone! Whether you like mild flavor or HOT flavor, they have got your taste buds covered. Simmer Sauce has made my dinner routine much easier on those crazy nights. I can get a seriously flavorful meal on the table in a short amount of time by using these individual simmer sauce pouches.  On a side note, I love how the simmer sauce comes in individual pouches, it helps to reduce the carbon footprint.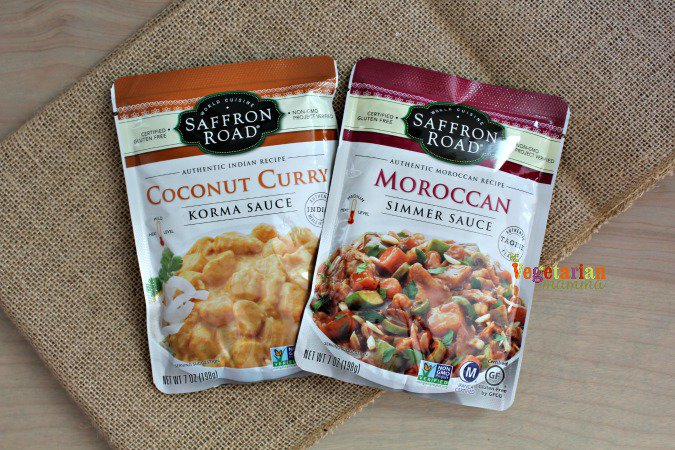 These two beauties above are simmer sauces that you need to check out, for sure!  Both of certified gluten-free and verified NON GMO.  The Coconut Curry is considered mild on the heat scale and is a vegetarian product.  It contains milk and coconut.  The Moroccan simmer sauce is considered medium on the heat scale and is vegan. We wanted to feature these two because they have NEW names!  Previously : Korma vs. Coconut Curry  and Moroccan vs. Moroccan Tagine  SAME great taste, new name!
How do I use a simmer sauce?
Fantastic question and the answer is super simple! In a skillet you cook up an item that you'd like to serve such as veggies or tofu, etc.  Then you reduce heat, add simmer sauce and gently stir.  Keep heating until sauce begins to gently bubble.  Then you are ready!  Serve your delicious dish over quinoa or rice! YUM!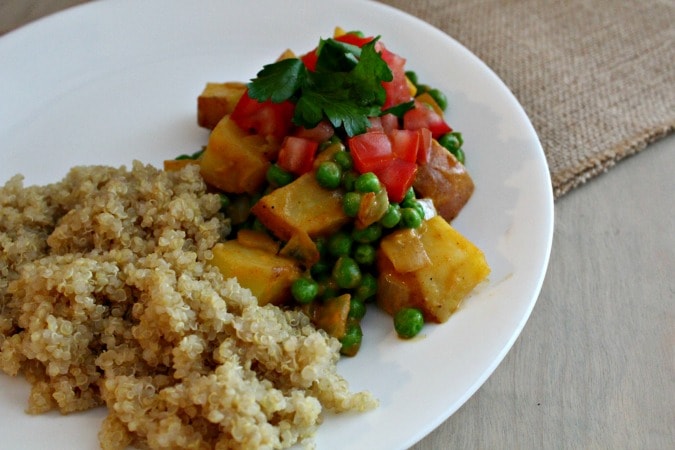 I cannot stress how EASY the simmer sauces are! Here is an example of a way I used simmer sauces.  Dinner rolls around and our night was CRAZY! I simply sauteed onion, added some frozen peas, threw in some left over roasted potatoes to my skillet and then added in the Coconut Curry sauce!  I served it topped with fresh tomatoes and along side of quinoa! YUMMO!
Let's talk! Leave me a comment telling me which flavor of simmer sauce sounds the best to you! Tell me what you would combine together to make your simmer sauce dish!
Thank you to Saffron Road for letting us try your new sauces and for sponsoring this post.
You can connect with Saffron Road on their website, facebook, twitter, instagram and pinterest.