Ever wonder just exactly how SunButter is made? SunButter takes great care during the entire process of making SunButter.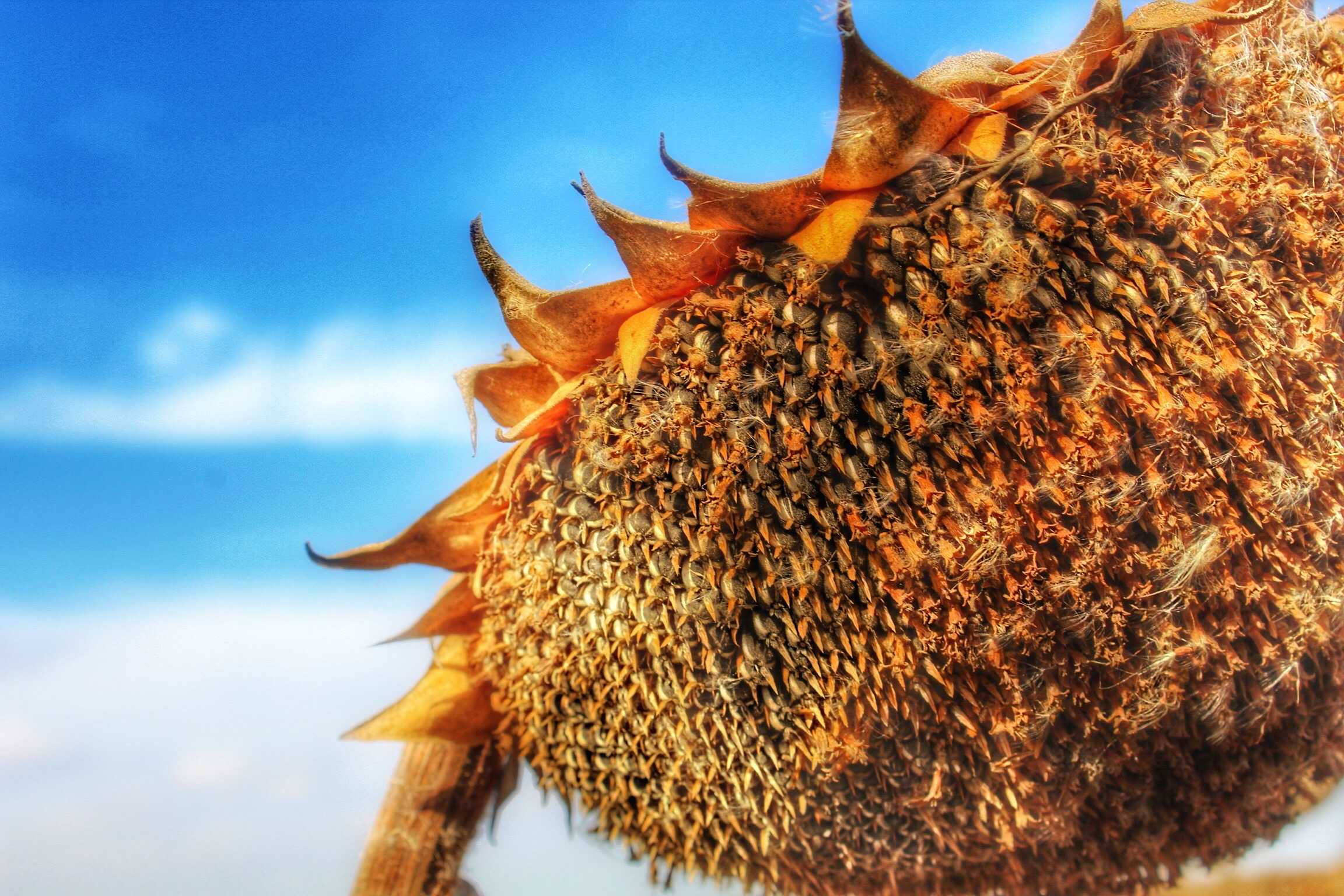 Before I dive into my story, I want to send a very special thank you to all the folks at Red River Commodities for hosting Keeley McGuire and I. Your warmth, happiness and generosity is much appreciated and will not be forgotten! Thank you for sponsoring our journey!
I learned so much during my visit to Fargo, North Dakota and the surrounding communities. While I can easily put the facts down in this blog post, it will be harder to perfectly describe the love that goes into this product! But, as always, just for you...I will do my best!
So let's start from the beginning! I am sure that you were following along the hashtag #SeedToSunButter during our journey in October! Keeley and I shared some pretty awesome images of our experiences while there! Thank you for all the interactions, I know many of you felt like you were there with us! We appreciate that!
I am not sure that Fargo knew exactly what hit them when Keeley and I landed and reunited together! Was this town really ready for all the selfies we were able to take?! Of course, we found many appropriate photo opps in the airport!
We headed out to dinner with our friends from SunButter then settled in for the night! It was going to be a BIG day of learning the following day!
The first stop the next day was the official SunButter headquarters! YES!
We were greeted with such a warm welcome! Everyone knew we were coming and they were just as excited to meet us as we were to meet them! You know when you meet somebody and it seems like you have known then forever? Well that is what happened...with.everyone.there! Wow, such amazing people with such amazing hearts!
So I want YOU to relive this journey with me! Let's take a look at the journey of the sunflower seed and how it becomes SunButter!
First, we drove about 1.5 hours outside of Fargo to meet up with some of the sunflower growers. SunButter does not own the sunflower fields, they work with the farmers on a contract basis. There is a lot of work involved in planning what farmers will grow and what seeds they will use. SunButter started in 2001 and keeps expanding! This company keeps moving forward with new varieties and products. The food allergy community has welcomed and embraced SunButter with open arms.
As we got closer, we started to see sunflower fields. Some were ready for harvest and others were not. The sunflower works hard to make these seeds so that we can have our SunButter!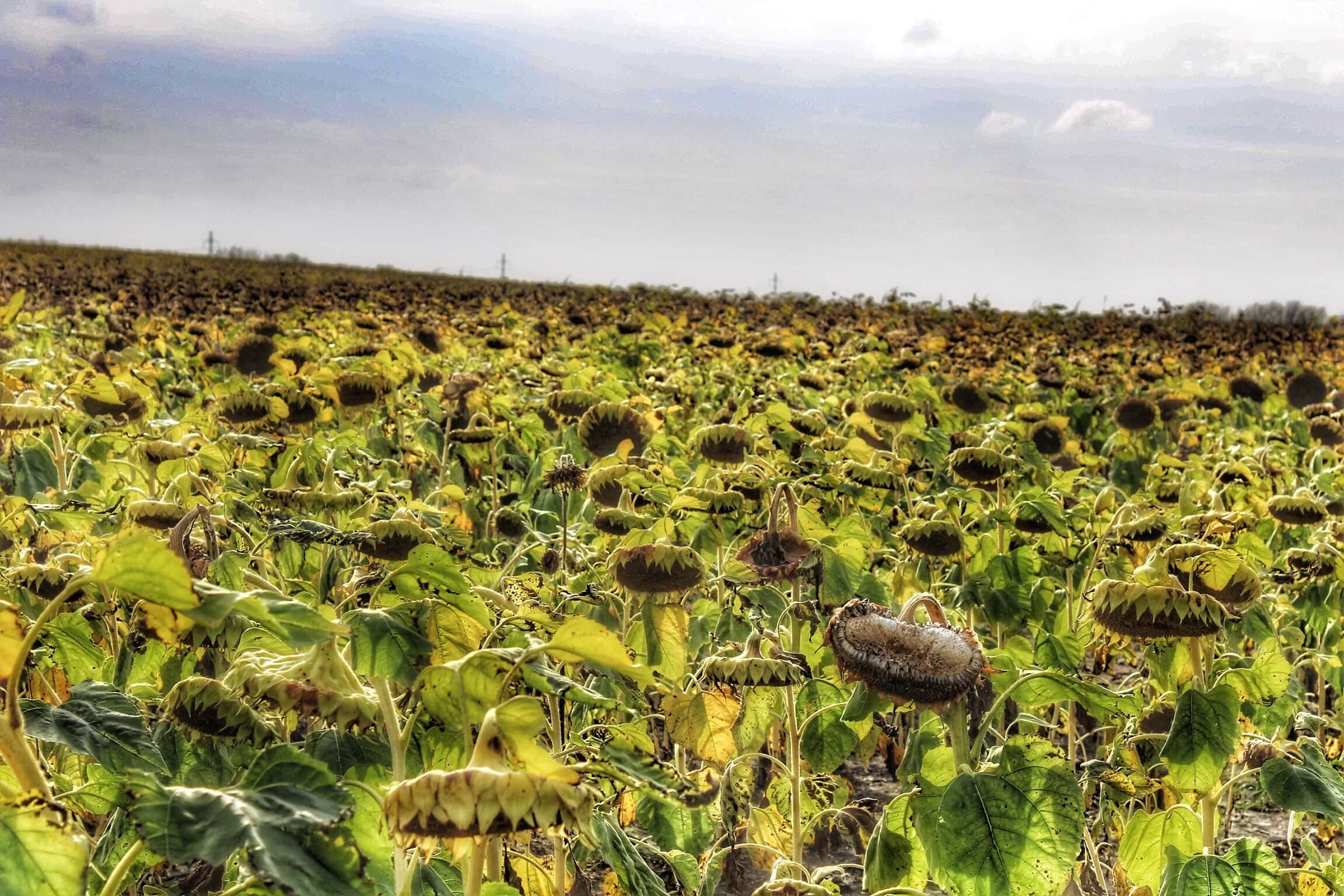 We stopped along the way to visit a field that was not quite ready for harvest. These sunflowers are still working hard. They have started to dry up and slump over, however they were still beautiful. It is hard to capture the beauty of the sunflowers!
Though the wind was in full force on this particular day out in the country, there was a slow calmness that I felt in the field. It was such a settling feeling! #love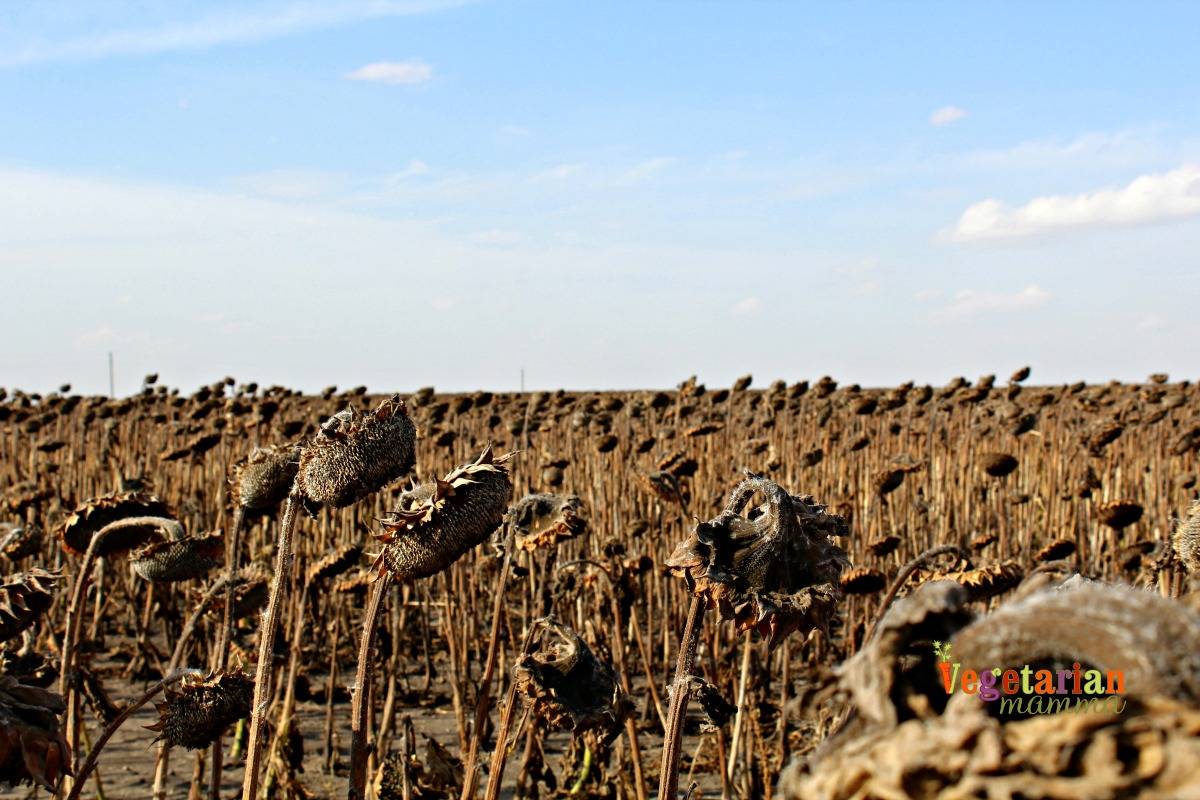 This field was ready to be harvested and the farmers were hard at work. The harvesters had worked just over 100 hours the week before in the combines. There is a small window (especially when dealing with weather) that the sunflowers can be harvested. The farm staff has to work hard to get the job done!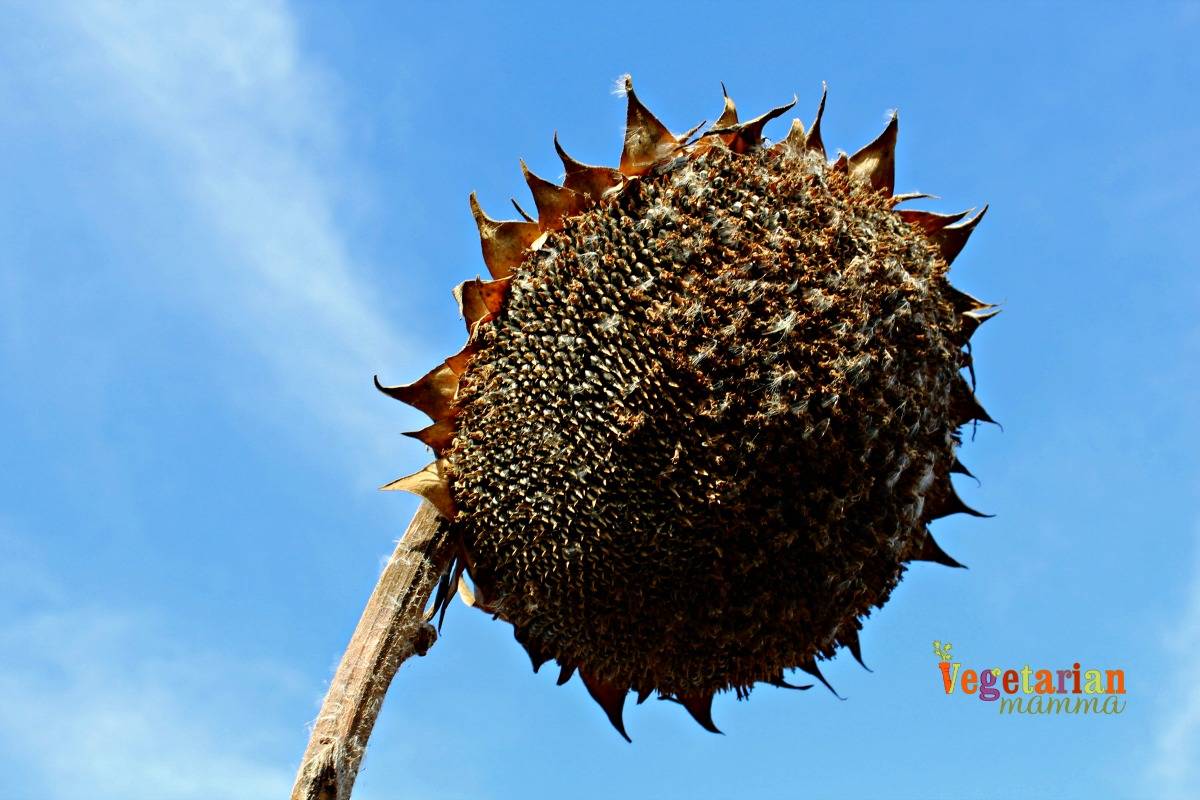 When driving by on the road, you would probably miss what was being grown in the fields. When the sunflowers are ready to be harvested they are very brown. So passer-bys might not even realize that the field was once full of radiant sunflowers!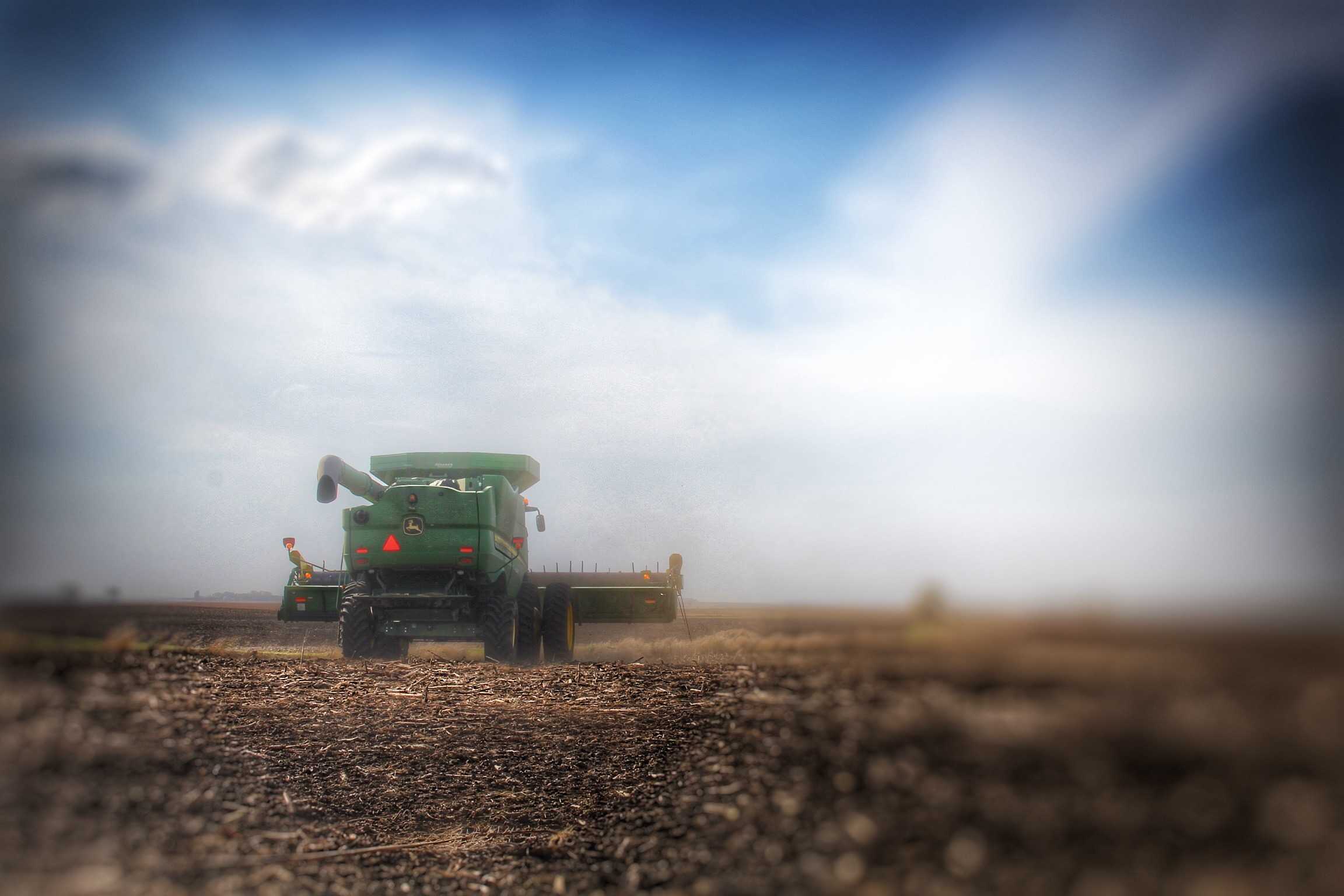 Next up was pretty much my favorite part of the entire trip (I mean besides eating SunButter). I got to ride in a combine! YES, ME! I got to!
It was pretty awesome! You can check out more video footage in the YouTube video at the end of the post! During the ride I was able to see just exactly how the combine works. I saw how it pulls the plant from the ground, then it separates the seeds and puts them in the container behind the cab of the combine.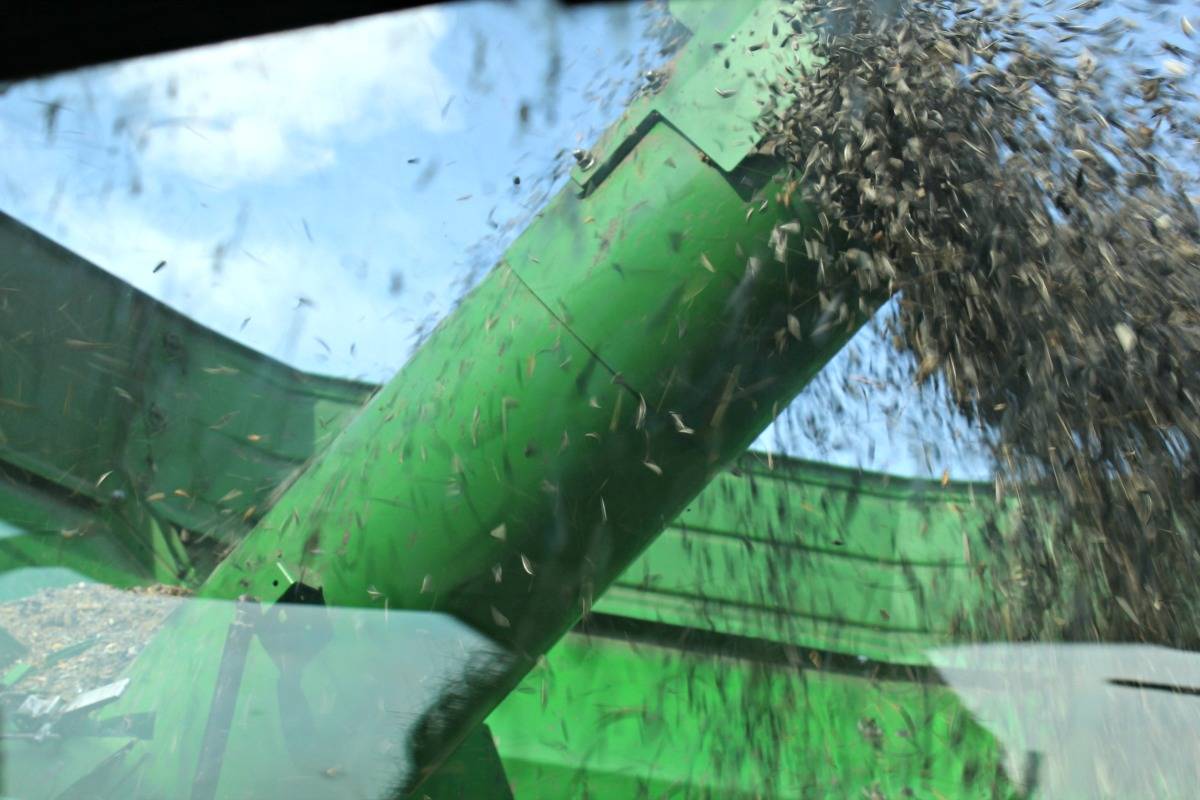 Eventually, I couldn't see out this back window because the container was FULL of seeds! That is when you know you need to unload into the truck that is waiting!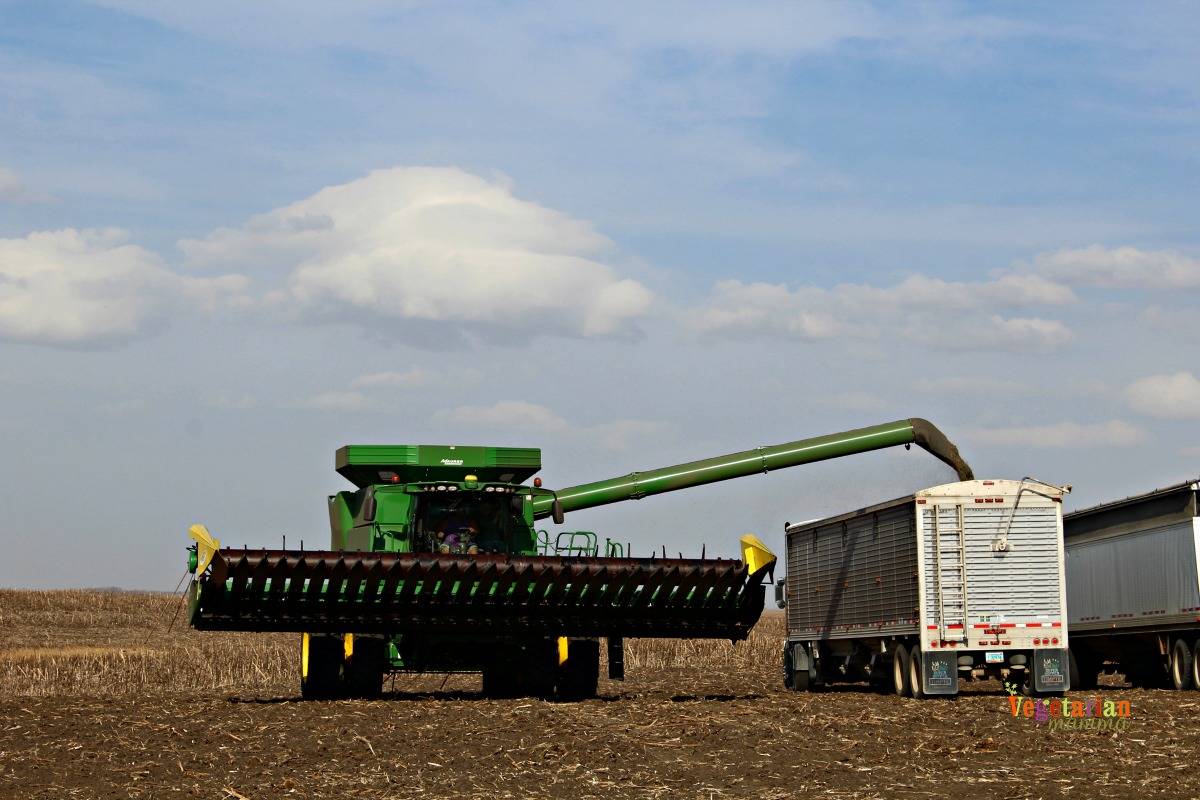 Each truck is filled with 4-5 loads from the combine! Did I mention how windy it was? There would be wind whirls that came up. I edited this picture below so you could see all the dust flying around during one of those whirls! It was pretty exciting in the fields!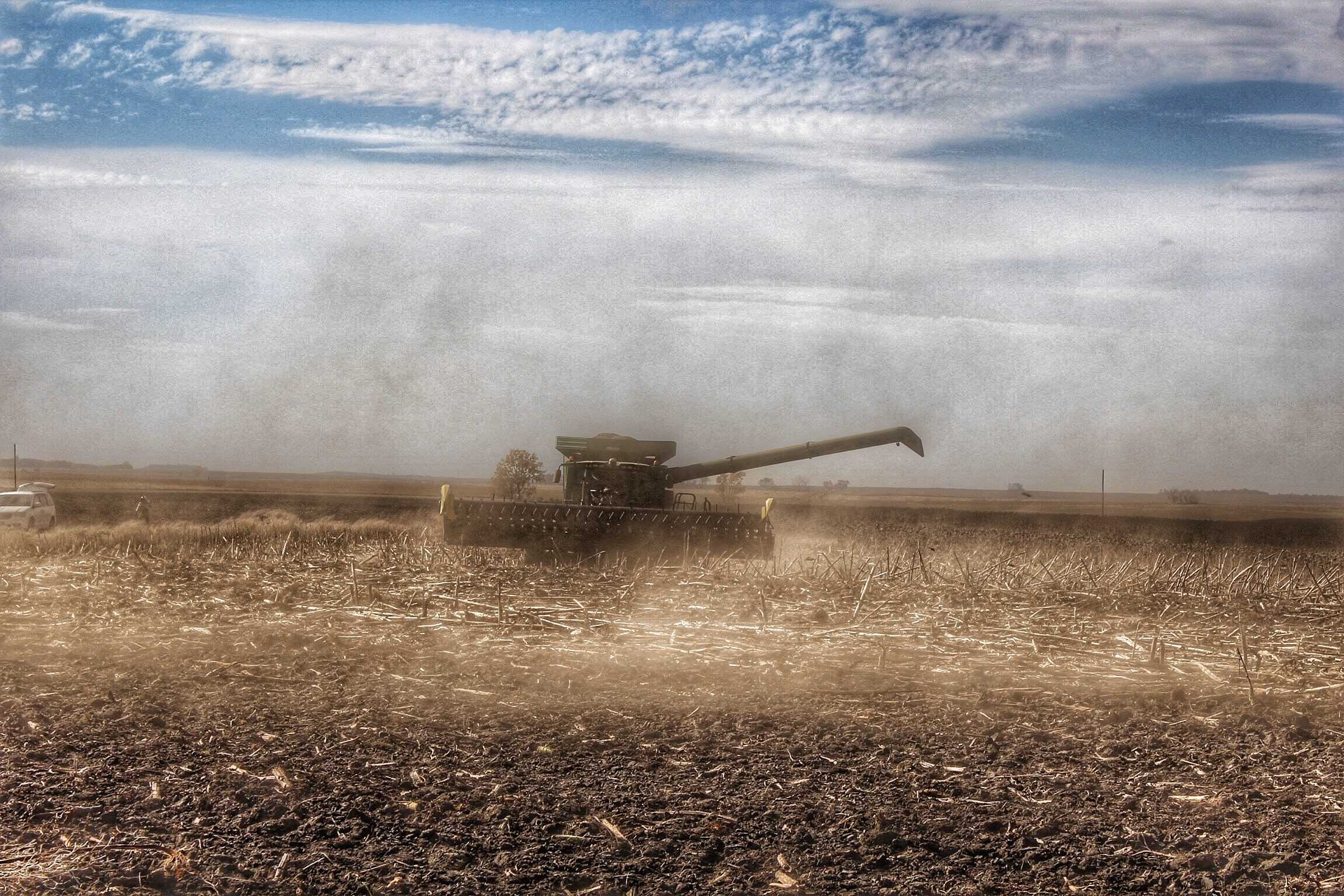 Once the truck is full it heads back to the receiving station!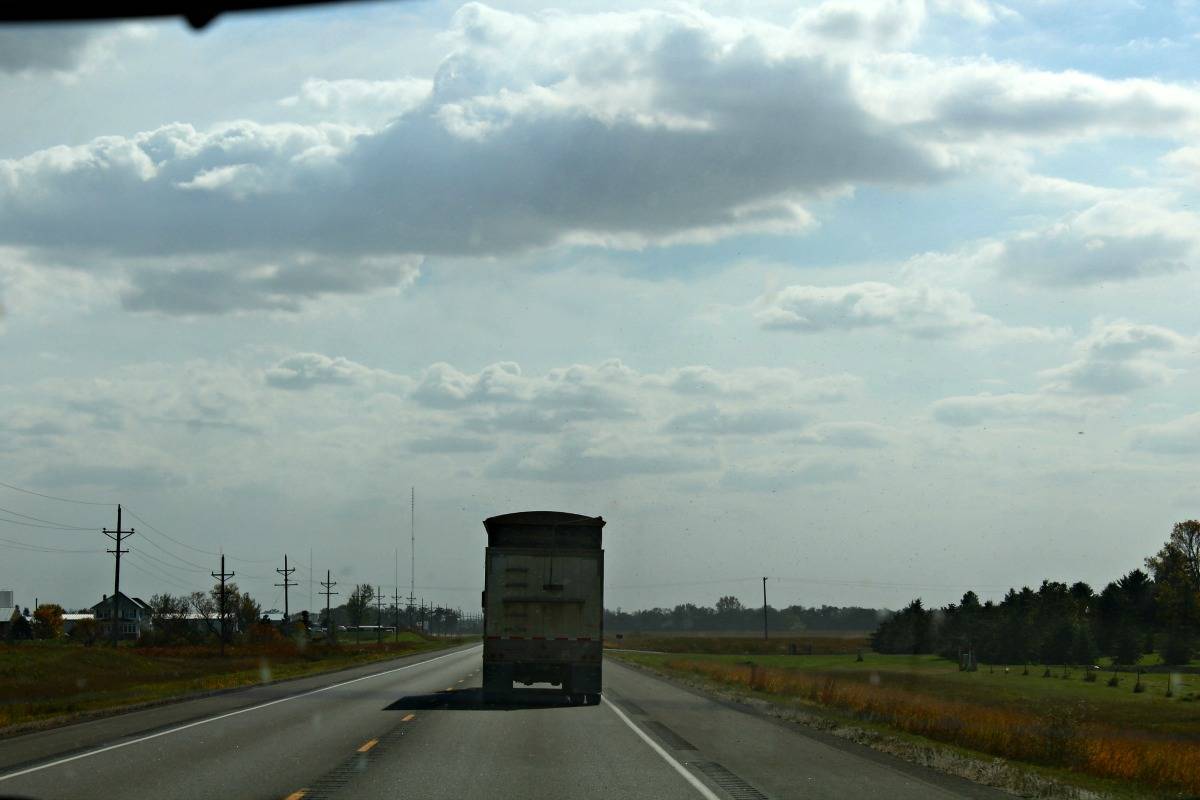 The trucks stops at the receiving center to unload the seeds. The seeds can be stored for 2-3 years as they are continually being circulated with air.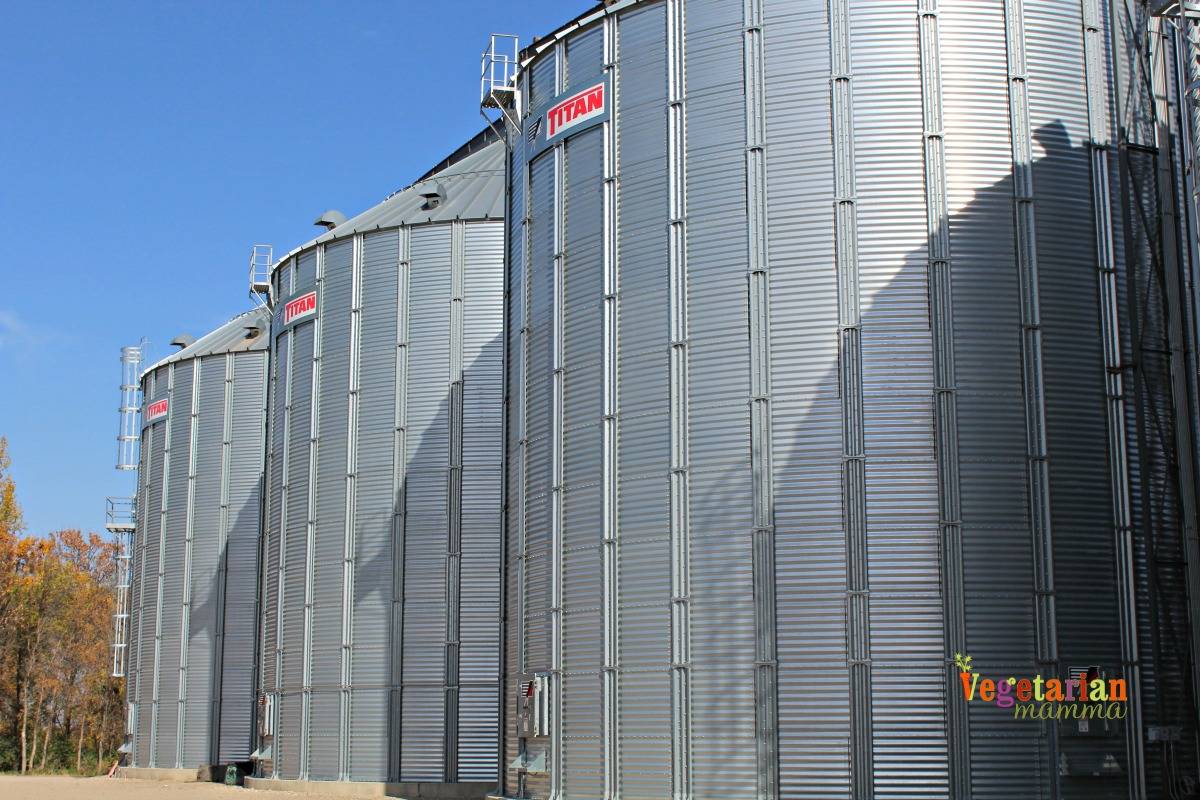 The seeds are tested and graded on site and the farmer then knows the quality of the harvest that was just brought in. SunButter has the capacity to hold 9-10 million pounds of seeds in their storage containers at the plant.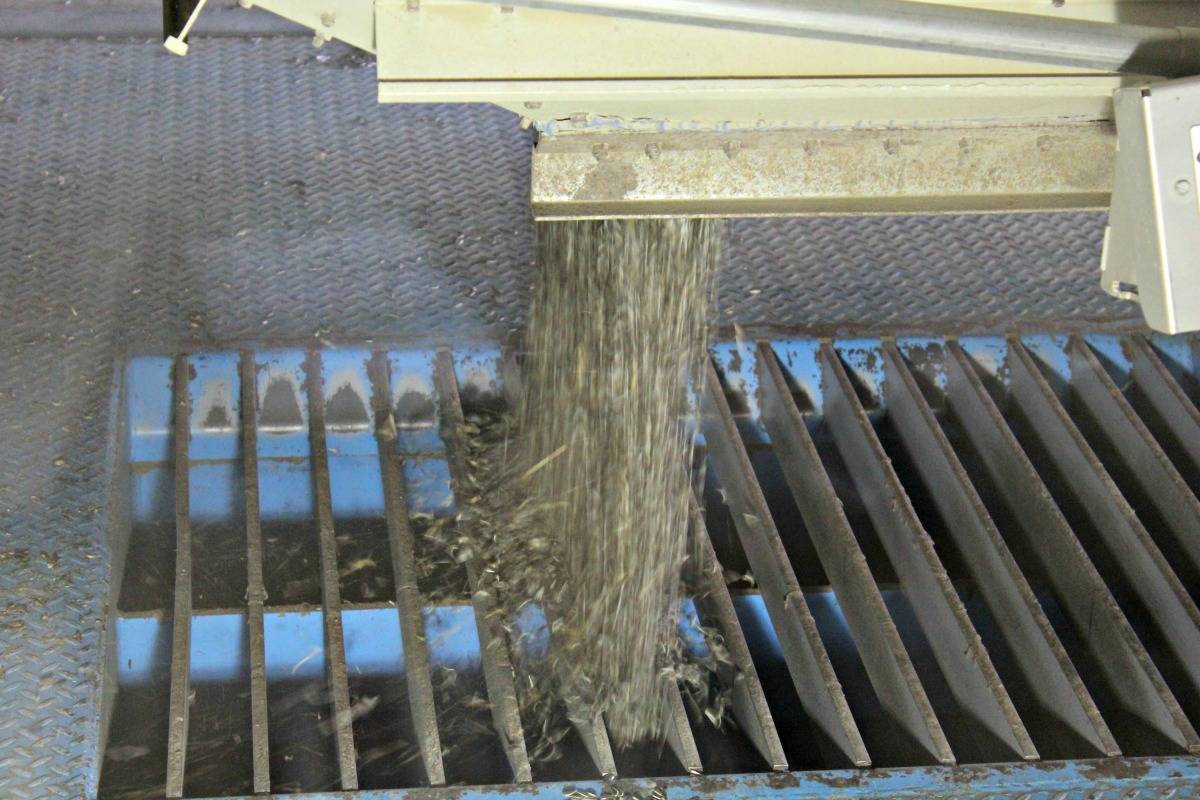 While at the receiving center, Keeley and I were interviewed for an article for the National Sunflower Association! You can catch the full article, here.
Once the seeds are unloaded from the trucks, another special process begins!
The video at the bottom shows more in-depth shots, but the above is a sneak peek at the multiple floor process the sunflower seeds take next in their #SeedToSunButter process. There are actually 5 floors of equipment that are used to sort, re-sort, crack the sunflower seeds and sort some more. Nothing goes to waste in this process. Even certain portions that aren't used for SunButter are used for animal bedding. It is/was unbelievable to me how much is involved for our little seeds! They get some amazing care!
If I had to pick out one thing that stood out to me is the level to which the seeds are sorted. The seeds are continually sorted so the BEST of the BEST are used to make SunButter.
After our plant visit, we were able to visit the roasting area. But first, we had to suit up. Seriously, this was all in the name of beauty.
I won't lie, Keeley and I thought about taking home the hair nets and white lab coats as a new look, but we opted not too! Later on we got to wear yellow/green, I think it is more our color. I"ll let you decide.
[Tweet "There are NO #peanuts or #treenuts allowed in the @Sunbutter4life plant! #keepyousafe #SeedToSunButter"]
Now that we are all suited up for safety, we checked out the roaster! Remember, that SunButter is now Top8 allergen free? They have a new roaster that is dedicated just for SunButter. That's HUGE! What's also huge is the number of pounds the roaster can do an hour. It can roast 3300 pounds and hour! That is a lot of seeds!
[Tweet "Did you know @Sunbutter4life runs the entire process under ONE roof? #foodallergy #TOP8free #allergyfriendly #SeedToSunButter"]
After we saw the roasting magic (you can see it too, in the video at the bottom) we headed into a room where MORE magic is created. Love the smell of SunButter? THIS is the place for you!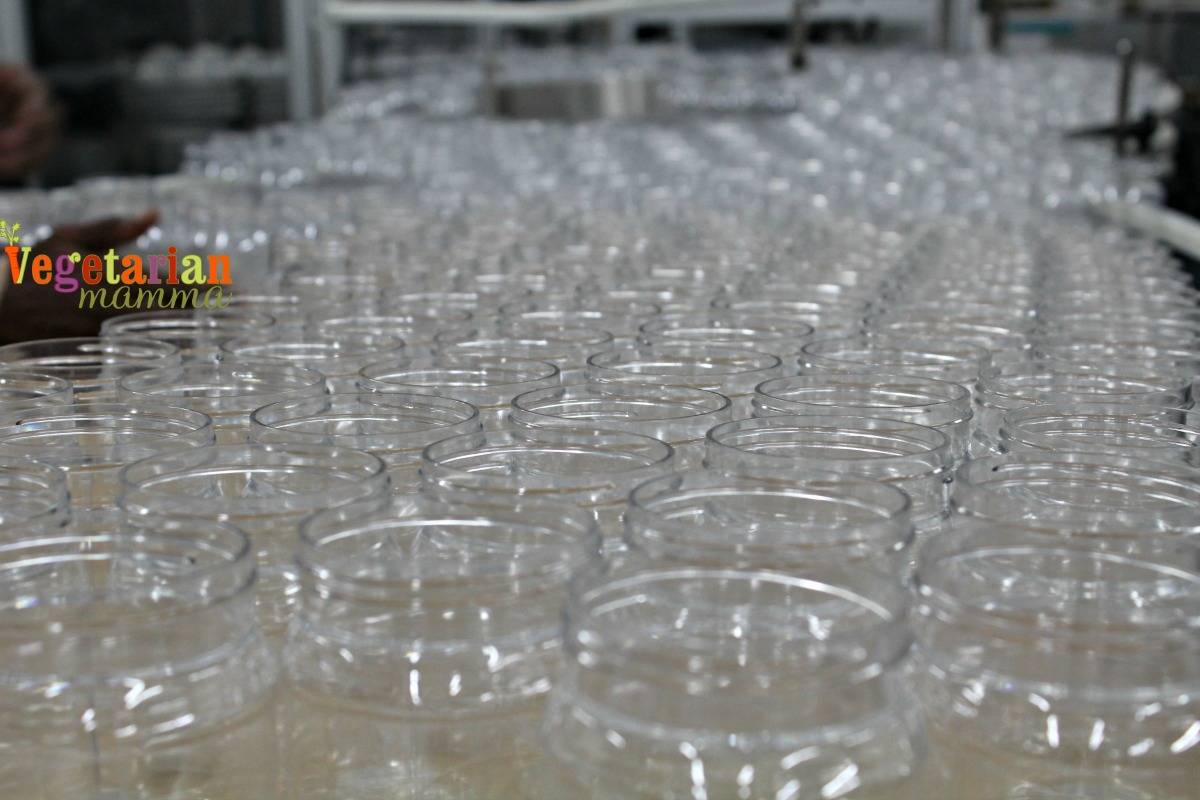 Pretty sure that Keeley and I were channeling Laverne and Shirley at this point. Remember them? Or are you too young? 🙂
The plant runs 24 hours a day, 5 days a week during Back To School Season! They produce quite a bit of the creamy variety during BTS!
We saw the entire jar filling process. The jars started here and move into a special machine that visually inspects jars and it sends ionized air into jars before sending to the filling machine.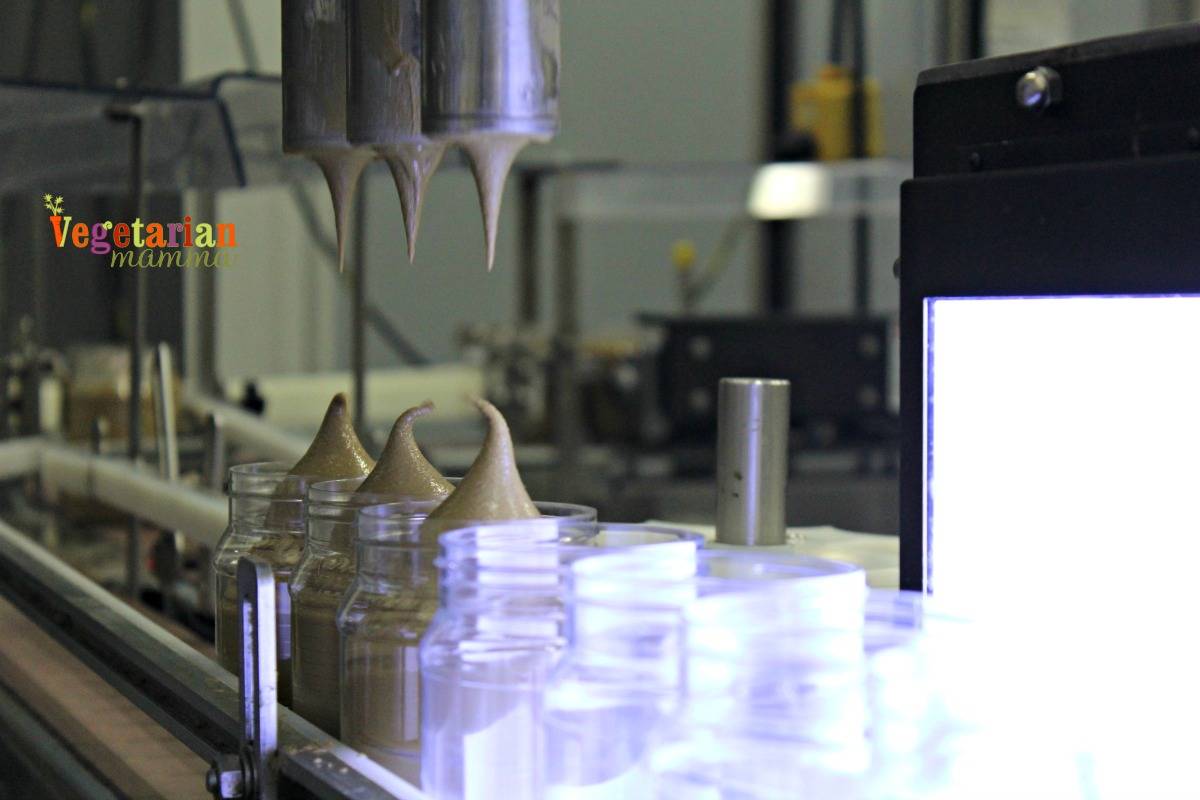 It almost looks like a Chocolate Frosty! Doesn't it? As much as I wanted to eat a delicious jar just from the line, I figured that was against the rules and frowned upon 🙂 But WOW, did it ever smell delicious!
Did you know: SunButter is tested for peanuts and tree nuts during each shift and physically taste tested each day.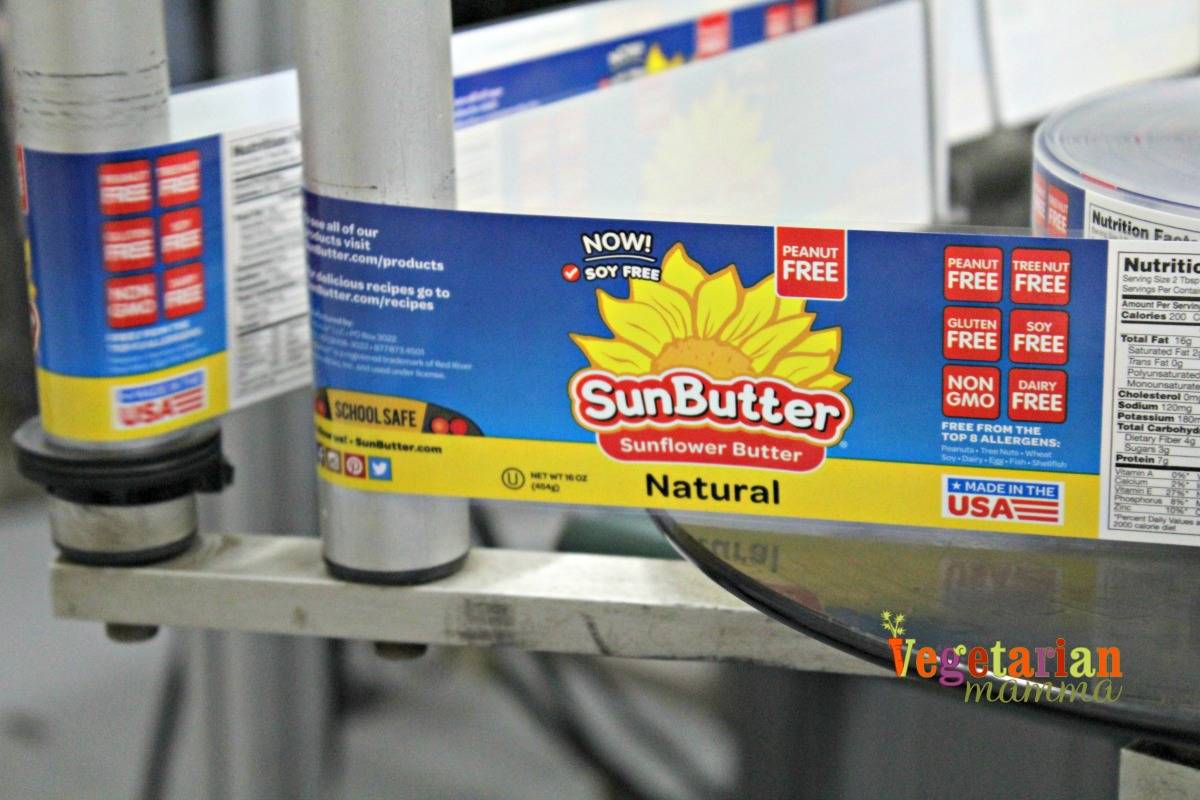 Next up, that delicious warm Natural SunButter gets a label!
Did you know: The plant can produce up to 2000 jars an hour! Now that is a LOT of SunButter!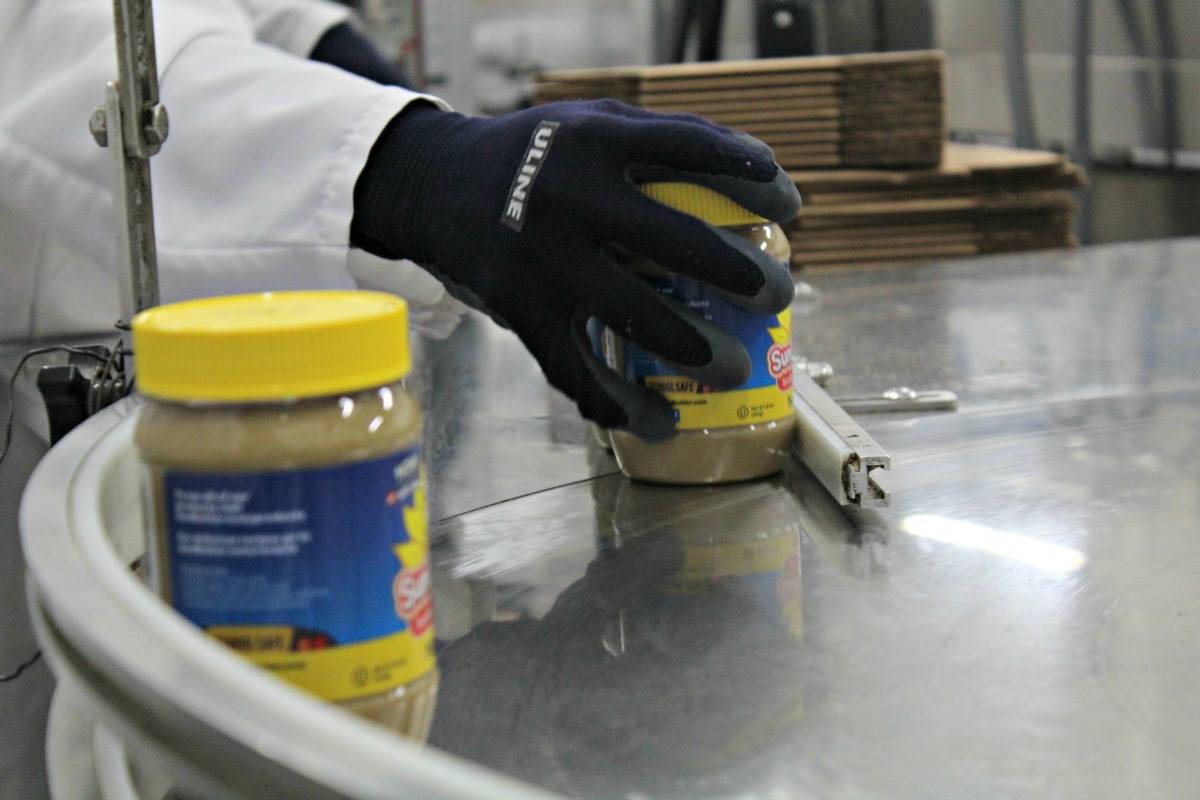 Then the SunButter jars are packaged up into boxes! And ready to head to the warehouse!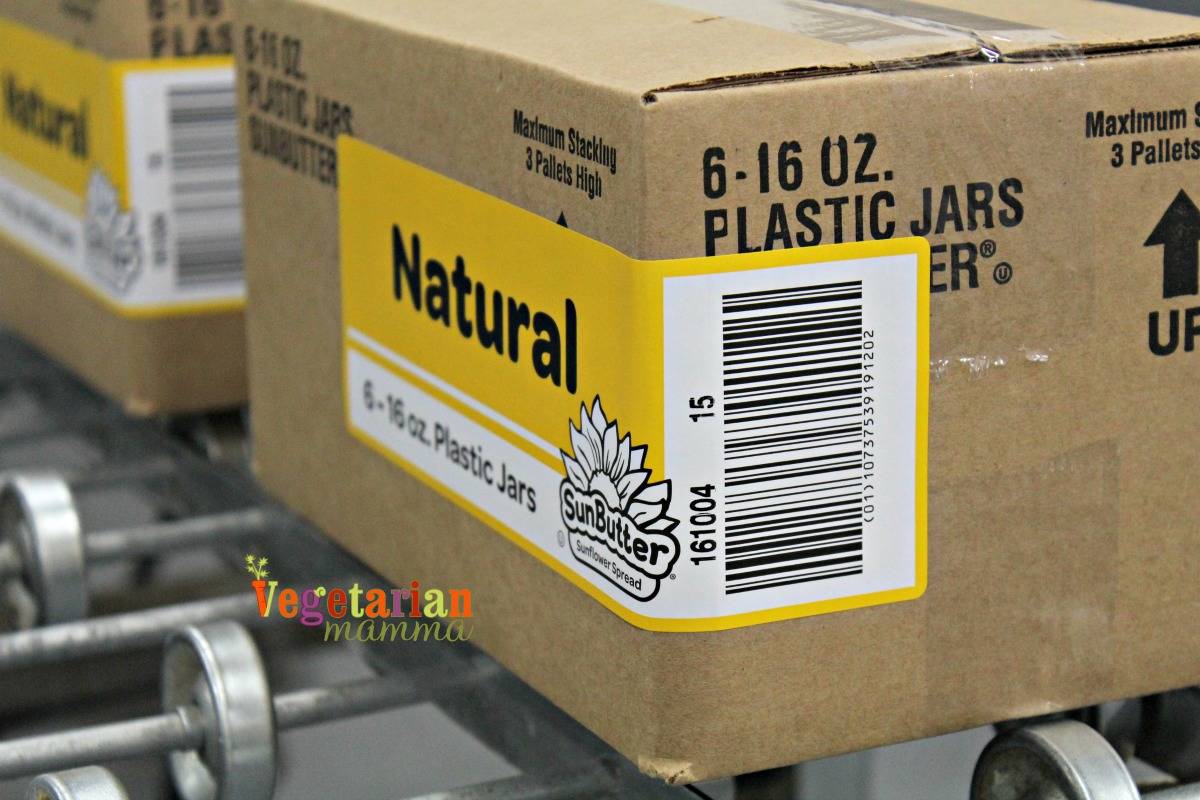 Then, we headed off to check out the warehouse! Guess what it smelled like? You guessed it sunflower seeds!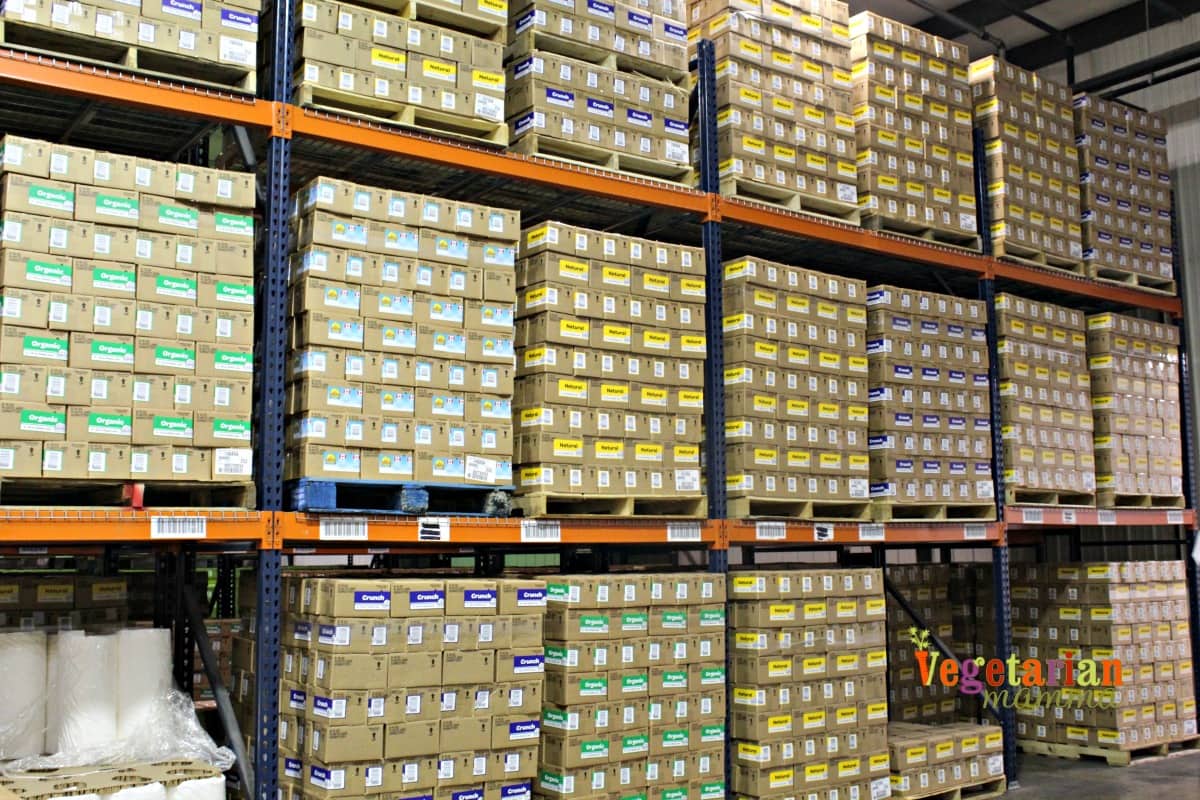 Did you ever see anything so beautiful as this?? So many varieties of SunButter all stacked up so perfectly! I sure wish this was my pantry! Anybody else?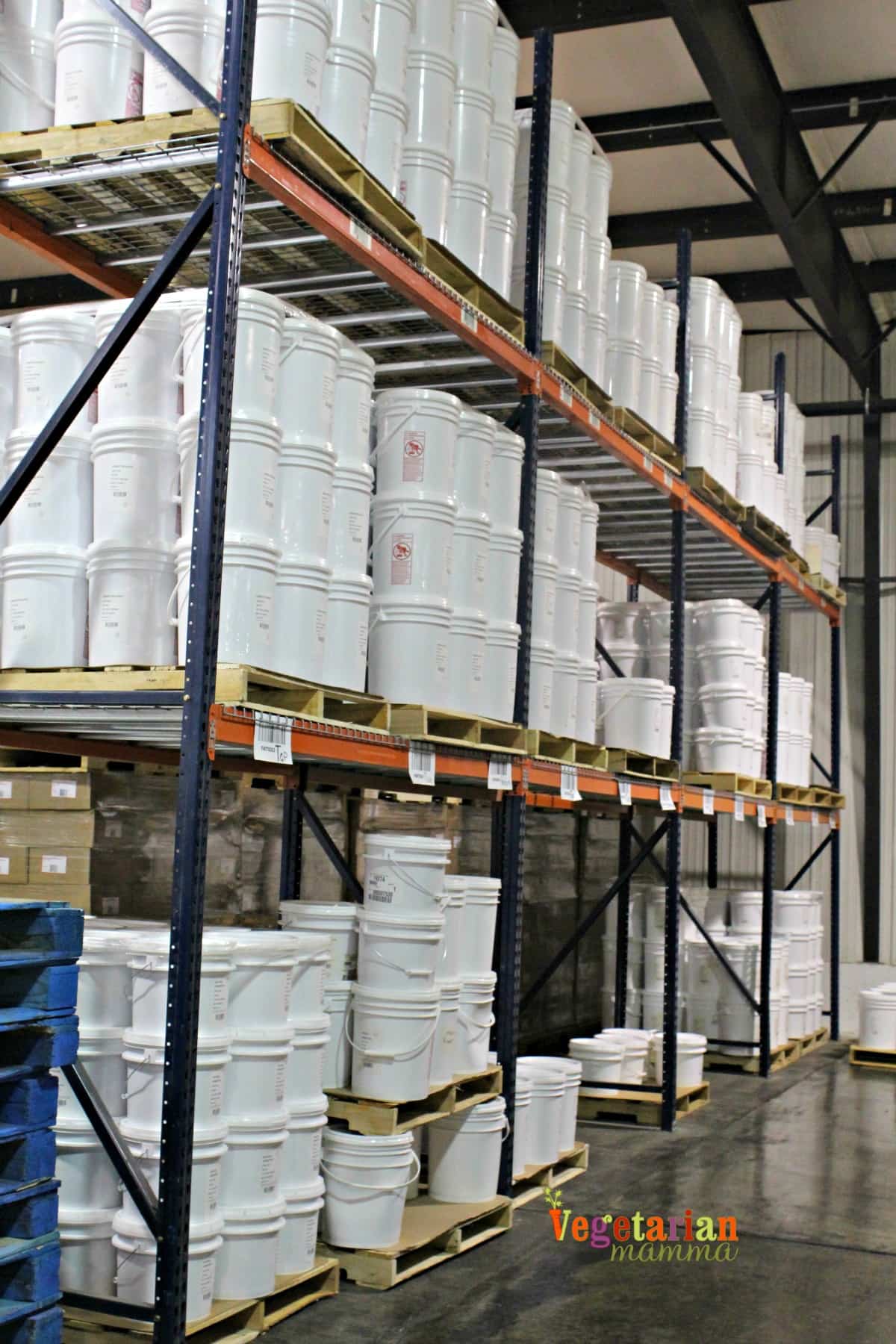 For those of us that use a little more SunButter than the average household (ahem...me!), you can get yours in a bucket! And also these types of buckets head to commercial kitchens!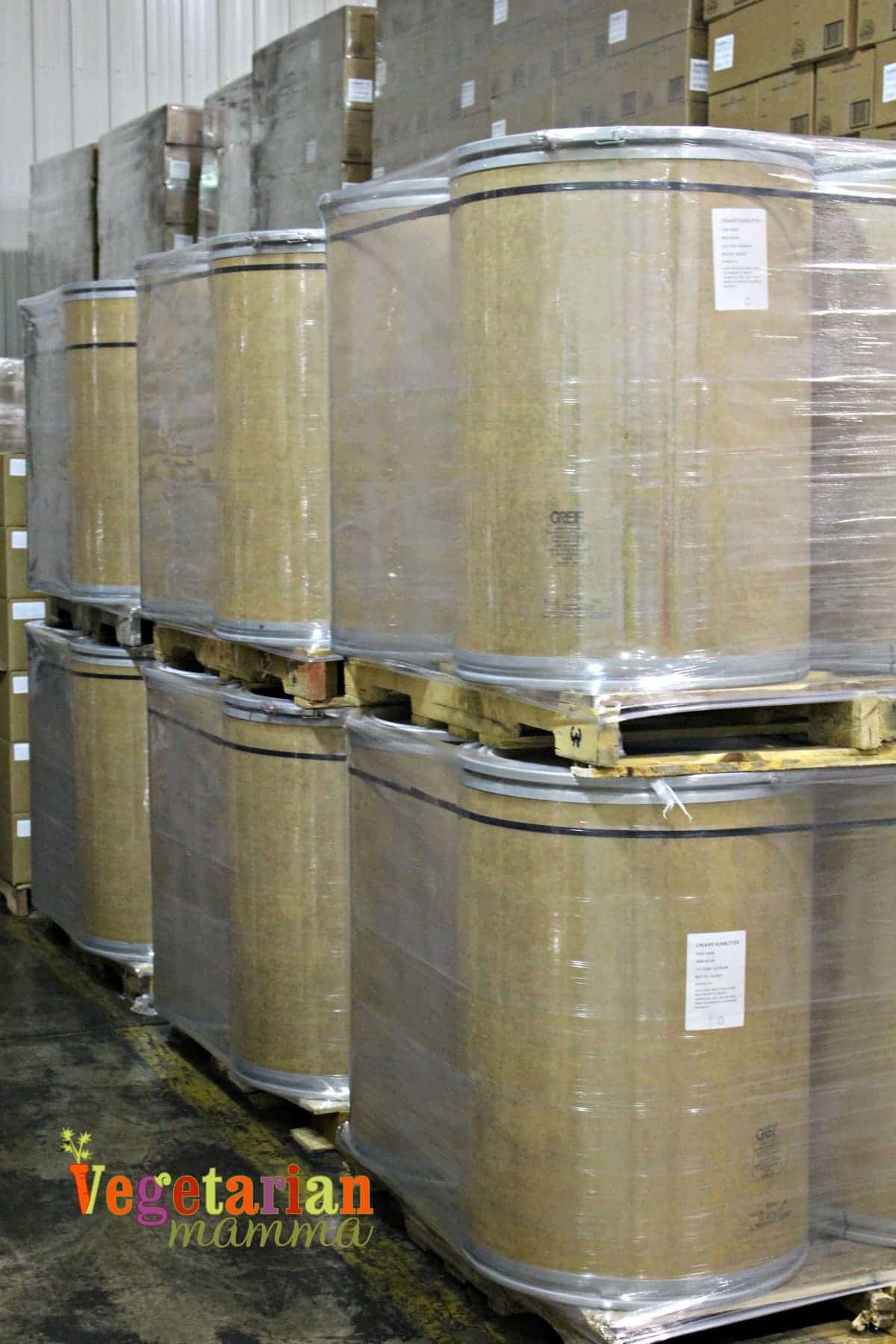 Just think of how many SunButter cookies you would make with this drum of SunButter! Ha! Some of the drums/buckets we were near were still warm! YUMMMO! 🙂
Keeley and I were amazed at the entire process! There are SO many steps to making SunButter! Want to see the entire process from SEED TO SUNBUTTER? Check out this video below!
SunButter blog post:
https://sunbutter.com/seedtosunbutter-adventure-keeley-cindy-visit-sunbutter/
Are you a SunButter lover? Did you realize all that went into making this product? The entire #SeedToSunButter process is lengthy and done with great care!
Let's talk! I'd love to know what you think about the process! What surprised you the most? What variety of SunButter is YOUR favorite? Leave me a comment!