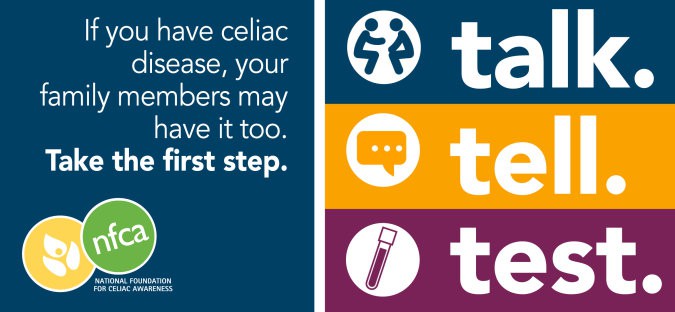 This is serious.  Celiac Disease is very serious.  You know that and I know that and we need to educate our family and friends about Celiac Disease.  Often times Celiac Disease is not taken seriously.  I am very excited to share with you a "Public Service Announcement" from the National Foundation for Celiac Awareness. This PSA talks about the importance of having a serious, one on one, dedicated conversation about celiac disease testing with our family members in person.

Educating people is more than sending a link of the #TalkTellTest video above.  You need to share the video with your friends and coworkers also living with celiac disease, but you need a more complete plan of action when it comes to bringing this up with your family.  You need to know how and what you are going to say to your family members when you approach them offline.  You need to be clear and map out what to say to your loved ones about getting tested.  NFCA has done quite a bit of research and discovered that family members want the conversation to be 1-1 and in person.
[Tweet "Seriously, #CeliacDisease #TalkTellTest Learn more at @CeliacAwareness"]
Visit the NFCA site to download more information about how to approach your family members and to help you plan what to say.  Together we can do this, together we can educate!