Snack Happy Boxes are a sweet monthly subscription box that will bring a smile to your face each month. You and your child will enjoy treats and a surprise each month.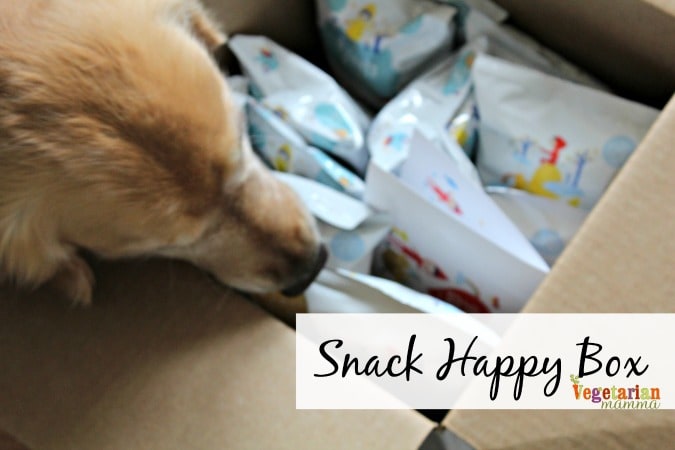 So you may have noticed that I often share on my social media channels about FreshKids.  This is a company, I've fallen head over heels for after meeting them at Expo East last year. You know when you meet a company, love the product and the people behind it? FreshKids is my happy place.  I adore them. I adore their products. I adore what they stand for! Even #GiaTheDog loves them!
FreshKids knows that it is important to create and maintain an healthy and happy world for our kids. They are working to re-imagine and re-create snacks for kids. FreshKids is sparks fun into  snack time with their products.  They focus on real foods, simple ingredients and creativity!
They recently came out with a subscription box. There are many monthly box options out there. My kids are very excited about this option.

I am very excited about this box too!  It contains snacks for my kids.  Snacks that are made from real food and taste great.  The popcorn and cheese puffs are gluten-free and can be enjoyed by everyone in my house.  The pretzels do have gluten, which provides are special snack for my older son! It makes him feel included!  BOTH kids are excited by the monthly surprise! This month, we planted some seeds!
We are excited to watch the seeds sprout and then plant them in our garden! How fun is it to grow your own food!  Wanting to learn more about gardening with your kids? Check out the article I wrote and published on FreshKids about gardening with your kids.
As many busy families, we spend much of our time on-the-go. I am so thankful for the individual bagged products that I can take along for a snack for my kids!
To learn MORE about the Snack Happy Boxes, check THIS OUT!
In order to help celebrate Mothers Day, FreshKids and all of you, we are partnering with FreshKids to giveaway 10 Snack Happy Boxes. (a one time box)
Enter below!
a Rafflecopter giveaway
You can connect with FreshKids at their website! A special thanks to FreshKids for partnering with us to sponsor this giveaway to ten lucky winners!