Spaghetti Stuffed Peppers is a fun twist on a classic dish. Love Spaghetti? Love Stuffed Peppers? Why not combine the two? Perfection…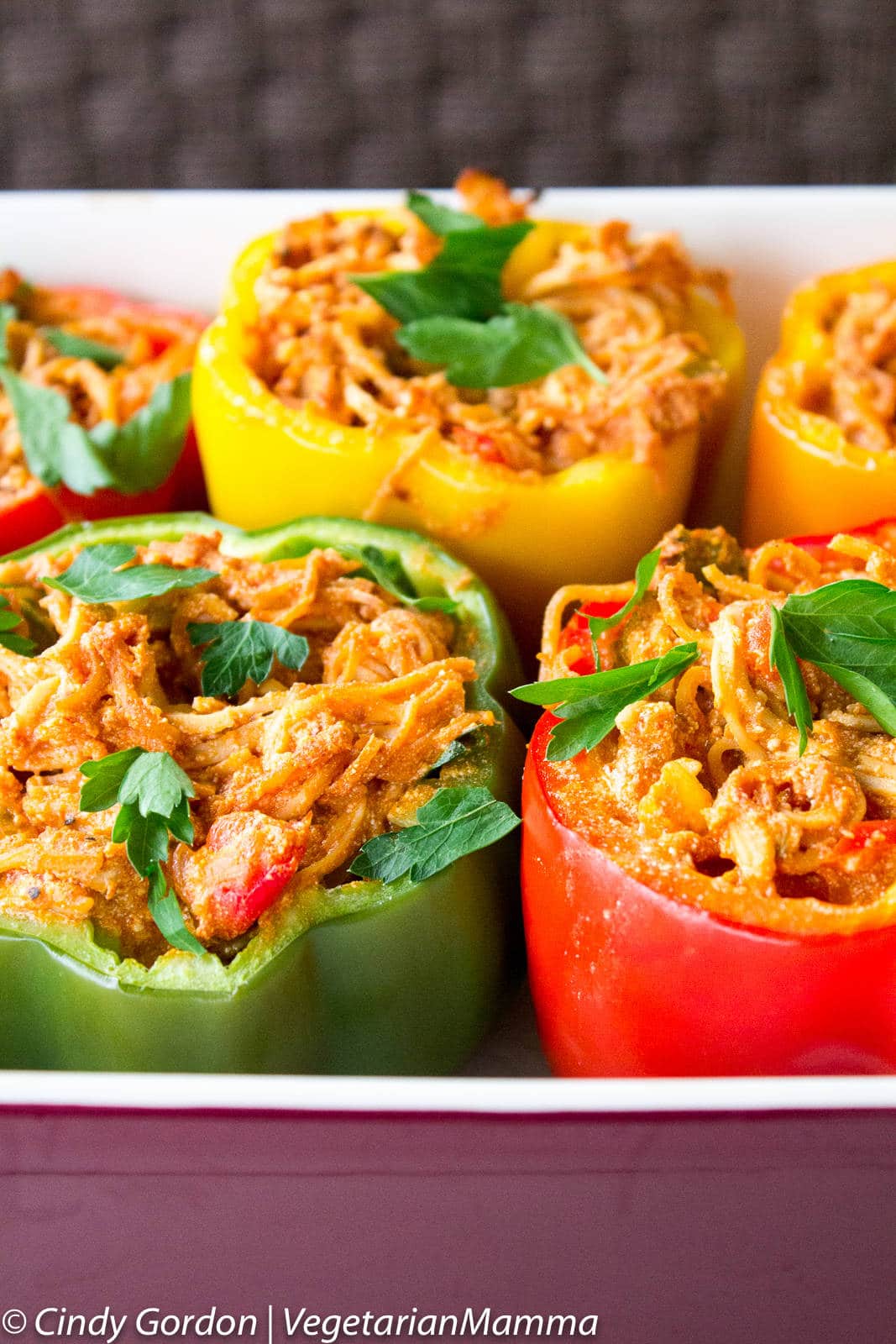 Spaghetti Stuffed Bell Peppers
You read the title correctly! Today we are talking about Spaghetti Stuffed Peppers. There are lots of names for this…
stuffed peppers with spaghetti sauce AND spaghetti
spaghetti stuffed bell peppers
stuffed peppers with spaghetti
You get the idea! We are a pretty big fans of spaghetti and all sorts of pasta dishes around my house! We are always working to create new ideas to keep our gluten-free recipes fresh and fun!
Last month we created a delicious Vegetarian Bolognese! Did you catch that recipe?
Ingredients For These Stuffed Bell Peppers
Bell Peppers
Oil
Onion
Pasta Sauce
Parmesan Cheese
Ricotta Cheese
Parsley
Pasta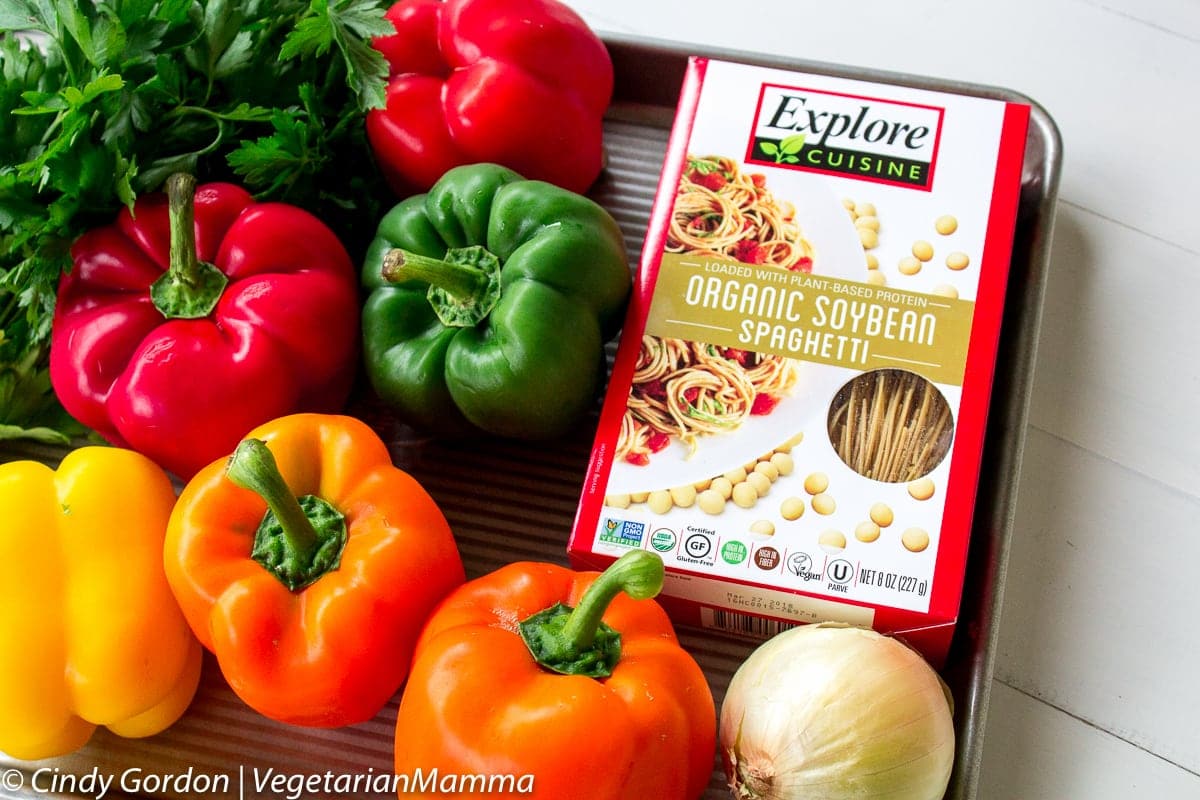 What Kind Of Bell Peppers Do I Use For This Dish?
You can use whatever bell peppers you like for this spaghetti dish. I used a variety of colors so it would be pretty! Sometimes though the green bell peppers are much cheaper! My favorite color of bell pepper is orange.
Did you know there are male and female bell peppers? True story! The male bell peppers have three bumps on the bottom and are said to be great for cooking. The female bell peppers have four bumps on the bottom and are said to be sweeter and good for eating raw.
For this recipe, I picked all female bell peppers. GIRL POWER. Okay, not really. 🙂 This time around I wanted a sweeter flavor with the recipe.
Besides all the female peppers that I was able to select from were the perfect size for making this dish!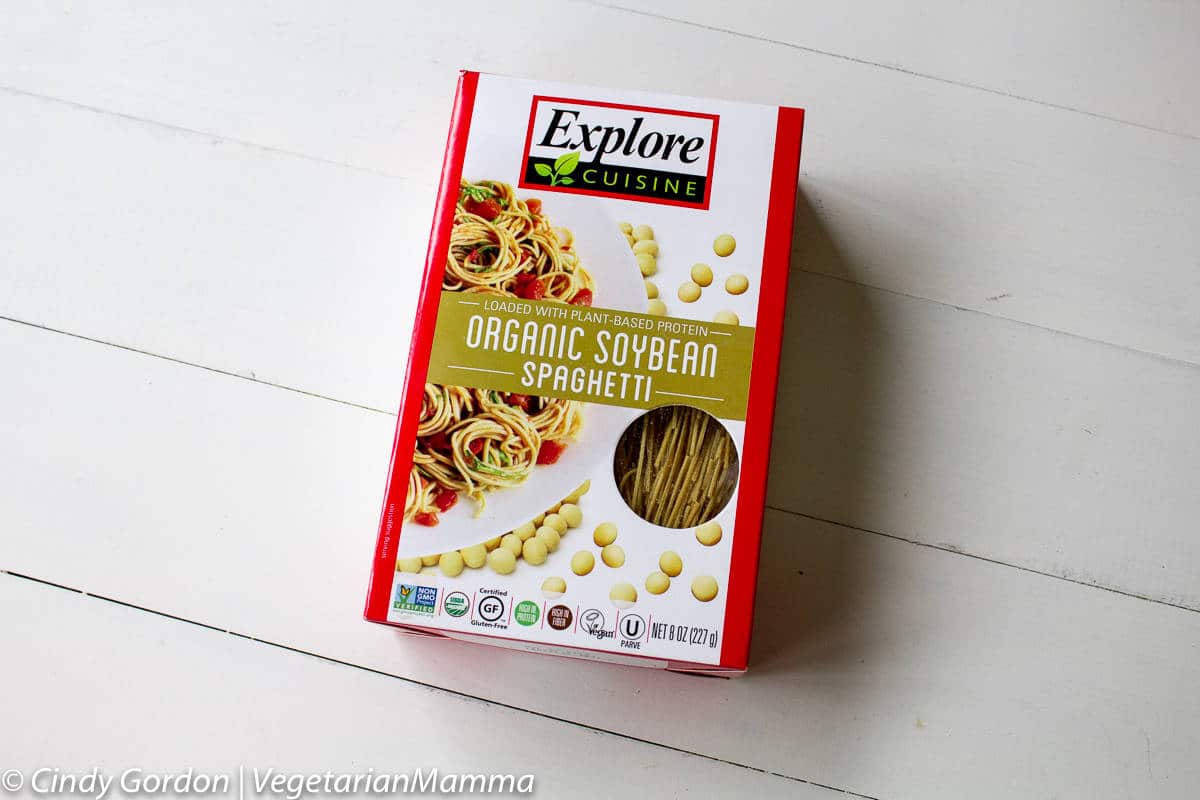 Gluten Free Pasta
For the spaghetti, I used Organic SoyBean Spaghetti from Explore Cuisine. We eat a lot of pasta around here and our pantry is always well stocked with many options from the Explore Cuisine product line!
This particular pasta is organic and has 25 grams of plant based protein per serving. You can't really argue with all that goodness wrapped up into a pasta! You can buy this awesome pasta from EC's website OR you can purchase it from my Amazon Affiliates.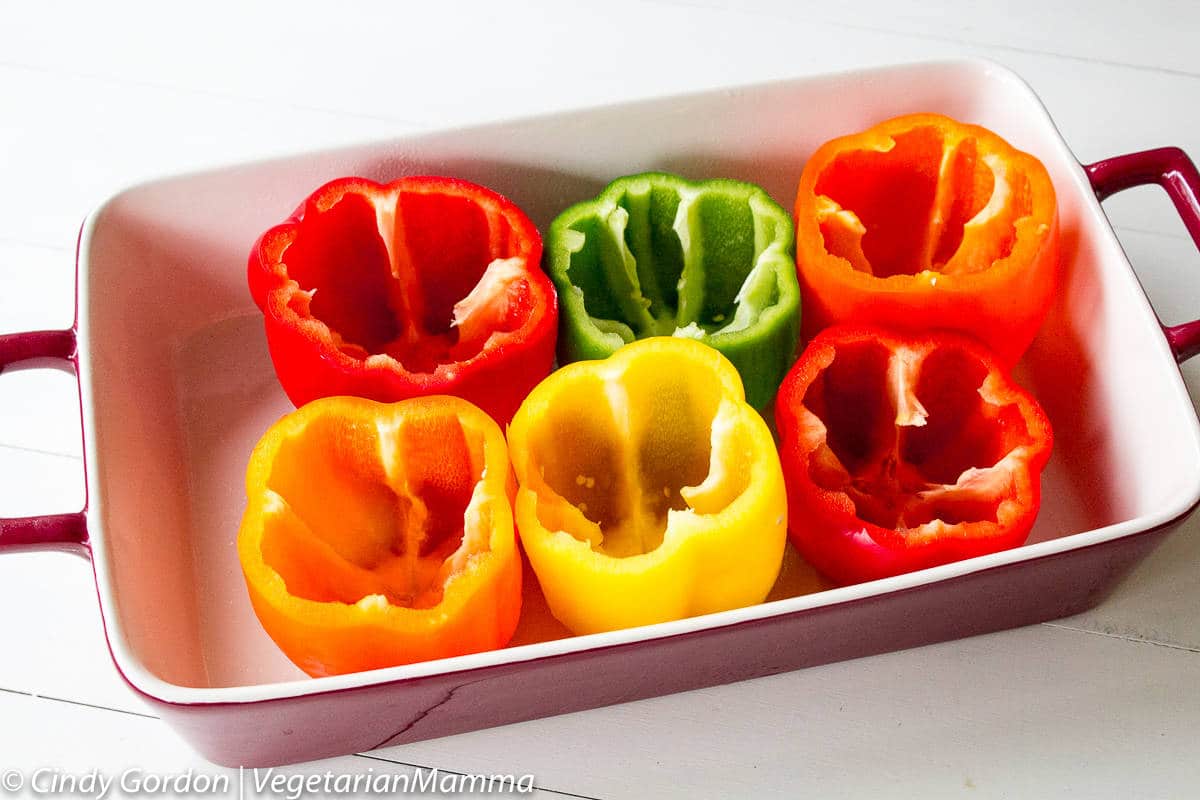 How Do You Make These Vegetarian Stuffed Peppers
You want to make these stuffed peppers by cutting off the tops. You will saute the diced tops with onions. Meanwhile cook your pasta.
Once the pasta has been cooked, you will toss it with peppers and onions, cheese, and pasta sauce. Your spaghetti with bell peppers mixture is now ready.
These peppers are ready to be stuffed with the delicious spaghetti creation! While I did make mine vegetarian, you are welcome to adapt the recipe as you see fit! That is the fun of cooking!
The best part is that this recipe makes a HUGE portion. After your 6 peppers are stuffed, you will have some of the spaghetti left over. Enough for some leftover lunches!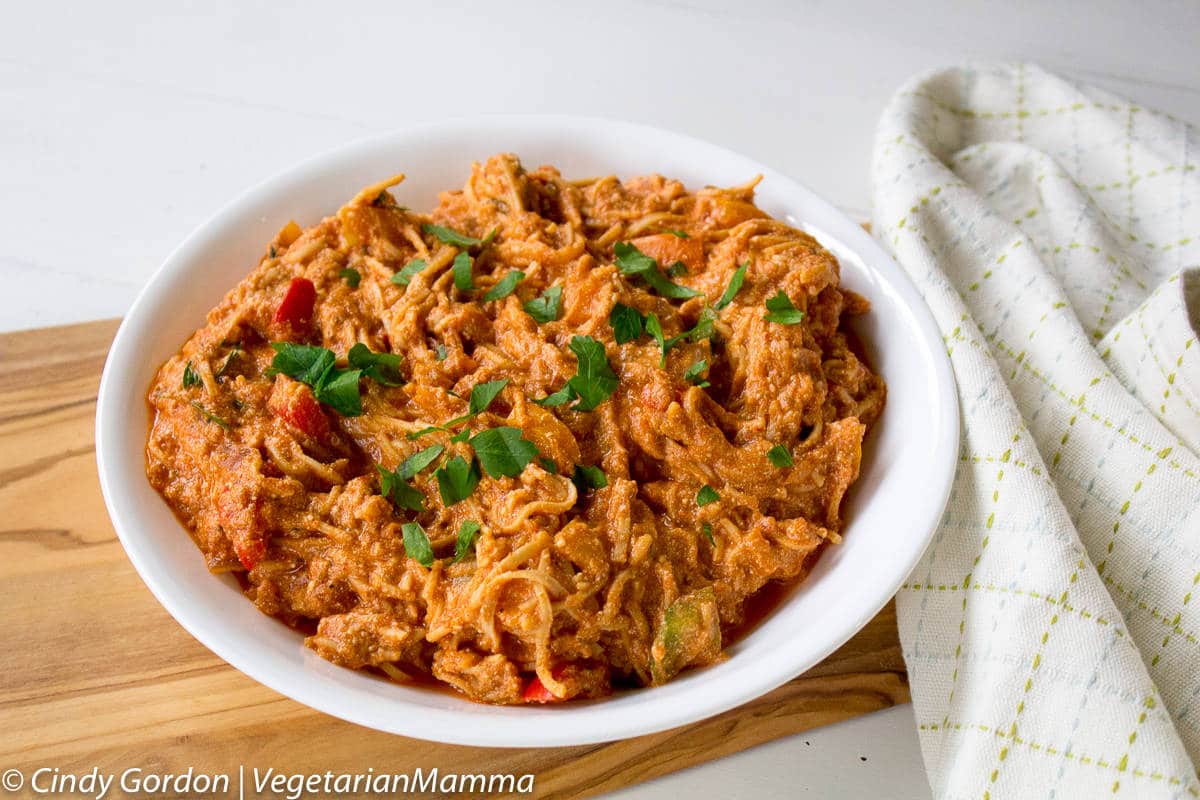 Can I Double This Recipe?
If you have a large family or if you are having company over for dinner you could easily stuff an additional 4 peppers and not have pasta left over the following day! See how this recipe works for you?
What to serve with vegetarian stuffed peppers:
More Stuffed Peppers Recipes
Okay, let's get to this recipe! Sound good?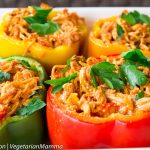 Print Recipe
Spaghetti Stuffed Peppers - a fun twist on a classic
Ingredients
Instructions
Gently cut the tops of the bell peppers. Remove stem and seeds. Dice the bell pepper tops.

Heat the oil in a skillet over medium heat. Saute the diced bell pepper tops and onion.

In a pot boil water and cook spaghetti per directions on box. When cooked, drain and rinse with cool water.

Once the bell pepper and onion are softened. Turn off heat. Add pasta sauce, ricotta cheese, parmesan and parsley. Stir to combine.

Add in cooked pasta, stir to combine.

Spray a 9X13 baking dish with oil. Place bell peppers in the baking dish.

Gently, using tongs fill each pepper with spaghetti.

Bake at 350 degrees F for 35 minutes, let stand for 10 minutes. ENJOY!
Notes
**If you like your peppers to be very soft, you can pre cook them in the oven for about 10 minutes at 350 degrees. F.
*** Before you serve, use a fork to gently stir the spaghetti, it will freshen the look of the peppers.
****Love cheese? Feel free to top with more cheese when peppers are done baking!
All though this website attempts to provide accurate nutritional information, the information should only be considered an estimate. Varying factors such as different product types, different brands, etc. can change nutritional information. It is your responsibility as a consumer to read all labels to make sure the ingredients fit your dietary needs as well as calculate your own nutritional information as a double check.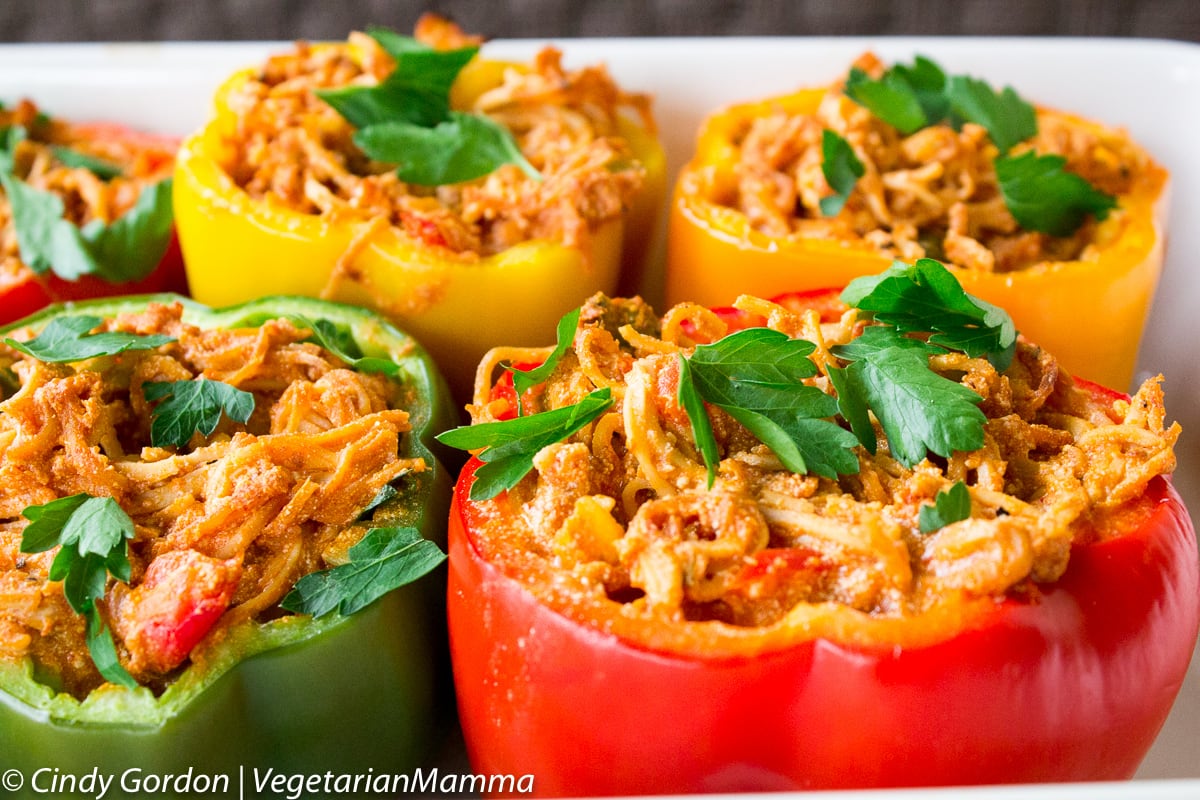 And there you have it! Spaghetti Stuffed Peppers!
Let's talk! Leave me a comment telling me if you've ever eaten Spaghetti Stuffed Peppers? This is a fun one! How about soybean pasta? Have you tried that?
Thank you to Explore Cuisine for sponsoring this recipe!