Taco Cheese Ball
Taco Cheese Ball is a fun twist on your traditional cheese ball. It is the perfect appetizer for your next gathering!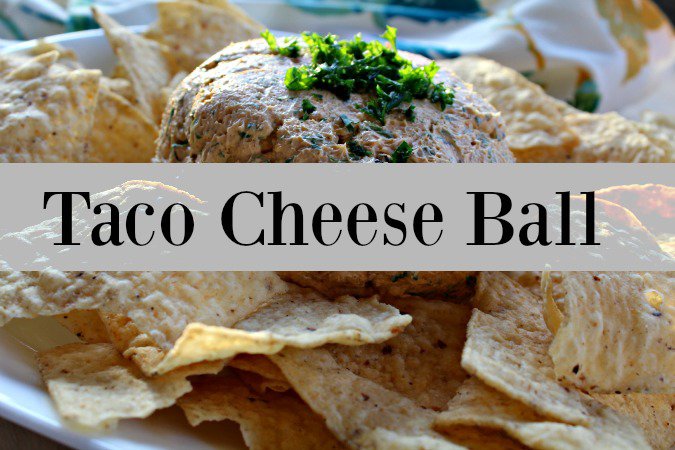 Pretty much any type of food that I can nosh on is good food. I am a grazer and this Taco Cheese Ball is perfect for grazing! It is a very simple and easy recipe that can be adapted to your dietary needs.
The ingredients are simple and easy to find at your local grocery store. The star of this recipe is Kraft Natural Shredded Cheese. After all, it is a cheese ball right? So cheese should be the star!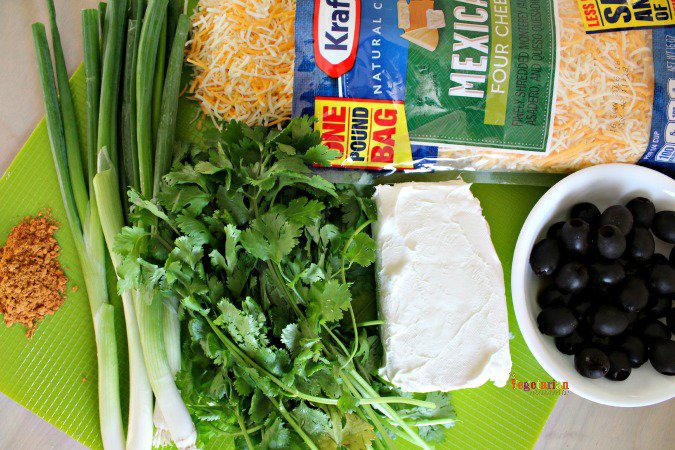 Only six ingredients are needed to make this cream cheese snack. While part of the items are fresh, you can keep taco seasoning and canned olives in your pantry.
I love keeping these items in my pantry, just in-case I am in the mood to whip up some tasty treats like this Taco Cheese Ball.
There are many options when it comes to choosing the right cheese. I choose Kraft Natural Shredded Cheese Mexican Blend. This particular blend has 4 cheeses.
I thought this would be the perfect combination for the Taco Cheese Ball. A sharp cheddar cheese would work here as well as Colby jack or pepper jack cheeses.
No Nuts in This Cheese Ball
Are you looking for a nut-free cheese ball recipe? Almost every single recipe for a cheese ball appetizer includes chopped nuts on the outside. Not this one! We don't eat nuts in our home, so I don't create recipes with them.
This nut free cheese ball is a great option if you or your guests are nut-free. Often you'll be heading to a party and you don't know if there is a nut allergy there.
Take this nut free cheese ball just in case. It's a great recipe for those situations
Is Taco Seasoning Gluten Free?
The answer here is: Sometimes. Often times gluten is hidden in spice mixes. As always,make sure that you read the label.
Avoid any that have wheat, barley, rye, or oats listed, and feel free to contact the manufacturer if you're unsure. There are also some seasoning mixes labeled as gluten free.
Even so, many people choose to make their own taco seasoning. This is really cost effective, you can control the ingredients and the spice level, and you can make a big batch and always have it on hand!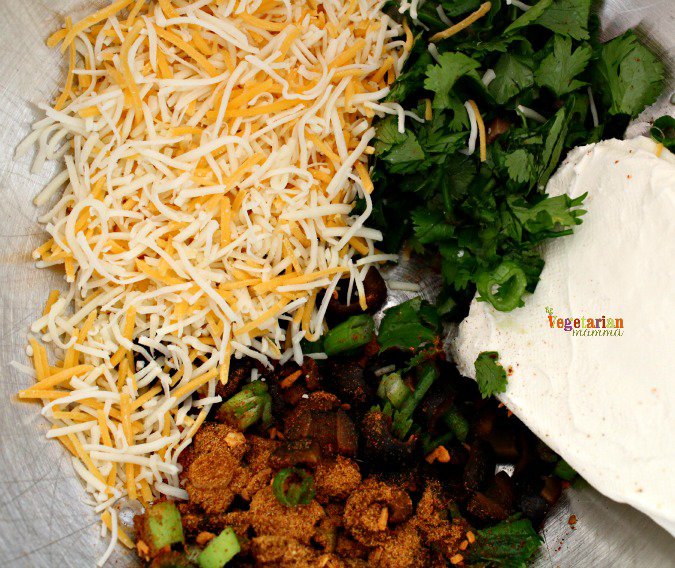 This recipe is super easy! When it is time to make your Taco Cheese Ball simply place all your ingredients into the bowl of a stand mixer.
Then turn the mixer on a low speed. Let the mixer do all the work. Let your tempting taco cheese ball mix itself! I love recipes that let me just dump everything in one bowl. This is barely cooking!
Once blended together, use your hands to form the 'batter' into a ball shape. Put the Taco Cheese Ball into the fridge for at least an hour. This allows it to set up, and allows the flavors to meld together.
No stand mixer? You can definitely make this with a hand mixer, or try using a food processor.
Top with some fresh herbs or more of the chopped green onion, and serve with your favorite chips or crackers. I always have gluten free tortilla chips on hand for just such an occasion. This taco cheese ball will be the star among the finger foods and dips at your next party.
Make it Ahead of Time
One thing I really like about this appetizer is that it can be made ahead of time. The cheese ball will stay fresh in the fridge for 2-3 days after you make it.
Throw this together on the weekend to take to a weeknight get together, or just keep one in the fridge for unexpected guests. They will be so impressed with you!
If you do plan on making it ahead, I'd suggest wrapping the ball with plastic wrap to keep any fridge odors out of your cheese ball. This will also keep it fresh longer.
Could this be a Vegan Cheese Ball?
I haven't tried it yet with this recipe, but I'd love to hear about it if you try the recipe with dairy free cream cheese and cheese. There are so many vegan cheese options now, that I'm sure this would be delicious that way. Leave me a comment if you try it!
If you are looking for more game day food ideas, you need to check out our Party Style Bean Dip, Spicy Vegetarian Chili, Buffalo Tofu Bites and Loaded Plentils Nachos!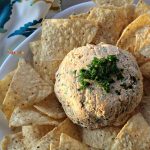 Print Recipe
Taco Cheese Ball - the perfect appetizer for your next gathering
Serve your leftovers warm! Pop the cheeseball into the microwave for 25 seconds to warm the mixture, serve with chips.
Ingredients
2- 8

oz

boxes of cream cheese

softened

2

green onions

green tops only, diced

1/2

c

Kraft Natural Shredded Cheese

Mexican

2

T

Taco Seasoning

1/3

c

black olives

pits removed

2/3

cup

fresh cilantro

stems removed
Instructions
Place all ingredients into a mixer, blend until combined.

Form cheese mixture into a ball, place in fridge for 1 hour.

Serve with chips. ENJOY!
Notes
If you are gluten-free, please be sure to read the labels of the taco seasoning to make sure that it fits your dietary needs.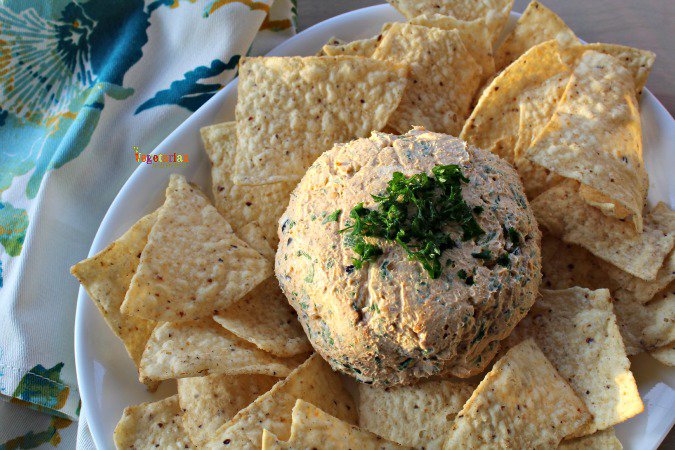 Let's talk! Leave me a comment below telling me your favorite cheese ball recipe! What do you like to add into your cheese balls?
PIN for later: