Looking for weekend getaways in Ohio? Or looking for the perfect Girls Weekend Getaway in Ohio! You MUST check out the Inn at Cedar Falls.
A Girls Only Trip in Logan, Ohio
There is just something about the words " weekend getaway" that make my heart flutter with excitement. There are so many weekend getaways you can have. Ones with your entire family, one with your sweetheart or one with your girlfriends!
I personally love all those options but for this trip it was girls only! It has been a month since we have been back from our little getaway in Logan, Ohio…but the memories are still crystal clear!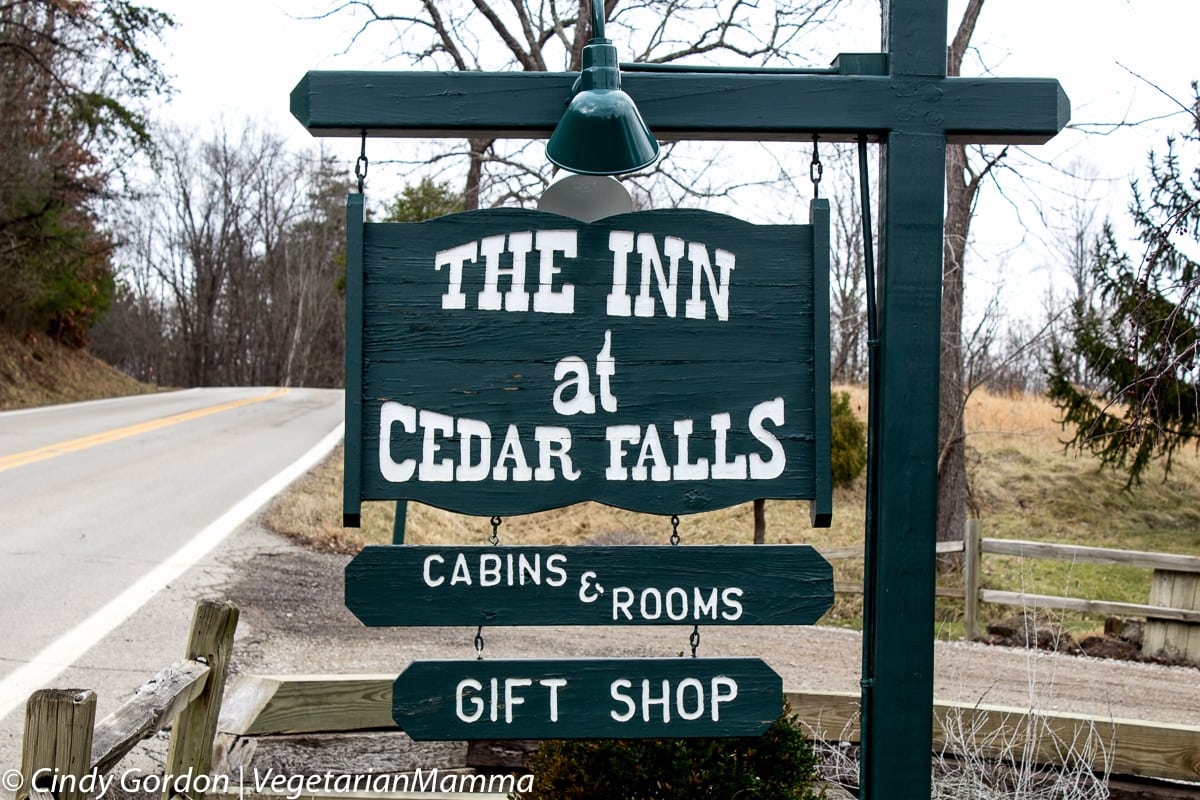 For this getaway, we wanted to stay local because it was winter. We didn't want to have to venture too far. The Inn at Cedar Falls is located in Logan, Ohio which is about an hour south of Columbus, Ohio. Timing will vary depending on where you start in or around Columbus.
I'm so happy that we choose the Inn at Cedar Falls for our girls getaway in Ohio. It was the perfect choice for my friend and I. Throughout this post you'll see my review of the property and amenities, and you'll also see notes from my friend, labeled as "the friend perspective" It was fun to add her thoughtful comments to my blog post too.
Sometimes traveling with eating restrictions takes a little extra planning. The Inn and Spa at Cedar Falls Restaurant has so many options in their restaurant to serve gluten-free diners. They have a variety of places to stay, including cabins with a full kitchen so you can cook what you need! After some research, we KNEW this was the place we had to visit!
We flooded social media with snaps, instagram stories, instagram posts, tweets and facebook posts while we were there! I hope you enjoyed see the live action!
Let's get down to business and talk specifics! Believe me, you are going to want to head there soon!
The Grounds
Simply beautiful, even in January. Sometimes the winter can bring such a gray feel to the landscape. Not here, everything was still beautiful and I can only imagine how that beauty intensifies when warmer weather hits!
Once you arrive, you check in at the main office. There is also a shop attached to the office where you can buy local items and fun crafty decorations. There is also a small area to buy some wine and other treats.
Next to the office, you can find the restaurant area. You can walk through the kitchen area and wave hello to the friendly chef and staff. Also, in this same area is a beautiful seating area. This is often referred to as the common room.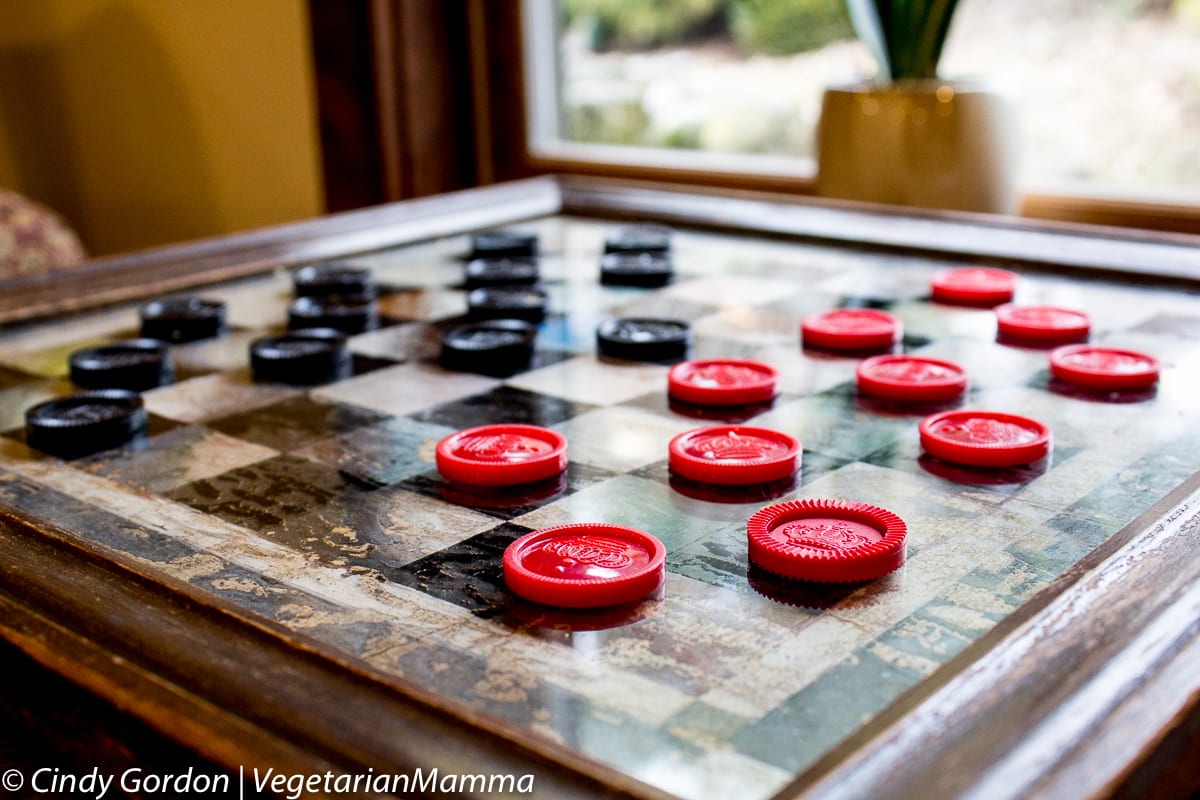 Here you can sit down and relax with a game or checkers. Or perhaps lounging in front of the fireplace is a better option. This is a great place to meet other Inn guests! This is the area where breakfast is served in the morning and also an afternoon treat around 3 pm.
This long building has a beautiful porch, which boasts more seats to sit in than you have time! So pick your seat, sit down for a while and take in all that fresh air! In warmer months you can visit the top of that building. There is a special garden and seating area on top of the building with provides extended views of the beautiful landscape.
Behind the main buildings you can take time to visit with friends at the fire pit. There are plenty of seating options and even marshmallow and hot dog roasters for your enjoyment!
The friend perspective:
"It was so serene and calm on the grounds. So many places that you could go and hang out with the girls if you wanted to get out of your cabin, cottage, or room… hanging out around the fire pit, on the rooftop deck, on the front porch, or lounging in front of the fireplace in the lodge. There is plenty of room at each location for a large group of girls to gather and catch up or relax."
The Lodging
You have several choices for lodging at this property. You can stay at one of the rooms at the Inn. This bed and breakfast option is the closest housing option to the restaurant building. The rooms are furnished with either a queen-sized bed or two twin beds. Each room also has an under counter refrigerator, a small writing desk, and is decorated with quaint country antiques. All of the rooms have their own bathroom.
You can stay at a cottage. The cottages are a short walk across the street from the main buildings. The cottages have both King and Queen bed options. I believe that the cottages would be perfect for a romantic getaway! That is where I plan to take my husband one day soon! The cottages have a private deck which backs up to a beautiful wooded landscape. Each cottage also have a charming gas log stove and a microwave for your convenience. There are even some dog-friendly cottages.
You can also stay in a cabin, which is the option that we selected for our Girls' Weekend Getaway! The Cabins are gently tucked into a wooded lane behind the main buildings. The cabins offer up amazing views of the surroundings. We stayed in the Hickory Hallow Cabin. This cabin was just perfect for our Girls' Getaway. This particular cabin could easily sleep 2-6 people. Just think of all the fun you'd have with your friends, while relaxing at this cabin.
This cabin retreat had a porch swing, table and grill that over looked the tall trees behind our cabin. We loved the secludedness that this cabin provided!
The inside offered up a full kitchen, which is perfect for anyone traveling with food allergies or the need for preparing your own food. We wanted a full kitchen for our cabin! Part of the fun with my friends is cooking up a storm, while sipping on some wine and enjoying the view! The kitchen was fully stocked with everything we needed, which included a coffeemaker, coffee, plates, cups, wine glasses and more.
The sitting area was very welcoming and comforting for our time there. We did bring our own DVD for a girls-in movie night! If you forget a DVD, you can borrow one from the Inn!
There was ample seating throughout this cozy cabin! Every seating area was comfortable and inviting!
The bathroom was filled with cozy towels, bathrobes, fine soaps, lotions, lip balm and more!
This cabin had two bedrooms but plenty of sleeping options within those two rooms! One room had a comfy bed!
The other bedroom had a generous sized bunk bed with a trundle pull out! That room could sleep several!
One amazing feature is that you can order breakfast to be delivered right to your cabin. This has a small extra fee. We did this one morning. The chef was able to accommodate my gluten-free, vegetarian needs. I was excited for our delicious breakfast and thankful to have such delicious great food!
Just look at that sweet note written on the box from the kitchen. The staff there is amazing. We felt like we knew them at the end of our stay!
The overall size of our cabin was great. You could easily fit a group of 5-6 girlfriends in there! Just imagine all that fun and laughter! There were parking spaces for two cars at this cabin. However, if you bring more vehicles there is additional parking at the main buildings. Then you could walk or carpool back to your cabin.
The friend perspective:
"We stayed in a super cute cabin. It wasn't too big for the two of us, but we would have had plenty of room to bring some more girlfriends! It was tucked away in the woods and was quiet and peaceful. My favorite feature of the cabin was the HUGE back deck that overlooked the ravine, where we got to watch a sweet family of deer from, and enjoy our coffee or wine."
The Restaurant
The menu at the Inn changes based upon the season. The menu at the on-site restaurant is nothing short of amazing. The Kindred Spirits Restaurant proudly uses the best ingredients in their recipes and uses local products when available. The restaurant provides a fine dining experience. As you are waiting for your table reservation and yes for dinner reservations are required, be sure to stop into the tavern for a class of wine or your favorite drink.
Our meal was truly spectacular. I am lucky to be able to travel some throughout the year and dine in many places. The Kindred Spirits Restaurant is at the top of my BEST EVER list. While the restaurant was prepped that I was coming and my dining needs were gluten-free and vegetarian, the menu was beaming with delicious, wholesome options.
The dining area! Cheers to a fabulous weekend of creating memories and strengthening our friendship! To a Girls' Weekend, it is!
After we toasted to a "Girls' Weekend" we ordered up our salads. I had the Pear and Gorgonzola Salad which was delicious. The flavor was light and satisfying.
The new menu is set up so that you can order small plates to share or so that you can easily try more than one item without having a lot of extra food.
I ordered up the GF Truffle Mac next. WOW, this dish was amazing. When you think of mac, you typically think of a heavier comfort food. That was not the case. The mac was light, flavorful and filling without being heavy. The server actually tried the gf truffle mac in the back, as they made more than fit on my plate. She agreed it was delicious. She had only tried the gluten version. She shared she liked the gf version better!
The chef that night also whipped up a seasonal vegetable plate for me. WOW, this had a lot of food on the plate. I wanted to eat every single bit, but I couldn't. I was getting full and we still had dessert! This dish had a dressing of sorts on it and it was amazing. Again, that same light and flavorful theme was carried throughout this dish.
For dessert, we dined on a flourless chocolate dessert and creme brulee. Oh yes, we were stuffed but it was worth every single bite. I could have honestly eaten that for every meal of each day we were on site at this restaurant. Wow. Just wow.
I can honestly say that it is one of the best gluten-free meals that I've eaten. Please quote me on that one! We literally sat there and savored each bite and talked about the flavors we detected. It was so good!
The friend perspective:
"I'm not GF or Vegetarian, so not only did I try the GF items that Cindy ordered, but I also enjoyed my own order. Between the two of us, we ordered salads, a few small plates, and two desserts. Everything, both the GF and non-GF items, were delicious and full of flavor. It was the best dining experience I've had in years. The ambience, the food and wine, and the service was amazing… not one thing I would change about the experience. It was so good that my husband and I are planning a getaway just for the food! Just don't forget to make a reservation."
The Spa
The Spa at Cedar Fall is in a small, intimate cabin that has been converted into a luxurious spa. The spa is on-site and is considered to be secluded deep in the heart of Hocking Hills. This spa retreat offers up many of the traditional services you would find at other spas. You can get a traditional massage or perhaps a body mud wrap is more your speed. How are your nails looking? You can get your mani and pedi there too!
The spa treat offers up a relaxing environment that is complete with soft lighting and soothing music. All your stresses can be put on hold while you are here. Surrendering to the here and now is easy at this retreat.
When we arrived to the spa, we were greeted by our Massage Therapists. We were given a consultation of the services we were getting that day. We were offered a warm soothing neck pillow. It was very relaxing.
We took a seat in the waiting area and began to unwind and relax. Once our rooms were ready, we head to our individual rooms to get our spa services. Now, you know I was relaxed if I let my picture be taken with no make up and nothing done to my hair 🙂
We both got the spa sampler. This spa package consisted of their three most popular treatments. We enjoyed a 25 minute massage, 25 minute spa facial, and a 25 minute Foot Treatment. We did have an option for a hand treatment in place of the foot treatment. But we both opted to treat our feet!
The spa is easily accessible to all guests. If the weather is nice, you could easily walk to the spa from your lodging. It happened to be raining on the day of our services. So we choose to drive.
The friend perspective:
"What a relaxing part of the getaway. From the heated neck pad when we entered the spa to the bottle of water at the end, I could not have asked for a better massage. My massage therapist was skilled and applied just the right amount of pressure. It relaxes me just thinking about it!"
Overall
I am beyond happy with everything I experienced at the Inn at Cedar Falls. People come from all over to visit The Inn at Cedar Falls and I understand why. It is located south of the heart of Ohio. in the heart of Hocking Hills. If you love nature and you love to hike, this area is for you.This area offers up hiking trails of all levels in the Hocking Hills State Parks. While I love Hocking Hills and I've visited the area several times, this is my first time at the Inn. I promise it won't be my last.
This place is a gem. A gem!
The Inn is perfect in all aspects. It is perfect for a Girls' Getaway. The lodging was amazing and had everything we needed. The food was SAFE, the kitchen took great care in making my gluten-free food. It was delicious. The simple, yet elevated flavors in the dishes were like none other. The spa was just what we needed to completely unwind.
The friend perspective:
"The only bad part about this getaway was that it wasn't long enough! I would have loved to enjoy another meal at the restaurant or have a glass of wine in front of the fire (it was January when we were there). I am ready to go back!"
If you are looking for a place to host your next girls' trip, THIS is where you need to go. Thanks for stopping by! Be sure to watch our social media, we have some travel planned for 2017!
Until next time….happy traveling!
Update: The Inn at Cedar Falls now has YURTS!
Yurts are the perfect blend of tent camping and beautiful cottage life! You can relax and unwind in the yurt all while listening to the comforting sounds of nature!
The yurt is a dome shaped dwelling that is 20 feet in diameter and includes a private
deck, a king-size bed (or two twin beds), bathroom with tiled shower, comfortable rocking
chairs, a gas-log stove, microwave and under-counter refrigerator.
The yurts accommodate 2 adults. I can't wait to check these out for myself! Talk about an amazing weekend getaway in Ohio!
Thank you to The Inn at Cedar Falls(http://www.innatcedarfalls.com) for hosting our Girls' Gluten Free Getaway. We enjoyed our complimentary 2 night stay, as well as my meal and my spa services.
Let's talk! I shared a LOT of pictures here! What appealed to your MOST? The lodging? The Spa? The restaurant? The location? Leave me a comment! If you've been here, I'd love to hear about your stay!
If you love the idea of weekend getaways in Ohio, PIN for later: