Getting a rental car while traveling can be confusing if you don't know what to expect. Find my tips for renting a car, most of which I've learned from experience!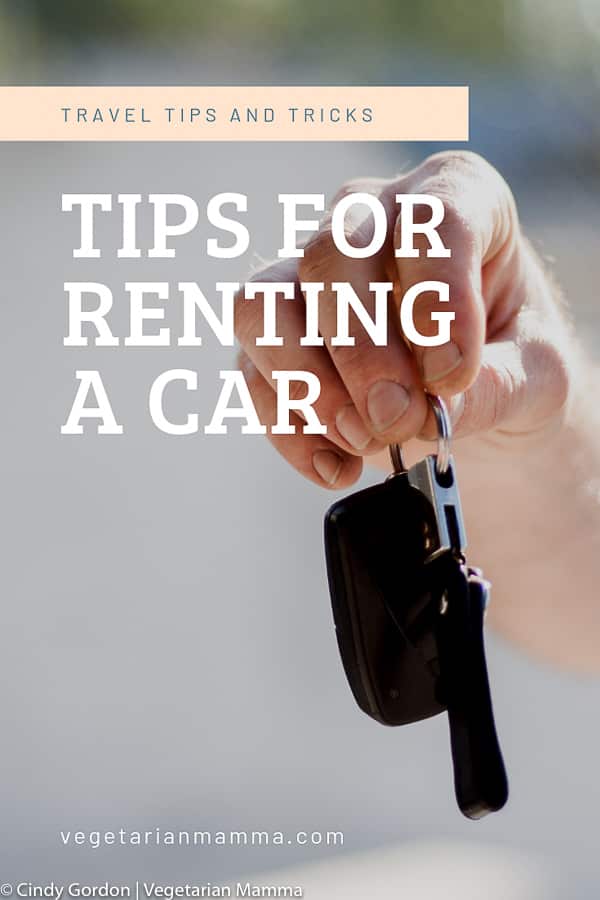 Tips for Renting A Car
When you fly into a new city and need to get around, you have a few options.
Public transportation – busses, subways, trains.

Ridesharing services or taxi cabs.

Renting a car.
Each of these options has pros and cons, but I really enjoy renting cars as I have a lot more control over things. It's typically cheaper than using ride sharing, especially if you have a lot of miles to cover, and public transportation can be super stressful if you aren't familiar with the ins and outs of the system.
I recently rented a car in Chicago after landing at Midway airport with my son. This was the first time that I rented a car alone, without my husband, and I was pleasantly surprised at how simple it was. I did a little bit of research before I went, and found the answers to some of my questions, which I'm happy to share with you to save you the hassle!
Where do you pick up the car at the airport?
Some airports have rental cars available right inside or attached to the terminals, but most have car rental desks inside, and actually keep the cars in a different, nearby location. You can reserve your car online ahead of time, and skip waiting in line at the airport. Each rental car company has a shuttle that will pick you up and drive you to the lot where the cars are.
Do you need extra rental car insurance?
You will be asked over and over again if you want the supplemental car insurance. You may or may not need it. Call your car insurance company ahead of time and ask them what coverage you already have, and if it covers a rental car as well. Travel credit cards will also have supplemental coverage on them.
Should you fill the gas tank yourself?
Car rental companies offer a few different options for gasoline. 1. You pre-pay for a tank of gas. This might be cheaper per gallon, but generally you won't use the whole thing, so you end up paying for more than you need. 2. You can bring the car back without a full tank of gas and have them fill it for you. Generally you'll be charged a premium for this. I find the best option is option 3: fill the tank yourself. On your way back to the lot just stop at a gas station. Easy!
Do you need to rent a toll pass?
If the area you are driving in has a lot of toll roads, it will be in your best interest to get this. Many toll booths now do not have attendants, so you will be charged extra fees for going through without a toll pass. I opted for the toll pass since, we would be driving on toll roads in the Chicagoland area.
How old do you need to be to rent a car?
In most states, you will need to be 25 years old to rent a car. Some states will allow drivers under 25 to rent, but will charge an extra fee. Check with the rental car company to be sure that they will allow you rent if you are under 25 years old.
What type of ID is needed to rent a car?
A valid state issued driver's license should be sufficient identification for renting a car. Make sure that you are able to present the ID to everyone who asks, particularly when driving the car off the lot.
I've had good luck with Avis Preferred. I can make my reservations online and through the app. If you like to travel and want to see more of your travel posts, you can visit our travel section.
Are you a rental car pro? What are your best rental car tips? Leave a comment and let me know!