This vegetarian tortilla soup is a simple and delicious soup that your entire family will love. Top it with fresh avocado and some crumbled tortilla chips to make it extra tasty!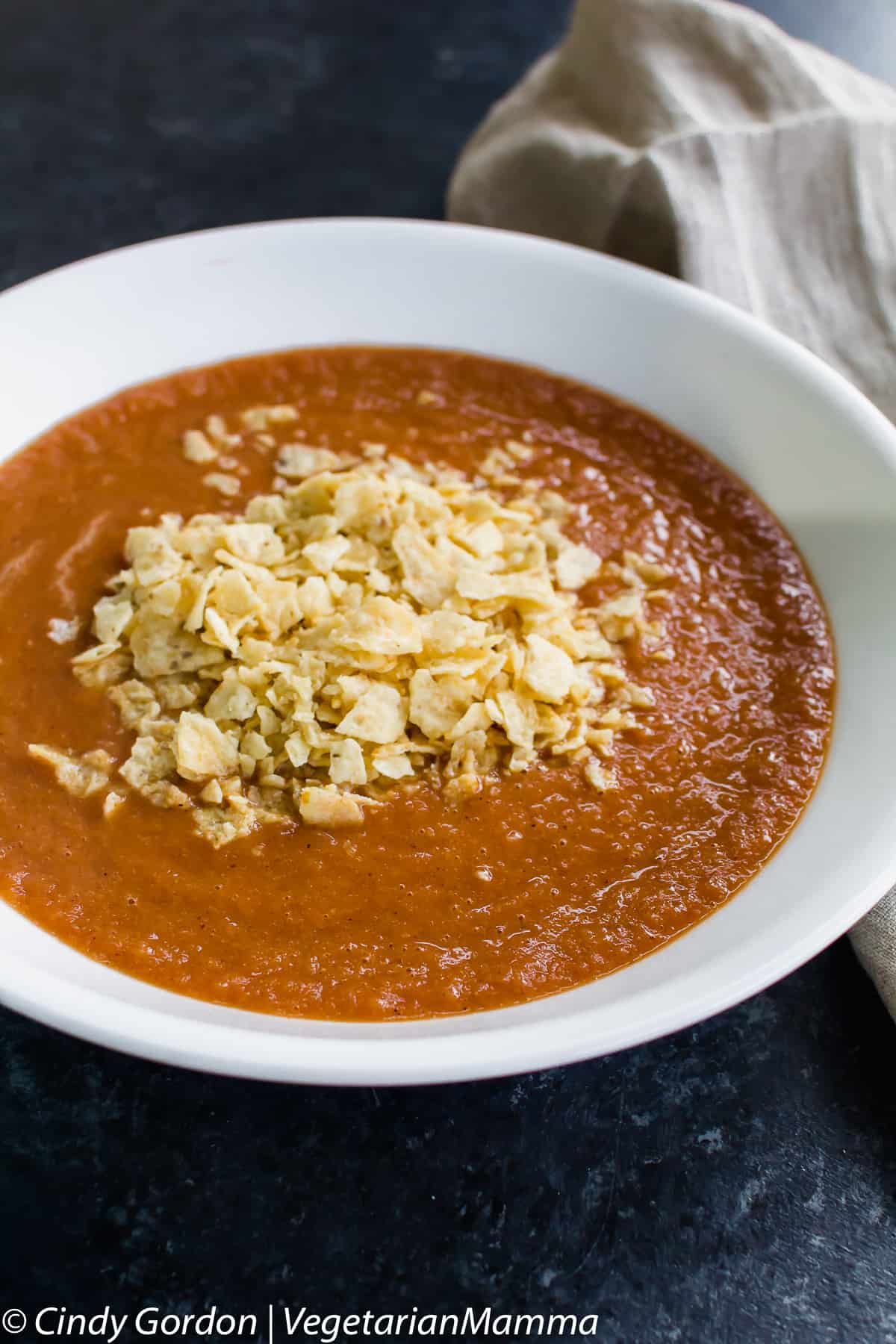 My Favorite Tortilla Soup
This is one of my favorite recipes. In fact, I love it so much I recently made it again and took all new pictures of it.
If you arrived here from Pinterest and clicked a photo that looked a tad differently, just know that this is the same recipe. I just gave it a little touch-up!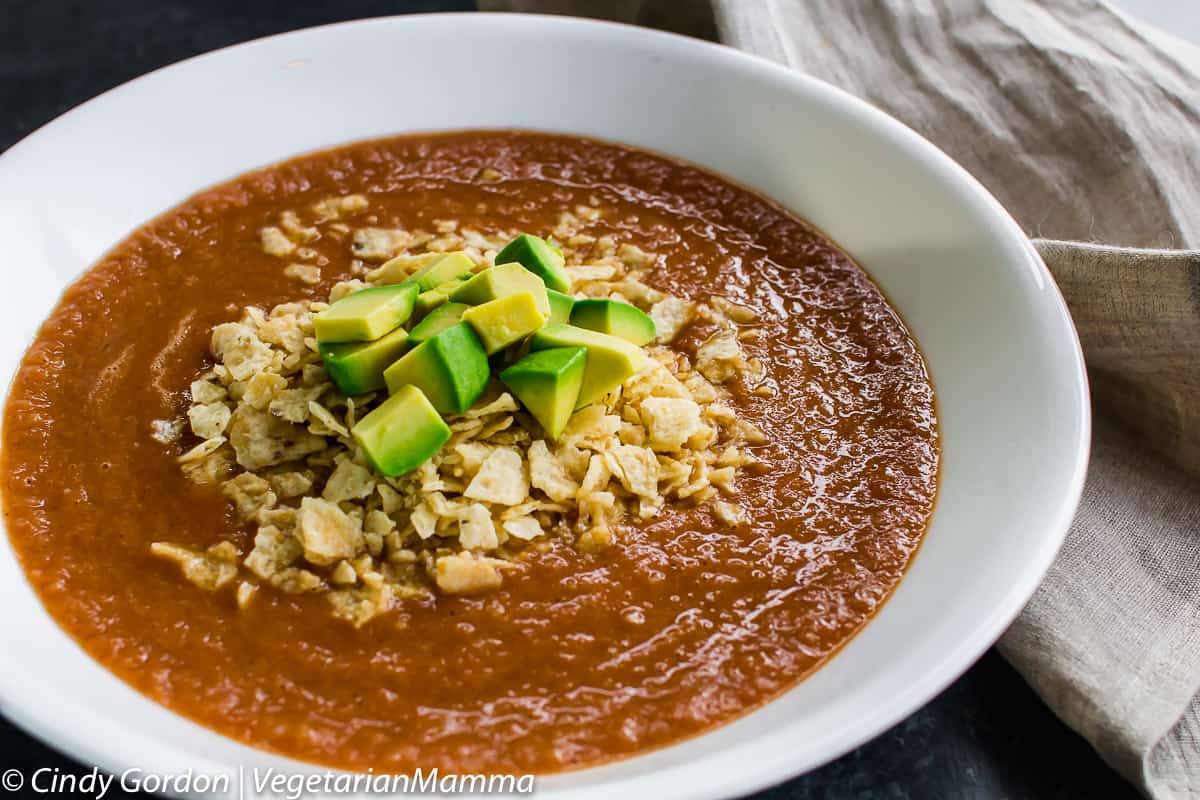 Tortilla Soup is a favorite of many. And it should come as no surprise as to why. In my family, we cannot get enough of this delicious soup.
In fact, I often have to make a double batch just to satisfy all the cravings!
Tortilla Soup is EXTREMELY versatile
One of the best things that I love about this Tortilla Soup? It's so versatile! Seriously, no matter what spice level you like, you can create it perfectly. And also, no matter what month or season of the year, this soup seems to always be a hit.
How To Serve Tortilla Soup in the Summer
During the summer months, spruce it up with a ton of fresh cilantro (from your garden if you can!) and avocados to give it that light and refreshing taste.
How to Serve Tortilla Soup in the Winter
During the winter months? Add a bit more beans and veggies and a bit of heat to make it hearty and spicy enough to warm you and your belly as well.
The Perfect Cinco de Mayo Soup
Plus, this Tortilla Soup is super popular during the month of May with Cinco De Mayo on the horizon. If eating tortilla soup year-round is wrong, then I don't want to be right.
This particular soup recipe is a Vegetarian Tortilla Soup. Topped with fresh avocado and crumbled tortilla chips, this soup will be certain to satisfy your hunger!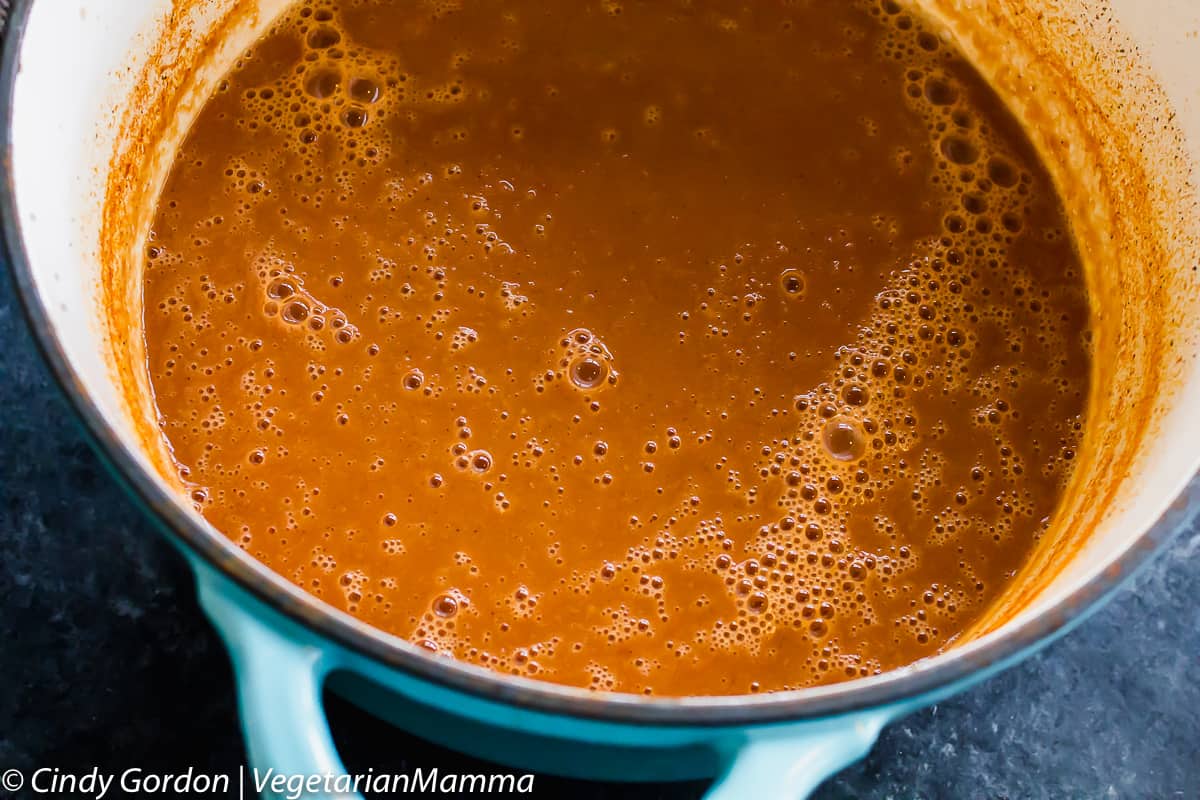 What makes Tortilla soup such a huge hit?
Great question. Sometimes, you come across a recipe that just has that "it" factor. You like it, your family likes it and it becomes one of those staples in your home that becomes a regular.
But one can't help but wonder what actually makes Tortilla soup seriously so delicious? My love of this soup is the intense flavors.
I love how I can have it spicy one bowl, and mild the next. And every bowl can seriously taste so different.
If you ask my family, they love that "crunch" factor of adding in tortilla strips or crackers. I think that even adding in a nut of some type like a peanut or slivered almond would make a great taste as well.
I often find that I'm intrigued by the history as well of certain foods that we eat, so I had to look and see about the origin of exactly how Tortilla Soup came to be. Who knew there were so many variations of Tortilla Soup out there?!
The Origin of Tortilla Soup
As Americans, we tend to alter recipes quite a bit to our style of cooking. (Who doesn't, right?) While the origin of where Tortilla Soup was first started is a question, true Mexican tortilla soup is mainly made up of a clear broth chicken broth with a bit roasted tomatoes, garlic and onions.
It wasn't until later on in years that the appearance of Tortilla Soup changed to become red (due to more tomatoes and chiles being added) and also thicker.
Simply amazing how different cultures can love the same dish, but make it so differently. The beauty of food bringing the world together is simply stunning.
Can you handle the heat?
My family likes heat. But if you don't, that's totally fine! If you want to cut the heat, you can use some greek yogurt or sour cream, vegan or dairy depending on your needs.
A few other great tips and tricks to cut the heat?
Shredded cheese
Crackers
A dash of milk or other non-dairy liquid
It's amazing how just a spoonful of Greek yogurt or sour cream can just really cut through that spiciness and heat! It's such a simple trick and an important one to learn because then you don't have to make two different batches. Your family can have a spicy soup or not, depending on their taste buds.
Did I mention that cooking in our house is a family fun event? My animal coworker Gia wanted to help with the photographing of this recipe!
Or maybe she was hoping to be a taste tester? Either way, isn't she adorable? (And talk about the best clean-up ever…she "mops" the floor amazingly if there are any little drops of food at all!)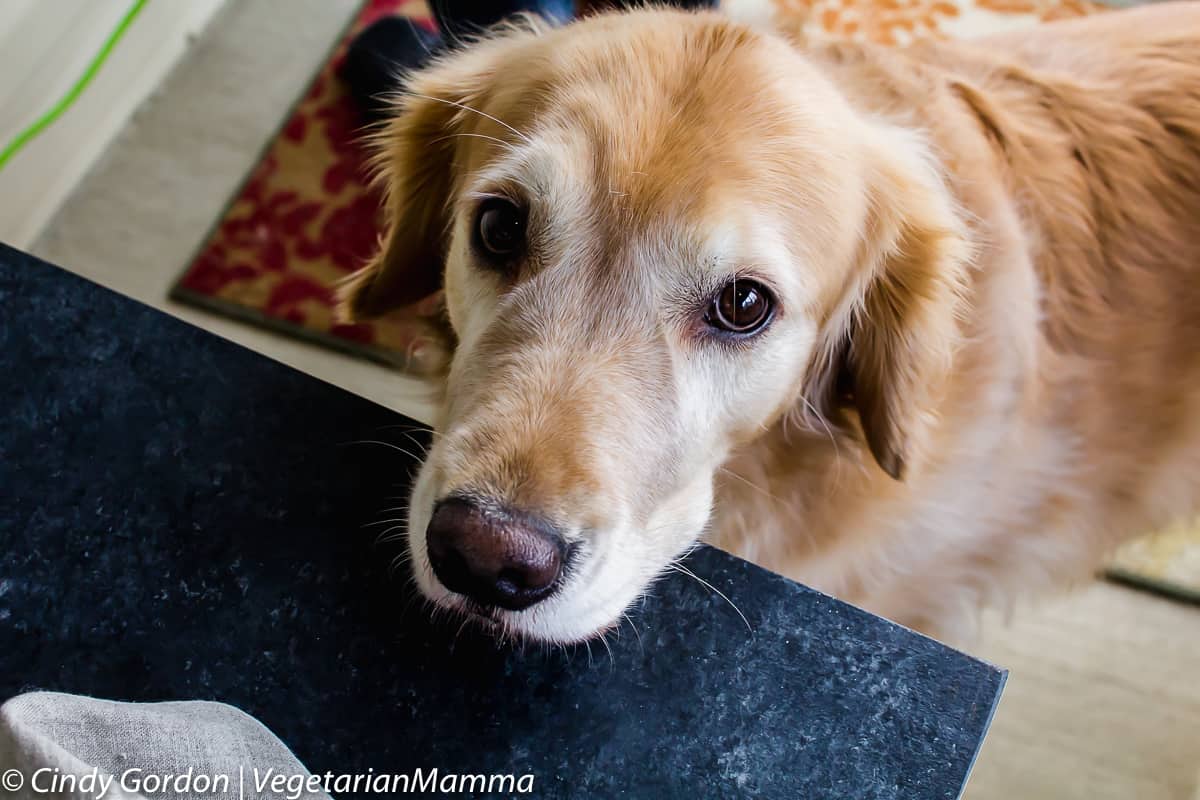 Aren't these pictures seriously mouth-watering? If you are anything like me, I bet you are getting really hungry just looking at them, aren't you?
While the recipe for this Tortilla Soup is amazing, I just knew that I had to share these mouth-watering pictures with you as well. Now that you've seen the finished product, what are you waiting for?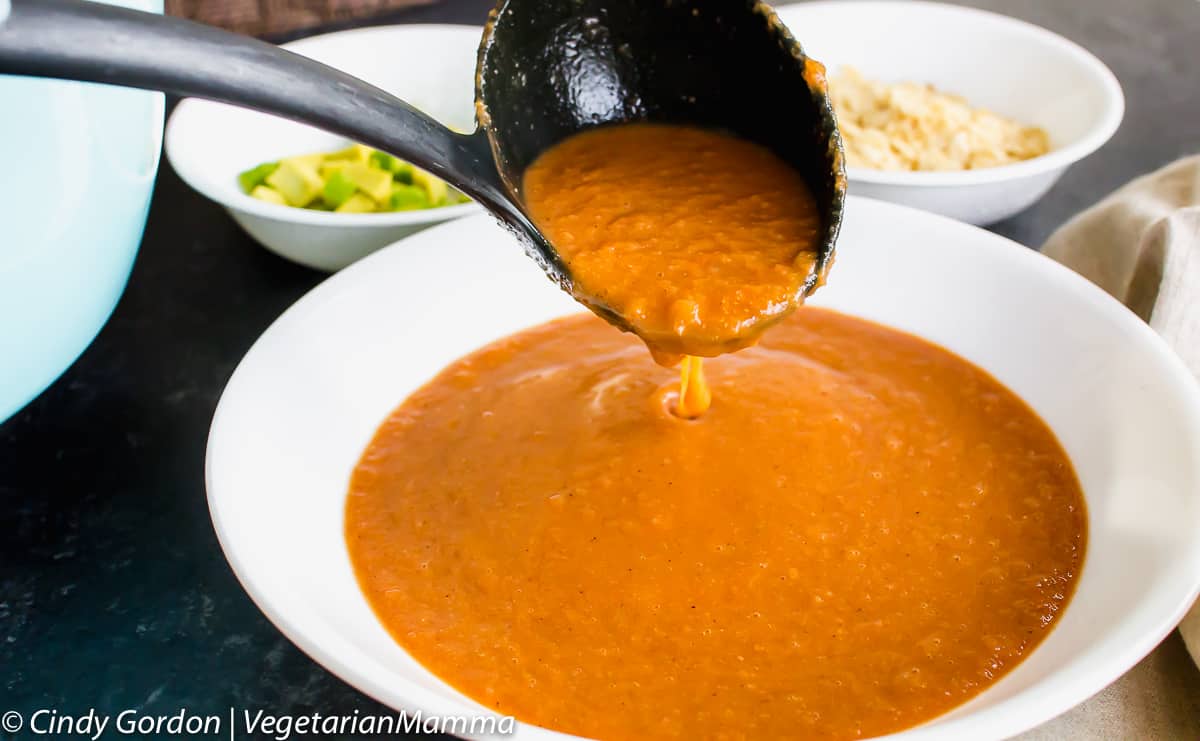 I bet you are getting really hungry, aren't you?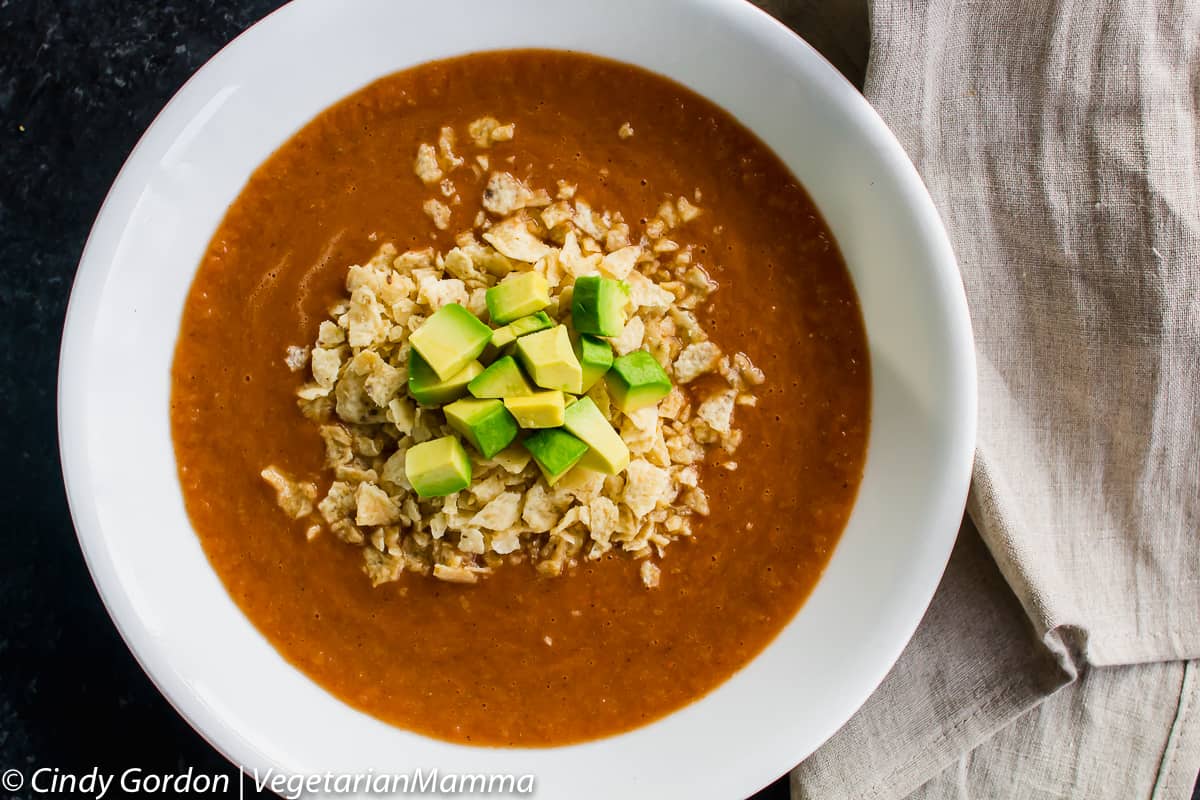 If you love this recipe, make certain to check out the others I have for you!
Don't forget that I have a ton more recipe options if you love soup as much as I do! Make sure to visit my recipe index to find more gluten-free soup recipes!
My suggestions and favorites for not only myself but my family too? Try Creamy Corn Soup, Cheesy Potato Bean Soup, or Taco Soup. Trust me, your taste buds will thank you.
Just for fun here is one of the older pictures that we just redid for this recipe!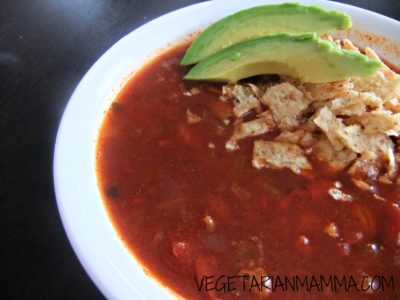 While I'm always looking for fun ways to improve my food photography skills to show you the "end" views of each and every recipe, I can assure you that this Tortilla Soup recipe itself needs no edits.
Not only is it simple to make, it really is a delicious and healthy dinner for you and your family. Plus, it tastes even better as leftovers!
If you are searching for a vegetarian Tortilla Soup, look no further than this simple recipe. It's under 10 (yes, you read that right!) ingredients, and is sure to be a hit for everyone in your house. Plus, you can alter it any way that you want.
Talk about a soup that can literally be customized for each and every person! If you are on the hunt for more soup recipes and you are a meat-eater, you should check out this gnocchi soup!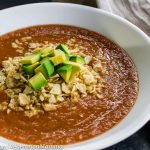 Print Recipe
Tortilla Soup –
Instructions
In a soup pot, heat oil and saute onions until soft.

Add tomatoes, beans, chili powder, cumin, water and soy sauce. Bring to a boil and then simmer for 10 minutes.

Ladle soup into bowls, top with crushed tortilla chips and avocado.

ENJOY!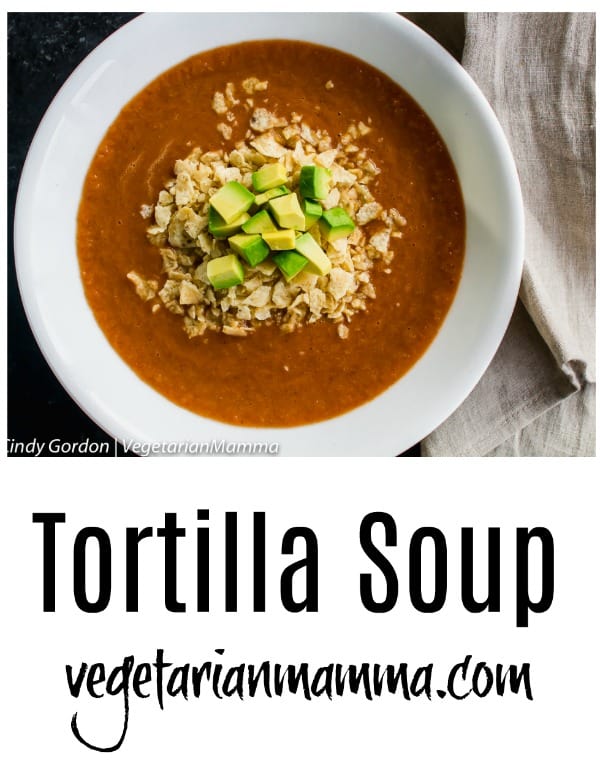 Let's talk! Leave me a comment telling me if you've ever had tortilla soup before? Do you like to top it with avocado?