Trick or Treating with Food Allergies can be stressful but with a little planning you can have fun and keep your children safe this Halloween.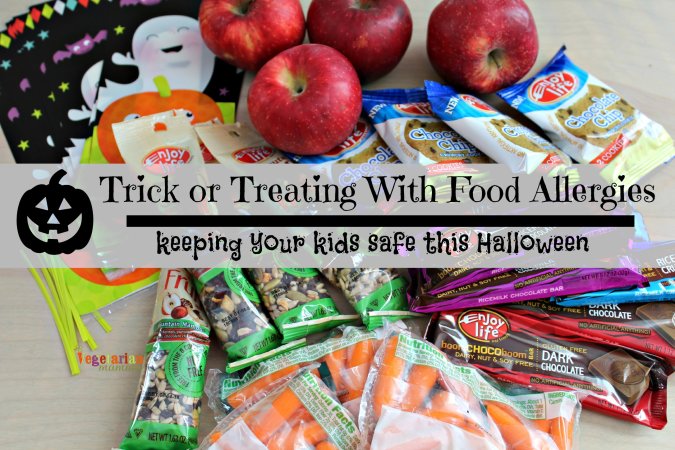 For us Food Allergies and Halloween bring back a flood of memories. It was shortly after Halloween when our youngest had the reaction that was severe enough to launch us into the world of food allergies. His previous reactions were dismissed by our pediatrician and we did not know enough to recognize the mild symptoms. This time however it was clear after spending two nights at Children's Hospital something was not right. So with a few years of Trick or Treating with Food Allergies under our belts, we have a good system down.
The bag system, as we like to call it, has worked out very well for our family. In advance of Trick or Treat night, I gather up some of my kiddos favorite items. Some sweet and of course some healthy. I get fun Halloween themed bags and create my own treat bags.
Then I head out to neighbors houses that I trust.  They all know the drill to keep my kiddos safe.  I give them two bags (one for each kiddo).  They keep the bags away from the candy they are giving out. When my kids come over to Trick or Treat they are given the special treat bag. My kids love this. Not only are they getting something SAFE, they are getting a snack they love and in a much bigger quantity!
We have a rule when we are Trick or Treating that nothing is consumed until we get back home.  That way we can empty our treat bags, wash our hands and double check to make sure everything is still SAFE.
The use of this method has worked out great for my family.  I try to use individual or grab-and-go size items of our favorite allergy friendly foods.  One of my favorite food allergy friendly brands is Enjoy Life Foods.  For these treat bags I used Enjoy Life Cookies, Enjoy Life Chocolate Bars, Enjoy Life Fruit and Seed Mix, Apples and Carrots.
Nothing beats a sweet "thank you for keeping me safe" smile. We have partnered with Enjoy Life Foods to get you some individual sized goodies to make some treat bags for Halloween!  You will get some Enjoy Life Foods Chocolate Bars, Fruit and Seed Mix and Grab and Go Cookies! Enter below!
Thank you to Enjoy Life Foods for making such tasty allergy friendly treats that my family has enjoyed for years! Thank you for sponsoring this post and offering the giveaway! This post contains affiliate links.
You can connect with Enjoy Life Foods at their website where you can learn more about their allergy friendly products AND order some!
a Rafflecopter giveaway

Leave me a comment sharing your best Halloween tips for Trick or Treating with Food Allergies.