Our friends at VegeUSA were kind enough to send us coupons so that we could sample some of their products!  Let me tell you a little bit about the company first!  Here is some information that I pulled from their website:
"Vege USA is committed to taking vegetarian and vegan cuisine to a whole new level by offering a diverse line of authentic Asian and internationally-themed gourmet meat alternatives that combine premier-quality ingredients, essential nutrients and deliciously satisfying flavors in a convenient frozen packaged product.
By offering delectable and nutritious products which can be savored by devoted and occasional vegetarians alike, Vege USA is dedicated to helping consumers embrace healthy eating not just for now, but for life"
Our Whole Foods had two of the Vegetarian Plus meals!  We tried the Citrus Spare Vegan rib meal.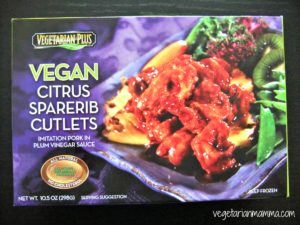 I am not going to lie, my husband was really apprehensive when I picked these up at the store, but he had recently had vegan jerky and loved it so I knew he'd like this as well!  (I was right, he liked it!) The food comes in a little pouch which can be heated on the stovetop or microwave.  It was very easy to make!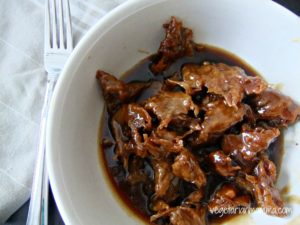 In 2 minute and 30 seconds we had some tasty citrus sparerib cutlets.  The sauce was really tasty.  It was full of flavor!  It even had a little kick!  My husband was most impressed with this dish!
We also tried the Vegan Pepper Steaks.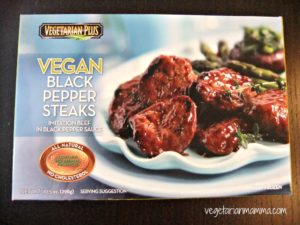 These little guys had some fire behind them!!  I am kind of a wimp when it comes to spicy things!  But my husband….he's the champ!  He said that they were great!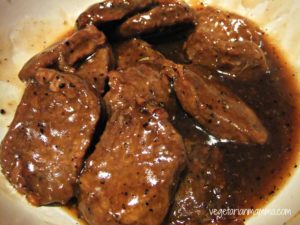 Overall we feel that these products are great for meat eaters who are wanting to transition to a vegetarian or vegan lifestyle as well as those who are already living a plant based diet!
Overall, my husband really liked the products! He liked the total package!  I really liked the flavor of the sauces!  For me, I didn't like the texture of the 'meat;' it was too real for me.  However, I do have texture issues. 🙂  Our overall rating was a 3 out of 4!  We would recommend this product!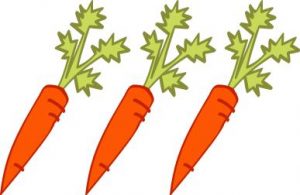 There is a HUGE variety of Vegetarian Plus meals!  Vegan 'beef', 'chicken' and 'fish'!  Check them out!
You can connect with VegeUSA by visiting:
Thanks to VegeUSA for letting us try your products!