10 Ways to Host A Vegetarian Dinner Party for Your Omnivorous Friends. Tips to make your dinner party shine, in true vegetarian style!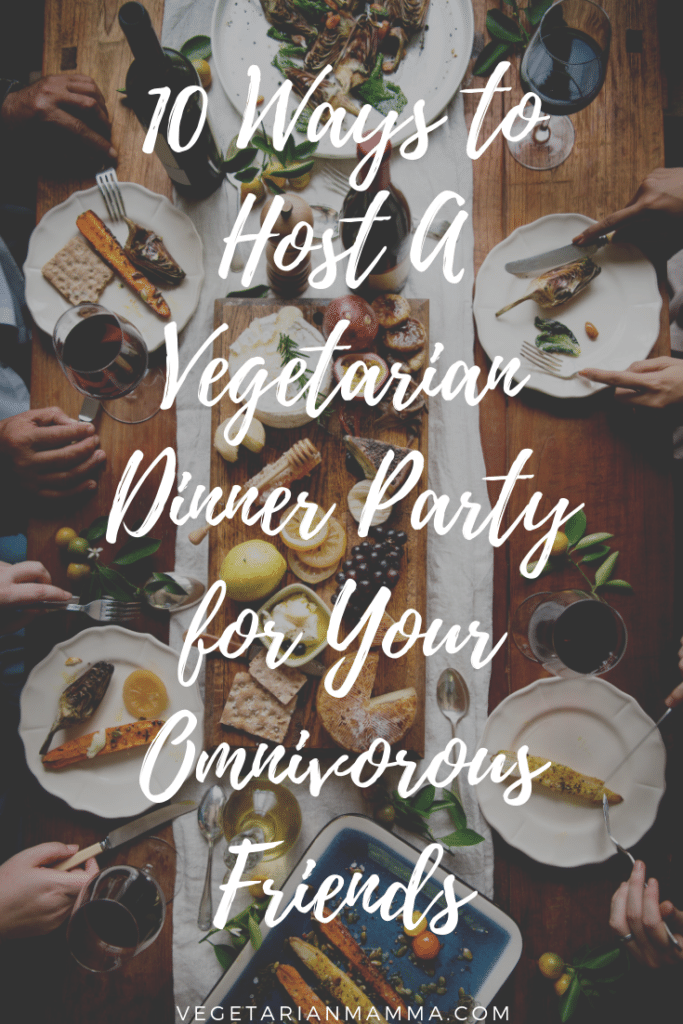 As the vegetarian of the group, it's typically you who has to consider what you'll be able to eat when you go out to eat with your friends or family members. You peruse menus ahead of time to make sure there's something you can eat, or you bring along a ready-to-eat vegetarian protein source, just in case you can't find one on the dinner table.
Now, you're in command, hosting a dinner party of your very own. There's only one problem — you have meat-eating friends coming, and they probably expect a meal featuring an animal protein. You know how frustrating it can be to be in their shoes, so you want to make sure your dinner accommodates everyone. Here are 10 tips on how to do it.
1. Make It Hearty
Nowadays, many non-vegetarians are trying to make their diets less meat-centric, since ranching has been shown to have many adverse effects on the environment. As such, plenty of hearty ways to replace meat without feeling like you're missing something already exist. For example, you can use mushrooms as a substitute for an animal protein in a meal — they provide plenty of flavor and a similar texture. Rice, beans, legumes and eggs also work, so try finding ways to incorporate them into your dinner.
2. Create a Foundation That Everyone Will Eat
Perhaps you've got a slew of eaters with dietary restrictions — along with the omnivores and the vegetarian(s), you might have a vegan or a gluten-intolerant guest, too. What are you to do in that situation?
Your best bet is to start with the base of your meal, choosing something that every one of your guests can eat. For instance, you might be able to select a risotto dish for the above list of guests, since rice suits vegans, vegetarians, omnivores and gluten-intolerant people.
3. Find a Customizable Recipe
One way to suit all of your guests is to come up with a build-your-own type of dinner option. For instance, you could make vegetarian-friendly tortilla soup. Make it fun and interactive with a toppings bar with cheese, guacamole, fresh pico, sour cream, etc., so everyone's dinner is prepped to their liking.
You can do the same with salads, burrito bowls, taco shells and pasta. Divide your dinner and conquer.
4. Choose Creative Ingredients
Don't try and reinvent the wheel for the sake of your dinner guests. Rather than attempting to recreate a favorite dish in an animal-friendly way, find an entirely new recipe to try — you'll be surprised at how many innovative cooks out there have already come up with countless vegetarian and vegan meals that pack a ton of flavor sans meat substitutes. You can do the same for dessert, using chia seeds as a base for a sweet pudding, for example.
5. Don't Be Afraid of Basic
It's the most dreaded word in today's vernacular, but choosing a basic main dish doesn't mean your dinner party will be lame. Instead, crowd-pleasers like pizza and pasta will delight your guests, whether they eat meat or not. On top of that, a grain-filled base will ensure everyone's full and happy after dinner. Don't be so quick to write off the easier option.
6. Stick to Heavy Appetizers
Offering plenty of starters is another safe bet — everyone loves appetizers. You will have no problem whipping up a full spread of heavy hors d'oeuvres that contain zero meat. Your guests will love it because they'll be in charge of deciding how much they eat, so you won't have to worry about the omnivores going hungry.
7. Provide a Four-Course Meal
You're not trying to stuff your guests full of food, but you do want them to leave your dinner feeling full and satisfied. You can ensure they feel this way by prepping a complete menu with an appetizer, salad, main course and dessert. Even the meat-eaters will have enough food to have them experiencing that cozy, full feeling.
8. Avoid Tofu When Serving Picky Eaters
Even though you know tofu is delicious, it's not everyone's cup of tea. Some believe it's bland, while others think it has a strange texture. Unless you're surrounded by open-minded eaters, your best bet is skipping tofu in favor of its many hearty substitutes, such as beans, potatoes, grains, etc.
9. Don't Forget Eggs
We already mentioned eggs as a viable vegetarian protein, but you can serve them as part of your dinner menu, too, thus sating your guests' appetite for non-plant-based protein. Fritattas or quiches will do the trick, as will recipes that incorporate hard-boiled or fried eggs.
10. Try a Potluck
You could have a slew of extra-picky eaters on your invite list, even if they don't follow a specific dietary regimen. If you think your guests will refuse to sample your vegetarian fare — and if all other options fail — make the party work for everyone by turning it into a potluck. That way, there will be meaty options for your guests, and you won't have to set aside your own beliefs to make them.
Get the Party Started
There's no need to sacrifice your chosen diet because of a dinner party. Instead, you can whip up a spread that everyone or love, whether they're vegetarian or not. So, get started, and get ready to throw bash after bash, since this one's going to be a success — we know it.
Thank you so much to Jennifer, who was our guest poster today! What great tips!
Jennifer Landis is a mom, wife, writer, and blogger. She enjoys yoga, tacos, and drinking all of the tea she can find. Follow her on Twitter @JenniferELandis and check out her blog, Mindfulness Mama, where she shares her expertise in parenting, healthy living, and food!