Napa Valley has a rich and amazing gluten free foodie community. Learn about the best places to stay, eat, and visit in Napa.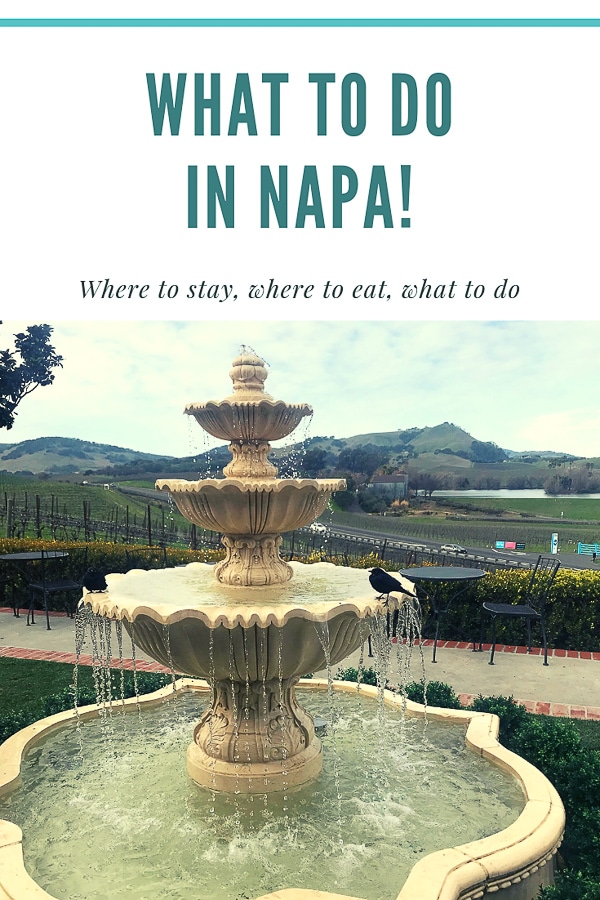 Are you planning, or dreaming of, a trip to Napa Valley California? I recently spent some amazing time there and I'm so excited to share the amazing gluten free opportunities available there. Gluten Free Napa was an amazing trip and I hope you will get to experience all of this too.
What To Do in Napa (Gluten Free Ideas)
Find a GF BnB
Stay at the Inn on Randolph. This amazing bed and breakfast style inn is full of amenities and serves the most delicious gluten free breakfast every morning. You'll be close to all of the Napa activities, but happy to stay on the beautiful grounds of the Inn too! You can read my full review of the property here.
Visit Wineries
Visit wineries. Obviously they make wine in Napa, and you must visit the wineries to see the process and sample the wines! These four are a must-see from my perspective.
Visit the Official Napa Valley Sign
Visit the Official Napa Valley Sign. Welcome to Napa Valley! This iconic welcome sign is a must visit, and definitely a must photograph.
Visit the store of the Culinary Institute of America. You'll find this store near the Napa Valley Welcome Sign. A must see for any chef, home cook, or food blogger!
Eat, Eat and eat again
Eat! We couldn't do a gluten free tour of Napa without eating at some amazing gluten free and gluten friendly restaurants
Where to hang out in Napa
Yountville

is the heart of Napa Valley. A gorgeous and fun town with beautiful shops such a Finesse when you can buy locally made jams. You can also visit the gardens where The French Laundry grows their vegetables.

Downtown Napa

Visit downtown Napa to spend an afternoon looking in the shops.

Oxbow Public Market

is a really fun place to hang out, shop, drink wine and eat. This community gathering place is the home to the C Casa restaurant I mentioned earlier.
A special thank you to the title sponsors of the Gluten Free Bloggers Retreat for 2019: Schar, Enjoy Life Foods, Canyon Bakehouse and the Inn on Randolph