Napa Valley has a rich and amazing gluten free foodie community. Learn about the best places to stay, eat, and visit in Napa.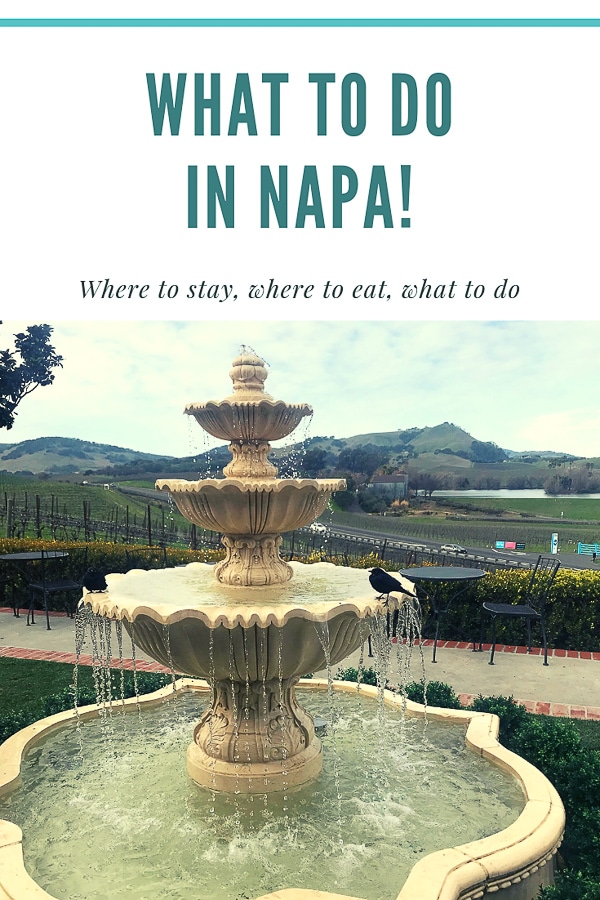 Are you planning, or dreaming of, a trip to Napa Valley California? I recently spent some amazing time there and I'm so excited to share the amazing gluten free opportunities available there. Gluten Free Napa was an amazing trip and I hope you will get to experience all of this too.
What To Do in Napa (Gluten Free Ideas)
Stay at the Inn on Randolph. This amazing bed and breakfast style inn

is full of amenities and serves the most delicious gluten free breakfast every morning. You'll be close to all of the Napa activities, but happy to stay on the beautiful grounds of the Inn too! You can

read my full review of the property here.
Visit wineries. Obviously they make wine in Napa, and you must visit the wineries to see the process and sample the wines! These four are a must-see from my perspective.
Mumm Napa is a winery that specializes in sparkling, celebration wines. This is a really lovely winery and I enjoyed the tastings. My favorite was a sparkling RED wine which was amazing. I took a bottle of that one home with me.
Round Pond Estate Winery was probably my favorite of the wineries we visited! The location was stunning and the wine was delicious. Love the family history behind this winery, you can see the personal touches in everything they do. I bought two bottles of red here.
Chateau Montelena Winery This winery is full of history. We saw one of the only 9 bottles that are left of the 1973 Chardonnay that won awards in Paris and proved to the world that California could produce amazing wine. If you have $120K you can take one home with you! I was a little bit short on cash so I passed on that!
Castello Di Amorosa I didn't do any wine tasting here, but did spend some time on the grounds of this amazing Tuscan style castle. A totally beautiful place!
Visit the Official Napa Valley Sign. Welcome to Napa Valley! This iconic welcome sign is a must visit, and definitely a must photograph.

Visit the store of the

Culinary Institute of America

. You'll find this store near the Napa Valley Welcome Sign. A must see for any chef, home cook, or food blogger!

Eat! We couldn't do a gluten free tour of Napa without eating at some amazing gluten free and gluten friendly restaurants
Tarla Mediterranean Grill was a great spot with enough vegetarian, gluten free options to make me happy. Serving lunch, dinner, and brunch, Tarla was delicious.
The French Laundry, a three star Michelin restaurant owned and operated by Chef Thomas Keller, came highly recommended. I did not eat here, but friends that I was traveling with did and said it was amazing. Be prepared, this is a pricey option, and tables must be reserved months in advance. Dinners will be adapted to be be vegetarian, gluten free, or dairy free on request.
C Casa 100% GF tacos and more. Amazing food and a casual atmosphere, I really enjoyed it. I enjoyed it so much I ate here twice!
Bouchon Bistro Thomas Keller's second Michelin star restaurant, Bouchon Bistro was delicious. Such good food! Traditional French bistro menu with seasonal offerings and seafood. I thoughoughly enjoyed eating here.
Ad Hoc, also a Thomas Keller restaurant is the place you need to go if you eat meat and are gluten free. They have gluten free dairy free FRIED CHICKEN. My friends said it was awesome. Not much to eat at this American style restaurant for vegetarians, but everyone else enjoyed themselves!
Where to hang out
Yountville is the heart of Napa Valley. A gorgeous and fun town with beautiful shops such a Finesse when you can buy locally made jams. You can also visit the gardens where The French Laundry grows their vegetables.
Downtown Napa Visit downtown Napa to spend an afternoon looking in the shops.
Oxbow Public Market is a really fun place to hang out, shop, drink wine and eat. This community gathering place is the home to the C Casa restaurant I mentioned earlier.
A special thank you to the title sponsors of the Gluten Free Bloggers Retreat for 2019: Schar, Enjoy Life Foods, Canyon Bakehouse and the Inn on Randolph