Wondering What to do outdoors in Baltimore? While known for the Inner Harbor and its history, Baltimore offers a variety of ways to explore the area through outdoor adventures. From kayaking the Chesapeake Bay to exploring the city by bicycle, the Charm City embraces outdoor adventures.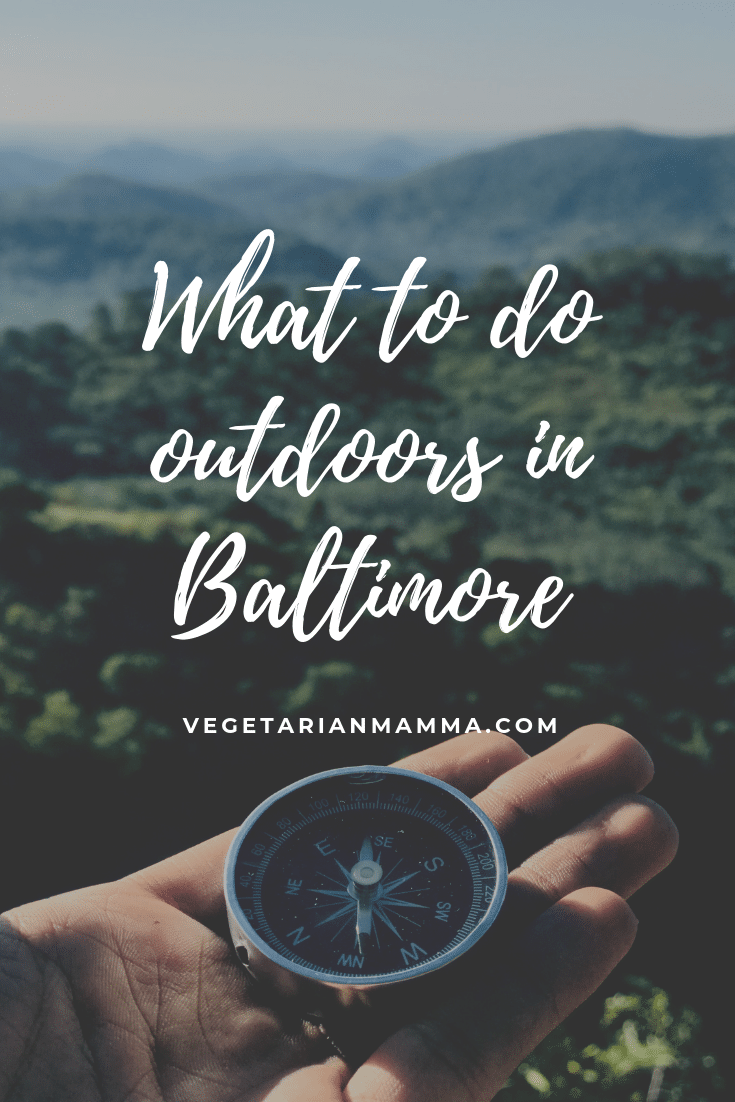 As you know soccer is pretty big in my life due to my boys. We recently headed back to Baltimore for a soccer tournament and I do have to share, the team won their entire top flight division! But this time it was different, they stayed academy style, so that meant I had time to myself. I did some researched while staying at the Hilton Airport Doubletree and I found some pretty amazing outdoor activities! You might wonder What to do outdoors in Baltimore? Well, I've got you covered!
Kayak Chesapeake Bay
Grab a kayak or canoe and head to the Inner Harbor to begin your water exploration of the city. You can enjoy an outdoor adventure while taking in a magnificent view of the city's skyline from the water. Public tours are offered each Sunday April-October if you prefer to kayak with a group. If you want to rent a paddle boat or join a dragon boat group, Pier 1 is the place to visit. You can rent a dragon-style boat for some fun.
Hike Baltimore
Jones Falls Trail begins near the Inner Harbor and runs for a little more than nine miles toward Mount Washington. Enjoy the city's views as you enjoy a hike on the paved path. With the Maryland Zoo located along the trail, you can take a break and visit the animals along the way. The trail's construction started in the 1990s and has been handled through five phases. The trail offers a mix of urban and natural settings. So, you'll have lots of opportunities for sightseeing as you hike through Baltimore. The Jones Fall Trail is perfect for an outdoor adventure as it doesn't have any steep hills, but is considered a hilly trail.
Bike Baltimore
If you prefer to explore Baltimore via a bicycle, you're in luck. The area has several trails available, including the Gwynn Falls Trail. About 15 miles long, the trail takes you through 30 neighborhoods – offering a mix of urban and nature views – via paved, gravel and dirt paths. The Baltimore and Annapolis Trail gives bicyclists a chance to ride toward the US Naval Academy in Annapolis. The trail begins on the north near Glenn Burnie, south of Baltimore. It provides a rural setting for 13 miles to Annapolis. An additional two-mile route will take you to the academy.
Loch Raven Reservoir
Built in the late 1800s as a dam, Loch Raven Reservoir not only provides drinking water for the Baltimore area, it also serves as a major outdoor recreation location. Located about 20 minutes north of the city, Loch Raven Reservoir features a 6.5-mile hiking loop around the dam. With beautiful views of the lake and surrounding woodlands, Loch Raven provides an amazing setting for an outdoor adventure. With swimming and boating available, it's easy to spend a full day or weekend at the reservoir. Fishing is also allowed at Loch Raven.
Terrapin Adventures
Less than a 30-minute drive south of Baltimore, Terrapin Adventures invites you to take on the Terrapin Challenge and complete 19 stages of wall climbing, rope ladder and bridge challenges among tree branches and then zipline to the finish. The Savage, Maryland, outdoor adventure offers a variety of adventures, but the Terrapin Challenge is a combination of all of them. The challenge includes the Terrapin Flyer, a freefall attraction. The adventure ends with a ride along a 330-foot long zipline.
No matter how you want to explore Baltimore and the surrounding area, outdoor adventure seekers have several options. From biking area trails to boating the Inner Harbor, there's an outdoor adventure waiting for you in Baltimore.
For lodging, we stayed at the Hilton Double Tree which is located at the airport. It was a great hotel located in a spot that was easy to hop on any road we needed to get to our outdoor adventures!
Question time: Have you ever been to Baltimore and enjoyed the outdoors? Drop me a comment below! Love to travel? Do check out our travel section!