This soup can live up to its name, I promise! You will fall in love with it. This soup is the world's best broccoli cheese soup!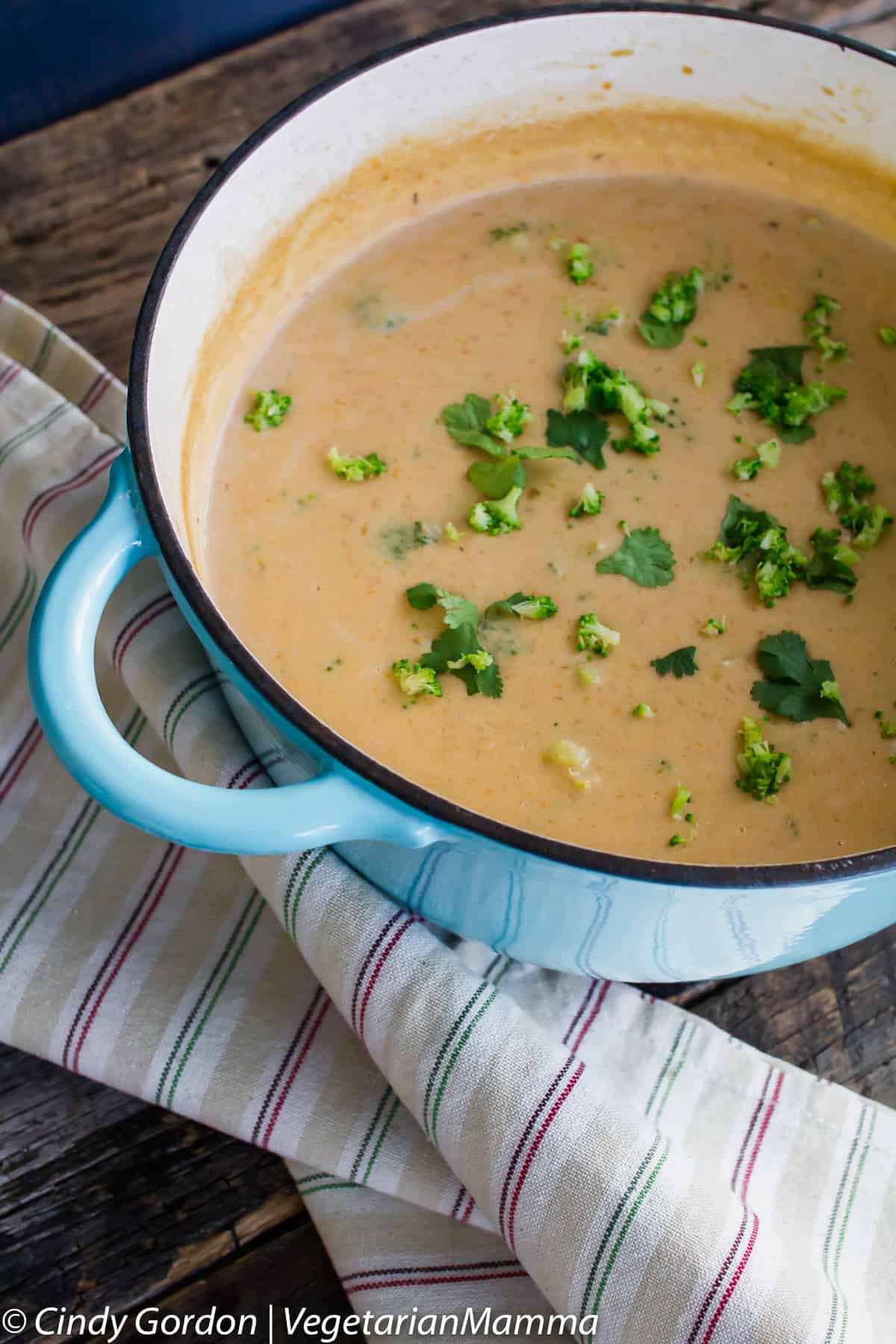 Gluten Free Broccoli Cheese Soup
It wasn't until I was an adult that I came to love and appreciate broccoli cheese soup. When I was growing up, I enjoyed the basics.
You know, the tomato soup and chicken and noodle soup from a can with a red and white label? Just the basics. I didn't expand much further than that.
I seriously missed out. Seriously.
I spent my childhood years eating mediocre soup when this broccoli soup recipe was just waiting for me to discover it! Better make up for lost time now, right?
The good news about this gluten-free broccoli cheddar is that it's thick and creamy and it's turned out great every single time I've made it.
I nailed it on my first try! How awesome is that? And trust me friends, this is something that you can accomplish as well.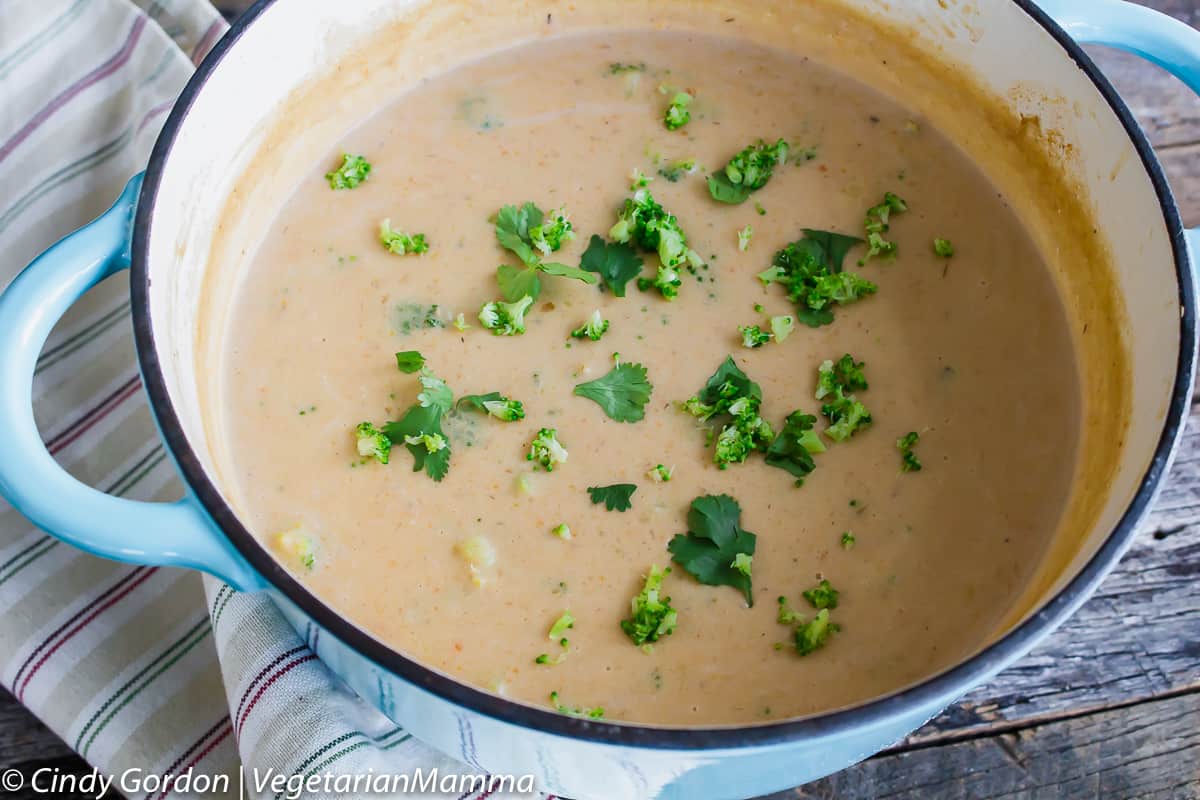 When I got married we started trying all kinds of new things and my palette expanded beyond the basic tastes. I am so thankful so that.
I came to realize how delicious foods are, even when you pair simple ingredients together. My husband and I loved broccoli and cheese soup. It's perfect for a date night and so much fun to create together.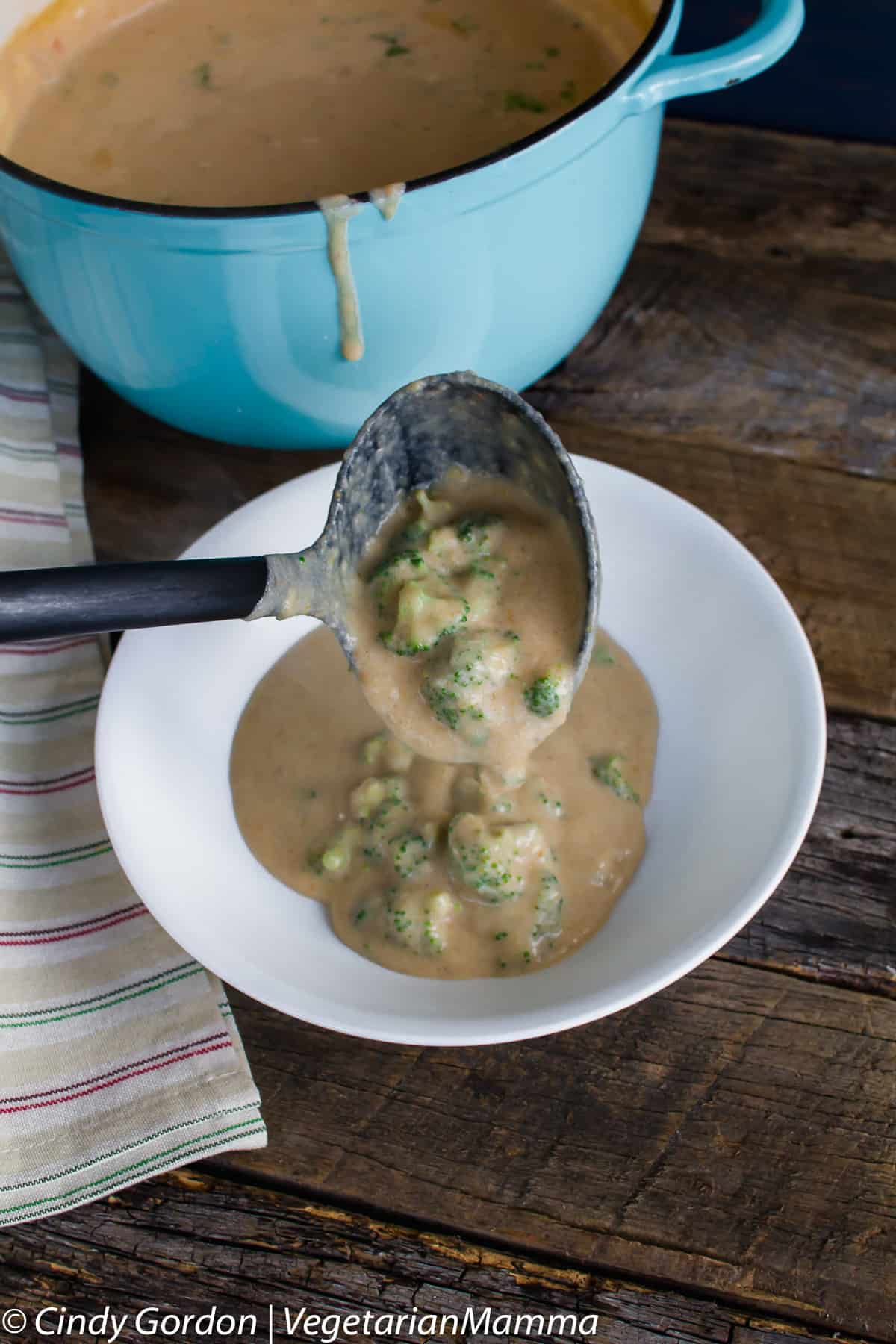 We would often get it in those big bread bowls when eating out. Well insert our gluten-free food restriction and that changes things up a bit.
More soup recipes to consider:
No more are we having our soup in bread bowls when eating out. That does give me a great idea though…I think we need to work on a bread bowl recipe. Now that would be delicious!
Now I tend to add some extra broccoli florets (sshh…don't tell the kids) to give it some more veggies!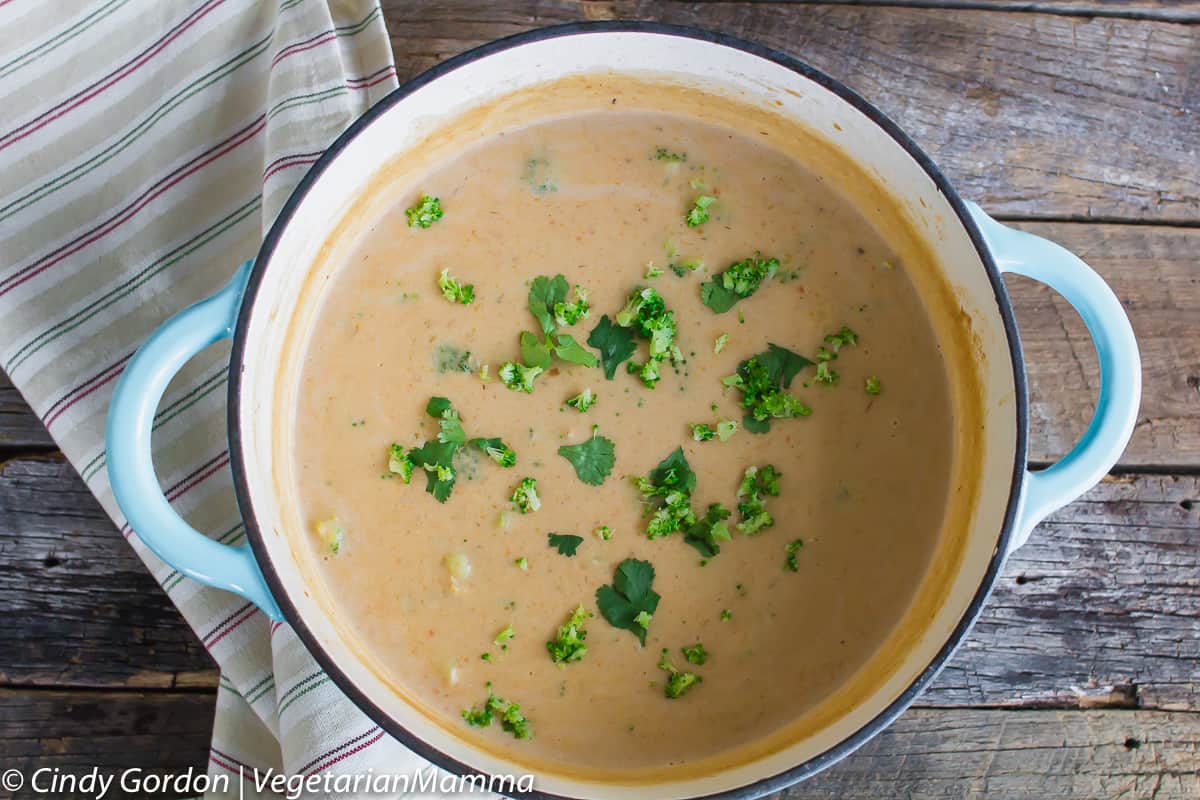 Creamy types of soups often have gluten in them, typically in the form of flour. So that is a good tip to watch out for when you are dining out.
For this soup, we used simple ingredients just like we do in our other recipes. I did use fresh broccoli for this recipe, however I bet you can get frozen broccoli to work too! Just make certain that you take into account the excess moisture that might come from the frozen broccoli. This easy broccoli cheese soup is meant to be cheesy and hearty so you don't want it to be watered down.
Does using gluten-free flour change up the taste of this soup?
I don't notice a difference at all. There are some really great gluten-free flours out there so do your research and find one that works well for you.
How would you store this gluten-free broccoli cheddar soup?
If you have any leftovers, you can store in the fridge in an airtight container for several days after cooking. I tend to like to eat up leftovers within 3 days of making, but that's just me.
What else can you add to this homemade soup recipe?
If you're asking me, I like a little spice so fresh jalapenos and chopped onions are always a good choice! And if you want to add some extra cheese to the top at the end, do so! It's your bowl of soup – doctor it up however you want! (you can even sprinkle some hot sauce on at the end as well!)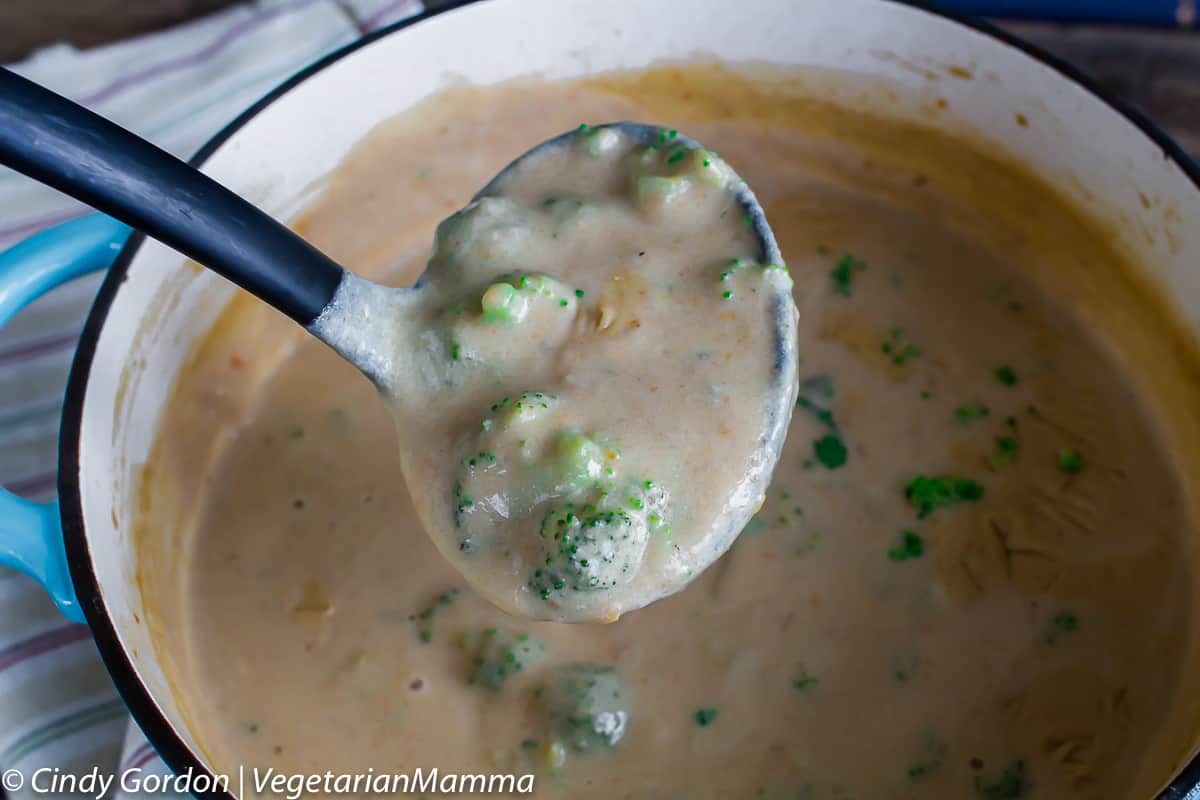 Next up, I need to figure out this recipe for the instant pot! We have been creating so many delicious instant pot recipes lately!
Can you imagine? This would take this soup to a whole other level! Challenge accepted!
Instant pot ready?
Who doesn't love a good instant pot soup recipe! This soup isn't quite instant pot ready but we will test it out. Our Instant Pot Taco Soup and Instant Pot Potato and Leek Soups are popular soup recipes on our site! You will have to check them out.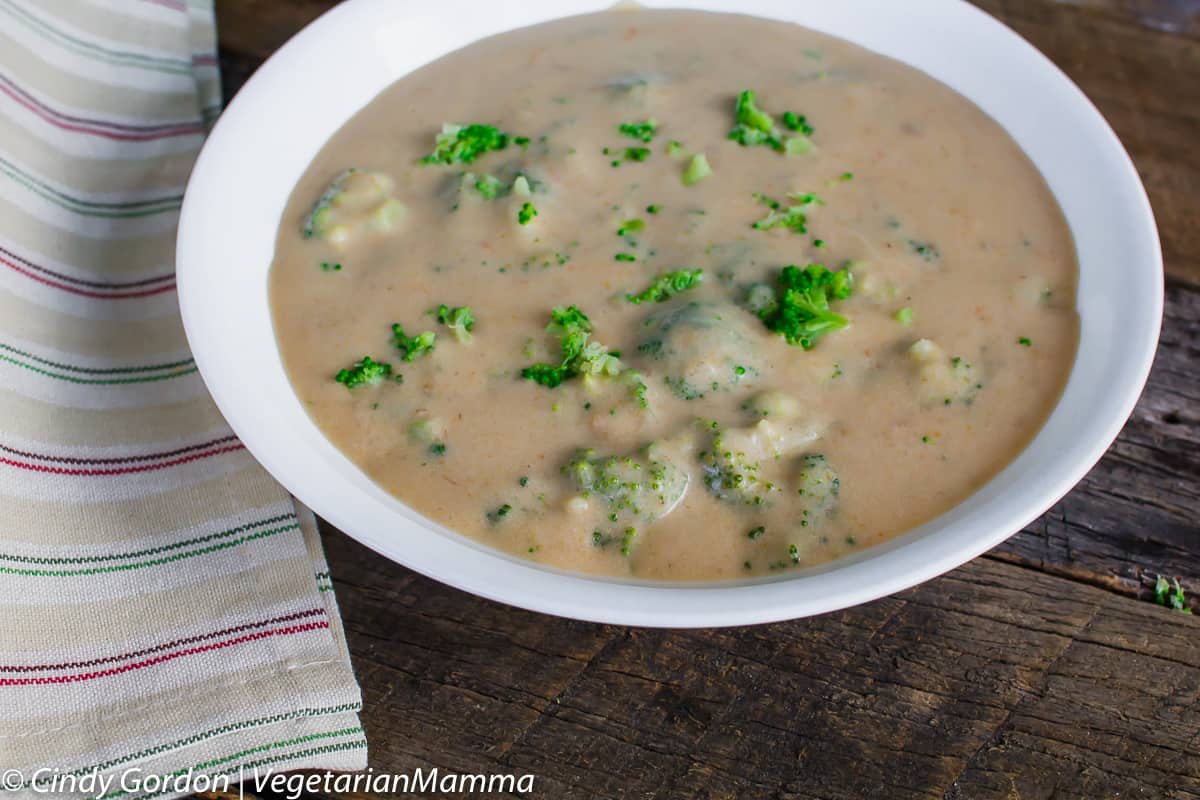 Soups are typically delicious even when reheated. That is the case for this Broccoli Cheese Soup. I like to make a big pot on Sunday, then we can eat on it all week long for our lunches.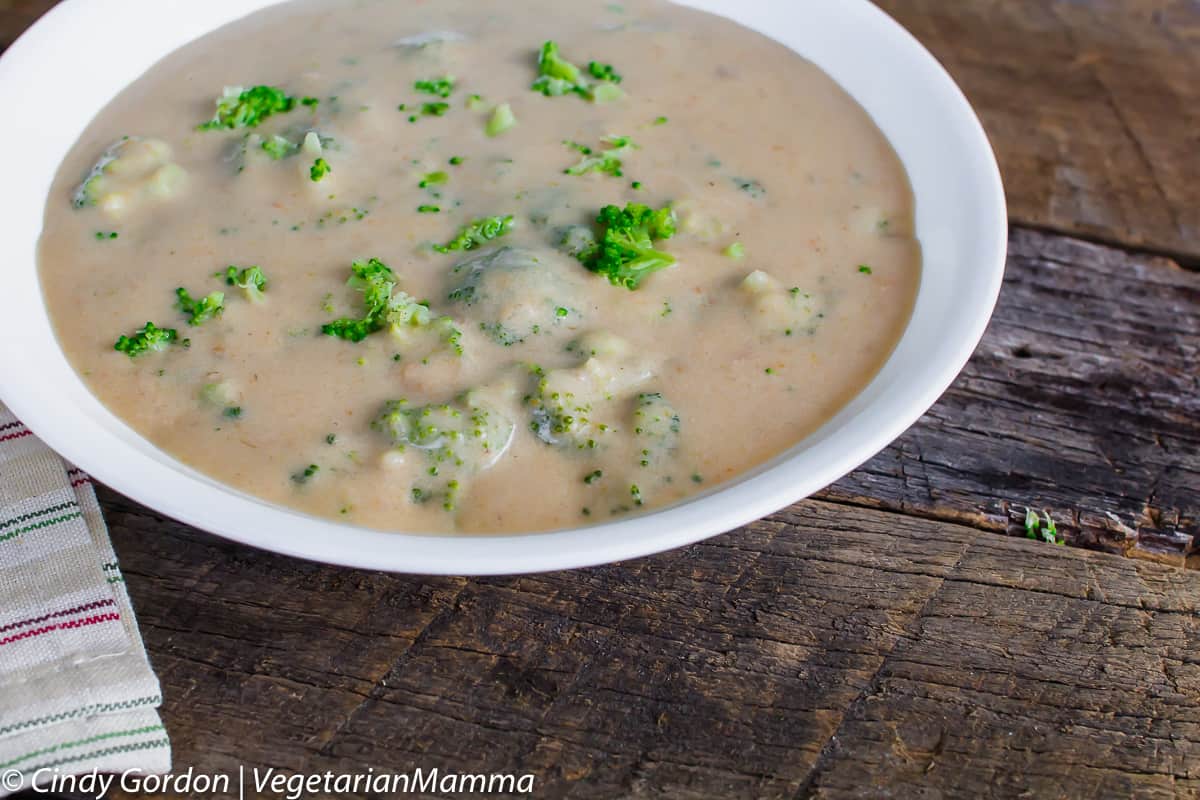 I have not tried to freeze this Broccoli and Cheese soup. So I am not sure how it would hold up in the freezer. I'm certain it would probably change the texture of the recipe, but it shouldn't affect the taste.
Be sure to drop me a comment below if you happen to try it! Then we can report back to other readers!
Looking for a good biscuit to go with this soup? Be sure to check out these Gluten Free Buttermilk Biscuits from my friend Michelle! They look amazing!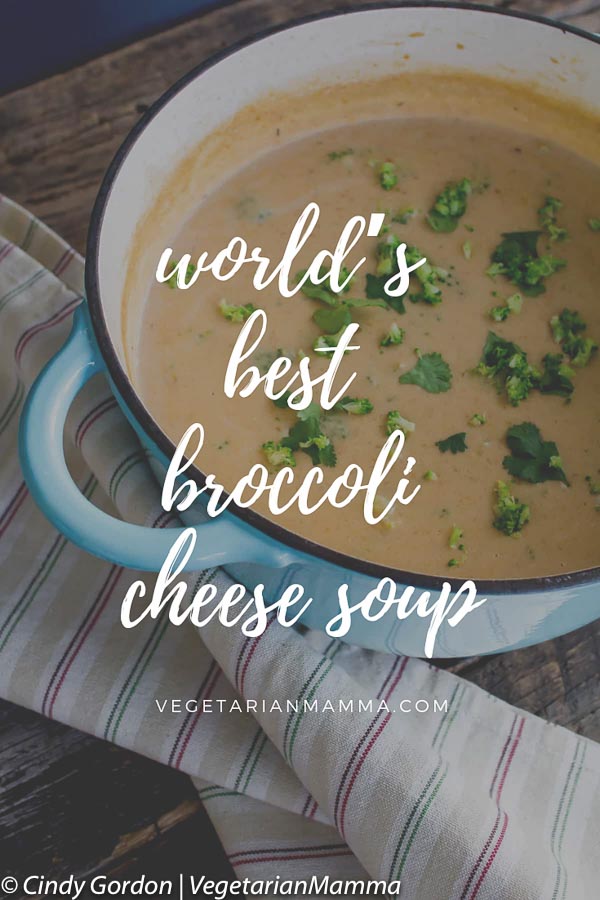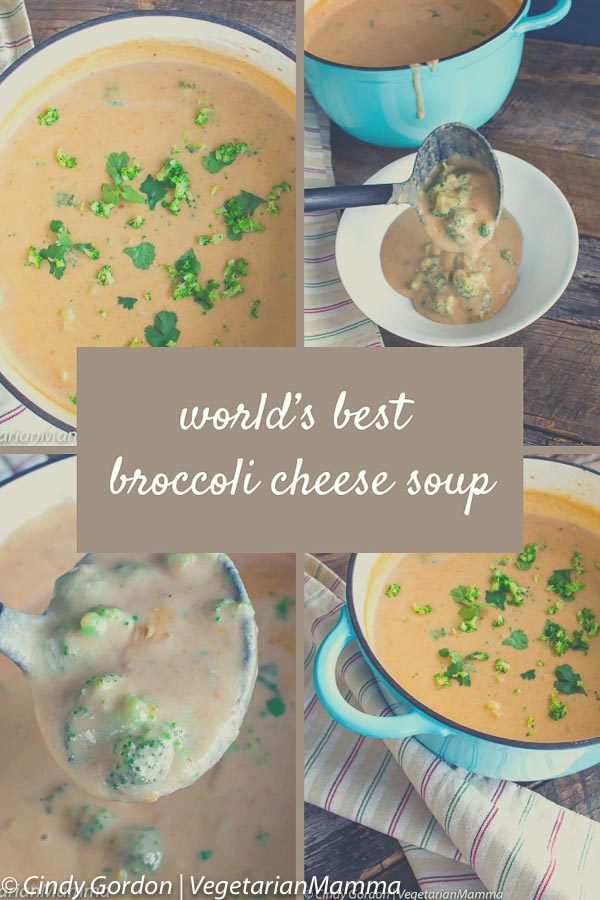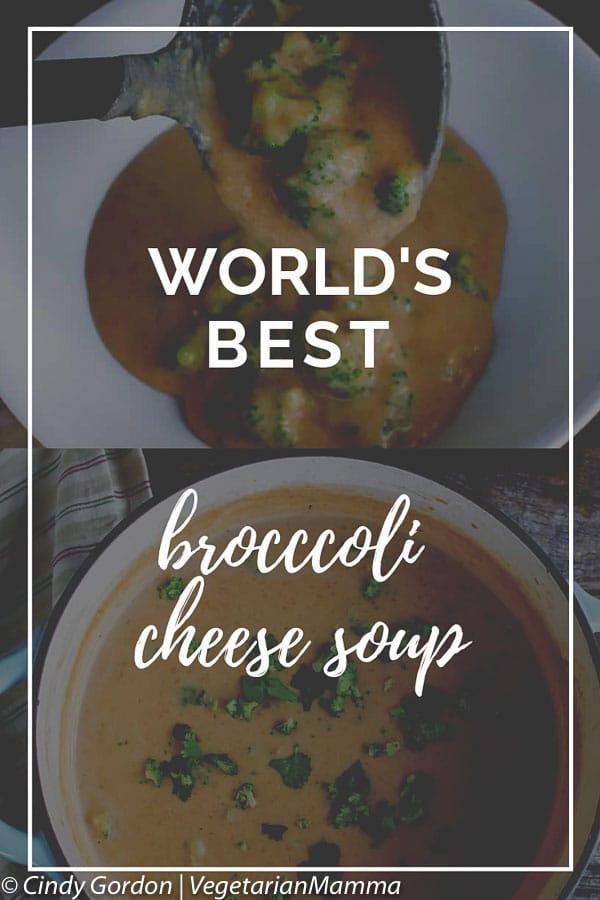 Hungry for some broccoli cheese soup?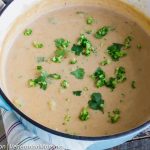 Print Recipe
World's Best Broccoli Cheese Soup
This soup can live up to it's name, I promise! You will fall in love with it. This soup is the world's best broccoli cheese soup!
Ingredients
2

T

oil

1

c

leek

diced

1

c

carrot

diced

2

c

potatoes

peeled and diced

4

c

vegetable broth

4

c

broccoli pieces

1

c

half and half

2

c

milk

3

c

shredded cheddar cheese
Instructions
In a stock pot over medium heat, warm the oil. Saute the carrots and leeks until soft.

Add in diced potatoes and vegetable broth. Bring to a boil. Boil for 5-7 minutes or until potatoes are soft. Blend soup using your blender or an emersion blender.

Add broccoli to soup mixture (back in the pot).

In a large mixing bowl combine half and half, milk and flour. Whisk to combine. Gently add to the soup mixture.

Bring mixture to a boil, then simmer until broccoli is soft. Remove from heat and slowly stir in cheese.

ENJOY!
Nutrition
Calories:
346
kcal
|
Carbohydrates:
19
g
|
Protein:
16
g
|
Fat:
23
g
|
Saturated Fat:
13
g
|
Cholesterol:
62
mg
|
Sodium:
805
mg
|
Potassium:
593
mg
|
Fiber:
3
g
|
Sugar:
6
g
|
Vitamin A:
4025
IU
|
Vitamin C:
49.1
mg
|
Calcium:
455
mg
|
Iron:
2.6
mg
All though this website attempts to provide accurate nutritional information, the information should only be considered an estimate. Varying factors such as different product types, different brands, etc. can change nutritional information. It is your responsibility as a consumer to read all labels to make sure the ingredients fit your dietary needs as well as calculate your own nutritional information as a double check.
I hope that you enjoy the recipe and also think that it's the World's Best Broccoli Cheese Soup! Leave me a comment below telling me if you love soup too!
Do you have a favorite recipe for Broccoli Cheese Soup?