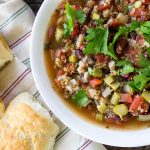 Print
Quinoa Kale Soup - Comforting and Warm
Quinoa Kale Soup is an appetizing soup that your entire family will love. This quinoa and kale soup is sure to make your family come back for seconds!
In a medium skillet, use 2-3 T of oil, saute mushrooms, leeks and asparagus.

Once vegetables are soft add in tri-bean blend (can drained and rinsed) and diced tomatoes with chiles. Stir to mix.

Add in vegetable broth and frozen organic quinoa and kale. Bring to a boil, simmer for 15 minutes.

Garnish with fresh herbs. Enjoy!