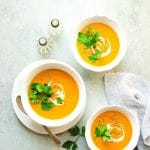 Print
Roasted Carrot Bisque from Eat Dairy Free by Alisa Fleming
This simple soup is a great way to showcase fresh carrots. It's slightly rich, naturally sweet, a little rustic, and very comforting.
2

pounds

carrots

peeled and cut into 1-inch chunks

1

medium

onion

halved and then quartered

2

garlic cloves

1 1/2

tablespoon

melted coconut or olive oil

1 1/2

tablespoon

honey or maple syrup

4

cups

vegetable broth

14

oz

full-fat coconut milk

1 1/2

cup

water

more or less as needed

1 to 1 1/4

teaspoon

salt

1/8 to 1/4

teaspoon

black pepper

Coconut cream or additional full-fat coconut milk, for garnish (optional)

Chopped fresh parsley, for garnish (optional)
Preheat your oven to 425.F.

Place the carrots, onion, and garlic cloves on a large rimmed baking sheet and toss with the oil and sweetener to coat.

Spread out the vegetables into a single layer. Roast for 20 minutes. Stir and spread the vegetables back into a single layer.

Roast for 20 to 25 more minutes, or until soft and browned around the edges, but not burned.

Transfer the roasted vegetables to your blender or food processor and add the broth. Blend for 2 to 3 minutes, or until relatively smooth. This may need to be done in two batches.

Pour the carrot mixture into a large saucepan over medium-low heat. Stir in the coconut milk and desired amount of water to thin.

Season with the salt and pepper to taste. Cook until heated through. Ladle into bowls. If desired, swirl with a little coconut cream or coconut milk and sprinkle with parsley.

Store leftovers in an airtight container in the refrigerator for up to 2 days.
Flavor Variations
       

Curry:

While heating in step 5, stir in 2 to 3 teaspoons of your favorite curry powder.

       

Smoky:

While heating in step 5, stir in 1/2 to 1 teaspoon of smoked paprika, or to taste.

       

Herb:

Garnish each bowl with 1 tablespoon of chopped fresh herbs, such as basil, thyme, or rosemary, or add the herbs to the vegetables during the last minute of roasting.

       

Winter:

For a creamier seasonal finish, substitute sweet potatoes or squash for the carrots.
Credit for this Recipe:
This recipe is reprinted with permissions from
Eat Dairy Free
: Your Essential Cookbook for Everyday Meals, Snacks, and Sweets
by Alisa Fleming (BenBella Books, 2018). Photo by Nicole Axworthy.