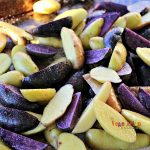 Print
Garlic Herb Roasted Potatoes
You can also add parm to this dish if you like!
Cut fingerling potatoes in half lengthwise.

Toss all ingredients together, except parsley.

Roast potatoes for 15 minutes in a 400 degrees F oven.

Remove potatoes from oven and sprinkle with parsley.

Roast an additional 5 minutes or until done.

ENJOY!