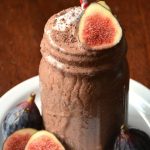 Print
Frosty Fig Shake
Figs are my favorite replacement for starchy bananas when it comes to shakes, as figs make rich and creamy dairy free shakes! I love to use fresh figs in this shake when possible, but you can use dried figs or dates. *If you don't have a high speed blender, then you may want to soak the dried figs in water for 30 minutes prior to blending to help soften them. Dates will also work as a substitute, but dates don't usually make the shake as thick and creamy as the figs, though they will make this shake equally delicious.
Blend all ingredients together (except ice) on high.

When creamy, then add in ice and blend until thick and creamy.