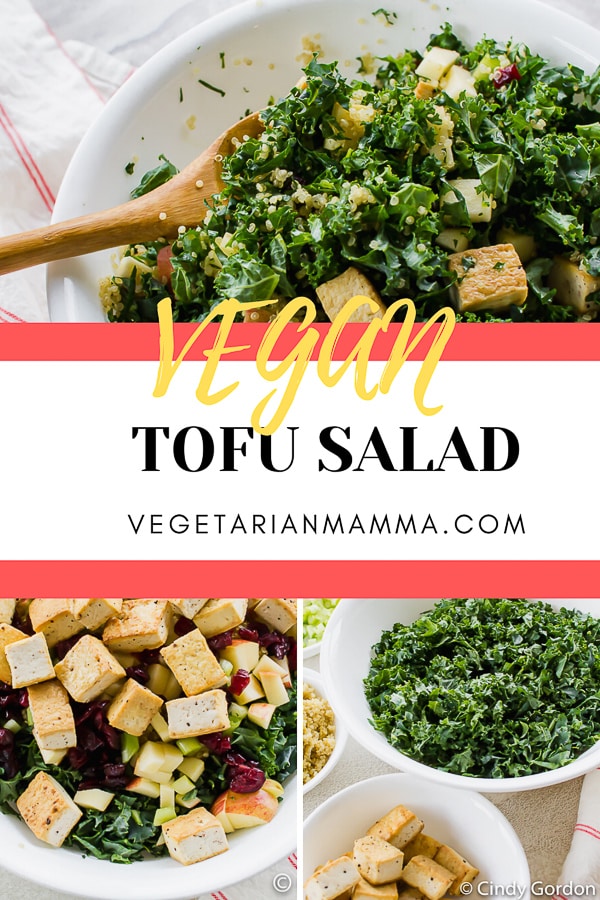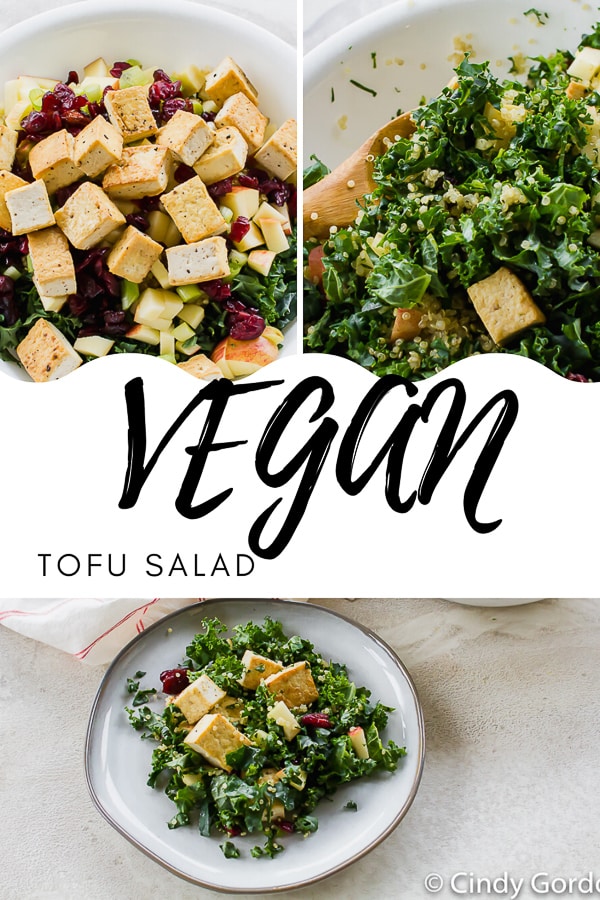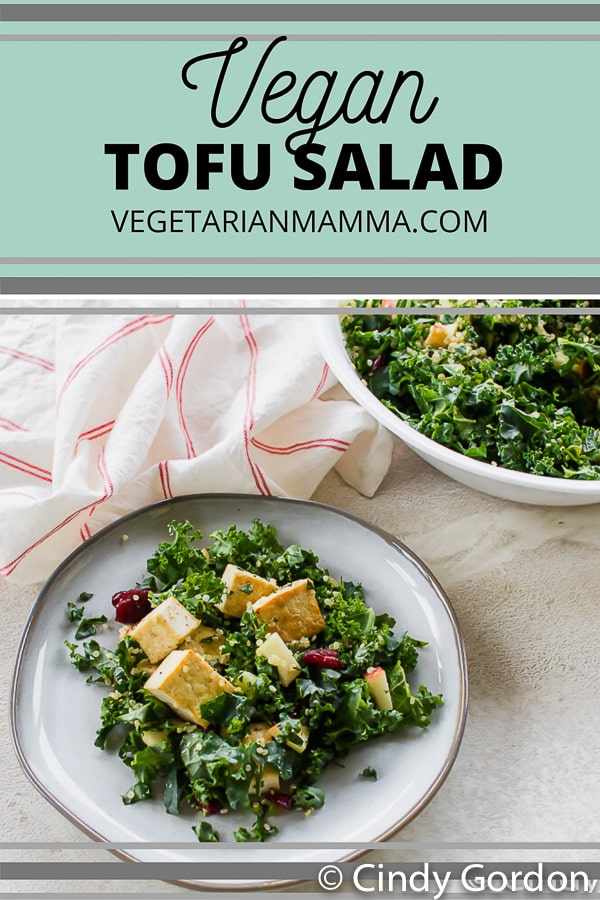 This Tofu Salad is full of delicious fall flavors! Packed with apples, quinoa, dried cranberries, and the bitter bite of kale, add your favorite dressing or use coconut aminos to keep it gluten free!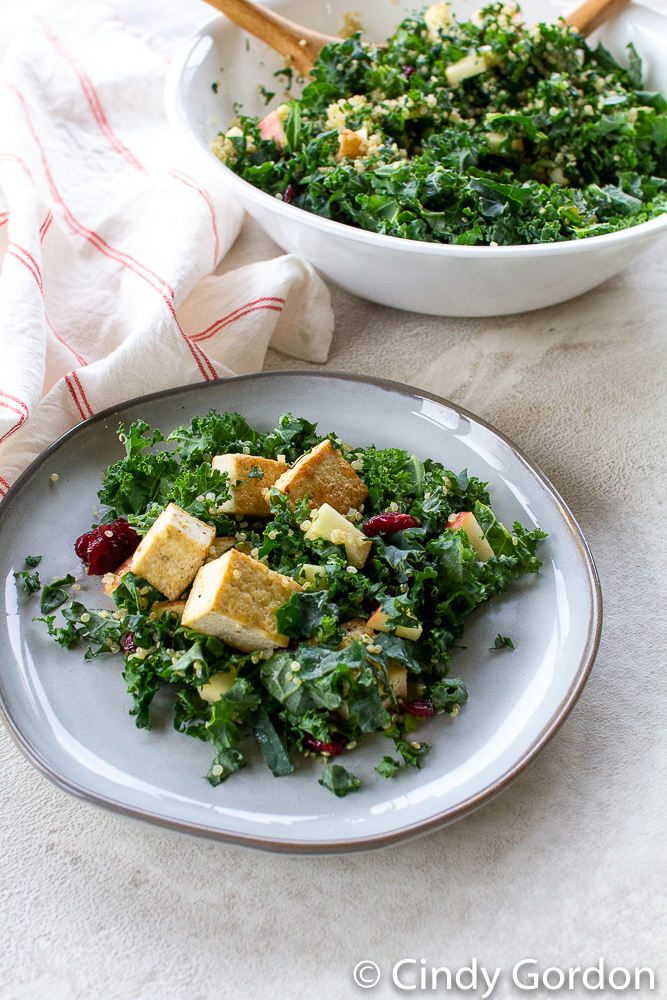 This post is sponsored by the EZ Tofu Press! We seriously can't live without our press!
Salads packed with flavor are my favorite meals, and this Tofu Salad is no exception! This salad is great for lunch, dinner, a side dish, or even meal prep!
This salad starts with a deliciously bitter kale and crispy fried tofu bites. I add diced apples, sliced green onions, and dried cranberries for one of my favorite light fall meals that's clean and healthy! I dress mine with coconut aminos but so many dressings would be amazing with this combination.
Love salads with a kick? Try my Vegetarian Greek Cucumber Salad for a delicious salad that you can always enjoy!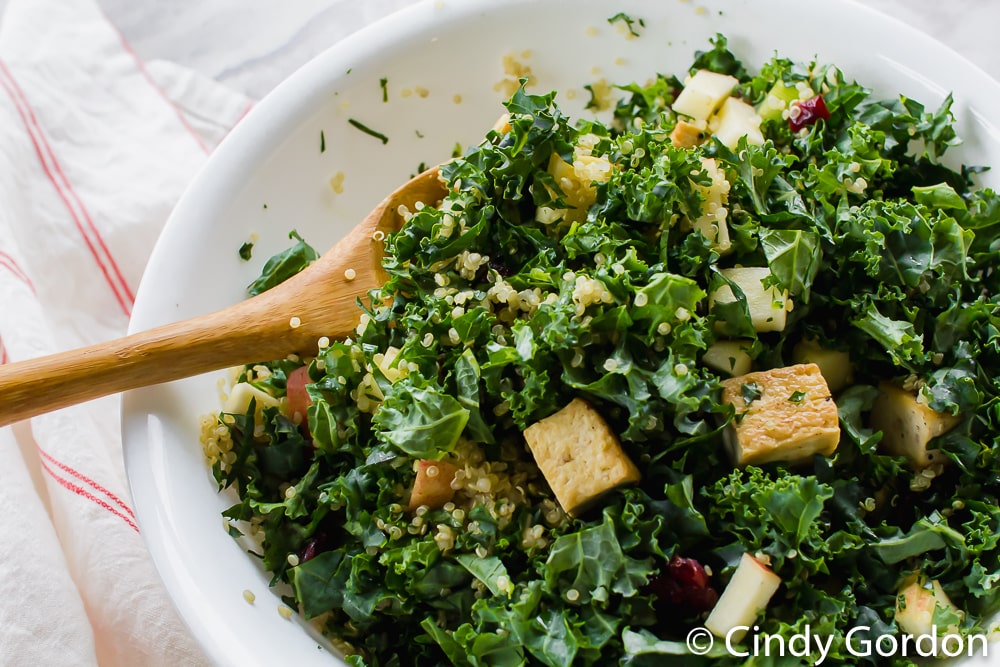 How to Make Tofu Salad
First, add the cooked quinoa to a mixing bowl with your kale. Make sure to massage the kale first to make it a little less bitter and break down the fibrous bits.
Next, add the apples.
Then, add your sliced green onions to the mix.
Next up, add the dried cranberries to your salad.
Time for tofu! I like to fry mine on all sides before adding it to my salads.
Mix it all together and top with your fav dressing! I like to keep it simple with a little coconut aminos tossed in the bowl before serving.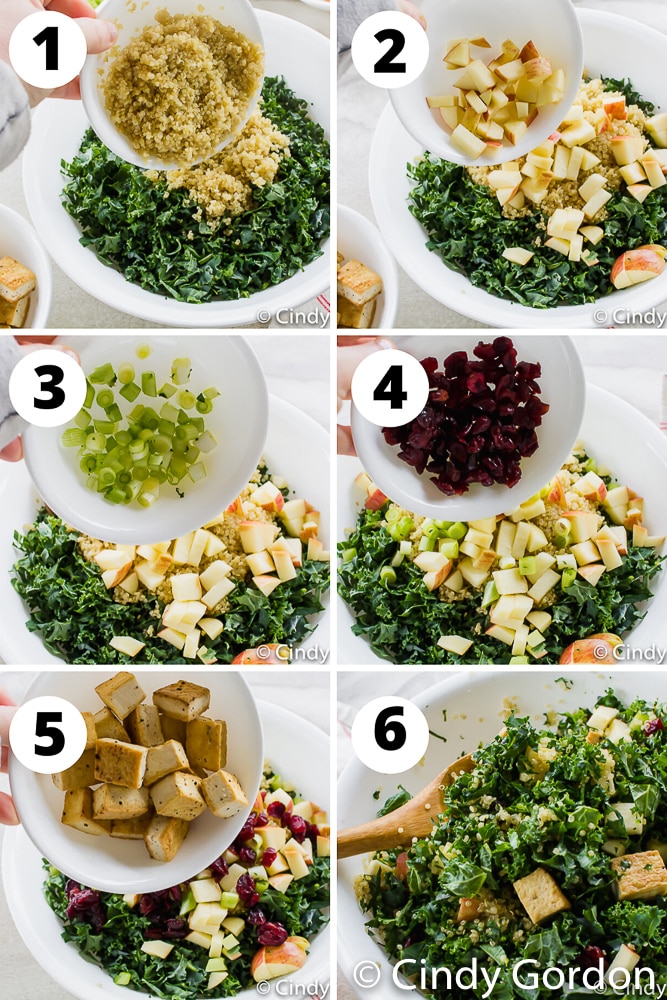 Variations
This recipe is more of a guide than a recipe to build a delicious salad with no meat!
The kale brings some bitterness, the apple has some sweetness, the cranberries bring tartness, and the onions and tofu bring the savory punch. To have a great salad, you want to have an array of ingredients like this to not have it all sweet or all tart.
I use a mixture of gala apples and granny smith apples in my salad, but you can use your favorites here. I prefer to dice them versus slicing them for ease of eating.
Add a little more protein to your salad with a hard boiled egg if you're not on a vegan diet.
I prefer coconut aminos on my salad because I love the taste and the fact that it's gluten free, but any dressing would work here! Blue cheese is known to complement apples well, and a bright lemon vinaigrette would bring a beautiful lightness to this salad.
How to Meal Prep
This is a great healthy go-to in my meal prep rotation.
If you're using this recipe for meal prep, keep your dressing on the side until it's time to eat. Though kale is more rigid than most salad lettuces, it will still wilt and get soggy within about a day with dressing. Without it, however, this salad can last all week in the fridge!
If you're just cooked your tofu or quinoa, let it cool to room temperature before adding it to the closed meal prep containers. Much like the dressing, the steam of hot food can wild the kale and the green onions.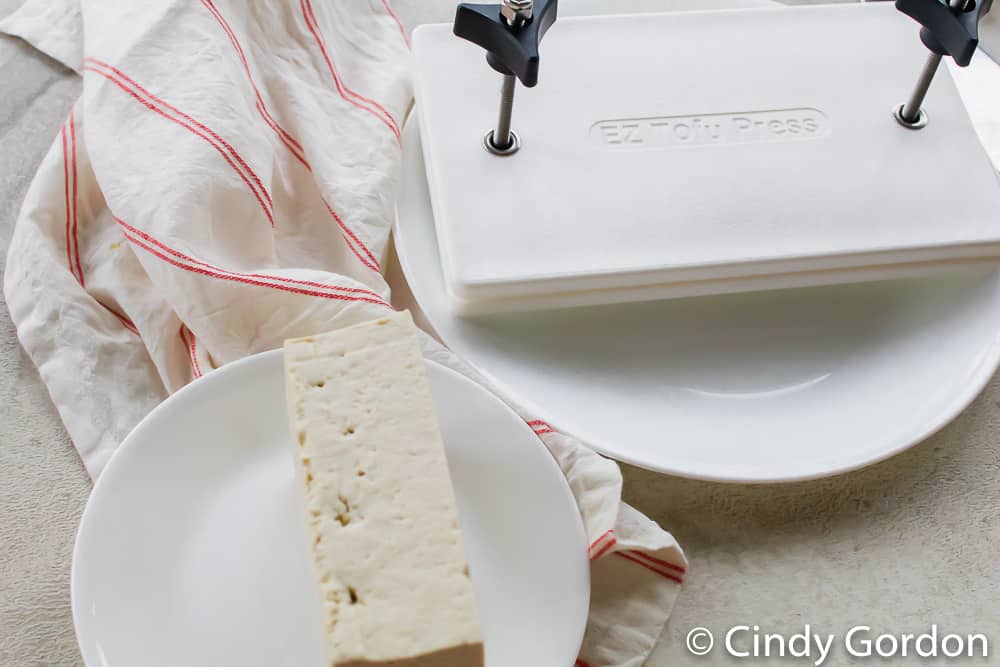 Pressing all of the water out of your tofu is important so that it retains its shape and doesn't cook into a soupy mess.
The EZ Tofu Press makes pressing tofu super easy! Place the EZ Tofu Press over a plate or shallow bowl to catch the liquid from the tofu. Secure a block of extra firm tofu into the press and turn the knobs to tighten.
Turn the tightening knobs every 3-4 minutes for about 12 minutes or so to ensure that as much liquid as possible has been expended from the tofu block. After the 12 minutes is up, loosen up the knobs to release the block of tofu. It's that simple!
More recipes to try:
Gorgonzola Cheese and Apple Salad
Kale and Quinoa Salad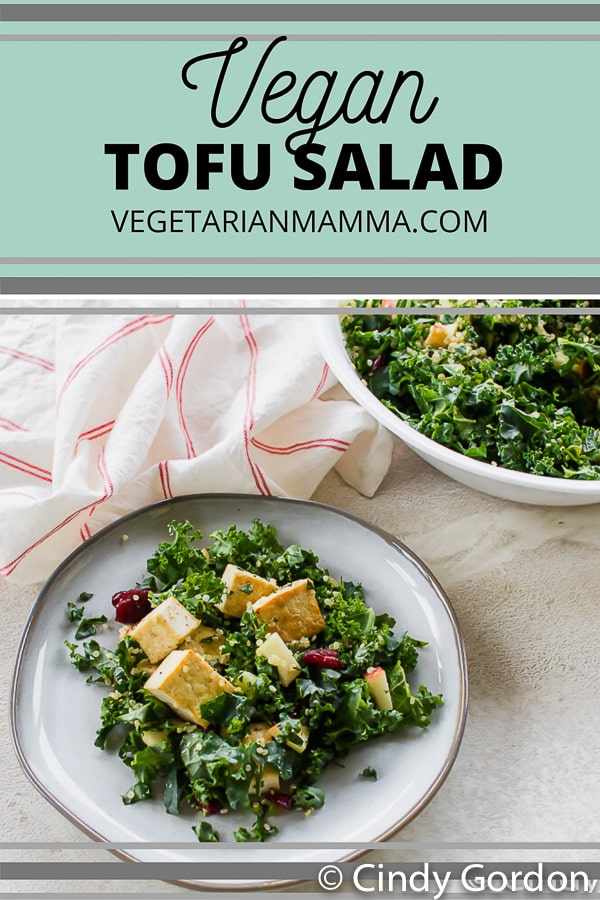 Tofu Salad
This Tofu Salad is full of delicious fall flavors! Packed with apples, quinoa, dried cranberries, and the bitter bite of kale, add your favorite dressing or use coconut aminos to keep it gluten free!
Ingredients
1

block

extra firm tofu

2

tablespoons

oil

6

cups

kale

massaged and diced

2

cups

quinoa

cooked

1

cup

apples

diced

1

cup

green onions

sliced

1

cup

dried cranberries
Instructions
Remove tofu from its package and drain.

Place tofu block into tofu press, turning the knobs tighter every 3 to 4 minutes, for about 12 minutes.

Remove from press and cut tofu into bite-sized cubes.

Put oil in a medium-sized skillet over medium heat and add tofu to pan.

Fry the tofu for 3 to 4 minutes on each side until all tofu bites are golden brown.

Put kale into a bowl and massage it.

Add cooked quinoa to the kale.

Add apples, green onions, and dried cranberries to bowl with kale and quinoa.

Season with your favorite salad dressing or coconut aminos.
Nutrition
Calories:
2384
kcal
|
Carbohydrates:
386
g
|
Protein:
97
g
|
Fat:
62
g
|
Saturated Fat:
6
g
|
Sodium:
440
mg
|
Potassium:
4956
mg
|
Fiber:
37
g
|
Sugar:
98
g
|
Vitamin A:
41224
IU
|
Vitamin C:
507
mg
|
Calcium:
970
mg
|
Iron:
28
mg
All though this website attempts to provide accurate nutritional information, the information should only be considered an estimate. Varying factors such as different product types, different brands, etc. can change nutritional information. It is your responsibility as a consumer to read all labels to make sure the ingredients fit your dietary needs as well as calculate your own nutritional information as a double check.