This simple recipe for Pineapple BBQ Tofu does not require a grill, but the use of your broiler. It is a great dish that can be made year round.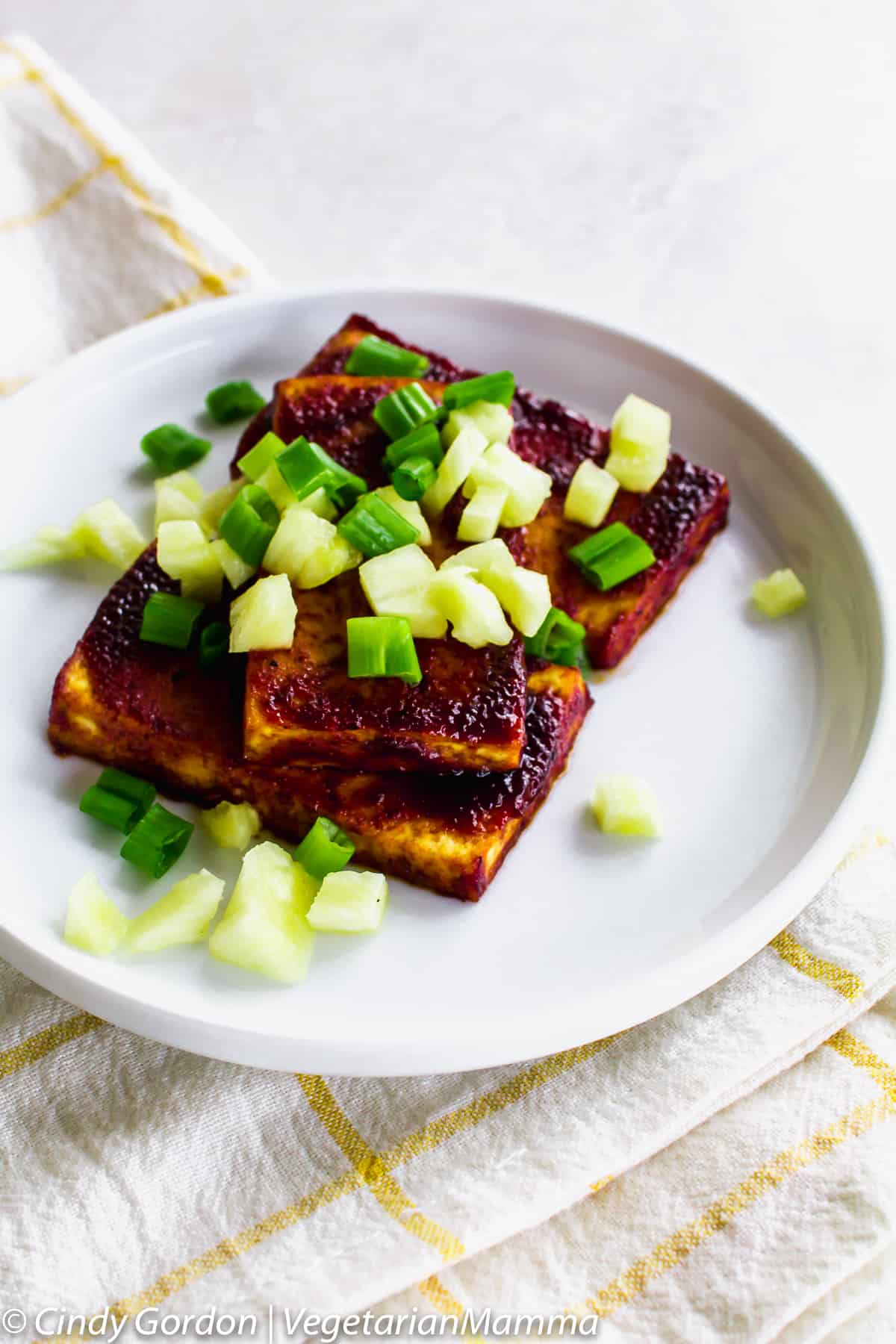 Thank you to EZ Tofu Press for sponsoring our post. This post contains affiliate ad links.
Pineapple BBQ Tofu - a delicious dinner
It is not a secret that I am a pretty big fan of tofu. We eat tofu typically at least once a week at our house.
I am always trying to reinvent our recipes to spice things up in our little tofu world. Today I am sharing one of my recent favorites: Pineapple BBQ Tofu.
This recipe is extremely easy and tastes wonderful!
Many people tend to shy away from easy tofu recipes, and I'm not certain why. Tofu isn't that hard to cook at all! You just need to remember to drain the tofu and follow directions and you'll be enjoying crispy tofu in no time at all!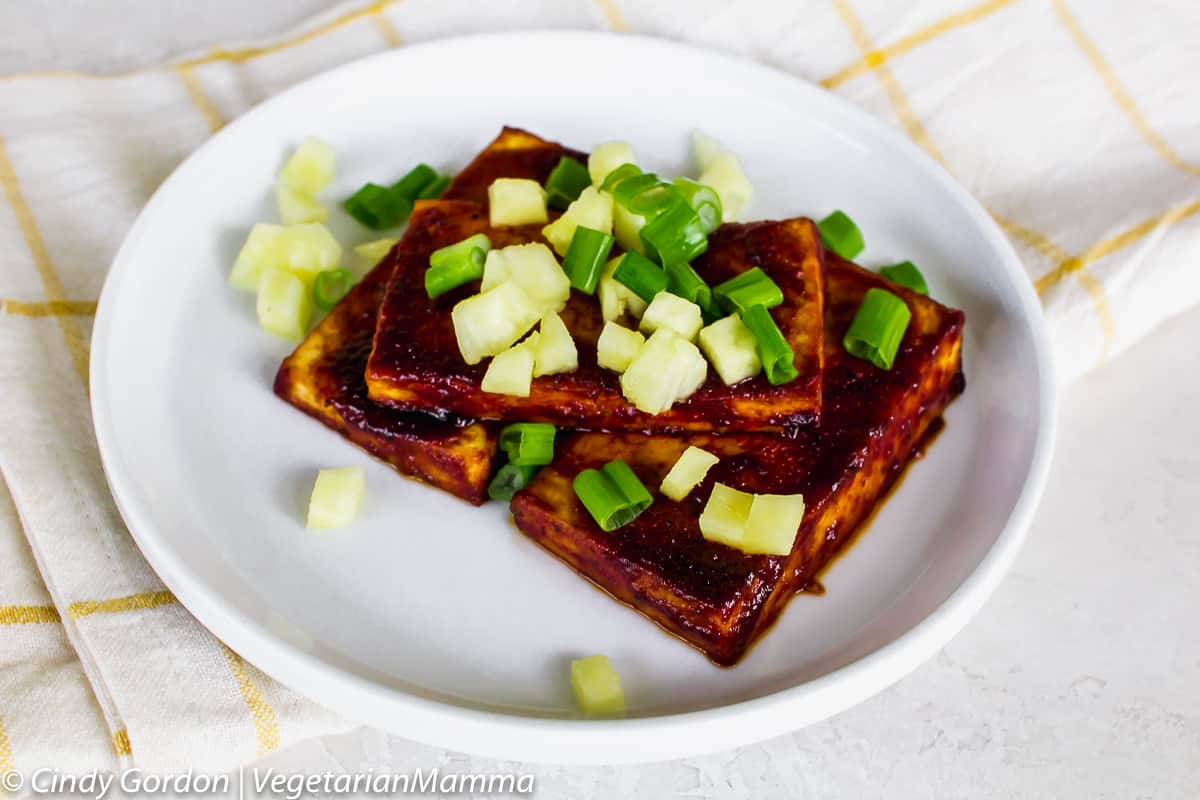 This dish pairs the flavors of sweet, yet sour pineapple with some tangy BBQ sauce. It is the ultimate combination!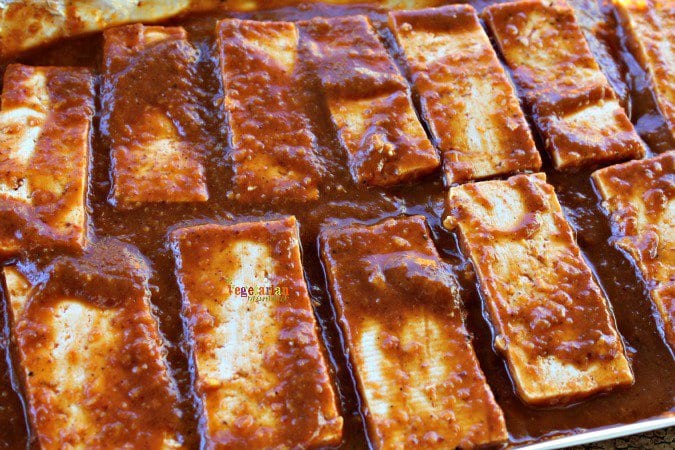 The trick is, after you press your tofu with your EZ Tofu Press, you marinate it with a tasty blend of fresh pineapple and BBQ sauce!
I marinated mine for 2 hours.
We have lots more tofu recipes! Visit the recipe index, or jump to these delicious recipes:
Tofu Scramble Breakfast Burritos
What side dishes go well with tofu?
Great question! Tofu does a great job of taking on other flavors, so really anything goes well! You can top this vegan bbq tofu with sesame seeds for a crunch, or stir fry in some veggies as well.
Keep in mind that the star of this show is the barbecue sauce so you really don't have to do a ton to get a great taste!
And if you really need something to eat with your tofu, adding some brown rice can always be a great choice, too.
How hard is this barbecue tofu recipe?
Trust me, friends! It's so easy! You'll love this gluten-free firm tofu recipe! I promise! Just make it one time...once your taste buds get ahold of one bite, you'll be making it over and over again.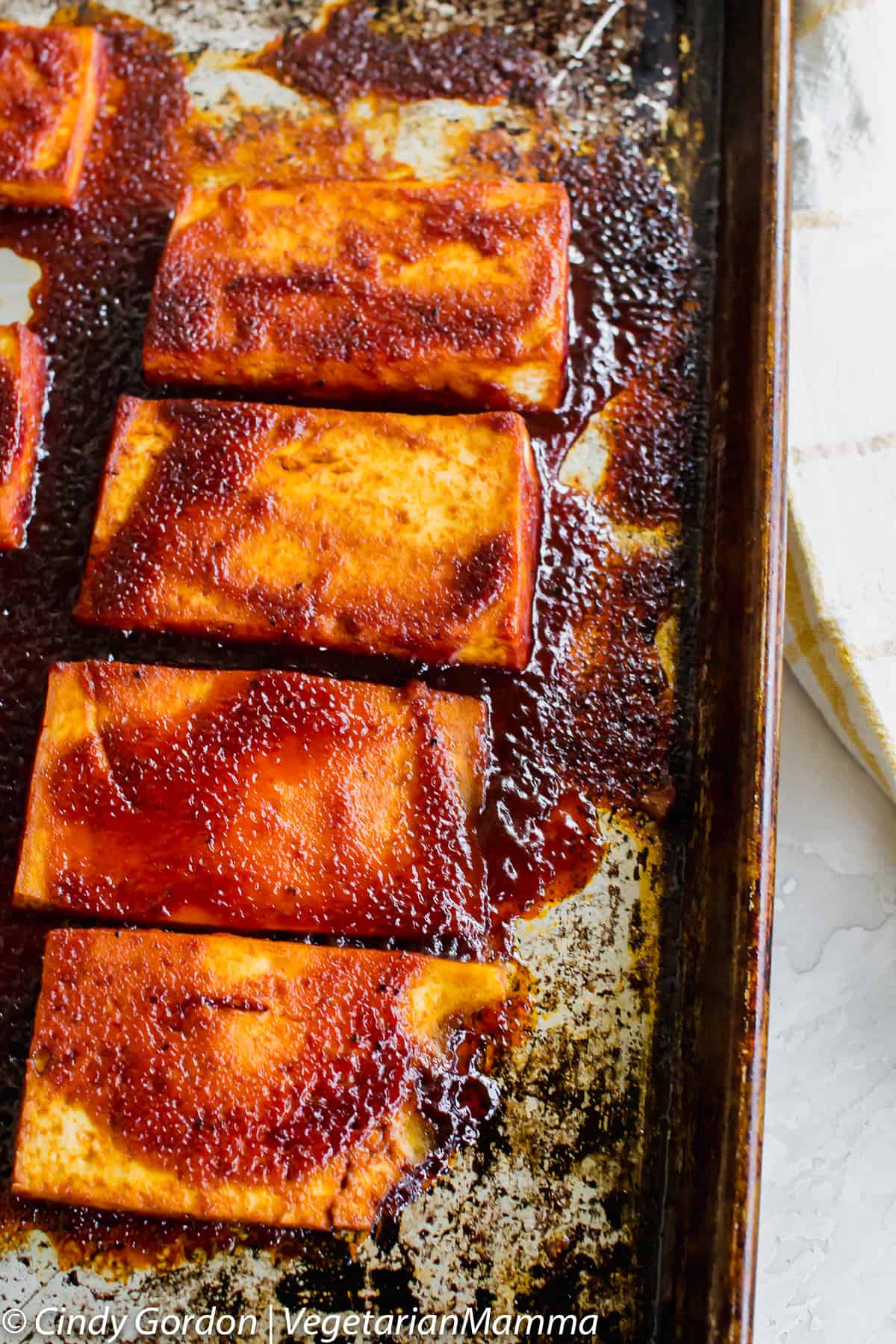 All about that broiler!
Then I broiled my tofu. This is a very easy way to prepare your tofu. Think of our broiler as an up-side-down grill.
Makes sense right? You are exposing your food item directly to a high amount of heat but from the top. Instead of heat from the bottom like a traditional grill.
My broiler is gas, but some stoves are electric. I've used my mom's electric broiler and it seems to run a bit hotter. Use caution when using your broiler, be sure to read the safety instructions your stove came with.
Don't have those instructions? You can always google it! My broiler just has an on/off setting. I can't control the level of heat.
I love that my broiler can get the job done in 5-10 minutes! Just keep an eye on it because it can go from done to burnt...quickly!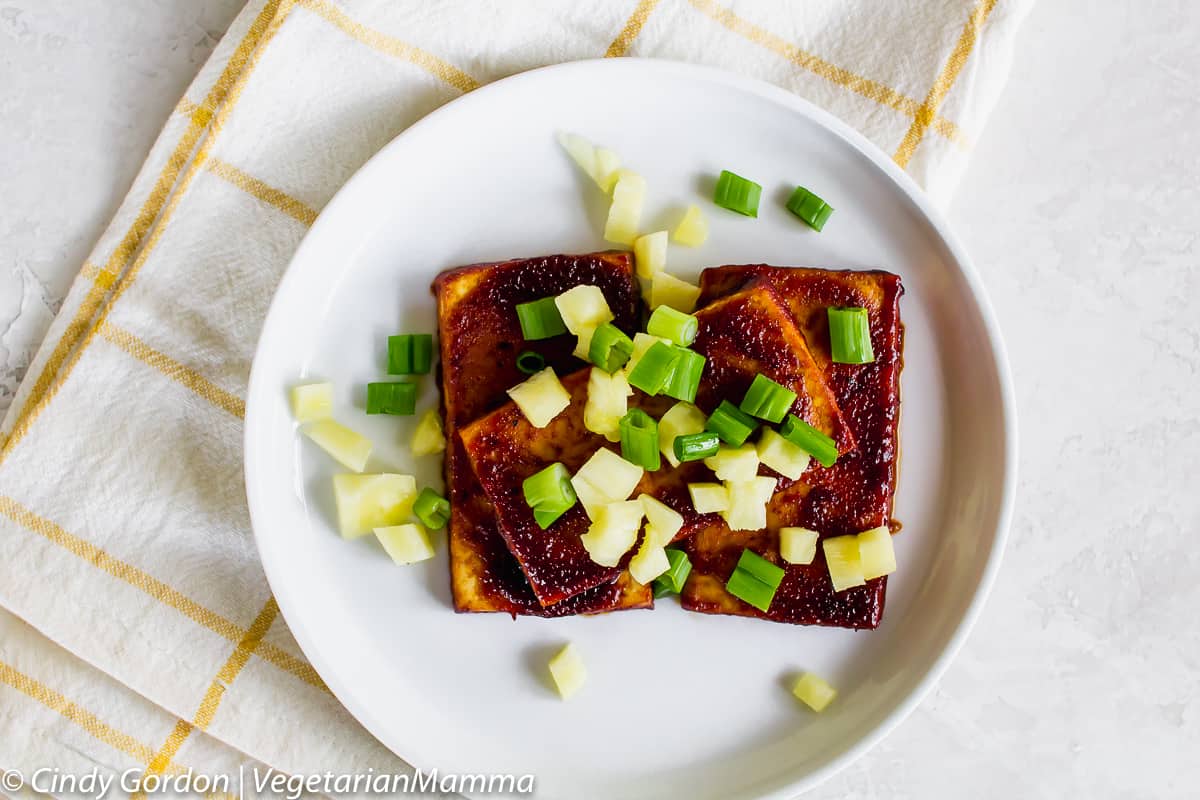 Press that tofu!
Let's back up a bit and talk more about pressing your tofu. I never used to understand the importance of pressing your tofu before you cook it.
By pressing the tofu you get rid of extra moisture, which allows your tofu to cook better and it also tastes better. I use the EZ Tofu Press each and every time I make tofu! If you love tofu, you need one!
Still wondering? Here are a few more reasons, why I love it!
EZ Tofu Press can press virtually all sizes of firm and extra firm tofu.
Pressing can be achieved in 15 minutes or less.
You can prep food and marinade while turning the knobs every 2 minutes over a 10-15 minute time frame.
Presses substantially faster than spring based tofu presses. Easy to clean- small, compact, dishwasher safe, and fewer parts to break.
Saves on paper or cloth towels!
Are you looking for some yummy TOFU recipes to use with your EZ Tofu Press? Check out the pinterest account of EZ Tofu Press! As a foodie, I am always on the hunt for new recipes! If you want some more delicious vegan BBQ flavors, I would suggest you check out this Vegan BBQ Chickpea Salad!
Recipe time!
Now let's get back to our yummy Pineapple BBQ Tofu recipe! I bet you are getting hungry! This bbq tofu recipe is so easy...you're just going to love it!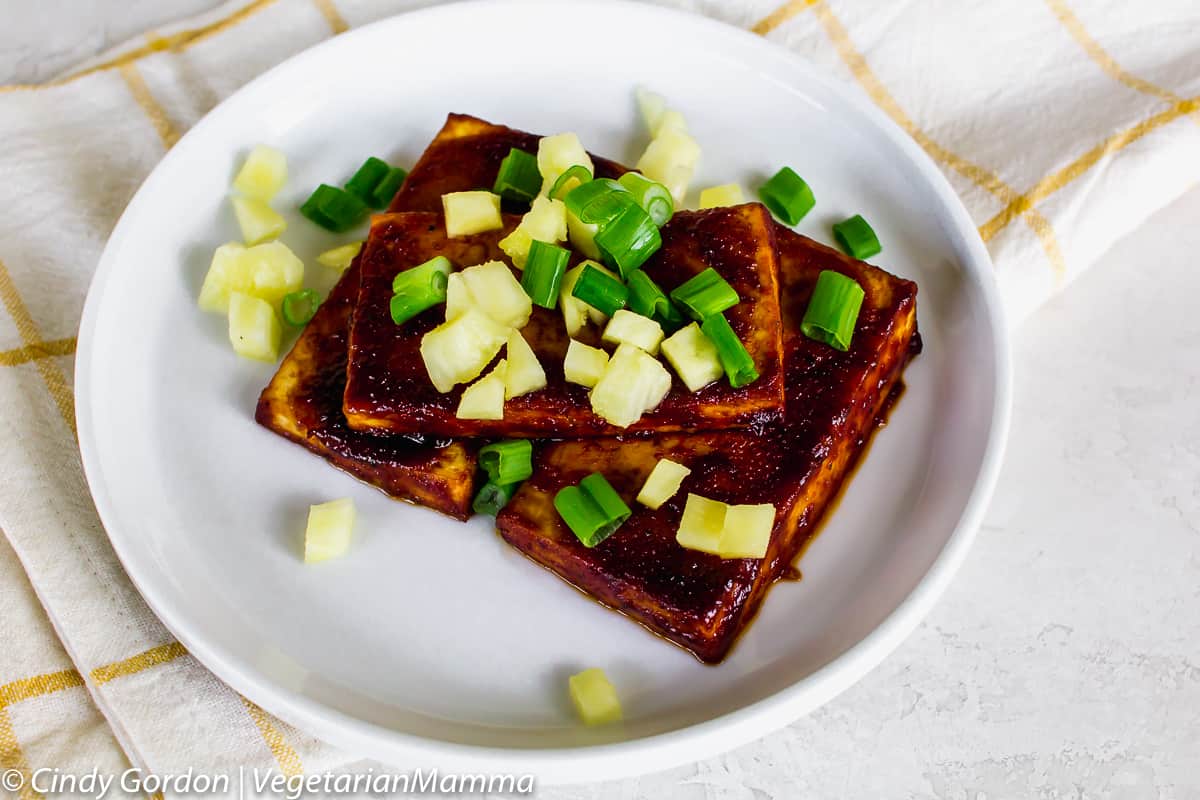 Pin this Pineapple BBQ Tofu for later: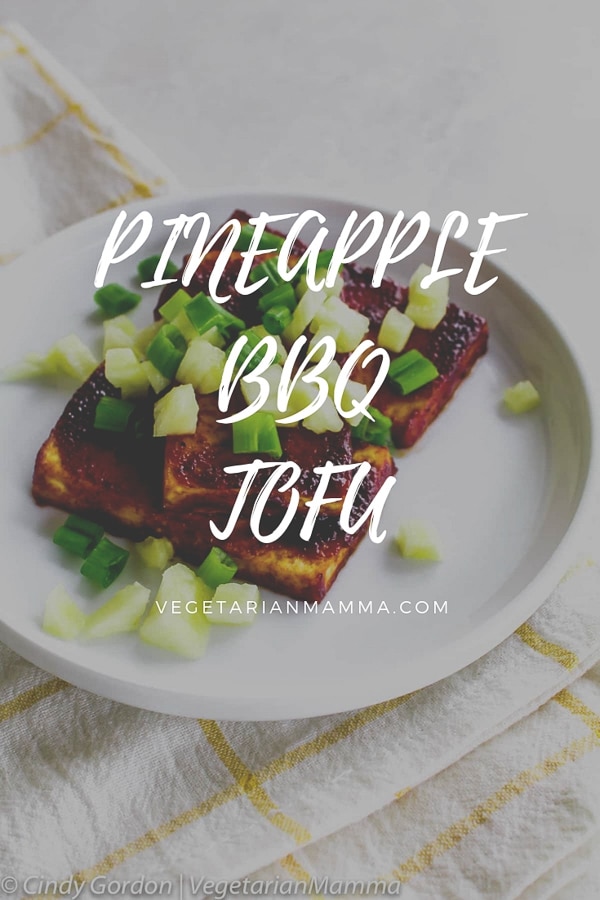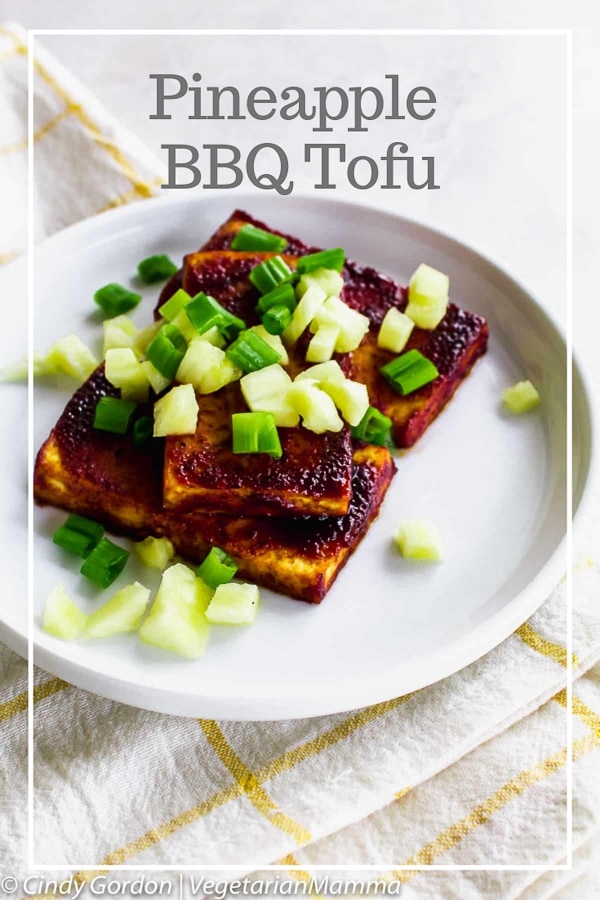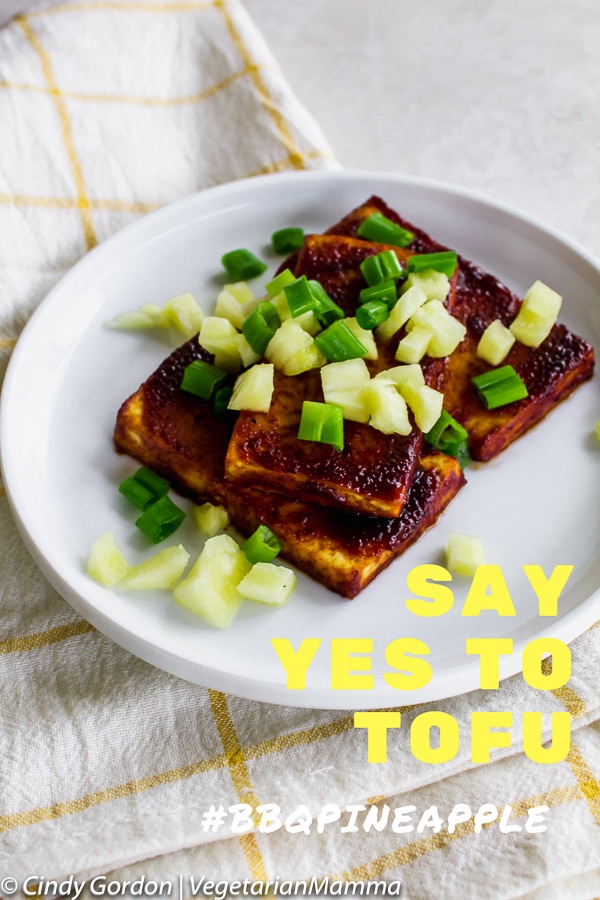 Pineapple BBQ Tofu
This simple recipe for Pineapple BBQ Tofu does not require a grill, but the use of your broiler. It is a great dish that can be made year round.
Ingredients
Instructions
Cut tofu into long skinny planks (as shown in pictures)

Using a food processor, blend BBQ sauce, olive oil and fresh pineapple.

Marinate tofu planks in BBQ sauce mixture for 2 hours.

Place planks on a

lipped baking shee

t. Broil for 10 minutes, fiipping sides after 5 minutes.

Garnish with diced green onions and more fresh pineapple, if desired.

ENJOY
Nutrition
Calories:
300
kcal
|
Carbohydrates:
61
g
|
Protein:
1
g
|
Fat:
5
g
|
Sodium:
1468
mg
|
Potassium:
361
mg
|
Fiber:
1
g
|
Sugar:
50
g
|
Vitamin A:
320
IU
|
Vitamin C:
14
mg
|
Calcium:
51
mg
|
Iron:
1
mg
All though this website attempts to provide accurate nutritional information, the information should only be considered an estimate. Varying factors such as different product types, different brands, etc. can change nutritional information. It is your responsibility as a consumer to read all labels to make sure the ingredients fit your dietary needs as well as calculate your own nutritional information as a double check.
Chances are, you are here because you already like tofu, but if you are new to tofu, we have got you covered! You might be wondering what does tofu taste like? Check out that post and we explain but share some tofu recipes for beginners! If you already know you like tofu or you have decided that you want to try it, check out these recipes: Tofu Chili, Tofu Fried Rice Recipe and Buffalo Tofu.
Do you like to cook tofu? I'd love to hear from you!
---
WANT TO LEARN MORE ABOUT TOFU?
We've got you covered with this tofu articles!
Understanding Tofu – a beginners guide – Learn more about how tofu is made (even try it at home if you like!) and what the different types of tofu mean.
Benefits of Tofu – Read about the health benefits of adding tofu into your meal plan.
4 Simple Ways to Cook Tofu – Here I teach you exactly how to cook tofu in for different and easy ways.
Tips for Grilling Tofu – Bonus! One more amazing way to cook tofu that's perfect for warm weather.
Leave me a comment telling me your favorite way to eat tofu! Oh and we just updated the pictures for this recipe. Check out the difference below!