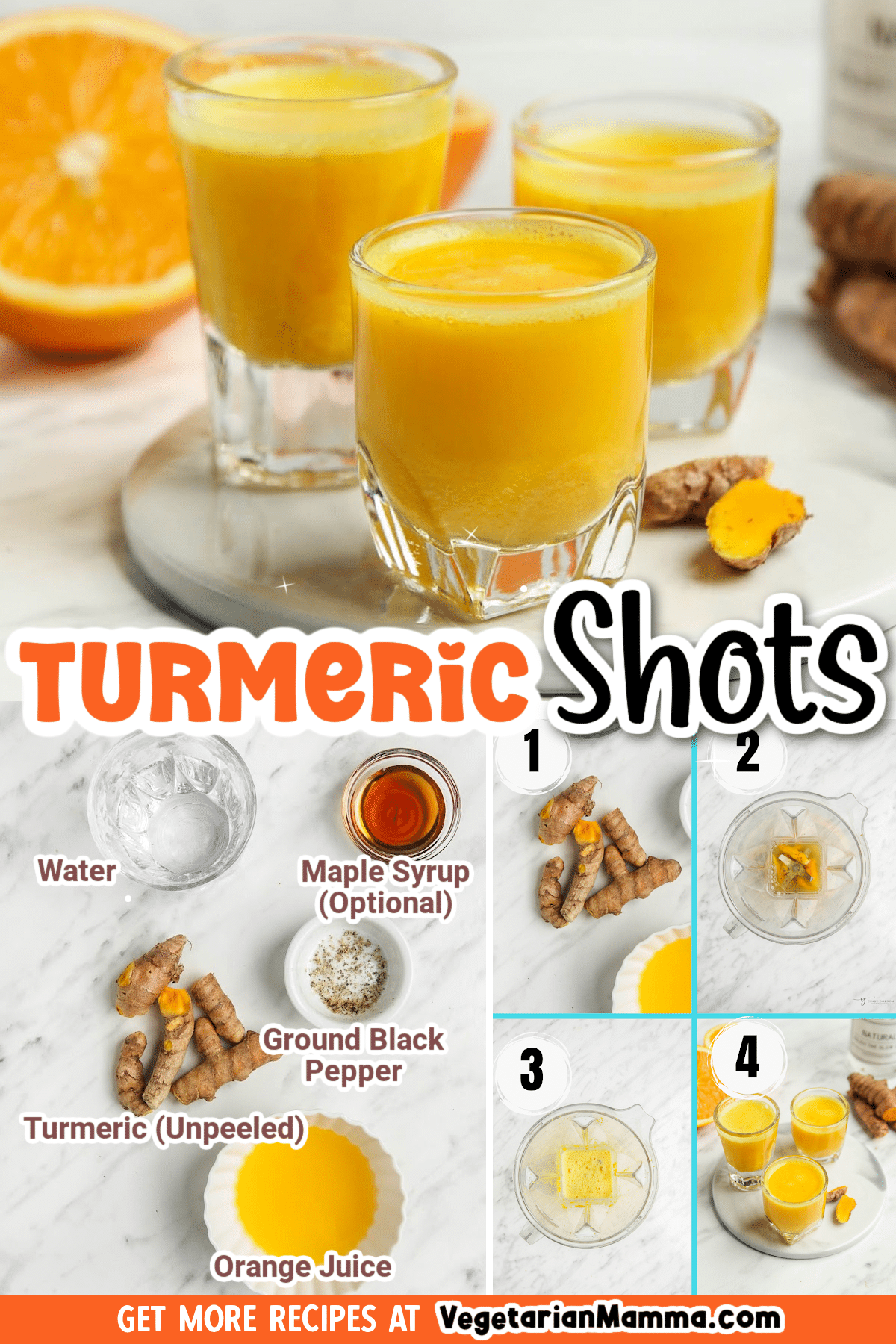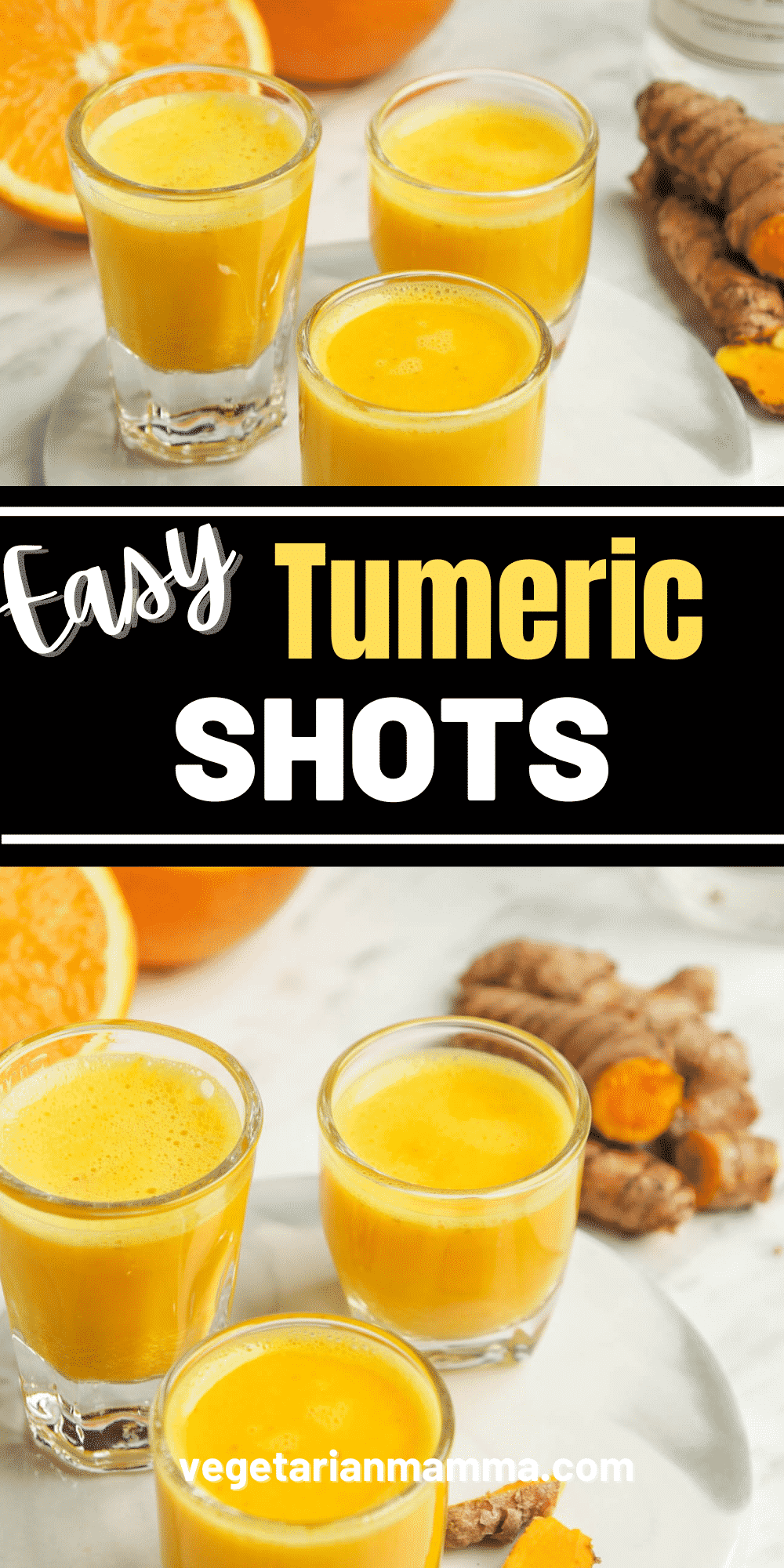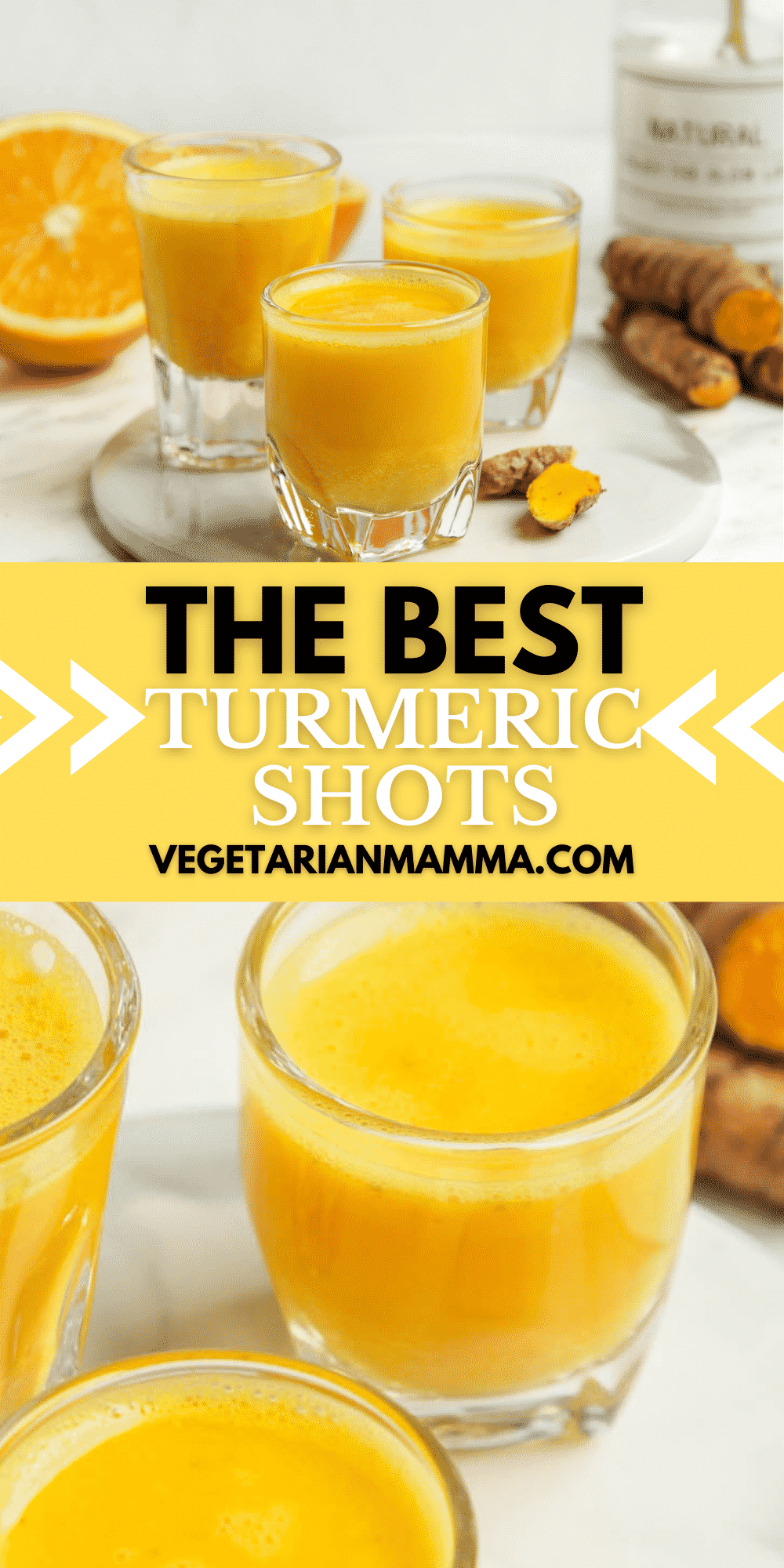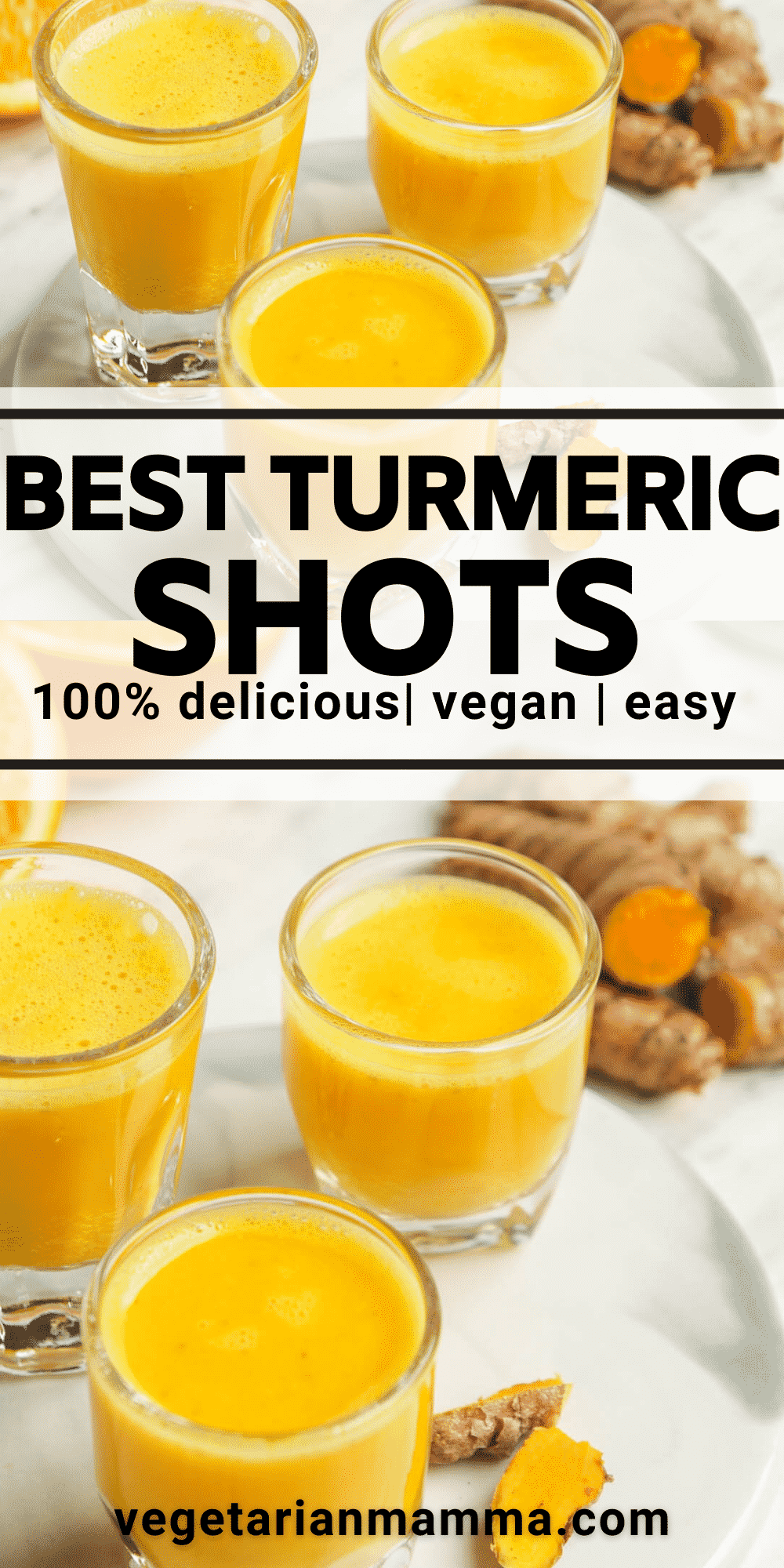 Turmeric shots are a delicious way to enjoy the powerful flavors of turmeric and also enjoy all of the benefits that turmeric has to offer. This is an easy and delicious turmeric shot recipe that you can make in just a few minutes.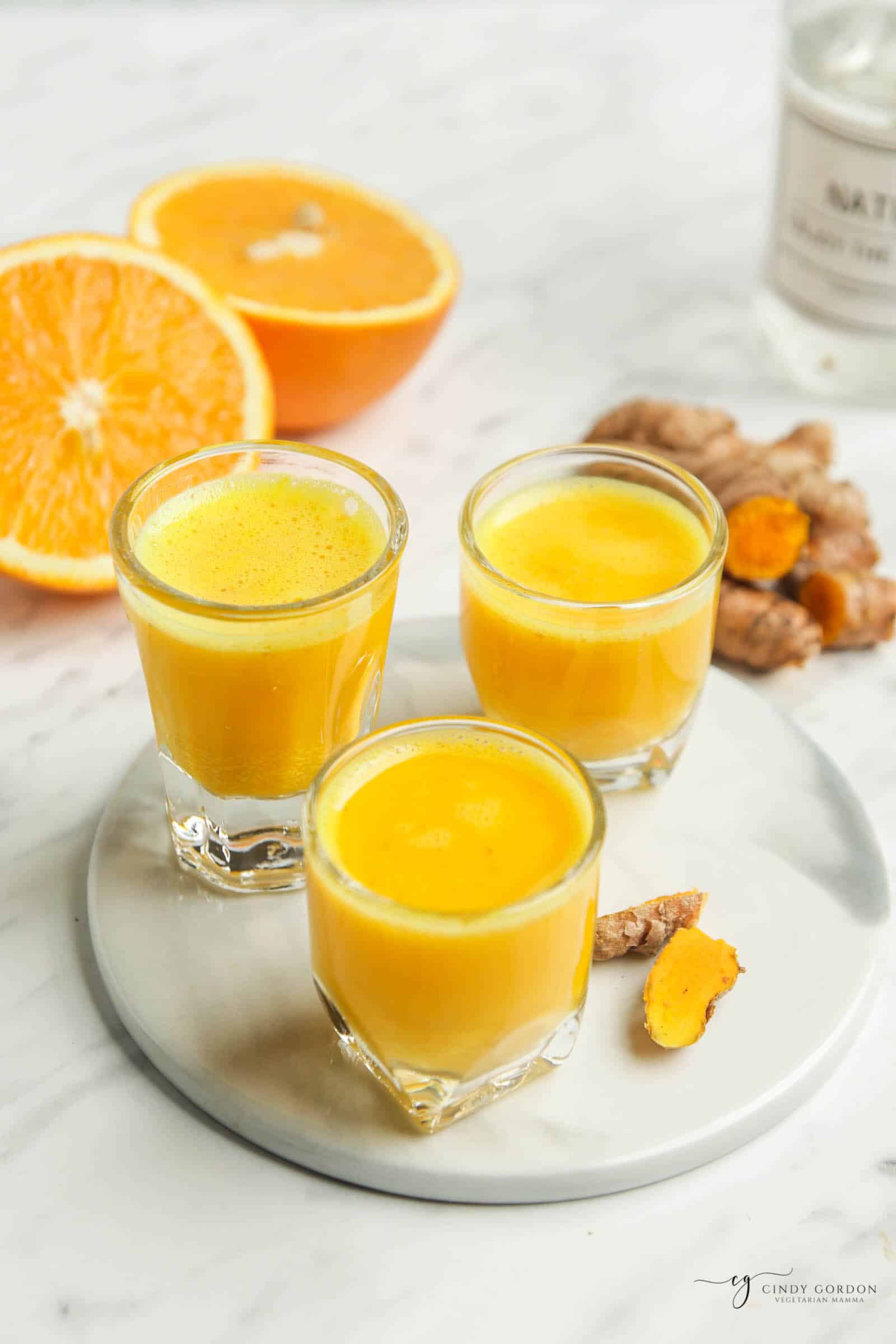 HEALTHY TURMERIC SHOT RECIPE
Turmeric shots are a great way to start your day with a healthy dose of curcumin, turmeric's most active compound.
Are you a fan of turmeric? Many people believe that turmeric has a lot to offer up when consumed, that its nutritional benefits are exceptional and that turmeric is more than just a yummy spice. Some people enjoy the taste of turmeric, while others enjoy both the tastes and the benefits it provides.
Sometimes, we want a refreshing drink that not only tastes amazing but is also healthy and may give us some extra benefits! Instead of drinking plain water or sugary drinks, or cocktails, Turmeric Shots are a better bang for our buck.
Recently, we've enjoyed a few different healthy "shots" including these turmeric shots, ginger turmeric shots and a wellness shot recipe. We have also been enjoying the potential health benefits of iced Matcha and Chai Lattes.
We try to enjoy this turmeric shot recipe regularly, so that we can see some of the turmeric benefits. This drink is packed with anti-inflammatory ingredients, vitamin C, and antioxidants, and you don't even need a fancy juicer to make it.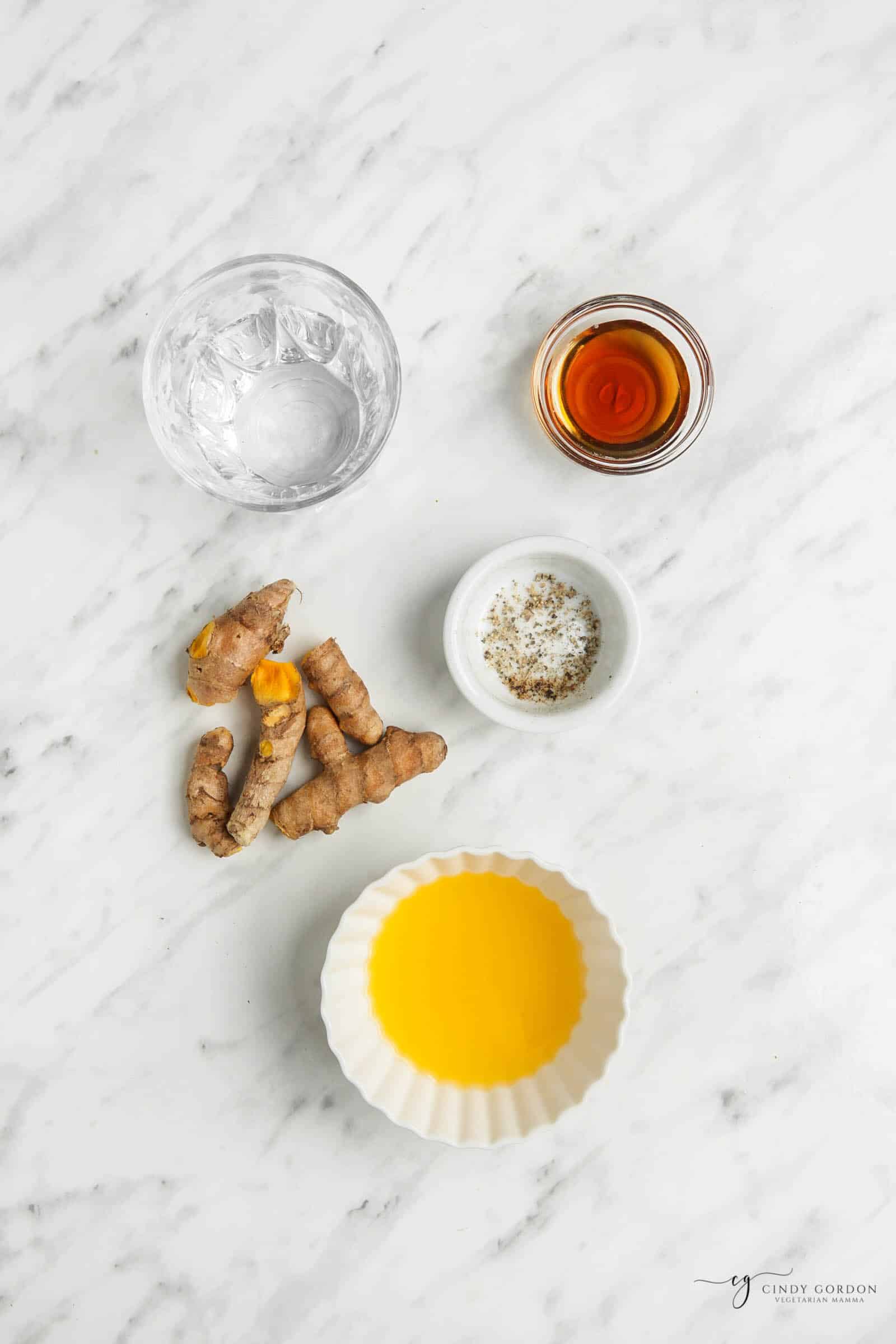 INGREDIENTS IN TURMERIC SHOTS
Turmeric - It is best to use fresh turmeric in this recipe but if you can't source that you can use powdered turmeric. I can find fresh turmeric in the produce section of my larger local grocery store, usually near the ginger root. The two actually look similar, with Turmeric being the darker colored of them.
Water - Any type of water is fine, tap, bottled, filtered but the water should be still and not carbonated.
Orange juice - We like unsweetened OJ. It already has plenty of natural sugars, so we skip getting OJ with added sugar. It is your choice if you want pulp or pulp free. If you have fresh Oranges, freshly squeezed juice is perfect for this healthy wellness drink.
Black pepper - Just a pinch of black pepper helps our bodies to absorb the other delicious ingredients in this recipe. Pepper increases the body's ability to absorb nutrients, which is maybe why we keep it on our dinner tables. Just a pinch won't alter the taste.
Maple syrup (Optional) - Not only is this a sweetener, but it also has many benefits as well, just like the above spices. If you are looking for a sugar free option, try this sugar free maple syrup!
If you have any questions about these Turmeric Shots, please leave a comment below and I will get back to you ASAP!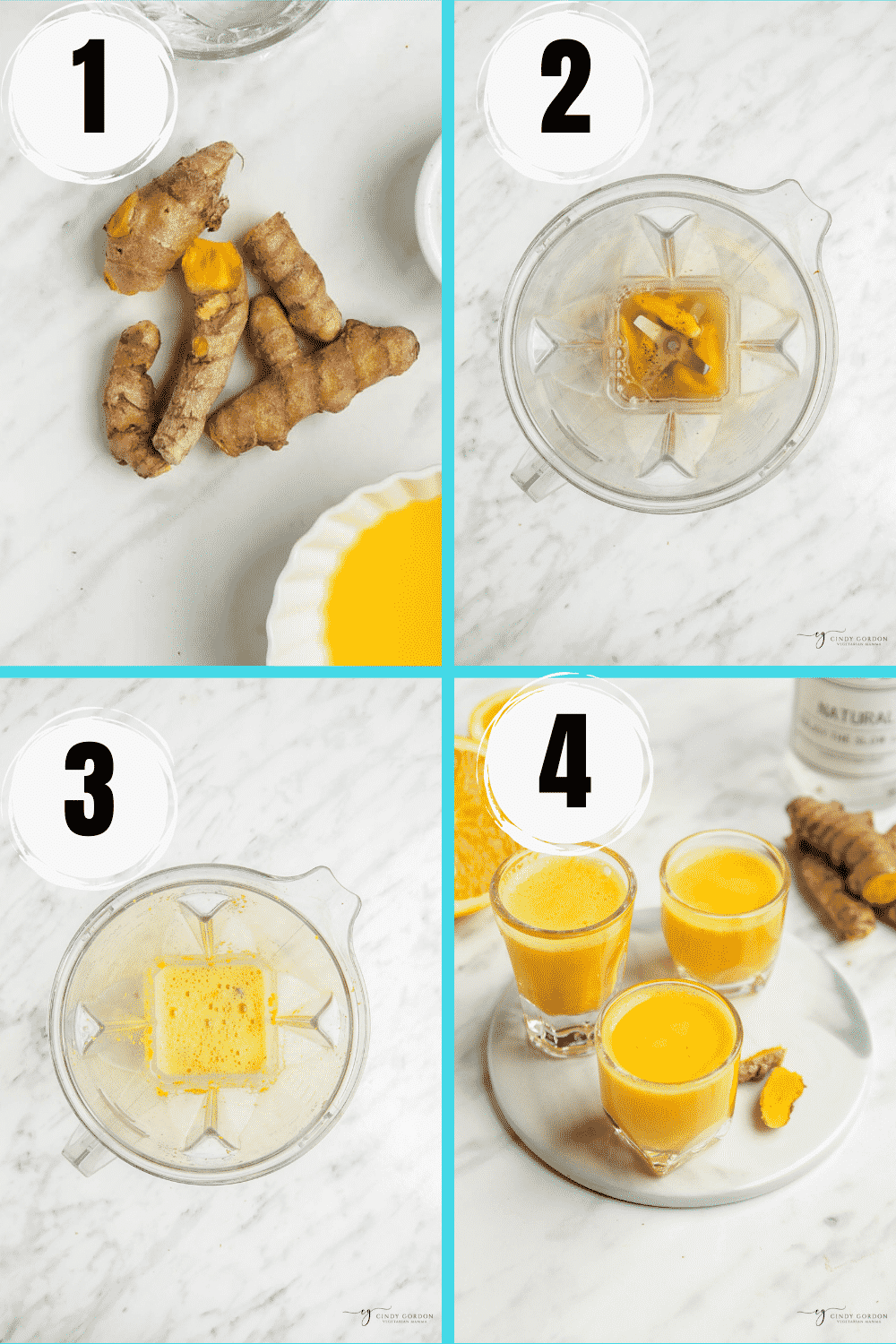 HOW TO MAKE TURMERIC SHOTS
First peel the turmeric using a spoon. (Using powdered turmeric? See below for instructions)
Place the peeled turmeric, orange juice, water, black pepper and maple syrup in a blender. (It's best to use a high powdered blender like a Vitamix)
Blend until smooth. (If is too thick, add a little more orange juice or water)
Divide into shot glasses or jars.
These numbered steps match the numbered photos above and are for illustration purposes. For the complete list of ingredients and instructions, please see the recipe below.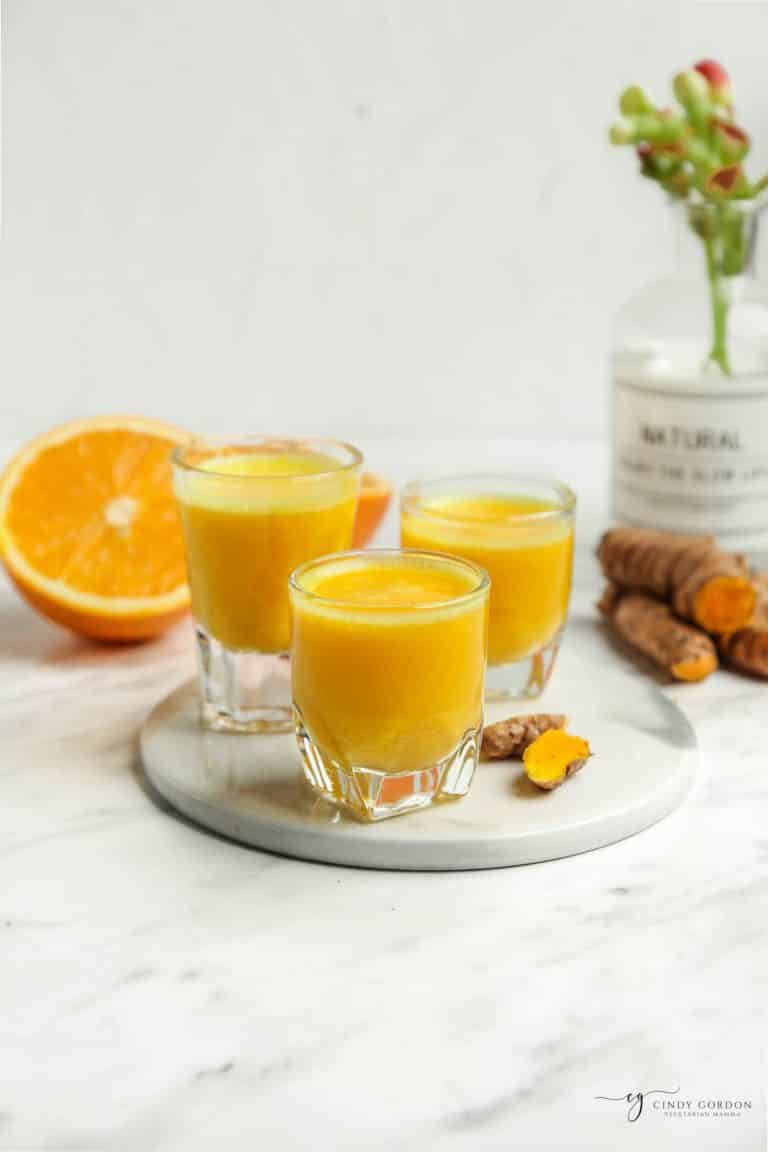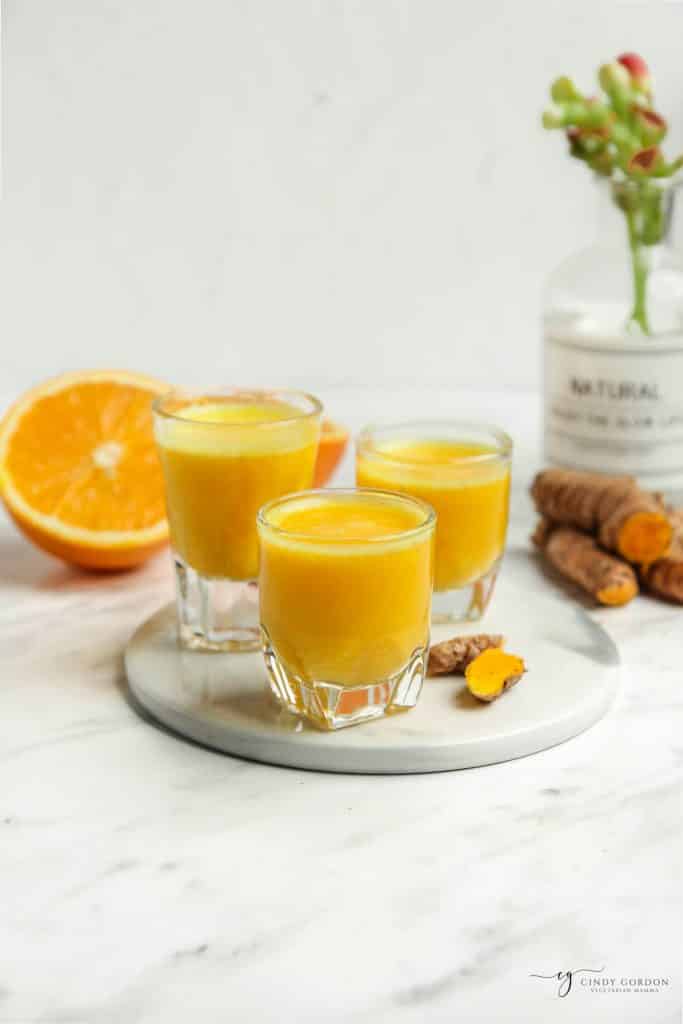 BENEFITS OF TURMERIC
This is a food blog, not a healthcare provider, so it's not my place to tell you why you personally should consider consuming turmeric. What I will do though, is tell you what researchers have determined the potential health benefits of turmeric to be. That way you can discuss with your healthcare provider if it's something that could be beneficial.
This spice has been used for many years in traditional Chinese and Ayurvedic medicine, as well as finding a place in many traditional dishes in Indian, Thai, and Moroccan cuisine. In Indonesia, a recipe similar to this one is called Jamu, and is a common herbal medicine.
Many studies have been done to determine the benefits of turmeric, but the health effects are not entirely certain. Much of what is known about turmeric comes from those studies and from personal stories. (Source)
Anti-Inflammatory: Turmeric is sold in capsules marketed toward folks with arthritis or joint pain or injury. This may be because if the active compound in turmeric, curcumin which is a proven natural anti-inflammatory.
Brain and Nervous System Health: It's believed that turmeric can have a positive effect on Alzheimer's disease as well as fibromyalgia. It may even help with pain reduction.
Digestive Aid: Like ginger, turmeric can also be beneficial to the stomach and digestive system, with some suggesting that it can help to reduce the risk of type-2 diabetes.
Anti-Viral: This is not proven, but some people believe that turmeric can reduce the effects of viral diseases, or help to prevent them.
Turmeric might be an amazing spice that could benefit your health! Please discuss with your doctor if regular turmeric supplements are for you.
Otherwise, in moderation, turmeric is a delicious spice that makes a tasty drink, mixed with orange juice in this recipe. Personally, we use drinks like this as an immune booster, especially during cold and flu season.
CAN I MAKE TURMERIC SHOTS WITH A JUICER?
Yes, you can use a juice to make turmeric shots. A juicer will provide a smoother shot. You will want to juice the peeled turmeric, then add that juice to the other ingredients. Adding liquids and sweeteners directly in to the juicer would make a mess!
HOW DO I MAKE MY TURMERIC SHOT SMOOTH?
If you use a blender, you can use a cheese cloth or nut milk bag to strain the liquid. This will remove any pulp pieces. I suggest adding the black pepper in to the mixture after straining, as a nut milk bag will strain out those small particles too.
CAN I USE POWDERED TURMERIC?
Yes, you can use powered turmeric if you can't find fresh. While it isn't as powerful as fresh, it can be used. We recommend that you use ½ t of powdered turmeric per shot. This recipe makes 4 shots, so you would add 2 teaspoons of powdered turmeric. If you are unsure, you can add less, taste it and adjust.
HOW LONG DOES A TURMERIC SHOT LAST?
The drink is best is consumed within 24 hours of making. It can "last" a few days, but the benefits of the drink are said to be lost as time passes. This is the same for any freshly pressed juice. I find that I prefer the flavor of this wellness shot when it's fresh too.
WHAT ELSE CAN I ADD TO TURMERIC SHOTS?
This healthy juice shot is for you, so you can add anything that you like! Here are some suggestions that I think will taste great:
Ginger: Ginger is similar to tumeric in that it is a root. Ginger is a well-known digestive aid, and would be wonderful in a wellness shot after or before a big meal. It's also an antioxidant, and has anti-inflammatory benefits.
Lemon: A squeeze of fresh lemon juice makes water more alkaline, and adds additional natural vitamin C which can help boost the immune system.
Coconut Water: If you could use a little bit of extra hydration, coconut water is a great add-in. It adds sweetness too.
WHY IS THE SERVING SO SMALL?
Because the flavor of tumeric can be a bit intense, most prefer to ingest it in small doses. Turmeric shots are only a few ounces that you can down in one swallow.
If you'd like to enjoy a full sized drink, add additional water to the mixture and serve it over ice.
HELP! TURMERIC STAINED MY HANDS YELLOW!
This is totally normal and nothing to be alarmed about. Turmeric creates a very strong yellow coloring, and it's used to naturally color many foods, including boxed macaroni and cheese!
If you've gotten turmeric juice on your hands and they are yellow, you may want to remove that stain. There are a few things that you can try. You may not get all of the yellow color off of your skin right away, but it will eventually fade.
Soak your hands or fingers in a shallow bowl of hydrogen peroxide, or try using fresh lemon juice. You may need to do this more than once. Wash multiple times using soap and water as well, using a soft brush on your fingernails.
Next time, glove up while you're working with fresh turmeric to avoid staining your fingers.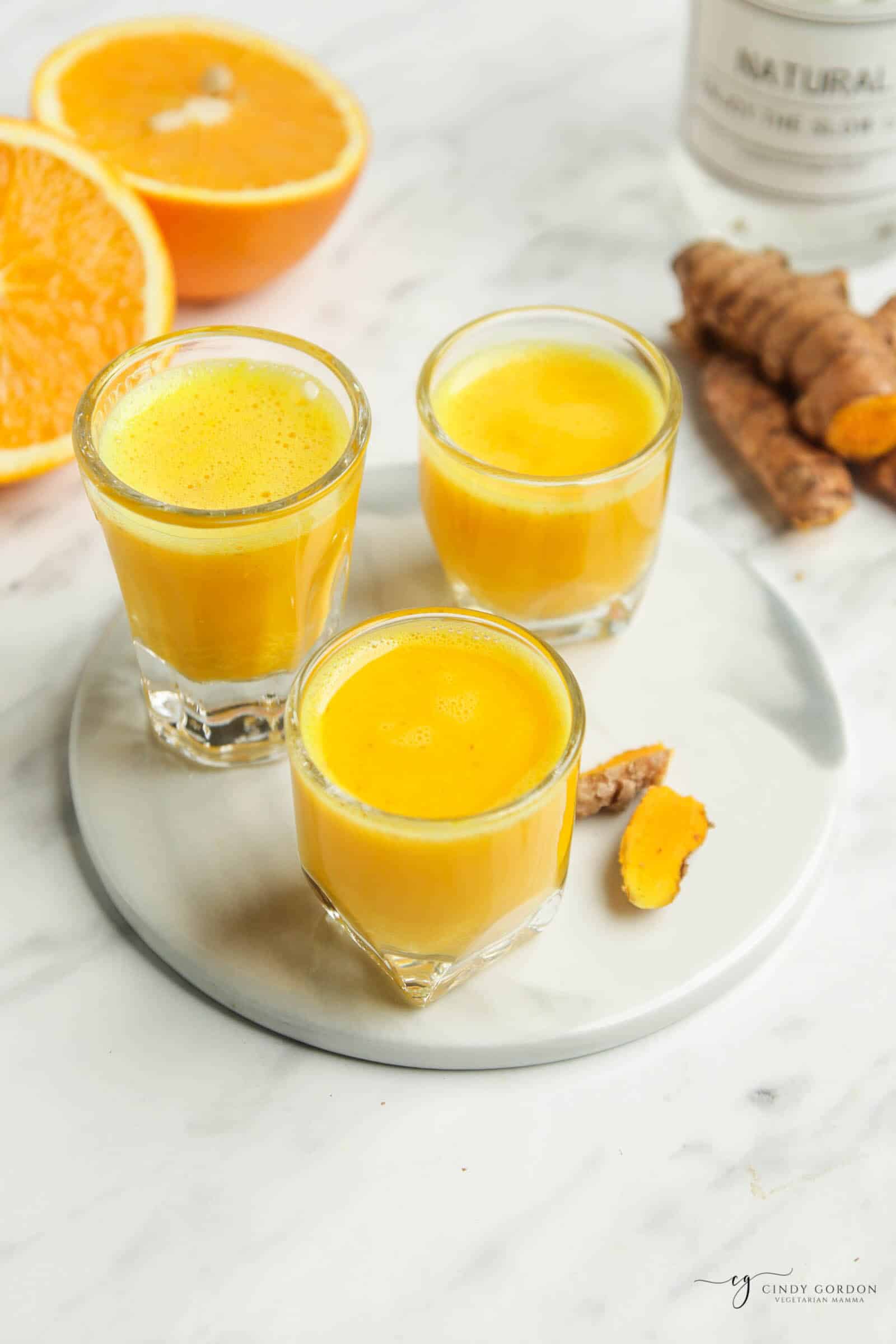 MORE DELICIOUS BEVERAGE RECIPES
We have lots of drink recipes here! Some are healthy and some are more fun, but you're sure to find something tasty.
If you are looking for a cold beverage that you can have any time of day our easy Mason Jar Cold Brew fits that bill! We bought a cheap large mason jar set on amazon and keep the brew in our fridge all week long!
If you want something warm to drink, give our Oat Milk Latte a try. You can add a shot or two of espresso to kick it up a notch.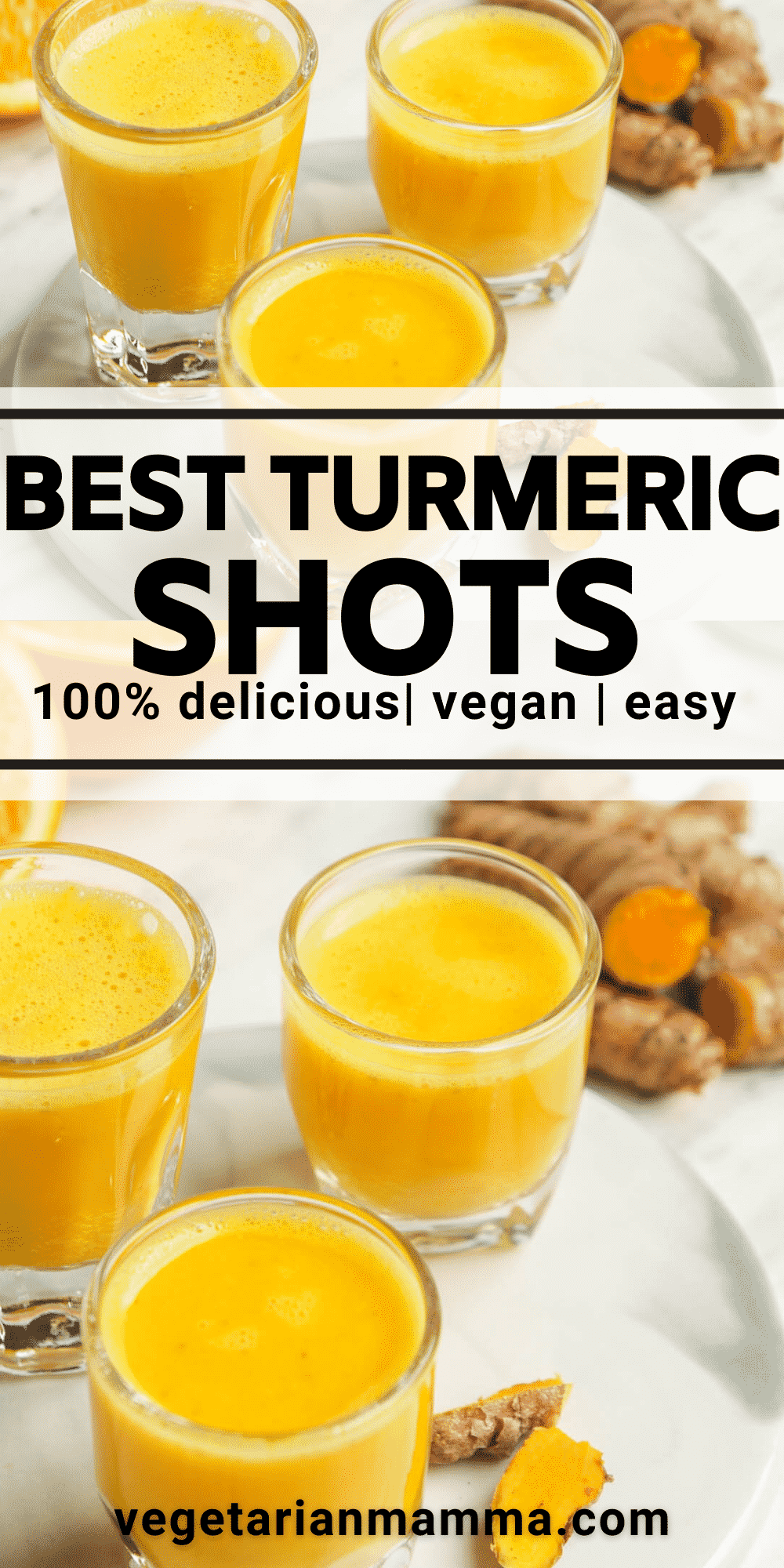 Have you made this recipe? Please leave a comment AND rating below! It helps other readers!
Be sure to tag @VegetarianMamma on instagram, if you share a picture on the gram! Let's get social, you can follow me on Youtube, Instagram, Facebook, Pinterest or join one of our Facebook Groups: Tasty Vegetarian Recipes and Vegetarian Air Fryer Recipes.
Don't forget to subscribe to our EMAIL newsletter.
Turmeric Shots
Turmeric shots are a delicious way to enjoy the powerful flavors of turmeric and also enjoy the benefits turmeric has to offer.
Instructions
First peel the turmeric using a spoon.

Place the peeled turmeric, orange juice, water, black pepper and maple syrup in a blender. (high powdered blender like a vitamix)

Blend until smooth. (If is too thick, add a little more of lemon juice or water)

Divide into shot glasses or jars.
Notes
The turmeric will stain your hands and utensils, I recommend using gloves.
If not consuming immediately, store in an airtight jar in the refrigerator.
We used a high powered blender like a vitamix for this. If you don't have a high powered blender, we suggest that you pour your juice though a cheese cloth or milk strainer bag to remove any pulp.
Nutrition
Calories:
56
kcal
|
Carbohydrates:
11
g
|
Protein:
1
g
|
Fat:
1
g
|
Saturated Fat:
1
g
|
Sodium:
6
mg
|
Potassium:
295
mg
|
Fiber:
2
g
|
Sugar:
5
g
|
Vitamin A:
31
IU
|
Vitamin C:
10
mg
|
Calcium:
26
mg
|
Iron:
4
mg
All though this website attempts to provide accurate nutritional information, the information should only be considered an estimate. Varying factors such as different product types, different brands, etc. can change nutritional information. It is your responsibility as a consumer to read all labels to make sure the ingredients fit your dietary needs as well as calculate your own nutritional information as a double check.