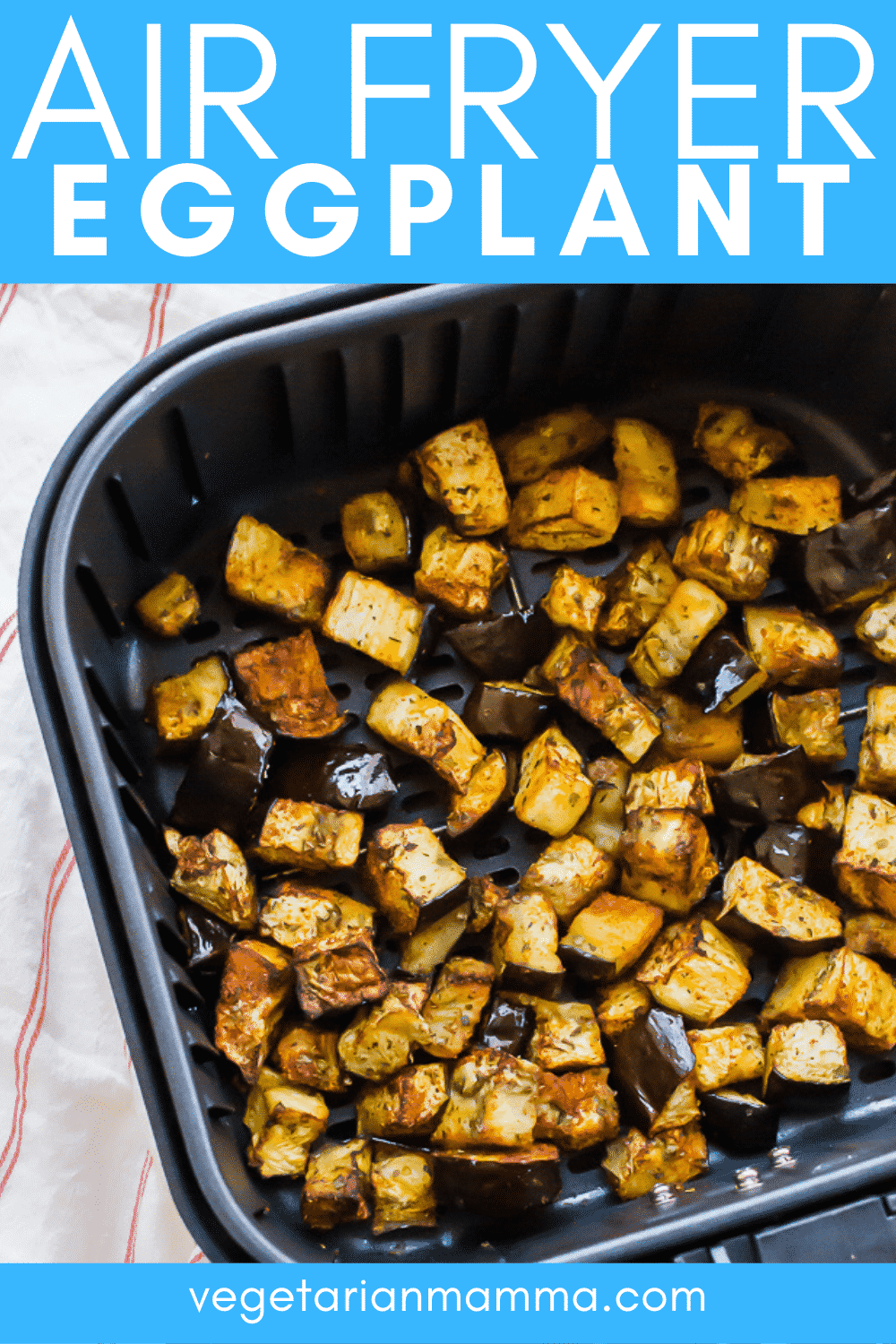 Air Fryer Eggplant is much easier than you might think! This often overlooked vegetable, with the right seasonings, will be a welcome addition to your side dish rotation.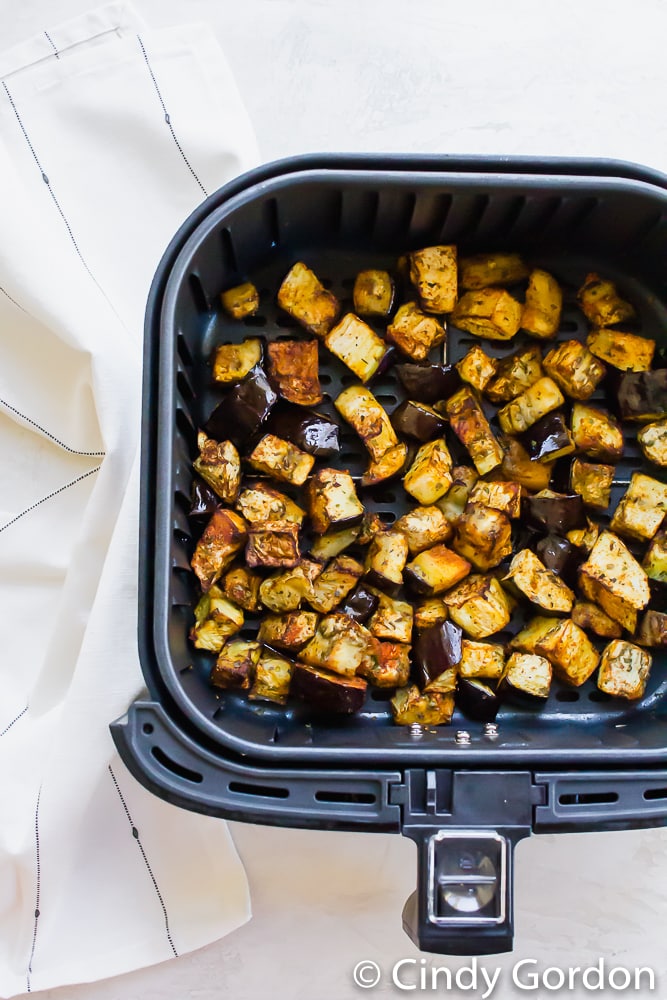 AIR FRYER EGGPLANT RECIPE
Eggplant is a really versatile vegetable, as it doesn't have a strong flavor and will absorb the flavors that you add to it.
This recipe is garlicy, herby, and a little bit smoky with the addition of carefully selected herbs and spices. Air fryer eggplant will go well with meat main dishes like grilled chicken or barbecue ribs.
Eggplant is also an excellent meat substitute for vegetarian or vegan diets.
Many Eggplant recipes are breaded, but this is a non breaded eggplant recipe! You may be interested in our Air Fryer Eggplant Parmesan recipe or this Crispy Eggplant recipe if you want a breaded eggplant.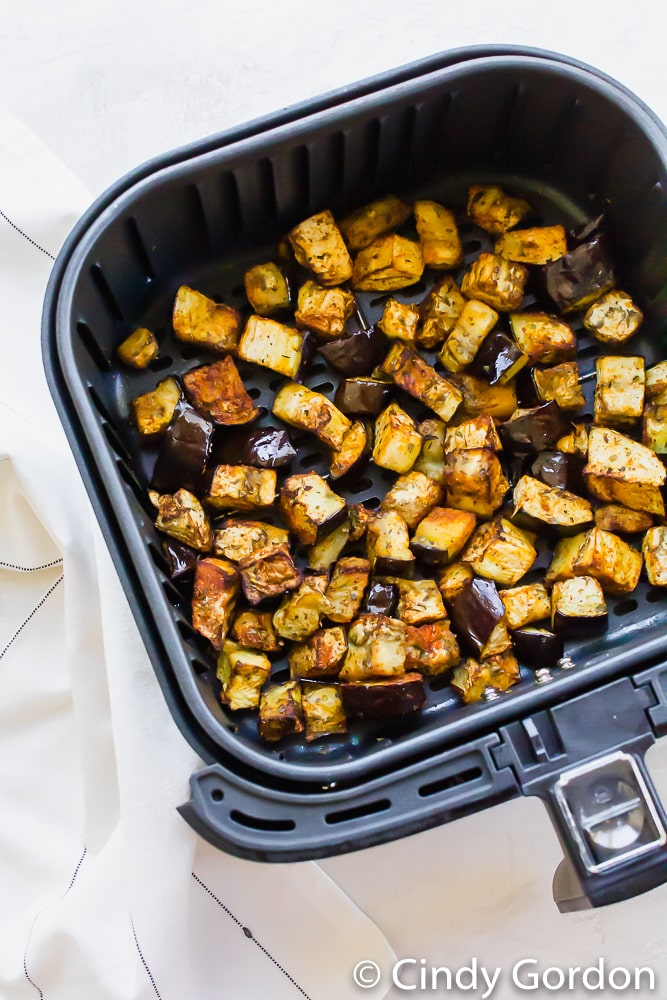 INGREDIENTS IN AIR FRYER EGGPLANT
Oil - We add oil to the eggplant so that it will crisp a bit in the air fryer and to keep it from sticking. Eggplant doesn't have much moisture on its own.
Oregano - a strong flavored herb that goes well with most vegetables.
Parsley - a fresh tasting herb that I love in everything.
Basil - the last herb in this mix smells so good while it's cooking.
Smoked Paprika - If you ever want your food to have a smoky taste without actually smoking it, the addition of smoked paprika will do the job.
Garlic powder - Yum! Garlic powder is added to most of my vegetable side dishes in the air fryer.
If you have any questions, please leave a comment below and I will get back to you.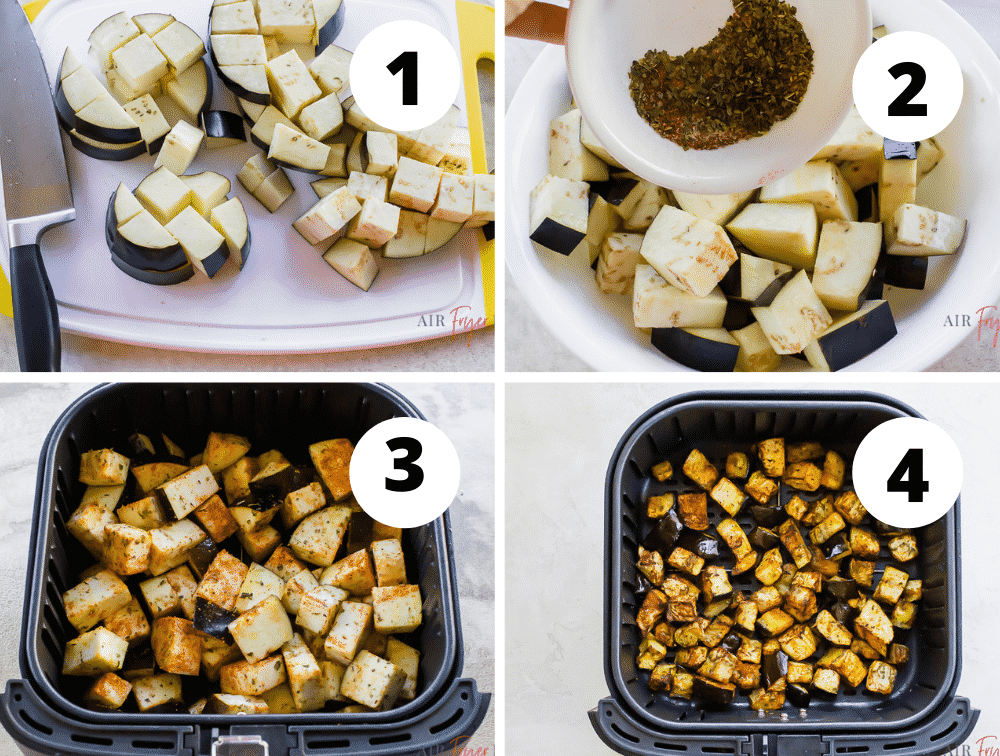 HOW TO MAKE AIR FRYER EGGPLANT
Wash the eggplant and dice into one inch pieces.
Put eggplant pieces into a bowl. Add the herbs, spices, and oil. Stir well to combine.
Place the eggplant into the air fryer basket or tray.
Air fry as directed . Shake or stir halfway through. Enjoy!
These numbered steps match the numbered photos above and are for illustration purposes. For the complete list of ingredients and instructions, please see the recipe below.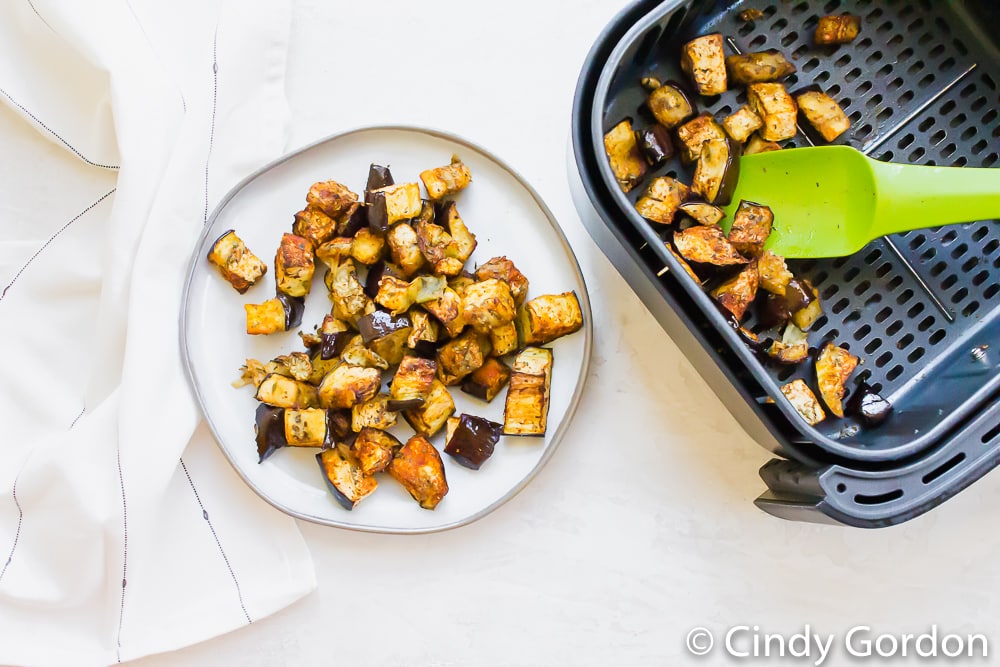 WHAT TO SERVE WITH AIR FRYER EGGPLANT
Eggplant is a very versatile side dish, and will go well with almost anything. The herbs and spices used here would make this a great side dish for a meaty meal like Air Fryer Steak or Air Fryer Porkchops.
Eggplant also tends to be featured in Italian food. So try this dish with Air Fryer Meatballs, either as a substitute for, or in addition to the spaghetti.
IS AIR FRYER EGGPLANT HEALTHY?
This recipe calls for a very small amount of oil, and you could even reduce it a bit if you're concerned about fat.
This eggplant recipe also doesn't have any breading on it, so it's low carb.
Eggplant can absolutely be a healthy dish!
HOW TO CHOOSE AN EGGPLANT
Pick an eggplant that is about 8-10 inches long and is smooth and shiny. A good eggplant should feel heavy for it's size.
SHOULD I PEEL EGGPLANT?
For this eggplant recipe, you don't need to peel the eggplant. I actually think that the texture of the skin is really nice.
However, if your eggplant is very large or the skin seems tough, it's absolutely find to remove the skin. Some of you might even prefer skinless eggplant, and that's ok! Removing the skin won't change this recipe at all.
WHAT TO DO WITH LEFTOVER EGGPLANT
Pop any leftovers in the fridge and eat within three days. I like to add cold leftover eggplant to salads.
You can reheat in your air fryer at 350 for 5 minutes or so.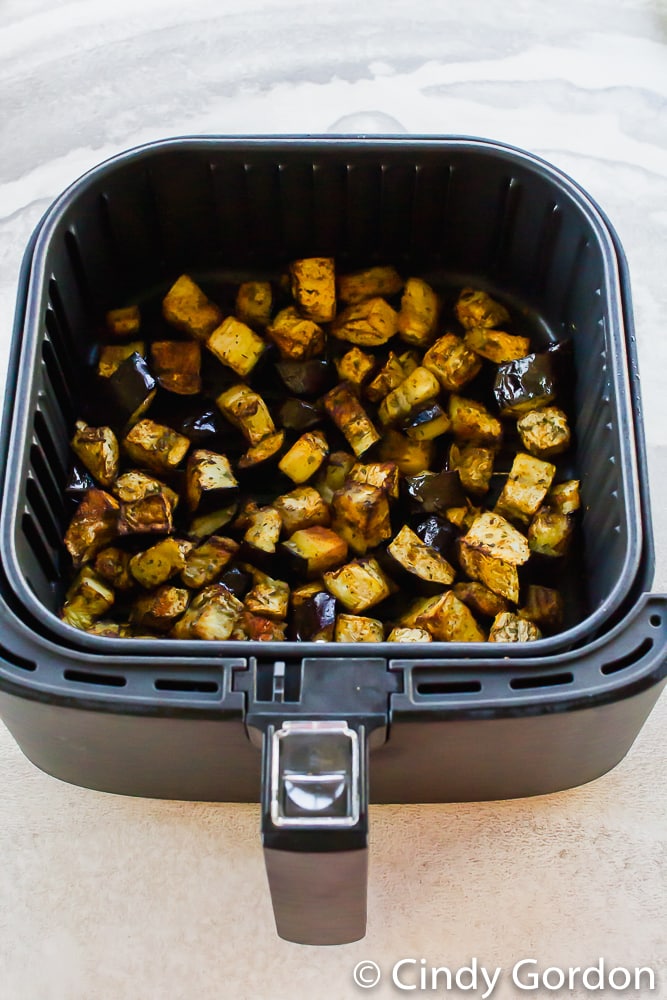 MORE AIR FRYER VEGETABLE RECIPES
I just love making veggies in the air fryer! Try Air Fryer Sweet Potato Hash if you like really simple recipes.
Looking for a green vegetable side dish? I have a few! Air Fryer Green Beans are amazing. Air Fryer Zucchini is also delicious. We also love Air Fryer Eggplant Parmesan!
Eggplant is often featured in Indian food recipes. Check out this list of Air Fryer Indian Recipes.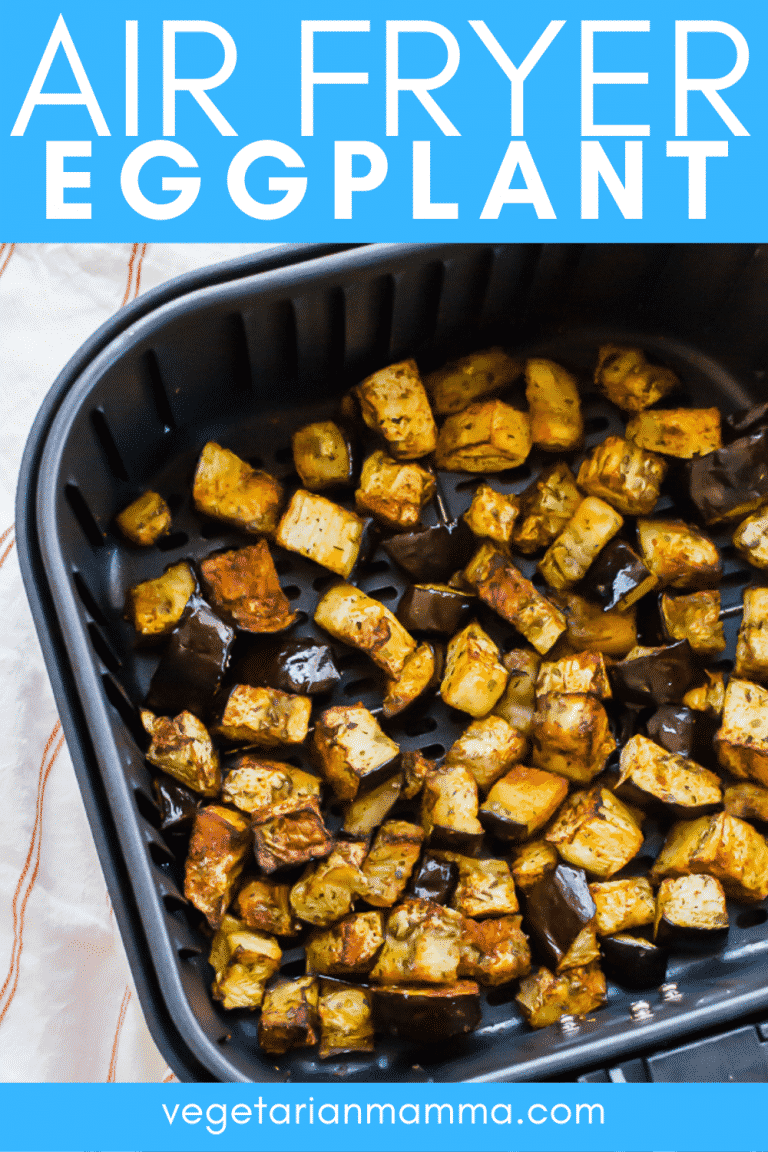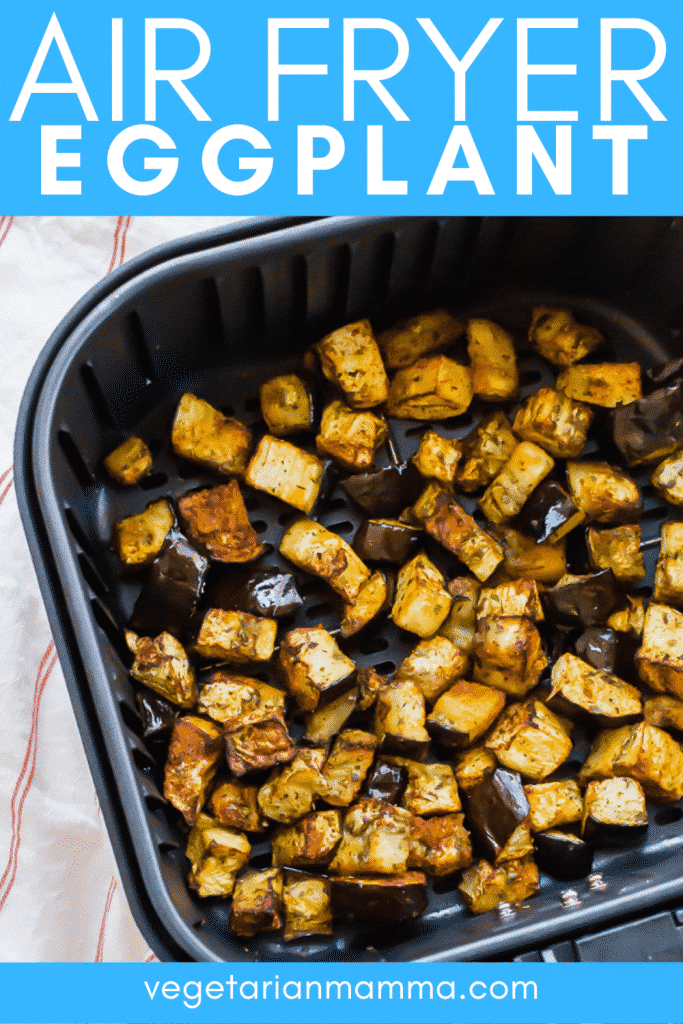 Have you made this recipe? Please leave a comment AND rating below! It helps other readers!
Be sure to tag @VegetarianMamma on instagram, if you share a picture on the gram! Let's get social, you can follow me on Youtube, Instagram, Facebook, Pinterest or join one of our Facebook Groups: Tasty Vegetarian Recipes and Vegetarian Air Fryer Recipes.
Don't forget to subscribe to our EMAIL newsletter.
Air Fryer Eggplant
Preparing Air Fryer Eggplant is much easier than you might think! This often overlooked vegetable, with the right seasonings, will be a welcome addition to your side dish rotation.
Instructions
Wash the eggplant and dice into 1 inch pieces.

Put eggplant pieces in a bowl, add the oil, herbs, and spices. Stir well to combine.

Place the eggplant into the air fryer basket or tray. Make sure the eggplant is spread out. It's okay if it's stacked because it will shrink while cooking.

Air Fry the eggplant at 380F/193C for 15 minutes. Shake or stir halfway through the cooking time. Enjoy!
Notes
Choose a medium sized eggplant with shiny skin that feels heavy for its size.
No need to peel the eggplant, but you can if you prefer.
Pro Tip: This recipe can be made in the air fryer unit with a basket or the air fryer oven. If you are using the air fryer oven, use the middle rack and select the "Air Fry" function.
Nutrition
Calories:
95
kcal
|
Carbohydrates:
8
g
|
Protein:
1
g
|
Fat:
7
g
|
Saturated Fat:
1
g
|
Sodium:
3
mg
|
Potassium:
283
mg
|
Fiber:
4
g
|
Sugar:
4
g
|
Vitamin A:
273
IU
|
Vitamin C:
3
mg
|
Calcium:
14
mg
|
Iron:
1
mg
All though this website attempts to provide accurate nutritional information, the information should only be considered an estimate. Varying factors such as different product types, different brands, etc. can change nutritional information. It is your responsibility as a consumer to read all labels to make sure the ingredients fit your dietary needs as well as calculate your own nutritional information as a double check.