Air Fryer Sweet Potato Hash is a delicious and quick side dish that will compliment any meal. This vegan air fryer recipe will quickly become a favorite air fryer recipe!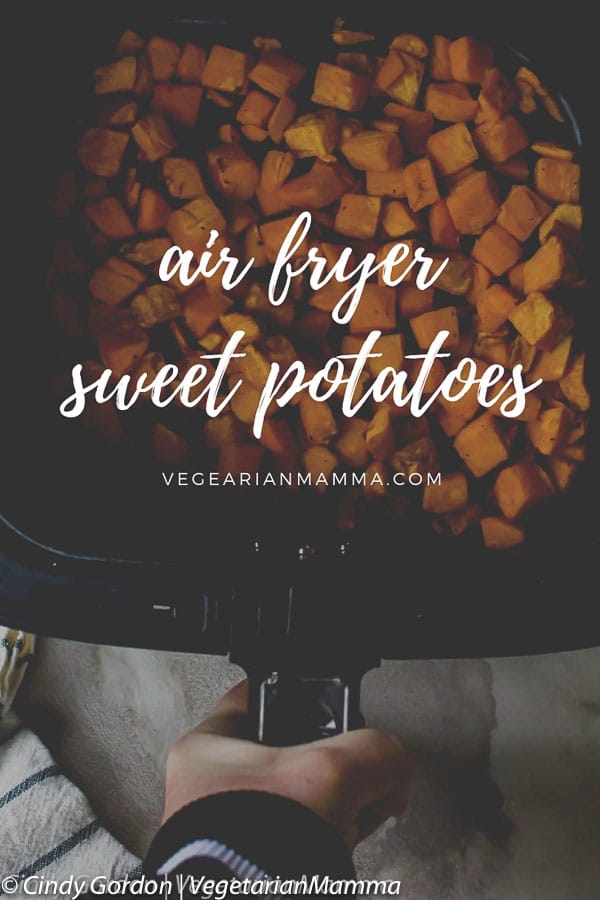 Air Fryer Sweet Potato Hash
Hello Air Fryer Friends!! It is time for another super easy and free air fryer recipe! This is literally one of my go-to recipes in this oil less fryer!
It is right up there at the tippy top of my favorites list with the air fryer broccoli recipe! (Have you tried that one!?) So addicting!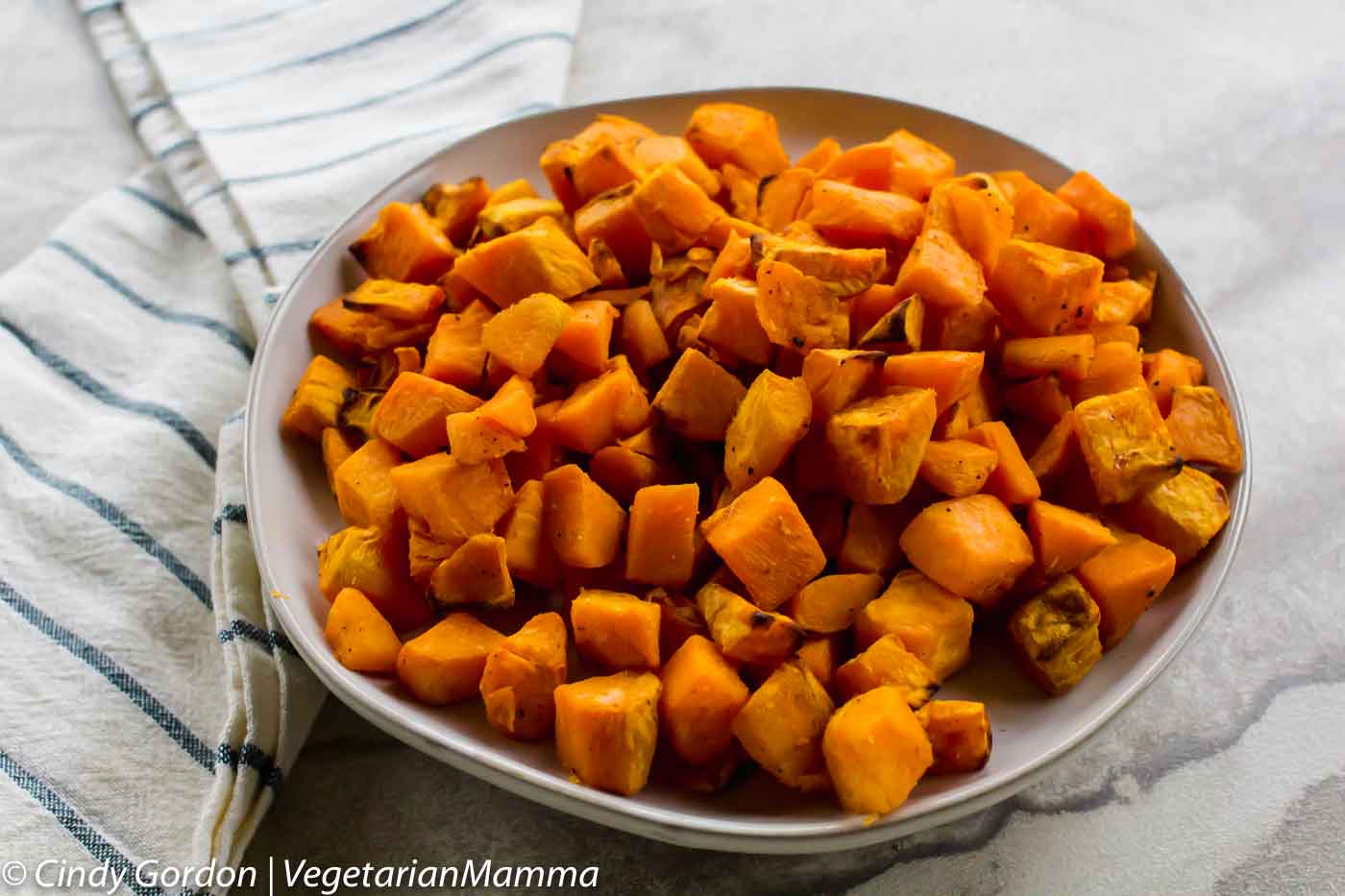 Okay, let's get to today's recipe. Today we are talking about sweet potatoes! Are you a sweet potato fan?
I like them, but I didn't consume them very much. Until now! I LOVE (almost obsessed) with healthy air fryer recipes and this recipe does not disappoint.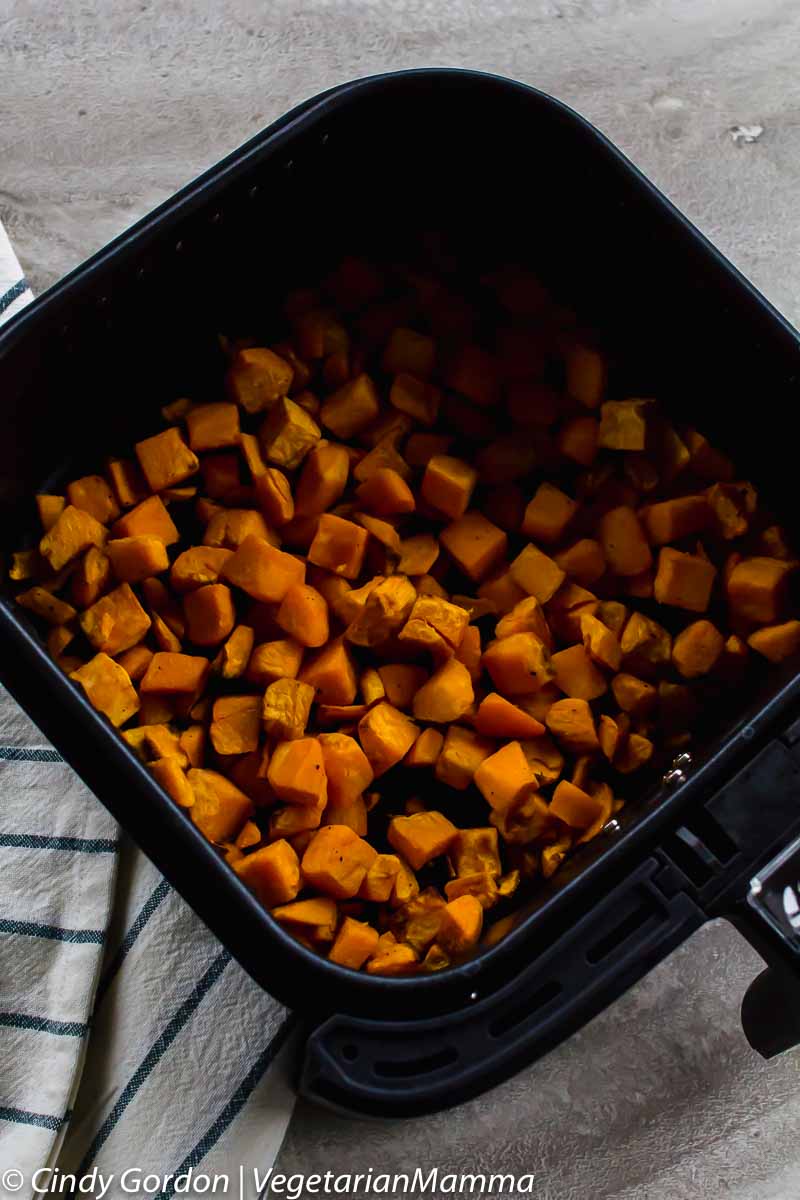 Sweet Potato Fun Facts
Can we take a moment to acknowledge all the goodness that comes along with a sweet potato? Sweet potatoes are high in beta carotene and are a good source of fiber if you eat with the skin on!
Sweet potatoes are a great source of vitamins E and C and offer up other nutrients such as iron and potassium.

Sweet potatoes are considered to be in the starches category, so they are not a low carb veggie. So a word of caution if you are counting carbs, you might want to eat them on a more occasional basis verses daily!
Sweet Potatoes are so versatile. They can be prepared in so many ways! Just think about it:
Baked Sweet Potatoes

Steamed Sweet Potatoes

Microwaved Sweet Potatoes

Fried Sweet Potatoes

Boiled Sweet Potatoes

Air Fried Sweet Potatoes
Sweet Potato Fun Fact: George Washington (the first US president) grew sweet potatoes on his farm in Virginia!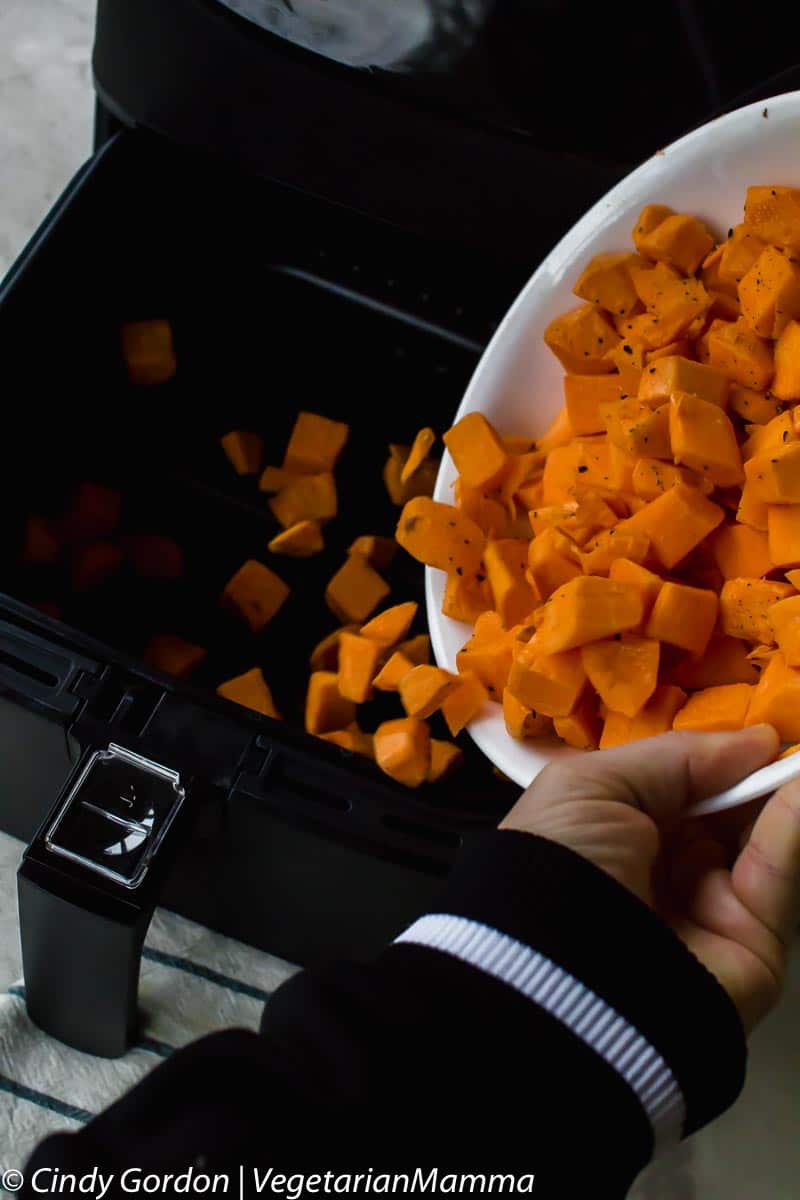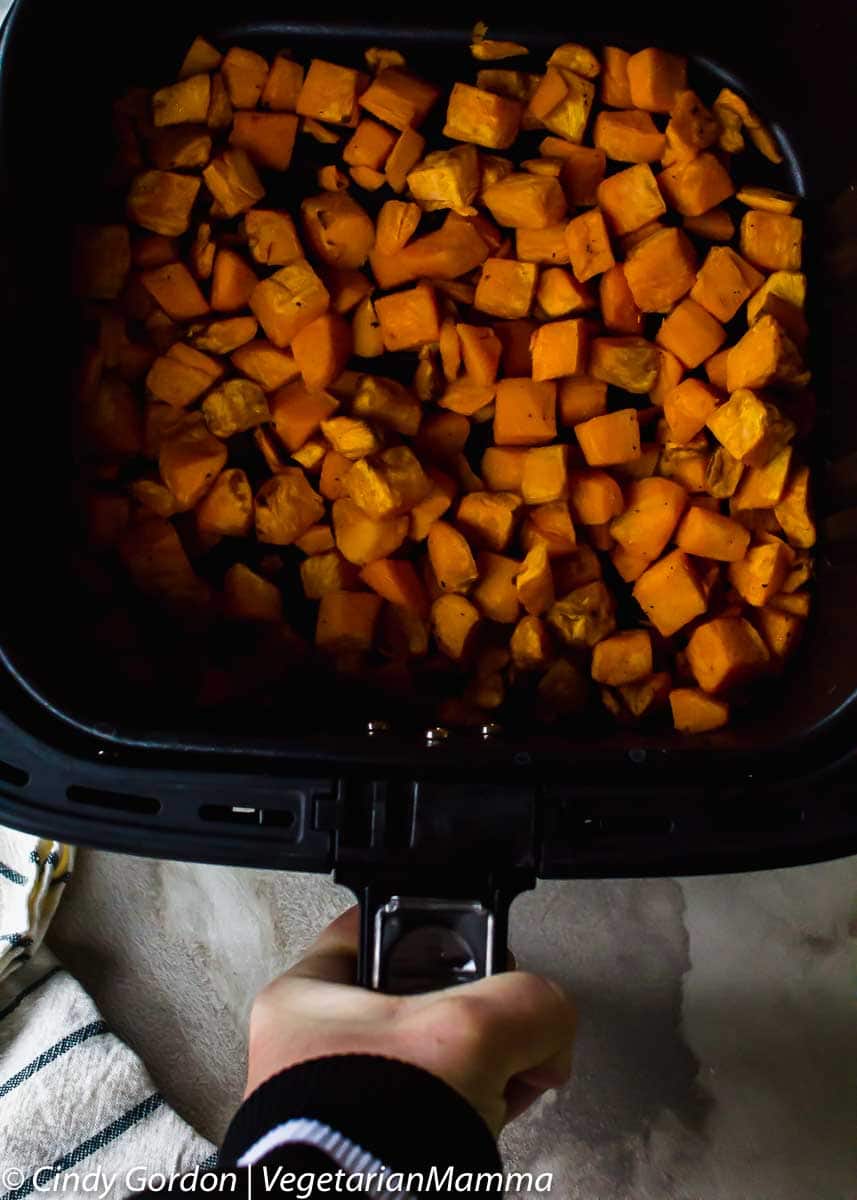 Sweet Potato in Air Fryer
That's exactly why you are here right? We are talking about cooking up that beautifully orange sweet potato in an air fryer. But, wait? What exactly is that?
What is an Air Fryer?
It is a countertop appliance that will soon win your heart over! It is basically a smaller (the inside of it) type of convection oven that moves very hot air around.
The circulating air cooks your food quickly and evenly. I am guessing that you have probably seen an air fryer infomercial or two!
While smaller inside than a convection oven, the outside is often typically the size of a toaster oven or slightly smaller. Many people buy air fryers to use when camping in their RV or even for cooking "stinky" foods (think air fryer broccoli) outside.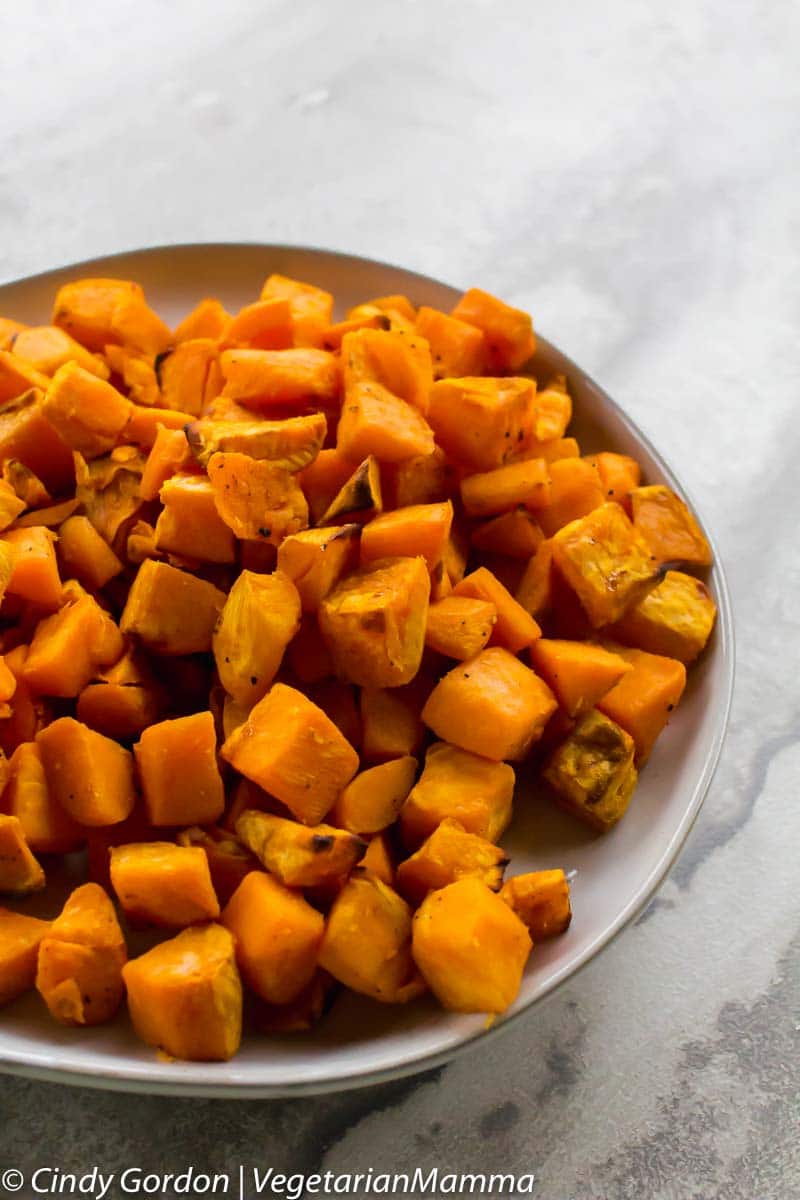 How do I clean my air fryer?
That is a great question and it will vary by model. I honestly get this question a lot!
For our power fryer Xl and Cosori Air Fryer we have a removable inner basket. So we can hand wash each basket individually.
It is listed on the new ones in the instruction manual that the basket is dishwasher safe. Be sure to check your manual.
How to clean your Air Fryer – Step by Step
Unplug your air fryer from the outlet. While this might seem like common sense, it is worth mentioning as it is very important.

Let your air fryer completely cool down. There is no need to immediately clear your machine right after use. It is dangerous and you can easily burn yourself!

Wipe the outside of your oil less fryer with a damp cloth. The cloth should be wet enough to gently wipe away food or grease but it should not be dripping with moisture.

Remove the basket container. Your basket should have two parts. Be sure to remove the inner basket from the outer basket, when cool. Gently scrub each basket with soap and water. Many new air fryer models have dishwasher safe baskets!

If the inside of your air fryer is dirty, you can wipe it down with a damp sponge.

Check the heating element of your fryer. You might need to gently turn the machine upside down to easily see and access the air fryer heating element. You can use a damp sponge to clean or a soft brush.
Side note: If you are in the market for an air fryer, I recently created a post about the best air fryers on the market. The post is based off of reviews from friends, family and online consumers! Be sure to check out the best air fryers on the market!
More easy air fryer recipes: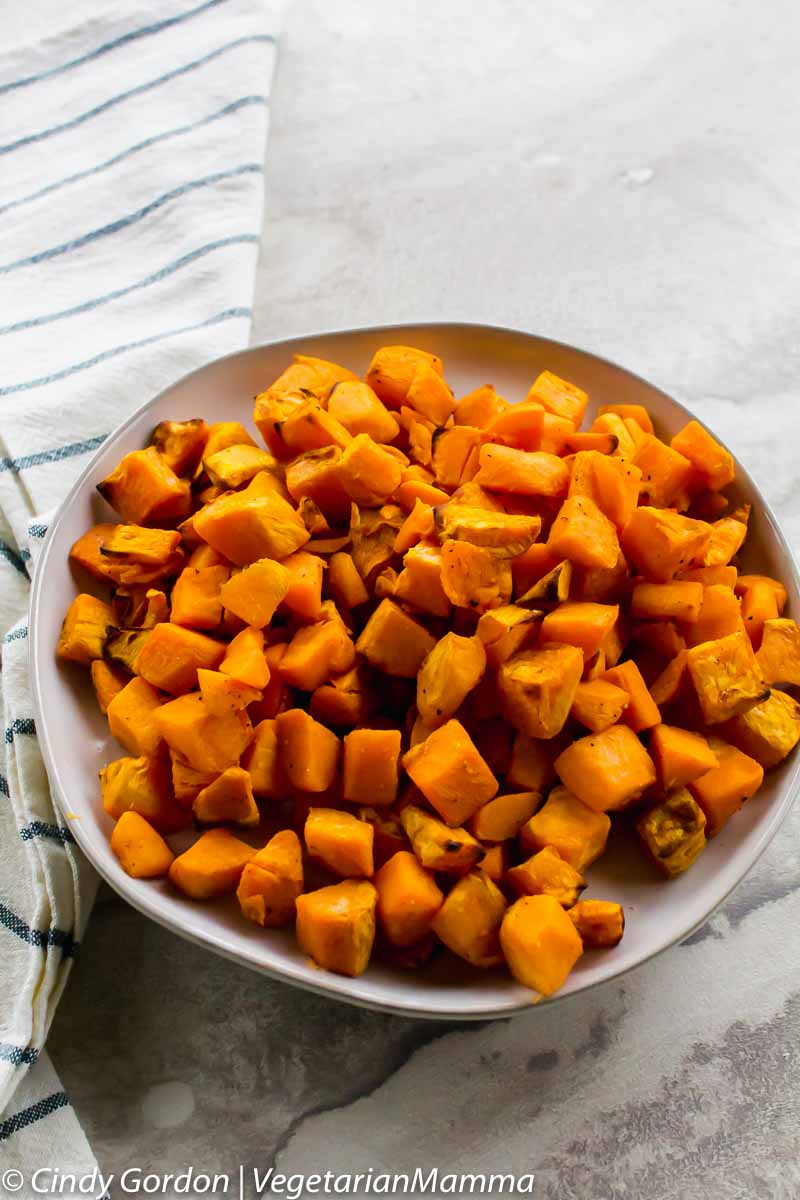 Looking for vegan air fryer recipes? We have some of those too! You can even check out our YouTube channel for some air fryer videos.
Still don't have an air fryer of your own? Be sure to check out our air fryer reviews from several of the top models out there. You'll be whipping up free air fryer recipes in no time!
Want to learn more about Air Fryers? Check out our Air Fryer 101 post! Having an Air Fryer is great but may also mean that you have a ton of questions as well.
We have some great tips for using your air fryer! Be sure to check out our Common Air Fryer Mistakes post so you are avoiding common problems when using your air fryer.
How to clean your air fryer, that is the million dollar question that we've been hearing lately! Wondering the correct and best way to clean your air fryer? Check out these tips for cleaning your airfryer!
What you need for this air fryer sweet potato recipe:
Sweet potato cubes

Oil

Salt and pepper

Air fryer
If you love sweet potatoes, be sure to check out these Crockpot Sweet Potatoes! They look delish! Always happy to share a good recipe when I find one! I sure have been on a sweet potato kick!
Pin this recipe for later: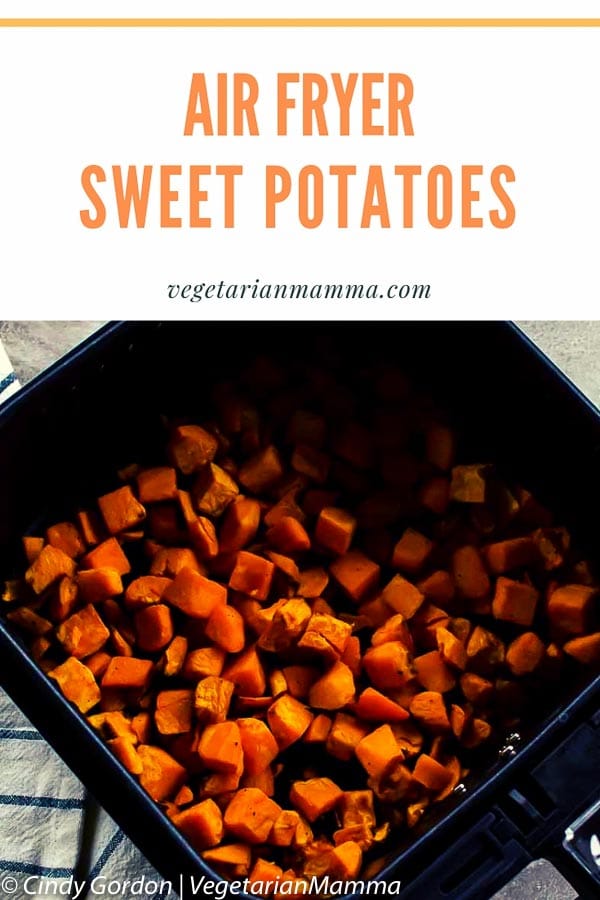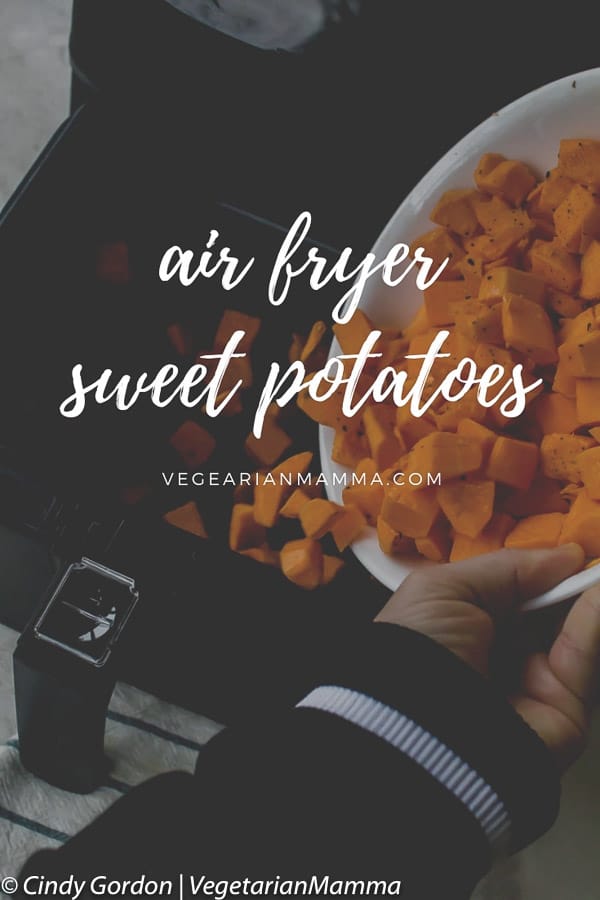 TIP: be sure to not add extra oil or moisture to the sweet potato cubes, this will encourage the cubes to brown or burn much quicker than normal.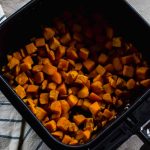 Print Recipe
Air Fryer Sweet Potato Hash
Air Fryer Sweet Potato Hash is a delicious and quick side dish that will compliment any meal. This vegan air fryer recipe will quickly become a favorite air fryer recipe!
Instructions
In a small bowl mix the sweet potato cubes and the oil. Season with salt and pepper.

Heat the cubes in the air fryer at 400 degrees F for 12-14 minutes. At the 6 minute mark, remove the basket and shake to help stir the sweet potatoes. Then place basket back into air fryer and resume heating.
Notes
Be sure not to add any extra moisture (water or oil) to the sweet potato cubes, it will encourage them to burn quicker. 
If this is your first time cooking, I would check the cubes at the 10 minute mark. Each air fryer can vary a bit. 
Nutrition
Calories:
19
kcal
|
Fat:
2
g
Question: Do you love air fried food? Or maybe this is your first airfryer recipe? Either way, just me a comment below and let me know how much you love your air fryer!