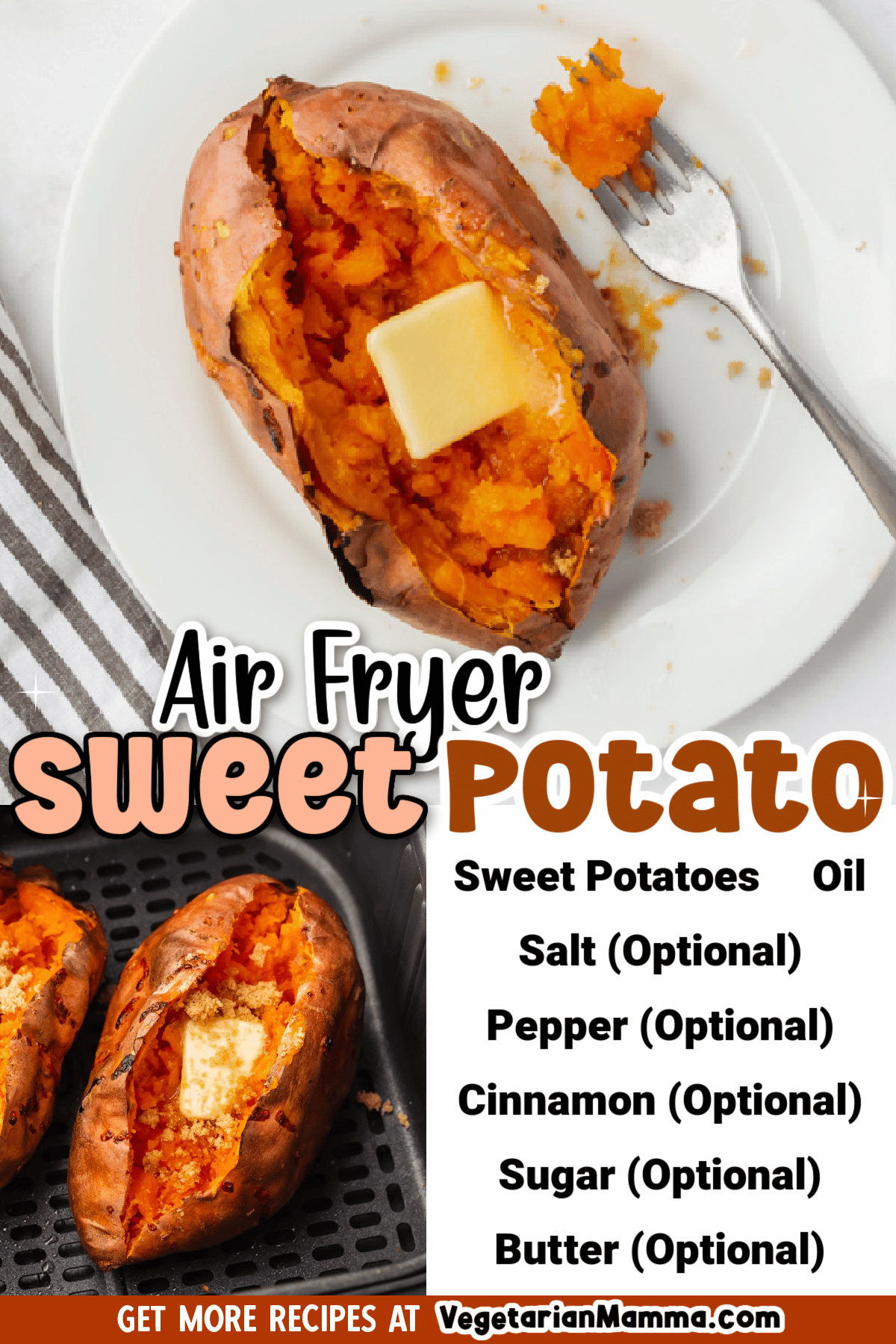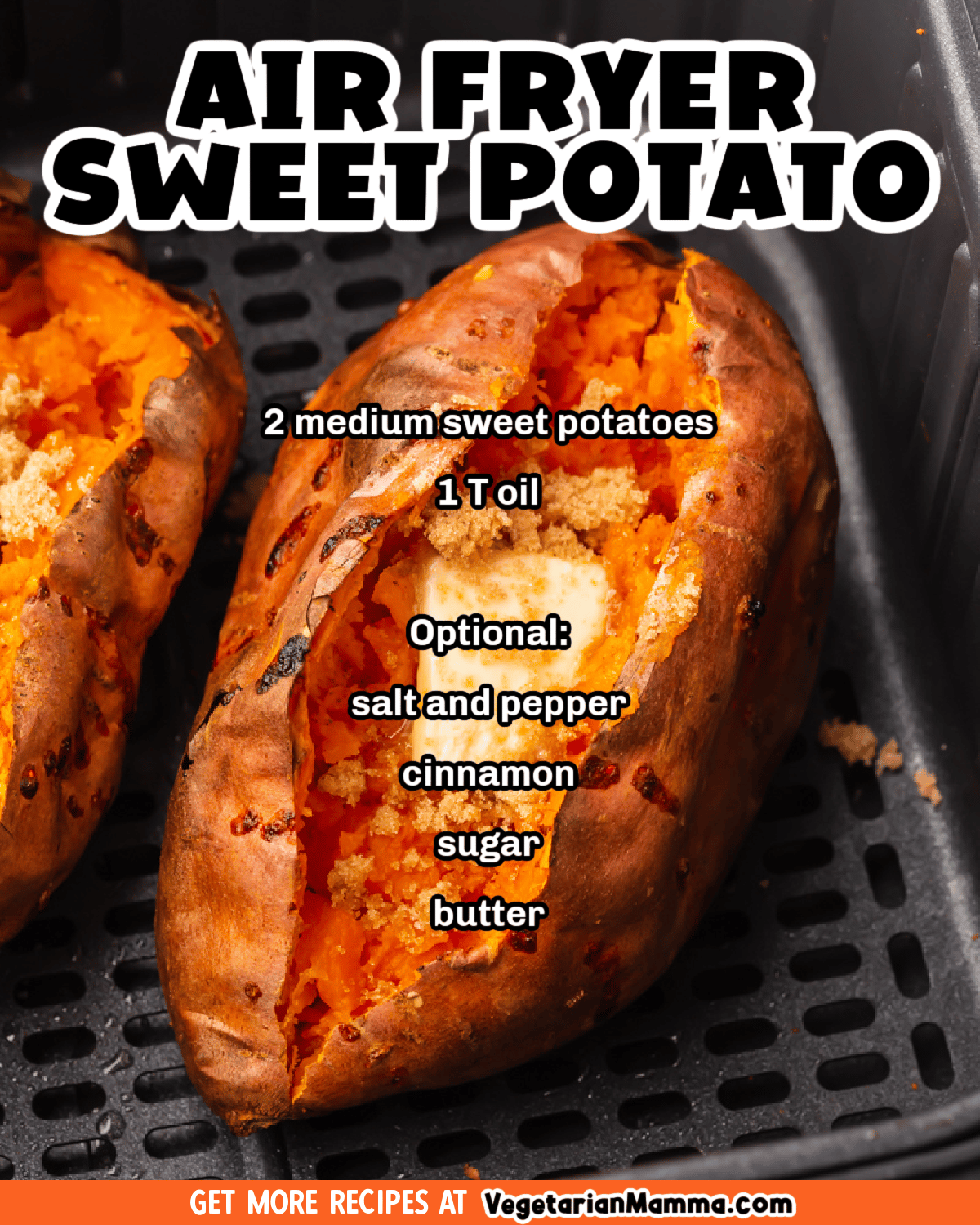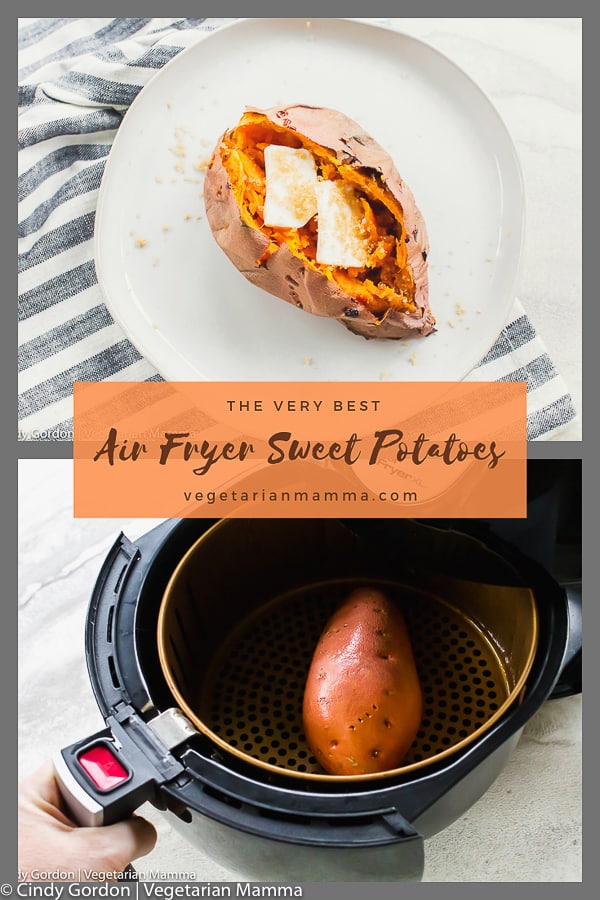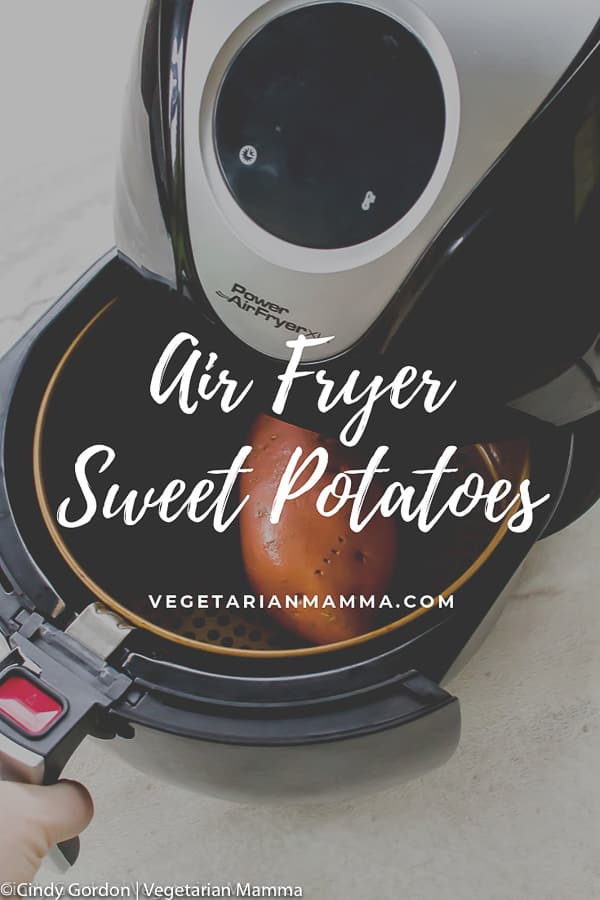 Air Fryer Baked Sweet Potato is a delicious side dish to compliment any meal. Just pop the sweet potatoes in the air fryer and you'll have a sweet and savory treat in no time!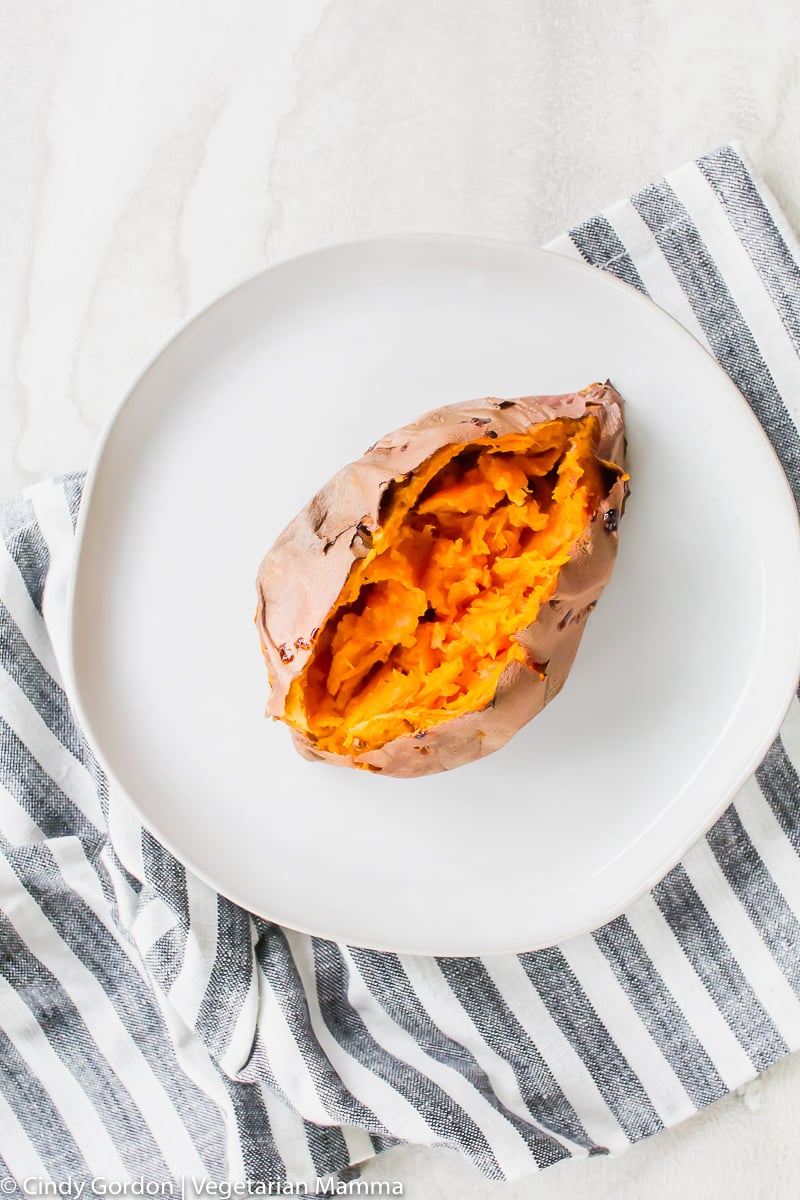 AIR FRYER SWEET POTATO RECIPE
While you can make sweet potato fries in the air fryer, we are talking about a whole sweet potato in the air fryer today! There are so many things you can make in the air fryer and potatoes are one of my favorites!
I honestly feel like most people overlook the humble but nutritious sweet potato. It's just not given a fair shake in the foodie world!
Just like the air fryer baked potato, these air fryer sweet potatoes are soft on the inside and crispy on the outside! Oven cooking will not yield this crispy of a sweet potato, I promise!
For a real treat, serve your air fryer sweet potatoes as Mexican Sweet Potatoes, topped with a delicious fresh salsa! This is the best way to eat sweet potatoes, especially if you are new to the flavors.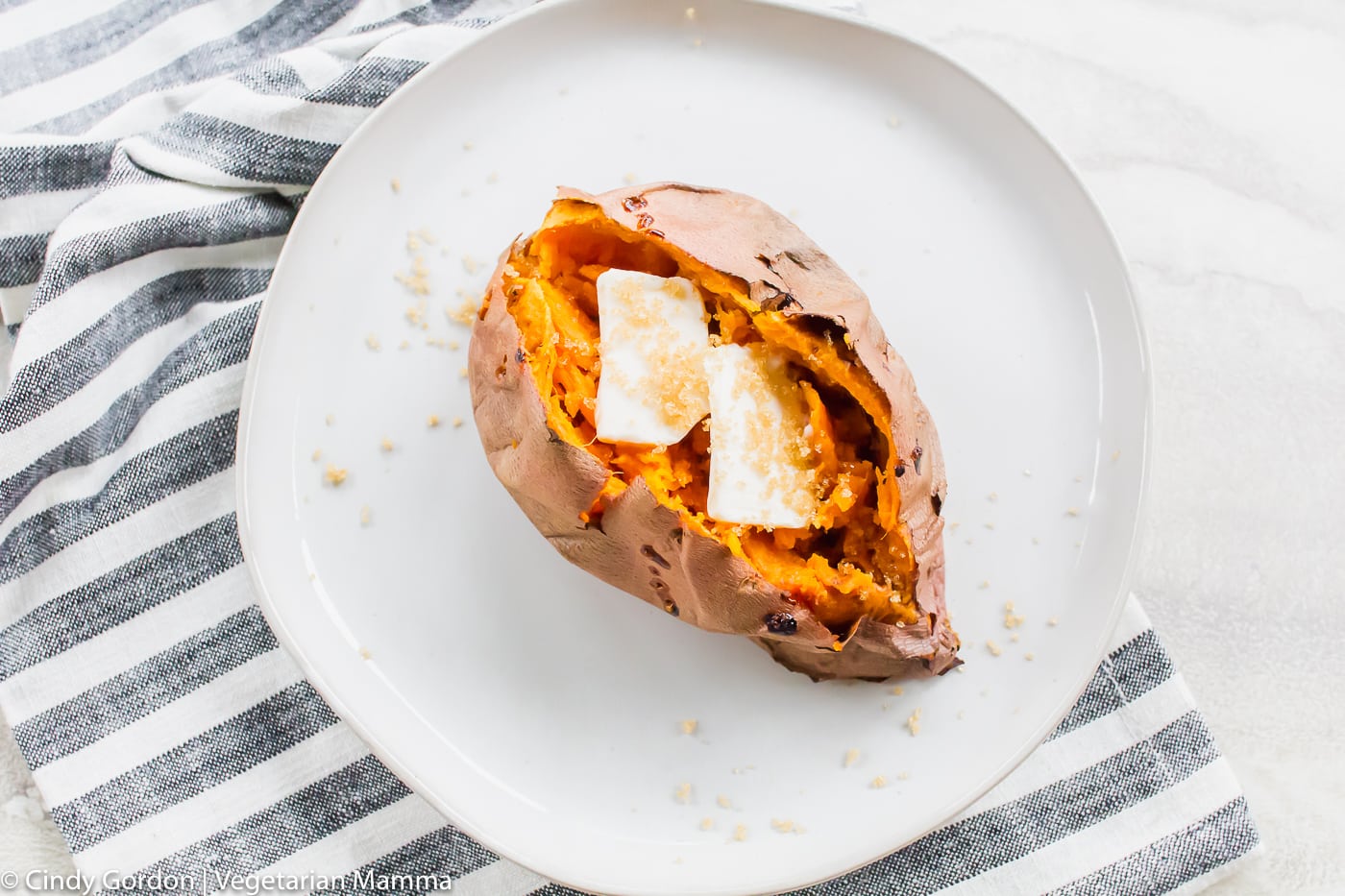 INGREDIENTS IN AIR FRYER BAKED SWEET POTATOES
Sweet Potatoes - Be sure to wash and dry your sweet potatoes well before cooking! You will want to enjoy that crispy potato skin, I promise.
Oil - We will rub the outside of our potatoes with oil to keep them from sticking and to help with crisping the skin a bit.
Butter - I like some butter with my sweet potatoes. This is optional, but delicious and definitely recommended.
Cinnamon - If you like, add some cinnamon sugar to your sweet potatoes after cooking. It is so yummy!
If you have any questions about how to make the best air fryer sweet potatoes, please leave a comment below and I will get back to you ASAP!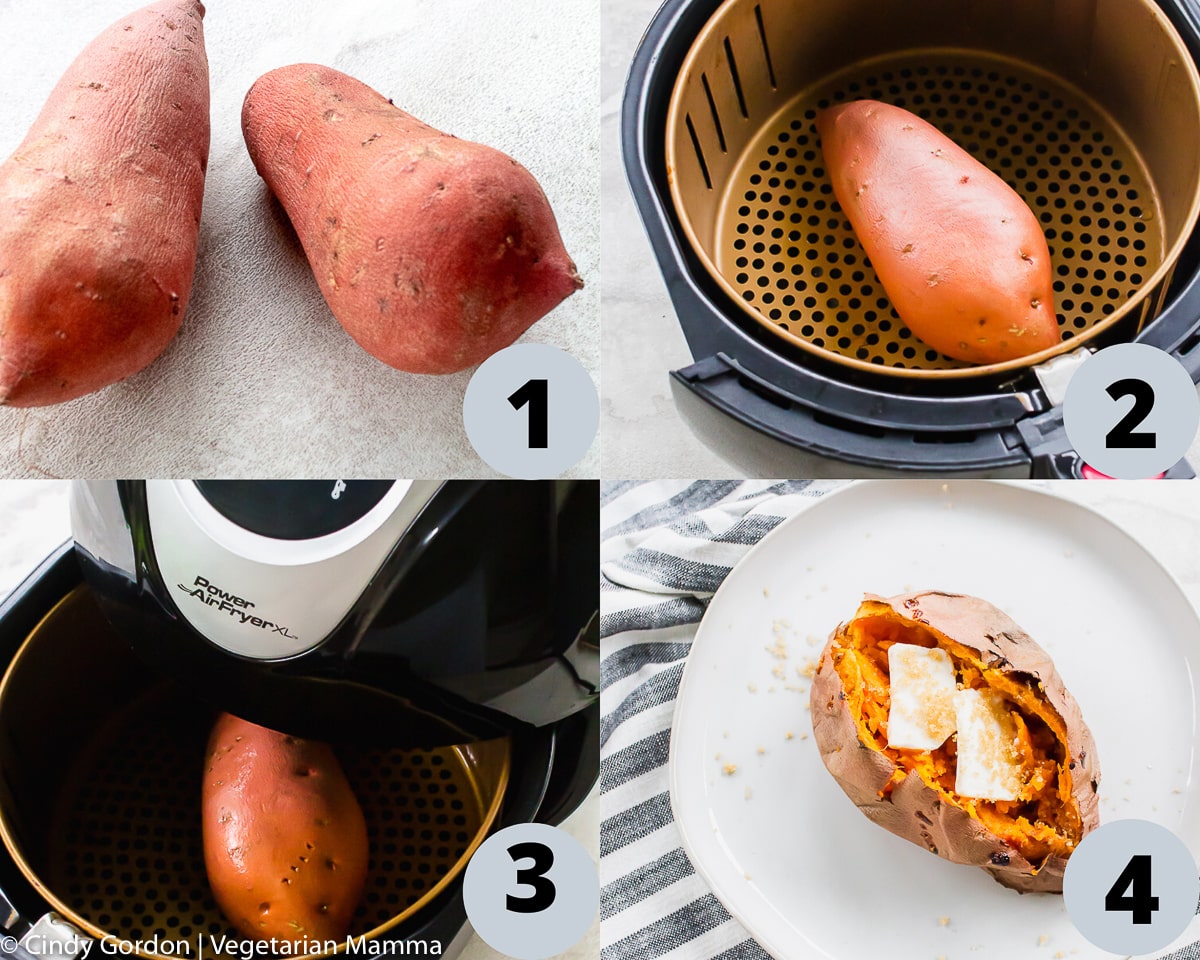 HOW TO MAKE SWEET POTATOES IN THE AIR FRYER
First, wash and dry the outside of each sweet potato thoroughly. Use your fingers or a potato brush to remove all the dirt.
Using a fork, poke a few holes in the sweet potato. This helps the steam escape! Also, rub potatoes with a little oil to keep them from sticking to the air fryer basket.
Then, put the sweet potatoes into your air fryer basket. Leave room for everyone! Cook until the skin is crispy but the sweet potatoes can be pierced easily with a fork.
While warm, slice open the sweet potatoes and top them with cinnamon and butter.
These numbered steps match the numbered photos above and are for illustration purposes. For the complete list of ingredients and instructions to make sweet potatoes in the air fryer, please see the recipe below.
WHAT IS AN AIR FRYER?
It is a countertop appliance that will soon win your heart over! It is basically a smaller (the inside of it) type of convection oven that moves very hot air around.
The circulating air cooks your food quickly and evenly. I am guessing that you have probably seen an air fryer infomercial or two!
While smaller inside than a convection oven, the outside is often typically the size of a toaster oven or slightly smaller. Many people buy air fryers to use when camping in their RV or even for cooking "stinky" foods (think air fryer broccoli) outside.
CAN YOU PUT A SWEET POTATO IN AN AIR FRYER?
Yes, you can! You can cook it just like you would a baked potato.
The best part? Sweet potatoes and regular baked potatoes are ready so much faster in the air fryer versus the oven!
CAN YOU EAT SWEET POTATO SKIN?
Yes, the skin of a sweet potato is edible. It also has some nutritional value.
Whether you plan to eat the sweet potato skin or not, be sure to wash it thoroughly. Sweet potatoes are grown deep in the ground, and many come from the store with some grit and dirt still in tact.
When washing your sweet potatoes, use your fingertips to gently massage the skin. This will loosen any dirt and give you a perfectly clean and delicious sweet potato!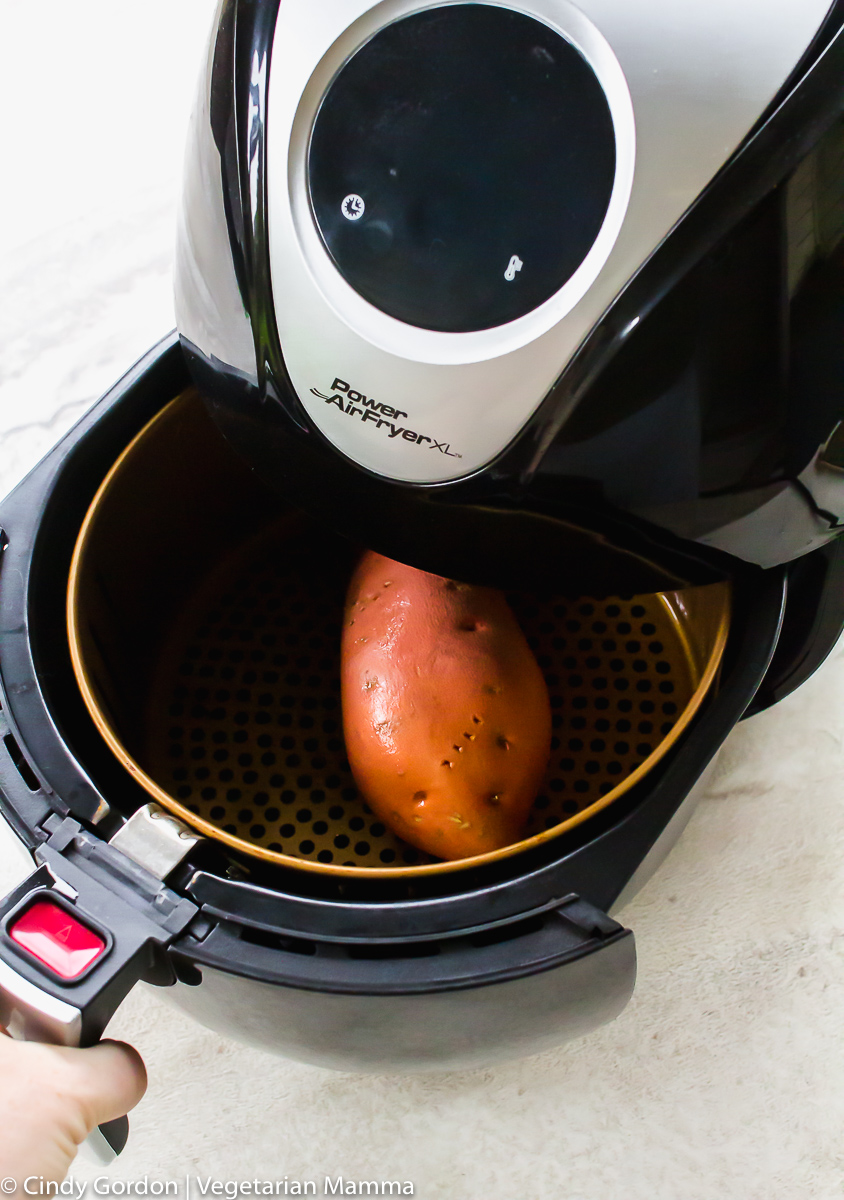 HOW DO I CLEAN MY AIR FRYER?
That is a great question and it will vary by model. I honestly get this question a lot!
For our power fryer Xl and Cosori Air Fryer we have a removable inner basket. So we can hand-wash each basket individually.
One tip that works across air fryer brands: Never clean your air fryer with harsh chemicals! I usually stick to a gentle dish soap and water or just a damp cloth. If you use chemicals, like a multi-surface spray, it could end up in your food.
It is listed on the new ones in the instruction manual that the basket is dishwasher safe. Be sure to check your manual.
HOW TO CLEAN YOUR AIR FRYER — STEP BY STEP
First, unplug your air fryer from the outlet. While this might seem like common sense, it is worth mentioning as it is very important.

Let your air fryer completely cool down. There is no need to immediately clear your machine right after use. It is dangerous and you can easily burn yourself!

Then, wipe the outside of your air fryer with a damp cloth. The cloth should be wet enough to gently wipe away food or grease but it should not be dripping with moisture.

Now, remove the basket container. Your basket should have two parts. Be sure to remove the inner basket from the outer basket, when cool. Gently scrub each basket with soap and water. Many new air fryer models have dishwasher safe baskets!

If the inside of your air fryer is dirty, you can wipe it down with a damp sponge.

Check the heating element of your fryer. You might need to gently turn the machine upside down to easily see and access the air fryer heating element. You can use a damp sponge to clean or a soft brush

to gently clean it.
Side note: If you are in the market for an air fryer, I recently created a post about the best air fryers for every type and size family. The post is based off of reviews from friends, family and online consumers! Be sure to check out the best air fryers on the market!
MORE TASTY AIR FRYER RECIPES
Air Fryer Zucchini Fritters are one of my most popular recipes, and a super delicious way to use summer zucchini. This recipe also uses fresh corn for the most summer you can pack into one humble veggie fritter!
Air Fryer Brussel Sprouts are a simple and easy-to-make side dish. You will be amazed at how amazing roasted vegetables in the air fryer are! If you are wondering how to cook Brussel sprouts in the air fryer, we will teach you.
Learn how to make Vegan Air Fryer Bacon. You can combine the vegan bacon to help veg out this sweet potato breakfast boat.
Air Fryer Stuffed Mushrooms are the vegetarian appetizer everyone wants to eat! These yummy stuffed mushroom caps are filled with gooey mozzarella cheese, red and yellow bell peppers, and a delicious Italian seasoning blend.
If you loved this air fryer sweet potato recipe, try all my air fryer potato recipes!
On our sister site we share recipes for meat in the air fryer. You may be interested in Air Fryer Tilapia, or this recipe for Chicken Wing Rub which you could use on anything!
MORE AIR FRYER HELP
Looking for vegan air fryer recipes? We have some of those too! You can even check out our YouTube channel for some air fryer videos.
Still don't have an air fryer of your own? Be sure to check out our air fryer reviews from several of the top models out there. You'll be whipping up free air fryer recipes in no time!
Want to learn more about Air Fryers? Check out our Air Fryer 101 post! Having an Air Fryer is great but may also mean that you have a ton of questions as well.
We have some great tips for using your air fryer! Be sure to check out our Common Air Fryer Mistakes post so you are avoiding common problems when using your air fryer.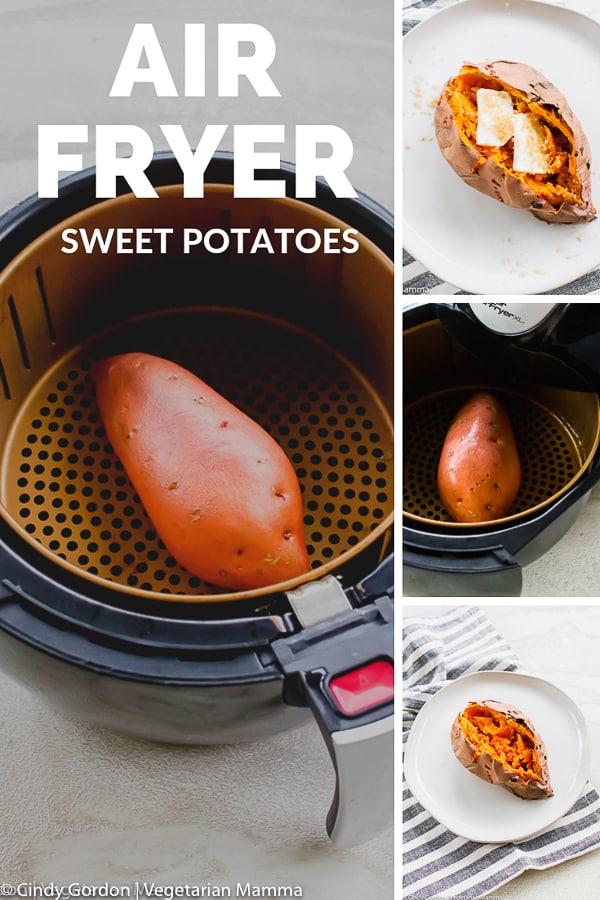 Have you made this recipe? Please leave a comment AND rating below! It helps other readers!
Be sure to tag @VegetarianMamma on instagram, if you share a picture on the gram! Let's get social, you can follow me on Youtube, Instagram, Facebook, Pinterest or join one of our Facebook Groups: Tasty Vegetarian Recipes and Vegetarian Air Fryer Recipes.
Don't forget to subscribe to our EMAIL newsletter.
Air Fryer Sweet Potato
Air Fryer Sweet Potato is a delicious side dish to compliment any meal. Just pop the sweet potatoes in the air fryer and you'll have a sweet treat in no time.
Ingredients
2

medium

sweet potatoes

1

T

oil

salt, pepper, cinnamon, sugar, butter

optional
Instructions
Wash and dry the outside of each sweet potato.

Using a fork, poke holes into the sweet potato. Rub potatoes with oil

Put sweet potatoes into air fryer basket. Cook at 390 Degrees F for 35-40 minutes.

Top with cinnamon/sugar and butter...enjoy.
Notes
Depending on your machine and the size of the sweet potatoes, you may need to adjust the time. As the timer nears 3o minutes, you can check the potatoes but inserting a knife into the potato. If the knife comes out easily the potato is done.
Nutrition
Calories:
256
kcal
|
Carbohydrates:
45
g
|
Protein:
4
g
|
Fat:
7
g
|
Saturated Fat:
1
g
|
Sodium:
124
mg
|
Potassium:
762
mg
|
Fiber:
7
g
|
Sugar:
9
g
|
Vitamin A:
32063
IU
|
Vitamin C:
5
mg
|
Calcium:
68
mg
|
Iron:
1
mg
All though this website attempts to provide accurate nutritional information, the information should only be considered an estimate. Varying factors such as different product types, different brands, etc. can change nutritional information. It is your responsibility as a consumer to read all labels to make sure the ingredients fit your dietary needs as well as calculate your own nutritional information as a double check.