Whether you are cooking over a bonfire in your backyard or a campfire at your local state park, a sweet treat is always a welcome addition to your experience. Campfire brownies make your bellies happy and put a smile on your face.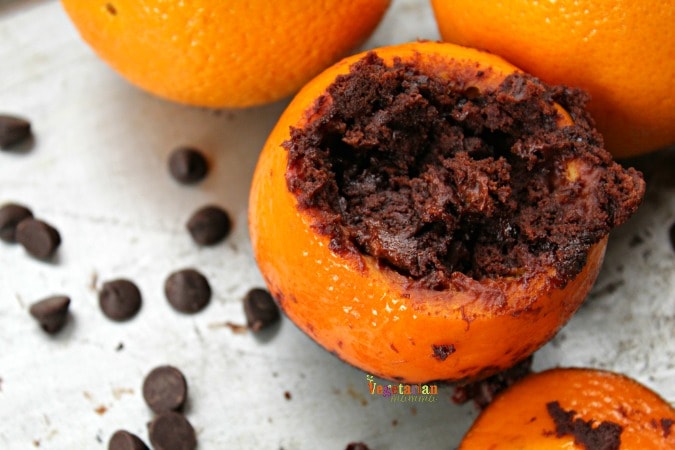 When I was younger and living at home with my parents, we did a lot of traveling in our motor home. We would travel the country each summer.
Sometimes spending three weeks at a time away from home. That was a lot for a little girl. After a while, the space of the RV seemed quite small, especially in that third week.
My family made some wonderful memories during our travels. One of my favorite memories were the campfires that we would have.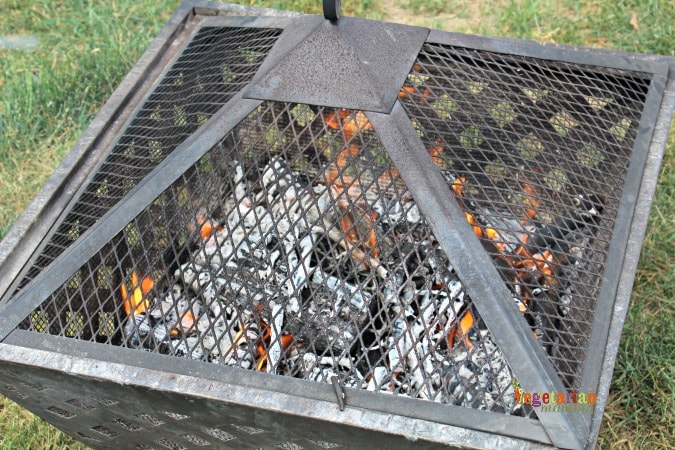 We would travel all day, pull into a campground and my mom would build a fire. It was almost an escape.
We would sit outside and often cook dinner over the fire. I have so many beautiful memories of my mom, our campfires and the talks we would have.
My little family has not carried on the RV-ing tradition from my childhood. However, we do love a great backyard campfire.
We have been known to head to a cabin for a weekend away. Granted, we are not roughing it...it is more like "glamping."
You know...glamorous camping. Regardless, we love a great bonfire.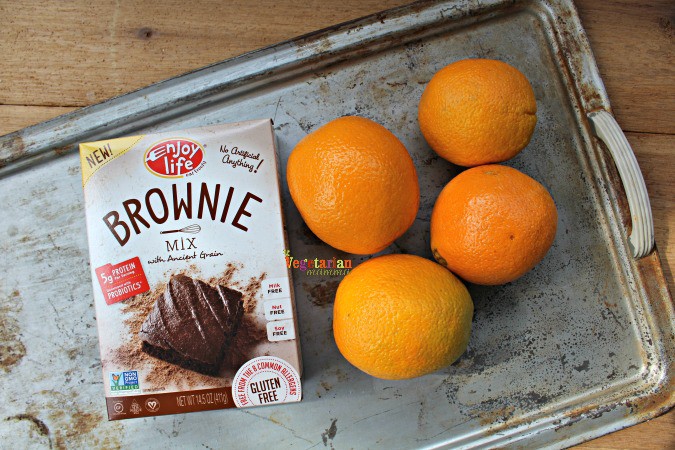 When dealing with food restrictions, whether due to allergies, intolerances or personal choices...you sometimes need to get creative.
You need to have fun with your cooking. You need to focus on the FUN part of eating; loving what you eat. It is safe to say that my family LOVES Enjoy Life Foods.
They have been a great company to my family, they make delicious allergy friendly food that helps to keep my family safe.
For this recipe, we used Enjoy Life Foods Brownie Mix. The brownies contain 5 grams of plant based protein in each serving.
Of course the mixes are TOP8 allergen free (just like all Enjoy Life Foods Products) they are also verified nonGMO AND certified gluten-free.
Looking for other allergy-friendly recipes? All of our recipes are nut-free and gluten-free. We also have vegan recipes too!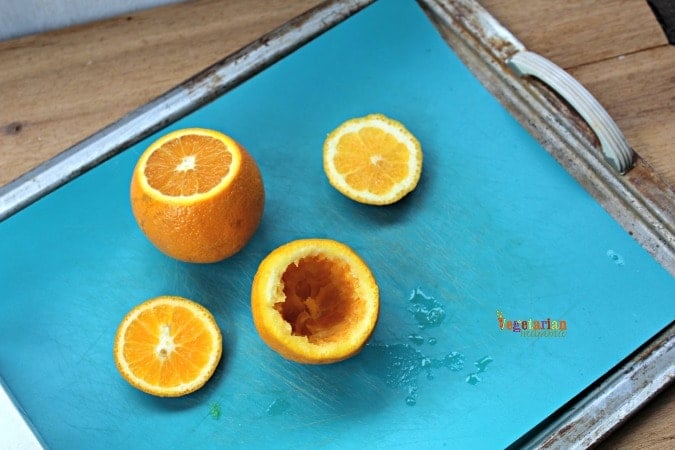 So we have established that we need a campfire and a brownie mix. Now you need a vehicle (so to speak) to bake the brownies in.
Let's use an orange! That is right, grab some large oranges, cut off the top and scoop out the insides. If you are camping, it is wise to prep these before you head to the camp site.
Less mess is better. The scooped out oranges with lids will travel well in a gallon size zip lock type of baggie.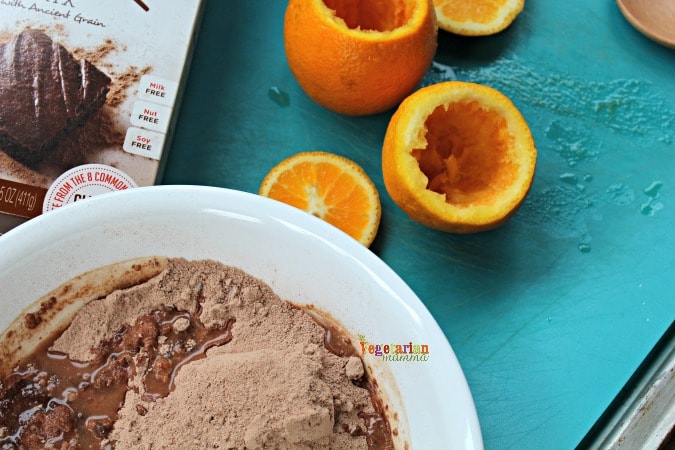 Mix up that delicious brownie batter. The best part about this batch of brownies is that it is vegan.
Yep, no eggs. So go ahead and lick that spoon! Nobody is looking! It is always good to sample the campfire brownies before baking. Ha!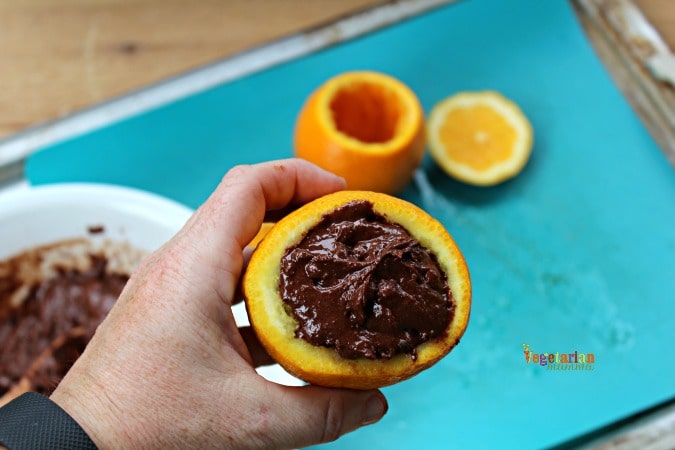 Fill up those oranges with the batter. Fill just below the top of the orange to allow room for expansion of the batter.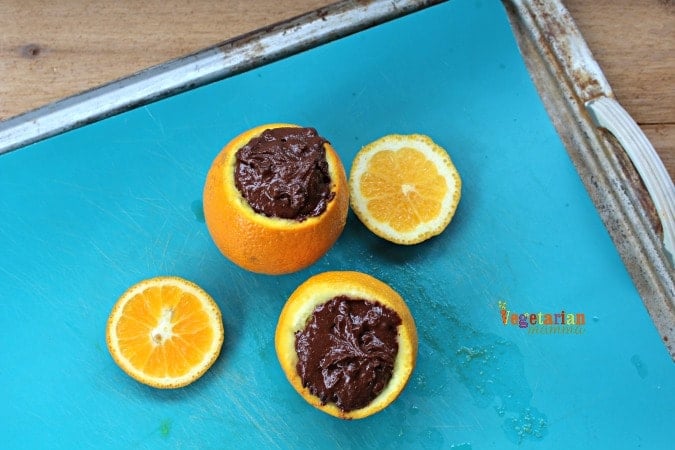 That handsome dark brownie batter looks beautiful next to the vibrant color of the oranges!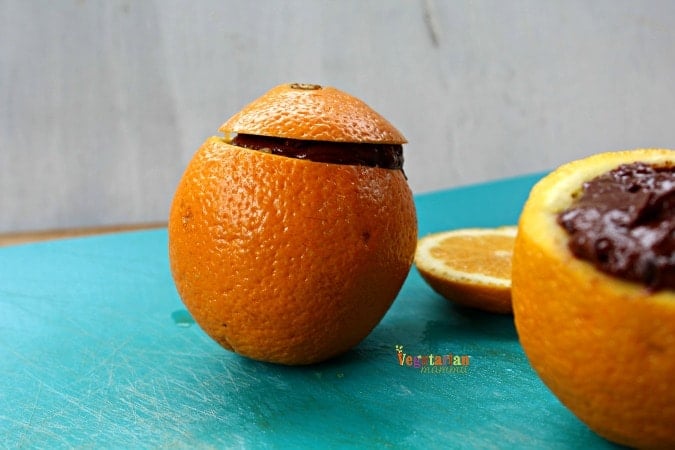 You with me? That is one pretty orange...yes?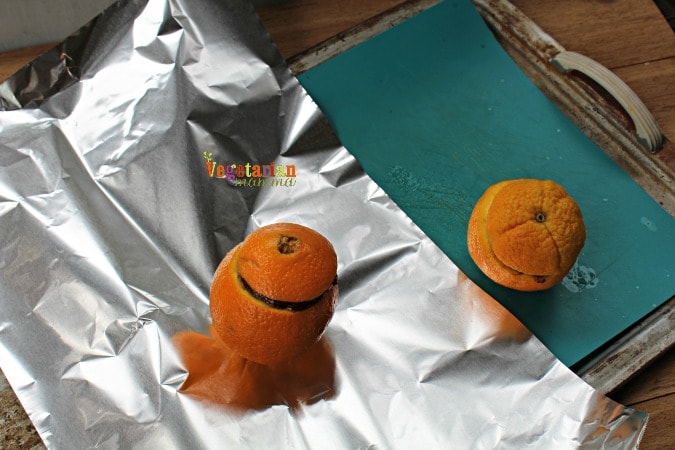 Next up...foil! Wrap each orange in an individual sheet of foil. I like to twist the foil towards the top.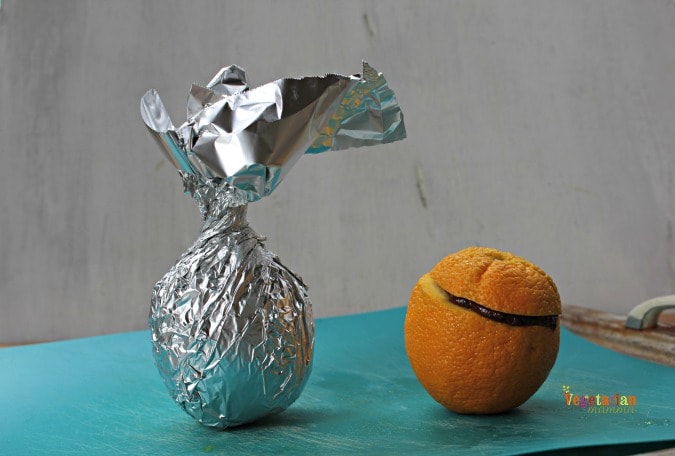 I like the extra foil at the top because it makes it easier to grab the wrapped oranges with tongs.
THIS girl does not want to get burned by that fire!
Oh yes and make sure that your furry co-worker approves. If you don't have a furry co-worker, that is okay.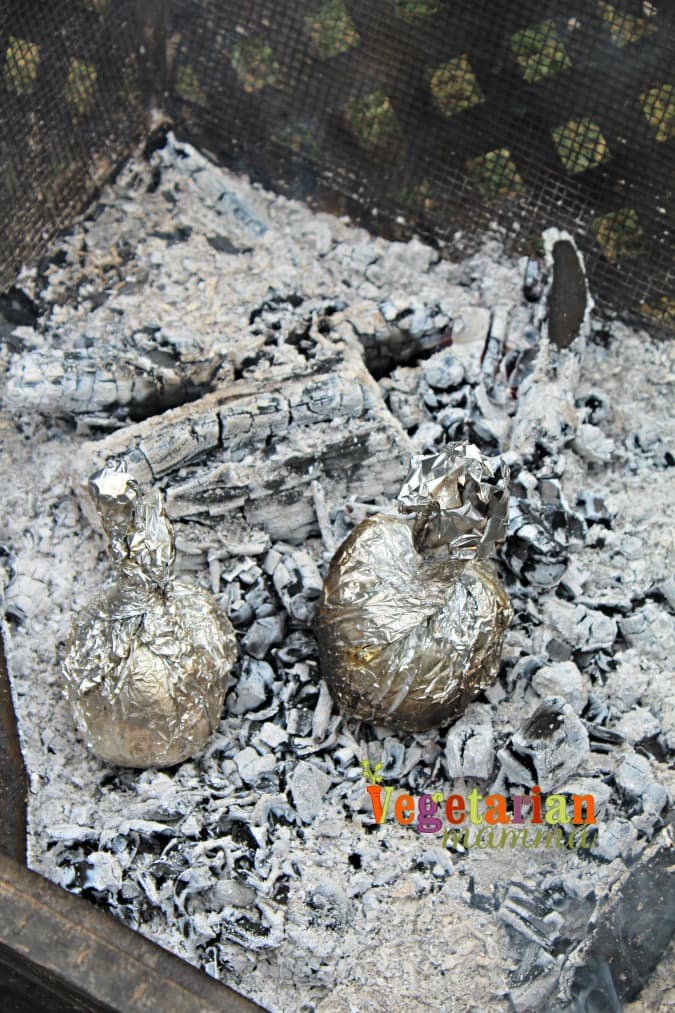 Place into the coals of your campfire. While you can place near flames, they cook best on the coals of your fire.
So once your fire dies down a bit...THAT is the time!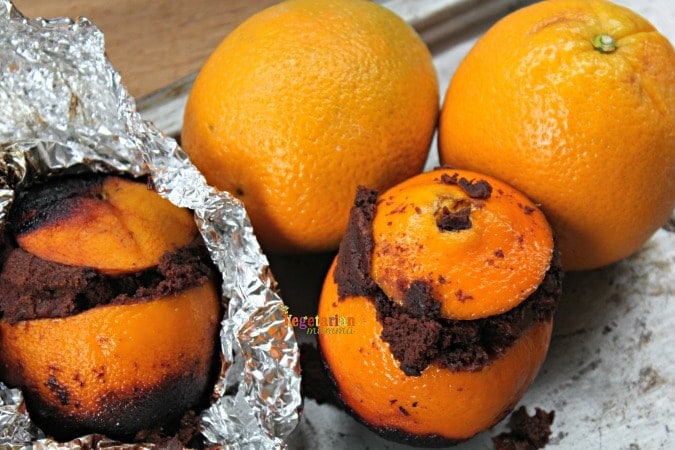 After 25 minutes, pull your oranges from the fire to check on your brownies. Depending on the temp of your fire, your brownies should take between 25-35 minutes.
If your orange begins to burn, that is okay! Mine typically burn at the bottom but it does not affect the campfire brownies.
If you are a brownie lover, you should check out these Gluten Free Butterfinger Cheesecake Brownie Bars by Fearless Dining, they look simply amazing!
Campfire Brownies
Whether you are cooking over a bonfire in your backyard or a campfire at your local state park, a sweet treat is always a welcome addition to your experience. Campfire brownies make your bellies happy and put a smile on your face.
Instructions
Start up a beautiful campfire.

Cut off the tops of oranges. Scoop out insides of oranges.

Prepare mix, per directions on box. (using oil and water)

Put batter into oranges, wrap in foil.

Put foil wrapped oranges onto coals of your campfire. Check batter after 25 minutes. The brownies should take between 25-35 minutes to bake.

Remove from fire, cool and enjoy!
Nutrition
Calories:
125
kcal
|
Carbohydrates:
16
g
|
Protein:
1
g
|
Fat:
7
g
|
Saturated Fat:
1
g
|
Trans Fat:
1
g
|
Sodium:
3
mg
|
Potassium:
237
mg
|
Fiber:
3
g
|
Sugar:
12
g
|
Vitamin A:
295
IU
|
Vitamin C:
70
mg
|
Calcium:
54
mg
|
Iron:
1
mg
All though this website attempts to provide accurate nutritional information, the information should only be considered an estimate. Varying factors such as different product types, different brands, etc. can change nutritional information. It is your responsibility as a consumer to read all labels to make sure the ingredients fit your dietary needs as well as calculate your own nutritional information as a double check.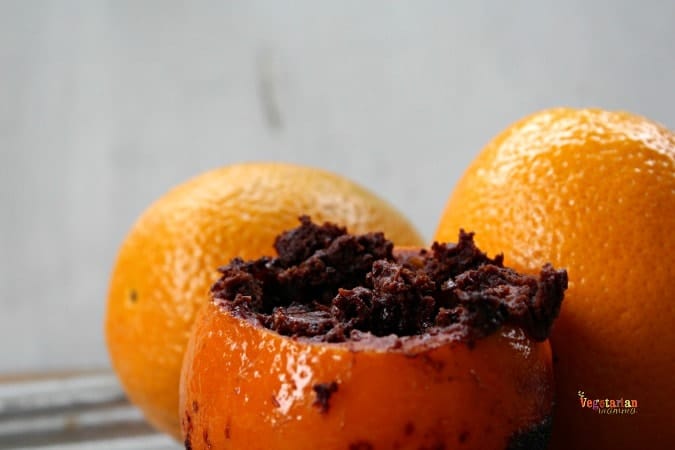 Truly, these are delicious! They are so easy to make and allergy friendly.
*Thank you to Enjoy Life Foods for sponsoring our creativity and this post.
This post does contain affiliate links to amazon. You can connect with Enjoy Life on their website, facebook, twitter, pinterest and you tube.
Talk time! Leave me a comment telling me your favorite thing to cook over the fire? Have you tried campfire brownies?