Spinach Mushroom Lasagna is a simple and delicious comfort food dish. It is a snap to prep and you'll be begging for a second serving of this fresh spinach lasagna!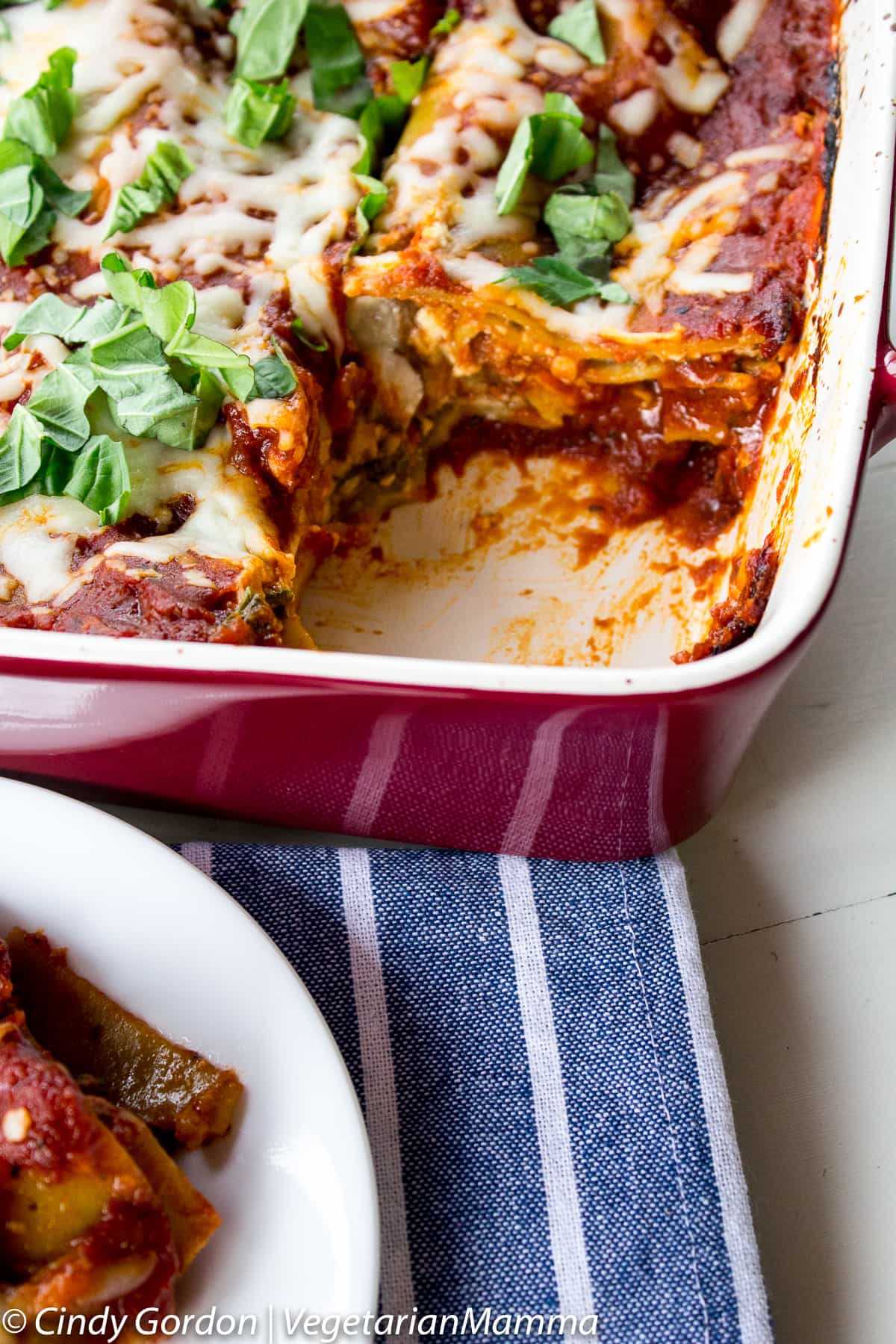 Spinach Mushroom Lasagna
To me lasagna is the ultimate comfort food. I have so many memories of eating lasagna growing up. That robust smell of tomato sauce, blending together with spices, gooey cheese and noodles. YUM!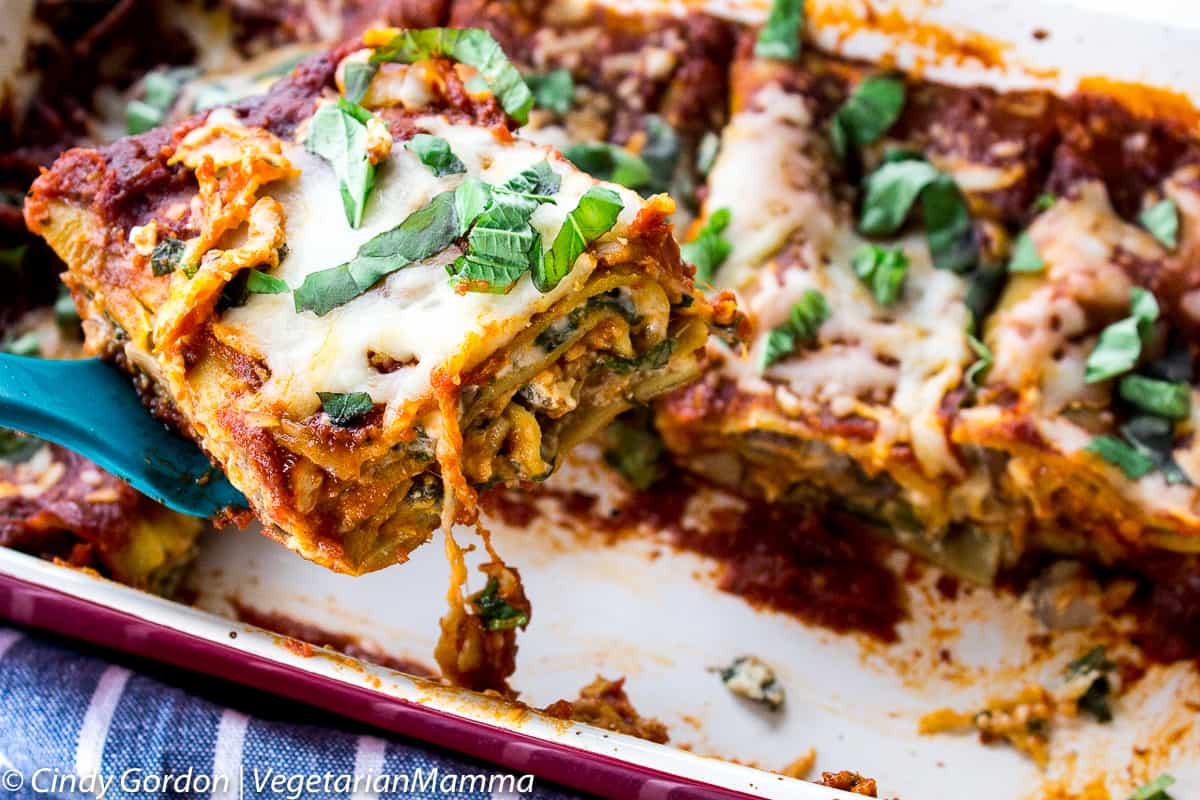 Back in the day, my mom would fry up some hamburger to add into our lasagna. Today, we are not eating meat, but it is totally okay to throw in some meat of your choice to this recipe.
For this recipe, we used some earthy mushrooms and spinach to add flavor, depth and texture to this dish.
Mushroom 101
Mushrooms are fungi! So they are in a space all their own, set apart from plants and animals. The body of a mushroom stores nutrients. Mushrooms are nutritious. They are a good source of B vitamins. It is said that they rank the highest among vegetables when it comes to protein.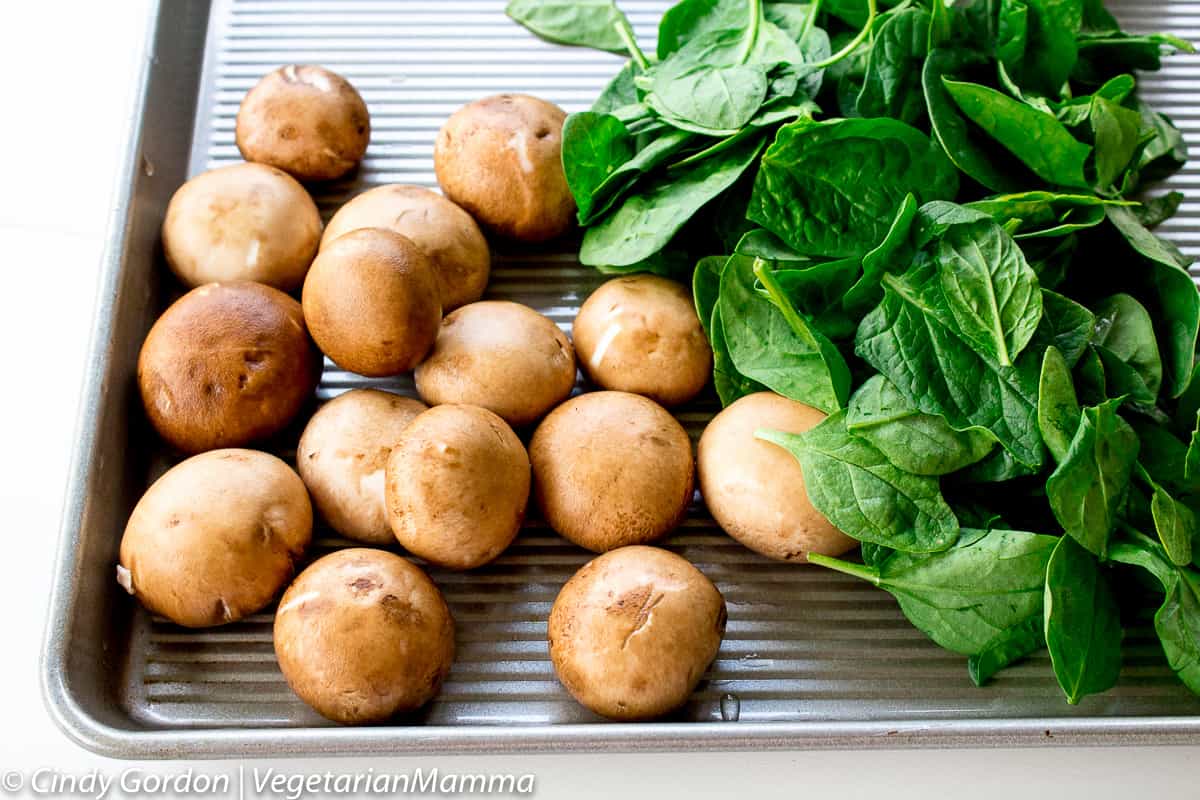 This spinach mushroom lasagna is fueled by delicious but simple ingredients.
For the base of our mixture, for our spinach mushroom lasagna, we combined fresh herbs such as basil and parsley. We mixed it with some garlic salt and Italian seasoning, one egg and some cottage cheese.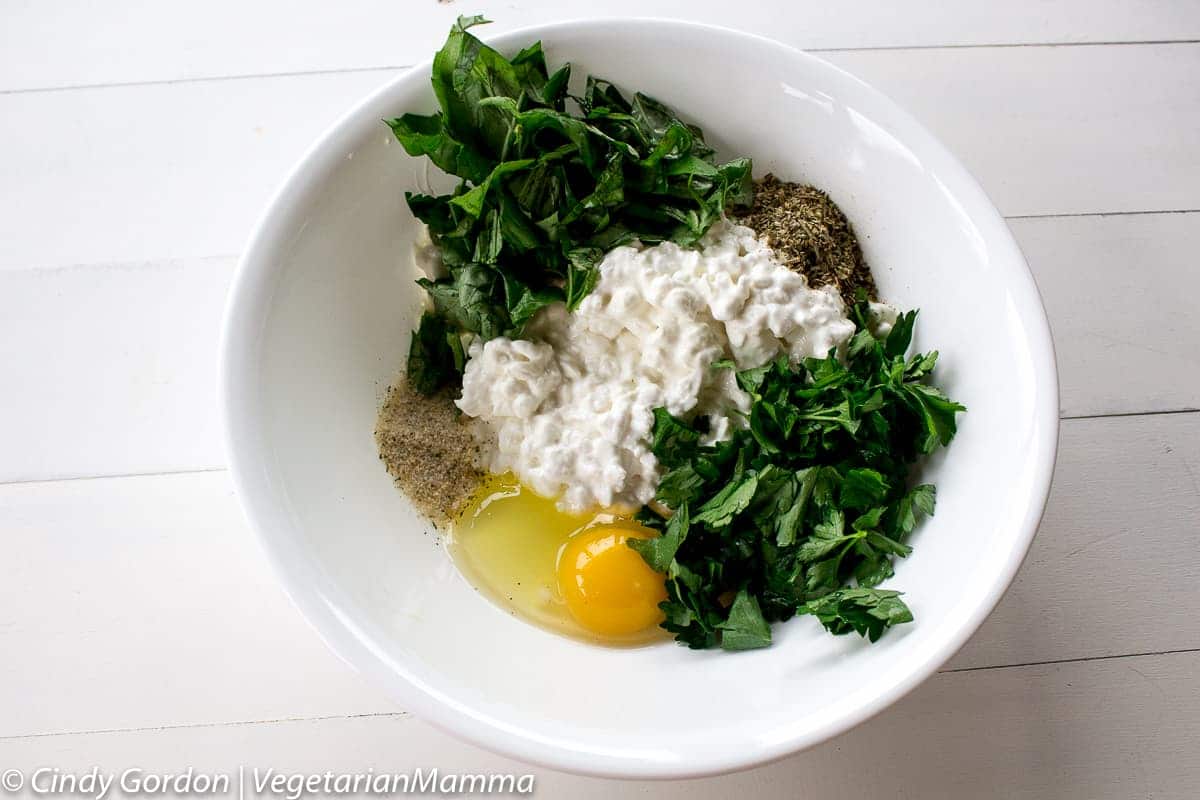 We mixed all that together to create that base! Simple ingredients coming together with some big flavor.
The secret ingredient there is the fresh herbs. They make SUCH a huge difference.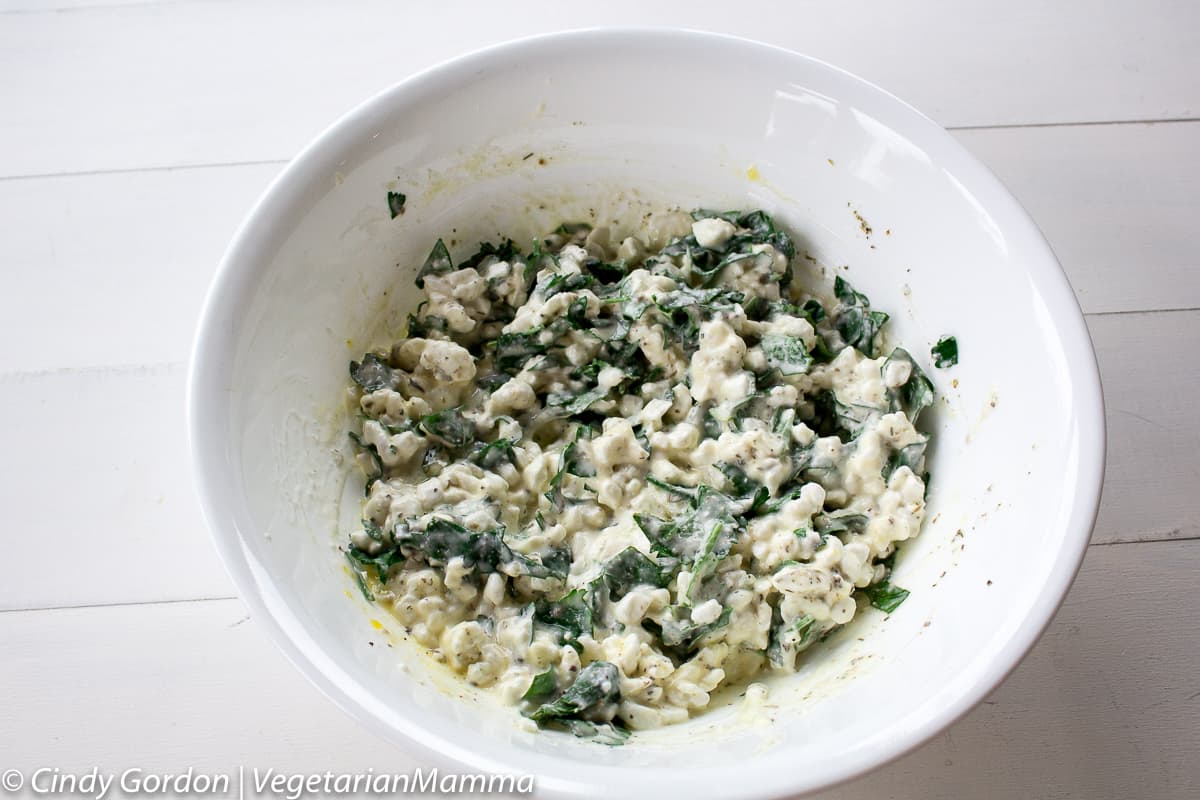 So once you have all that mixed together you are going to saute the fresh mushrooms and spinach. I quartered all the mushrooms and throw them into a skillet over medium heat. I added in some avocado oil for the saute.
Once the mushrooms started to soften more and shrink, I threw in the spinach so it would wilt.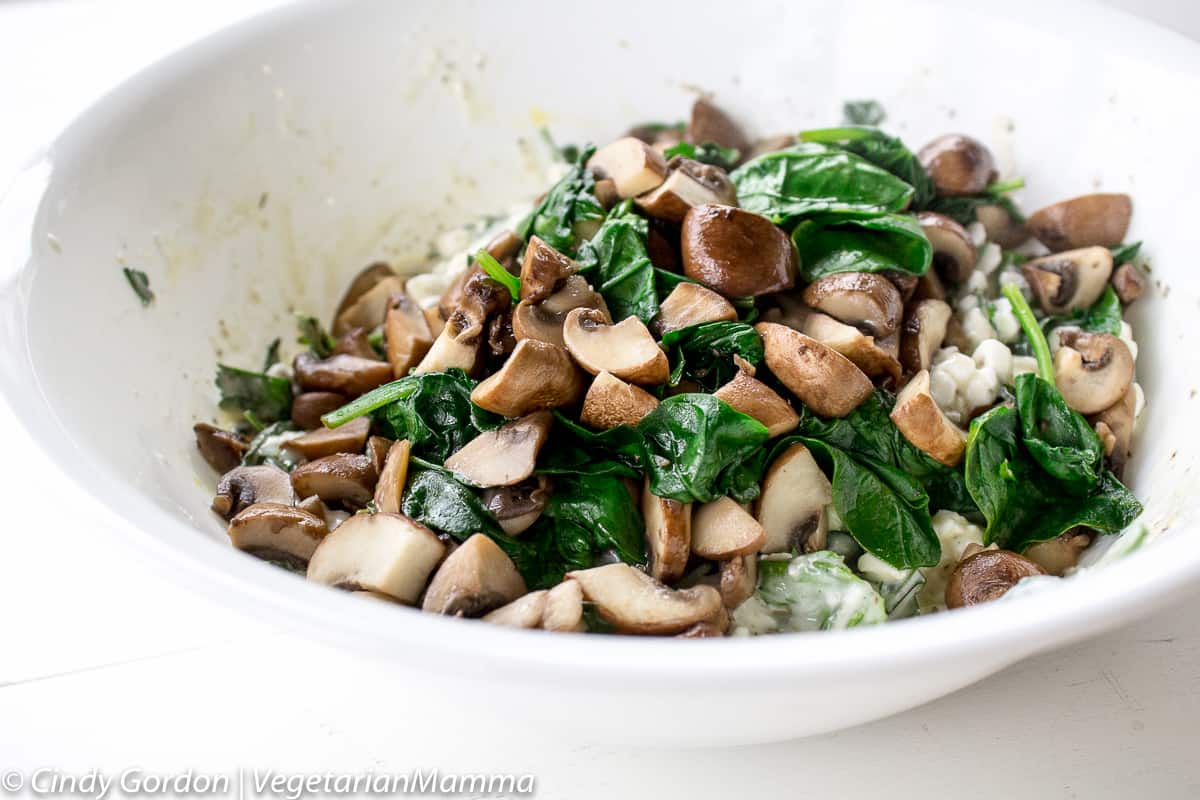 At this point, you are going to be getting hungry. I mean like, really hungry.
I get that. The smells in the kitchen will be intense, but in a good way!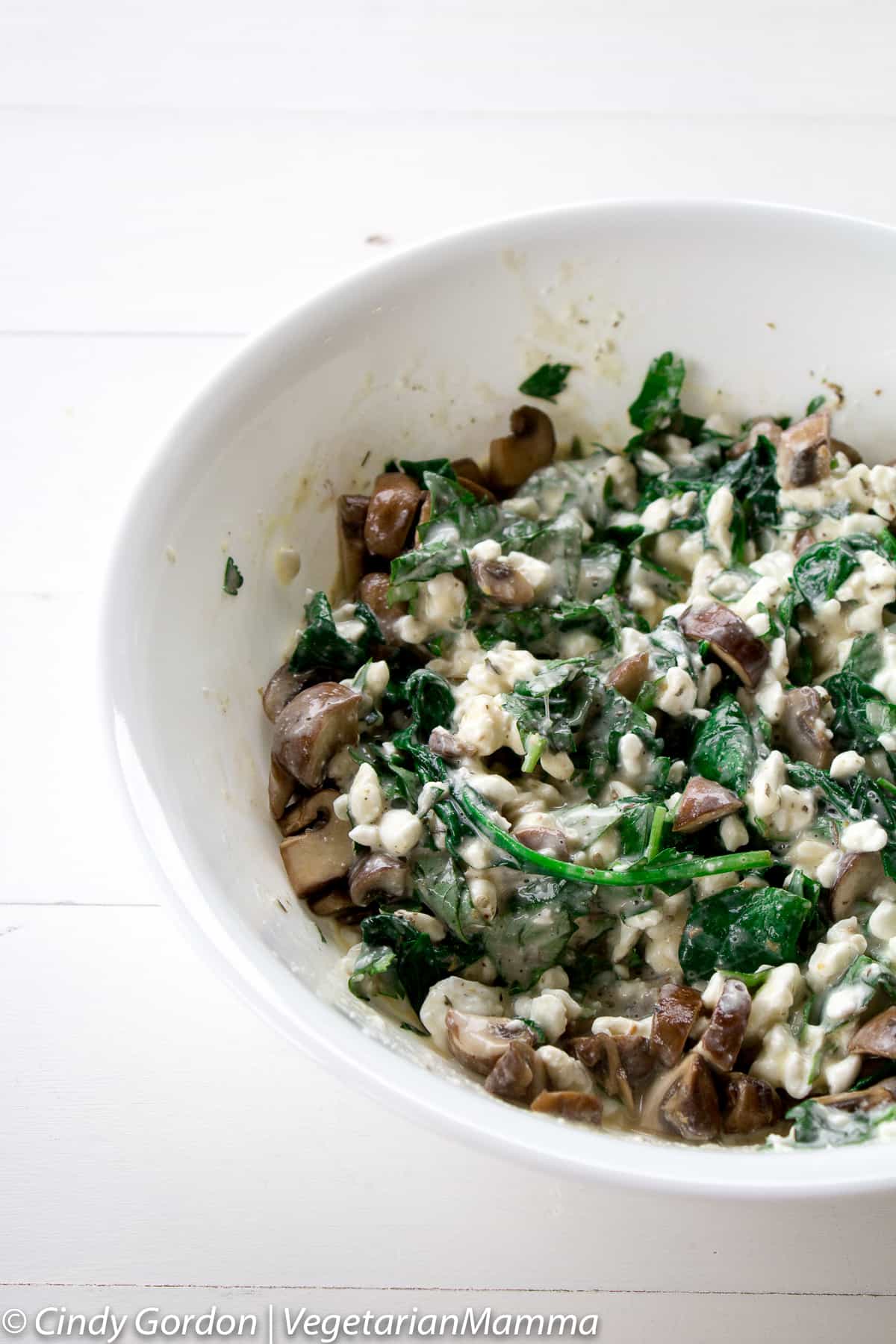 So you are going go combine the sauteed mushrooms and spinach to your cottage cheese mixture. Mix it up and you are almost ready to construct this Spinach Mushroom Lasagna!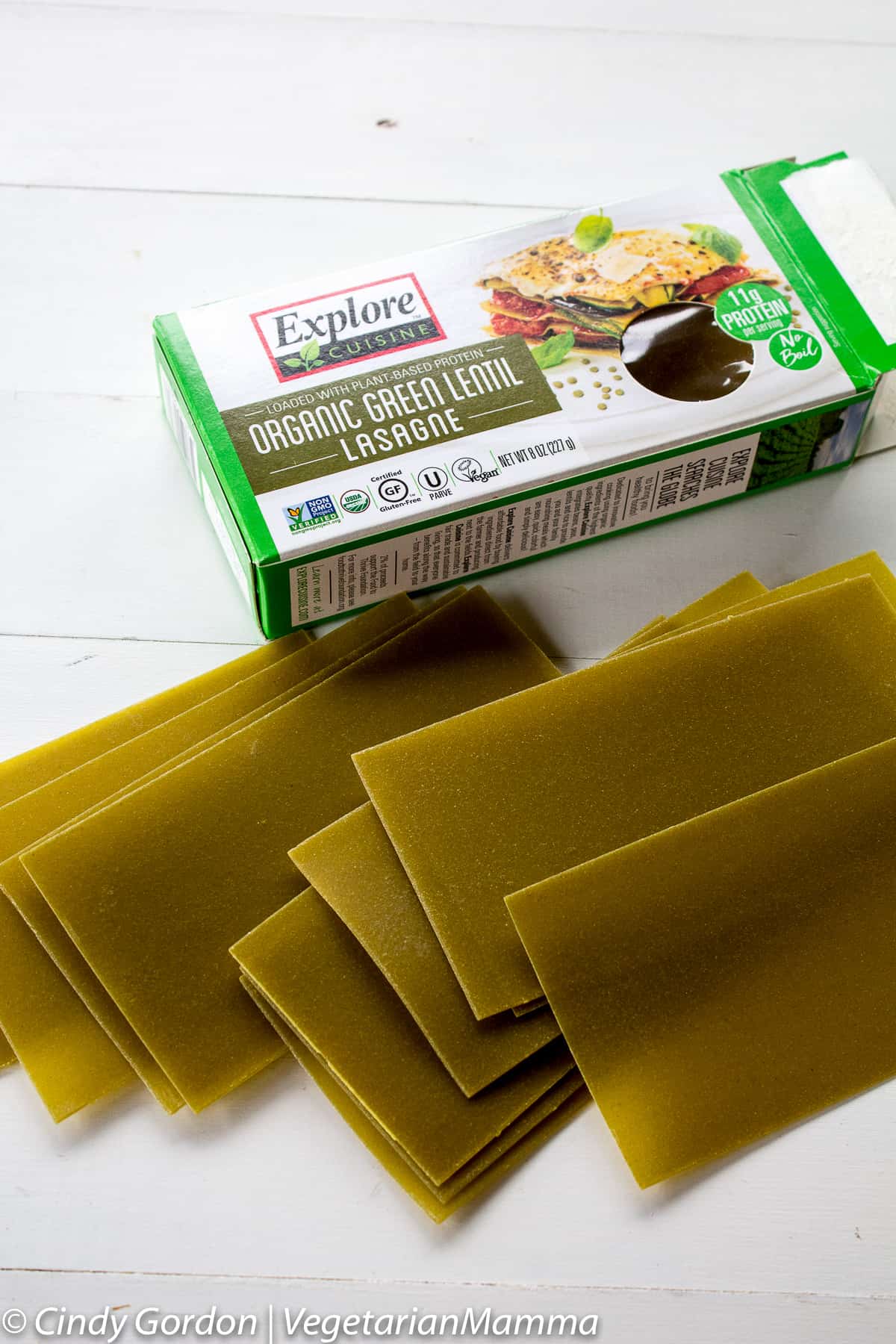 For our lasagna noodles, we used the Organic Green Lentil Lasagne from Explore Cuisine. This recipe is sponsored by Explore Cuisine and we thank them for that. We couldn't have made this delicious vegetarian mushrooms lasagna without their amazing noodles!
We are IN LOVE with the entire line of products and use them in our house weekly! Not only is this pasta certified gluten-free but its also tastes great and is FULL of protein!
If you are looking for other recipes that we've created using Explore Cuisine pastas you might want to check out…
Kid Friendly Pasta Salad, Vegetable Bolognese, Warm Black Bean and Corn Pasta Salad, Spaghetti Stuffed Peppers, Roasted Cauliflower Alfredo and Vegetable Ragu.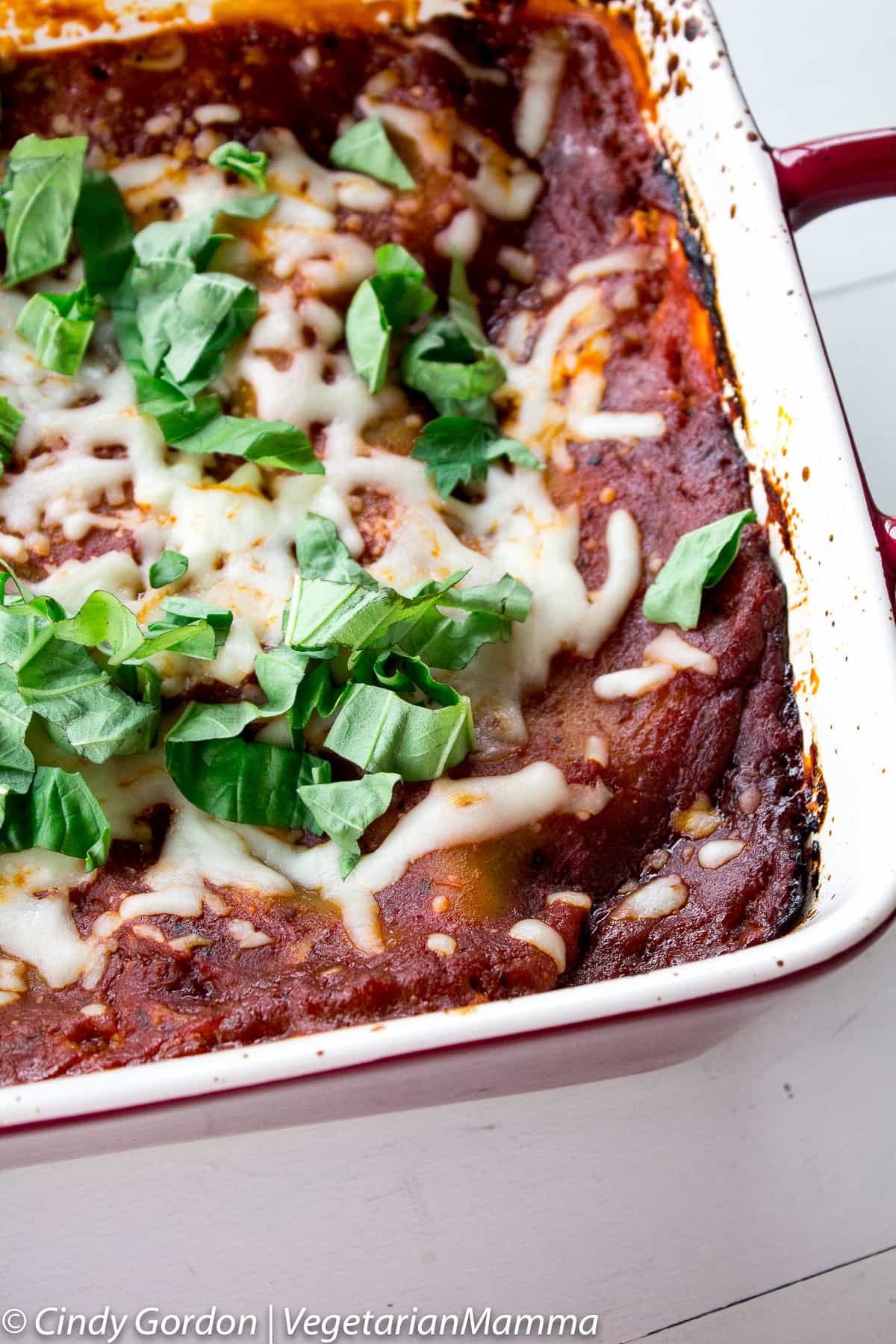 Wow, I am getting hungry! Now we are going to assemble the lasagna. In a 9X13 un-oiled casserole dish you are going to layer the ingredients like this:
sauce

noodles (un cooked) – No need to boil lasagna noodles!

mixture of cottage cheese, mushrooms, etc

2/3 c mozzarella cheese

REPEAT layers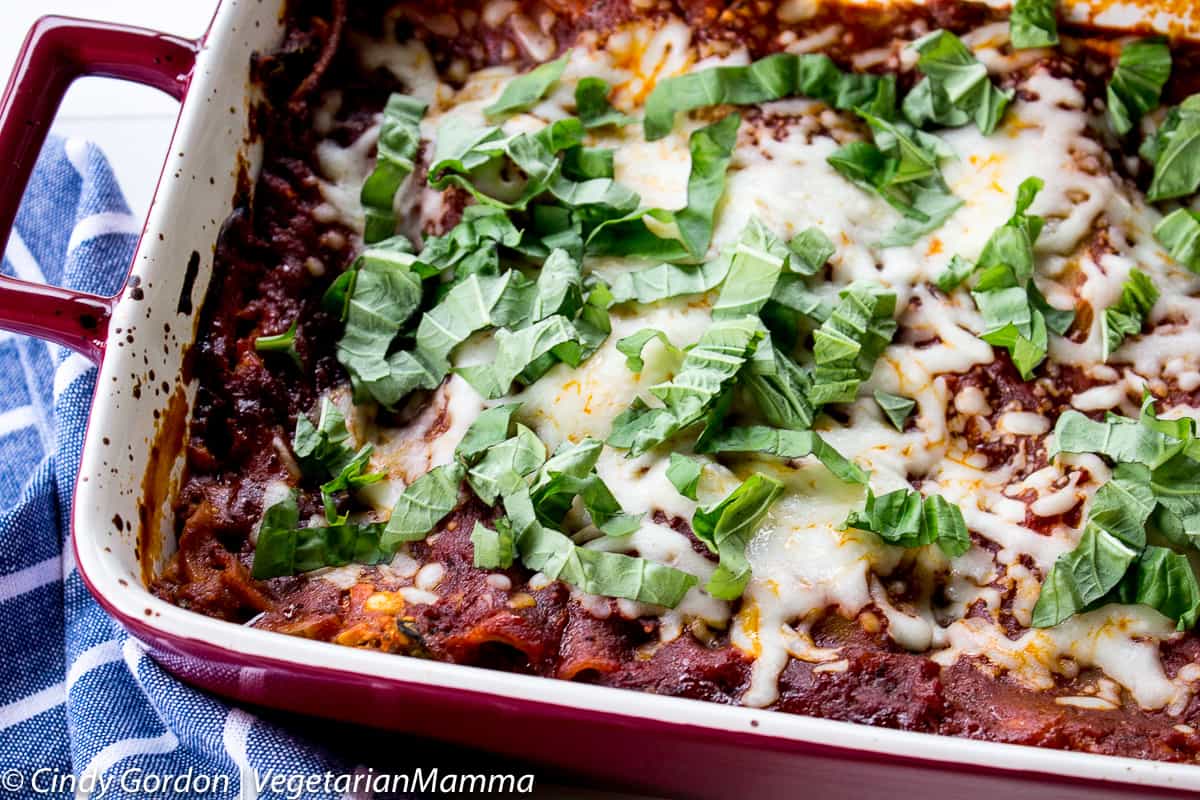 Okay, now the hard part begins. Preheat the oven! Cover your lasagna with foil and put it into the oven. The long 45 minute baking process begins.
This is where you sit longingly in the kitchen, inhaling the delicious smell, with your mouth watering with delight. No kidding, THIS will happen.
It will be the longest 45 minutes of your life. Just kidding, not really, it won't feel that like long of a wait. But it does smell amazing! Just do the dishes while you wait, it will go quick!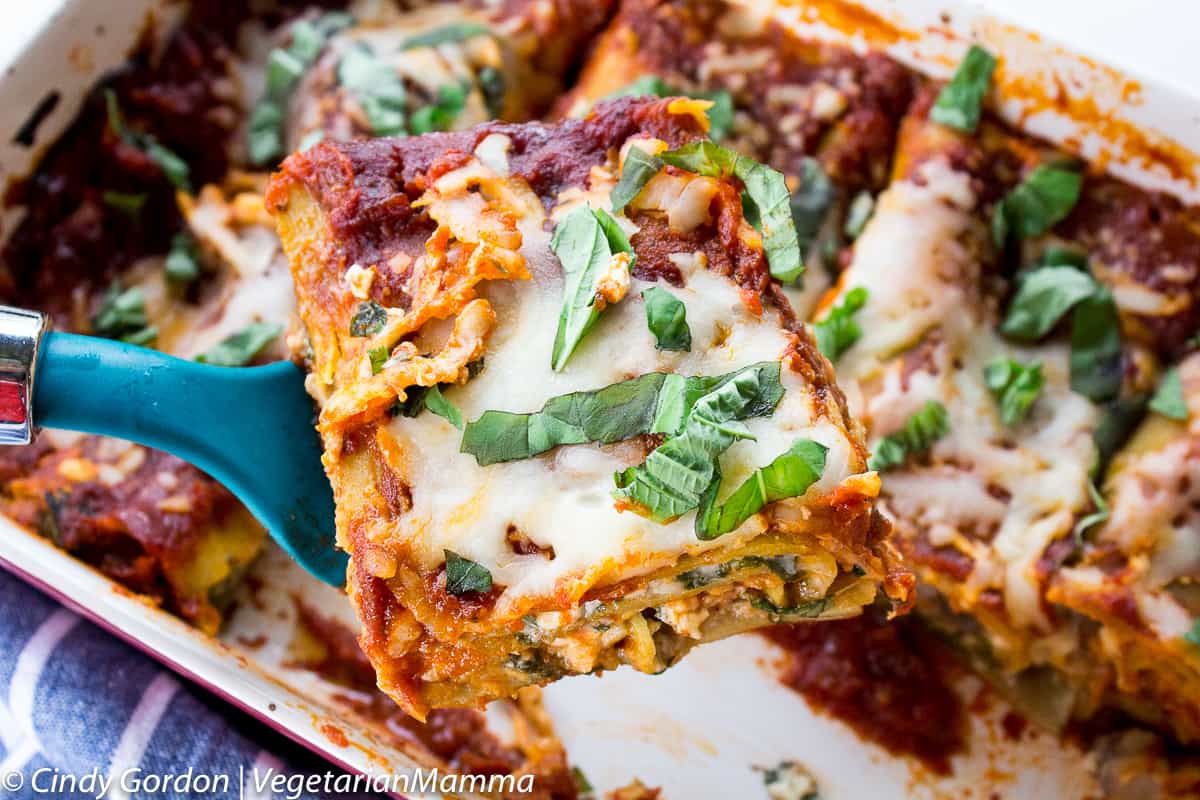 Ah, time is up and it is now time to eat! Get that Spinach Mushroom Lasagna out from the oven.
You are going to need to let it SIT for 15 minutes. This let's it calm down. Its been working hard in that oven. It needs to take a few minutes to cool and come together, so it cuts nicely.
You'll be happy you waited, the pieces will come out so much nicer!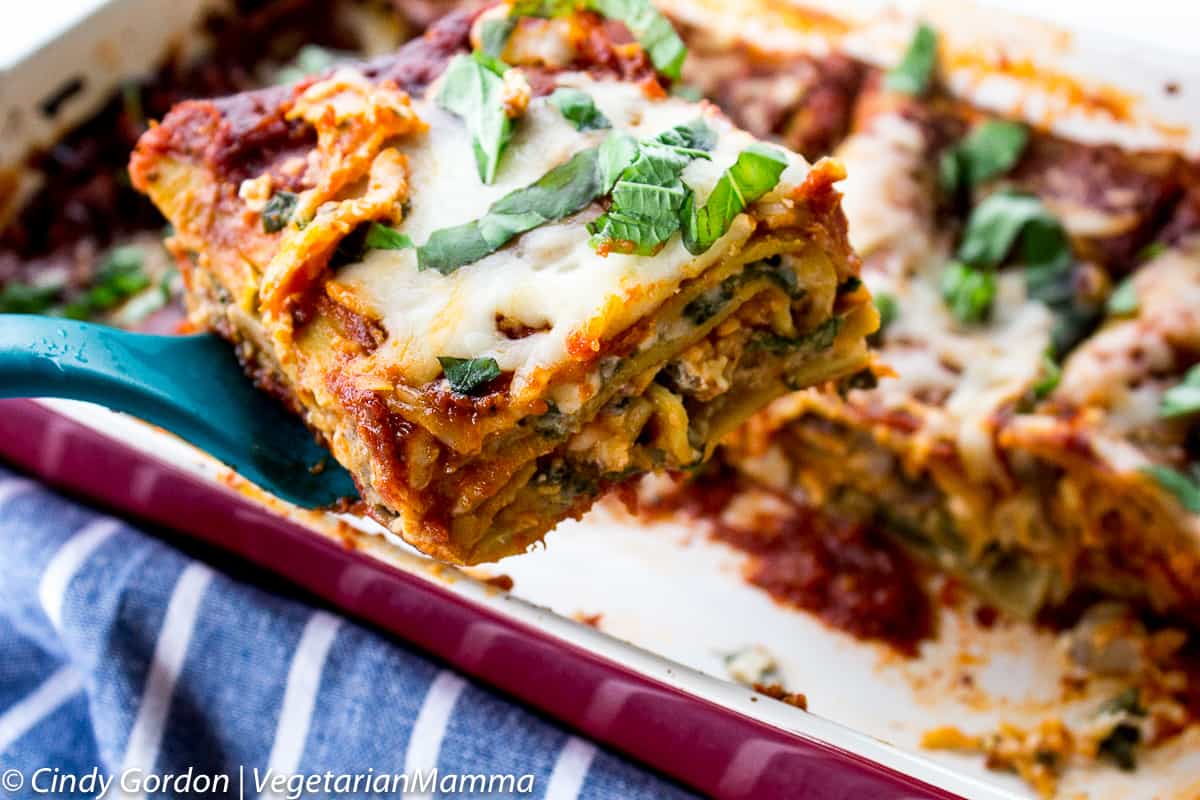 Don't worry if you have left overs, this reheats amazingly. In fact, you'll be SO excited the following day you still have some to eat! I promise!
Want more recipes using Explore Cuisine Pasta?
Questions:
Do I need to boil noodles before making this gluten free vegetarian lasagna?
For this recipe, I did NOT boil the noodles ahead of time.
Does this gluten free lasagna need to use gluten-free noodles?
If you have a dietary restriction that requires you to avoid gluten then yes you need to use gluten free noodles. But if you can ingest gluten, you can use whatever noodles fit your dietary needs.
Would this meatless lasagna be good for #MeatlessMonday?
Yes, this veggie lasagna is a great fit for your meatless Monday recipe selection!
Can I use any type of mushrooms?
Yes, if you have a favorite type or variety of mushrooms you can sub that in! Make this recipe your own!
Can I make this recipe ahead of time?
Yes, you can construct this recipe the day before and bake it the day after. Or you are welcome to bake the lasagna and then reheat it when you are ready to eat it.
Pro TIP: Let the lasagna stand 30-60 minutes after baking for it to "set" The dish will still be hot but it allows the sauce to thicken and makes cutting the lasagna pieces a whole lot easier!
Vegetarian? Or maybe wondering more about vegetarian life or meatless cooking? There are several different types of vegetarians.
Basic types of vegetarians are:
If you want to read more about the different types of vegetarians, you can visit our vegetarian educational posts.
PIN this fresh spinach lasagna for later: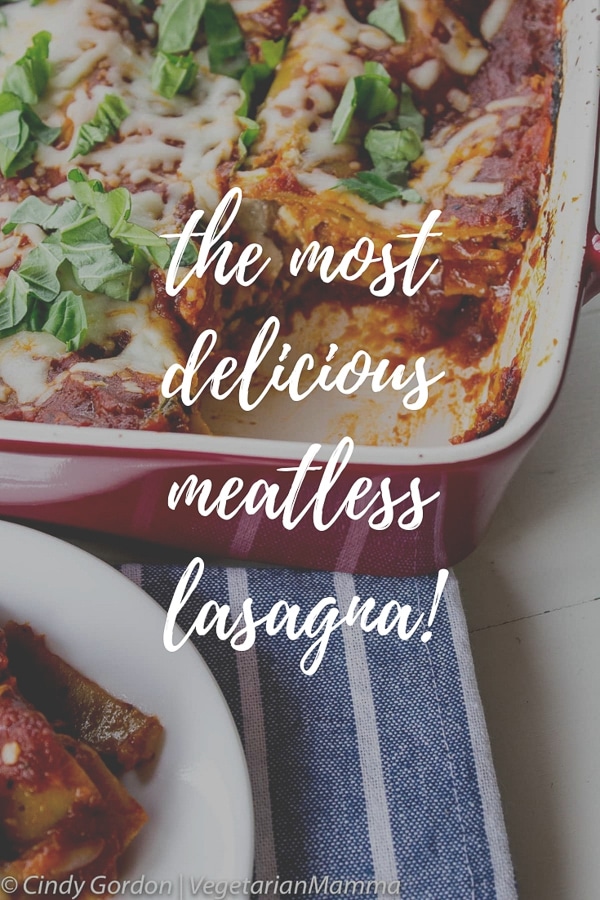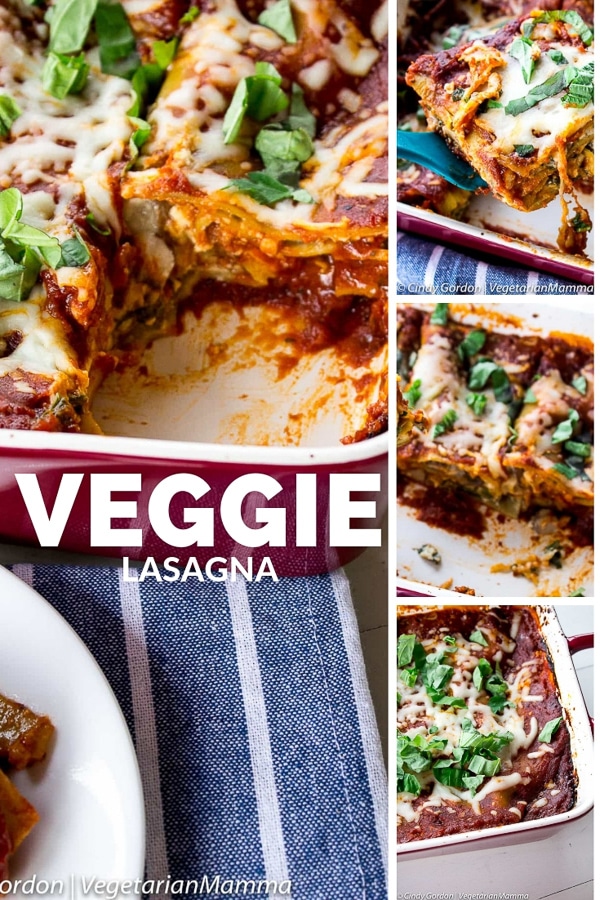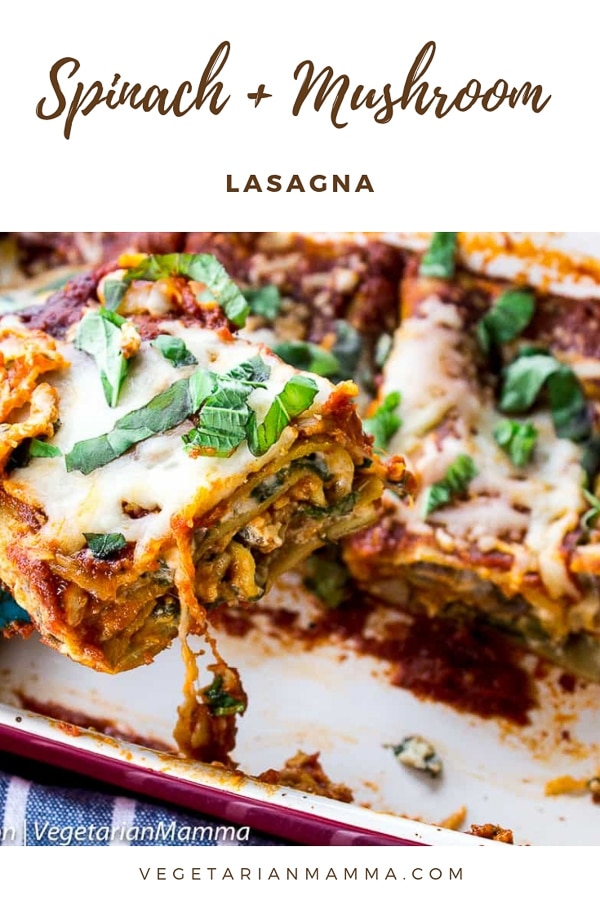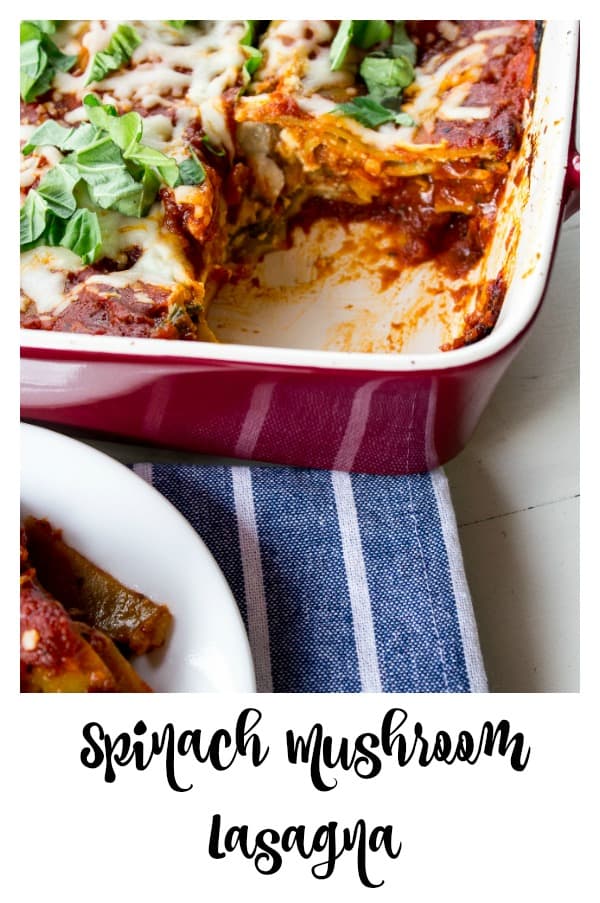 Okay, we have waited long enough, let's get down to specifics of this recipe! You deserve it!
Mushroom and Spinach Lasagna Recipe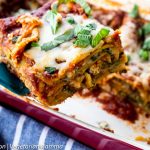 Print Recipe
Spinach Mushroom Lasagna - Delicious!
Spinach Mushroom Lasagna is a simple and delicious comfort food dish. It is a snap to prep and you'll be begging for a second serving of this fresh spinach lasagna!
Ingredients
16

oz

cottage cheese

1/2

c

fresh basil

sliced into ribbons

1/2

c

fresh parsley

1

t

garlic salt

1

egg

1

T

olive oil

2

c

fresh mushrooms

quartered

2

c

fresh spinach

8

oz

of uncooked lasagna from Explore Cuisine

32

oz

of spaghetti sauce

2

cups

or more of shredded mozzarella cheese

Garnish: additional basil cut into ribbons or parmesan cheese
Instructions
In a medium bowl combine cottage mix, basil, parsley, garlic salt, Italian Seasoning and egg. Mix together and set aside.

In a skillet over medium heat, warm the oil. Saute the mushrooms until they soften and they are starting to shrink. Add in spinach to wilt.

Combine mushroom and cottage cheese mixture.

Using a 9X13 baking dish pour 1/3 of the sauce into the bottom. Add half the uncooked noodles, top that with 1/2 the mixture and 2/3 c of cheese. Repeat. You will end with a third layer of sauce.

Cover casserole dish with foil. Bake at 400 degrees F for 45 minutes. Remove the foil after 35 minutes.

Garnish with remaining/additional cheese and basil. Let sit and rest for 15 minutes before cutting into squares.

ENJOY!
See, I told you that was super easy! Just the way we like it! Enjoy the flavors and remember that the leftovers taste good too, if not even better the second day!
---
Let's talk! Leave me a comment telling me if you love lasagna. What are your favorite add-in's? Have you made lasagna without boiling the noodles prior to baking?