Cinnamon Roll French Toast Casserole takes two childhood favorites and puts them together into one scrumptious breakfast casserole. This casserole is perfect for your next lazy Saturday Brunch or Holiday Breakfast!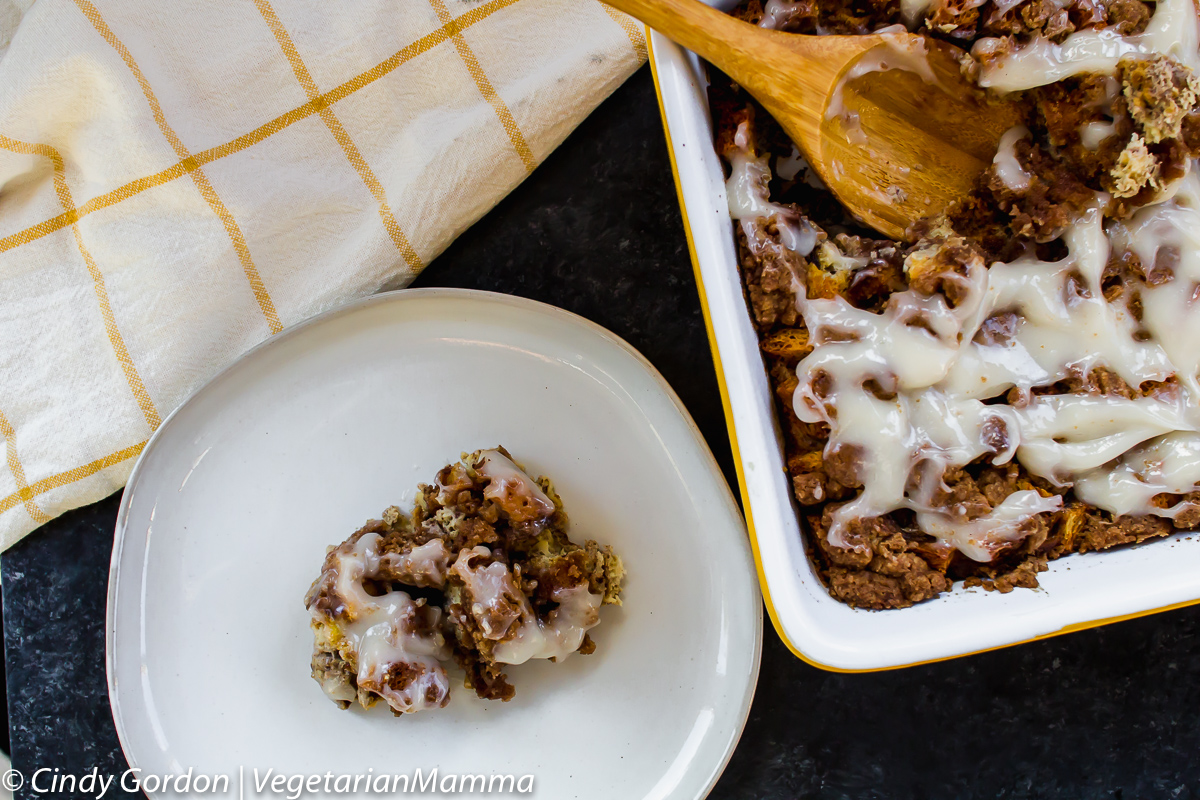 Cinnamon Roll French Toast Casserole
This recipe is sponsored by Canyon Bakehouse.
There is just something about brunch foods that makes my heart flutter with excitement. I am not sure if it stems from memories of going out to Mother's Day brunches with my mom. Or maybe it's the thought of enjoying a lazy Saturday morning brunch in my jammies with my family.
Regardless, I love brunch and everything that goes along with it!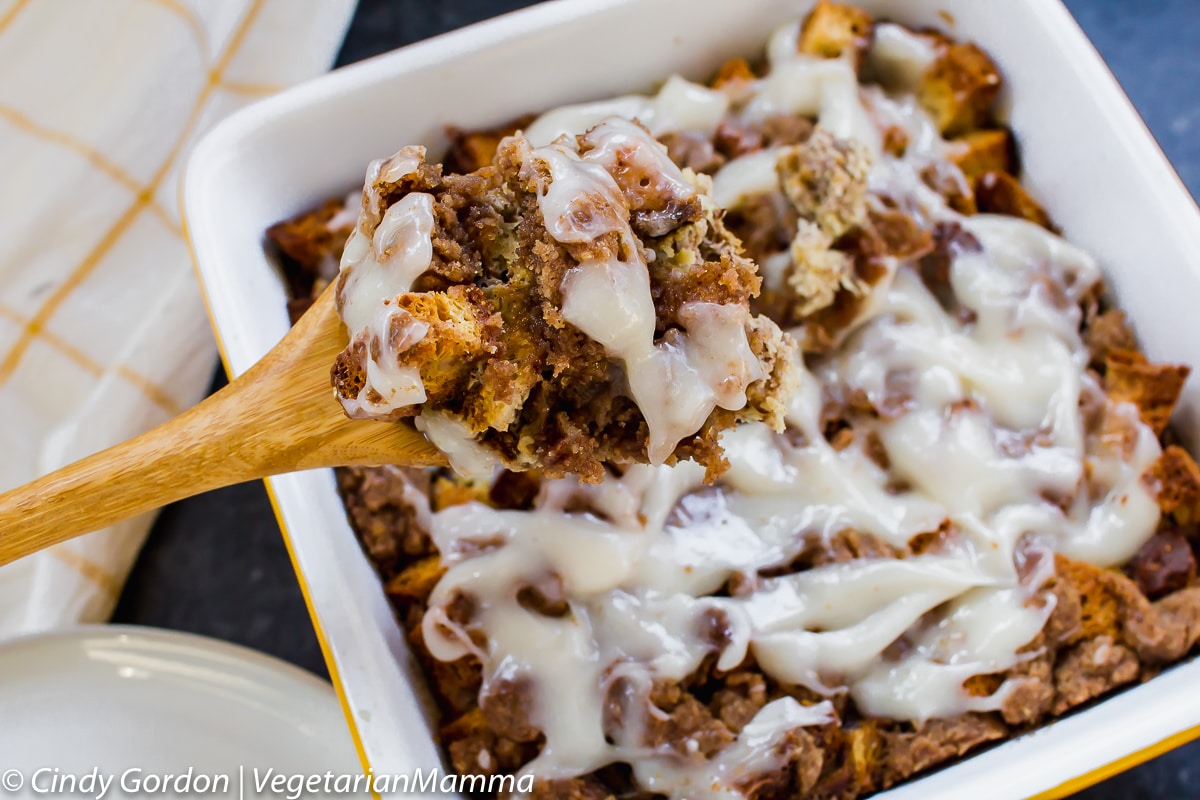 We recently came back from vacation and it was amazing. Do you travel and worry about your food restrictions?
Traveling with food restrictions can be tricky but we have been working on planning ahead and even bringing our food with to make it easier!
You might have seen our facebook post or instagram post about the Cinnamon Roll Casserole recipe that we brought along! This recipe is really easy to make. The best part is that you can double the recipe and freeze a portion OR you can halve the recipe and freeze ½ for later.
This time around we chose to halve the cinnamon roll bake and brought that second portion on our vacation! My family loved having this delicious brunch on vacation! There is nothing like bringing a taste of home with you on vacation!
Gluten Free Bread From Canyon Bakehouse
With every good french toast bake, you need to start with a good bread base. Some might opt for a crusty french bread to make this, but not us! We found a better way!
For this recipe, we used gluten-free bread from Canyon Bakehouse. Canyon is working to bring back the love for bread, one slice at a time. They are powering their way through that!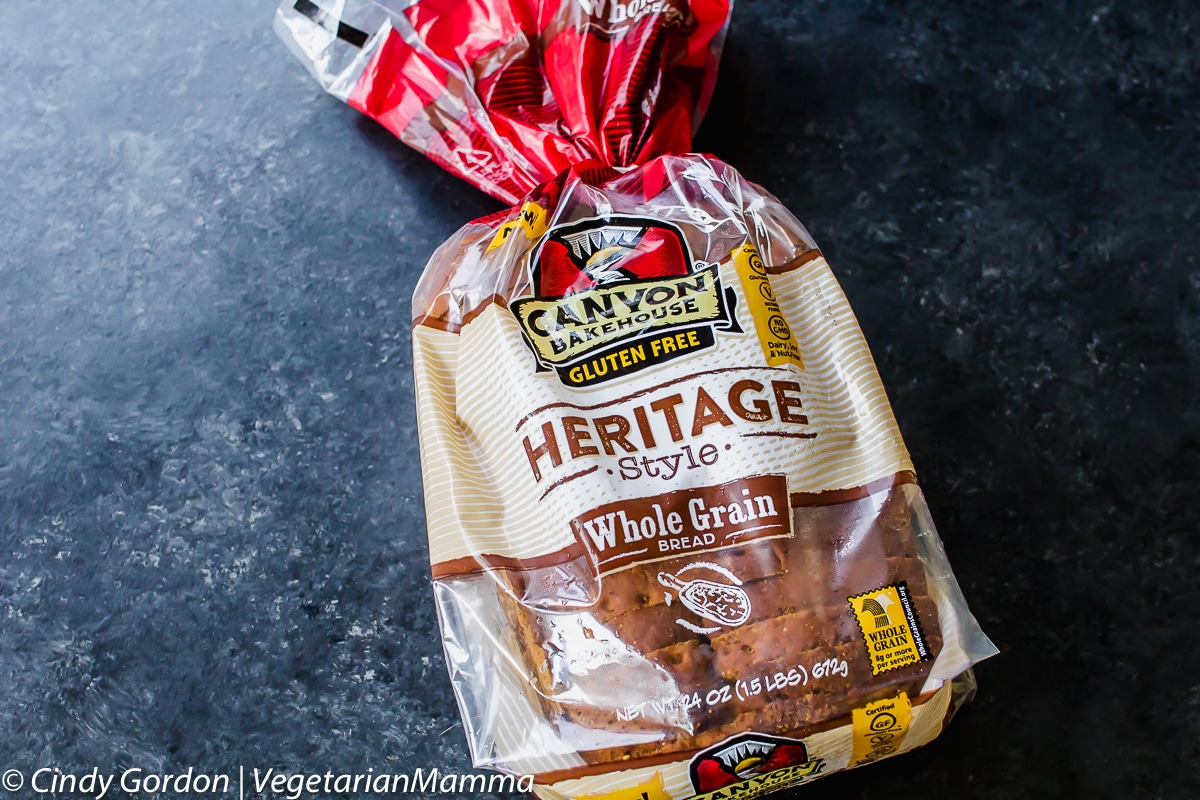 For this recipe, I used a bread from their Heritage Collection. Specifically, we used the Heritage Style Whole Grain Bread as a delicious base for this cinnamon roll french toast bake!
The Heritage Style breads are HUGE, which is something you do not often find in the world of gluten-free. The non-GMO, whole grain bread slices offer up not only size but great taste.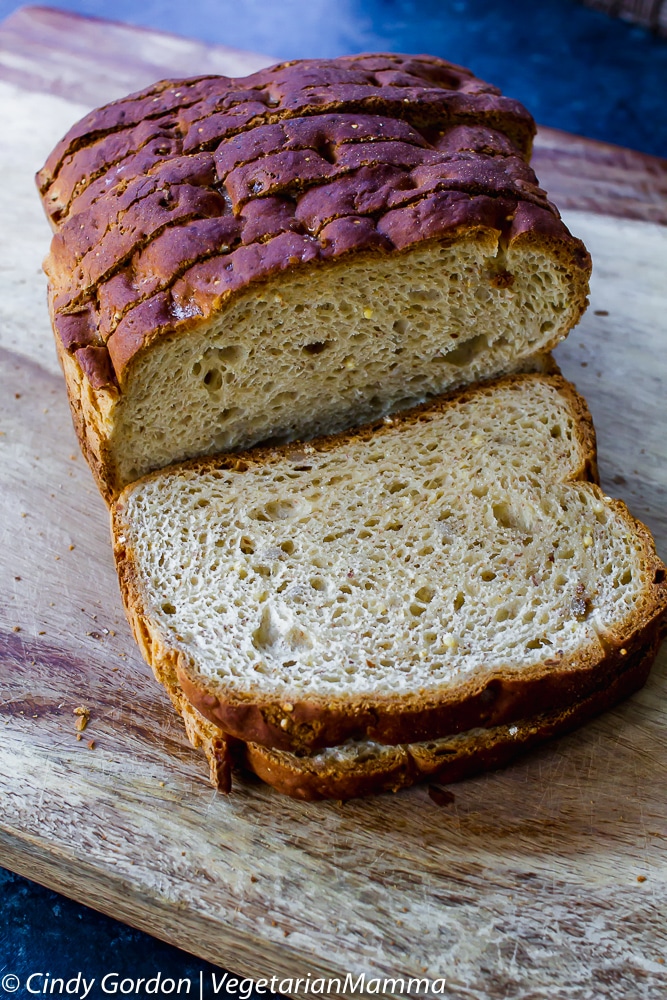 Honestly, this is such a delicious dish that I think I will make it for Christmas morning. It is easy to make ahead and then reheat and frost it when you are ready!
This drool worthy breakfast casserole is perfect for your lazy Saturday brunch or your special occasion family breakfast! This my friends, is where it is at! YUM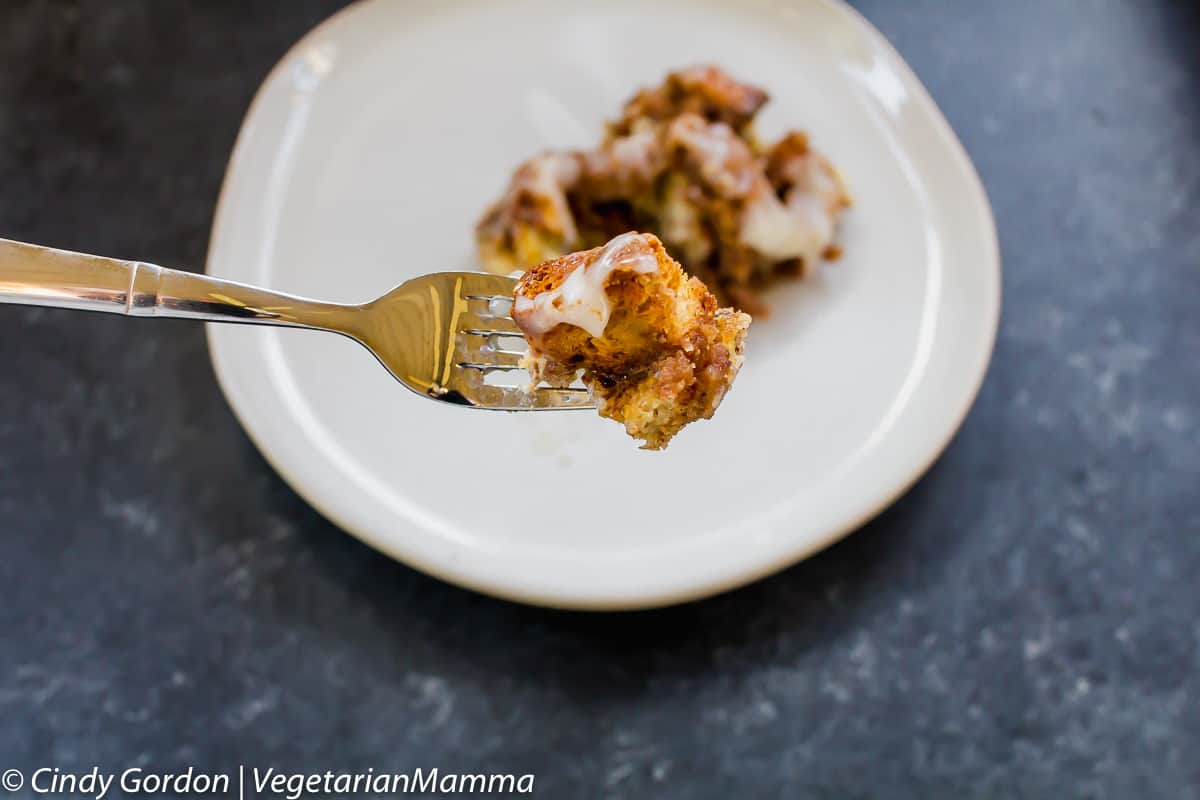 Maple syrup actually plans a large part in this recipe. I do not put the exact measurements for maple syrup because I want you to be the judge.
Some in my family like to drizzle it on top of this casserole and some like to drown the casserole with it. Regardless of the amount you choose, you will be fine! Just add it, it elevates the taste even more!
Ingredients Needed For This Cinnamon Roll French Toast Bake
Gluten Free Bread (we used Canyon Bakehouse)
Eggs
Cinnamon
Milk
Gluten Free All Purpose Flour
Brown Sugar
Butter
Maple syrup
How To Make This Gluten Free Cinnamon Roll French Toast Casserole
Let's take a closer look at this recipe! Let's break down the steps. It is a pretty basic recipe. First, you are going to mix all the dry ingredients together (minus the bread).
Set those aside because that is for your topping! What's next? The liquids are next! Crack those eggs and whisk them with the liquids!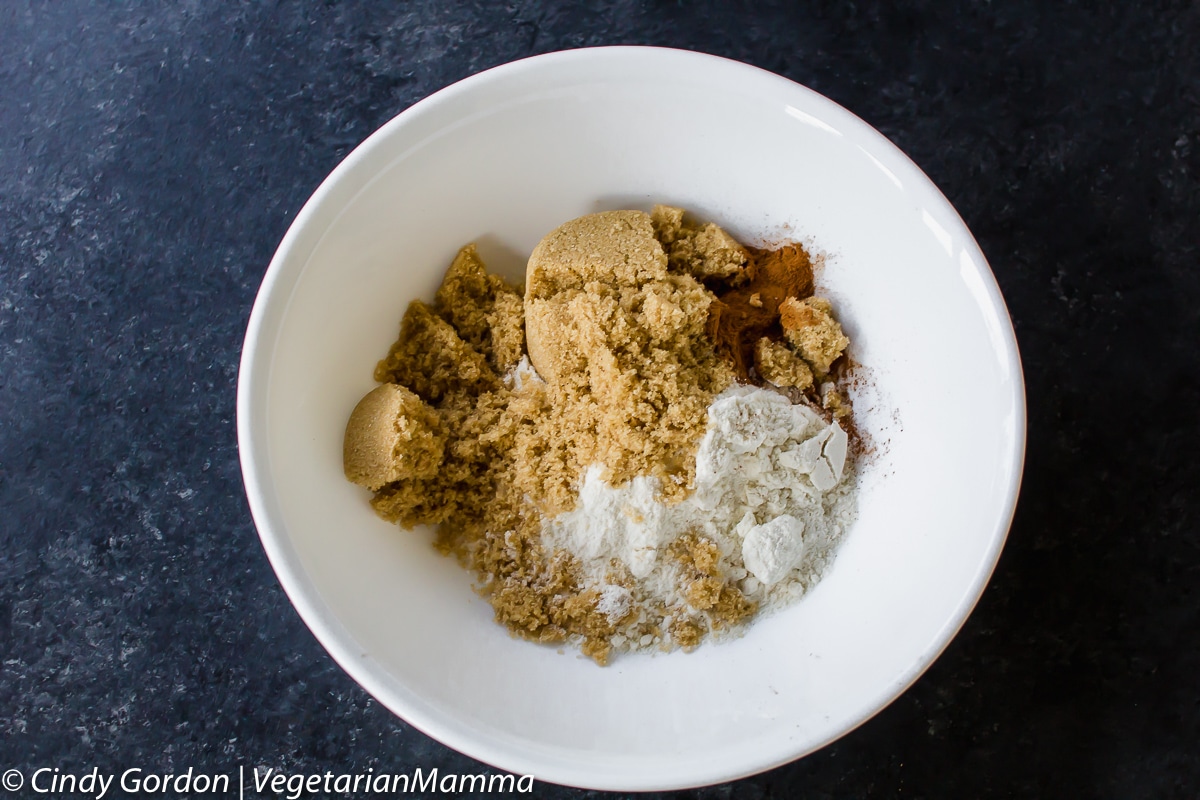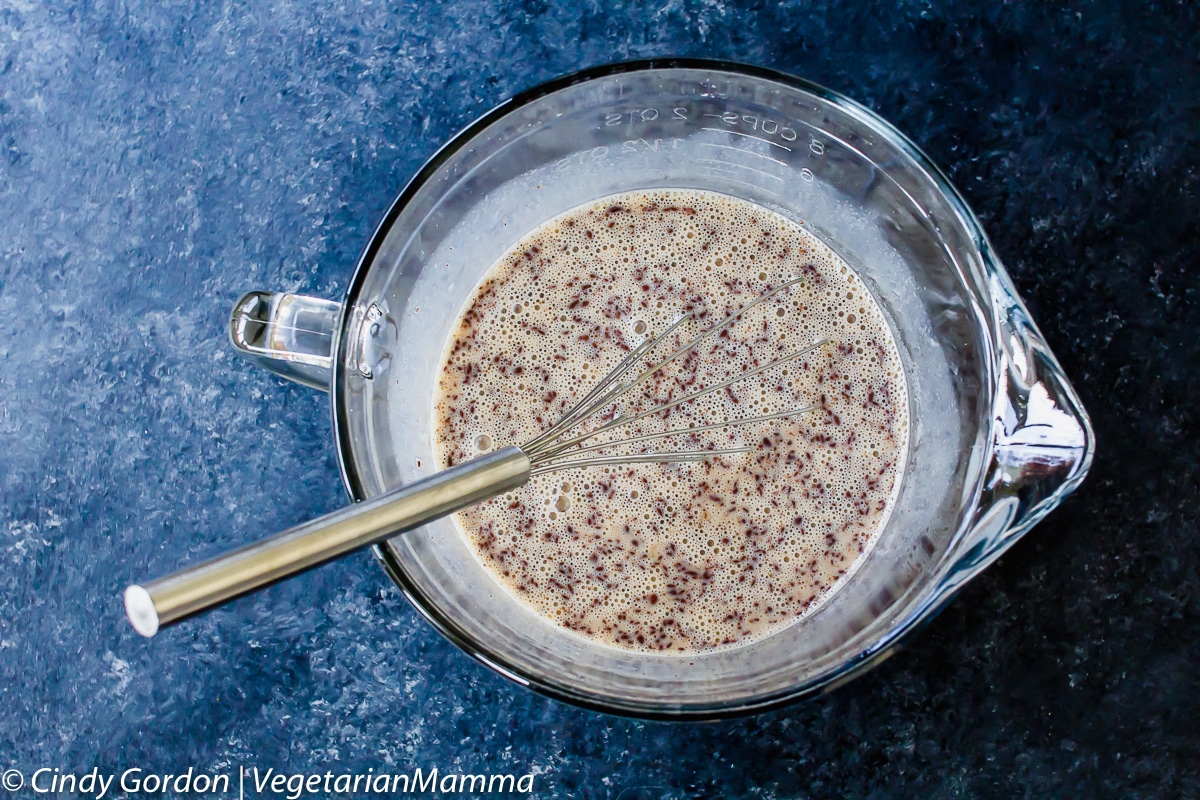 You are going to take your whisked liquid ingredients and pour them over the bread pieces that you have diced up. This is going to bake into your casserole foundation! Oh, I bet you are getting hungry at this point, dreaming of all the delicious things in this recipe!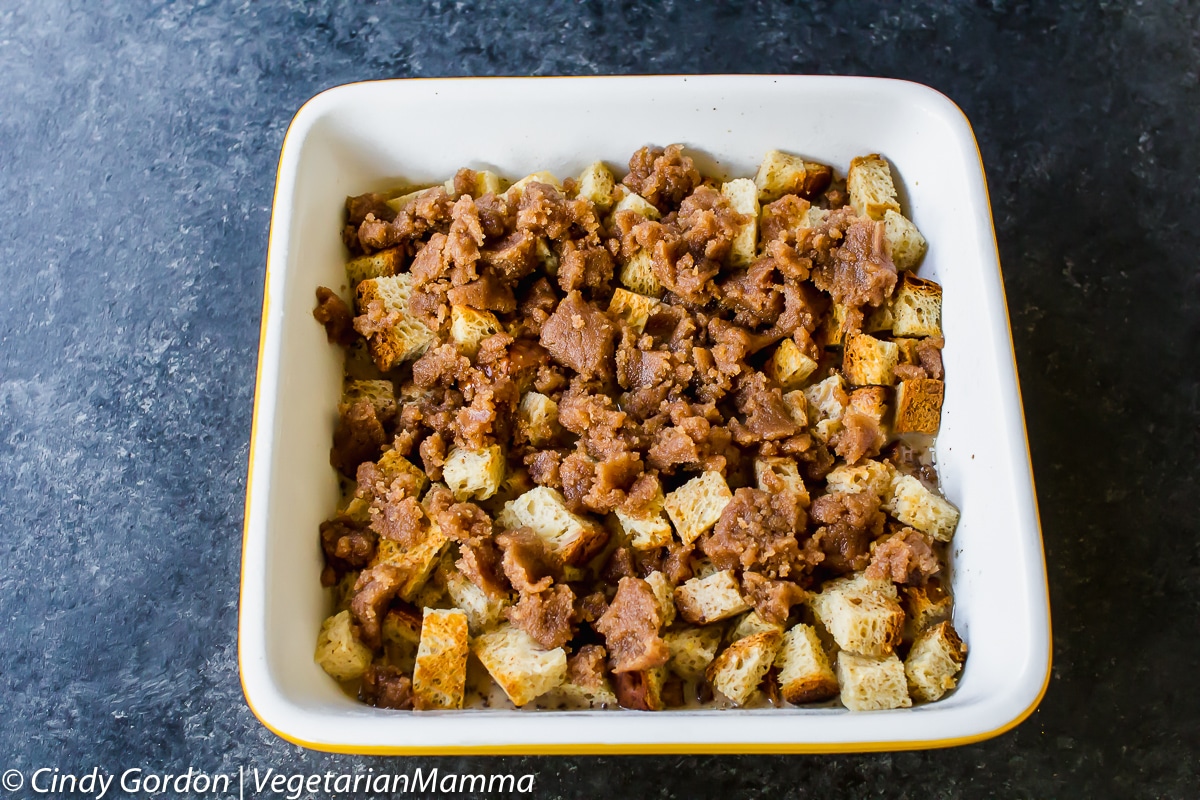 Once you have poured your liquid mixture over the bread pieces, you are going to turn your attention to that bowl of dry ingredients you set aside. Remember that?
You are going to take your melted butter and combine it with those dry ingredients to create a crumble topping for your casserole. Oh I bet that cinnamon is smelling pretty delicious, right about now!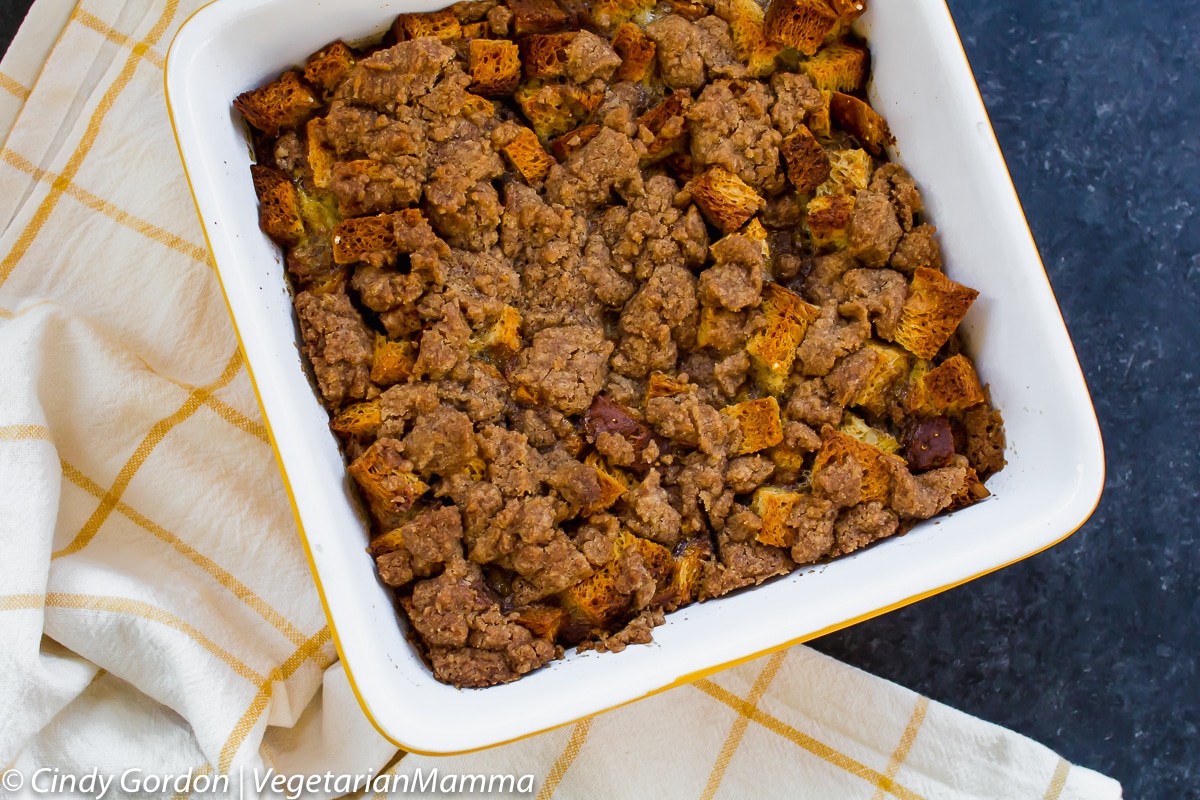 Now it is time to make some frosting. I have to say that the frosting from cinnamon rolls might just be my favorite part! So delicious and so sweet!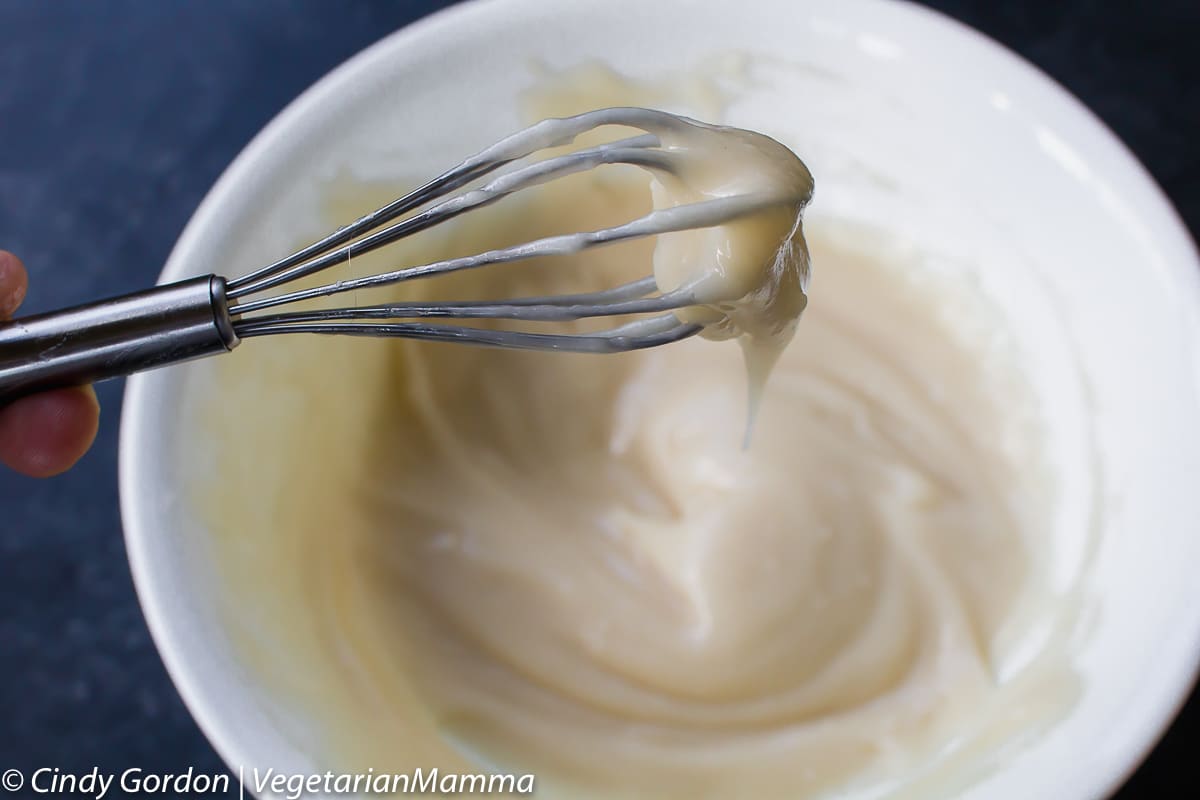 Does this Cinnamon Roll Casserole Bake freeze well?
The short answer.....YES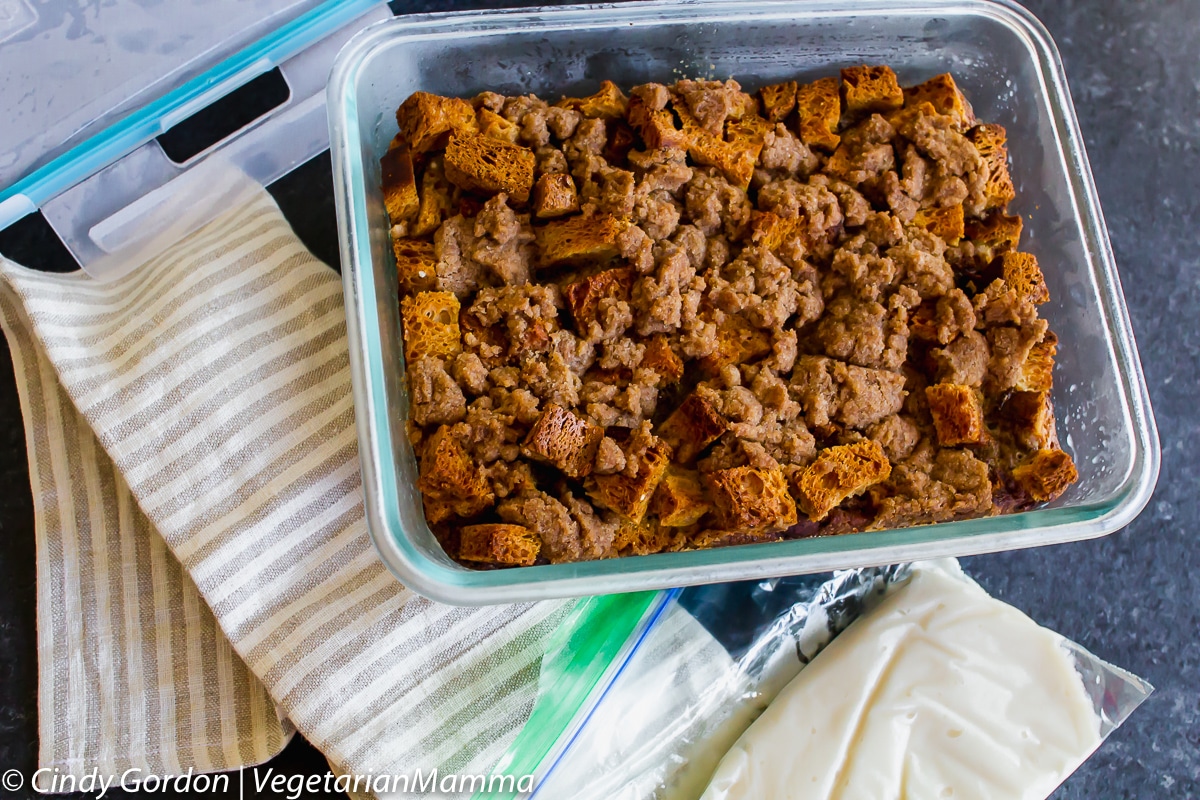 This cinnamon french toast bake freezes amazingly well. Bake as you normally would and let cool. You just need to make sure that you cool it completely before putting into the freezer.
It is smart to put the delicious bake into the fridge over night, then pop into the freezer the next day. I put the frosting in a baggie and put the baggie inside of the container.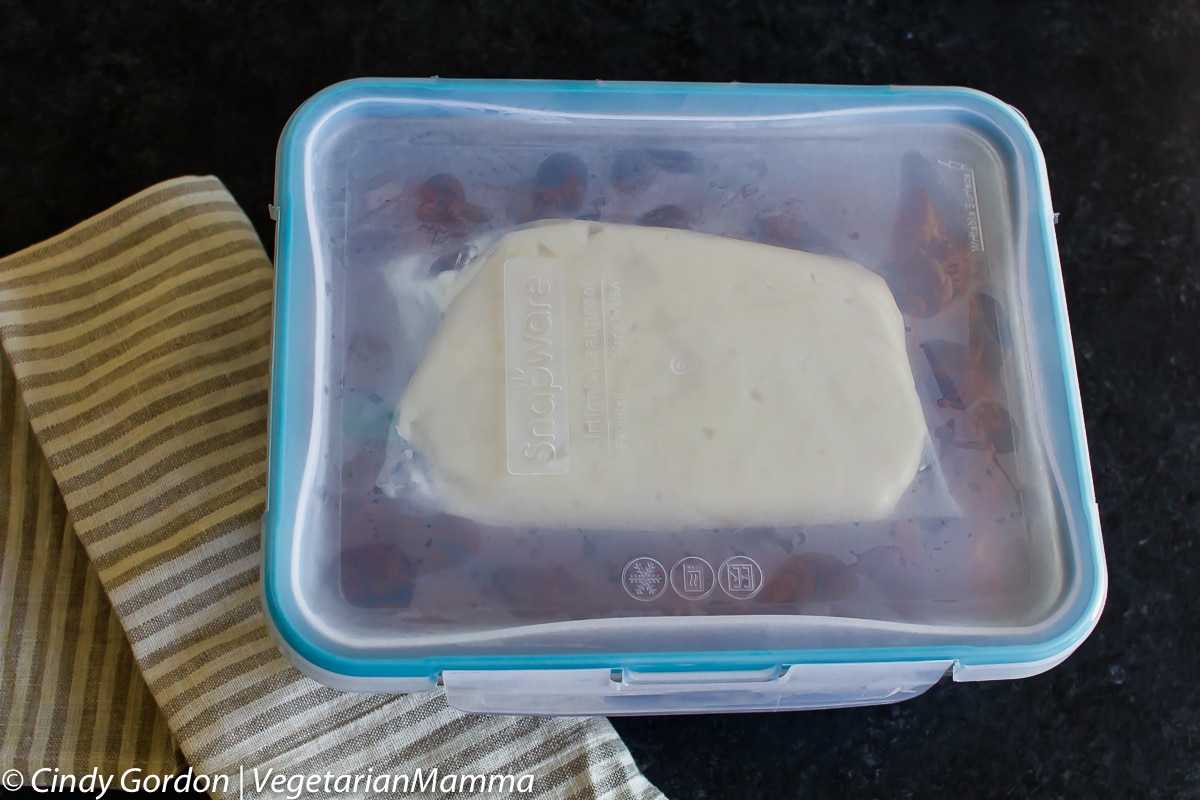 If you LOVE recipes like this and are thinking of using them for a holiday brunch, you need to check out these 30 recipes to make for Christmas Morning!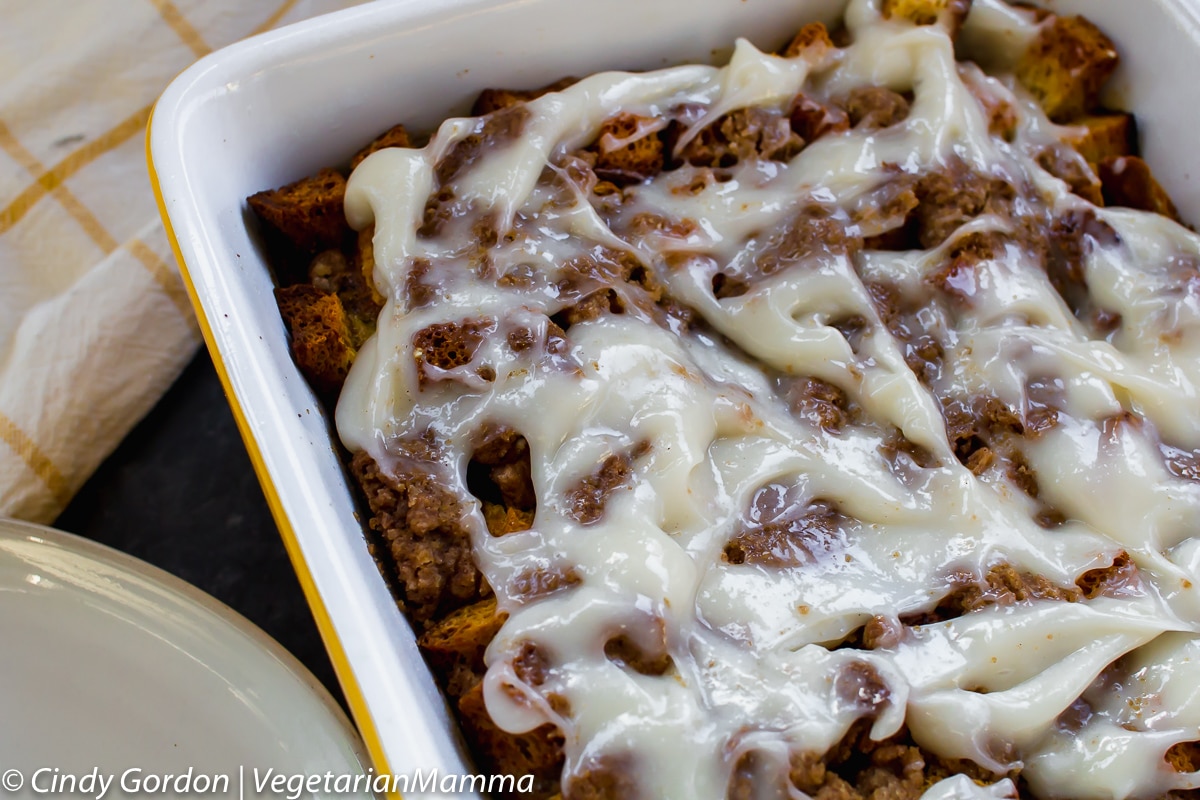 If you are looking for other breakfast or brunch recipes that use Canyon Bakehouse breads, I have got you covered! My friend Megan, from Allergy Free Alaska, made a delicious looking Gluten Free Apple Cinnamon French Toast Casserole that you NEED to check out!
If you love chai, my friend Brianna from Flippin Delicious created a Gluten Free Chia French Toast Casserole using Canyon bread! You have to check this out too! If you are looking for delicious cinnamon rolls, you have to check out my friend Chrystals Gluten Free Cinnamon Rolls!
Substitutions for Cinnamon Roll French Toast Bake
There aren't too many subs that you can make with this recipe.
Milk Substitution: You can certainly use dairy or dairy-free milk.
Egg Substitution: There are too many eggs in this recipe to try to sub for them.
Gluten Free Flour Substitution: If you are not gluten-free, a general all purpose flour should work for you.
Are you a breakfast super fan like me? I always seem to be searching for new breakfast recipes or recipes that travel well. If you are looking for something that checks both those boxes, I'd check out these Paleo Carrot Cake Muffins.
Photo Assistant
Generally, I have an animal co worker who typically is by my side or assists in the recipe creation (usually by eating the crumbs I drop). For this recipe, it was my sweet old girl Chianti.
She was my photo assistant. She lounged on her pad in the sun, while I took some pictures of this recipe! Thanks girl for all your help! 😉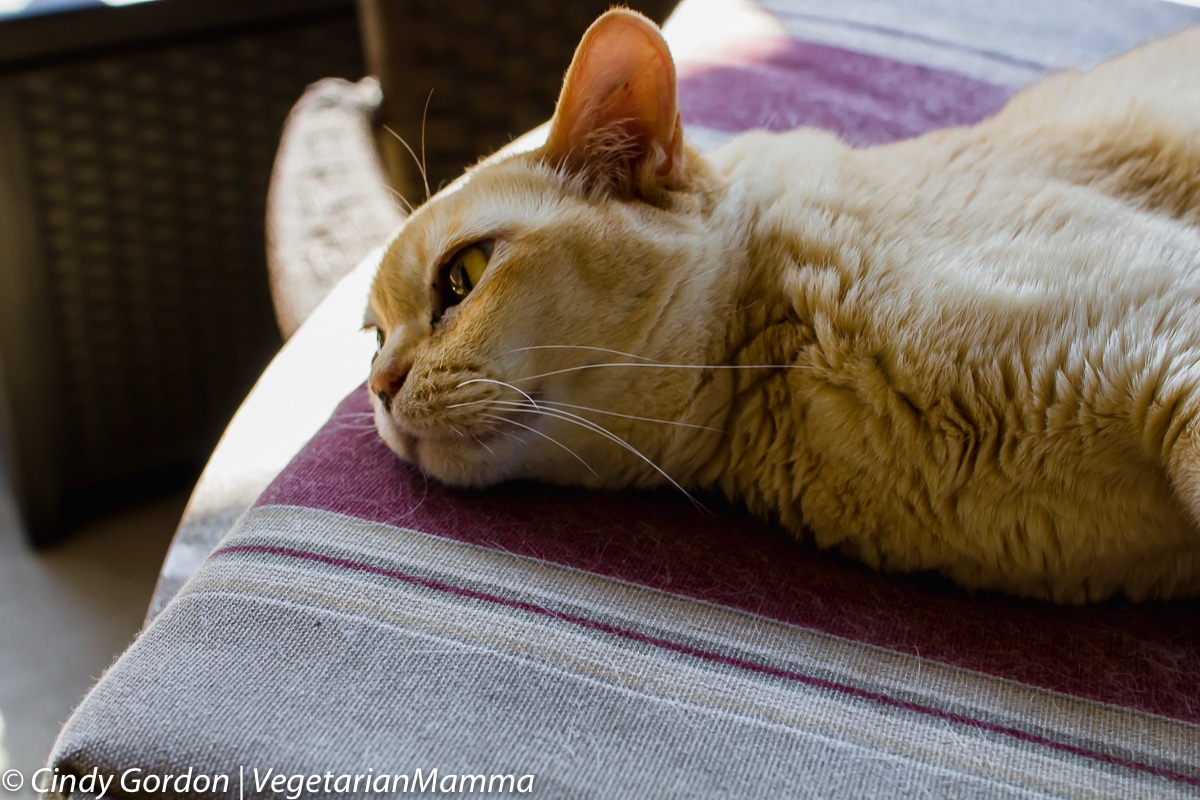 Pin this cinnamon bun casserole for later: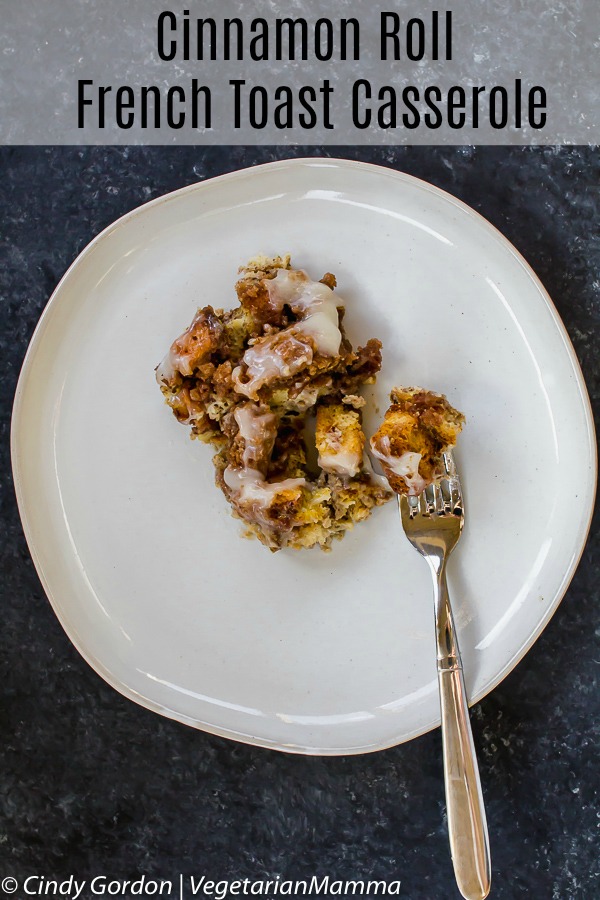 Get your cinnamon roll breakfast casserole recipe here:
Cinnamon Roll French Toast Casserole
Cinnamon Roll French Toast Casserole takes two childhood favorites and puts them together into one scrumptious breakfast casserole. This casserole is perfect for your next lazy Saturday Brunch or Holiday Breakfast!
Instructions
Preheat the oven to 350 degrees F. Bake diced gluten-free bread cubes for 12 minutes. Place your bread cubes into an oiled 9X13 baking dish.

In a medium bowl, whisk eggs, cinnamon and milk. Whisk until smooth and pour over bread crumbs.

With a fork combine flour, sugar, cinnamon and butter. Mash with a fork to create a crumble style topping and place on bread mixture.

Bake casserole for 40 minutes in a 350 degree F oven.

While the casserole is baking mix the frosting ingredients together. When the casserole is done baking, let cool for 5 minutes. Top with frosting and serve with maple syrup.

ENJOY!
Notes
If you are wanting to freeze this, you can divide into TWO 8x8 baking dishes. Eat one now and freeze a portion for later!
Nutrition
Calories:
485
kcal
|
Carbohydrates:
53
g
|
Protein:
9
g
|
Fat:
26
g
|
Saturated Fat:
14
g
|
Cholesterol:
210
mg
|
Sodium:
275
mg
|
Potassium:
180
mg
|
Fiber:
1
g
|
Sugar:
46
g
|
Vitamin A:
1035
IU
|
Vitamin C:
0.2
mg
|
Calcium:
142
mg
|
Iron:
1.2
mg
All though this website attempts to provide accurate nutritional information, the information should only be considered an estimate. Varying factors such as different product types, different brands, etc. can change nutritional information. It is your responsibility as a consumer to read all labels to make sure the ingredients fit your dietary needs as well as calculate your own nutritional information as a double check.
Another option to pin for later: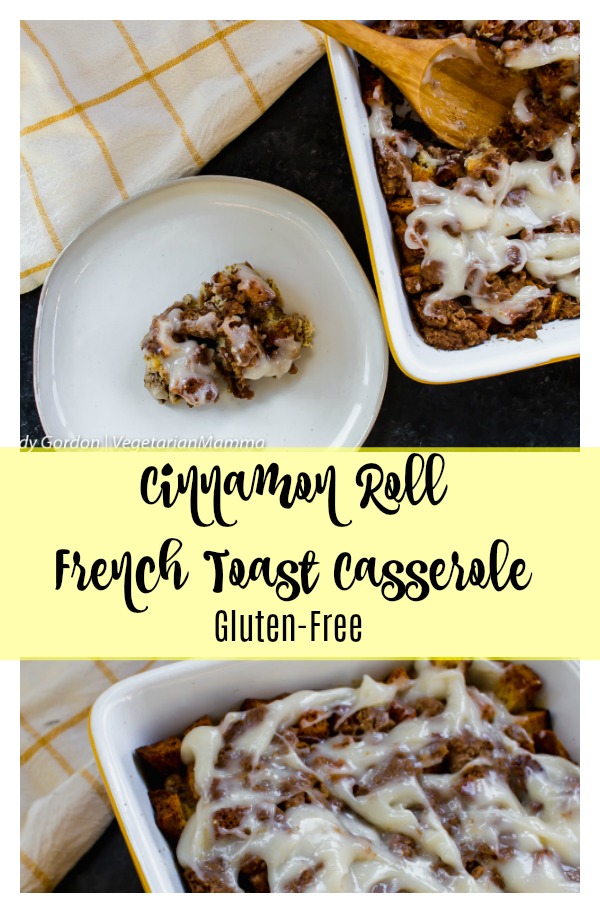 Are you a cinnamon roll or french toast casserole lover? Have you ever combined them? I'd love to hear your thoughts! Drop me a comment below!