Vegetarian Spanish Rice is an easy dish that will compliment your next family dinner. This Spanish rice dish with green olives is baked in the oven, works as a side dish or as stuffing for a taco!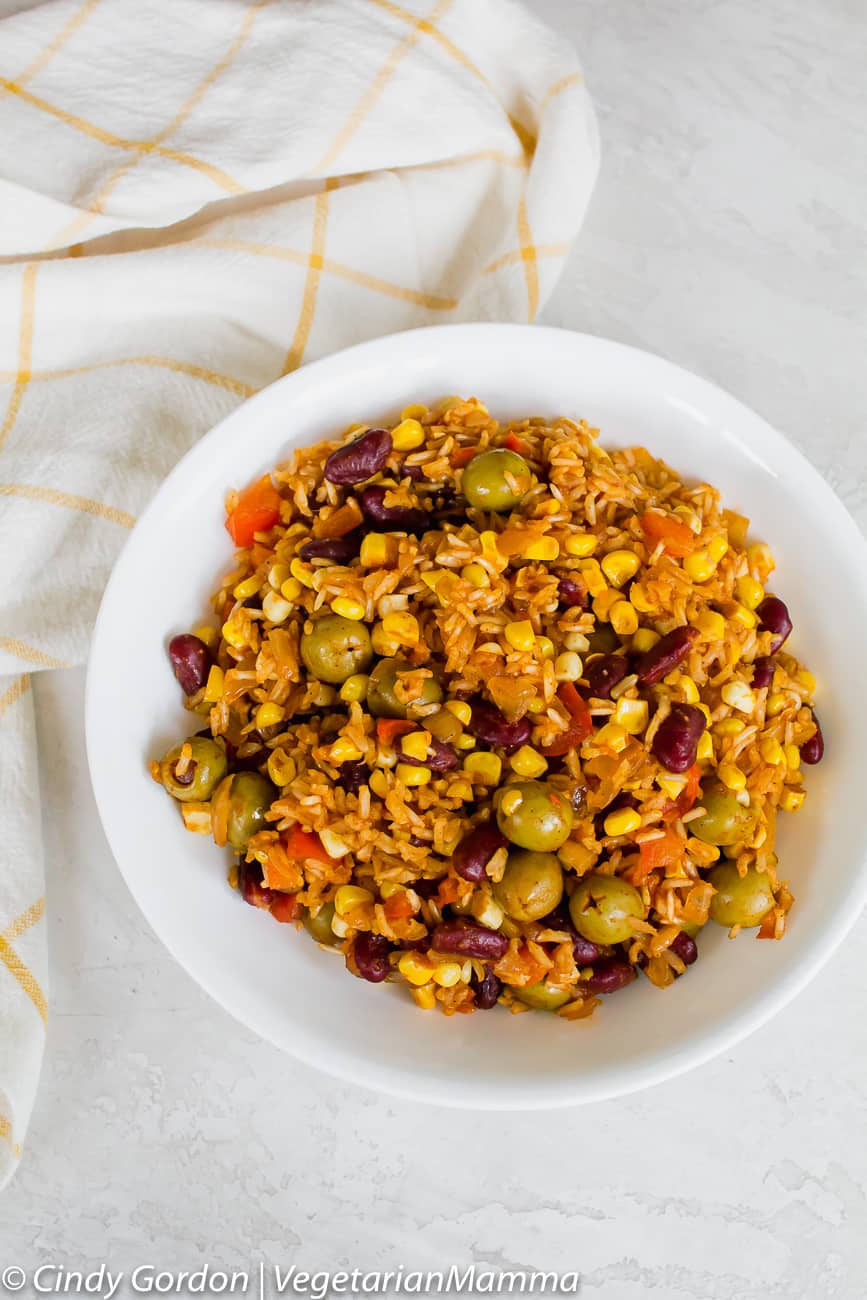 Vegetarian Spanish Rice
This versatile dish, Spanish Rice with Olives, can be used as a main dish or as a side dish! In my family, we eat it all different sorts of ways! We have used it mostly as the main dish but have recently started talking about making it more of a side dish here and there as well.
It is very filling and full of flavor! I love the taste of this dish. Its amazing to me how simple ingredients can produce such big flavors! We adapted a recipe from this recipe book to fit our dietary needs.
I was able to alter the recipe quickly and super easy, which is another reason why I love this recipe so much!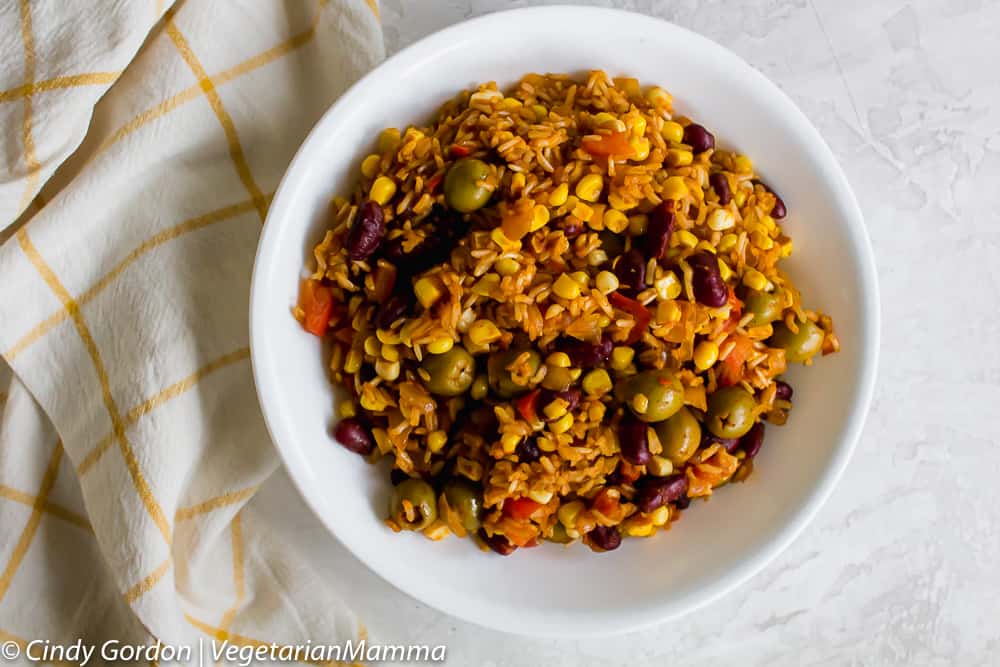 What Is Vegetarian Spanish Rice?
I don't know about your house, but in our home, we always like to know a bit of the history when we are eating certain dishes. With such bold and beautiful flavors and colors, we just had to find out how and where this delicious Spanish Rice with Olives dish originated from!
Spanish Rice (aka Mexican rice) is popular in Mexico and many southern states throughout the US. While rice is popular in Mexico, it was said to be originally introduced by the Spaniards many many many years ago.
With rice being such a versatile dish, it's easy to add vegetables or other items directly to it to give it a unique taste or flavor. The olive addition makes this rice dish have a pop of flavor that really stands out!
What goes well with Vegetarian Spanish Rice?
The easy answer? SO MANY! Think about the rice in its simple form. It has the ability to take on any flavor that you want it to, just by adding a few spices and ingredients.
If you and your family are looking for a great vegetarian dish that packs a ton of flavor, head out to your garden and get your veggies picked, cooked and ready to add! You can easily saute up some fresh veggies to give it some amazing summer flavor. My picks would be peppers, tomatoes, and onions, straight from the garden!
And while my family doesn't eat meat, there are options to add that in as well. Here is a great recipe that showcases just how versatile it truly can be!
Don't forget about tofu! Tofu with Spanish Rice and Beans recipe is a great twist on this recipe. Pan fried tofu is a great item that can be easily added to give it some extra texture and flavor, too! With how easily the rice soaks up the flavor and also how easily the tofu does, that powerful combination of two could wake up your taste buds nicely!
Simple Prepping for the Vegetarian Spanish Rice
To be perfectly honest with you...I love this recipe for more reasons than just the flavor. I love this Spanish rice and beans recipe because it is just so simple!
I find myself referring to this recipe a lot when people ask me what one of my favorite go-to recipes is for my family. Each and every time, they are always shocked when I tell them the steps to cooking this Spanish Rice and Beans with Olives recipe.
In their minds (and maybe yours too!), they are thinking that they have to cook the rice first and then prepare the remainder of the dish. Wrong, wrong, wrong! So many people tend to shy away from this recipe because they think that they have to actually cook the rice beforehand.
The good news? YOU DON'T.
You simply have to stir fry the rice up with the other ingredients for a few moments, then add to the casserole dish and let the oven do the work. Trust me. It's seriously that simple.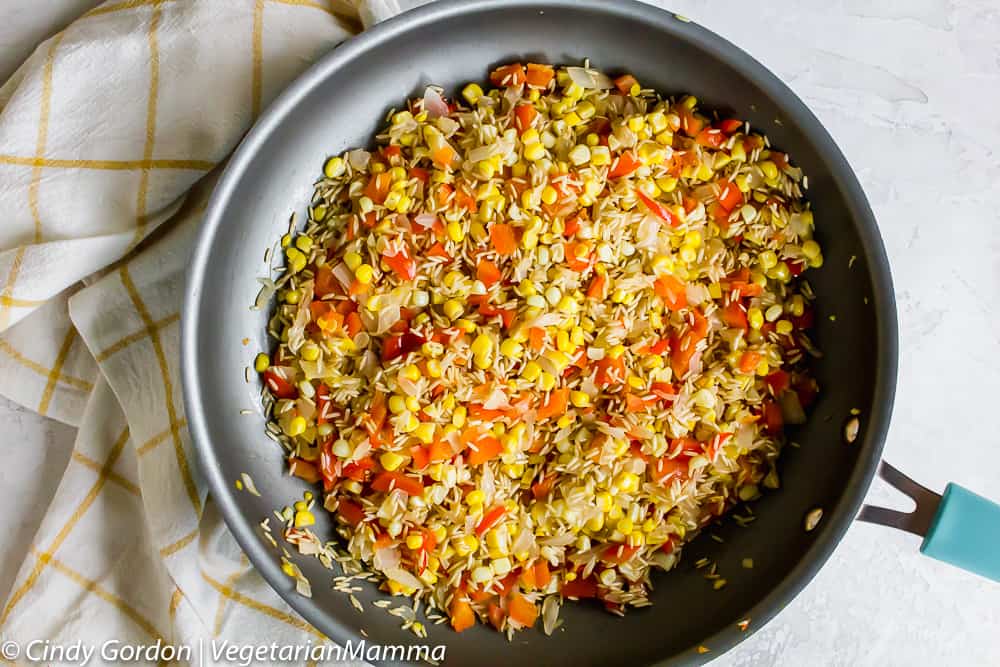 No worry about overcooking or undercooking the rice on your watch! Once the onions are a bit soft from sauteeing, you just pour into the casserole dish and pop it in your oven.
In 20 minutes, you'll have an amazingly delicious meal cooked perfectly for your family!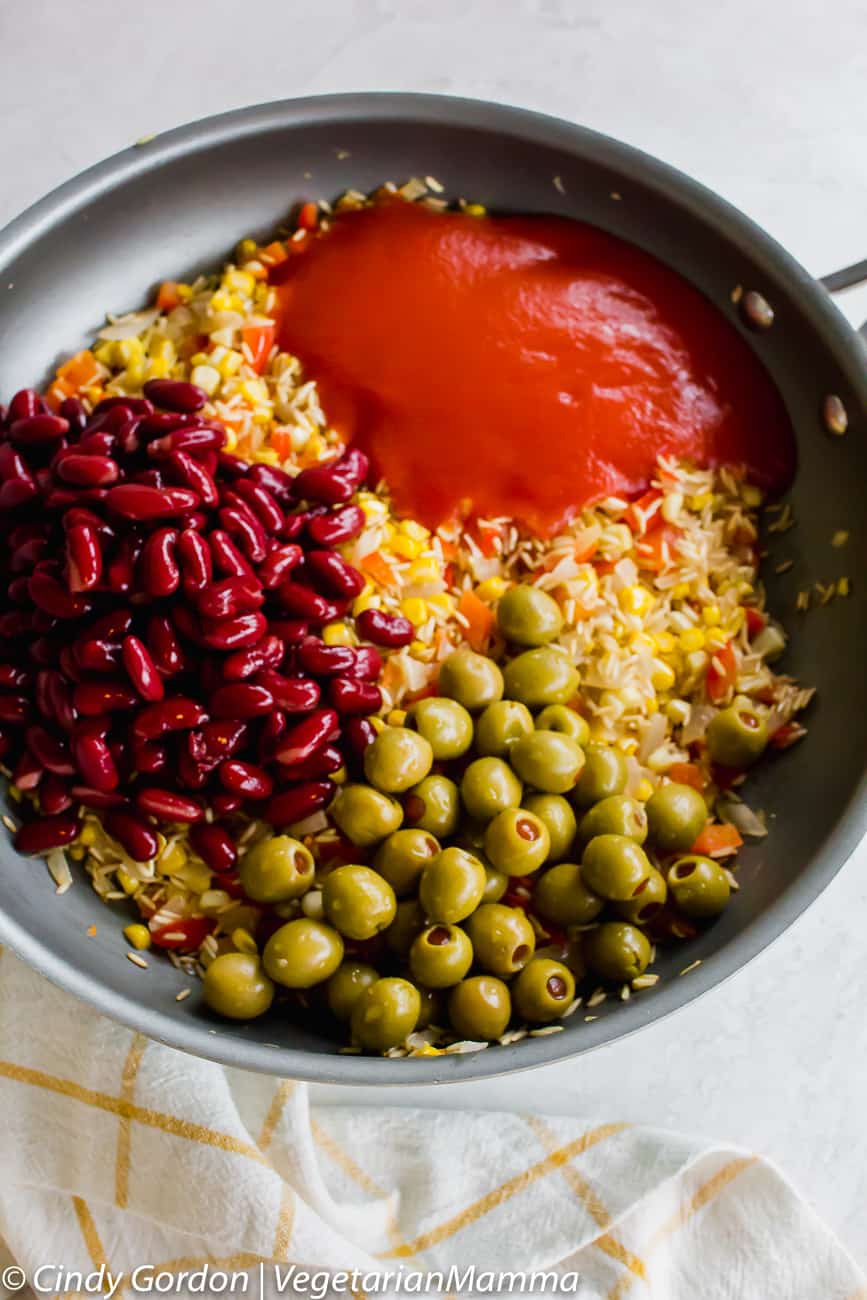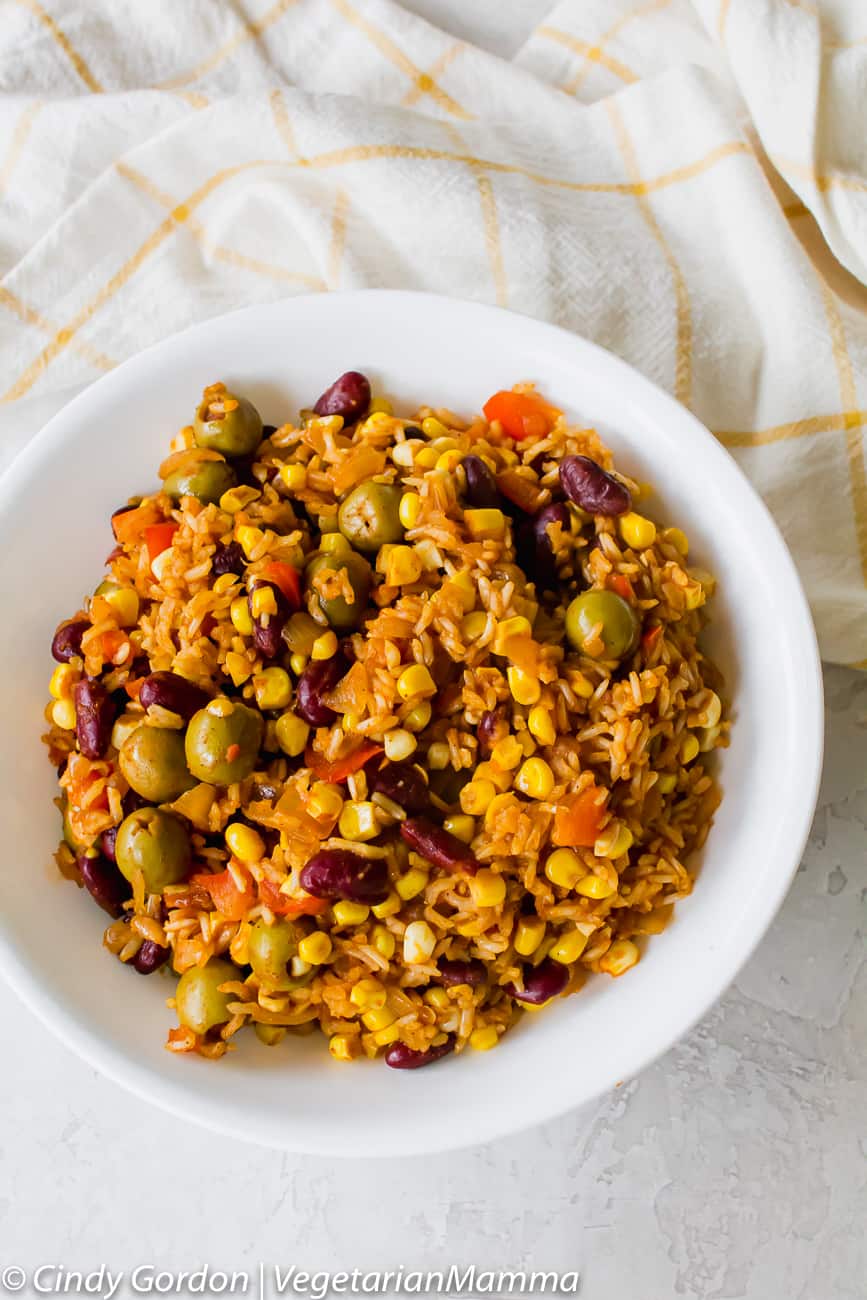 There you have it! I told you it was simple, right?
Suprise your family and friends by making this delicious dish! They'll love the flavor and added olives! Be prepared to hand out the recipe to them as well because they'll want to try this one on their own.
Have you ever made a version of this Vegetarian Spanish Rice recipe before? I'd love to hear about it, if so!
Looking for other allergy-friendly recipes? All of our recipes are nut-free and gluten-free. We also have vegan recipes too!
Spanish Rice with Olives
Spanish Rice with olives in an easy dish that will compliment your next family dinner. This rice dish is baked in the oven, works as a side dish or as stuffing for a taco!
Ingredients
1

T

oil

of your choice to saute

1

onion

chopped

1

bell pepper

chopped (you pick the color)

1

cup

of corn

fresh or frozen

1

cup

uncooked rice

brown or white, you pick

1

cup

of green olives

15

oz

can of kidney beans

drained and rinsed

15

oz

can of tomato sauce

2

cups

of HOT water

1

t

chili powder
Instructions
Preheat oven to 375 degrees and oil a large casserole dish.

Heat 1 T of oil in a pan and saute onion, bell pepper, rice and corn. (yes, I did say rice)

When onion is soft add olives, beans, tomato sauce, water and chili powder.

Pour into casserole dish, bake covered for 20 minutes.

Remove cover and bake uncovered for 25 minutes or until rice is cooked.

ENJOY!
Notes
t = teaspoon
T = tablespoon
Enjoy the recipe!
Nutrition
Calories:
56
kcal
|
Carbohydrates:
7
g
|
Protein:
1
g
|
Fat:
2
g
|
Sodium:
12
mg
|
Potassium:
142
mg
|
Fiber:
1
g
|
Sugar:
3
g
|
Vitamin A:
800
IU
|
Vitamin C:
28.3
mg
|
Calcium:
4
mg
|
Iron:
0.3
mg
All though this website attempts to provide accurate nutritional information, the information should only be considered an estimate. Varying factors such as different product types, different brands, etc. can change nutritional information. It is your responsibility as a consumer to read all labels to make sure the ingredients fit your dietary needs as well as calculate your own nutritional information as a double check.
pin for later: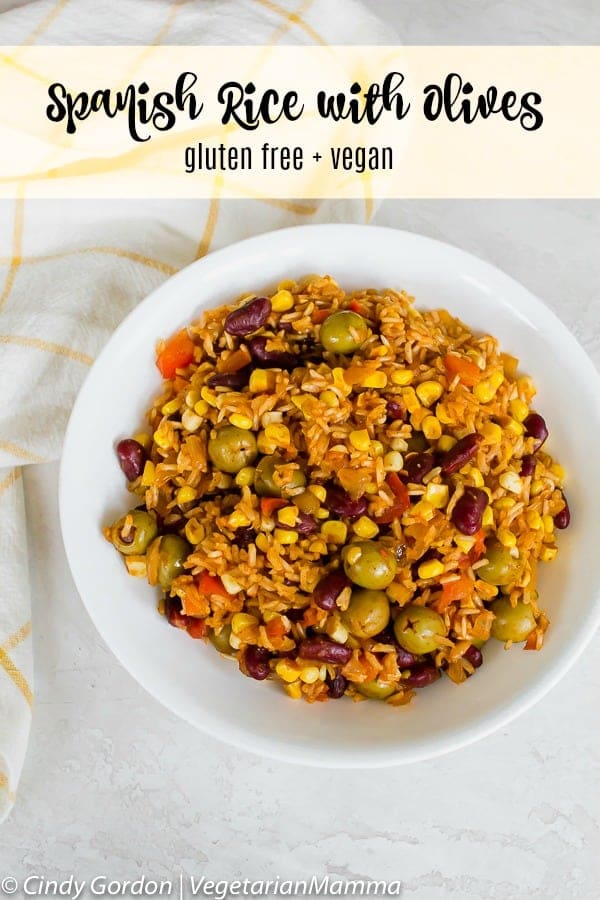 Take a peak at our old picture! We recently updated our photographs!