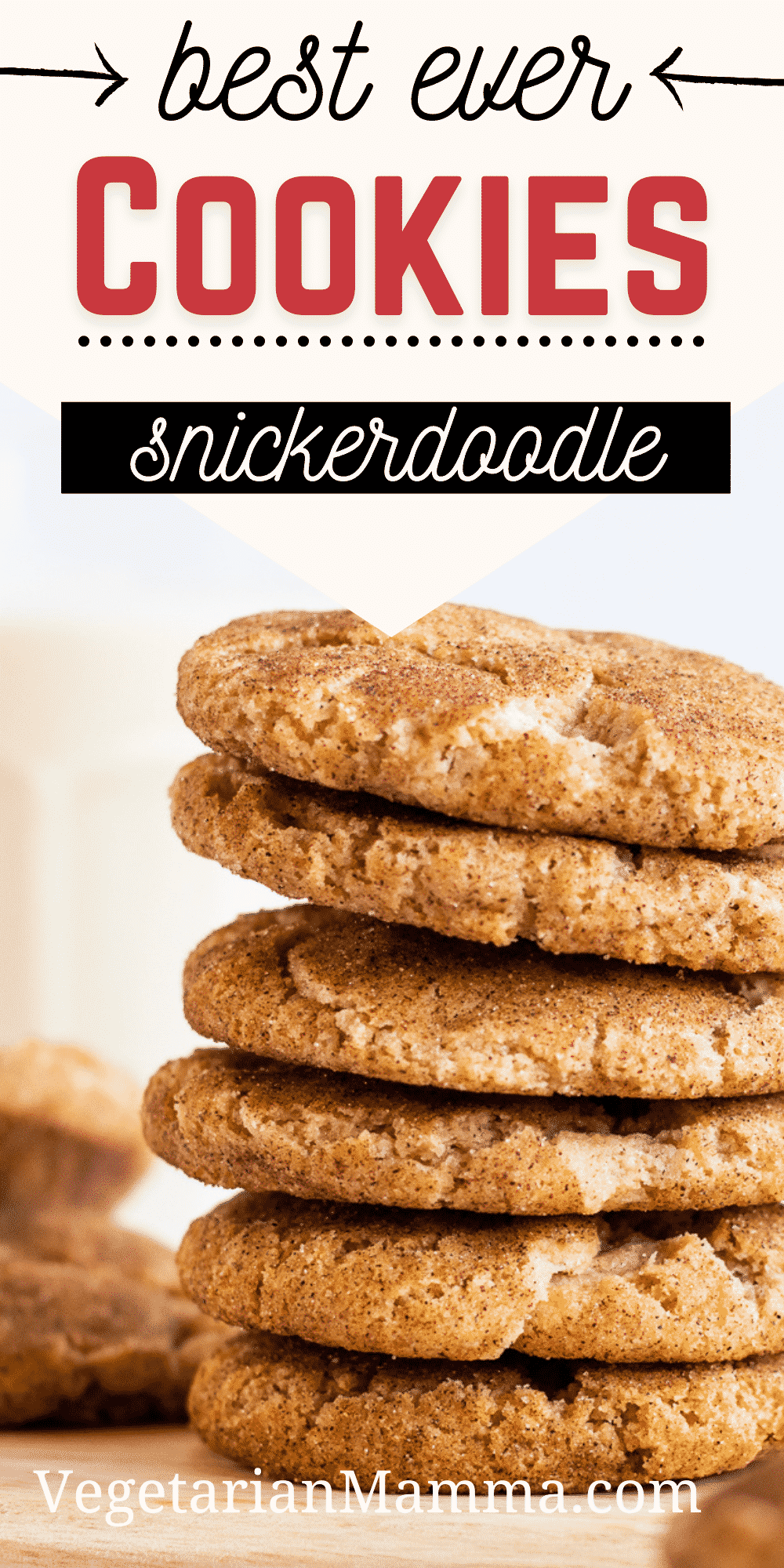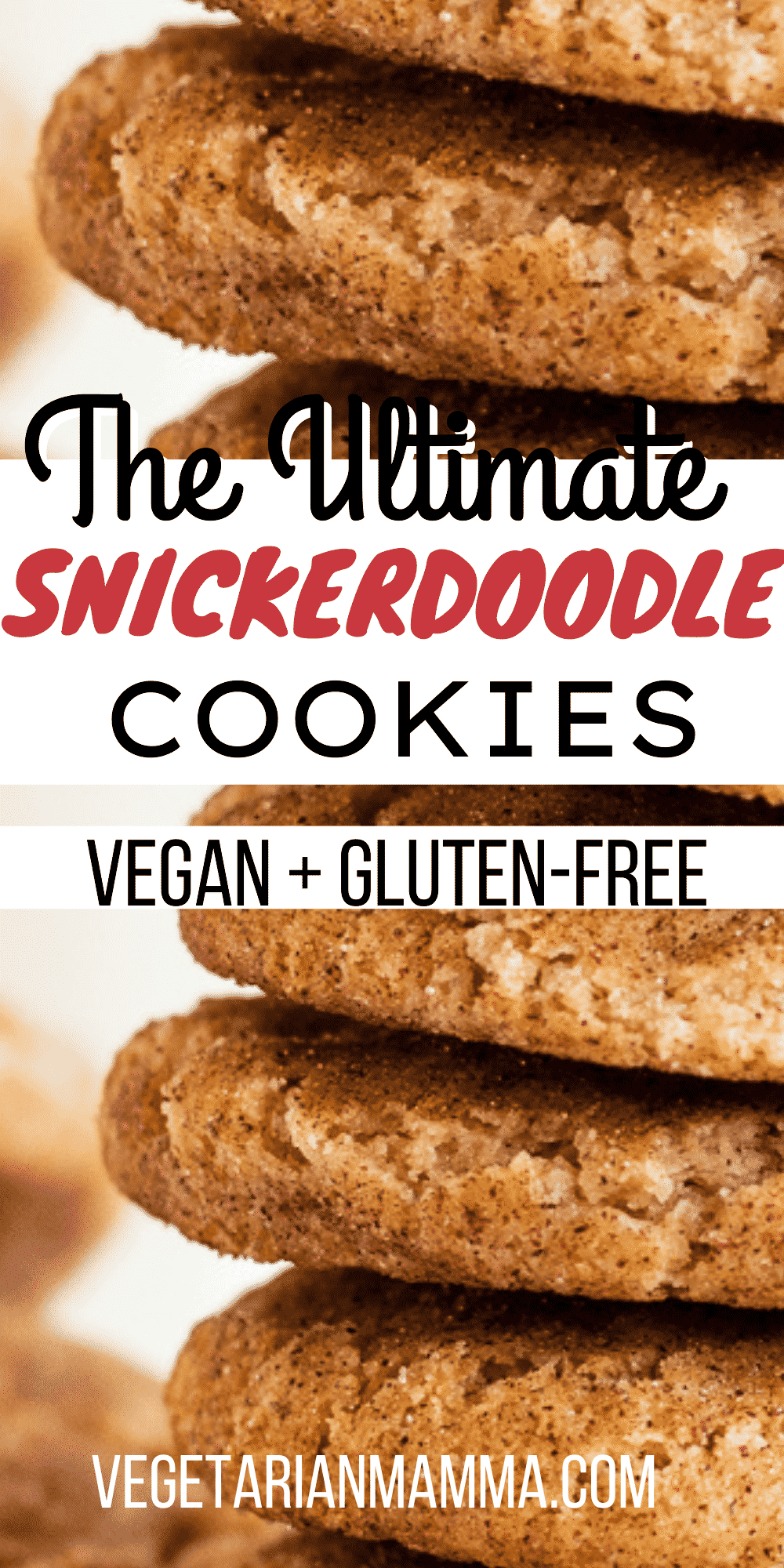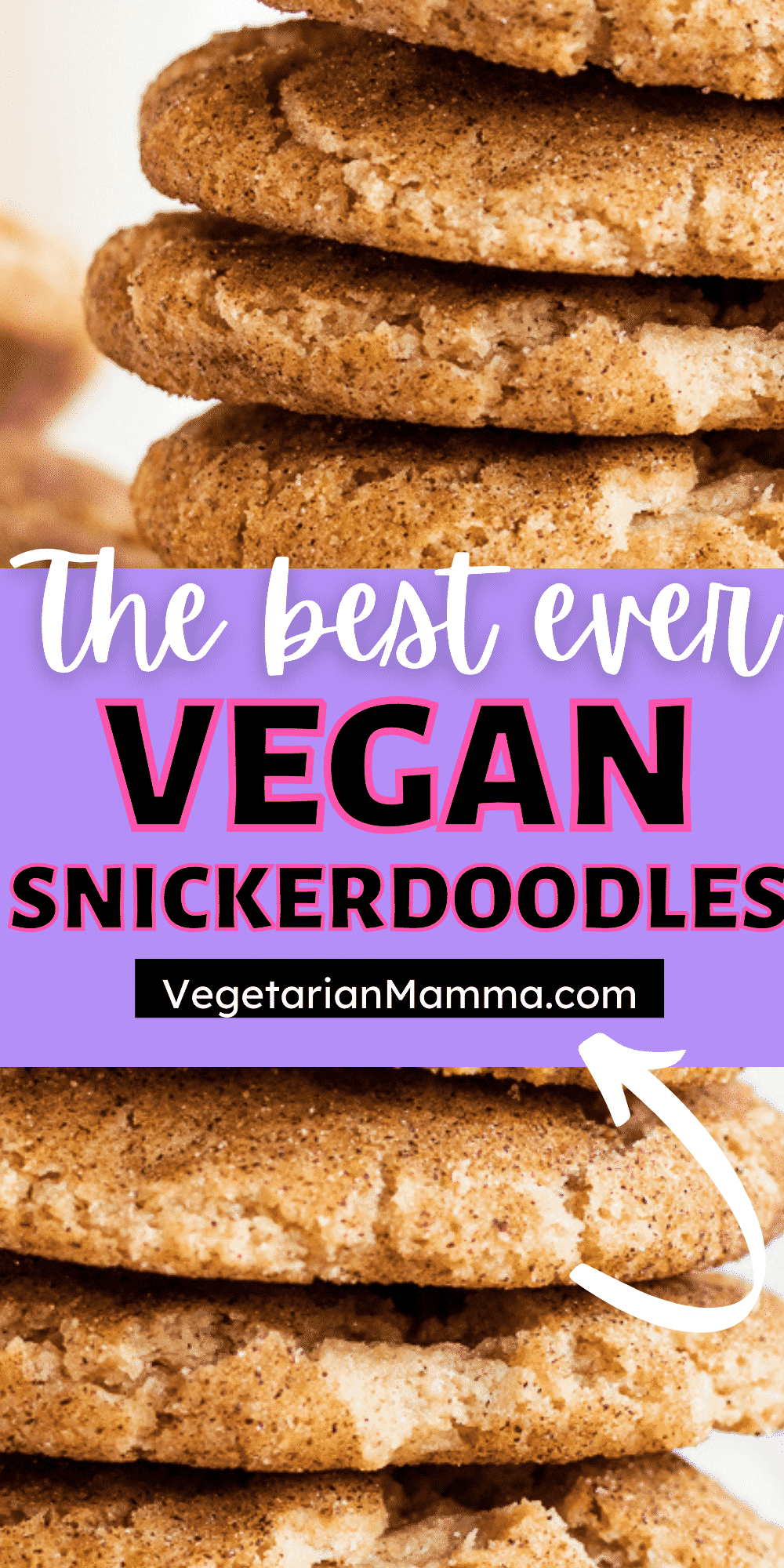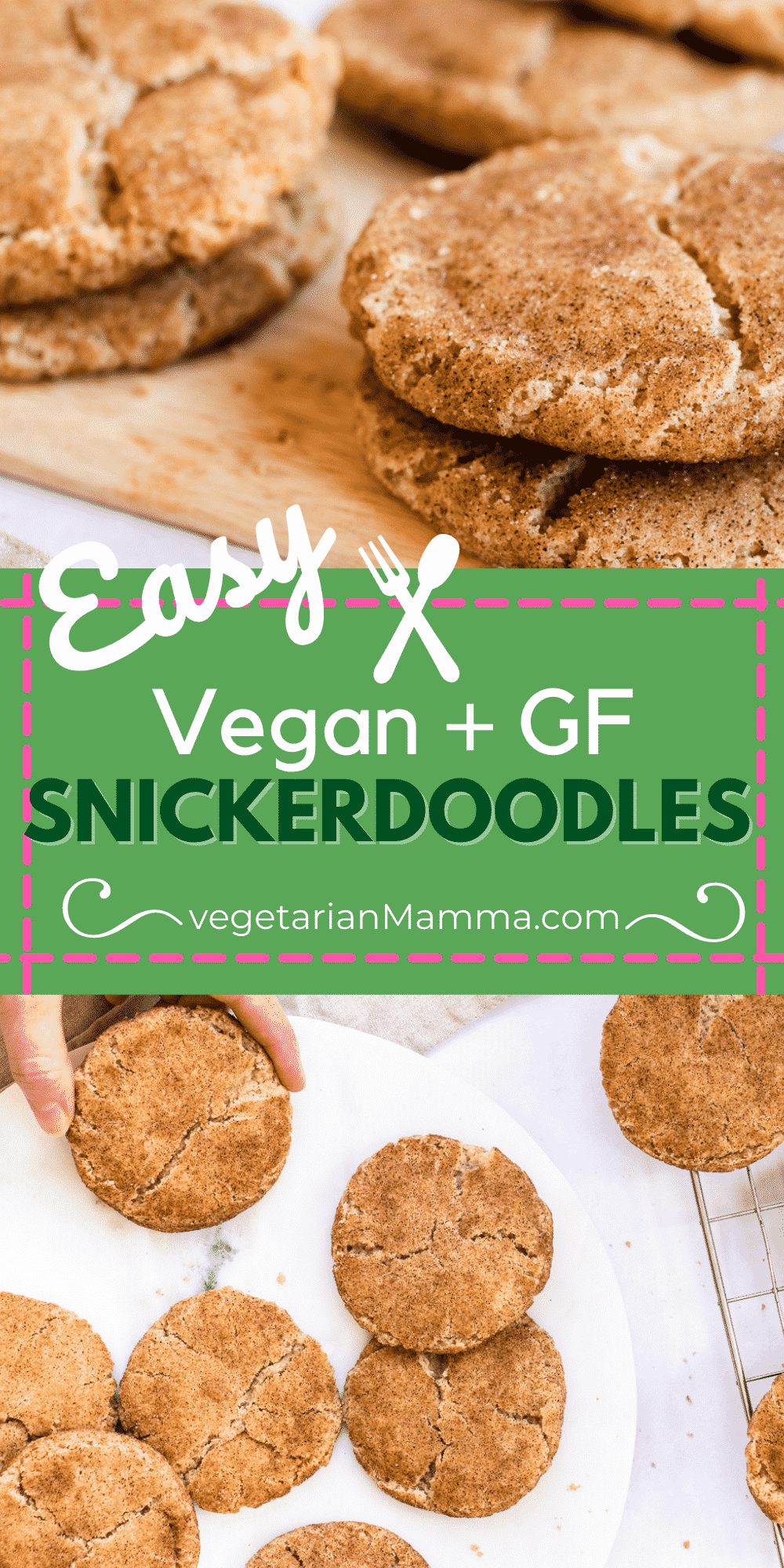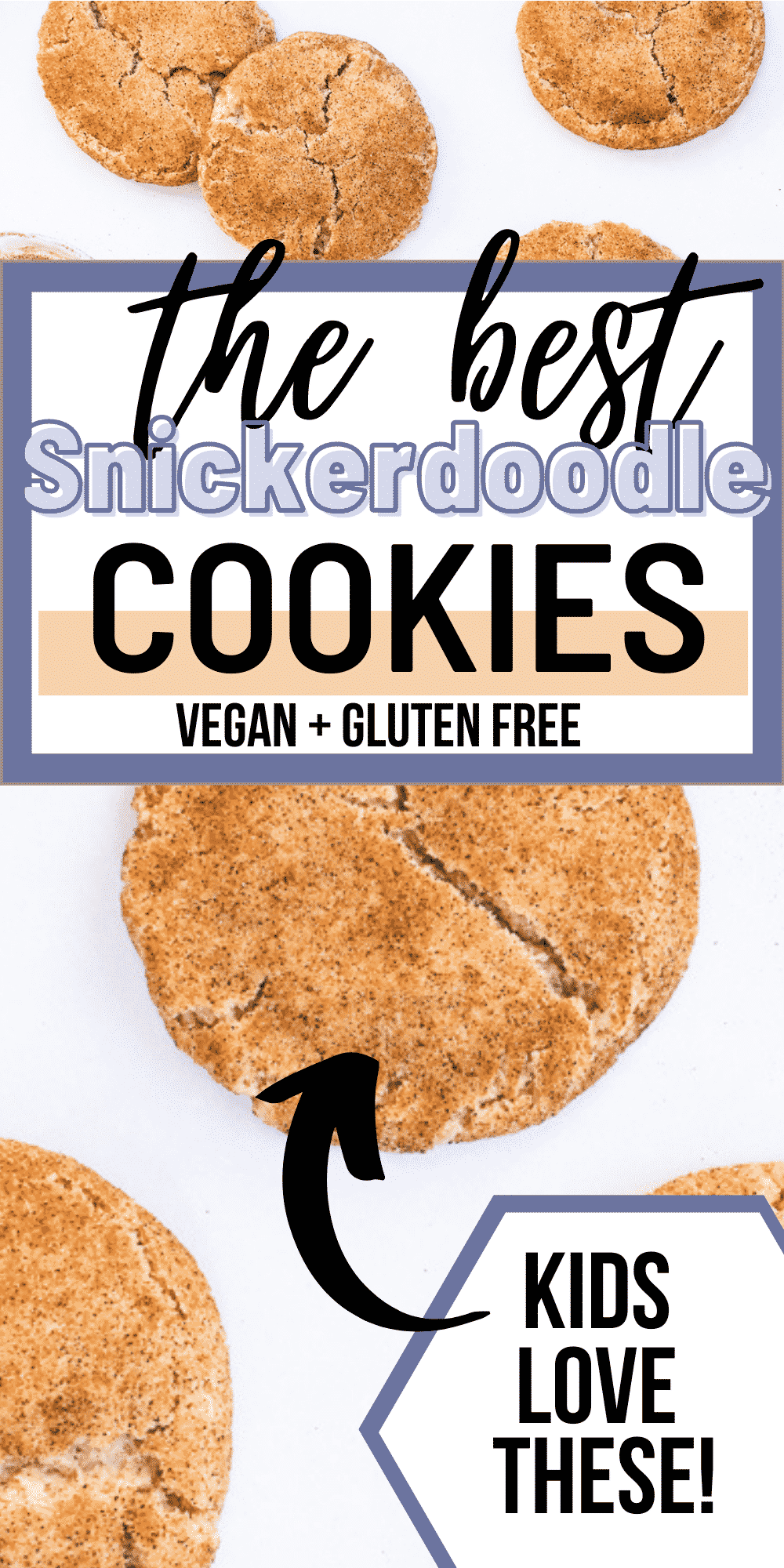 Vegan Snickerdoodle Cookies are so chewy and soft, you'll never believe they're gluten-free! Rolled in homemade cinnamon sugar, they're the perfect simple cookie recipe.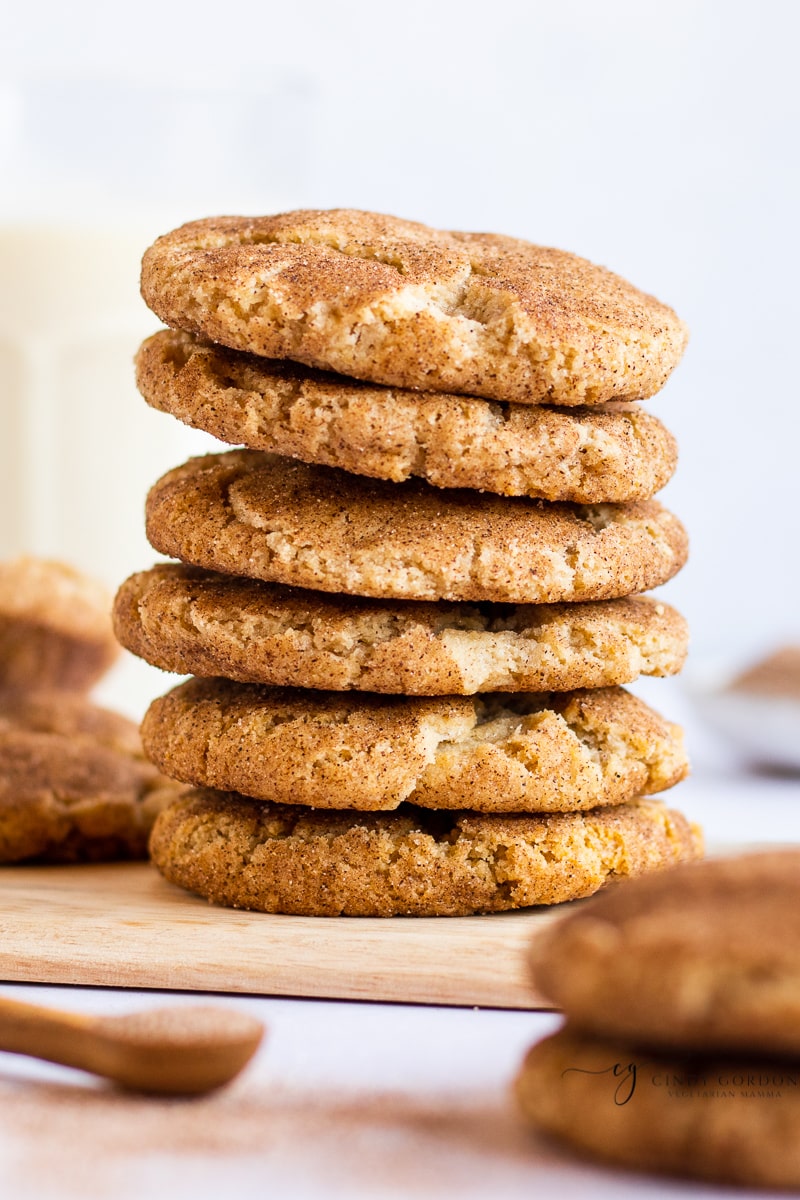 VEGAN SNICKERDOODLE COOKIE RECIPE
Of all the vegan cookie recipes, this has to be my favorite. These sweet and spiced Vegan Snickerdoodle Cookies are so fluffy and soft, you'll never believe they're gluten-free, too!
These are soft, tender, thick, and chewy cookies, flavored with warm vanilla and cinnamon, and the creamy tang that you expect from a classic snickerdoodle cookie recipe.
These simple homemade snickerdoodle cookies are rolled in cinnamon sugar for a delicate but delicious dessert. There's no occasion where you can't serve them, and they'll be loved by vegans and non-vegans alike!
Find your new favorite vegan Christmas cookie recipe today and bake these easy snickerdoodles with me.
Or, grab my recipes for vegan chocolate chip oatmeal cookies and vegan lemon cookies!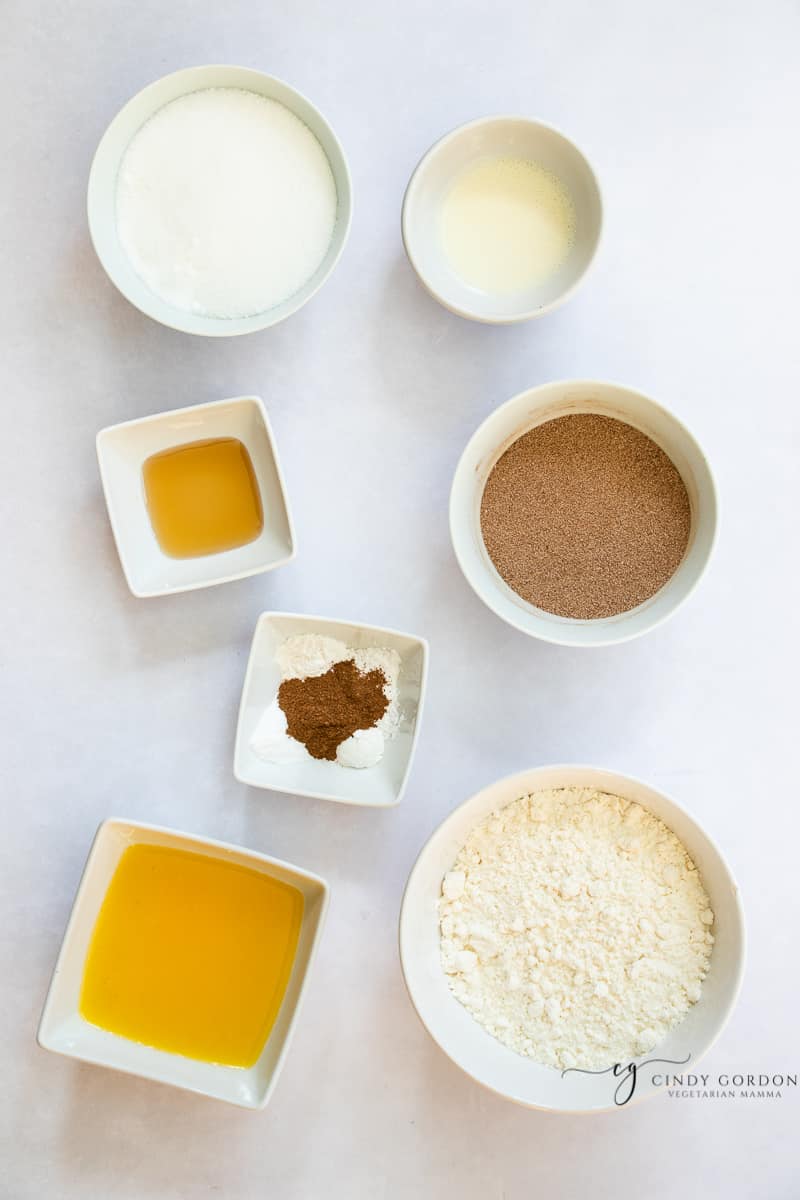 INGREDIENTS IN VEGAN SNICKERDOODLE COOKIES
All-purpose gluten-free flour: I use gluten-free flours to keep all my vegan baking wheat free, too! I always use Bob's Red Mill gluten-free baking flour for baking cookies.
Sugar: Caster sugar is super fine and perfect for baking, but you can always use regular white sugar for this recipe, too.
Xanthan gum: When you're working with gluten-free flour, you always need a little xanthan gum to make up for the lost wheat.
Cream of tartar: This is what gives snickerdoodle cookies that classic tang! It's an acidic ingredient that works with the baking soda to create a chewy, airy texture.
Baking soda: Vegan snickerdoodle cookies are fluffy and perfect thanks to this common baking leavener.
Baking powder: I use two leavening agents in these cookies. I promise it's worth it.
Cinnamon: I use cinnamon in the dough and as a garnish. You can never have enough in these vegan cinnamon cookies!
Vegan butter: Make sure the butter is melted but cool to the touch so it doesn't dissolve the sugar.
Vanilla extract: If you love cookies and cakes, you definitely love vanilla extract. It's got all that warm flavor in just a few drops.
Almond milk: You just need a splash of milk to keep the cookies moist and the dough pliable.
If you have any questions about how to make vegan snickerdoodles, please leave a comment below and I will get back to you ASAP!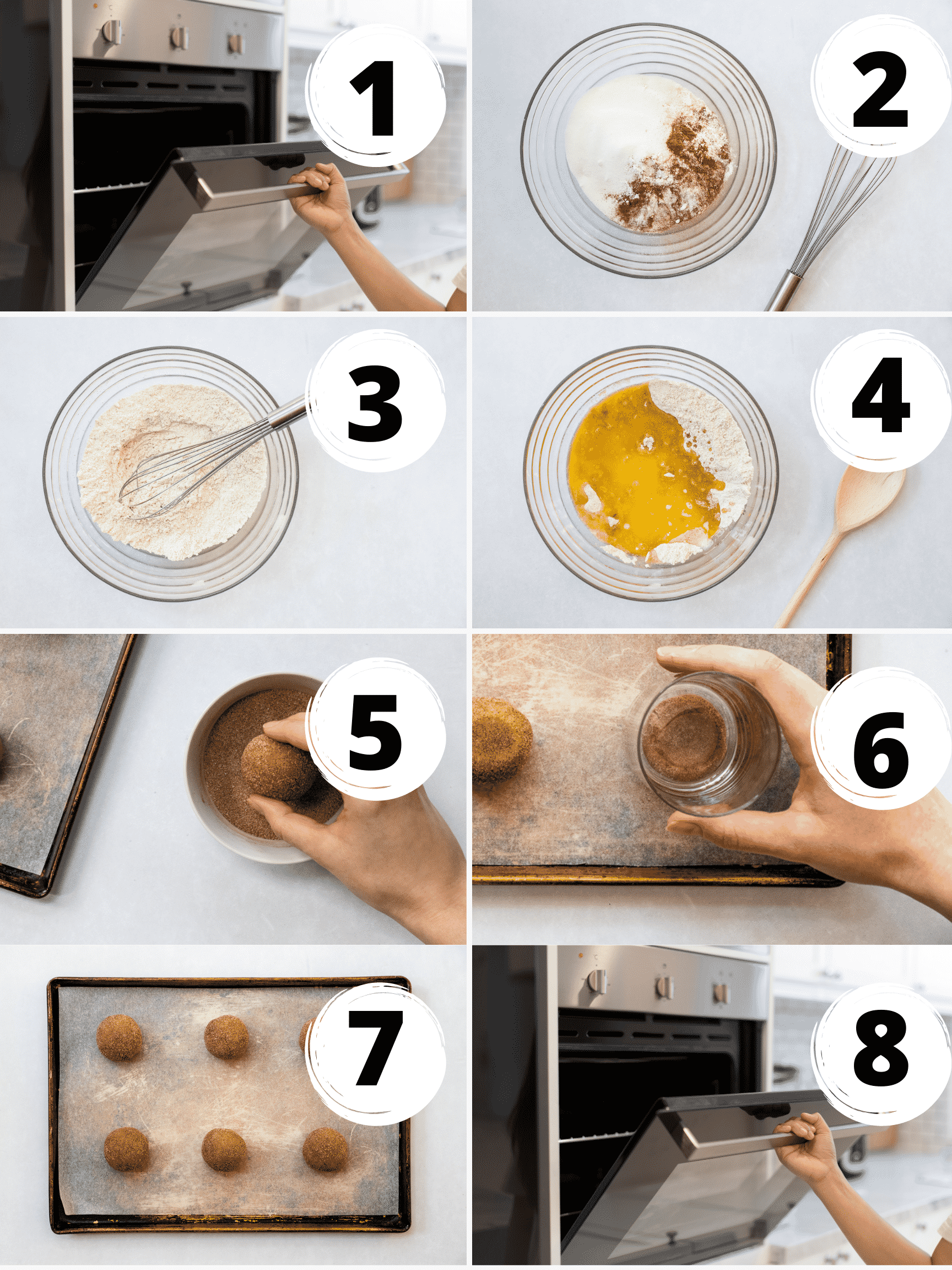 HOW TO MAKE VEGAN SNICKERDOODLE COOKIES
First, preheat the oven and line a couple of baking sheets with parchment paper. I always bake these vegan cookies in batches.
Then, mix the cinnamon and sugar together in a small bowl.
Now, whisk together the gluten-free flour, xanthan gum, sugar, cream of tartar, baking soda, baking powder, and cinnamon in a second mixing bowl.
Next, add the melted vegan butter, vanilla extract, and almond milk to the flour mixture. Mix until you have a firm cookie dough.
Form the cookie dough balls with your hands and roll them in the cinnamon sugar.
Put the snickerdoodle cookie dough on the baking sheets and flatten each ball slightly with a glass or your hand.
Now, chill the flattened dough balls in the fridge.
Finally, bake until the edges are perfectly golden brown. Let them cool on a rack, and try not to eat them all at once!
These numbered steps match the numbered photos above and are for illustration purposes. For the complete list of ingredients and instructions for making easy vegan snickerdoodles, please see the recipe below.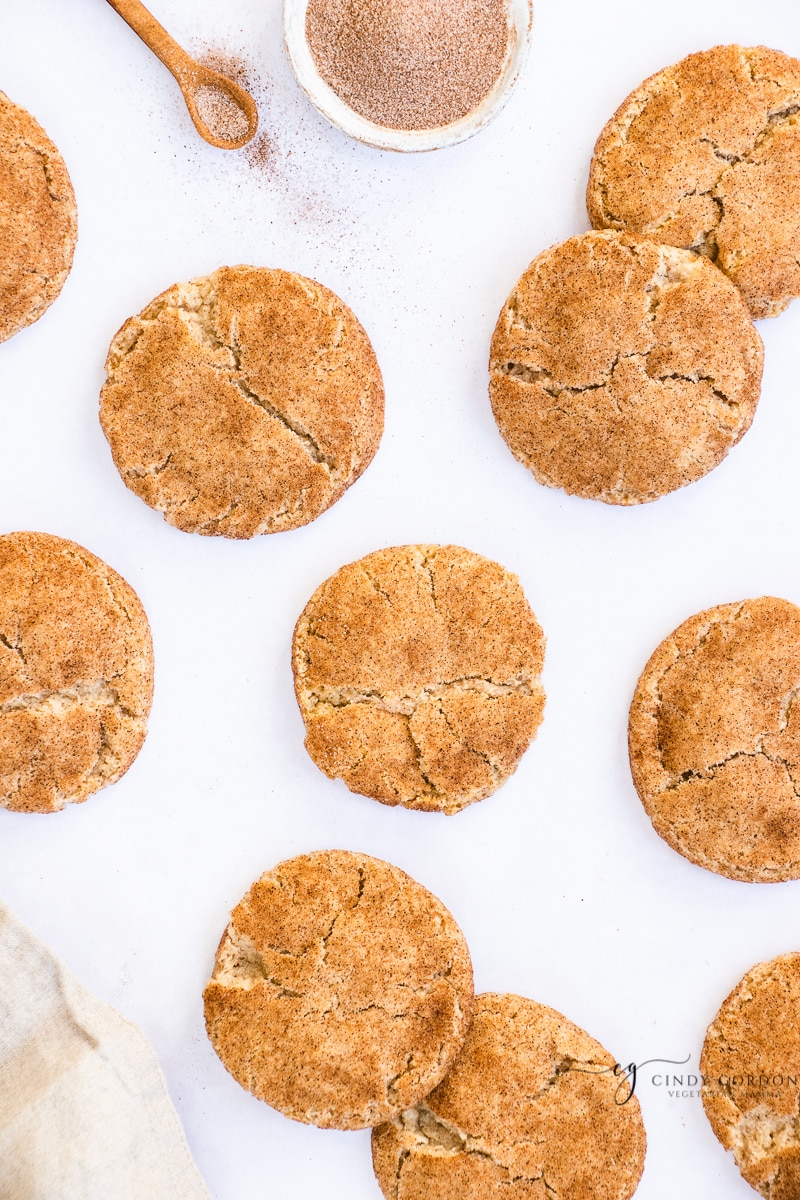 WHAT TO SERVE WITH VEGAN SNICKERDOODLE COOKIES
Make a beautiful gluten-free cookie platter with these copycat tagalongs! This salty-sweet combo is one that you just cannot resist.
When you're snacking on your breakfast snickerdoodle cookie — I'm not judging — you'll want some of this creamy oat milk latte, too! Skip the Starbucks drive-thru and make vegan lattes at home.
You can always find me in the afternoon with some homemade cold brew coffee. The cinnamon sugar cookies are such a perfect complement to my afternoon pick-me-up.
TIPS FOR MAKING PERFECT VEGAN SNICKERDOODLES
Use Fresh Ingredients. The texture of snickerdoodles is dependent on the baking soda, baking powder, and cream of tartar all working well together. Since these ingredients can lose their power over time, I usually buy them fresh when I want to make this recipe.
Regular butter can be used in this gluten-free cookie recipe if you aren't specifically needing the recipe to be vegan.
Chill Before Baking. I like to roll the dough into balls, and then chill the cookie dough on the trays before baking them. This ensures that the cookies won't spread too much, and keeps them thick and tasty.
Let the Kids Help! Get the whole family involved. Kids love to roll balls of dough into the cinnamon sugar.
Don't Overbake: Overcooked snickerdoodles cookies will be dry and hard. Bake these just until the tops are no longer wet-looking.
Freeze: You can freeze the dough and enjoy them later. Wondering how to bake frozen cookie dough?
WHAT CAN I SUBSTITUTE FOR CREAM OF TARTAR IN SNICKERDOODLES?
There really isn't a good substitution for cream of tartar in snickerdoodles. It's a necessary ingredient for both flavor and texture!
If your cookies are missing that hint of tanginess, you need cream of tartar! It's the key ingredient in snickerdoodles, and it's the reason they have such a distinctive taste.
In traditional recipes, it helps stabilize the egg whites, but there are no eggs in this vegan cookie recipe! Here, cream of tartar activates the baking soda, giving snickerdoodles that classic rise.
WHAT SIZE SHOULD SNICKERDOODLES BE?
This recipe is very forgiving, and I've found that I can make snickerdoodles with it in various sizes, and they all turn out wonderfully!
I suggest making the cookies using balls of cookie dough that are about 1 heaping tablespoon. You can use a medium cookie scoop too.
IS A SNICKERDOODLE A SUGAR COOKIE WITH CINNAMON?
While snickerdoodle cookies and sugar cookies look a lot alike, they're totally different cookies!
Traditional sugar cookies are rolled in plain white sugar, but snickerdoodles are rolled in cinnamon sugar. They also often have cinnamon in the dough and that tangy cream of tartar for an extra punch of flavor.
If you love these vegan snickerdoodle cookies, try these amazing donut holes in the air fryer dusted with cinnamon sugar!
WHY ARE MY VEGAN SNICKERDOODLES FLAT?
Snickerdoodles will puff up in the oven and then settle into a fluffy cookie as they bake. If yours don't do this, it's likely that your cream of tartar or baking soda wasn't fresh. Next time, start with fresh ingredients.
WHY ARE MY SNICKERDOODLES DRY?
The main reason for dry snickerdoodles is baking them too long. Next time, reduce the bake time by 1-2 minutes!
You may have also added too much flour to the dough. Remember that when you bake with gluten free flour, you should spoon the flour into the measuring cup rather than scooping down into the container.
THE BEST GLUTEN FREE FLOUR FOR COOKIES
There are so many choices when it comes to gluten-free flours. We typically use a gluten-free all-purpose flour. We have found that Bob's Red Mill (blue bag) Gluten Free Cup for Cup works well with our recipes. It is important to get the BLUE bag and not the red bag.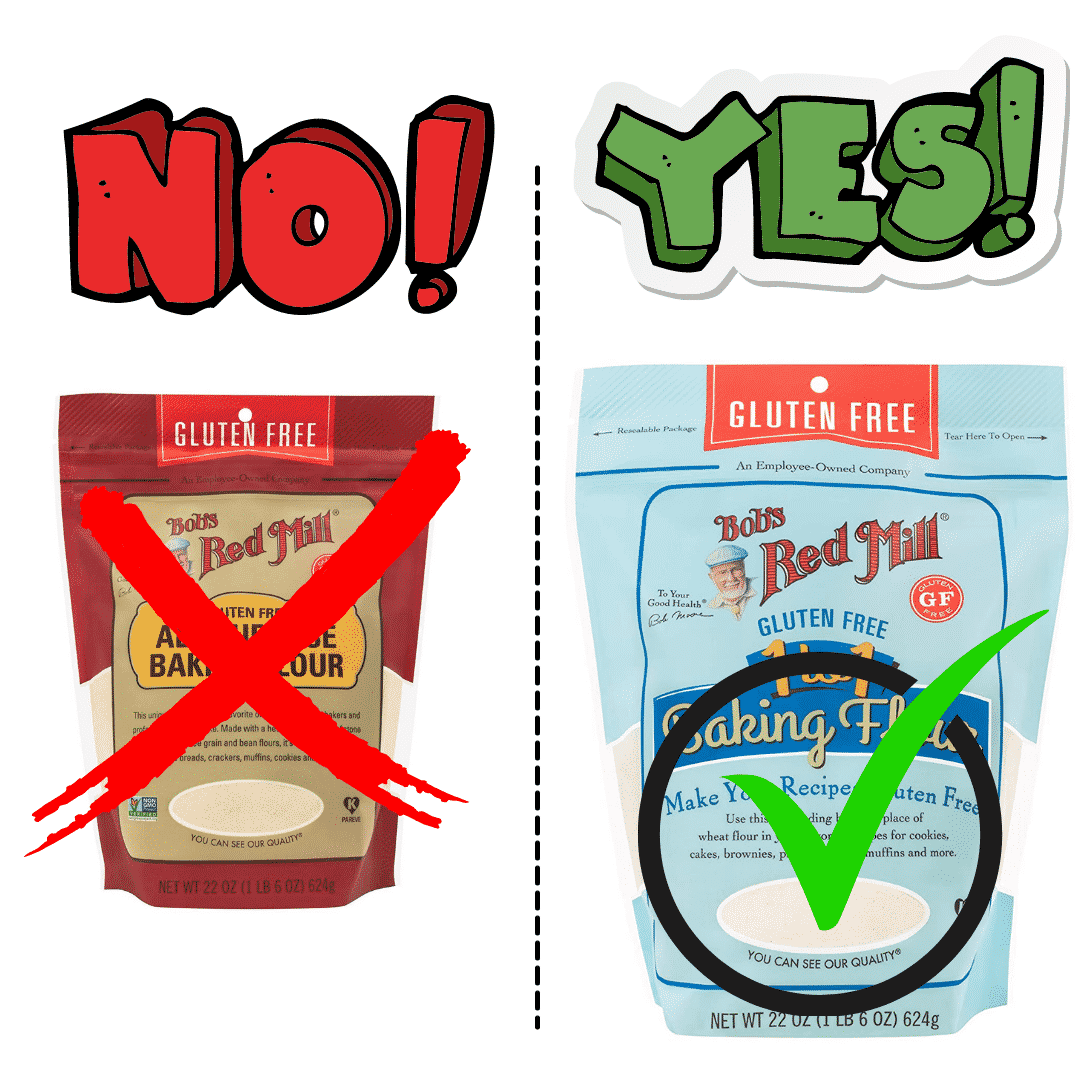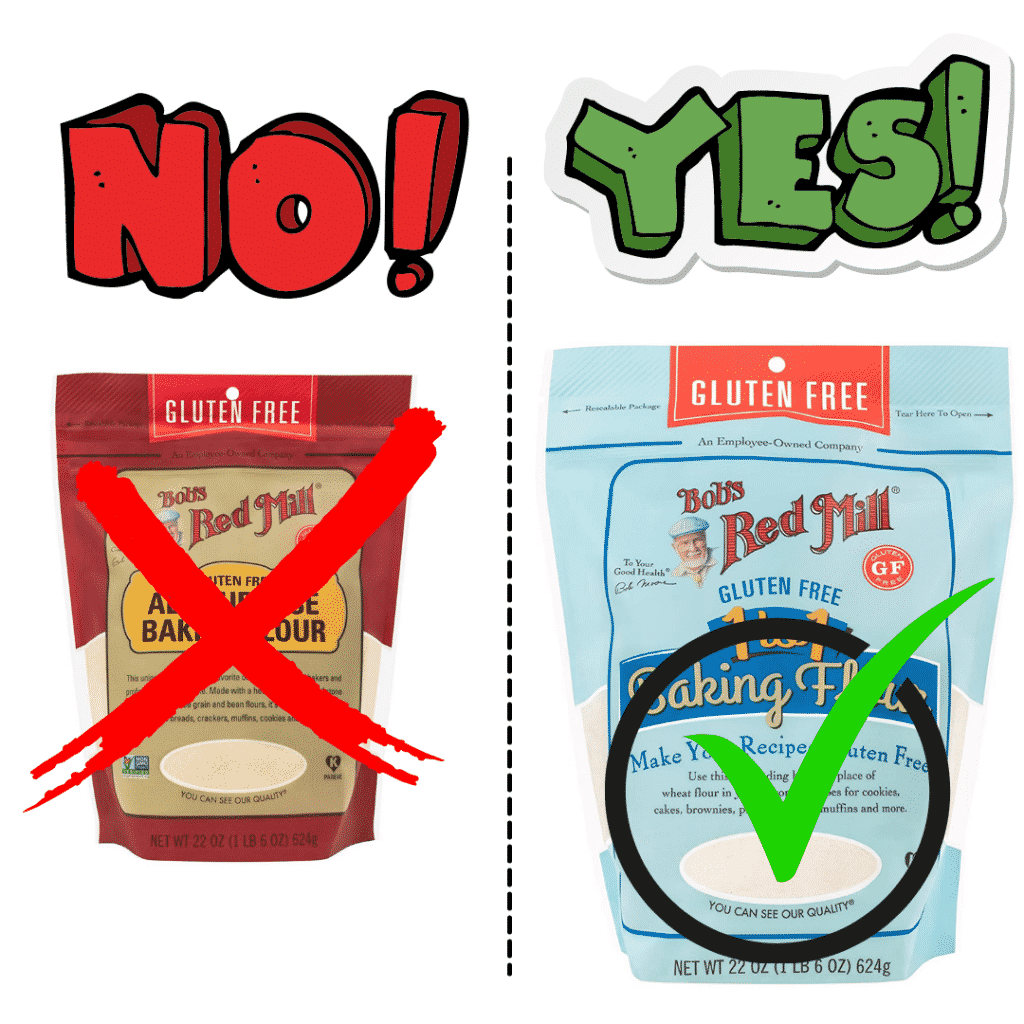 THE BEST VEGAN CHRISTMAS COOKIES
Try all of our delicious vegan cookie recipes to fill up your holiday cookie platters this year!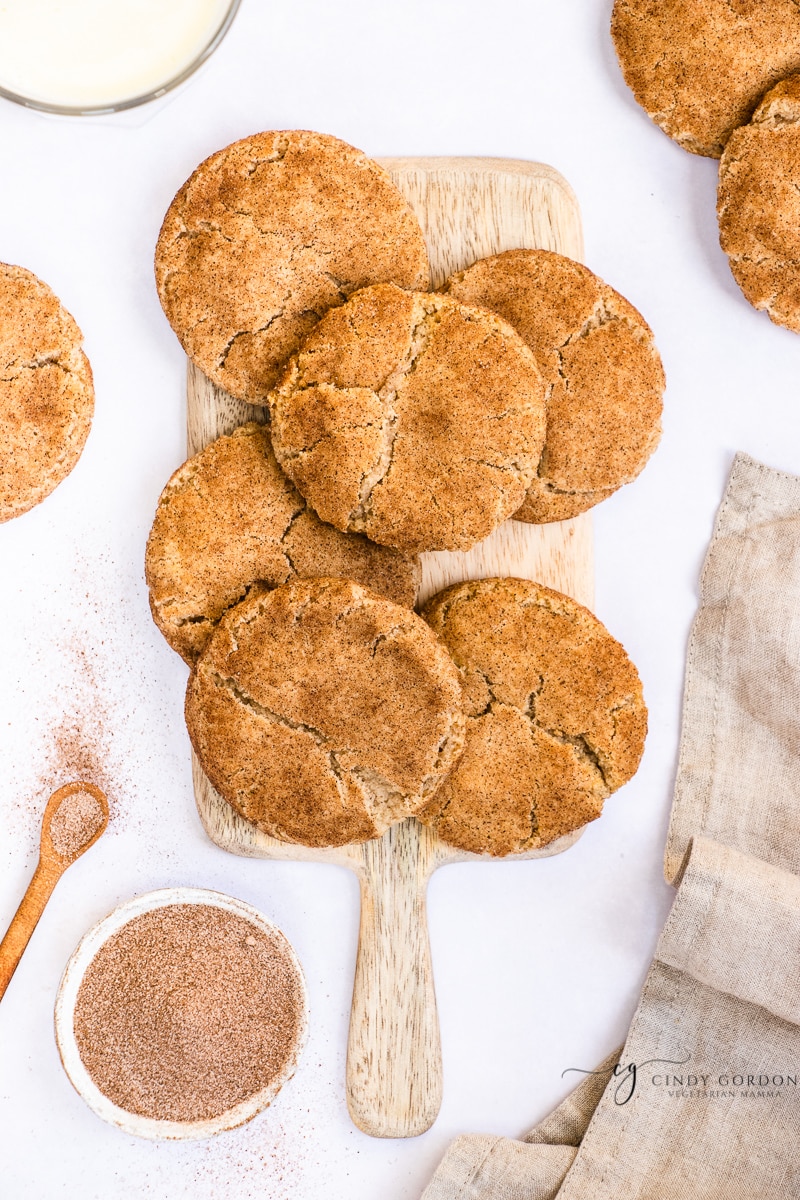 MORE YUMMY VEGAN DESSERT RECIPES
These tangy and delicious gluten-free lemon and cranberry cookies are perfect literally all year long! My kids beg for them in the summer, and they're a common centerpiece on our Christmas dessert table.
Once you make these super easy fried Oreos in the air fryer, you'll never look back. It's truly the perfect sweet snack!
Everyone needs a perfect vegan chocolate chip cookie recipe! These are so chewy and soft, packed with rolled oats and dark chocolate chips.
I've been putting this vegan cream cheese frosting on everything recently, not just cakes! Dip a snickerdoodle cookie in, and your world will be forever changed.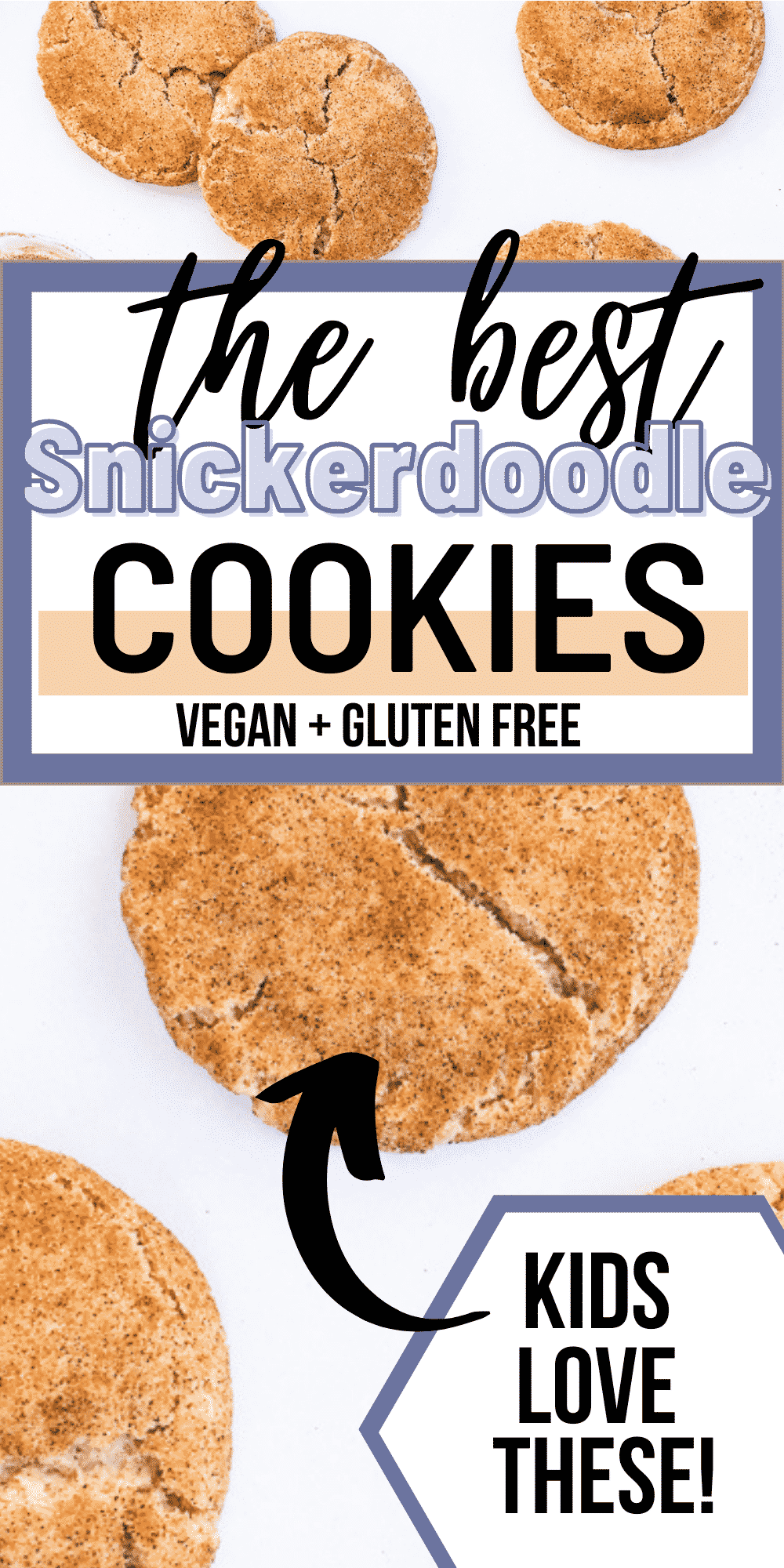 Have you made this recipe? Please leave a comment AND rating below! It helps other readers!
Be sure to tag @VegetarianMamma on instagram, if you share a picture on the gram! Let's get social, you can follow me on Youtube, Instagram, Facebook, Pinterest or join one of our Facebook Groups: Tasty Vegetarian Recipes and Vegetarian Air Fryer Recipes.
Don't forget to subscribe to our EMAIL newsletter.
Vegan Snickerdoodle Cookies
These gluten-free cookies are perfect for school snacks and quick desserts! They're covered with cinnamon sugar for the best vegan cookie recipe ever.
Ingredients
Cinnamon Sugar Ingredients
Instructions
Preheat the oven to 350 degrees F (180 degrees C). Line 2 baking trays with parchment paper.

Mix the cinnamon sugar together in a small bowl. Set aside.

In a large bowl, whisk together the dry ingredients for the cookies.

Add the wet ingredients, and mix everything together. Use a wooden spoon, then your hands, until it forms a dough.

Shape the cookie dough into balls. Roll each ball in cinnamon sugar.

Flatten each dough ball on the baking tray with a glass or your hand.

Chill the cookie dough for 30 minutes before baking.

Bake for 10 to 12 minutes, until the edges are golden brown.
Notes
Vegan Snickerdoodle Cookies will last up to 5 days at room temperature or can be frozen for up to 3 months.
Nutrition
Calories:
189
kcal
|
Carbohydrates:
19
g
|
Protein:
3
g
|
Fat:
12
g
|
Saturated Fat:
2
g
|
Trans Fat:
1
g
|
Sodium:
135
mg
|
Potassium:
49
mg
|
Fiber:
2
g
|
Sugar:
16
g
|
Vitamin A:
362
IU
|
Vitamin C:
1
mg
|
Calcium:
35
mg
|
Iron:
1
mg
All though this website attempts to provide accurate nutritional information, the information should only be considered an estimate. Varying factors such as different product types, different brands, etc. can change nutritional information. It is your responsibility as a consumer to read all labels to make sure the ingredients fit your dietary needs as well as calculate your own nutritional information as a double check.