These Air Fryer Jalapeno Poppers are pretty amazing. They are a spicy, mouth watering, naturally gluten-free snack! We also offer up traditional oven instructions too!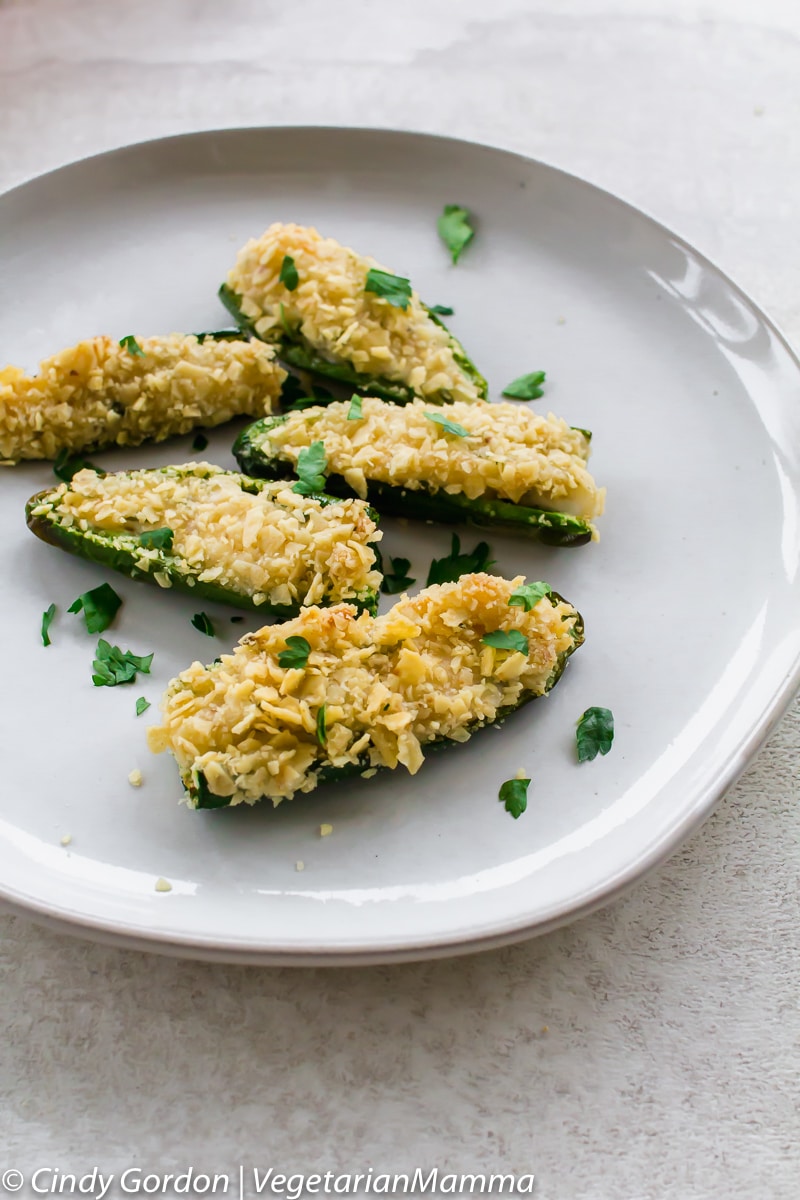 Air Fryer Jalapeno Poppers
Before going gluten-free, Jalapeno Poppers used to be a favorite treat of mine. As in, they were my go-to snack. I loved everything about them. The crunch, the spice, the way that they were quick and easy to make…I truly savored every bite.
In fact, I loved the Jalapeno Poppers so much, I used to always have a stock of them in my freezer. It was so handy to make a batch, freeze them and have them ready to cook whenever I got that craving!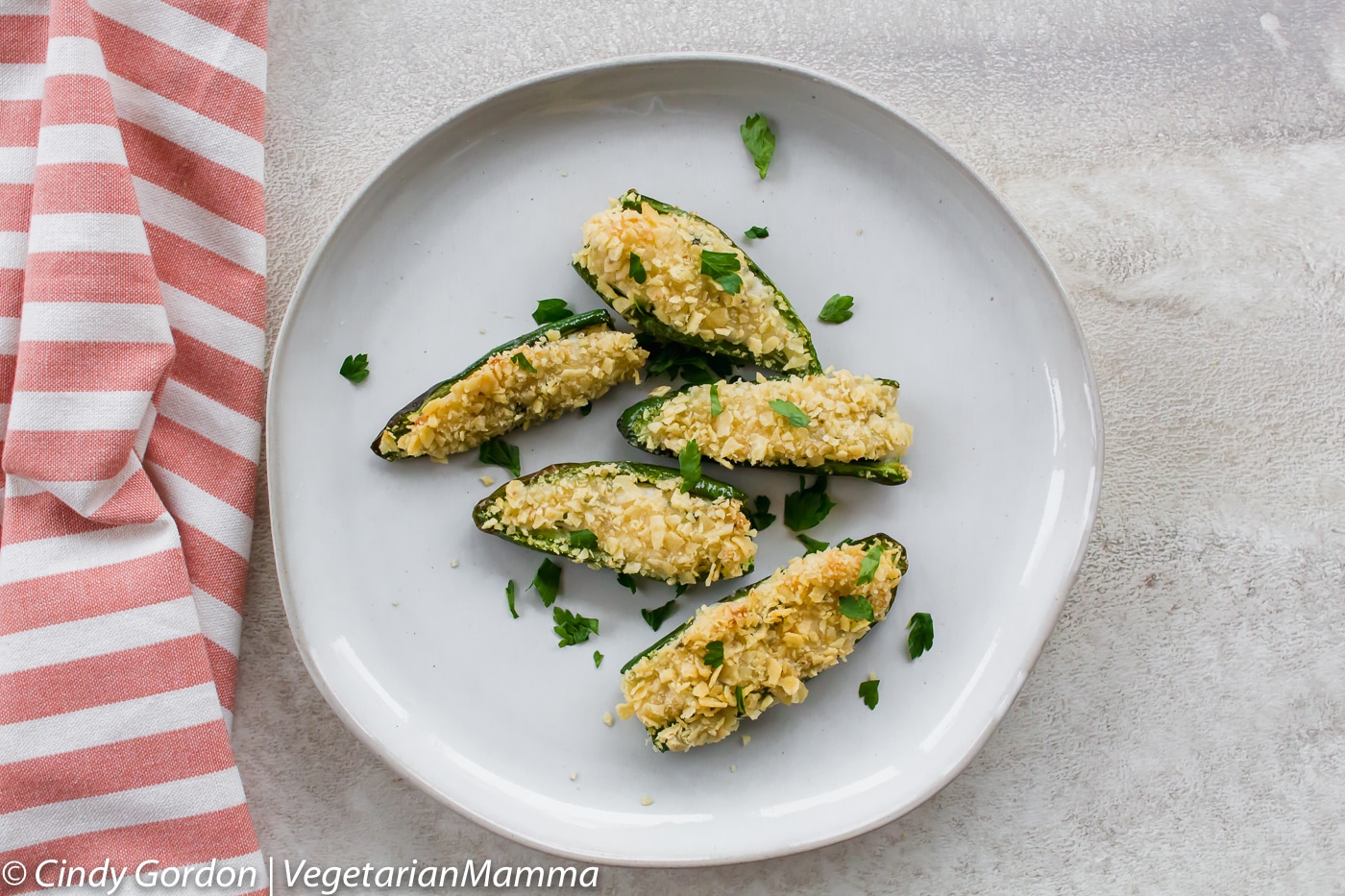 Fast forward a few years to being gluten-free, and while I miss that old recipe, I'm happy to say that I've found a gluten-free option that is just as delicious!
After years of trying out different recipes, I've learned that living without does not mean I have to miss out. The cool part is that with this Air Fryer Jalapeno Popper recipe, I've found a way to combine all the flavors that I love into a dish that I can actually eat and still enjoy!
And the great part about making and cooking them fresh? You know exactly what ingredients are in these spicy little guys!
There's just something about making a recipe from start to finish with simple, easy to process ingredients. Makes my heart, and tummy truly happy!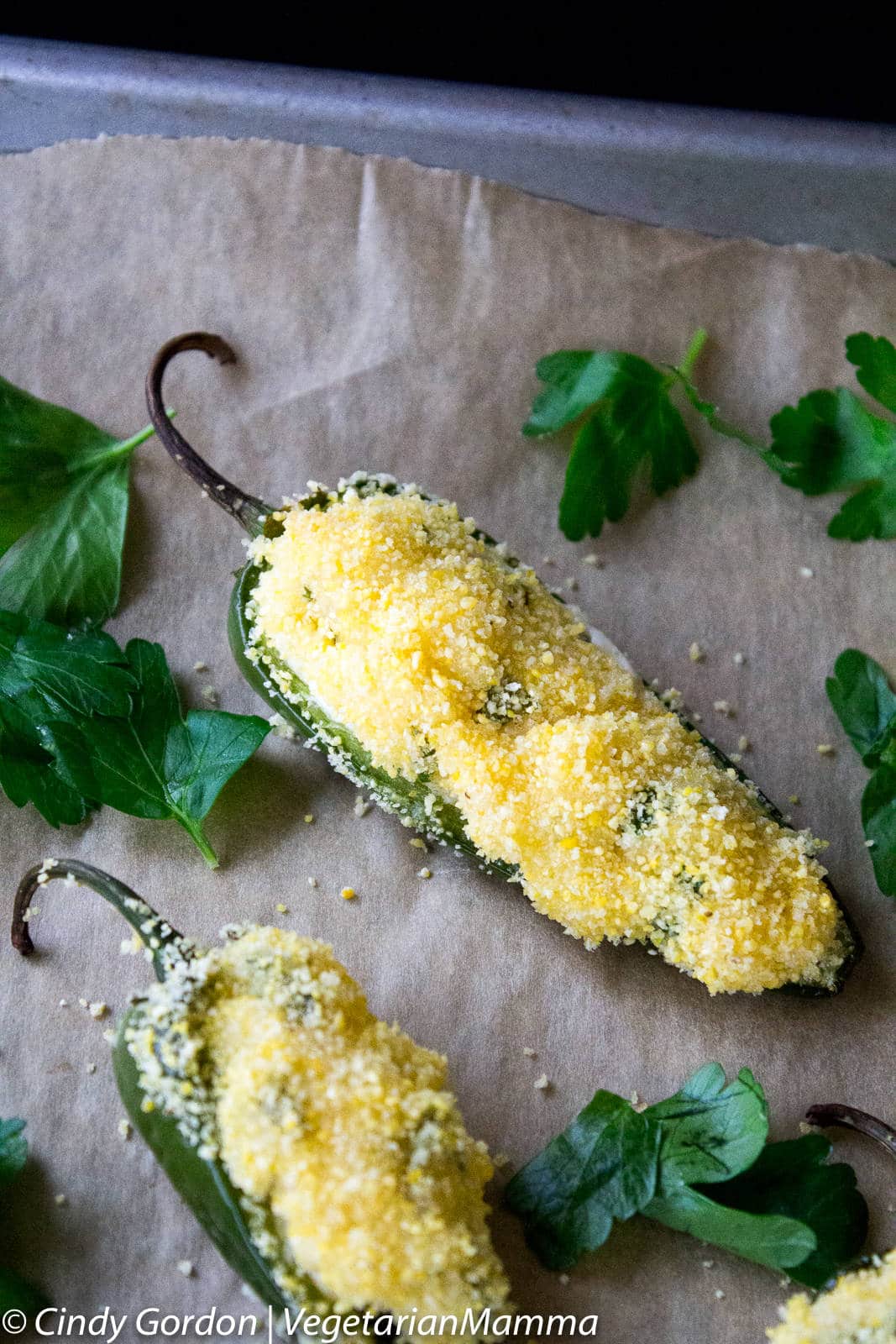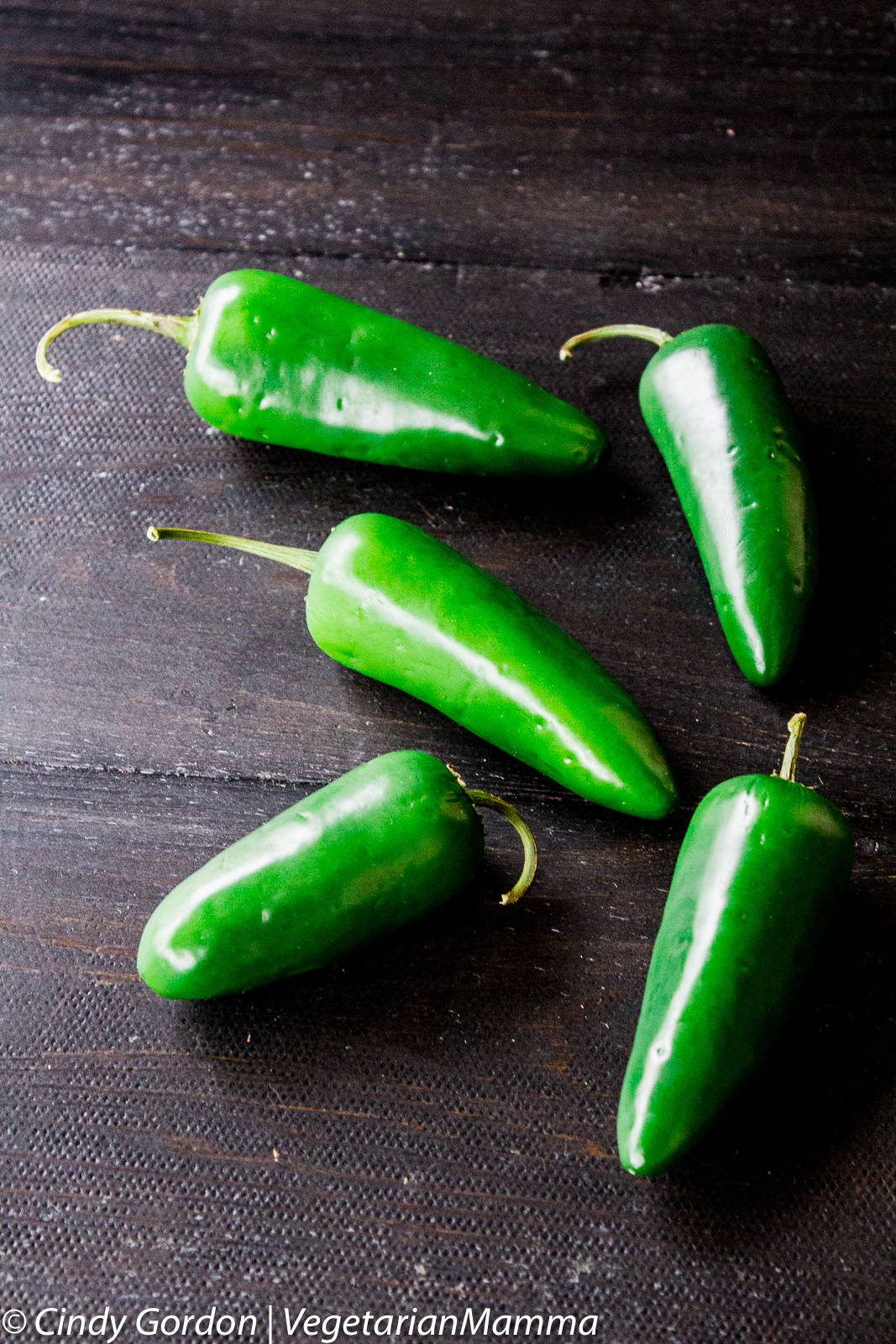 If you happen to love the idea of this Air Fryer Jalapeno Popper recipe and are just wanting more options similar to this, check out these Pimento Cheese Jalapeno Poppers by Bless Her Heart Y'ALL! Seriously, they look delicious!
Trust me when I say that this (affiliate ad link) Air Fryer Jalapeno Poppers recipe will make your mouth burn!
The wild part? You will keep coming back for more!
And I know this because I've been eating them for years and years. To me, it's truly impossible to eat just one. There is just something so delicious about them!
While this recipe does call for the use of an Air Fryer, if you don't happen to have one, you can score one online pretty simply! I use this air fryer (affiliate link) personally and love it.
Side note: If you are in the market for an air fryer, I recently created a post about the best air fryers on the market. The post is based off of reviews from friends, family and online consumers! Be sure to check out the best air fryers on the market!
Simple Steps to Prepare this Air Fryer Jalapeno Poppers Recipe
First and foremost, start off with some fresh jalapenos. Be aware that not all jalapenos are created equal! I've eaten some that are mild, some that have no spice at all, and ones that will truly knock your socks off!
And honestly, that's the best part about jalapenos. With each and every bite, you have no idea truly what kind of flavor you are going to get!
After picking out your peppers, cut off the tops, and don't forget that you need to de-seed them! Important step! And another little tip?
Wear gloves when doing this step. SO many times I've cut open that jalapeno pepper, then forget and wiped my eyes later….the pain! It seriously will burn for hours.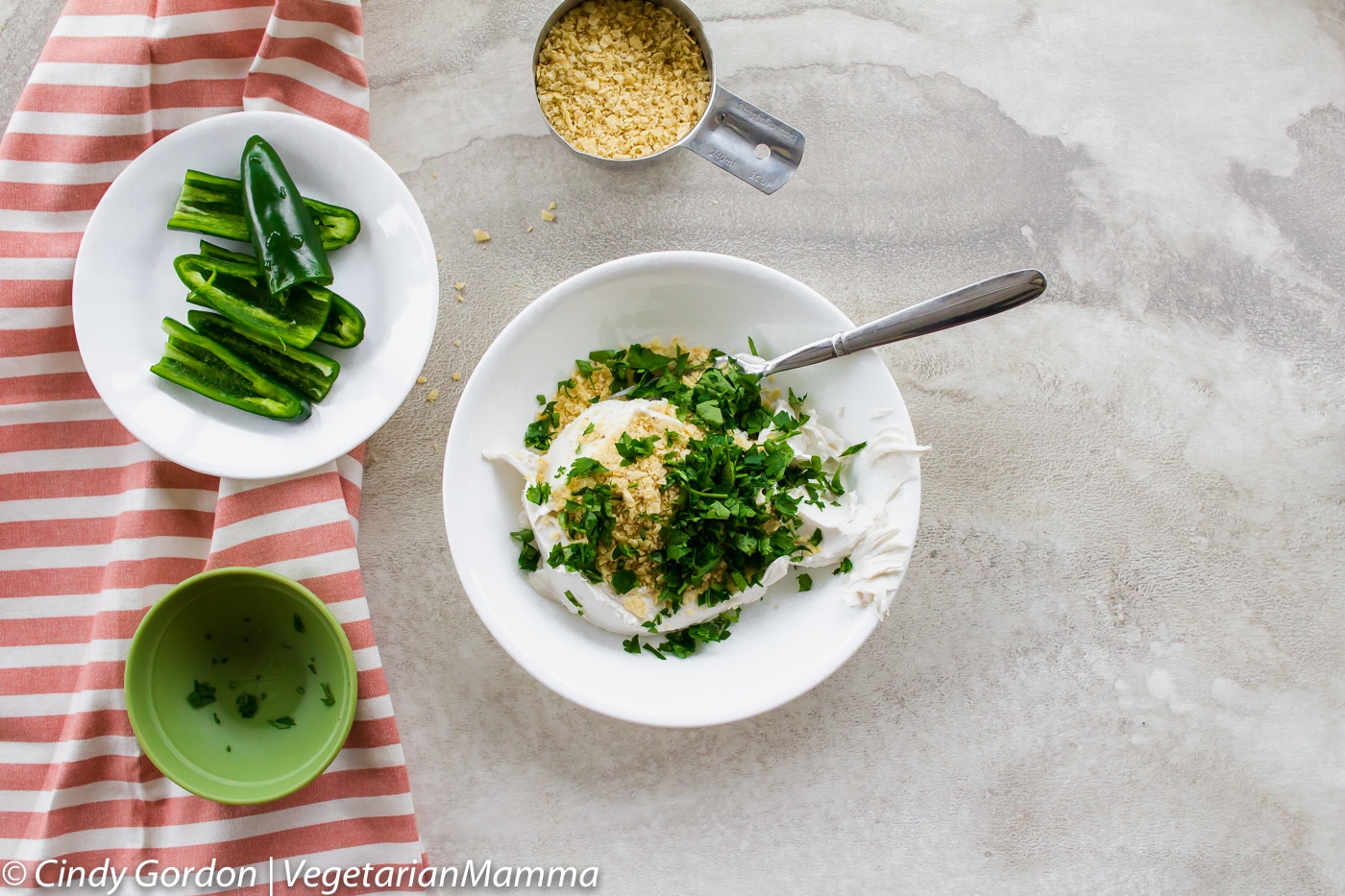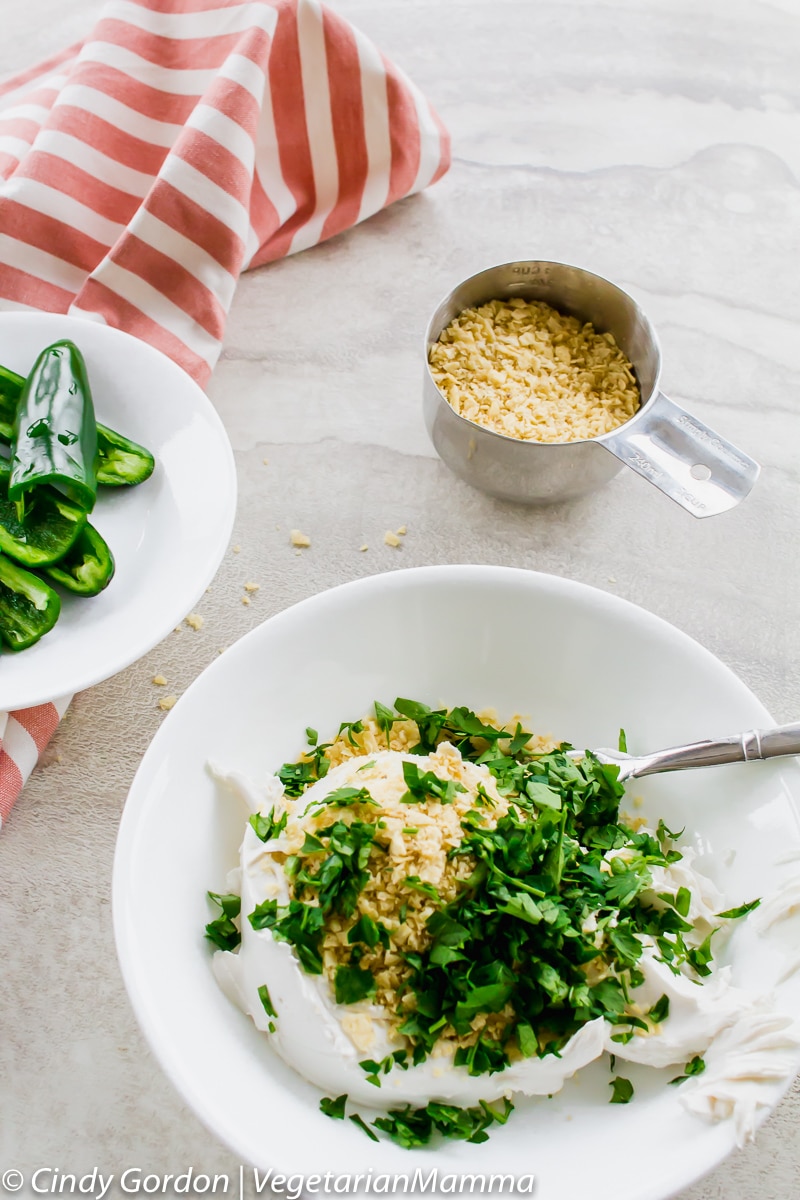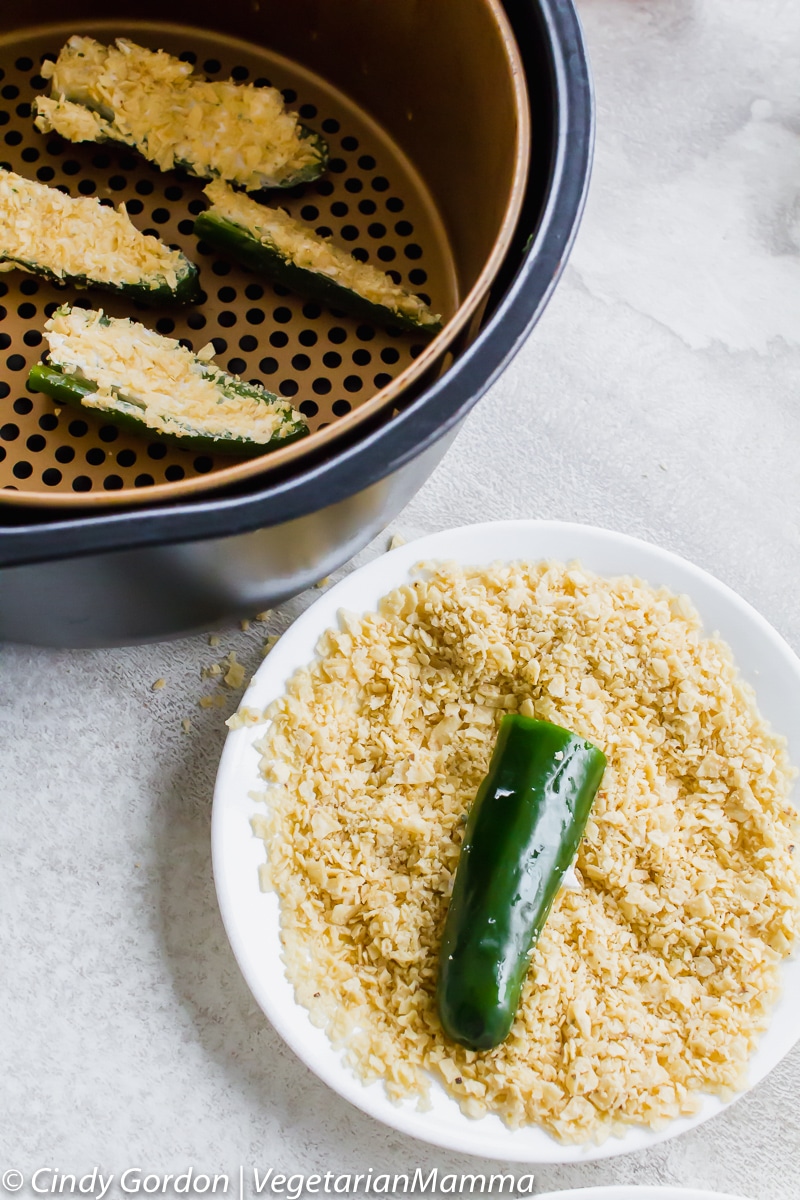 After taking out those tiny seeds, it's time to stuff those peppers! I LOVE this part! The middle part of those poppers are where a lot of that flavor is so if you are the one stuffing, you hold the keys to the kingdom!
And if you want them nice, plump and full of goodness, stuff 'em just that way! Can a Jalapeno Popper ever be stuffed too full? I think not.
Once you have them stuffed and the tops placed back on top, it's time to dip the poppers into a crushed tortilla mix. Easy tip? You can finely grind tortilla chips in your food processor to create a delicious naturally gluten-free topping! Or you can crush them by hand, check out my skills in the video below!
Or, if you are short and time, you can use store-bought gluten-free crumbs to do the trick! I've done it both ways and the taste is truly awesome either way!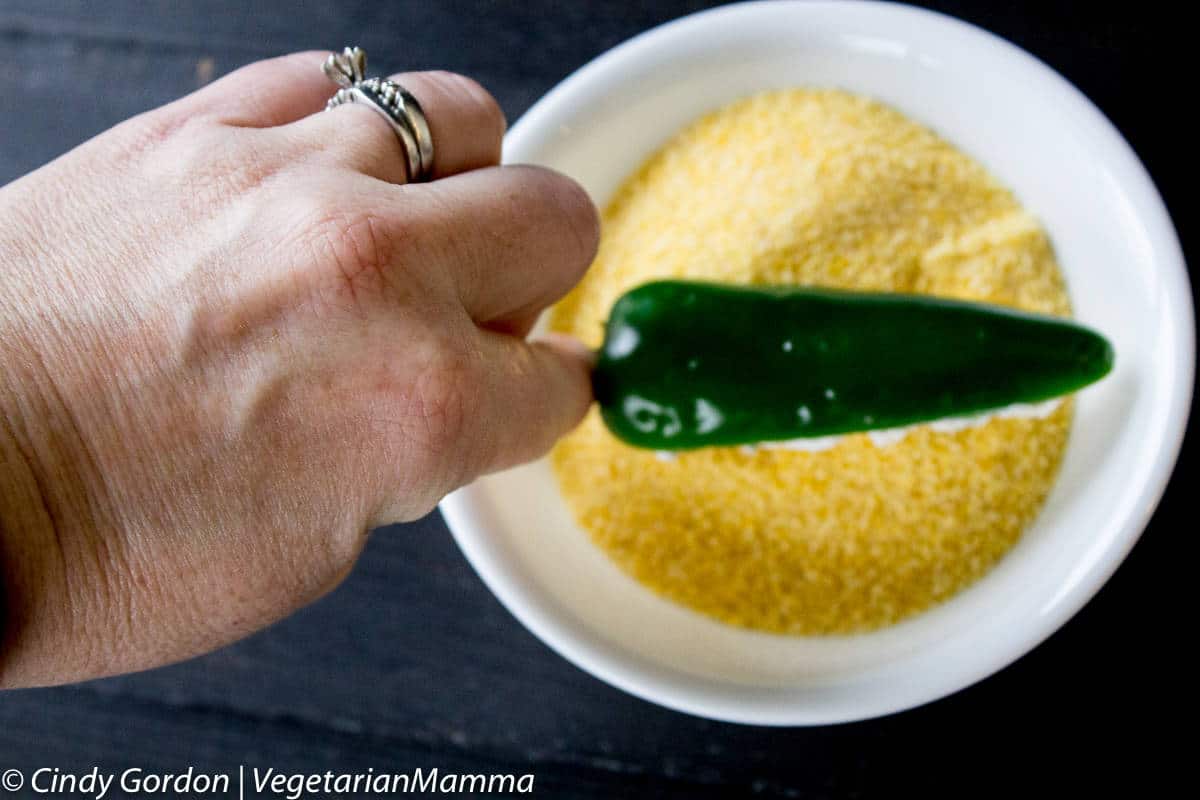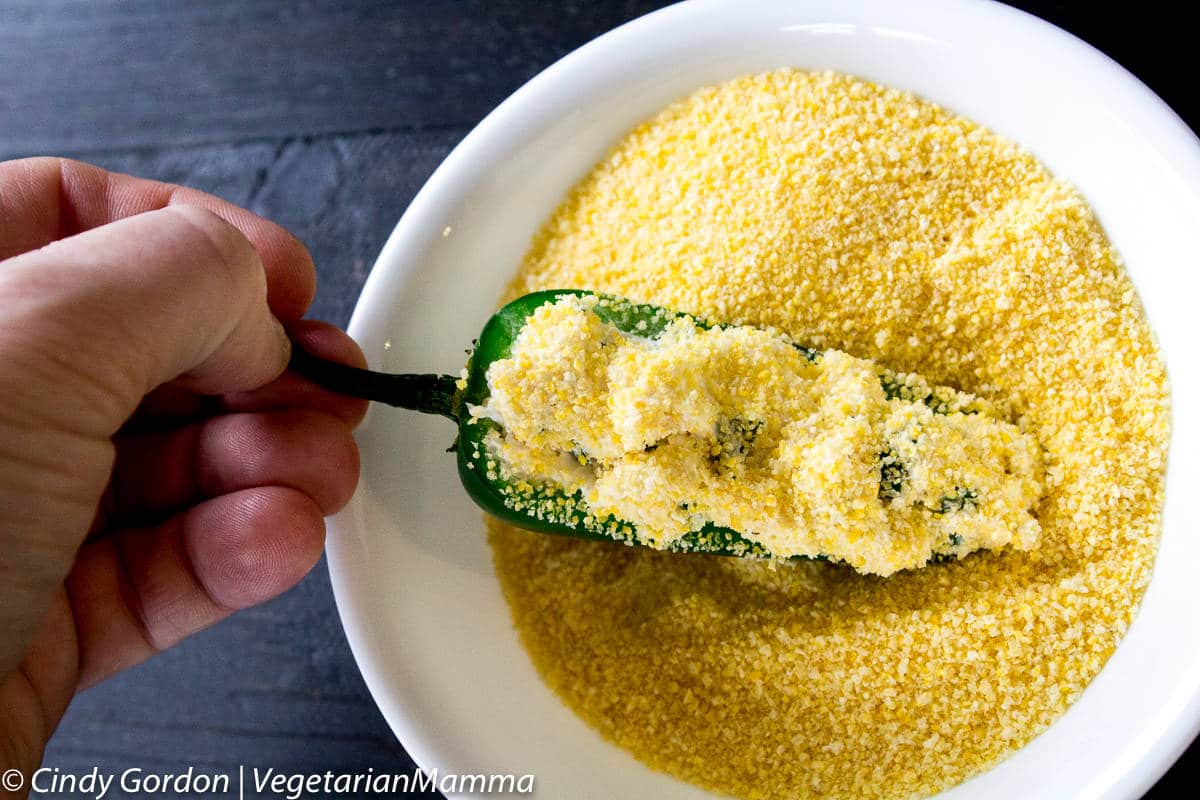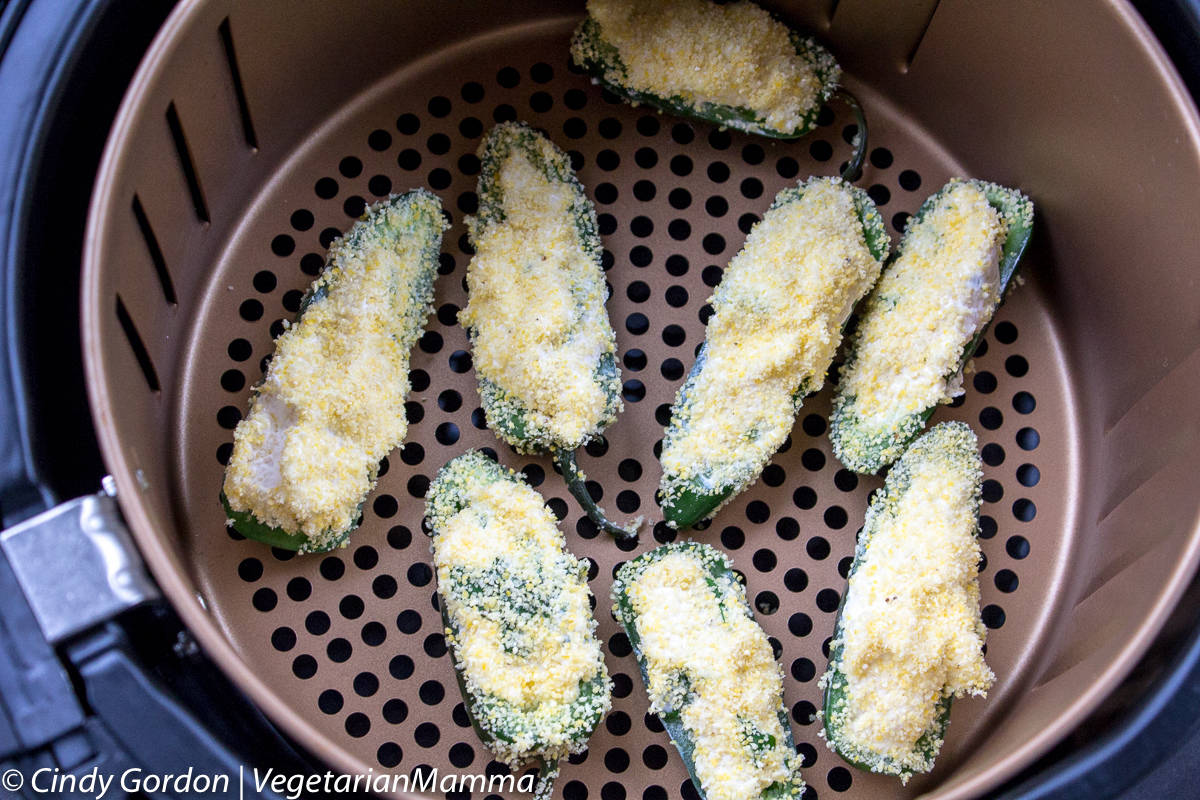 Nearing the finish line to be able to taste test these Air Fryer Jalapeno Poppers…
It's about this point in time that my mouth is truly watering for a bite of this Air Fryer Jalapeno Poppers recipe…and if you are anything like me, I bet you are getting hungry as well, right? Patience, my friend…trust me, they are worth the wait!
Once you've finished prepping, you can cook your jalapeno poppers in the air fryer if you have one OR you can bake them in the oven on a sheet pan! (ad) It is YOUR choice! Did I mention that in the air fryer these tasty treats only take about 6 minutes to cook!
In my mind, that's not a long time to have to wait for the first bite of these Poppers! At about the three-minute mark of cooking, those heavenly smells are starting to drift out from the air fryer, and that's when the tempting truly starts!
The great thing about this recipe? No matter which method you cook with, either way, the results are delicious! I am telling you that these are GOOD! Like, restaurant-quality good!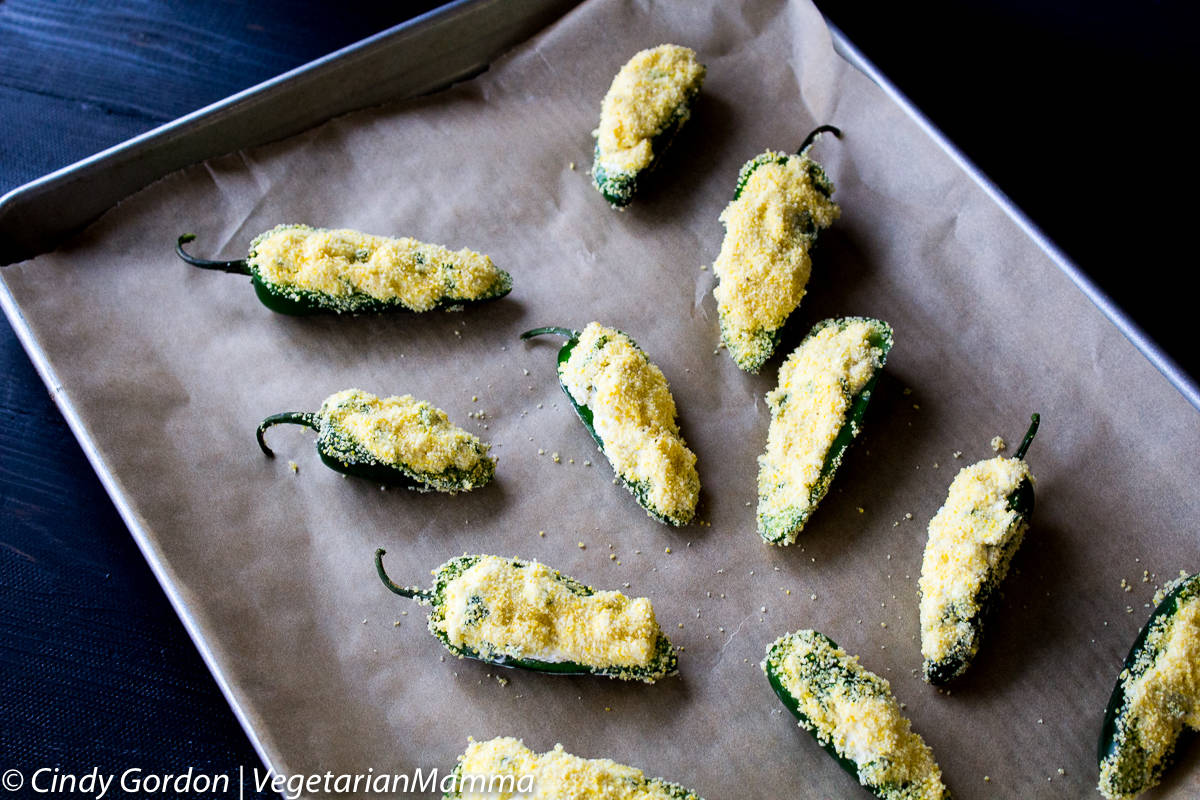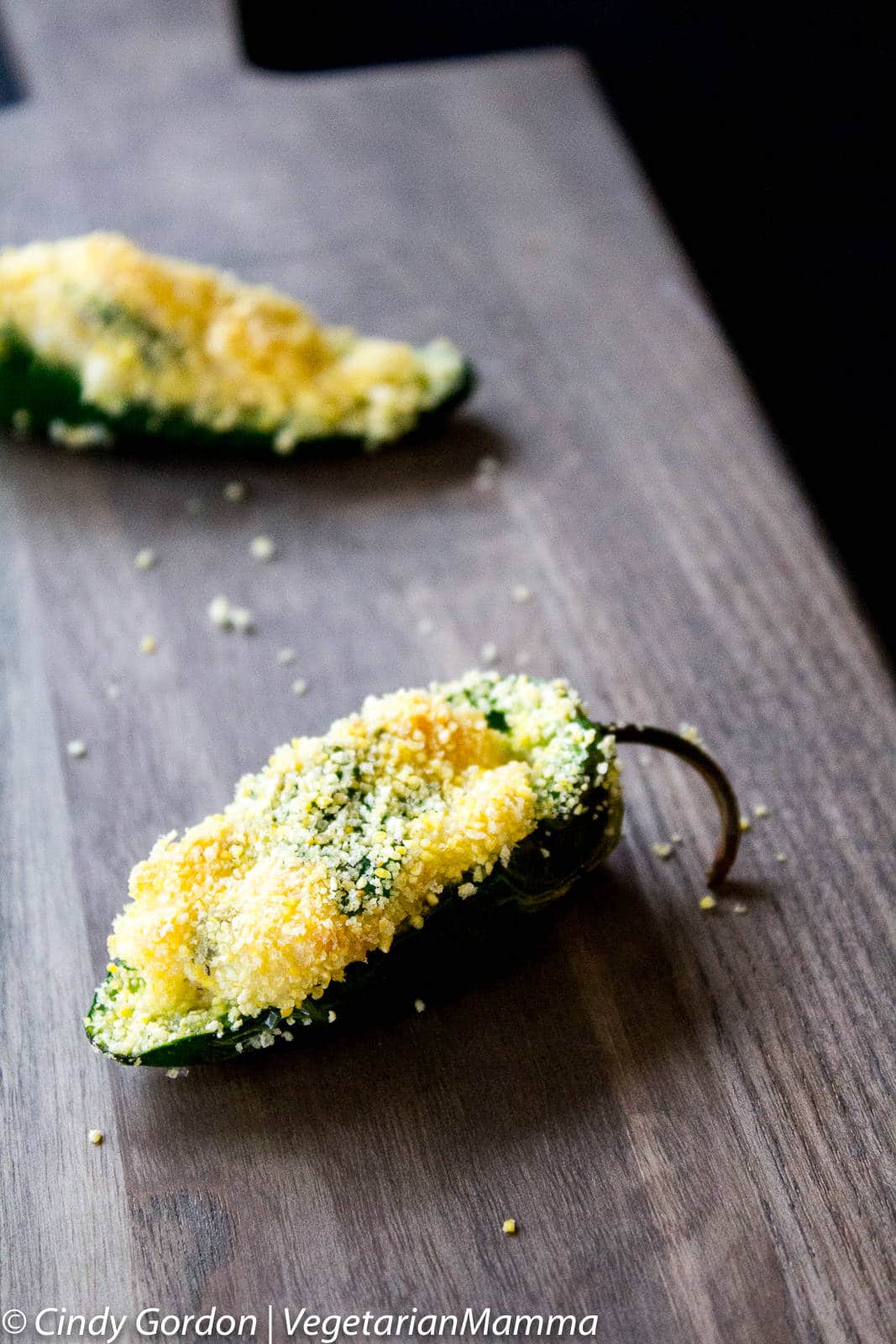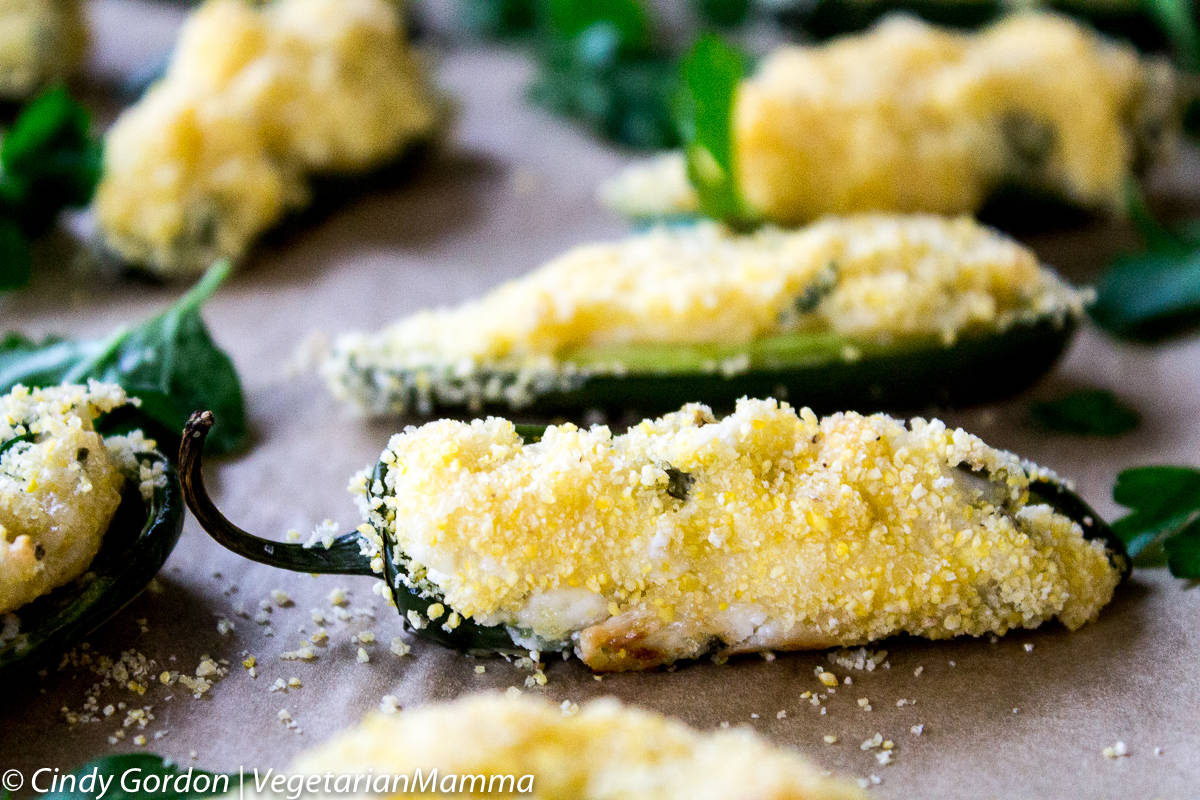 READY FOR THE AIR FRYER JALAPENO POPPER RECIPE?
Now that I've gotten your interest piqued on just how truly tasty these are, it's time for you to take the recipe and make your own! That crispy outside topping, surrounding the creamy inside and spicy pepper….each bite seriously gets better and better.
I've tried and failed, many times to limit myself to snacking on just one or two when I've cooked up these delicious snacks. And while I try my best, I'm not sad to admit that I failed each and every time at this challenge.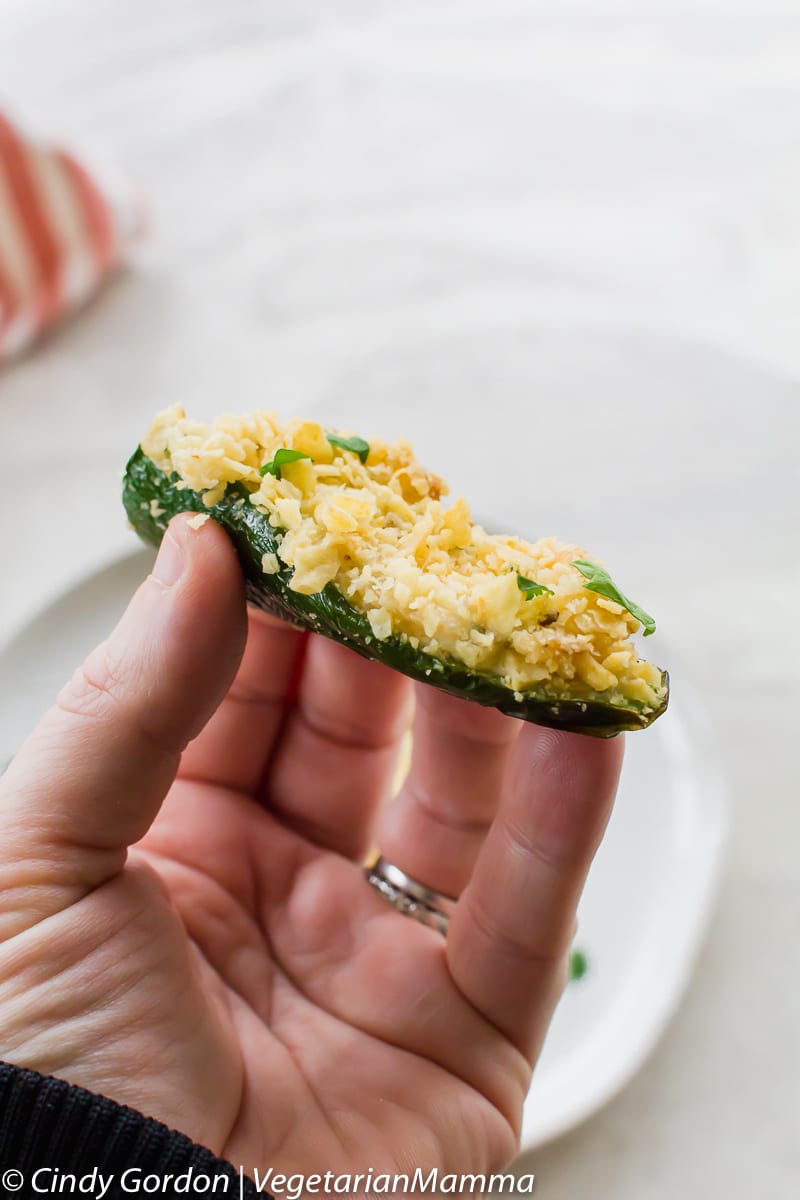 This jalapeno popper recipe is simply amazing! And if you are looking for more gluten-free snack ideas? Be sure to check out our recipe index where you're certain to find a ton other great gluten-free recipe options that are certain to tempt your taste buds just like this recipe!
Pin this vegan jalapeno popper recipe: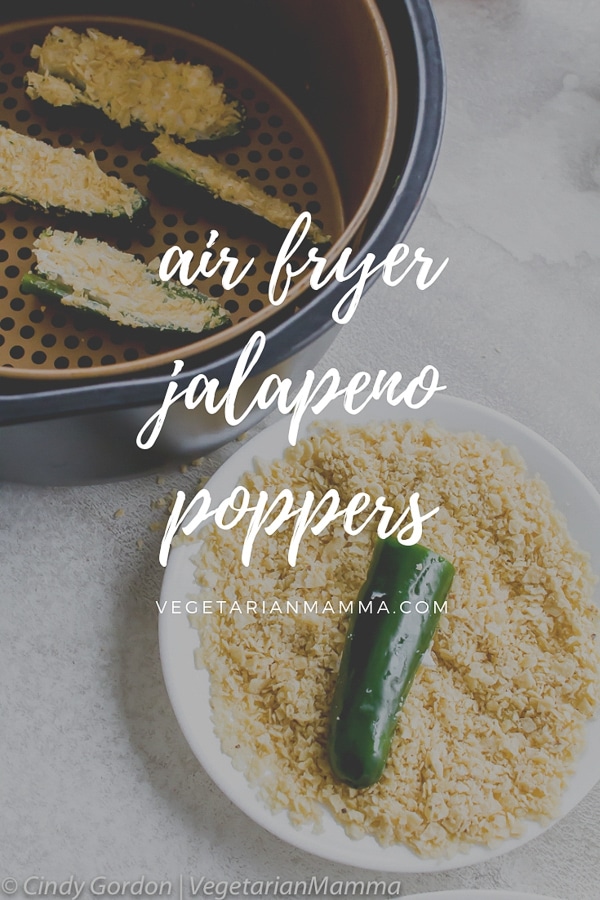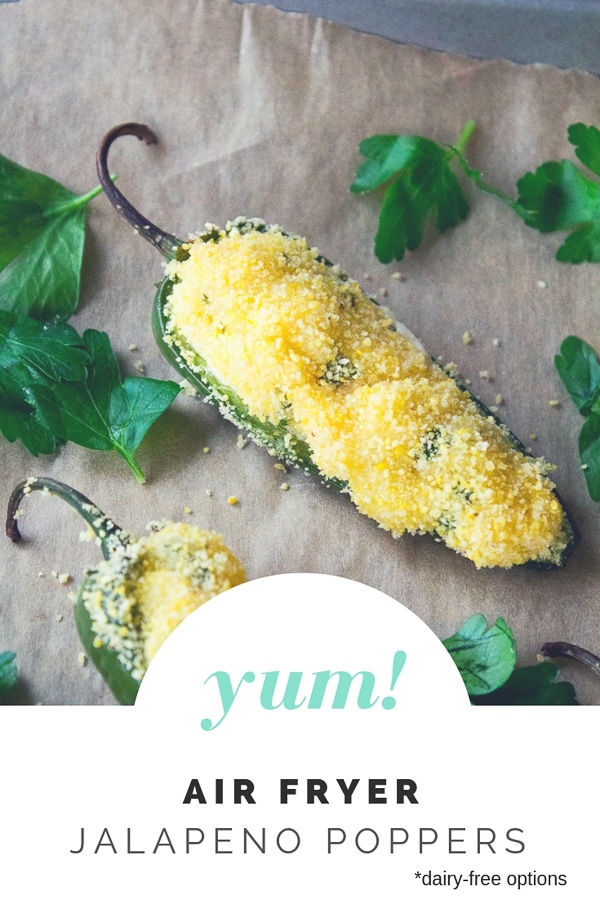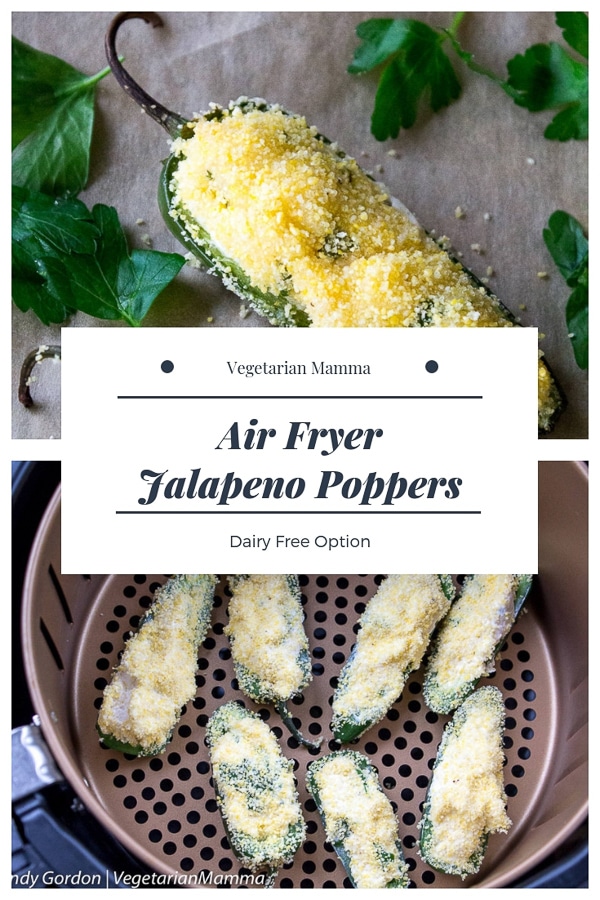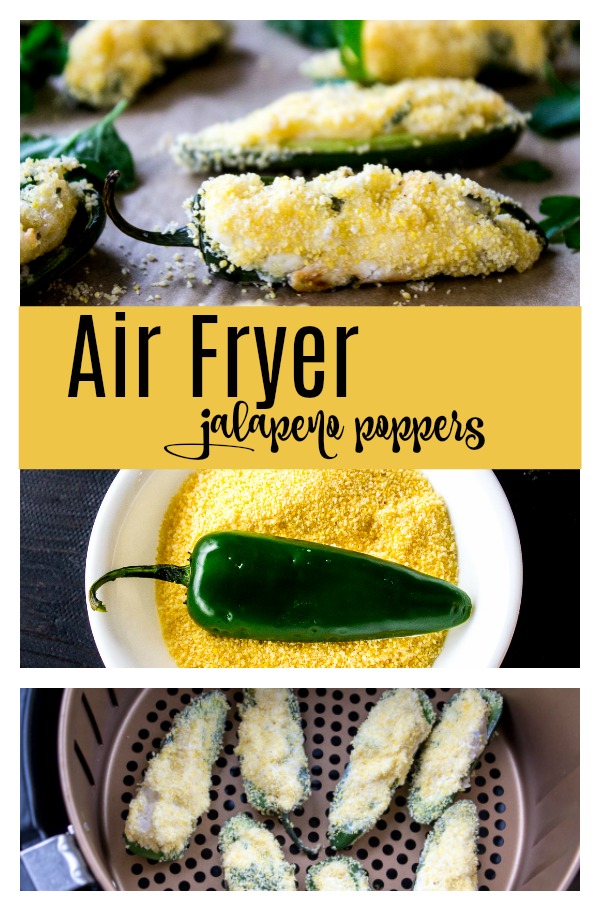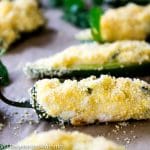 Print Recipe
Air Fryer Jalapeno Poppers - A delicious gluten-free snack
Ingredients
10

jalapeno peppers

halved and deseeded

8

oz

of cream cheese

I used a dairy-free cream cheese

1/4

c

fresh parsley
Instructions
Mix together 1/2 of crumbs and cream cheese. Once combined add in the parsley.

Stuff each pepper with this mixture.

Gently press the tops of the peppers into the remaining 1/4 c of crumbs to create the top coating.

Cook in an air fryer at 370 degrees F for 6-8 minutes OR in a conventional oven at 375 degrees F for 20 minutes.

Let cool and ENJOY!
All though this website attempts to provide accurate nutritional information, the information should only be considered an estimate. Varying factors such as different product types, different brands, etc. can change nutritional information. It is your responsibility as a consumer to read all labels to make sure the ingredients fit your dietary needs as well as calculate your own nutritional information as a double check.
QUESTION: Have you ever made jalapeno poppers before? If you have a special recipe or a flavor combination that you love, I'd love to hear about it!
Want more?
You might also like our Air Fryer Brussel Sprouts!
Or you might enjoy our Air Fryer Baked Potatoes!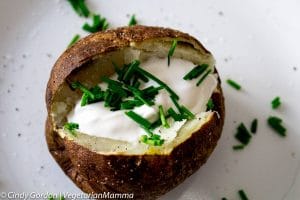 Love Grilled Cheese? Maybe Air Fryer Grilled Cheese is what you need!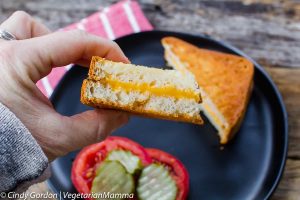 This air fryer tofu recipe is very simple and delicious!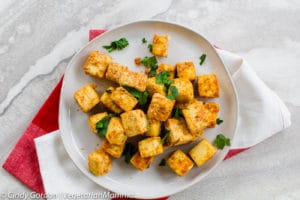 We recently added some new updated pictures to this post, below are some of the older ones!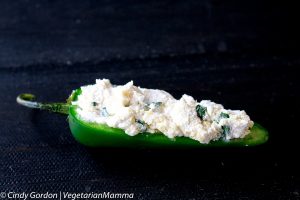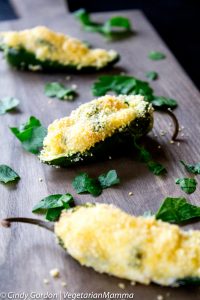 This post does contain an amazon affiliate link to an air fryer.