Air Fryer Pumpkin Seeds are a delicious snack that you will love! This air fryer recipe lets you enjoy crispy roasted pumpkin seeds in 15 minutes!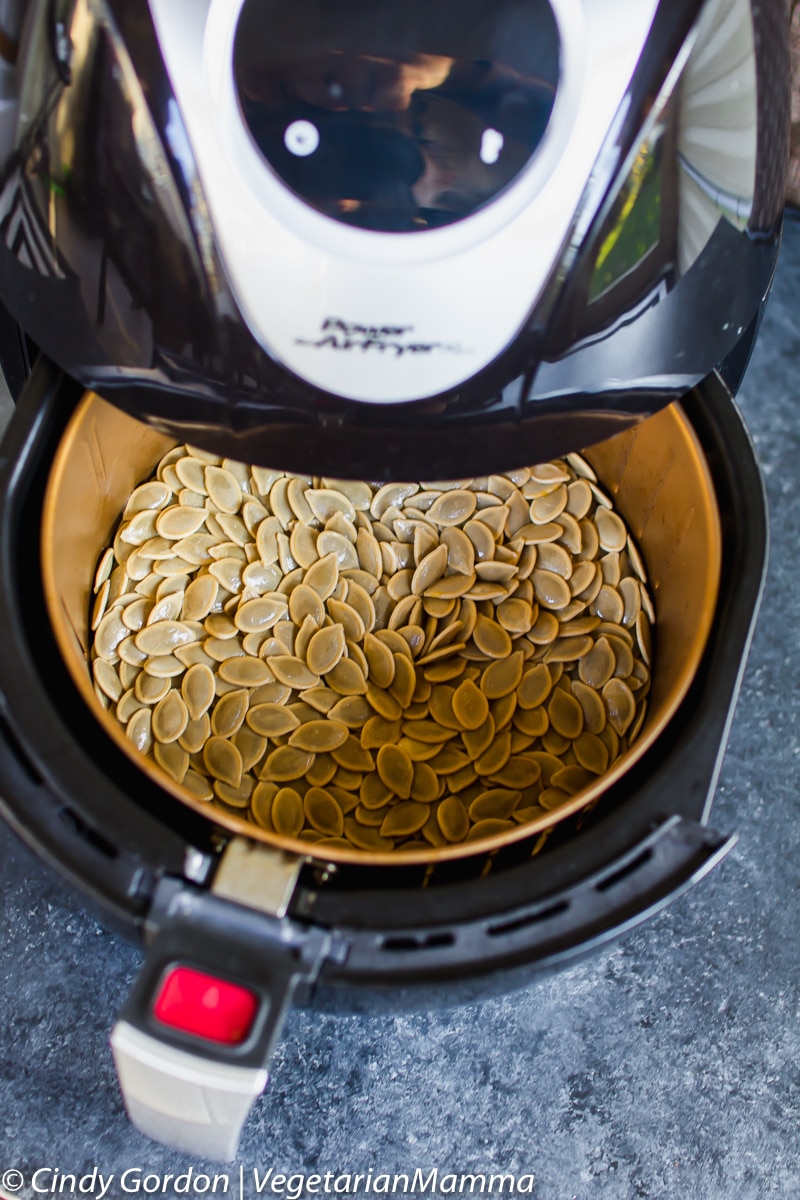 Air Fryer Pumpkin Seeds
Do you love roasted pumpkin seeds? Yeah, me too! For us, October is the one time of the year that we enjoy this snack. Though I wish that I could enjoy it all year long.

We still have fun picking pumpkins with the kids. We have however, started to get even busier and the kids have less interest in carving them for Halloween.
The past two years we have been so very busy with soccer. I recently saw a meme on Facebook that hit close to home! It made me laugh hysterically!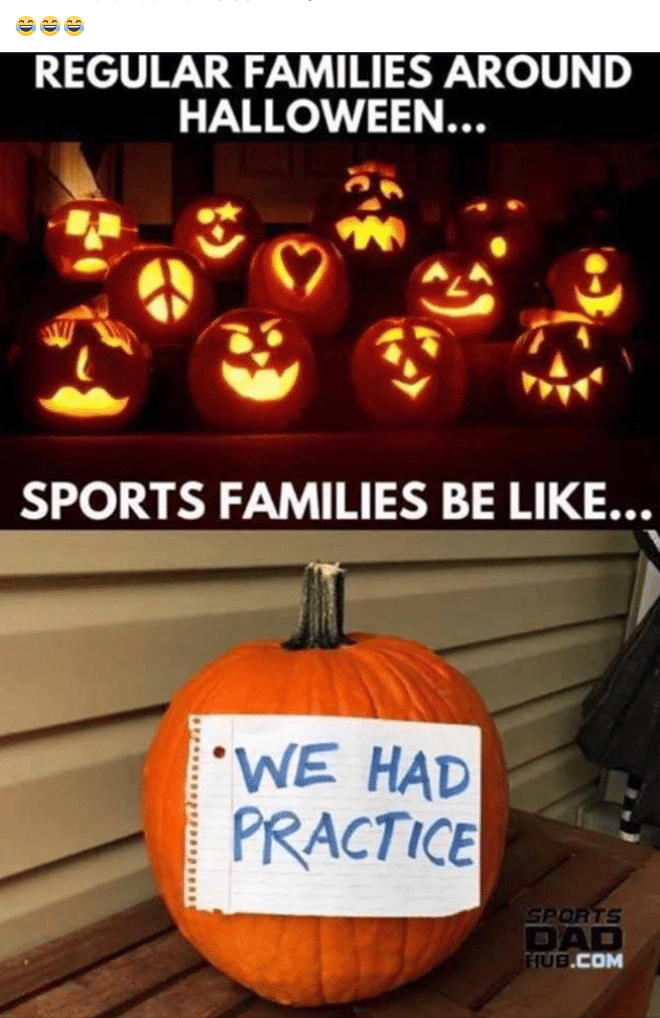 If you are a busy sports family, I am sure you can relate! So this weekend, we finally had a weekend off. No games, no tournaments. So we harvested all the pumpkin seeds from our pumpkins!
We decided that we'd give them a try in our most favorite piece of kitchen equipment! This was the BEST decision ever. The pumpkin seeds turned out crisp and perfect! I am so excited for you to try this!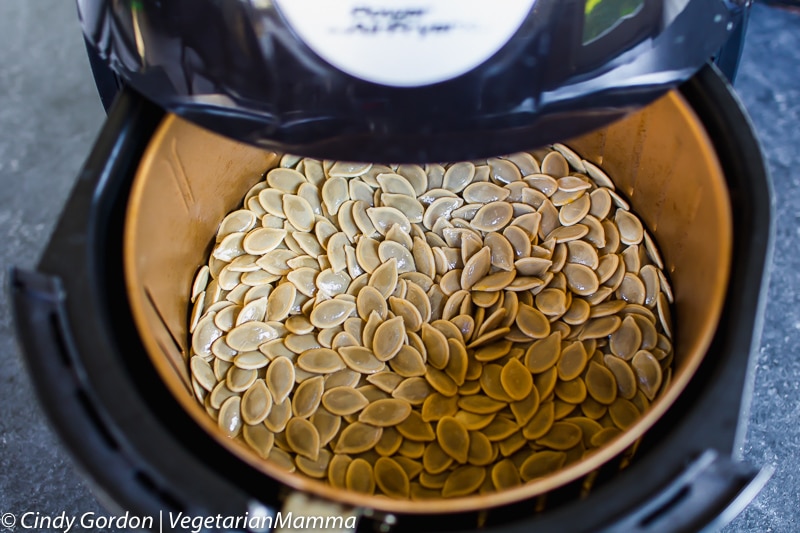 Pumpkin Seeds 101
So what do you think is in that little pumpkin seed? It is actually packed with nutrients! You can benefit from healthy fats, magnesium and zinc when you snack on pumpkin seeds.
If you remove the outer white-ish shell from the pumpkin seed, you will find the inside seed. That sheet is often green, flat and oval!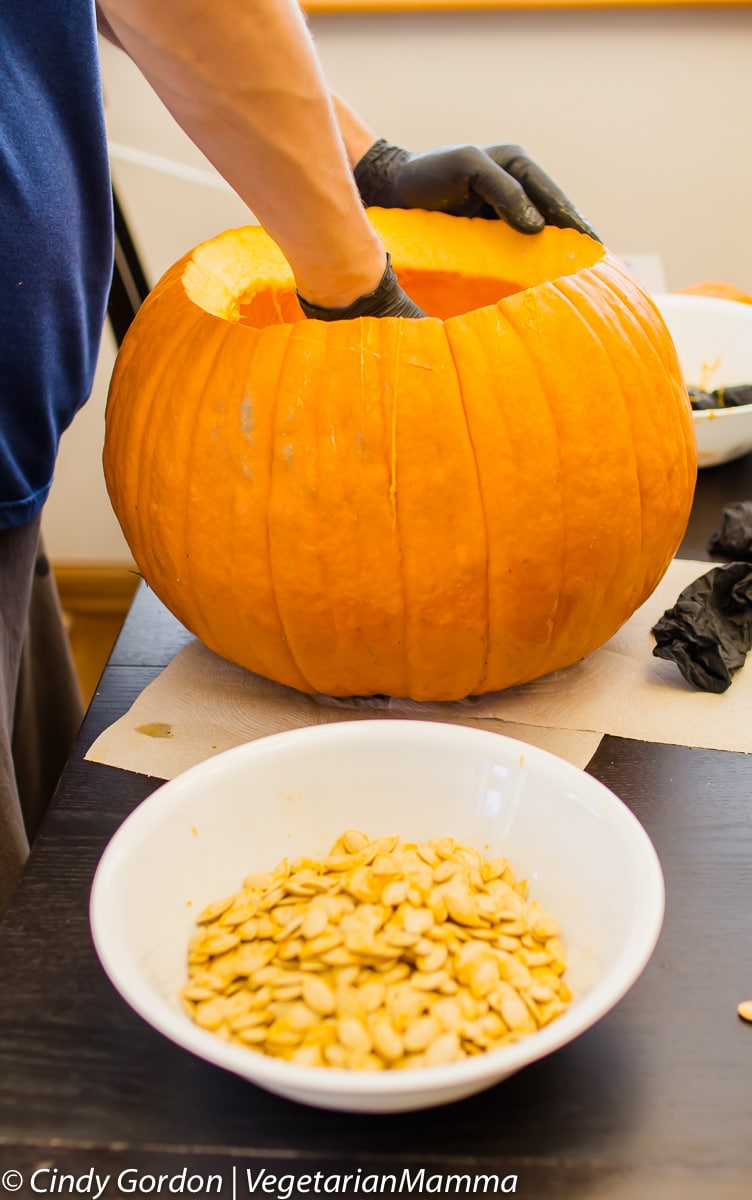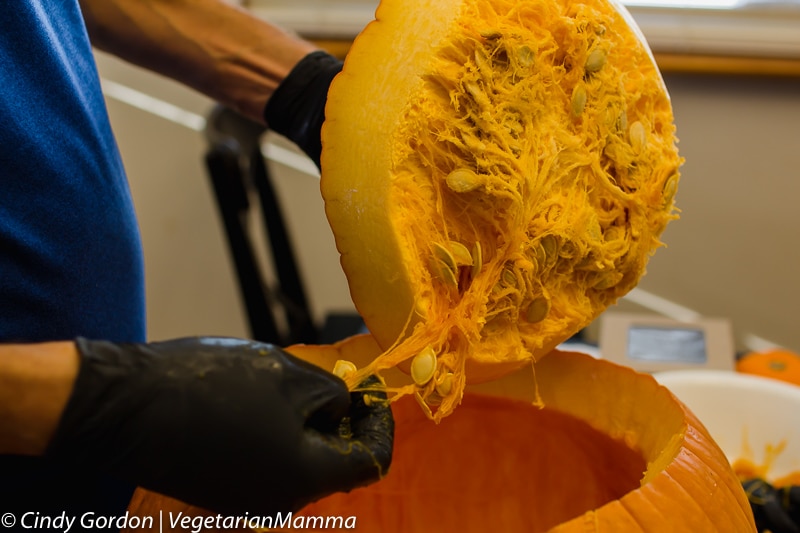 WHAT CAN YOU ACTUALLY COOK IN AN AIR FRYER?
The options of what you can cook in this amazing appliance are truly endless! You know I'm crazy over this recipe, but we've also cooked tofu, potatoes, french fries, Brussel sprouts and more! Anything that your taste buds want to try straight out of this gadget, give it a go!
While we don't eat meat in our family, that doesn't mean that you can't cook up some fried chicken, chicken tenders, or anything else beer battered or deep fried to that perfect golden brown that you love and that you want with ease in the air fryer basket.
The great part about cooking with an air fryer? The cook time is a breeze. Like literally no time…at all.
I have been experimenting with all types of food and some beautiful green tomatoes caught my eye at our local market. I just had to try them in the power air fryer!
For us, we love to use our Power AirFryer XL (affiliate ad link) Yes, so that makes all of our air fryer recipes, specifically power air fryer xl recipes!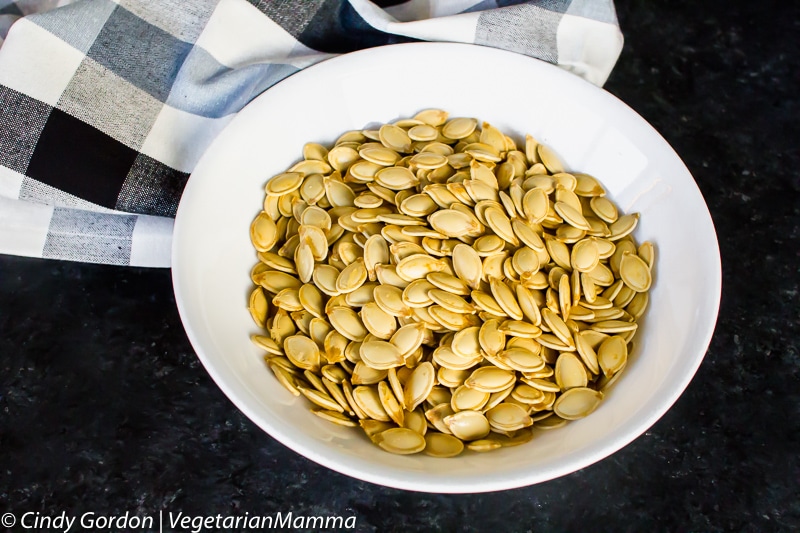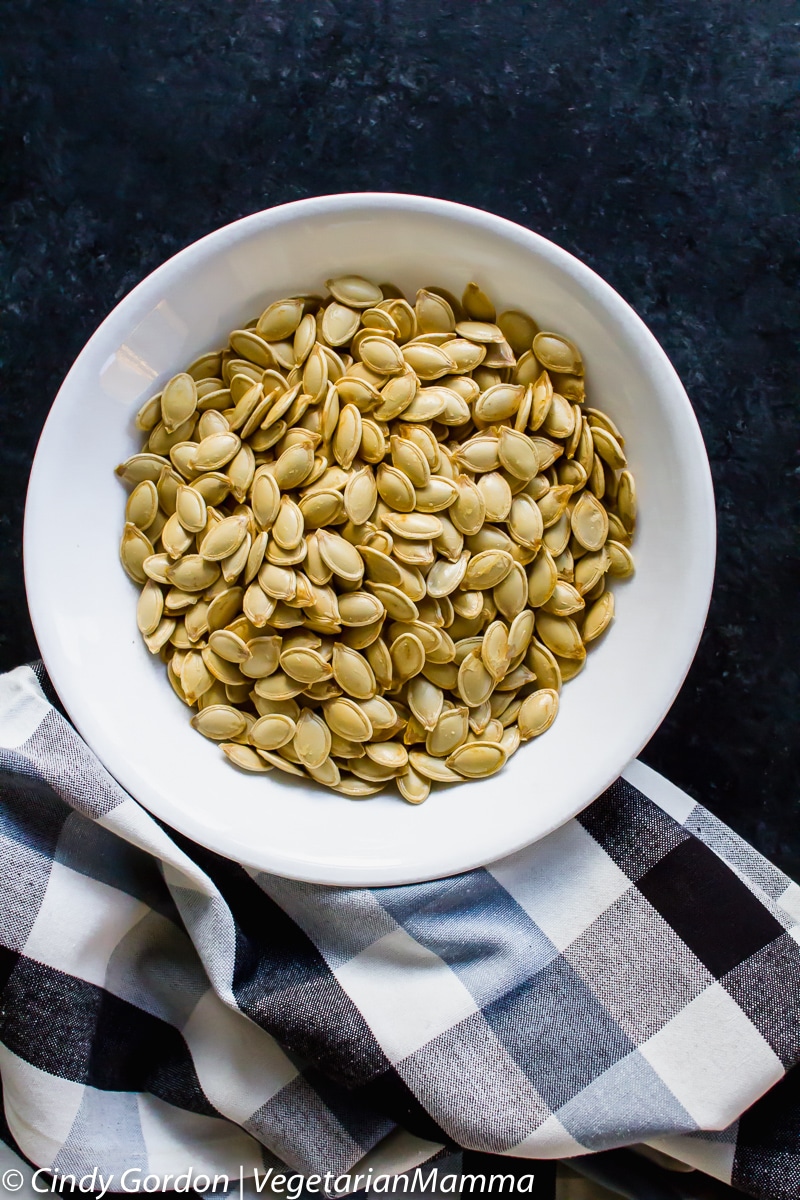 HOW EASY IS IT TO USE THE AIR FRYER?
When I say it's super simple, it's simple. You literally set the temp, figure out the time, and wait for that food to be done.
Is there any other appliance out there that is as simple as that? And clean-up? A total breeze.
If appliances were made to help you out in the kitchen and save you time, this power air fryer xl does just that. You'll be working in the kitchen so much less with the use of this appliance!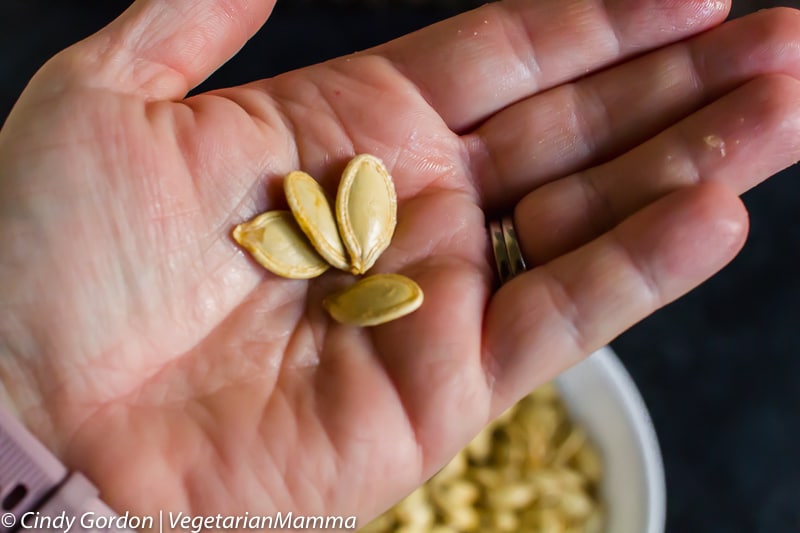 AIR FRYER SUCCESS EACH AND EVERY TIME
I've owned my air fryer now for a while, and I have to be honest…I've yet to find a recipe that I don't love. And did I mention how simple it is?
To say I'm a creature of habit is an understatement. I love being able to cook a meal and know with confidence that it's going to taste amazing each and every time.
With the Air Fryer, I absolutely have no doubts. I know that from the moment I press start, to the moment that I remove the food from the machine, it will be cooked to perfection each and every time.
Air Fryer Pumpkin Seeds Video!
I want you a video to show you just HOW easy this is! Check it out!

Start at
0:02
How do I clean my air fryer?
That is a great question and it will vary by model. For our power fryer Xl we have a removable inner basket. So we can hand wash each basket individually.
The inside of the air fryer really shouldn't get dirty. If it does, let it COOL completely. Then take a damp rag and wipe out the inside. Cleaning your oil less fryer is easy! I promise they are easy to clean!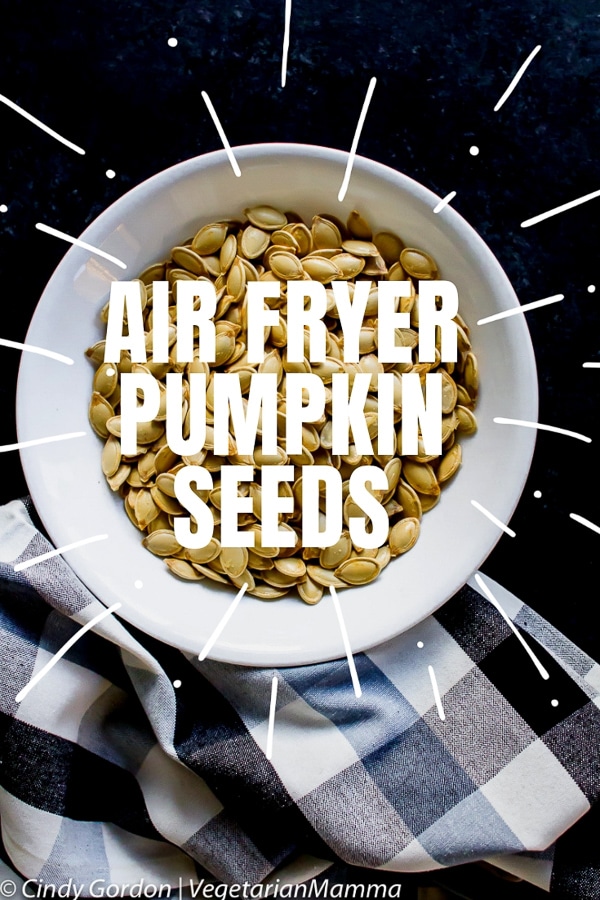 Air Fryer Recipes:
Still don't have an air fryer of your own? Be sure to check out our air fryer reviews from several of the top models out there.
You can pin this air fryer recipe for later: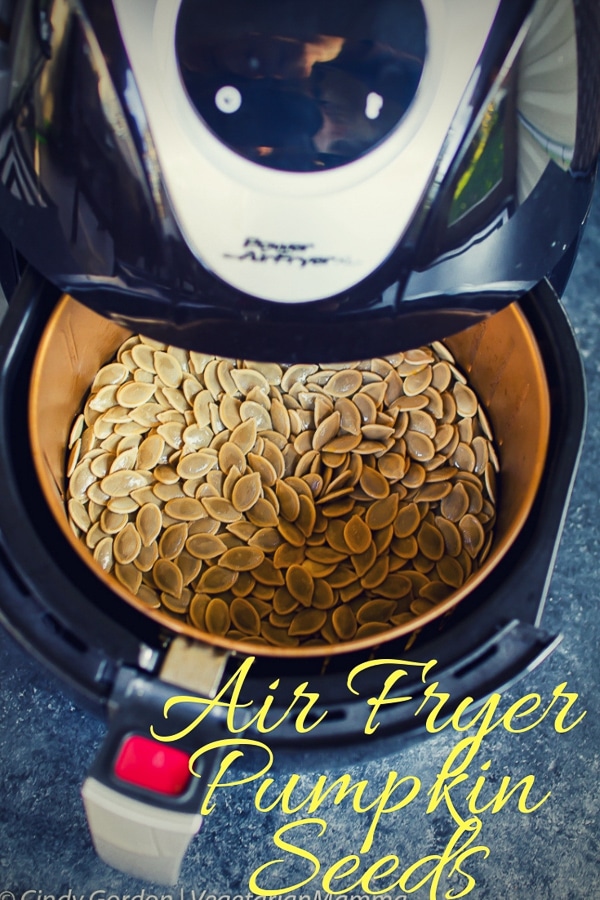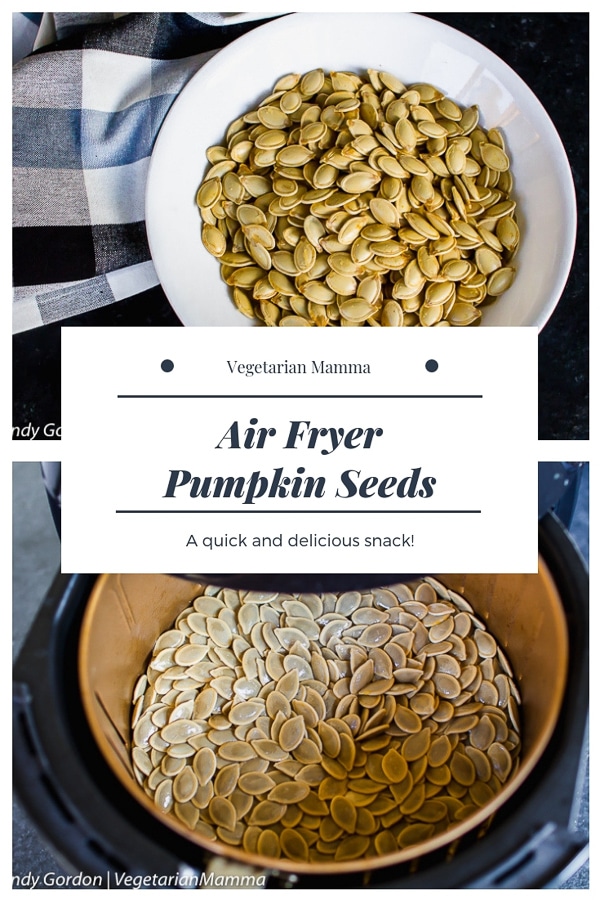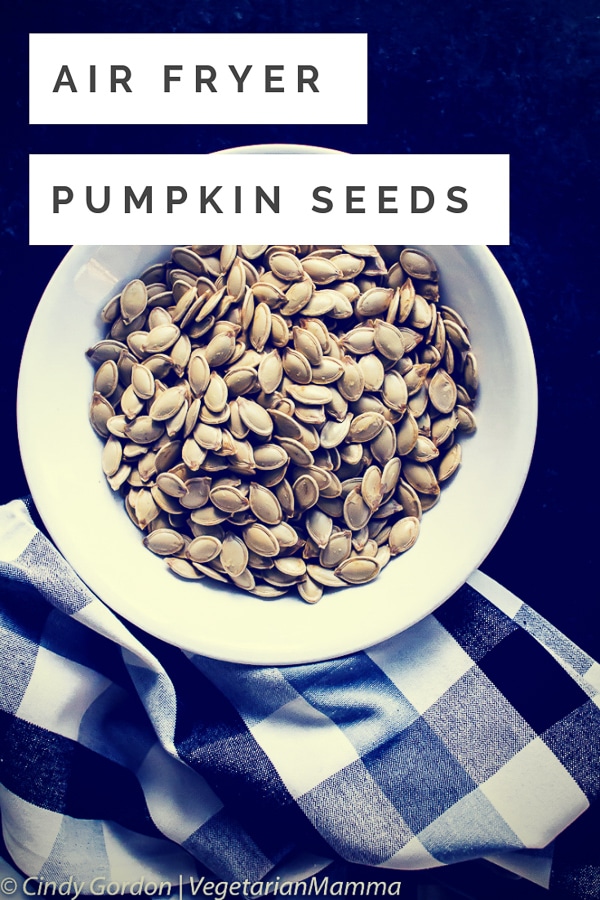 Hungry? Let's show you how to make this pumpkin seed recipe!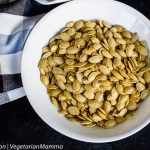 Print Recipe
Air Fryer Pumpkin Seeds
Air Fryer Pumpkin Seeds are a delicious snack that you will love! This air fryer recipe lets you enjoy crispy roasted pumpkin seeds in 15 minutes!
Ingredients
2

c

fresh pumpkin seeds

harvested directly from pumpkin and cleaned

1.5

T

butter

dairy or dairy free

1/2

t

garlic salt
Instructions
Harvest seeds from pumpkin. Wash seeds.

Put a large pot of water on the stove to boil. When water starts to boil, boil the pumpkin seeds for 5 minutes. Drain.

Put pumpkin seeds into bowl. Toss with butter and garlic salt.

Put seeds into air fryer basket. Air Fry for 15 minutes at 360 degrees F. Shake half way through.
Notes
If you like a crunchy pumpkin seed, you can add 2 minutes to your time until you reach your desired crunchiness!
Nutrition
Calories:
25
kcal
|
Fat:
2
g
|
Saturated Fat:
1
g
|
Cholesterol:
7
mg
|
Sodium:
219
mg
|
Vitamin A:
90
IU
Have you tried roasting pumpkin seeds before? I'd love to hear about your experience. Drop me a comment below!