Onion Dip is a savory snack that will please your family and friends. Crack open a bag of chips and dig in!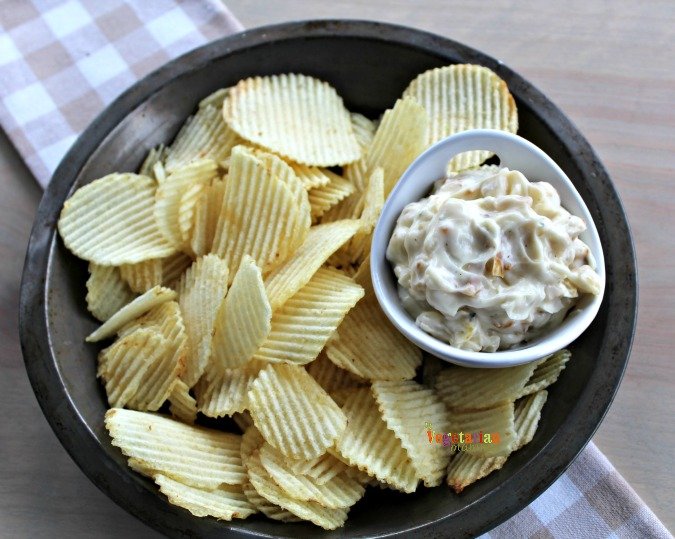 Looking for a replacement for those store made French Onion Dip brands that are full of things we can't or shouldn't eat? Yeah, me too!
This recipe is gluten free, dairy free and nut free.
It is also free from gelatin, which I have often found in store brands. This recipe is very easy to make and travels well.
It will be the star of the party, IF you choose to share it! I adapted this recipe Give it a try, you will love it!
Onion Dip – Perfect for late night snacking!
Author:
Cindy Gordon (Vegetarian Mamma)
Ingredients
Olive Oil - enough to caramelize the onions 1-3T
1 cup diced onion (be sure to dice VERY small)
1½ cups Vegan Mayo (I used Hampton Creek)
¼ t garlic salt
¼ t pepper
Instructions
Saute onions with olive oil.
Continue to cook onions until they have caramelized. I had to stir frequently and it took about 12 minutes. Then transfer to a plate to cool.
Mix together the remaining ingredients. When onions are cooled, add them to the mixture.
Chill for a couple of hours. Serve!
As you are adding in the garlic salt, you can taste the dip.
However, I caution you about adding more. Let the dip chill for an hour or so then taste test again.
It gives time for the flavors to blend together. It is easy to overdue it with the garlic salt!

Leave me a comment telling me your favorite kind of dip! Is it Onion Dip?