Cherry pie filling dessert is basically a relaxed version of cherry cheesecake. This dairy-free and gluten-free fluffy cheesecake also doubles as a cherry delight dessert recipe.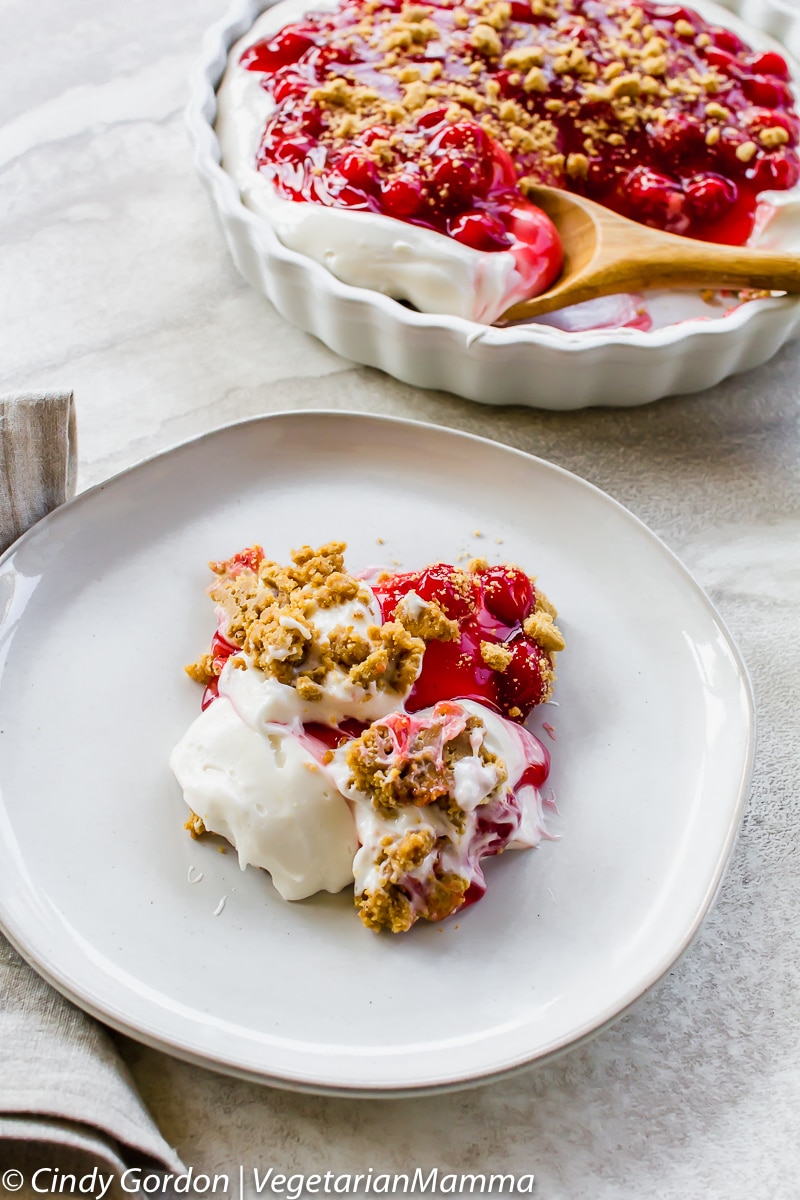 Cherry Delight Dessert (Gluten and Dairy Free!)
This post was sponsored by Schär. The opinions and ideas are our own.
Let me start with, this is not your traditional gluten-free cheesecake recipe. The delicious "cheesecake" portion is not firm, it is fluffy. This isn't a dessert that you will be serving in a slice. This dessert is addicting and served by the spoonful!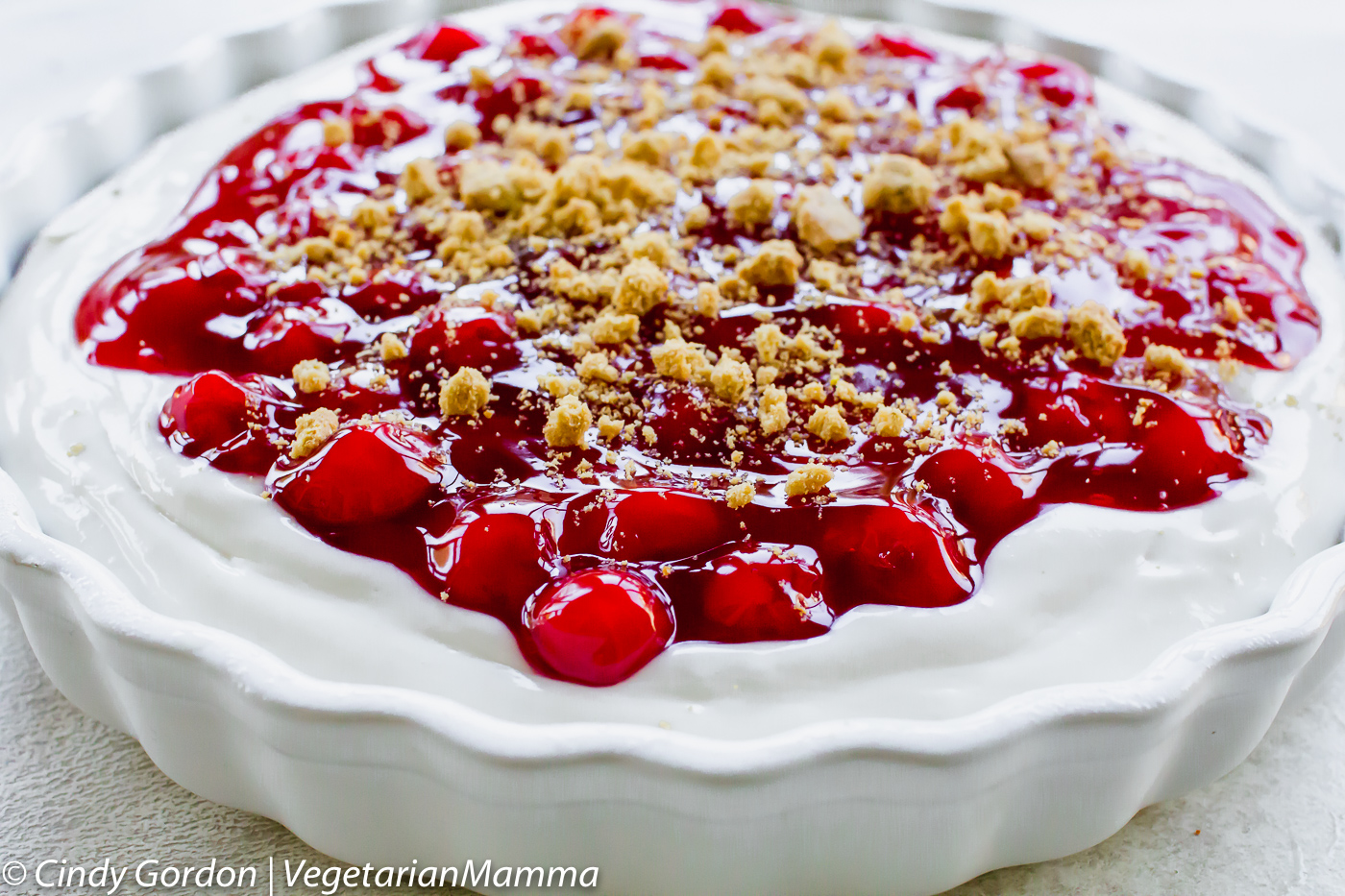 If you are a fan of cream cheese desserts, this no-bake cherry cheesecake (again using that term lightly) will become a fast favorite with your family. This dessert can be served at Sunday Supper, on your Holiday table or for any dinner. It is beautiful and makes a statement on your dinner table, yet it is so simple to construct that your children could make it!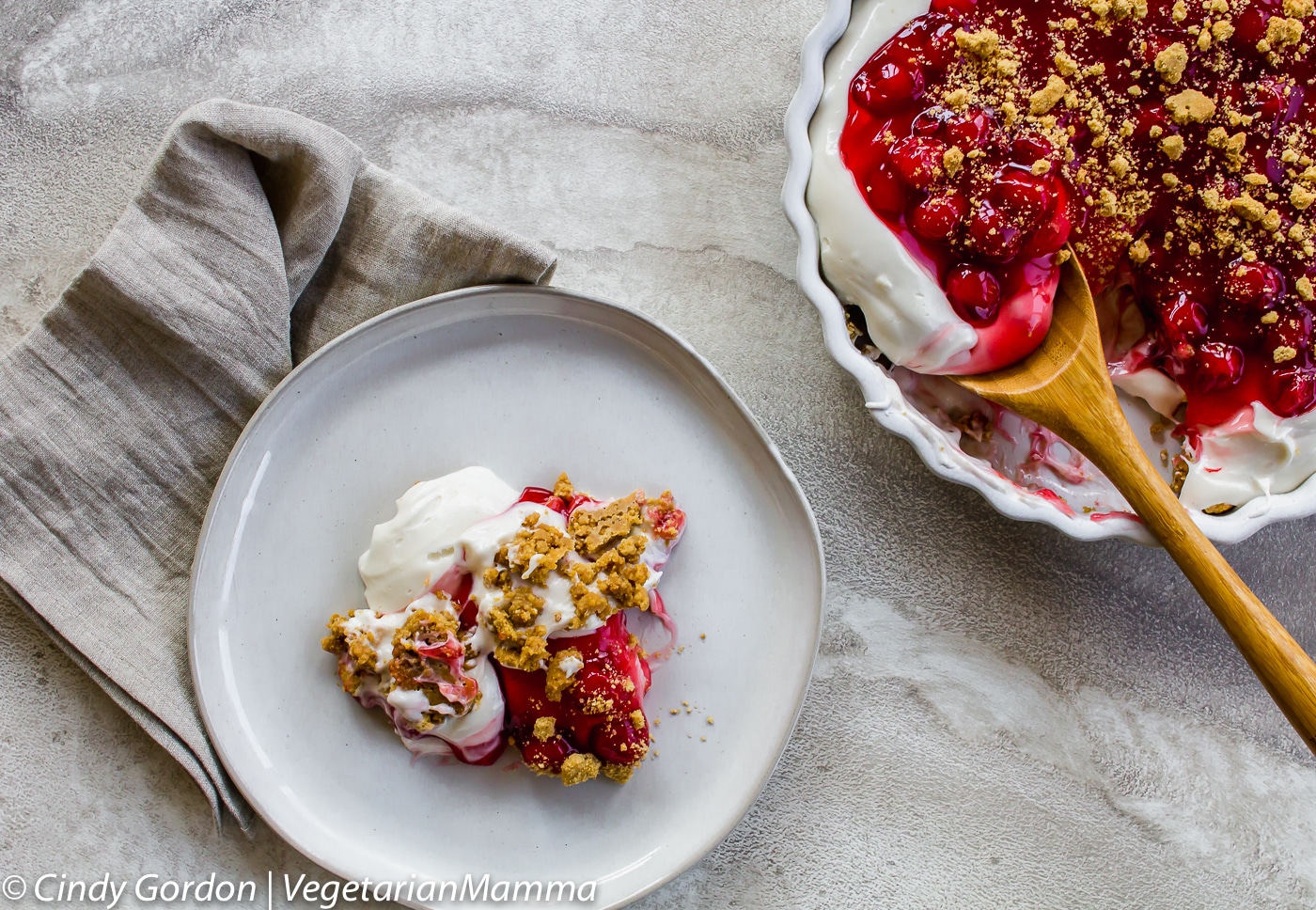 How to Make Gluten-Free Cherry Delight Dessert Recipe
The recipe is simple. I put the entire recipe at the bottom of the post in a printable recipe card. I also took some step-by-step pictures that will help you see each part of the process.
1. Make the Graham Cracker Crust
You are going to crush the graham crackers. I love to put them into a bag and then smash them. This is a great job for your kids! It is an easy way to get them involved in the kitchen!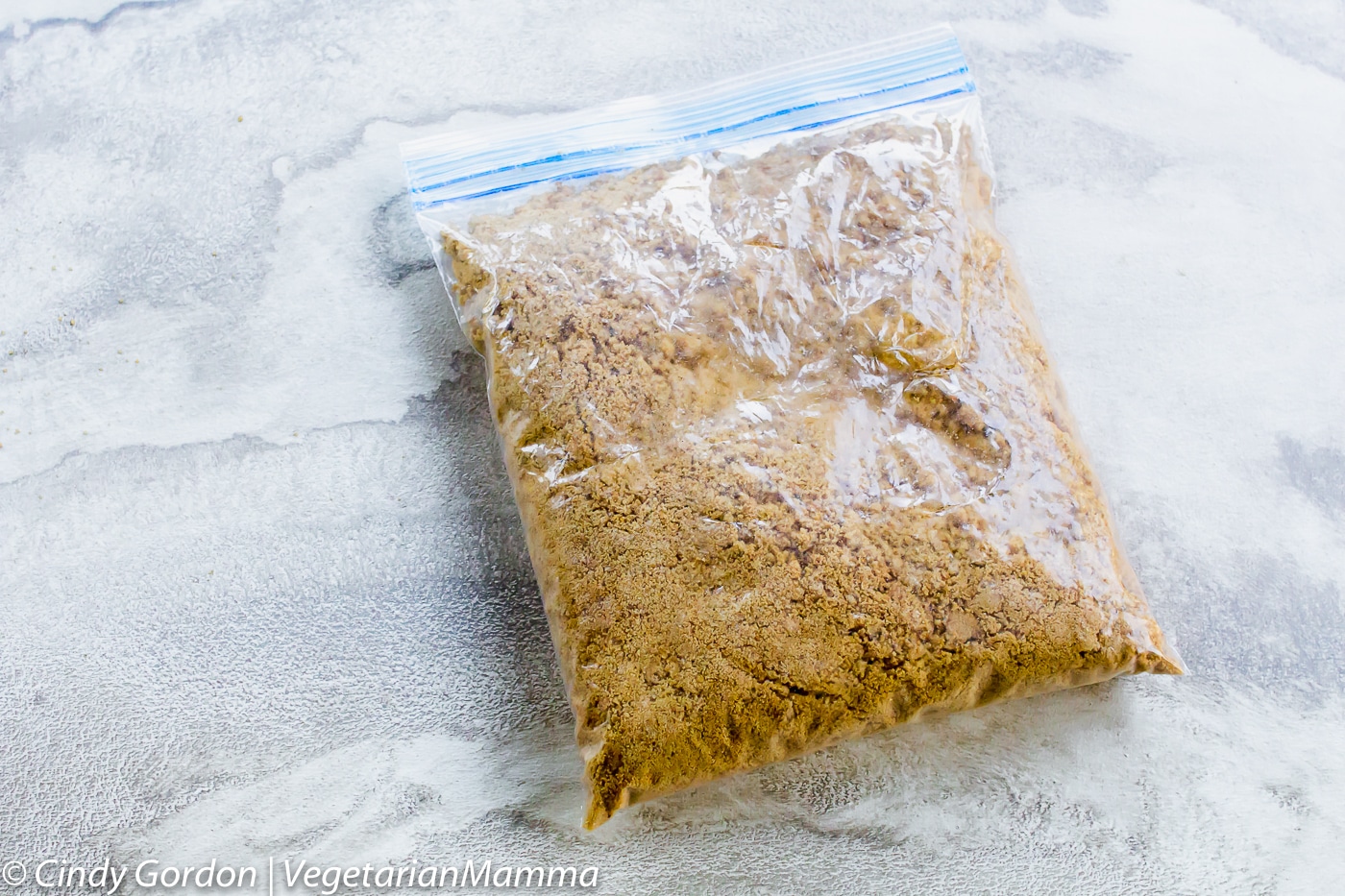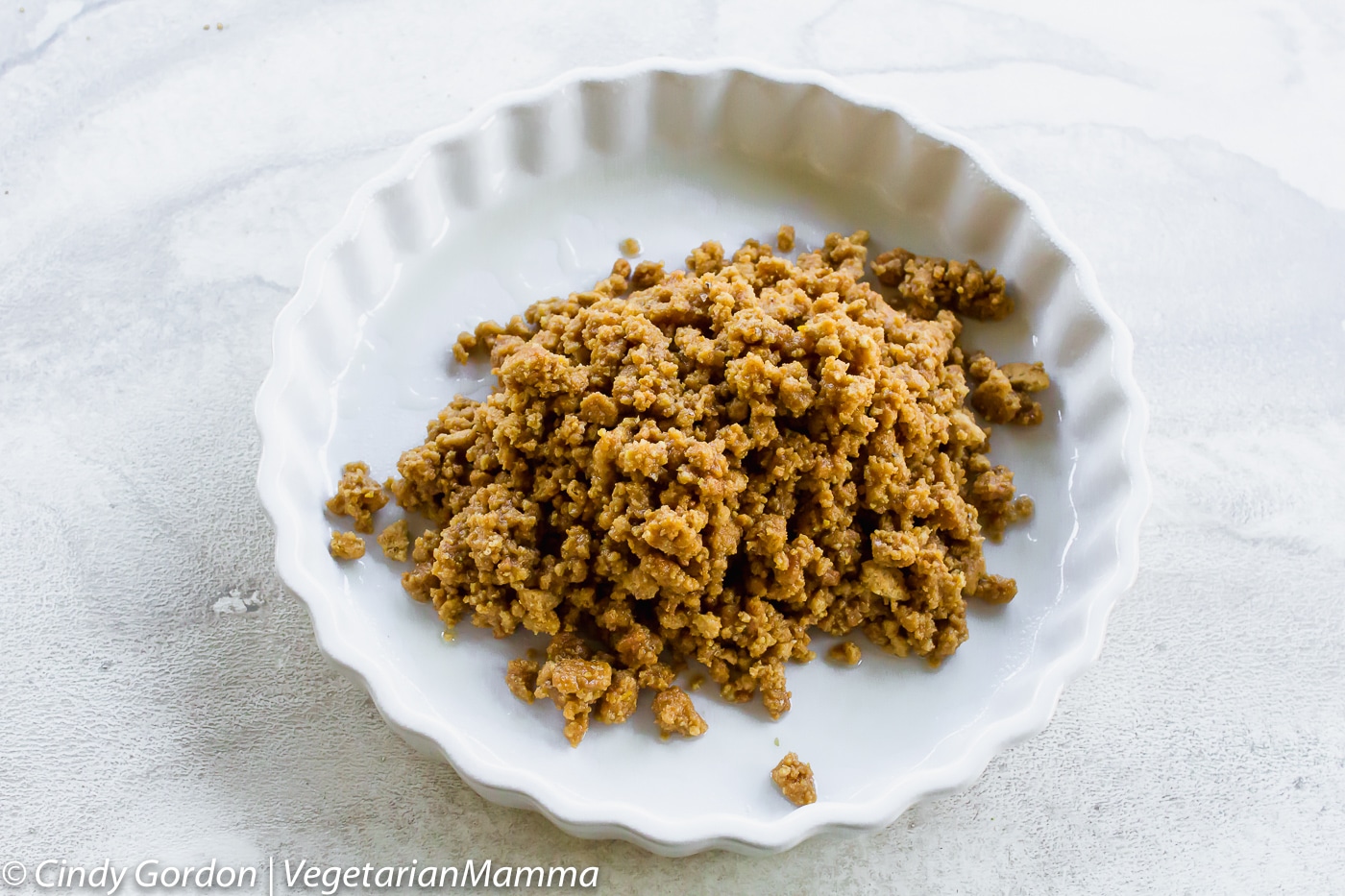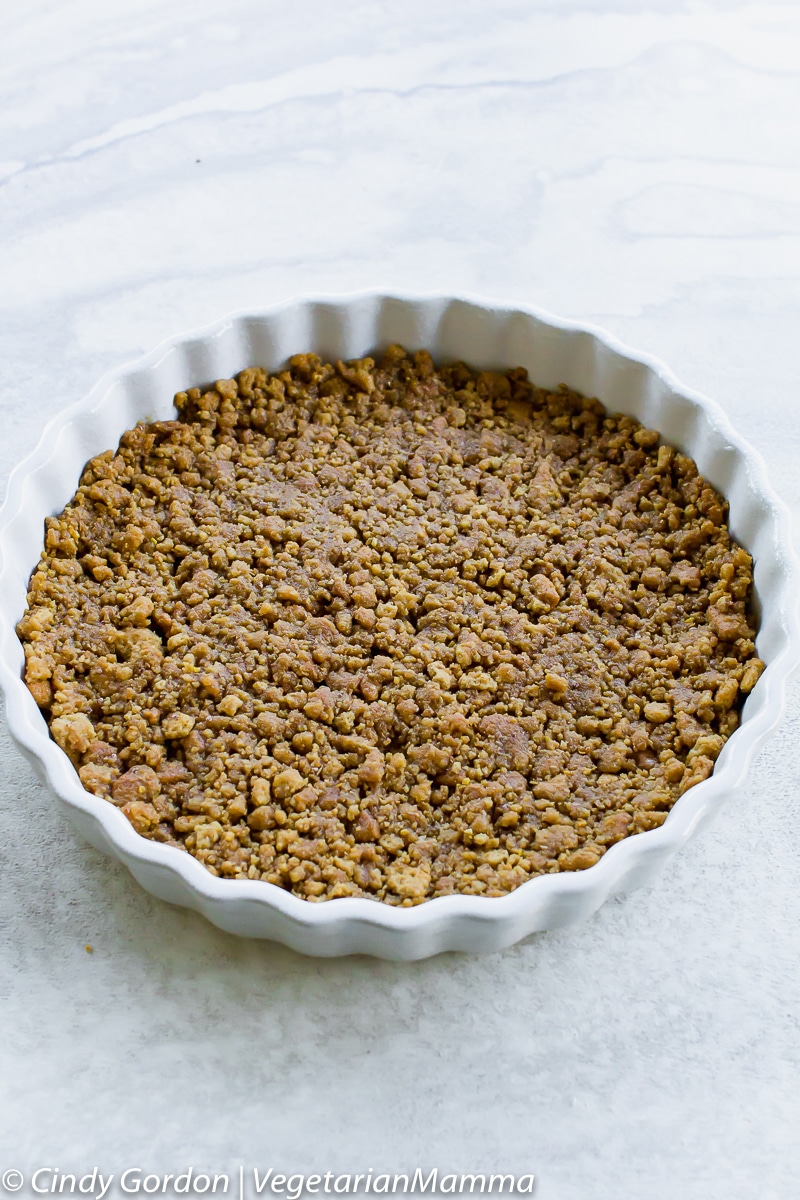 You are going to combine that with some melted butter. Pour crumbs into a tart pan. You could use any pan you'd like, whether square or circular. I used this tart pan. (affiliate ad link)
2. Mix the Cream Cheese, Whipped Cream, and Powdered Sugar
Now you are going to mix these three amazing ingredients together. Then, pour it over the crust.
3. Pour Cherry Pie Filling on Top
This is the fun part. You can choose any pie filling that you want. I love cherry cheesecake so that's the topping I picked. But strawberries or blueberries can work too.
4. Refrigerate
That's it! If you can wait for it to chill completely, congratulations! It's tough to resist. It's so sweet and fluffy and heavenly.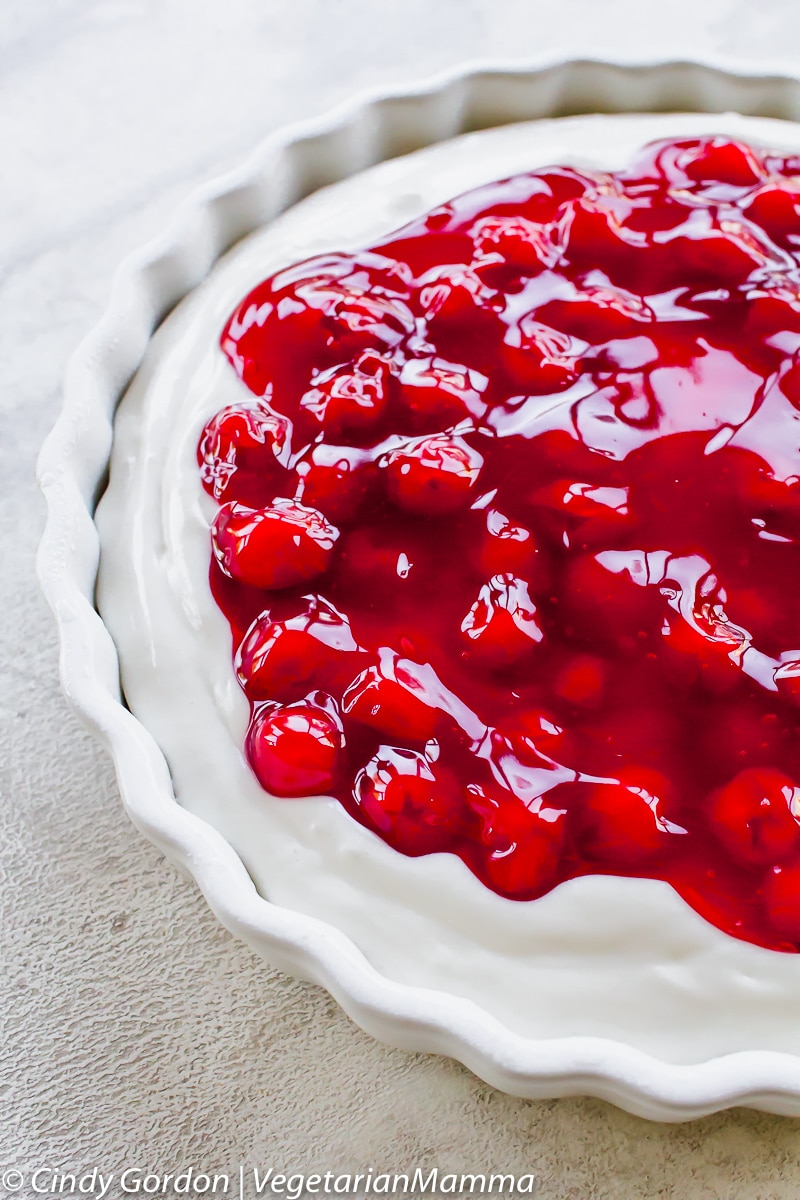 Dairy-Free Substitutions
I used a dairy-free whip for this recipe, but if you are not dairy-free you could use cool whip or an alternative whipped cream like that. I also used dairy-free cream cheese and dairy-free butter. You are welcome to use ingredients that have dairy, if you do not have that dietary restriction.
Is cheesecake gluten-free?
That is a great question. It is typically NOT gluten-free. Cheesecake is often made with gluten ingredients. This particular recipe is gluten-free because we use gluten-free graham crackers to construct the graham cracker crust.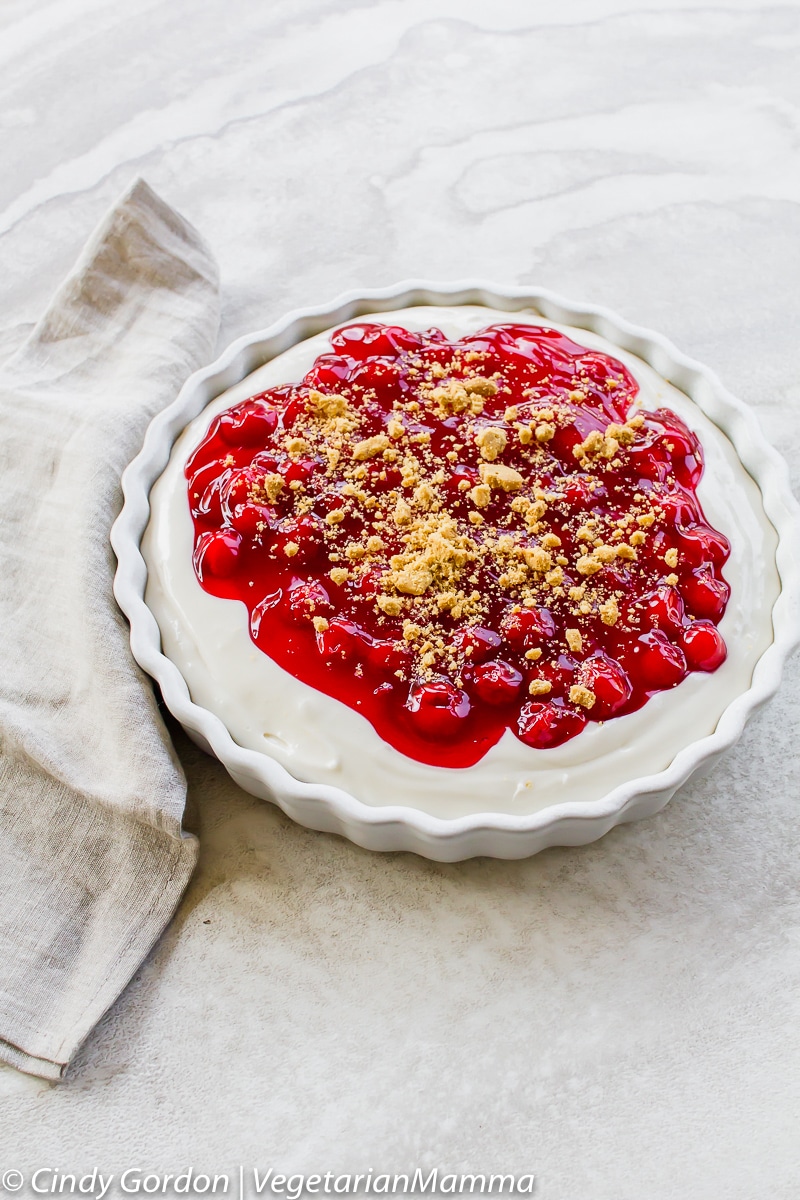 Let's talk about graham crackers!
Our favorite, honeygrams, (affiliate ad link) are gluten-free and made by Schar. These NonGMO grams are simply perfect! They are tasty as a stand alone or with a recipe like this one! If you haven't tried them yet, you are missing out. Side note: just think about how awesome Smores night will be with these!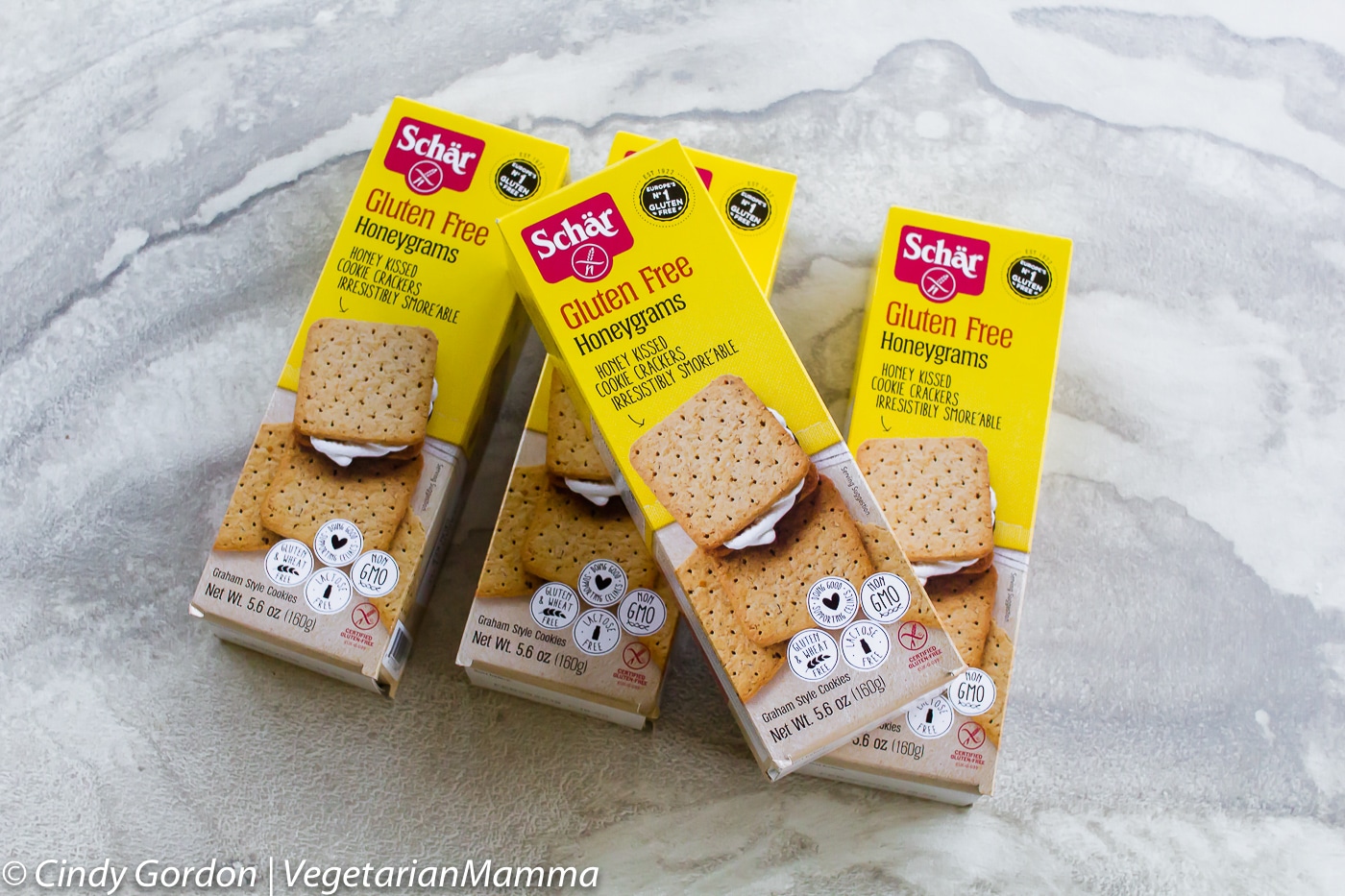 More about Schär
Schär is a trusted name in gluten-free foods for many reasons. They were one of the first gluten free foods brands, and they have a large number of different products. The company also focuses heavily on testing, research and development and gives their time and knowledge to the celiac community to drive awareness. Read on to learn more about this amazing company and all the good they are doing.
Schär Makes So Many Different Products
Product diversity is another thing that Schär does really well.They have more individual products than I can count! You can find Schär products in the following categories, all around the world:
From the Bakery: Sliced bread, artisan bread, rolls, and crispbreads

Snacks: Cookies, crackers, biscuits, snack cakes, and snack bars
Italian: Pasta, pizza, and ready to eat meals
Baking supplies: Gluten free flours, mixes, and dough to make your own goodies.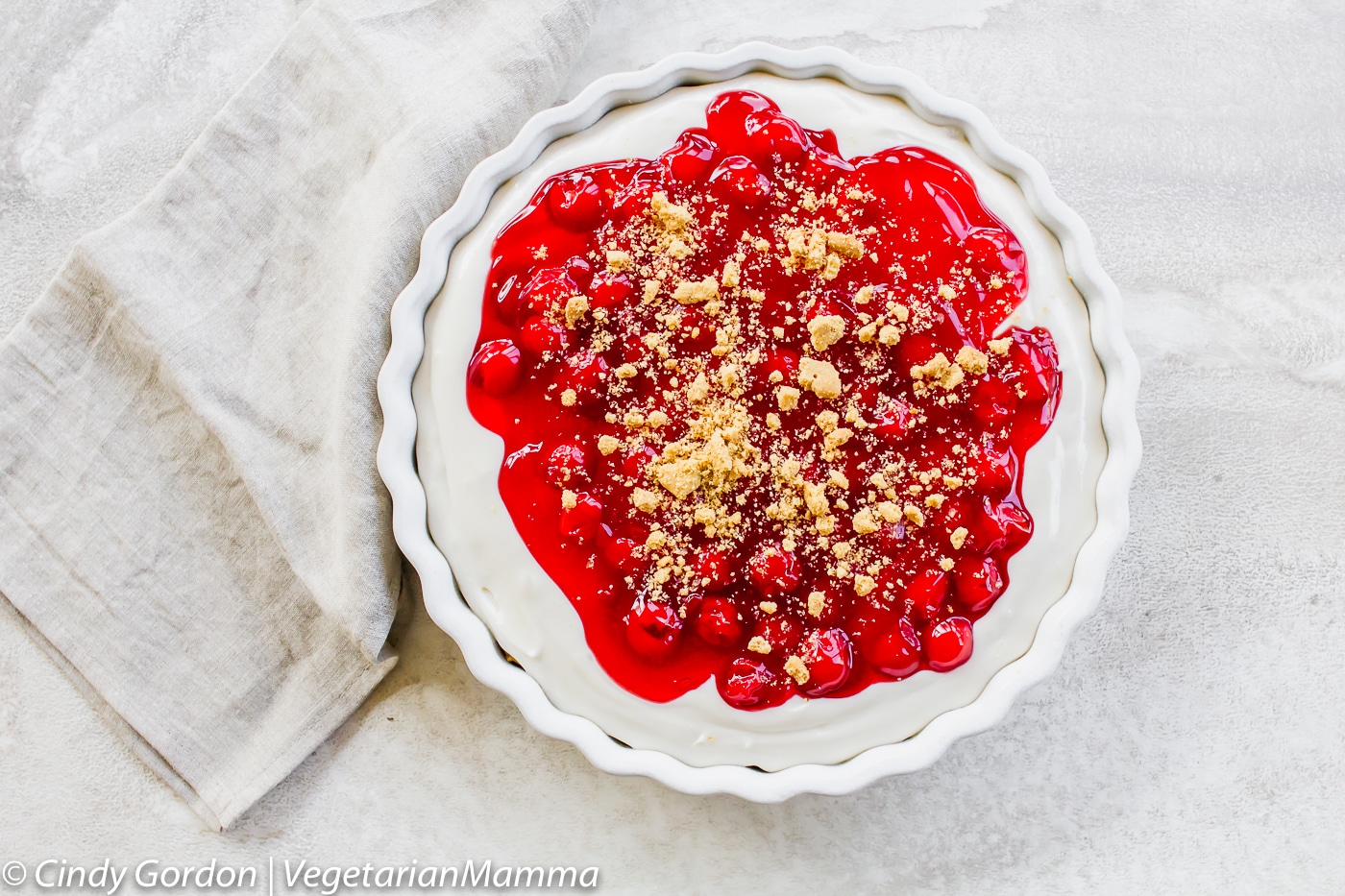 Do you bake cheesecakes?
Traditionally, yes you do bake cheesecakes but there are many recipes out there for "no bake" cheesecakes. With our recipe it is more of a light and fluffy dessert, than a traditional cheesecake!
I don't like cherries!
What? Just kidding! That is totally okay if you do not like cherries. You can basically sub in any type of fruit pie mix spread that you like. Think peaches, blueberries, and apples! So many delicious choices!
If you are wanting to make a more formal dessert with a gram crust, I would suggest you check out my friend Chrystals Gluten Free Graham Cracker Crust
Pin this quick and easy recipe for later: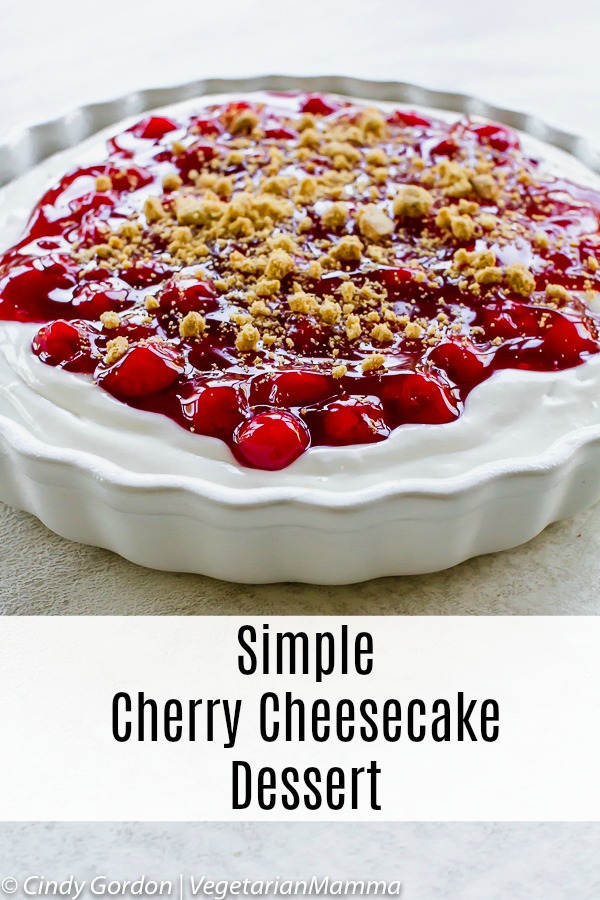 Looking for a sweet and crunchy treat to pair with this dessert! I would recommend Gluten-Free Vegan Cannolis from my friend Chrystal at Gluten Free Palate!
Get your gluten free cream cheese cake recipe here: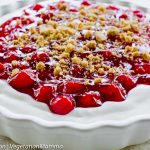 Print Recipe
Simple Cherry Cheesecake Dessert
Cherry pie filling dessert is basically a relaxed version of cherry cheesecake. This dairy-free and gluten-free fluffy cheesecake also doubles as a cherry delight recipe.
Ingredients
Crust
2

c

crushed grams

(about 2 boxes of Schar grams)

1/2

c

melted butter

(I used dairy free)
Filling
8

oz

cream cheese

softened (I used dairy free)

4

oz

whipped cream

about half a typical tub, (I used dairy free)

1.5

c

powdered sugar

18

oz

cherry pie filling
Instructions
Place grams into a baggie and gently squeeze to smash grams. This is a great job for your kids. If you can't get the grams ground into small pieces, you can use the back of a can to gently tap to help crush them.

Combine smashed grams with melted butter. Mix and then gently press them into an oiled dish. You are creating the bottom layer for this dish.

In a mixing bowl combine cream cheese, whipped cream and powdered sugar. Blend until smooth. You can use an electric mixer if you wish. Place mixture on top of the gram mixture.

Gently dump the cherries on top of the cream cheese mixture and spread. You can place some additional crumbled grams on top for garnish. ENJOY!
Notes
Since this dish is NOT served in slices (its not that formed) it is served by the spoonful. It is not your typical cheesecake dessert.  It can be eaten right away or placed in the fridge for later! ENJOY!
Nutrition
Calories:
235
kcal
|
Carbohydrates:
34
g
|
Protein:
1
g
|
Fat:
10
g
|
Saturated Fat:
5
g
|
Cholesterol:
33
mg
|
Sodium:
83
mg
|
Potassium:
101
mg
|
Sugar:
19
g
|
Vitamin A:
485
IU
|
Vitamin C:
1.8
mg
|
Calcium:
39
mg
|
Iron:
0.2
mg
All though this website attempts to provide accurate nutritional information, the information should only be considered an estimate. Varying factors such as different product types, different brands, etc. can change nutritional information. It is your responsibility as a consumer to read all labels to make sure the ingredients fit your dietary needs as well as calculate your own nutritional information as a double check.
Question: Do you love cherry desserts? If so, what type if your favorite? Cheesecake? Fluff? Plain cherries? Drop me a comment below!