While this quiche qualifies as a simple quiche, it is a stunning addition to your Sunday brunch. This simple quiche is beautiful and full of flavor!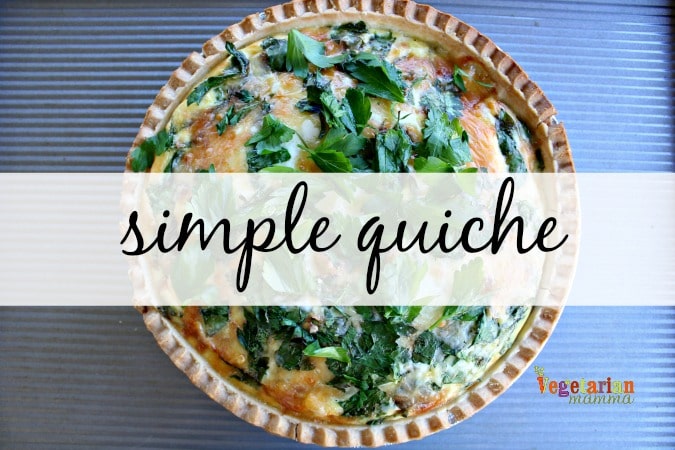 Quiche was always something that I enjoyed when I ate gluten, but I never made it.  Then when I had to remove gluten from my diet, I really missed quiche, but I still did not make it.  I did not make it because I thought it was too difficult, I thought making quiche was out of my cooking range. Wow, I was wrong.  With a little help of a pre-made gluten-free crust, I am in business! The business of making my family a delicious quiche!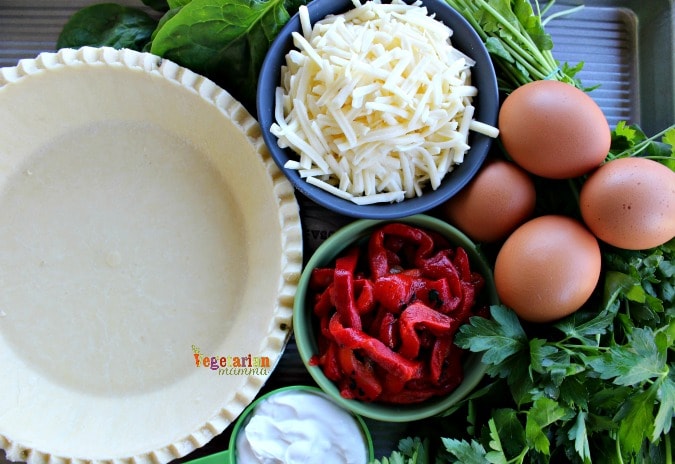 Last year at Expo East I found this amazing company called The Maine Pie Company.  The gals that are part of this company are pretty amazing!  Not only do they make delicious pies and torts, but they make pie shells! The best part…they are now shipping!  That is huge! That means that YOU and I can now get these amazing gluten-free products delivered to our door!  The pie crusts are certified gluten-free and come in packs of two.  The products are tested by the ELISA method to have <5ppm. The crusts are light and flaky. The crusts are so delicious, they can easily fool your gluten loving friends!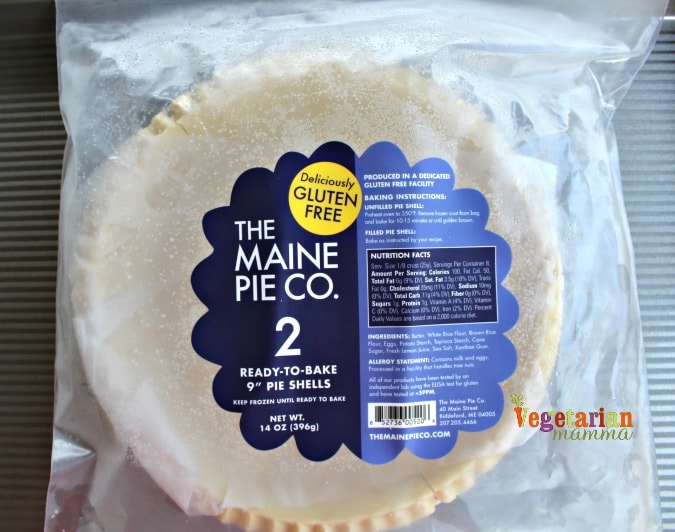 Want to see just how simple this quiche is? Start with your pie crust, then add the diced roasted red peppers.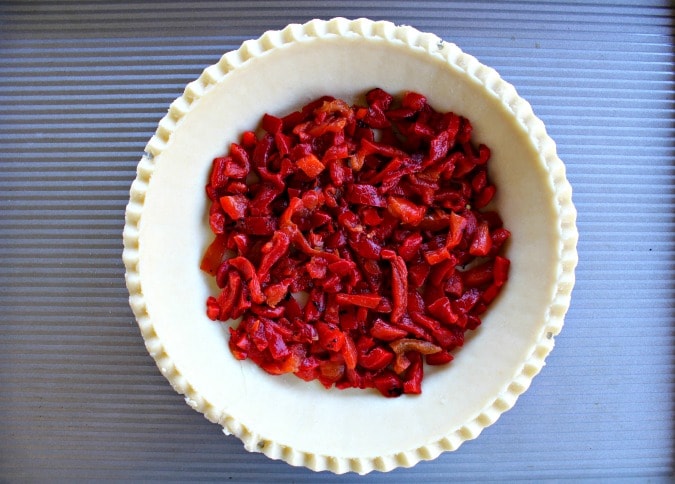 Top with the diced fresh spinach.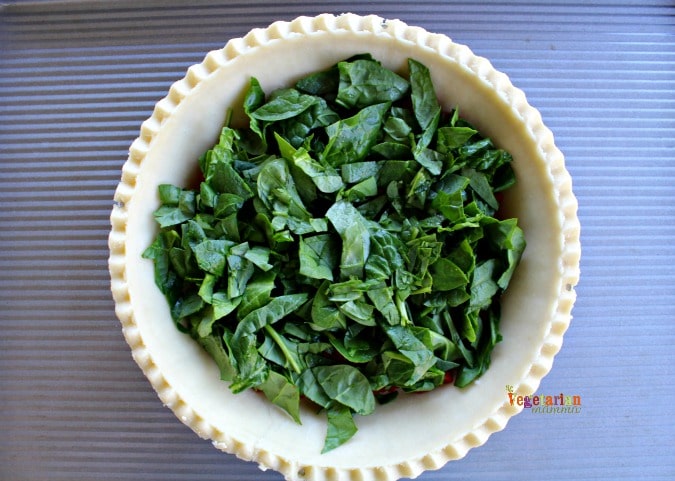 Add your cheese and fresh parsley.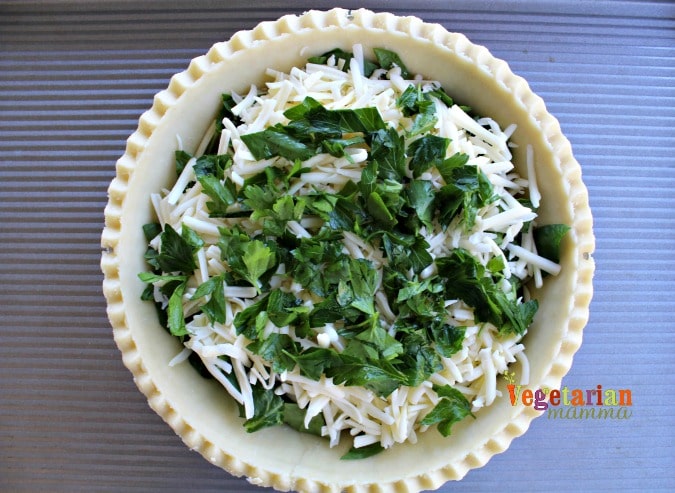 Top with your whisked egg mixture and then bake, bake, bake!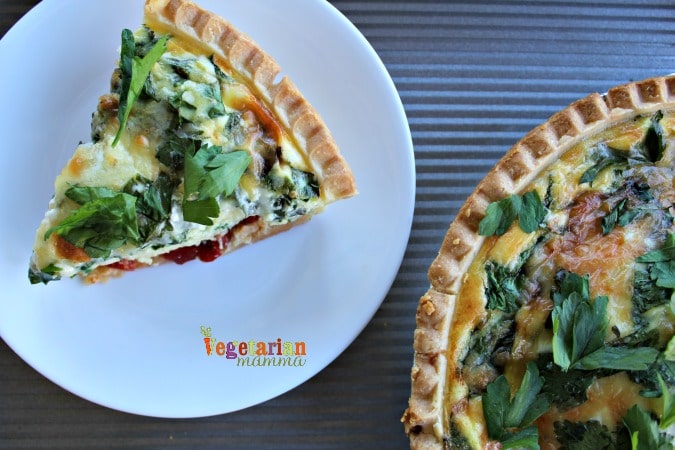 Simple Quiche - Spinach + Roasted Red Peppers
Author:
Cindy Gordon (Vegetarian Mamma)
Ingredients
1 frozen Maine Pie Company Crust
1 c roasted red pepper, diced
1½ c fresh spinach, diced
4 eggs
¾ c milk
½ c sour cream
½ c cheddar
¼ c fresh parsley
Instructions
Place pie shell on a lipped baking sheet. Preheat oven to 350 degrees F.
In the bottom of the pie shell, gently place your diced roasted red pepper.
Layer the diced spinach on top of the red pepper.
Top with cheese and parsley.
Whisk together the eggs, milk and sour cream. Pour into crust.
Bake for 40-45 minutes or until a knife comes out clean from your quiche when inserted. Let sit for 5 minutes.
Garnish the top of the quiche with more fresh parsley, ENJOY!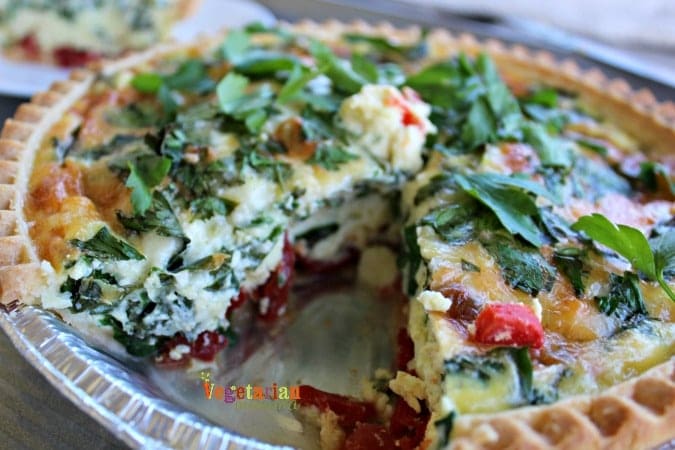 I am a HUGE fan of quiche!  How about you?
Let's talk! Leave me a comment telling what you'd like to put into a quiche if you made one. What is your favorite?
*Thank you to The Maine Pie Company for partnering with us to sponsor this post and giveaway! Please connect with this awesome company at their website, here.