While this quiche qualifies as a simple quiche, it is a stunning addition to your Sunday brunch. This red pepper quiche is beautiful and full of flavor!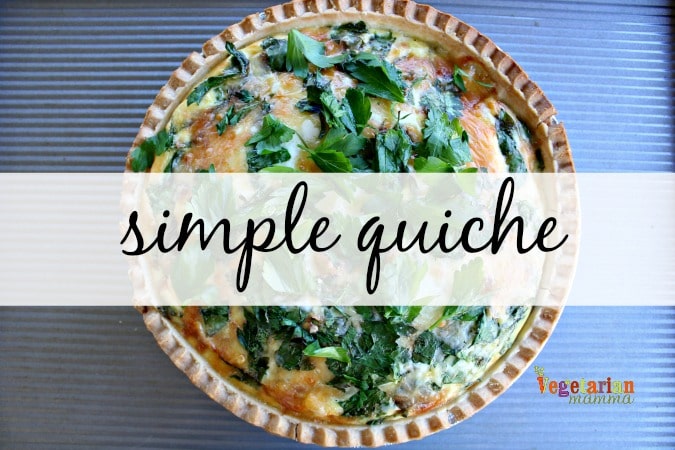 Delicious and Easy
Quiche was always something that I enjoyed when I ate gluten, but I never made it. Then when I had to remove gluten from my diet, I really missed quiche, but I still did not make it.
I did not make it because I thought it was too difficult, I thought making quiche was out of my cooking range. Wow, I was wrong. With a little help of a pre-made gluten-free crust, I am in business! The business of making my family a delicious quiche!
I've been to so many different gatherings and parties where quiche was one of the main dishes. Not only is this dish pretty to look at, but there are also so many different flavor options as well.
This roasted red pepper version is always popular during the winter months, and some people prefer to add a few ingredients turning it into more of a spinach and red pepper version as well.
Truth be told? My taste buds aren't overly picky. I just love being able to try new flavors and food dishes!
What do I need to make this recipe?
Here is what you need to round up from your pantry for this recipe:
1 frozen pie crust
roasted red peppers
spinach
eggs
milk
sour cream
cheddar cheese
parsley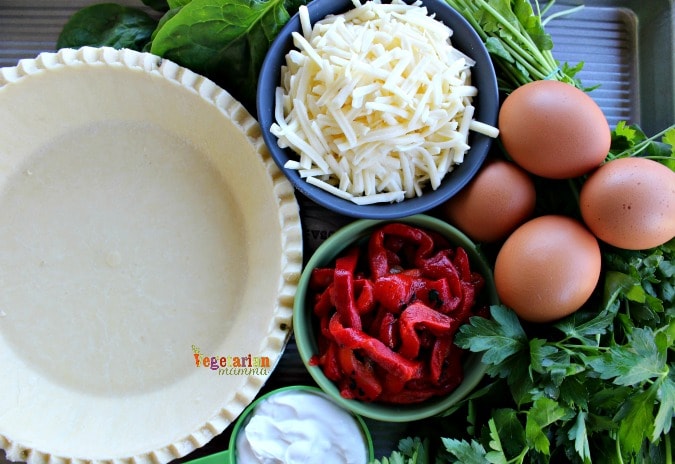 This red pepper quiche recipe is SO easy….just how simple is it?
I think that so many people tend to shy away from making it at home because they feel that they are a ton of work. WRONG!
Are their elaborate recipes out there? Sure. This just isn't one of them. What if I told you that this recipe has less than 6 steps from start to finish…seriously, I'm not pulling your leg here.
Want to see just how simple this recipe is? Start with your pie crust, then add the diced roasted red peppers.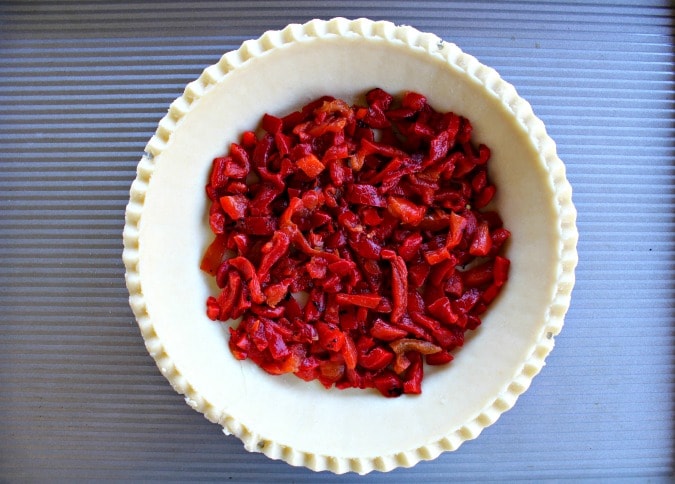 Top with the diced fresh spinach.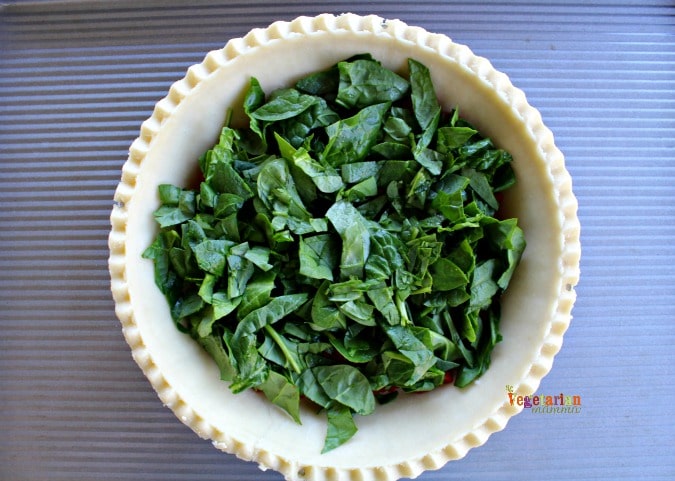 Add your cheese and fresh parsley.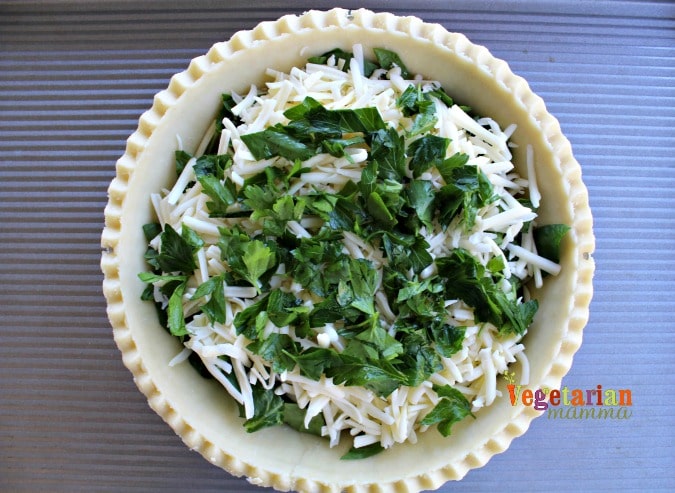 Top with your whisked egg mixture and then bake, bake, bake! And honestly, the baking of this spinach and pepper quiche is the part that takes the longest. Don't be tempted to turn up the heat to get it to back quicker…just set your oven to 350 degrees (preheat oven to 350 degrees first!) and be patient for 30 to 35 minutes.
You can find SOMETHING to do during that time, right? Want to know a little secret of mine? While I'm waiting for items to get done baking in the oven, I like to "disappear" for a bit and have a little bit of "me" time.
I'll go to my favorite chair and read a book, or take a quick walk outside in the backyard getting some sunshine and fresh air.
What else should a mom or dad do while waiting for the oven to bake? In my mind, you prepped the meal, compiled the meal and now have placed that meal in the pie plate and oven to bake, so you deserve to take a little break!
Tips For Making This Roasted Red Pepper Quiche Recipe:
Start with a premade pie crust – Yes you could make it yourself but that's what makes this recipe so simple.
Use premade ingredients – Some recipes require you to cook the ingredients before hand, but using roasted red peppers and chopped spinach makes this simple, simple, simple.
Cover the crust – If your crust edges get too brown while baking, then you can cover up the crust with pie crust ring, or with tinfoil.
How Can I Tell When A Quiche Is Done? A quiche should be silky and soft in your mouth if its been cooked properly. The center should be set, but just a little jiggly. It will continue to set up as it cools.
How To Store Quiche Quiche will last in the fridge, covered for 3 to 4 days. Any longer and I recommend wrapping the quiche well and freezing it. This zucchini quiche will last about 2 to 3 months in the freezer. Because quiche is a "custard" in a sense, be sure to refrigerate this after 2 hours at room temperature.
How To Reheat Quiche You can definitely make this a couple days ahead of time, and then simply reheat. Or just to enjoy the leftovers! I recommend reheating in the oven. Reheat at 325 for about 15 minutes, covered with foil.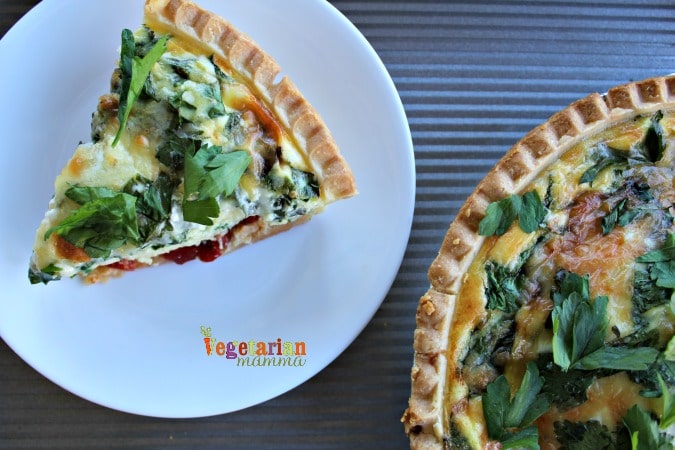 Ways to share this recipe with others
Making up a food item to share with friends and family is always a great idea. Think of this recipe as a "loving quiche" recipe where you make it, take it and share it with someone that you love.
Being gluten-free takes the worry out of wondering if others can eat it or not as well, and they'll never know that it's gluten-free at all by just how crispy and amazing the crust is!
This holiday season, why not share with your family and friends. Perfect for breakfast gatherings, tailgates and even as a healthy holiday option, why not let the magic and flavor of this quiche bring you and your family together!
Quiche is such a versatile dish! Click Here for more gluten free quiche recipes! Or go right to one of these recipes:
Leek and Asparagus Quiche

Savory Zucchini Quiche

Farmers Market Quiche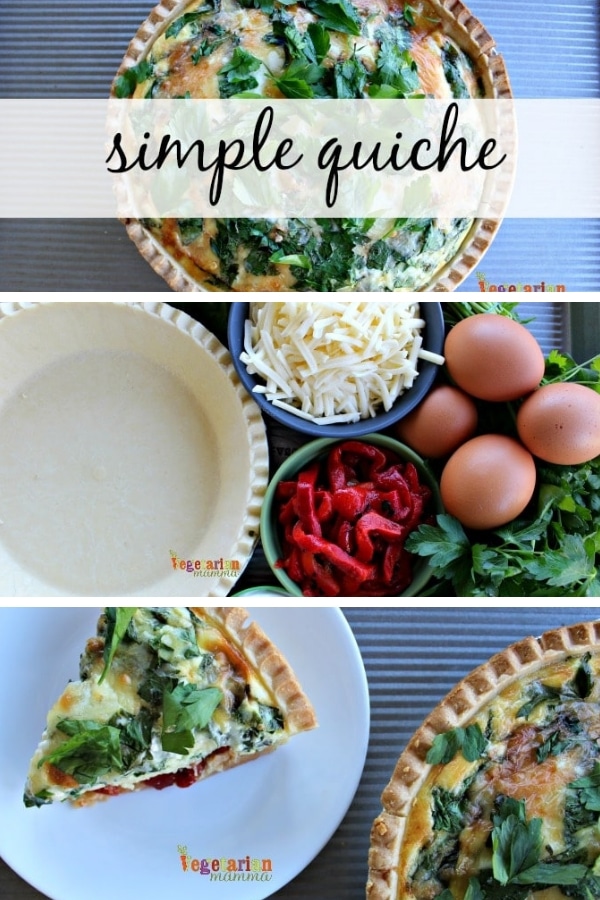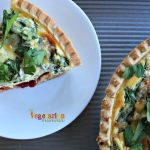 Print Recipe
Simple Quiche - Spinach + Roasted Red Peppers
Ingredients
1

frozen Maine Pie Company Crust

1

c

roasted red pepper

diced

1 1/2

c

fresh spinach

diced

4

eggs

3/4

c

milk

1/2

c

sour cream

1/2

c

cheddar

1/4

c

fresh parsley
Instructions
Place pie shell on a lipped baking sheet. Preheat oven to 350 degrees F.

In the bottom of the pie shell, gently place your diced roasted red pepper.

Layer the diced spinach on top of the red pepper.

Top with cheese and parsley.

Whisk together the eggs, milk and sour cream. Pour into crust.

Bake for 40-45 minutes or until a knife comes out clean from your quiche when inserted. Let sit for 5 minutes.

Garnish the top of the quiche with more fresh parsley, ENJOY!
All though this website attempts to provide accurate nutritional information, the information should only be considered an estimate. Varying factors such as different product types, different brands, etc. can change nutritional information. It is your responsibility as a consumer to read all labels to make sure the ingredients fit your dietary needs as well as calculate your own nutritional information as a double check.