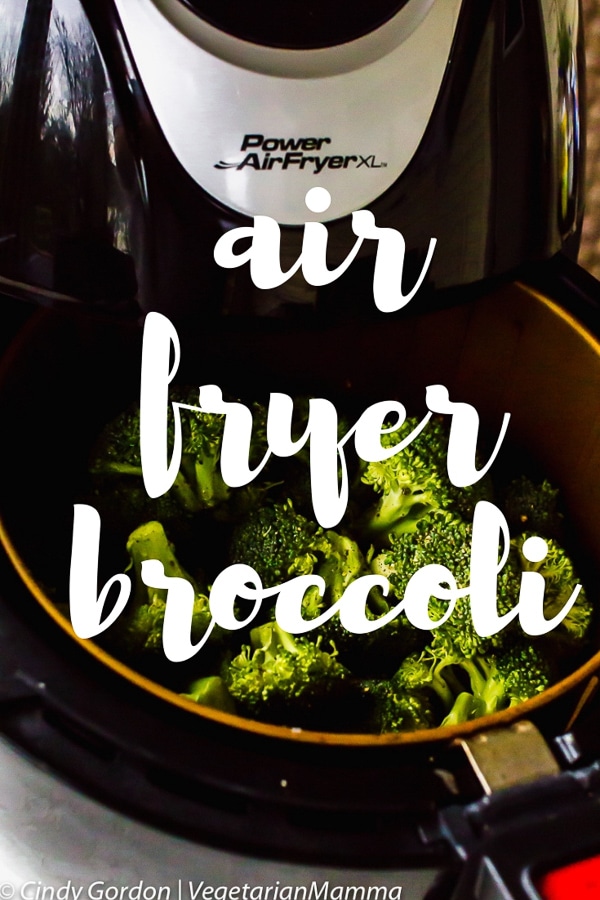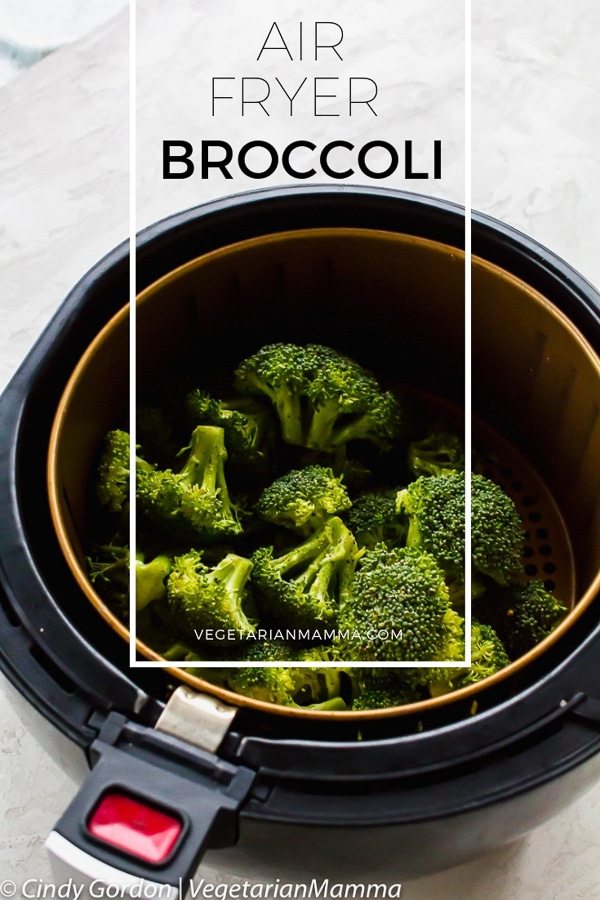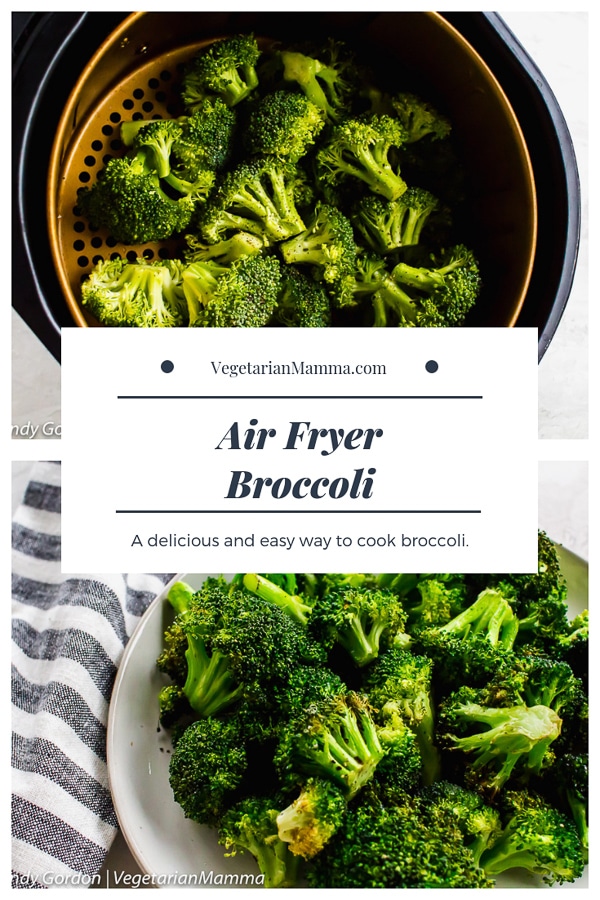 Air Fryer Broccoli is a delicious and easy to make air fryer recipe. You will fall in love all over again with this air fried broccoli!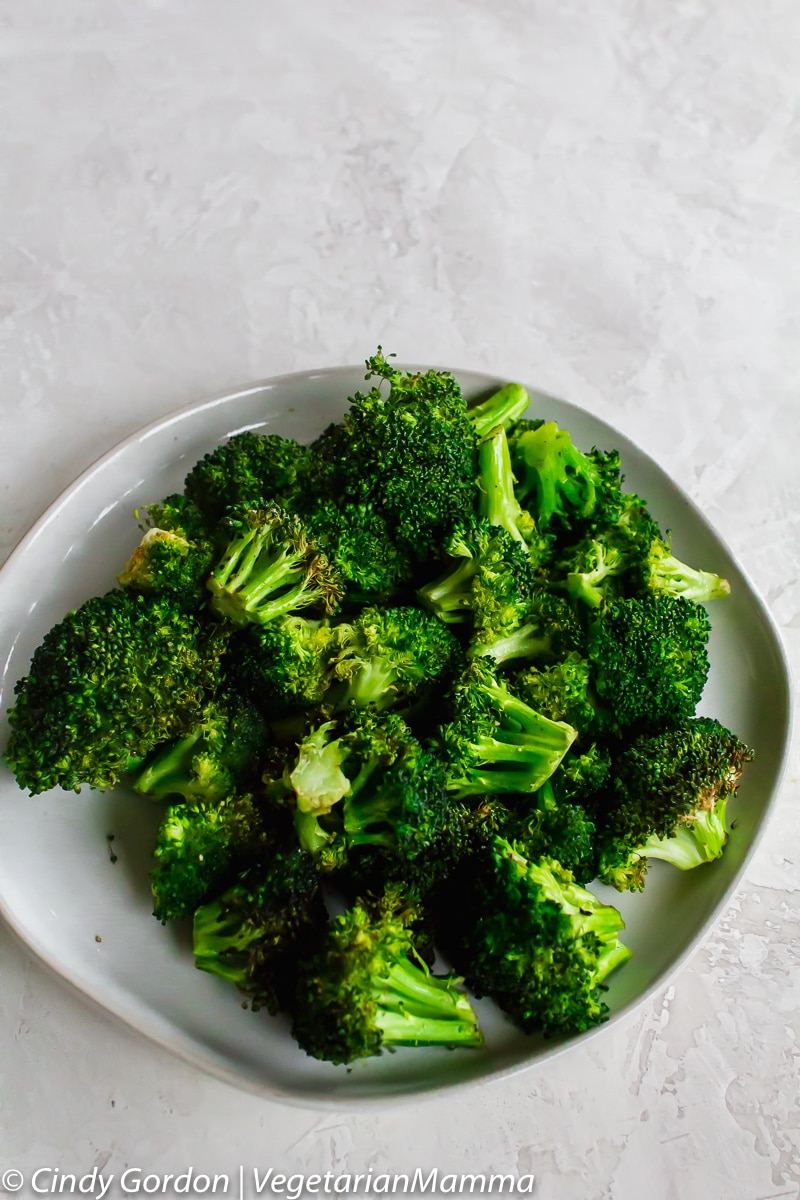 AIR FRYER BROCCOLI RECIPE
We all know that I absolutely love my air fryer and all the delicious air fryer recipes that we have been creating. If you want to learn more about air fryers be sure to visit our air fryer category page, there you will learn how to clean your air fryer and the most common air fryer mistakes!
If you are ready to buy an air fryer, you can read air fryer reviewsand learn about the best air fryers on the market!
Broccoli is a huge comfort food for me. I love pairing it with Gluten-Free Mac and Cheese! The ultimate comfort combo!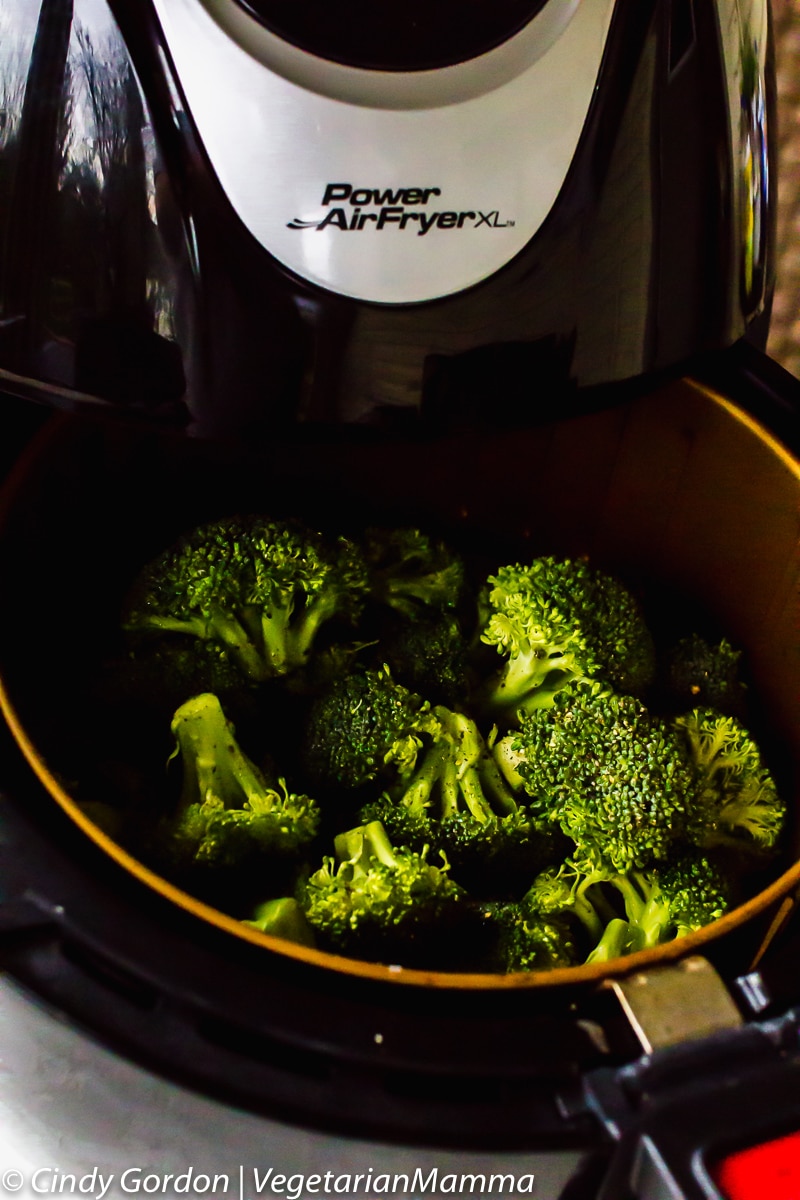 INGREDIENTS IN AIR FRYER BROCCOLI
Broccoli - Fresh broccoli, cut into florets.
Oil - any mild flavored oil will work, olive, vegetable, avocado.
Salt and Pepper - to season the broccoli perfectly.
If you have any questions, please leave a comment below and I will get back to you ASAP!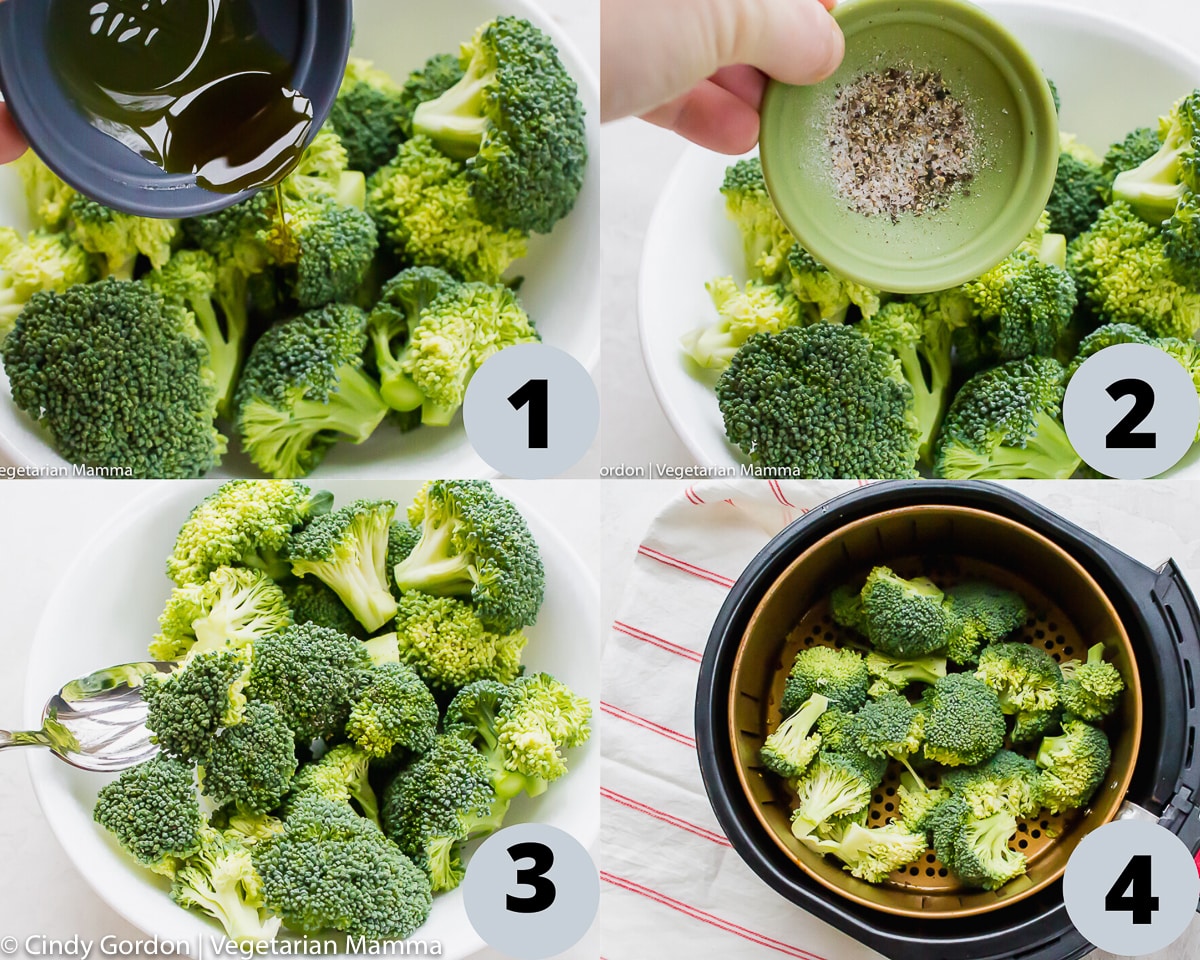 HOW TO MAKE AIR FRYER BROCCOLI
To make your air fryer broccoli, gently toss the cut broccoli florets with the oil.
Season with salt and pepper.
Place broccoli into air fryer basket.
Turn the air fryer to 300 degrees F for 10 minutes. Shake air fryer basket after 5 minutes.
These numbered steps match the numbered photos above and are for illustration purposes. For the complete list of ingredients and instructions, please see the recipe below.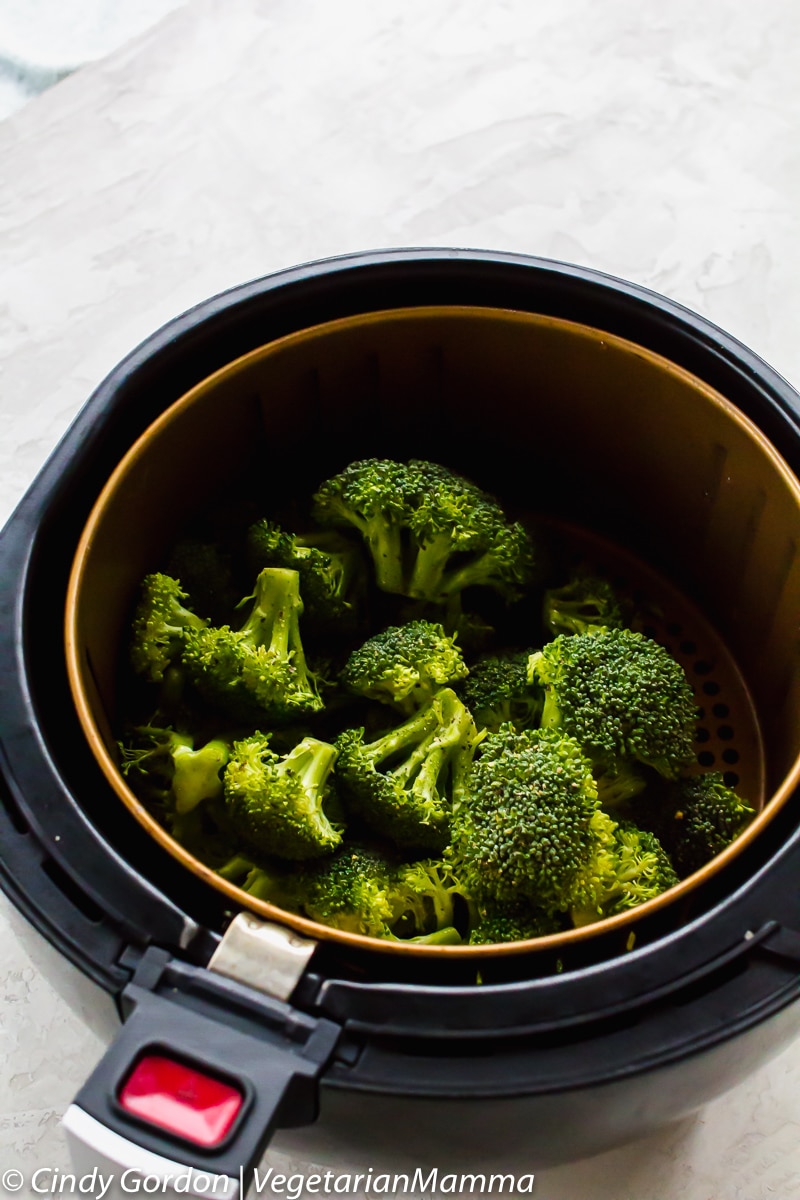 WHAT CAN YOU ACTUALLY COOK IN AN AIR FRYER?
Besides Air Fryer Broccoli, the options of what you can cook in this amazing appliance are truly endless! You know I'm crazy over this fried green beans recipe, but we've also cooked tofu, potatoes, french fries, Brussel sprouts and more!
Anything that your taste buds want to try straight out of the air fryer, give it a go!
While we don't eat meat in our family, that doesn't mean that you can't cook up some fried chicken, chicken tenders, or anything else beer battered or deep fried to that perfect golden brown that you love and that you want with ease in the air fryer basket.
The great part about cooking with an air fryer? The cook time is a breeze. Like literally no time…at all.
For us, we love to use our Power AirFryer XL We like the digital controls on this fryer. Be sure, of course, to check price points to make sure you are getting a fair deal. The prices can vary!
HOW EASY IS IT TO USE THE AIR FRYER?
When I say it's super simple, it's simple. You literally set the temp, figure out the time, and wait for that food to be done. No waiting to preheat your oven, you can use this to easily fry foods. You are going to love this cooking method!
Is there any other appliance out there that is as simple as that? And clean-up? A total breeze.
If appliances were made to help you out in the kitchen and save you time, this power air fryer xl does just that. You'll be working in the kitchen so much less with the use of this appliance!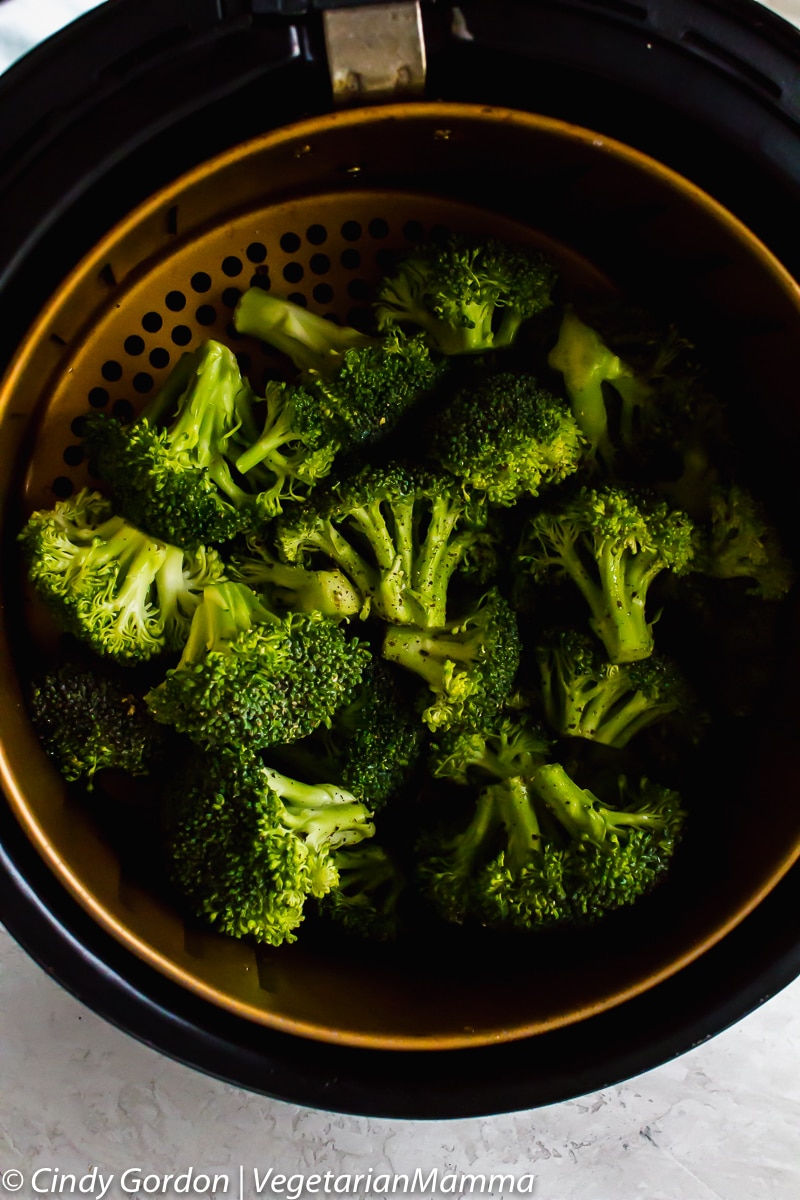 AIR FRYER SUCCESS EACH AND EVERY TIME
I've owned my air fryer now for a while, and I have to be honest…I've yet to find a recipe that I don't love. And did I mention how simple it is?
To say I'm a creature of habit is an understatement. I love being able to cook a meal and know with confidence that it's going to taste amazing each and every time.
With the Air Fryer, I absolutely have no doubts. I know that from the moment I press start, to the moment that I remove the food from the machine, it will be cooked to perfection each and every time.
WHY AIR FRYER BROCCOLI?
That's a great question, we eat a lot of broccoli in our house. Sometimes we get a little tired of your basic boiled broccoli, so I wanted to "mix" it up.
Broccoli or mini trees as they are often called in our house are loved by each family member. The kids love broccoli raw or cooked. I know, I know, I am a lucky mom!
One cool fact about broccoli is that it has a great amount of vitamin C in it as well as iron. When you pair those two together, its a great match.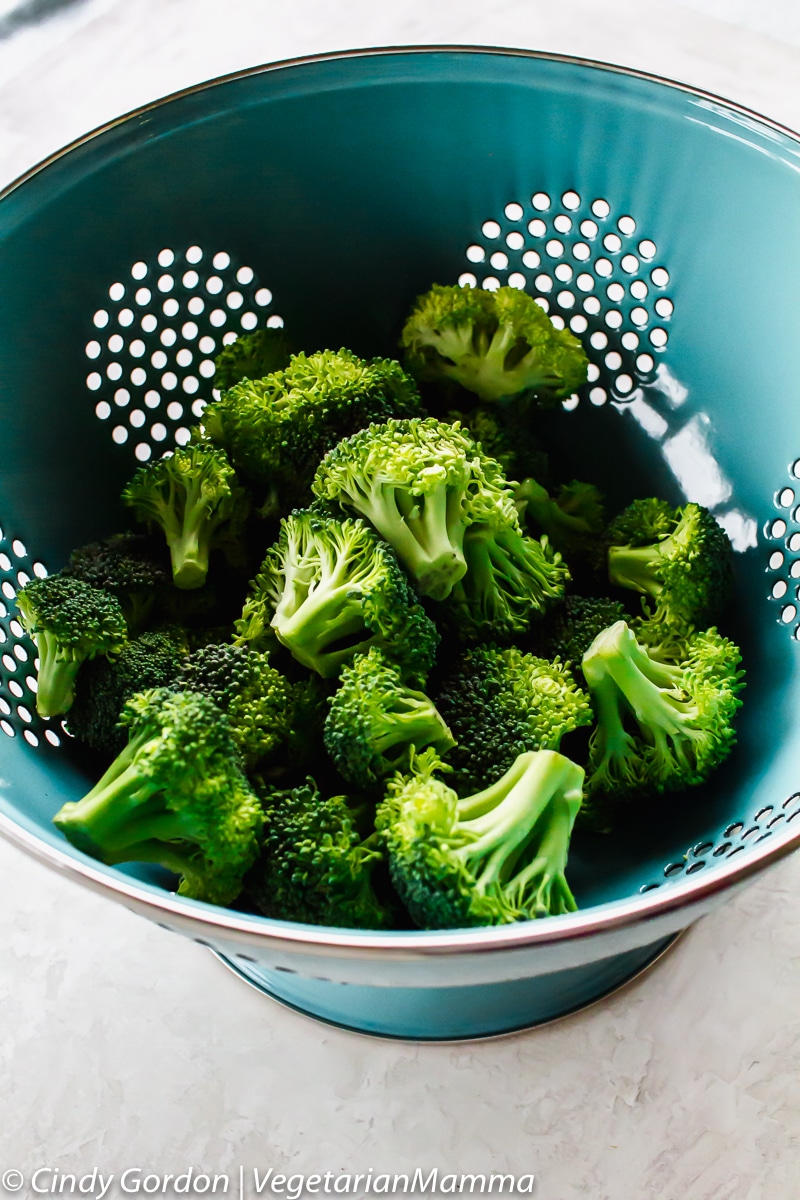 You see the vitamin C helps the body to absorb iron, so this is a WIN! Especially, if you have somebody in your family with low iron! So with our love for broccoli, I thought why not try some broccoli in an air fryer! Right?!
Call me crazy but this air fried broccoli recipe is addicting. I literally ate the entire test batch in one sitting. 🙂
There are many recipes for how to roast broccoli in an air fryer. The recipes come in a wide range of cooking temperatures and times. For this oil less fryer recipe, we choose to cook the broccoli on a lower temperature and for a longer time period than most recipes.
This gave us the perfect combination of tender and crispy broccoli!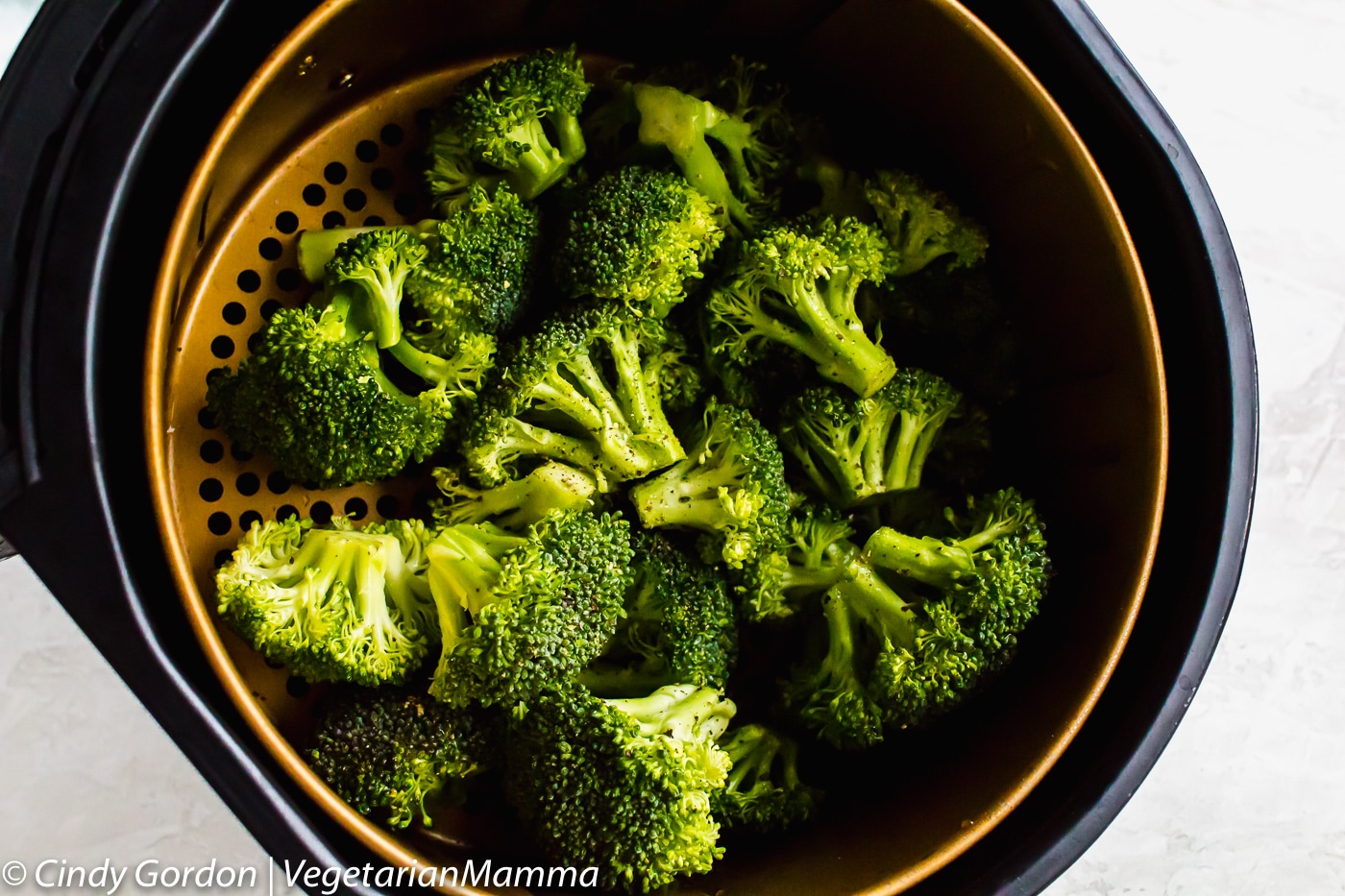 CAN I USE FROZEN BROCCOLI IN THE AIR FRYER?
Yes, you can use frozen broccoli. Some people prefer using frozen broccoli, especially if you like a more tender broccoli verses a crisper broccoli.
Frozen broccoli gives you a much different texture than fresh broccoli. It's all about what you want! Test each and pick your favorite!
I DON'T HAVE AN AIR FRYER, BUT I WANT ONE
That's okay, we know you are dying to make some air fryer broccoli! You can check out all the air fryers we recommend on our air fryer review post
I DON'T HAVE THE SAME AIR FRYER AS YOU
That's okay! Each air fryer seems to run a touch differently. If you don't have a power airfryer xl, you might need to adjust your cooking times a bit. Just watch carefully in the last 2-3 minutes.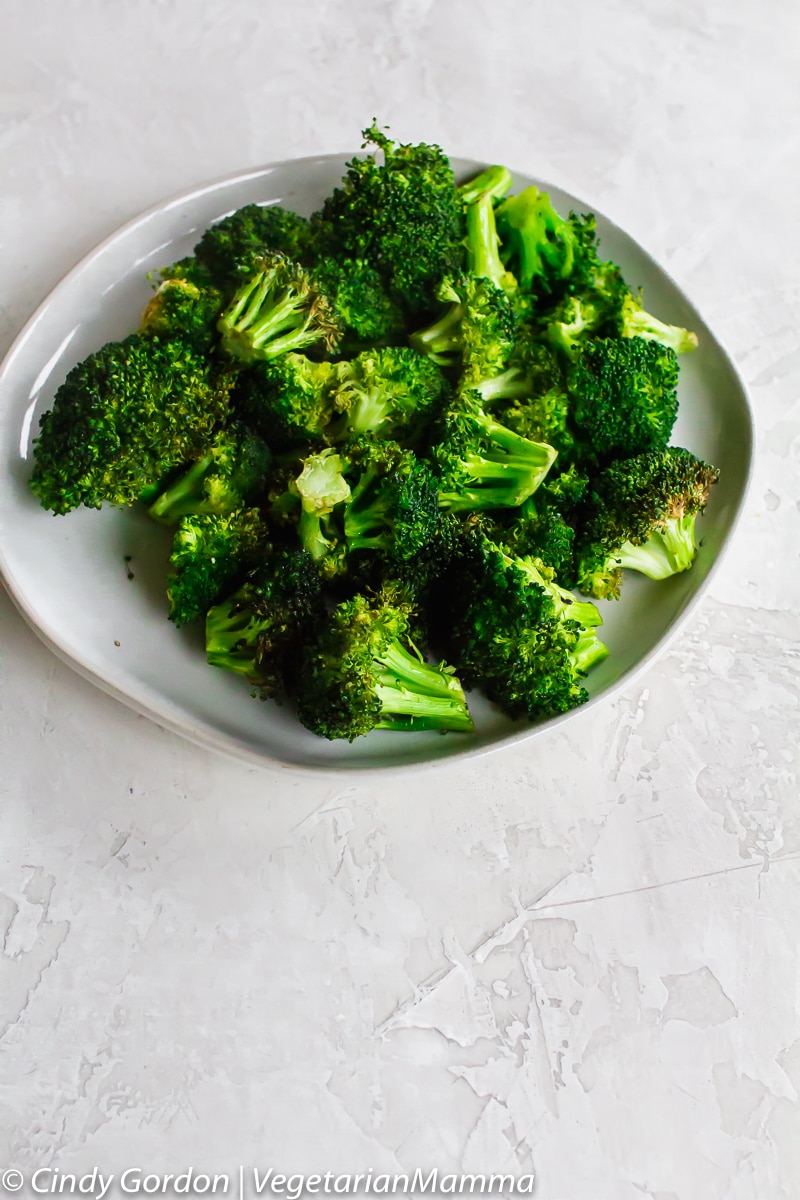 CAN I AIR FRY BROCCOLINI?
Yes you can! For this vegan broccoli recipe, you can use broccoli OR broccolini.
CAN I AIR FRYER OTHER VEGETABLES?
Yes, air fryer vegetables are pretty popular and easy to make! I have also made corn, zucchini, carrots, green beans and brussel sprouts!
DO YOU USE OIL TO AIR FRY BROCCOLI?
Yes, we do use oil in this recipe though this is an oil less fryer. I prefer to add a little oil into this recipe to help the broccoli crisp up!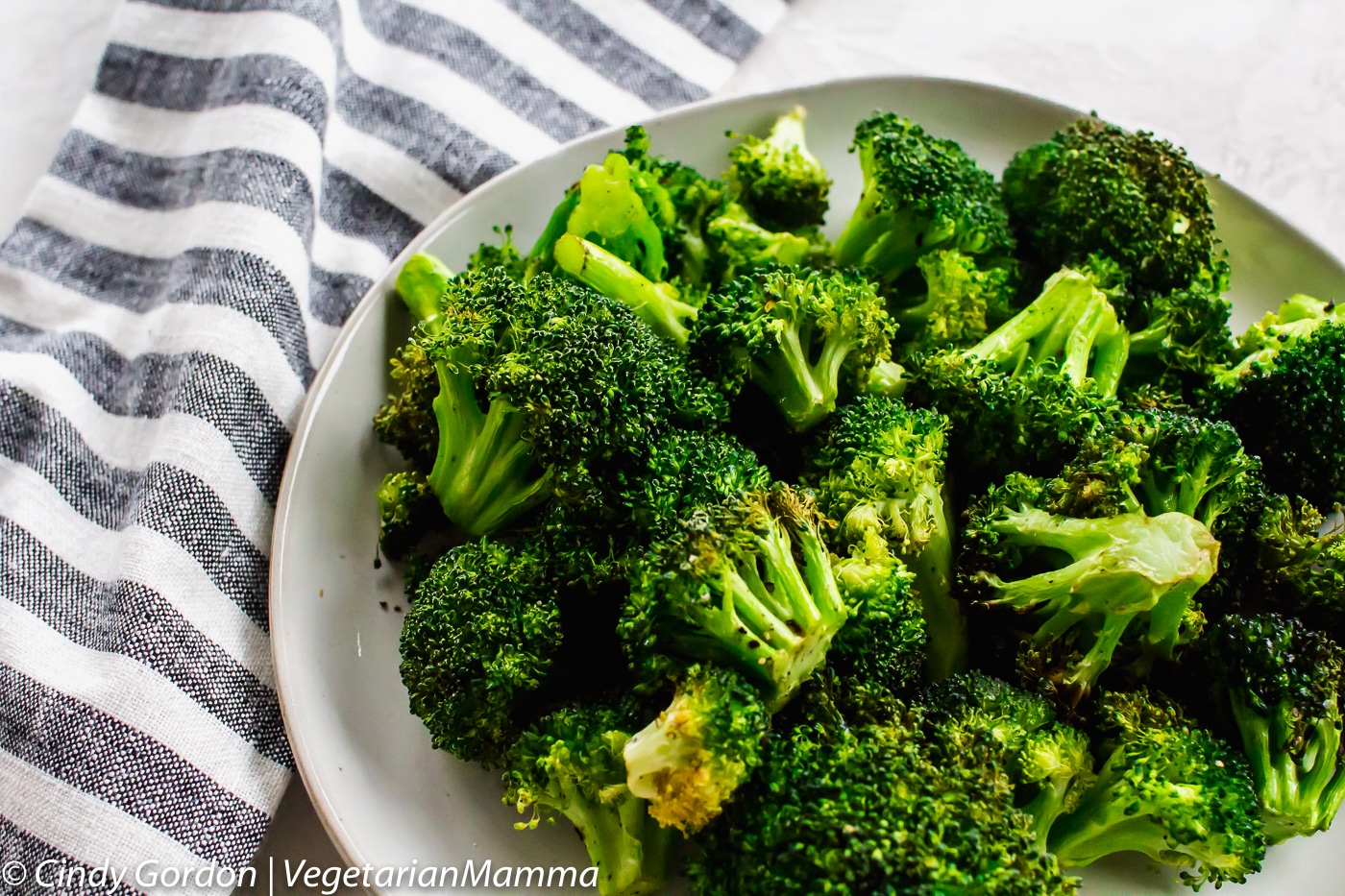 MY FAVORITE AIR FRYER RECIPES
Air Fryer Baked Potatoes are one of my most popular recipes, and for good reason. Air fryer baked potatoes are just better!
Risotto Balls in the air fryer are a fancier recipe that uses leftover rice to make a delicious appetizer.
Air Fryer Pickles are fried pickles, just like at the fair, but with way less oil and mess.
Still don't have an air fryer of your own? Be sure to check out our air fryer reviews from several of the top models out there.
(And while I'm crazy over my Air Fryer, I'm also just as crazy about my Instant Pot as well. I love gadgets, what can I say? If you are looking for a few instant recipes or easy instant pot recipes, you can check out our instant pot stuffed peppers, instant pot taco soup, instant pot cheesy potato leek soup, instant pot black beans and instant pot leek soup.)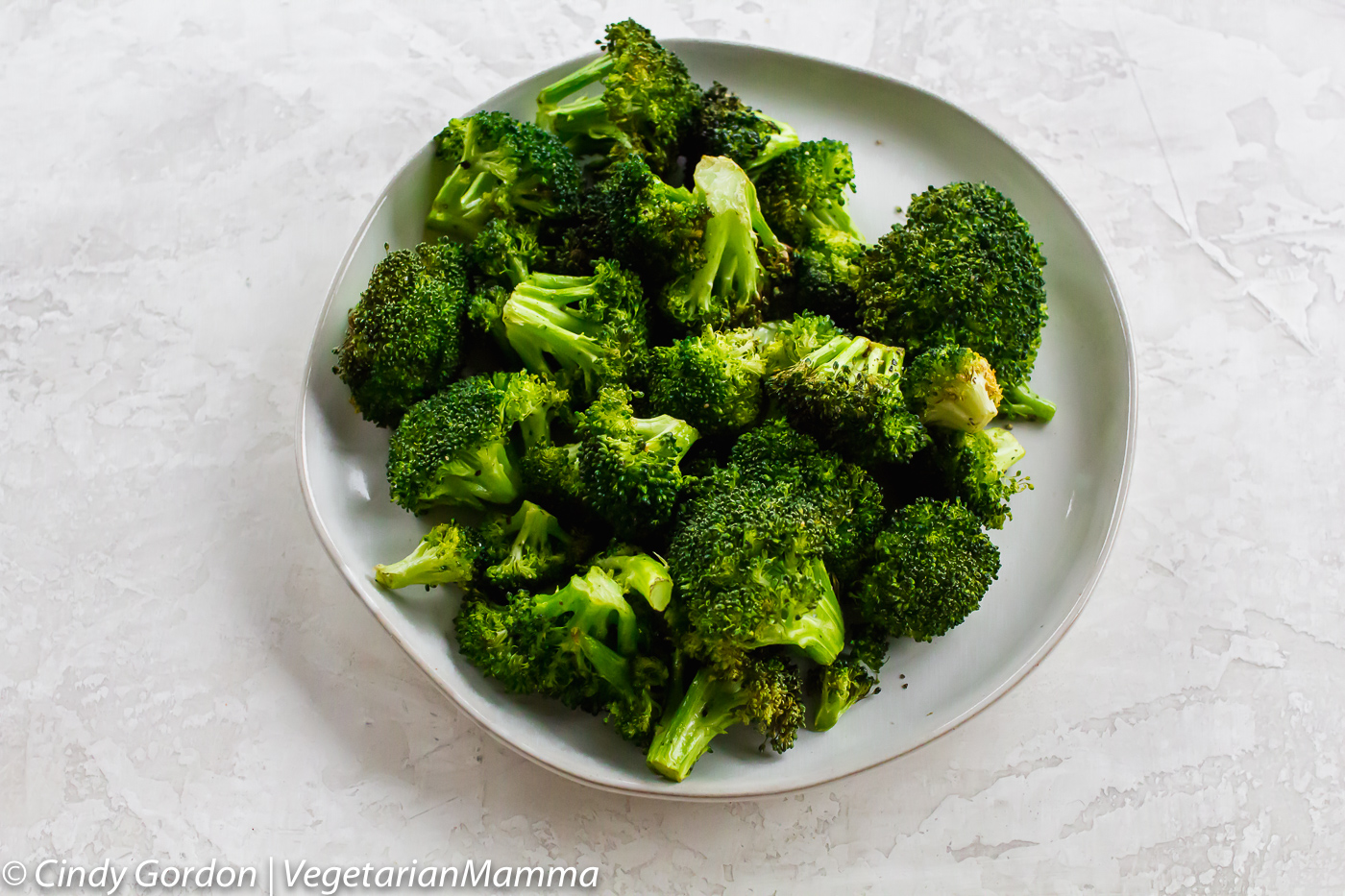 EASY BROCCOLI RECIPES
Cheesy Broccoli Casserole is a family favorite comfort food dish.
Broccoli and Cheese Risotto makes an amazing side dish for any meal.
Cranberry Broccoli Salad is delicious any time of the year.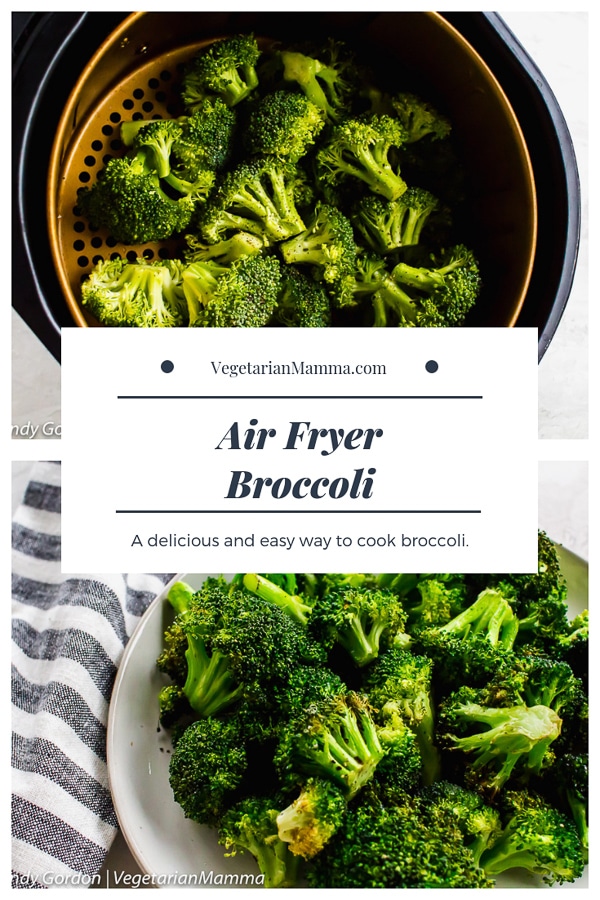 Have you made this recipe? Please leave a comment AND rating below! It helps other readers!
Be sure to tag @VegetarianMamma on instagram, if you share a picture on the gram! Let's get social, you can follow me on Youtube, Instagram, Facebook, Pinterest or join one of our Facebook Groups: Tasty Vegetarian Recipes and Vegetarian Air Fryer Recipes.
Don't forget to subscribe to our EMAIL newsletter.
Air Fryer Broccoli
Air Fryer Broccoli is a delicious and easy to make air fryer recipe. You will fall in love all over again with this air fried broccoli!
Instructions
To make your air fryer broccoli, gently toss the cut broccoli florets with the oil. Season with salt and pepper.

Place broccoli into air fryer basket.

Turn the air fryer to 300 degrees F for 10 minutes. Shake air fryer basket after 5 minutes.

ENJOY your air fryer broccoli!
Notes
If you like more of a roasted type of broccoli, you can cook for 1-2 minutes longer.
If you prefer a more tender broccoli, you can cook for 1-2 minutes less.
Nutrition
Calories:
25
kcal
|
Carbohydrates:
1
g
|
Fat:
2
g
|
Sodium:
5
mg
|
Potassium:
52
mg
|
Vitamin A:
105
IU
|
Vitamin C:
14.7
mg
|
Calcium:
8
mg
|
Iron:
0.1
mg
All though this website attempts to provide accurate nutritional information, the information should only be considered an estimate. Varying factors such as different product types, different brands, etc. can change nutritional information. It is your responsibility as a consumer to read all labels to make sure the ingredients fit your dietary needs as well as calculate your own nutritional information as a double check.
Vegetarian Air Fryer Resources – We have a vegetarian air fryer newsletter, which you can subscribe to here. We also have a specific vegetarian air fryer recipes group on facebook. You can find that Veg Air Fryer FB Group here.
If you are looking for vegetarian recipes beyond air fryer ones, we have a Vegetarian Newsletter as well as a Vegetarian Recipes facebook group. This newsletter and FB group offers up recipes that on the stove, in the oven, on the grill, in the instant pot and more!
Other Resources:
More Air Fryer Goodies: