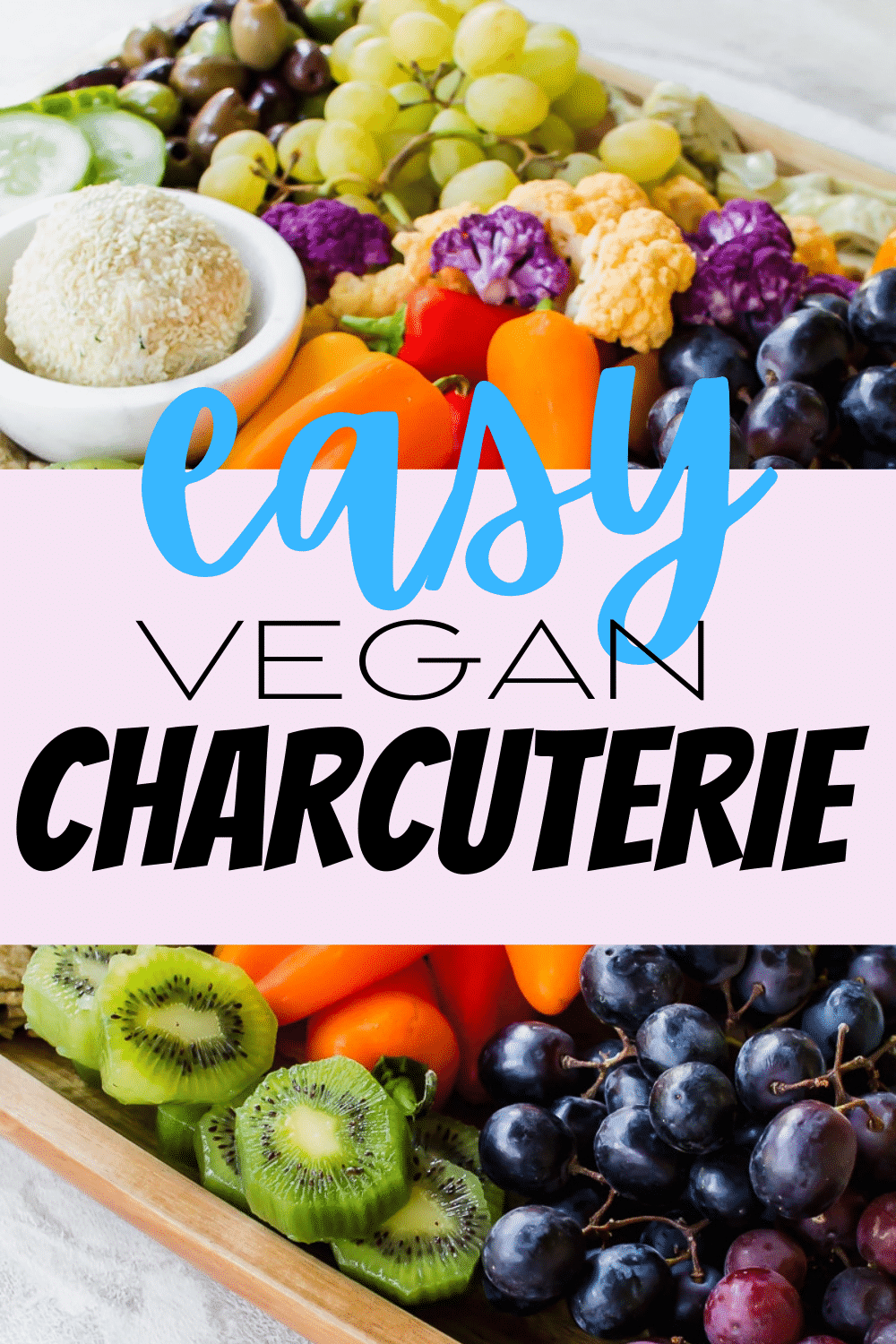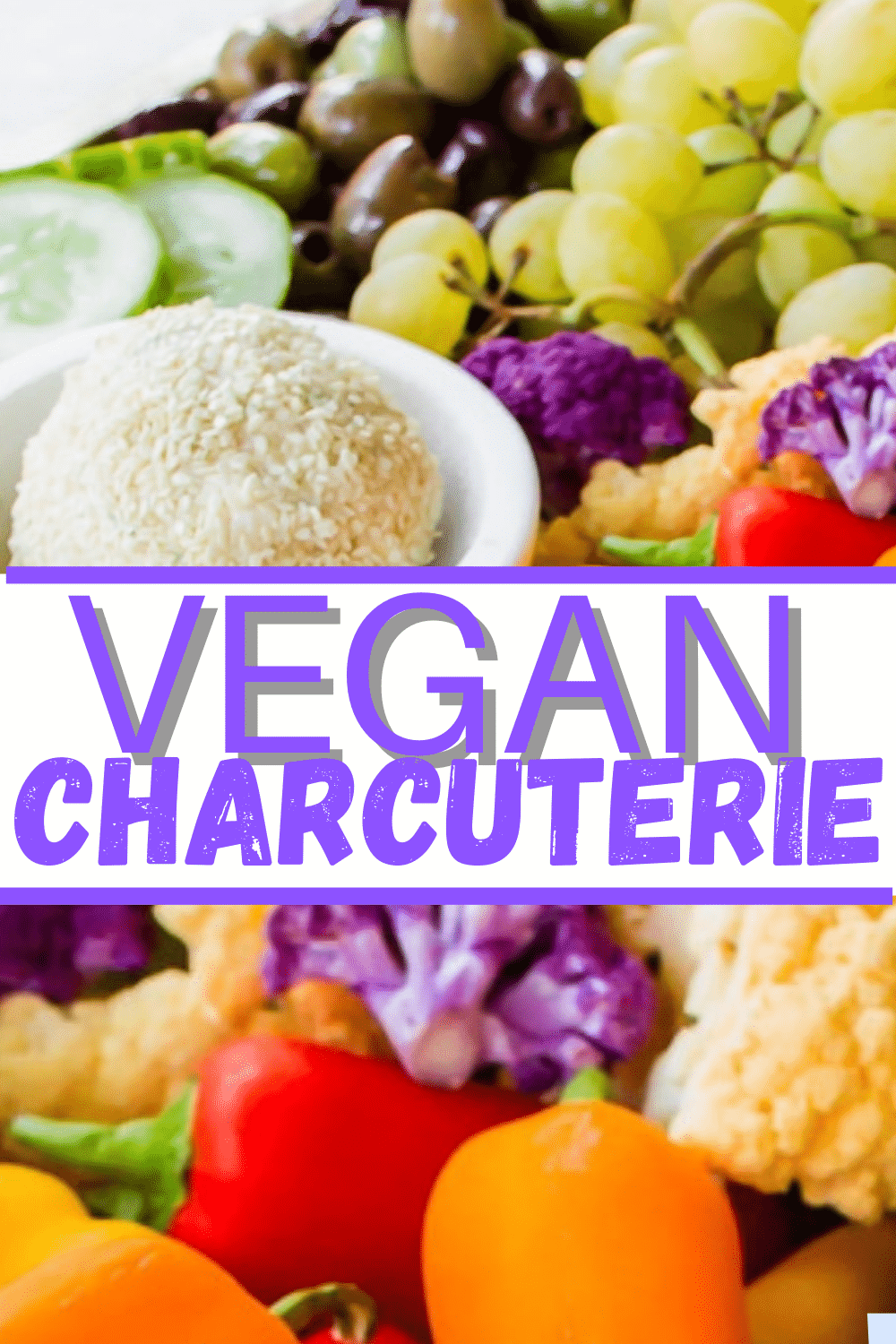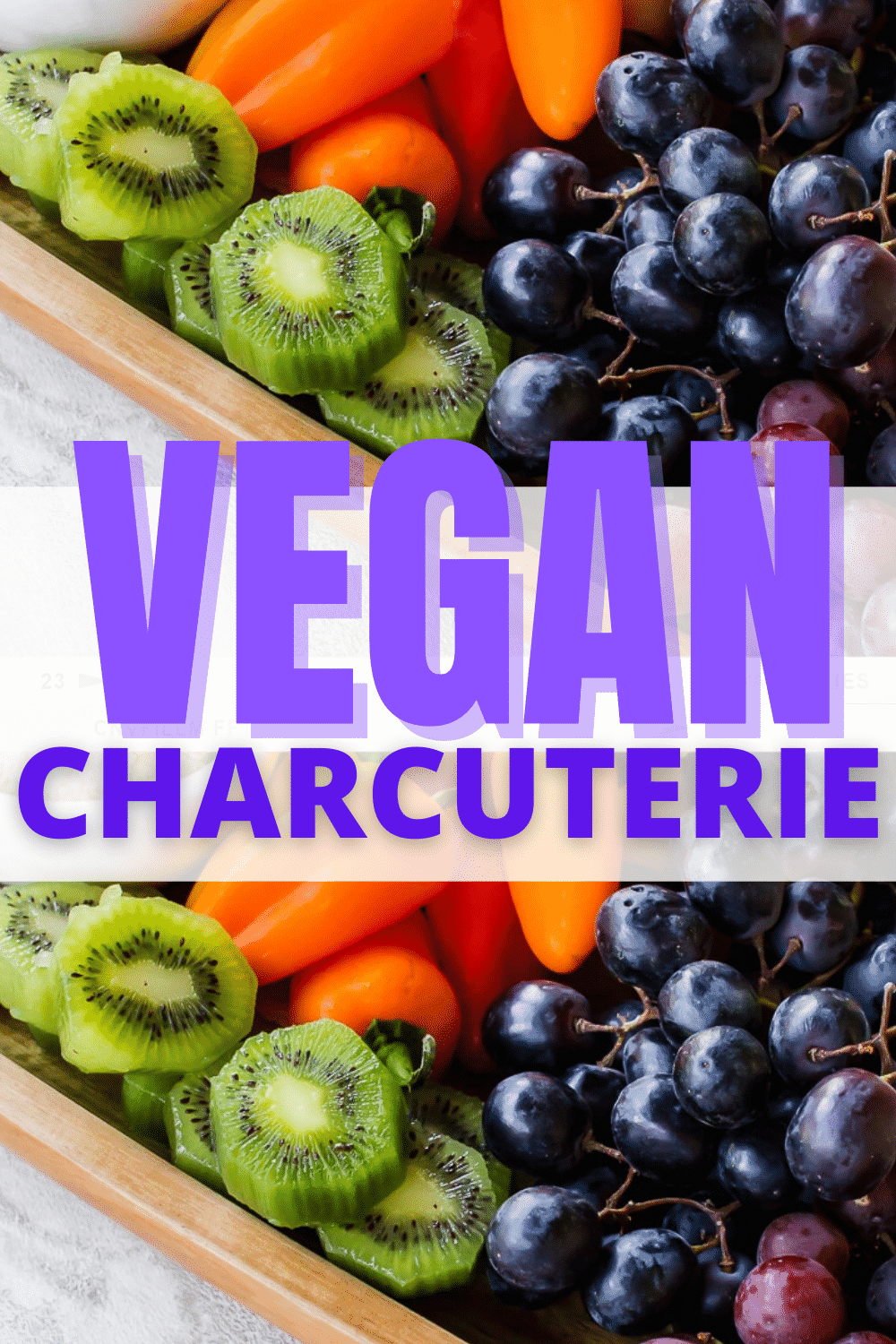 Vegan Charcuterie anyone? This beautiful and easy Vegan Charcuterie Board will be your newest obsession. Push aside the traditional meat and cheese platter and welcome this vegan option!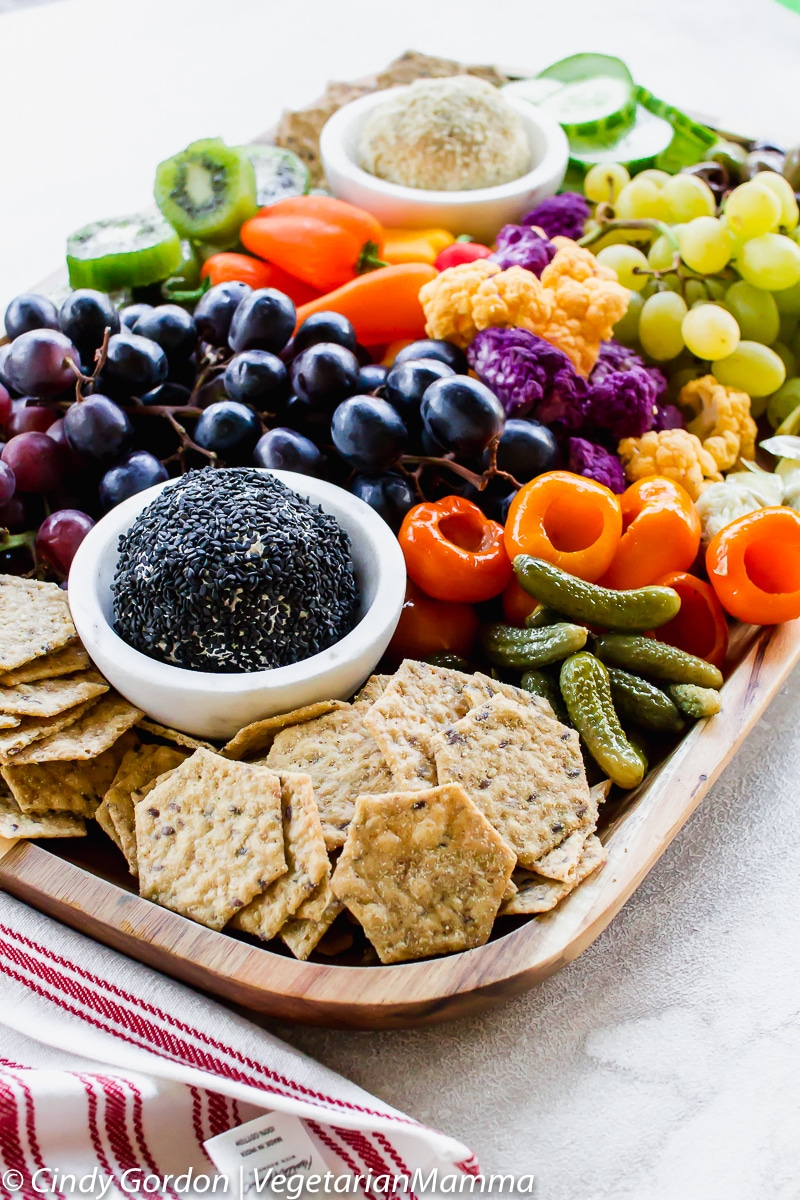 Vegan Charcuterie Recipe
So what exactly is a Charcuterie board? It is basically a meat and cheese tray, plain and simple.
Unless you're making a vegan or vegetarian charcuterie board. In this case, meat and cheese are replaced with tasty plant-based finger foods.
But let's take this concept a little deeper. Wondering about the charcuterie pronunciation? It's a tricky one!
Here is how you pronounce it "shar-coo-tree." The word means smoked, dry-cured or cooked meats.
As you know, we are talking about Vegan Charcuterie, so there will be no meats OR animal products involved in this post. We've written previously about a vegetarian charcuterie board if you want to check that out.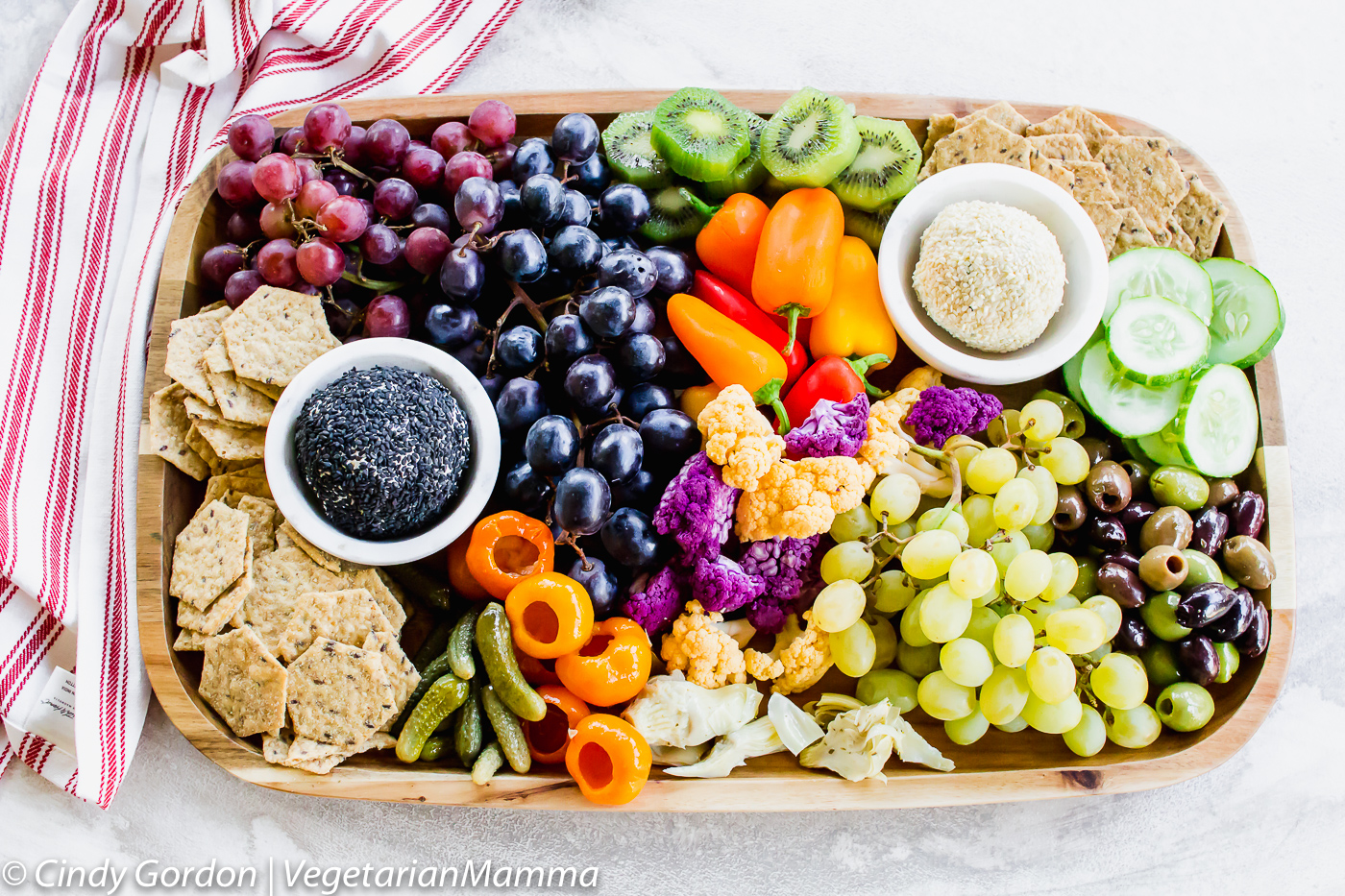 These boards really do not need an introduction as they are pretty popular right now. People are being creative and making the boards to fit the likes and needs of their diets!
You can create Vegetarian Charcuterie and Vegan Charcuterie Boards! Anything goes!
Whether you are a meat eater, plant-based eater or a vegetarian, you can create a beautiful inviting snack board that everyone can enjoy!

VEGAN CHARCUTERIE INGREDIENTS
Fruit - You can use all types of fruit for your Vegan Charcuterie board. Grapes are my number one pick for this board. I like to get green, purple, and black seedless grapes.
Also, berries are a beautiful addition as well. Think about colors when choosing your fruits. Think about adding fruits with bright colors like strawberries, raspberries, kiwi or even dried fruits like mango.
Vegetables - We need to counter the sweet fruit flavors with some savory vegetable flavors. I suggest using colorful vegetables (just like the fruits) and including things like baby carrots, celery, cucumber slices, cauliflower, and baby sweet bell peppers.
Olives - Think of all the choices at your olive bar at your local grocer! Add black olives and green olives. Also, add marinated olives or stuffed olives. Just make sure whatever the olive is stuffed with is vegan!
Cheese - Vegan Cheese, of course! You can typically find several options for vegan cheese at your local grocer. One of my favorites is VioLife Foods vegan cheese. They have vegan cheese blocks, which can be sliced and served up on your vegan charcuterie.
Nuts - Nuts are easy snack items to add to your vegan charcuterie board! Try cashews, almonds and brazil nuts!
Crackers - Crackers can provide an item with a nice crunchy texture for your vegan charcuterie board! Think about different vegan cracker flavors like: roasted red pepper, "everything" crackers and more.
Dips - Every charcuterie board needs some dips! Make Vegan Cheese Balls (see recipe below), smoky red pepper crema, fresh beet hummus, or creamy vegan onion garlic dip.
You'll also love my copycat recipe for Bitchin sauce on your vegan charcuterie board!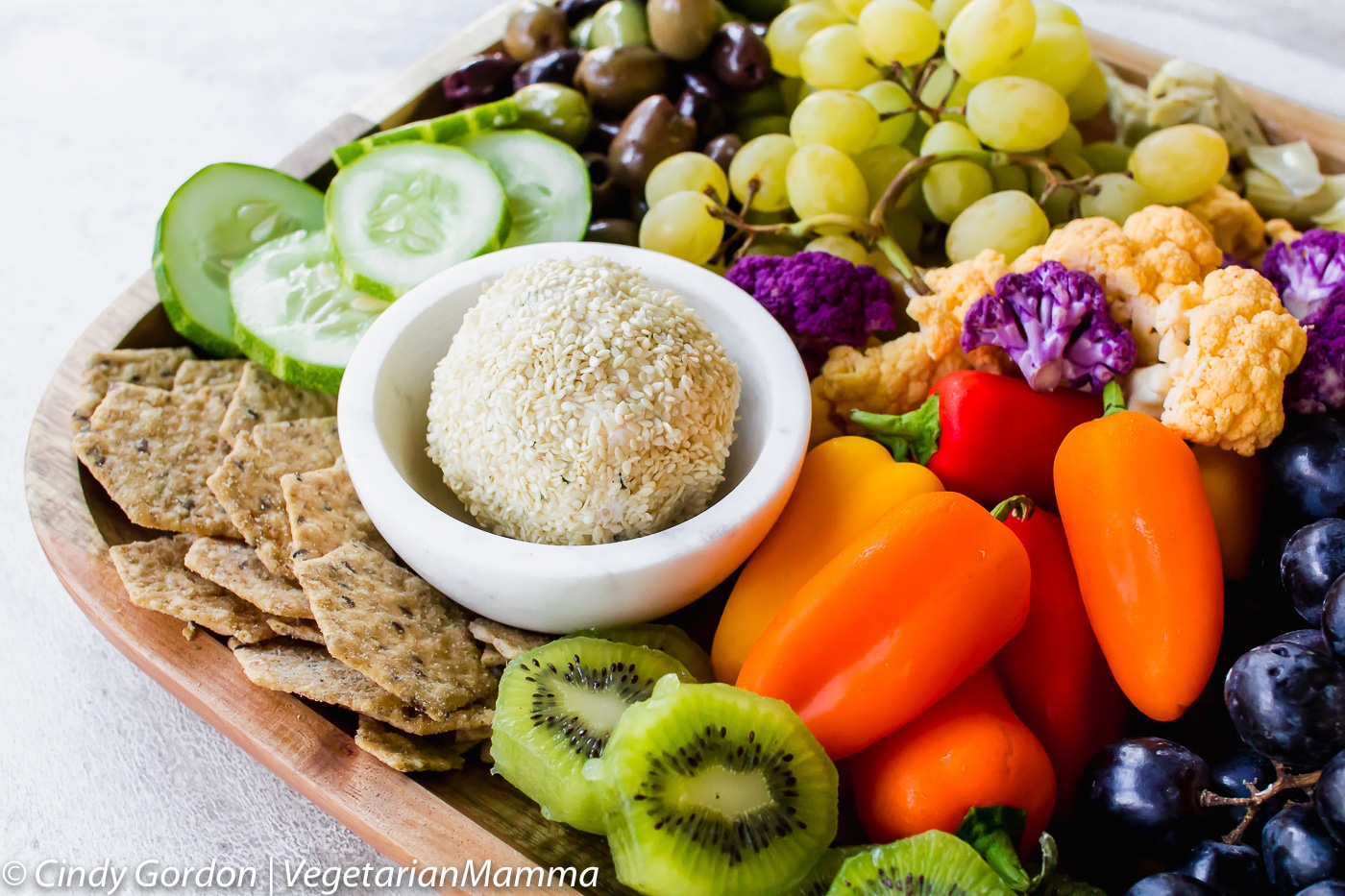 TIPS FOR VEGAN CHARCUTERIE
I know you are wondering when is she going to tell me…" how to make a cheese board", right!? I am almost there, I promise!
Typically, you'll create your masterpiece on a wood board. You can honestly use a cutting board, if you do not want to buy a special board.
If you need to, just use a large plate. If you're serving one or two, a charcuterie plate will be the perfect amount.
I've seen some great ones at target and of course Amazon. You can buy anything these days on amazon!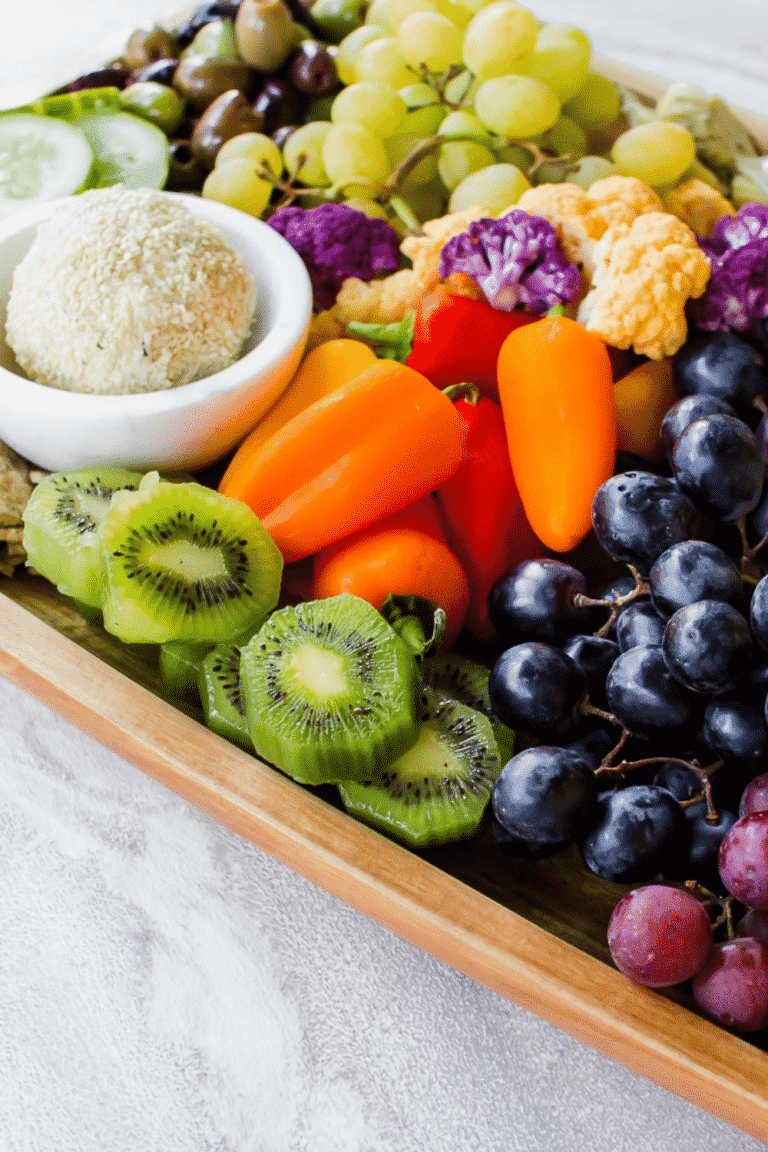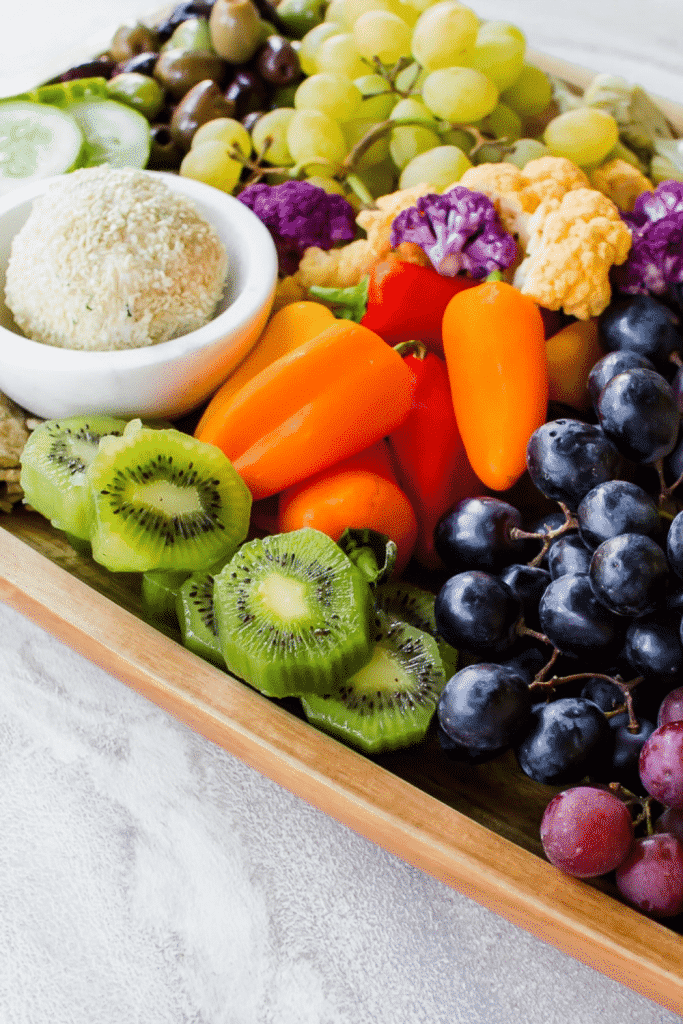 FRUITS ON A VEGAN CHARCUTERIE
Pick fruits that will easily and quickly cleanse the palate. Use both fresh fruits and dried fruits.
I realize that sounds kinda fancy, but think about grapes. Grapes are juicy, they easily cleanse the palate and create a neutral taste in your mouth. These little round fruits are perfect!
Try all the colors of the grapes, mix and match varieties when creating your board. The different colors of the grapes will help your fruit POP among the many foods on the platter!
I also chose some sliced kiwi. Kiwi is such a delicious fruit, also with a sweet neutral flavor much like a grape. The kiwi brings some intense color to our board!
You can even use dehydrated fruit. This will add some texture to your board! Get creative!
VEGETABLES ON A VEGAN CHARCUTERIE
When it comes to vegetables, you need to think about dippers. The veggies should be strong and not that bendable. You want the veggies to be able to dip into whatever is on the platter.
Whether it's hummus, a vegan cheese ball or a spread of some sort. Think: cucumber slices, celery, bell peppers and carrots. All are sturdy and all have great color!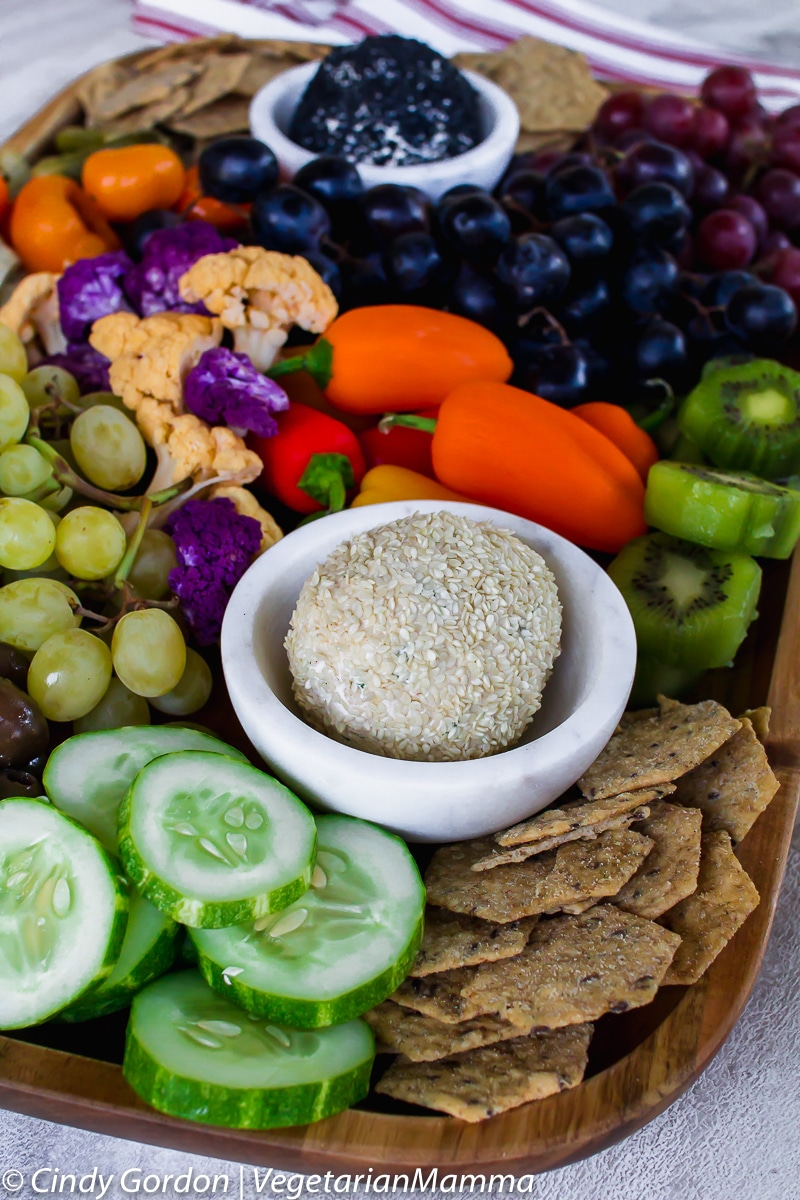 OLIVES AND MORE ON YOUR VEGAN CHARCUTERIE
We are huge fans of olives at our home, so I included several varieties of those. We have a great olive bar selection at our local grocer.
I picked up several types of olives, artichokes, mini pickles and some peppadews.
EXTRAS FOR YOUR VEGAN CHARCUTERIE
There are so many items that you can include on your board. Here are a few items that would go well that I didn't include!
Crackers, vegan cheeses, meat substitutes, and nuts are all wonderful options for your meat free charcuterie board. Crispy Air Fryer Chickpeas are another fun option!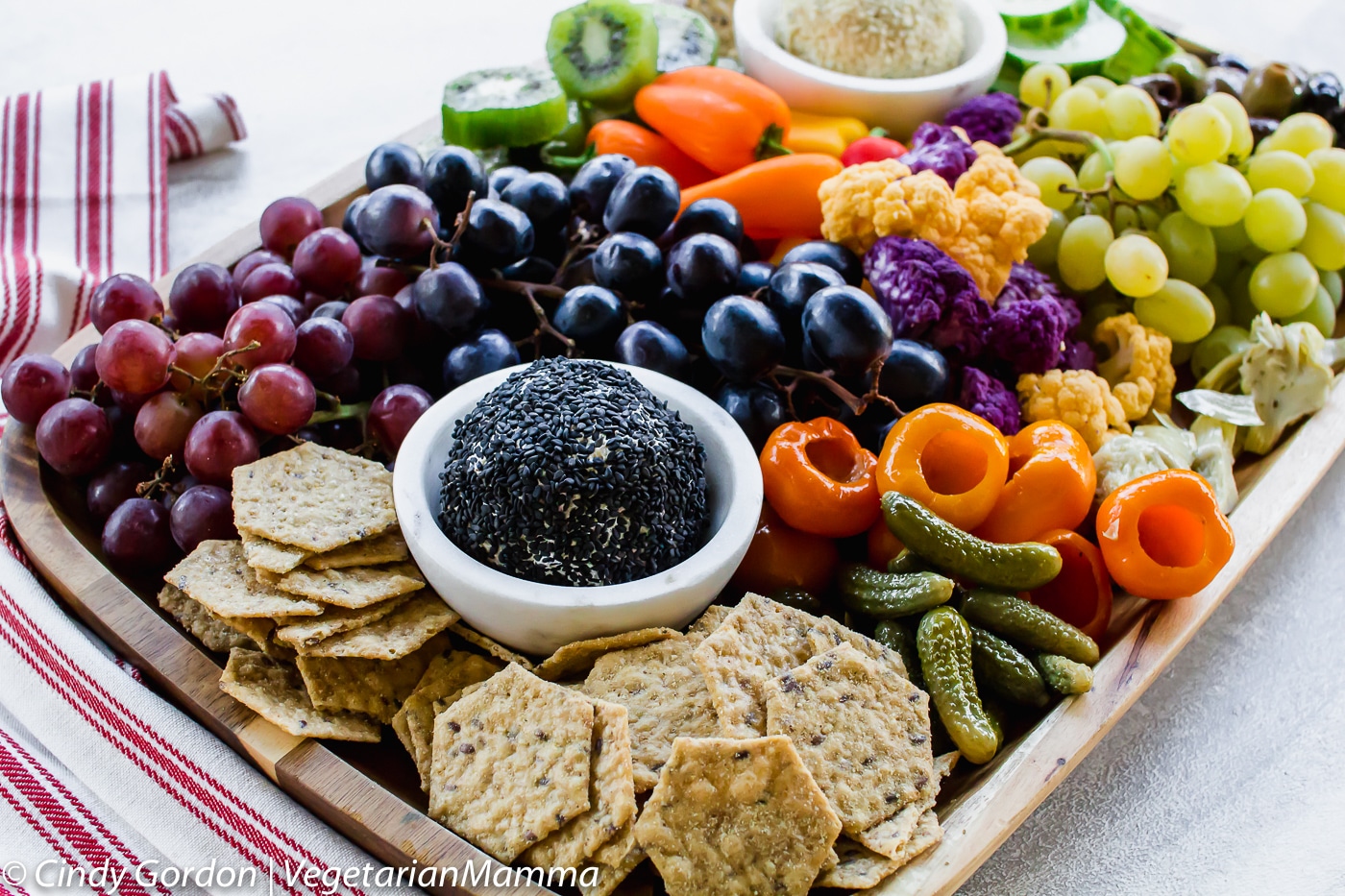 DIPS FOR YOUR VEGAN CHARCUTERIE
I think it is important to have 2-3 dips available on your board. Whether it is a hummus, another dip like our copycat Bitchin Sauce, or a vegan cheese ball! We created a simple cheese ball recipe that we included on our board.
The dips, spreads, and vegan cheese balls can actually be prepared ahead of time. Prep these things the day before to save time.
If you are looking for an easy, yet delicious recipe to add to your charcuterie board, this cheeseball is for you! Just keep scrolling!
I LOVE charcuterie boards because you are basically bringing together all the things you love and arranging them in a beautiful way on a platter! Think about flavors and texture as you are picking your items for the board.
MORE VEGAN APPETIZER RECIPES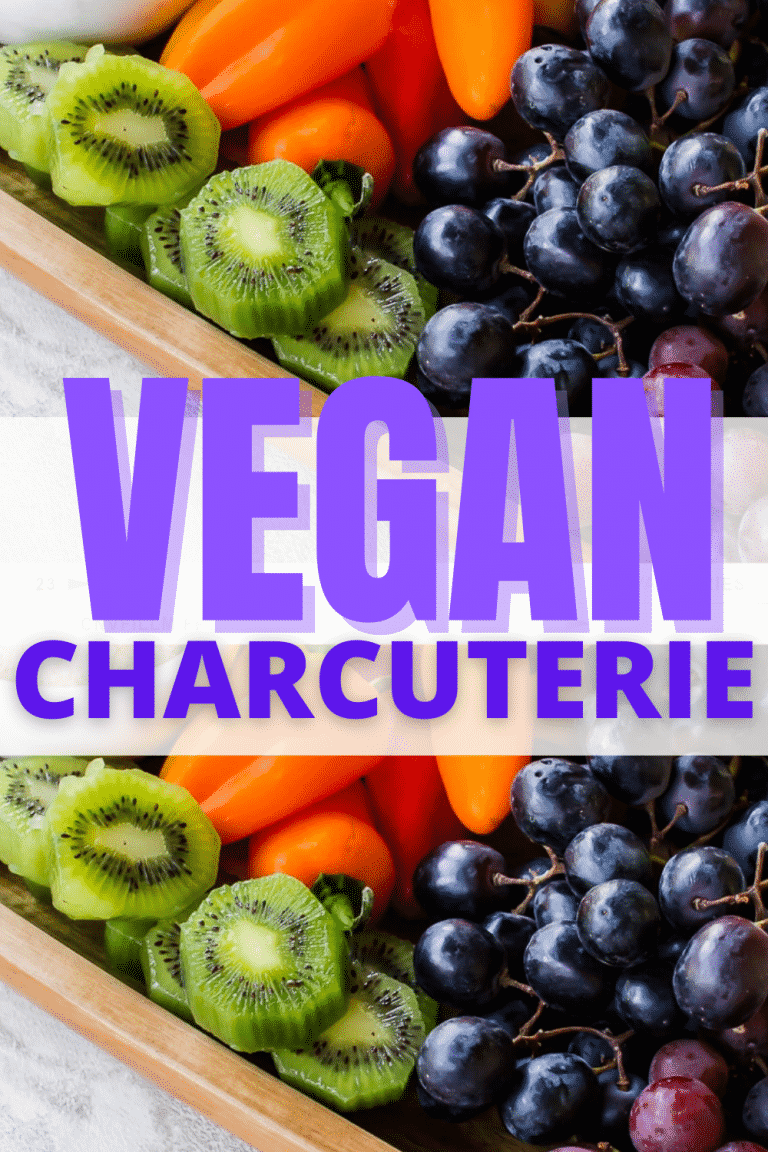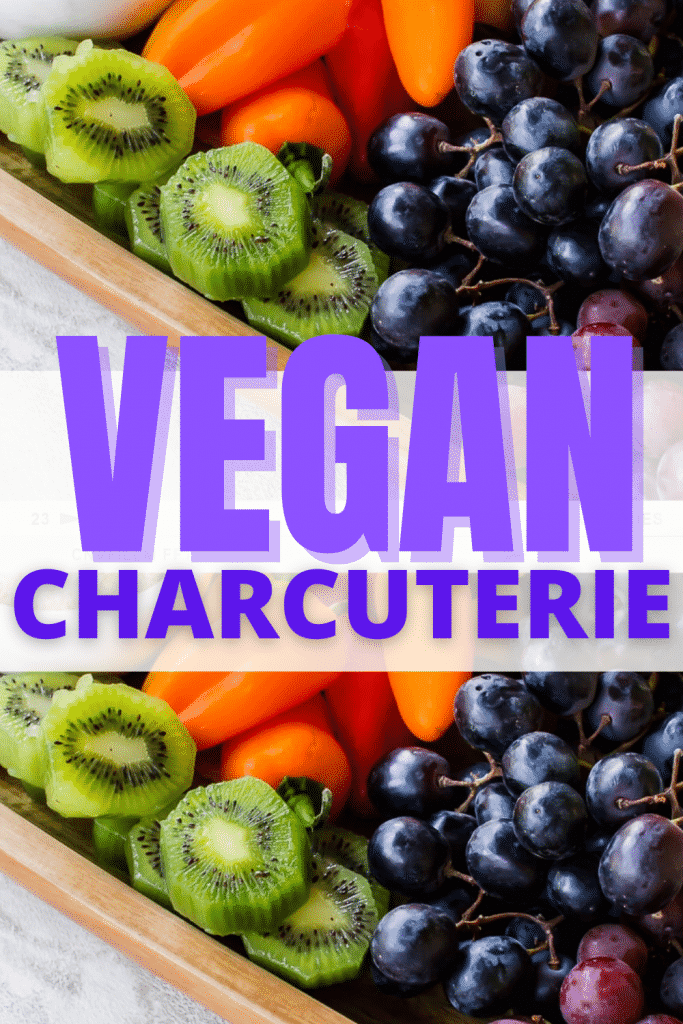 Easy Vegan Cheese Ball
This easy vegan cheese ball recipe will quickly become a family favorite. This simple cream cheese ball is vegan, nut-free and wrapped in sesame seeds.
Instructions
In a medium sized bowl, mix together all ingredients except the sesame seeds. Mix until well blended. Form into three balls.

Divide the sesame seeds, by color, into two bowls. Gently roll each of the easy cheese balls into the seeds. Here is where you can have one. You can do one color of each and then blend the seeds for the third ball.

You can chill the simple cheese balls or you can eat immediately! ENJOY!
Nutrition
Calories:
194
kcal
|
Carbohydrates:
4
g
|
Protein:
6
g
|
Fat:
17
g
|
Saturated Fat:
7
g
|
Cholesterol:
35
mg
|
Sodium:
157
mg
|
Potassium:
107
mg
|
Fiber:
1
g
|
Vitamin A:
455
IU
|
Vitamin C:
0.7
mg
|
Calcium:
243
mg
|
Iron:
2.1
mg
All though this website attempts to provide accurate nutritional information, the information should only be considered an estimate. Varying factors such as different product types, different brands, etc. can change nutritional information. It is your responsibility as a consumer to read all labels to make sure the ingredients fit your dietary needs as well as calculate your own nutritional information as a double check.