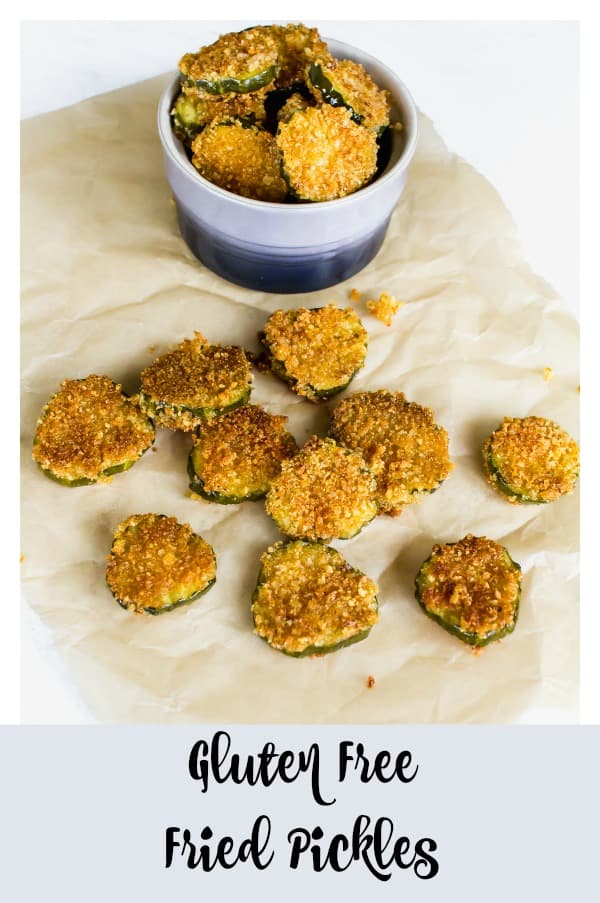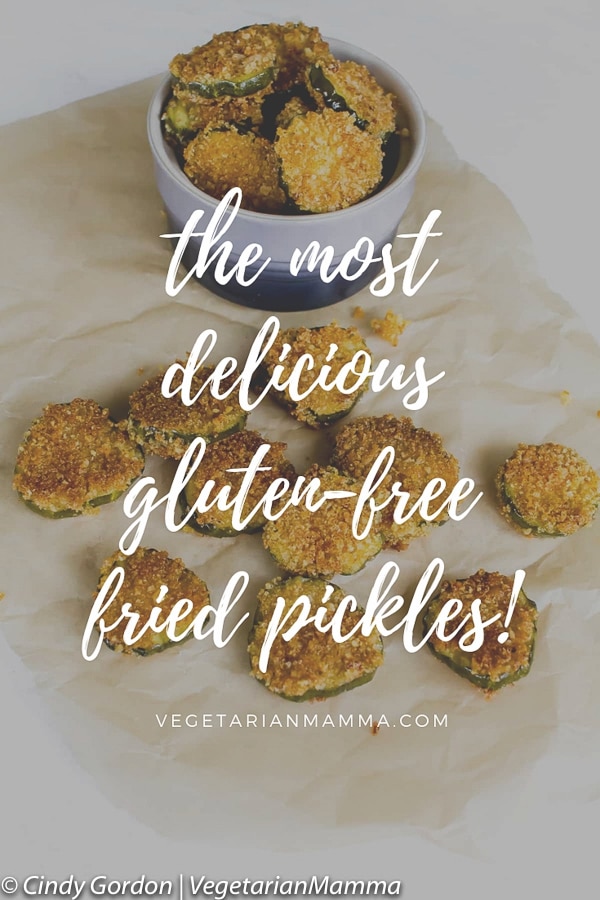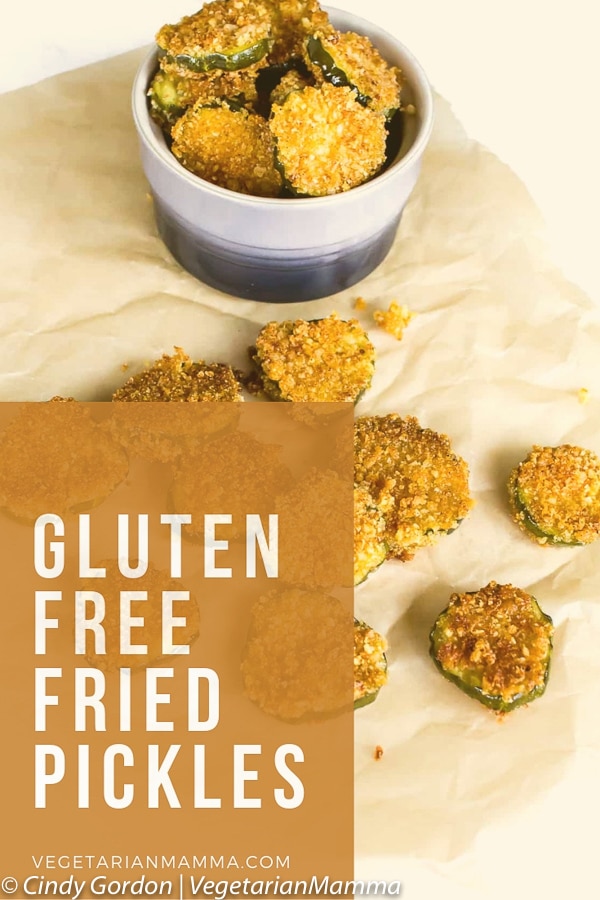 Fried Pickles are a popular and delicious appetizer at many restaurants. Gluten-free fried pickles are hard to find, but thanks to this delicious recipe, you can make them at home.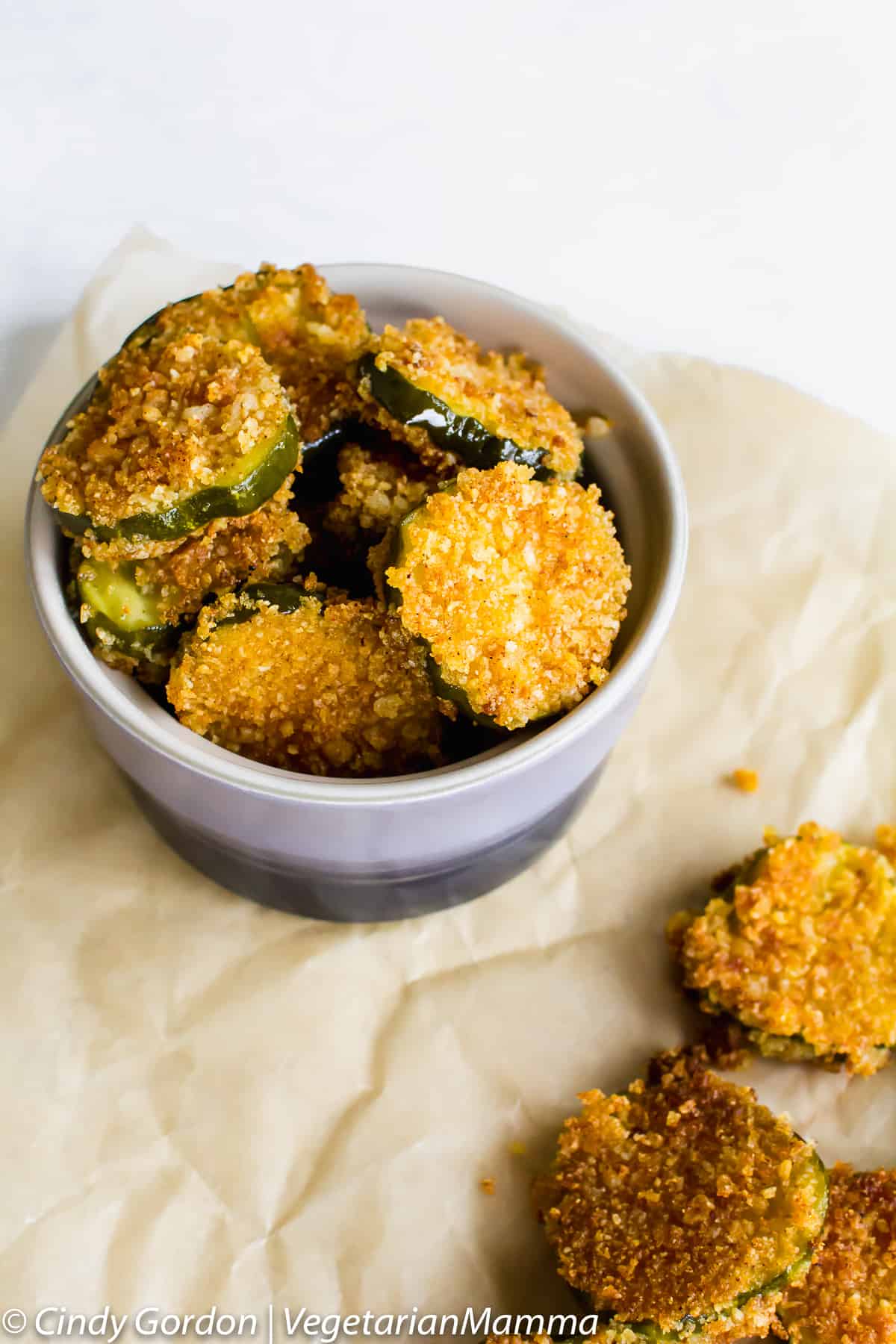 Gluten-Free Fried Pickles Recipe
I LOVE fried pickles! Before I had to start eating gluten-free, fried pickles were my go-to. We went out to eat at a restaurant and they had fried pickles as an appetizer I would order it.
I loved fried pickle spears, I loved fried pickle ovals. I didn't discriminate!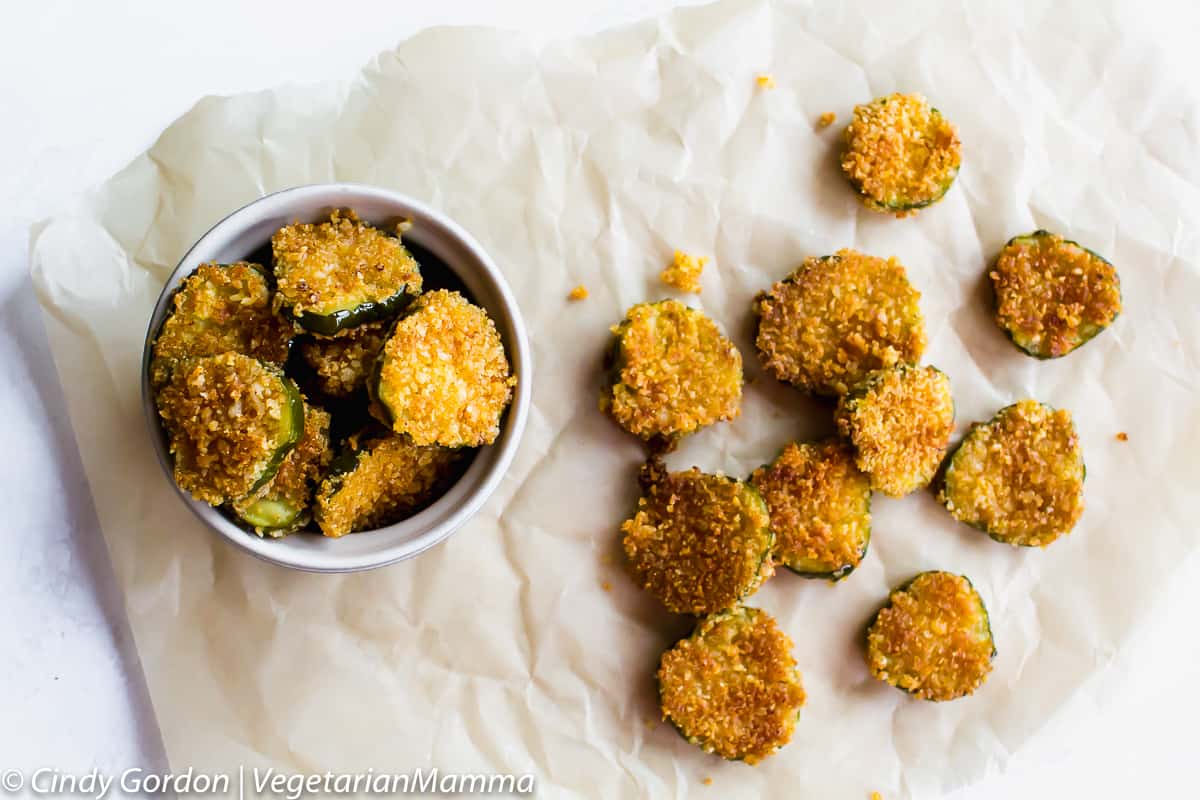 Fast forward to eating gluten-free and I have found two places in my travels that have had gluten-free fried pickles! One was in Vegas and the other in Kentucky.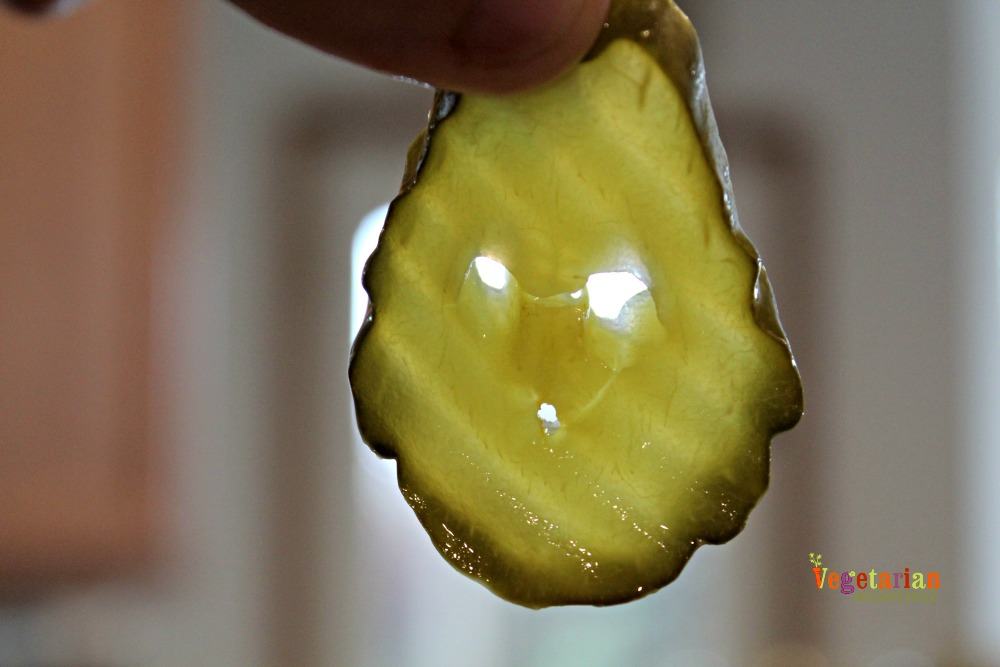 Sometimes you find something that makes you smile when you are cooking.
See look, even pickles have some personality. I found this little pickle face mid batch! This photo is from the old batch. It is just too cute to get rid of! I had to keep it!Isn't he cute? 😉
If you follow me on Instagram, you've probably seen my dog Gia! She is always in the kitchen when I am cooking. Just as a friendly reminder, pickles are not good for dogs.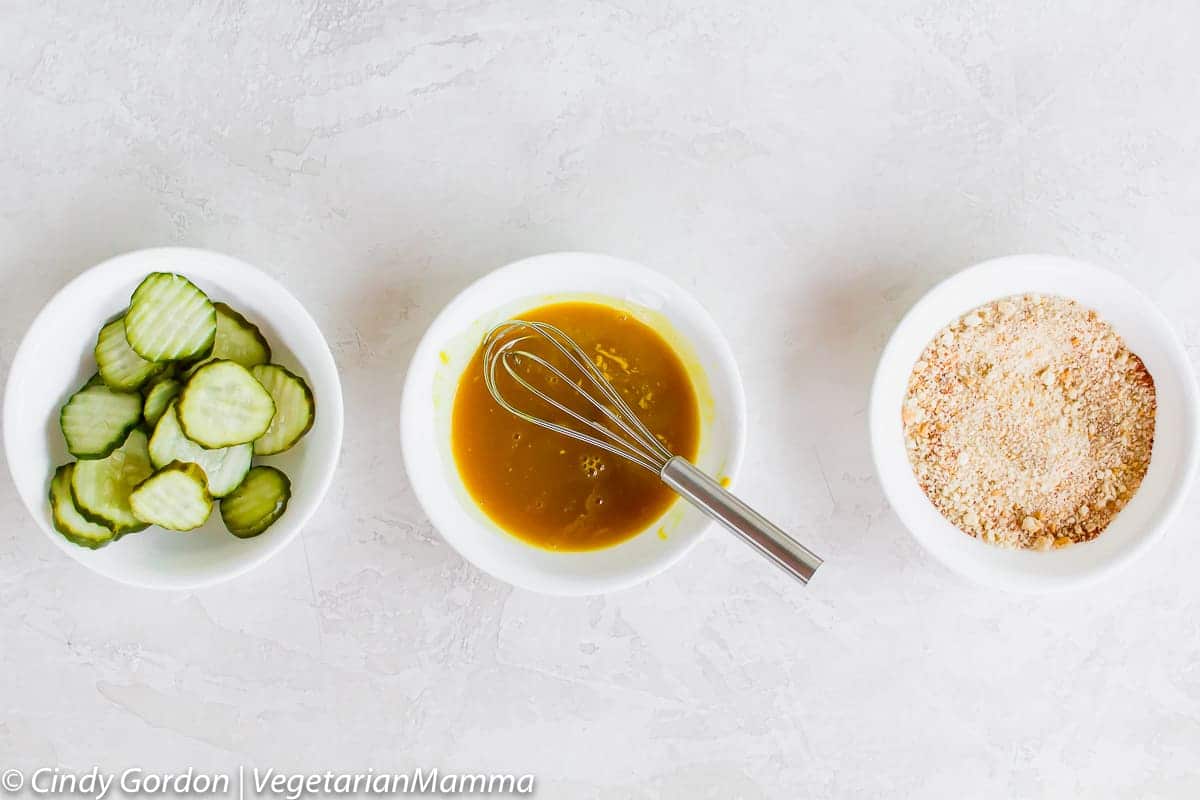 INGREDIENTS IN GLUTEN FREE FRIED PICKLES
Dill Pickle Slices - Use your favorites, I like to use the oval shaped ones sometimes for the bigger surface area.
Gluten-free crumbs - Panko or regular breadcrumbs will both work in this recipe
Smoked paprika - this gives a smoky flavor that I just love.
Maple syrup - This is used to stick the breadcrumbs to the pickles. It's a vegan trick to use maple syrup instead of eggs, plus it's super tasty this way.
Mustard - Mustard mixed with the maple syrup is the most amazing flavor.
Oil - for frying our breaded pickles.
If you have any questions, please leave a comment below and I will get back to you ASAP!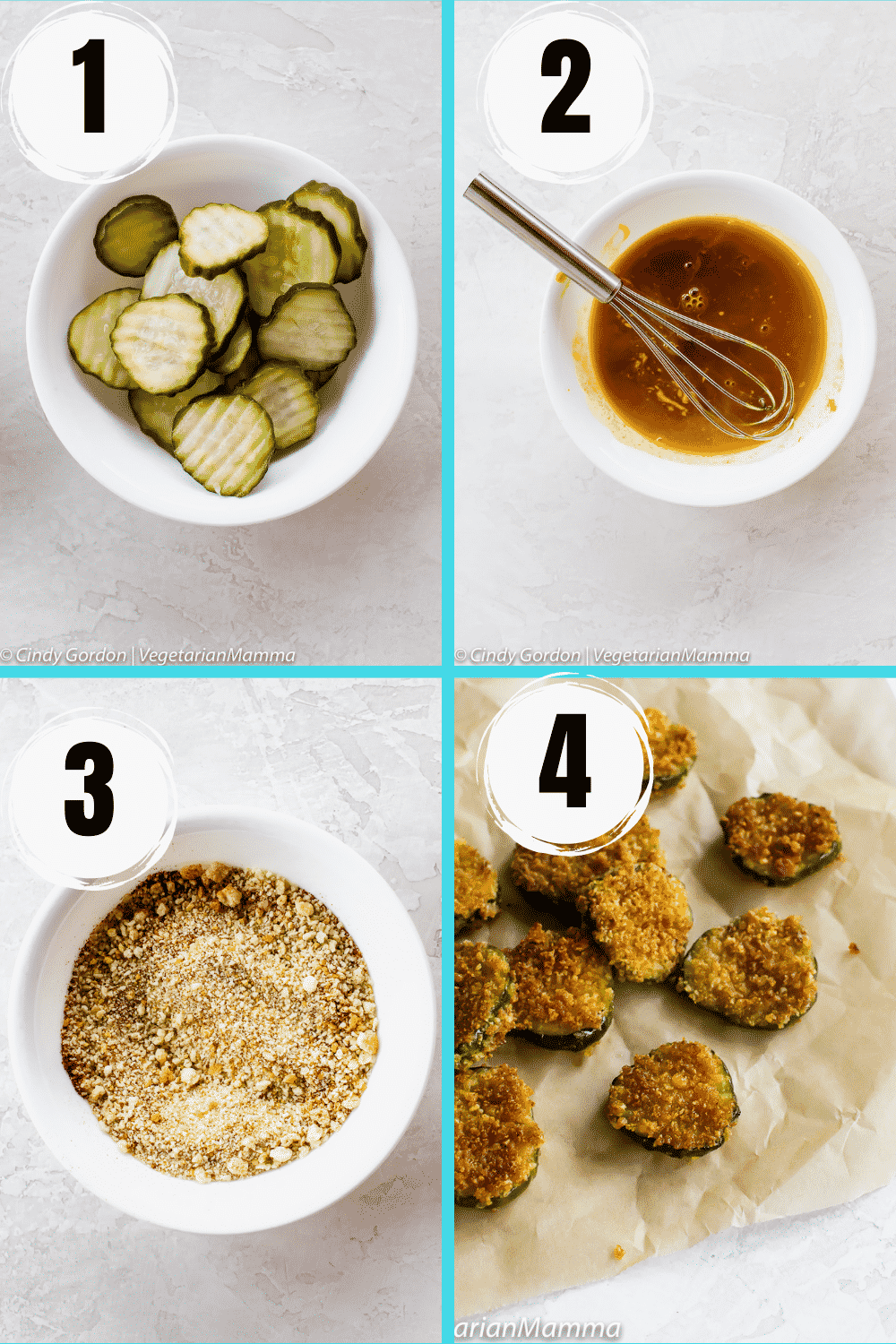 How To Make Gluten-Free Fried Pickles
I have the entire recipe in a printable card further down in the article. But if you're like me, you enjoy seeing photos of the entire process too.
1. Drain the Pickle Juice and pat pickles dry.
2. In a small bowl, combine the mustard and maple syrup using a whisk.
3. Combine bread crumbs and smoked paprika. I used Ian's Gluten Free Original Bread Crumbs for this recipe.
4. Dip each pickle into the syrup mixture, and then into the breadcrumbs. Fry pickles in a small amount hot oil or cooking spray, in a shallow pan until golden brown on both sides.
These numbered steps match the numbered photos above and are for illustration purposes. For the complete list of ingredients and instructions, please see the recipe below.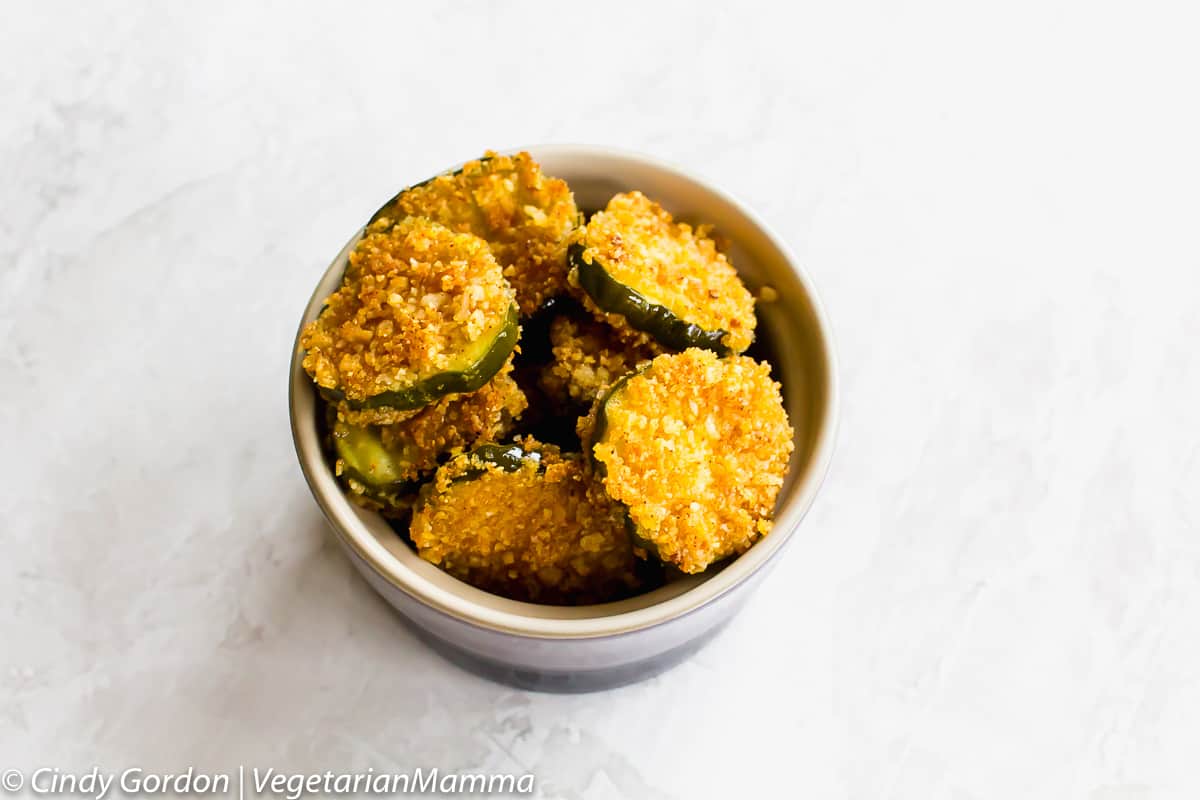 These gluten-free fried pickles are delicious and I promise you will keep coming back for more.
A bit of advice...let them cool before eating them.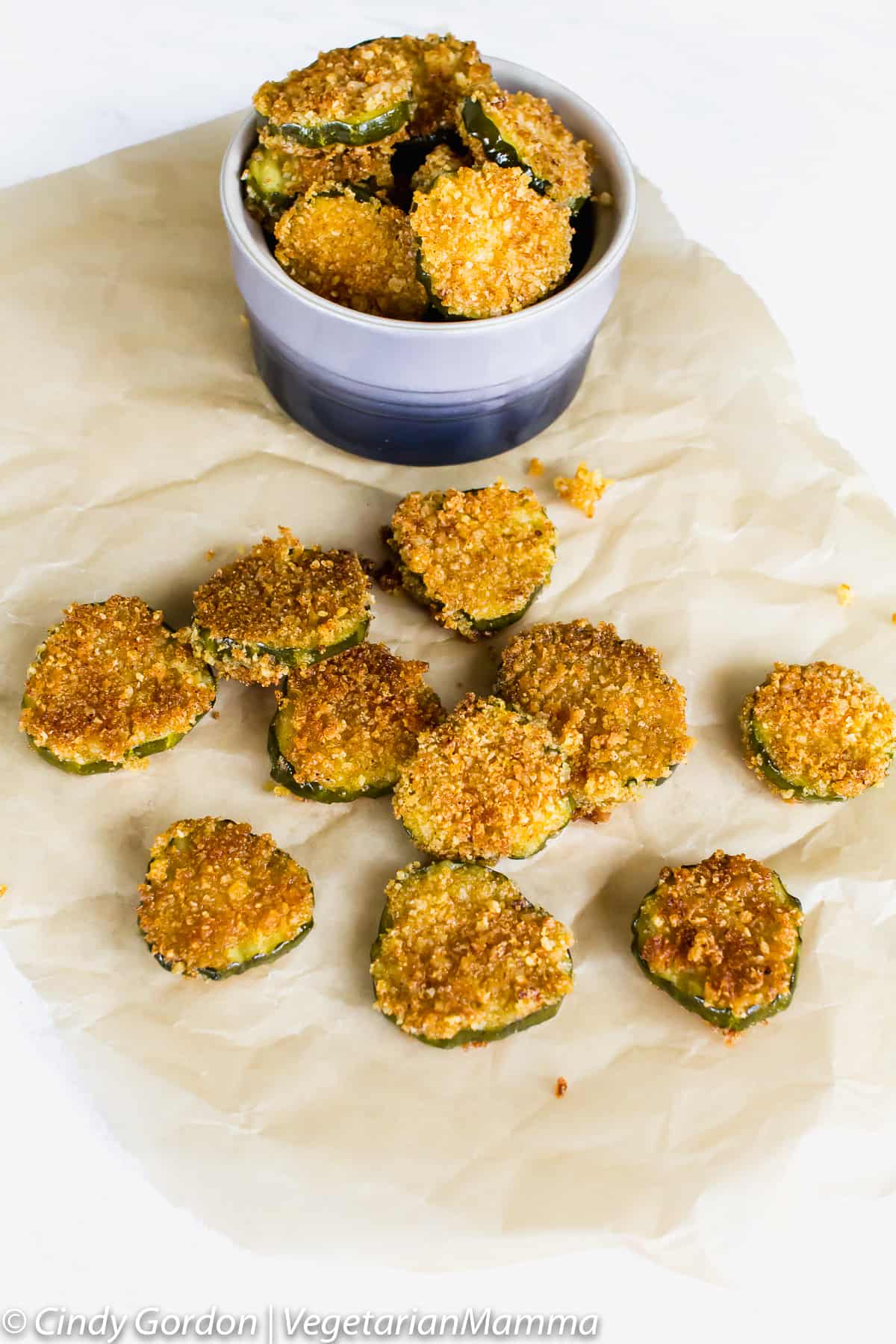 They taste so good, that you are going to want to eat them right out of the pan! Don't be like me...wait...your mouth will thank you! Ha! They ARE so good that you will have a hard time waiting for them to cool to eat!
Did you get soggy Gluten-Free Fried Pickles?
Pickles can hold quite a bit of moisture. If you end up with soggy pickles it is probably because the pickles had a wee bit too much moisture in them.
Next time around, go ahead and pat dry the pickles before coating with the mixture.
Love spicy easy fried pickles?
If you LOVE a little spice or hotness to your food, I have a fix for you! You can add some hot sauce to the liquid mixture during the coating process. This will help give those little pickles some KICK!
Can you change the pickle?
Yes, you can change the pickle if you wish. I would suggest sticking with a dill pickle in spear or rounds. But if you want a sweeter one, you can opt for a bread and butter pickle.
My personal opinion is the dill is the way to go!
Can I fry a whole pickle?
You can start with a whole pickle. You know the ones that are sold in a big jar on deli counters? You can start with those and use a crinkle cutter (affiliate ad link) to make slices!
If you want to make life easy you can just opt for pickle chips that are already pre-cut!
Fried Pickle Dipping Sauce Recommendations
Oh, this is getting me hungry with all this pickle talk! Whether you make your pickles in the air fryer or in the skillet, you need a good dipping sauce! Am I right?!
I am personally a big fan of dipping my air fryer pickles, deep-fried pickles OR pan-fried pickles into ranch! You can use a commercial brand of ranch, but if you'd like to make a homemade version you can try my dairy-free ranch.
You could also use a spicy mayo or a comeback sauce!
CAN I MAKE FRIED PICKLES IN THE AIR FRYER?
Love your power air fryer? We have the best fried pickle recipe over in our air fryer recipes section! You will seriously LOVE how easy these air fried pickles are!
Side note: If you are in the market for an air fryer, I recently created a post about the best air fryers on the market. The post is based on reviews from friends, family, and online consumers! Be sure to check out the best air fryers on the market!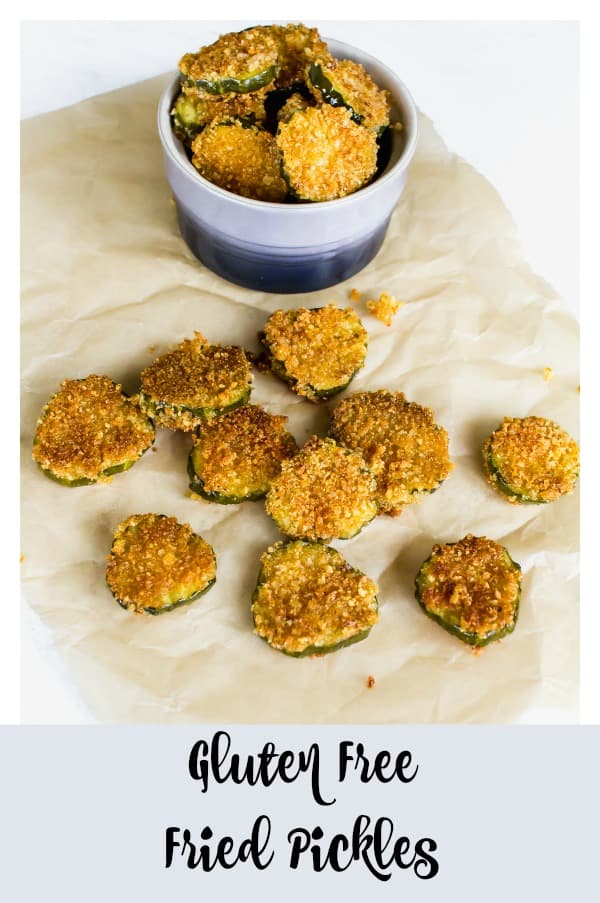 Have you made this recipe? Please leave a comment AND rating below! It helps other readers!
Be sure to tag @VegetarianMamma on instagram, if you share a picture on the gram! Let's get social, you can follow me on Youtube, Instagram, Facebook, Pinterest or join one of our Facebook Groups: Tasty Vegetarian Recipes and Vegetarian Air Fryer Recipes.
Don't forget to subscribe to our EMAIL newsletter.
Gluten Free Fried Pickles
Fried Pickles are a popular and delicious appetizer at many restaurants. Gluten-free fried pickles are hard to find, but thanks to this delicious recipe, you can make them at home.
Instructions
Drain pickles and dry them well.

Combine the gluten-free crumbs and smoked paprika in a bowl.

In another bowl, whisk maple syrup and mustard together.

In a large skillet over medium heat, spray the skillet with cooking spray.

Gently put a few pickles into your maple syrup/mustard mixture. Coat each side.

Gently place the coated pickle into your gluten-free crumb mixture. Make sure that the crumbs stick to the pickle by gently pressing the pickle into the mixture.

Place crumb coated pickle into hot pan. Fry pickle on each side until golden brown.

Remove from pan, let cool, then enjoy!
Nutrition
Calories:
141
kcal
|
Carbohydrates:
31
g
|
Protein:
2
g
|
Fat:
1
g
|
Saturated Fat:
1
g
|
Sodium:
60
mg
|
Potassium:
57
mg
|
Fiber:
1
g
|
Sugar:
12
g
|
Vitamin A:
246
IU
|
Calcium:
22
mg
|
Iron:
1
mg
All though this website attempts to provide accurate nutritional information, the information should only be considered an estimate. Varying factors such as different product types, different brands, etc. can change nutritional information. It is your responsibility as a consumer to read all labels to make sure the ingredients fit your dietary needs as well as calculate your own nutritional information as a double check.
While you are here, we'd love for you to check out some of our favorite non-air fryer recipes! We have some delicious sauces that you can dip your favorite foods into as well a sweet treats and drinks!
Be sure to check out these recipes! Dirty Chai, Avocado dressing, Mediterranean Sauce, Vegetarian Charcuterie, BBQ Ranch, Vegan Rice Krispie Treats, Vegan Honey Mustard, Vegan Croutons