Air Fryer Chickpeas are a quick and delicious airfryer snack. You are going to love this addicting air fried garbanzo beans.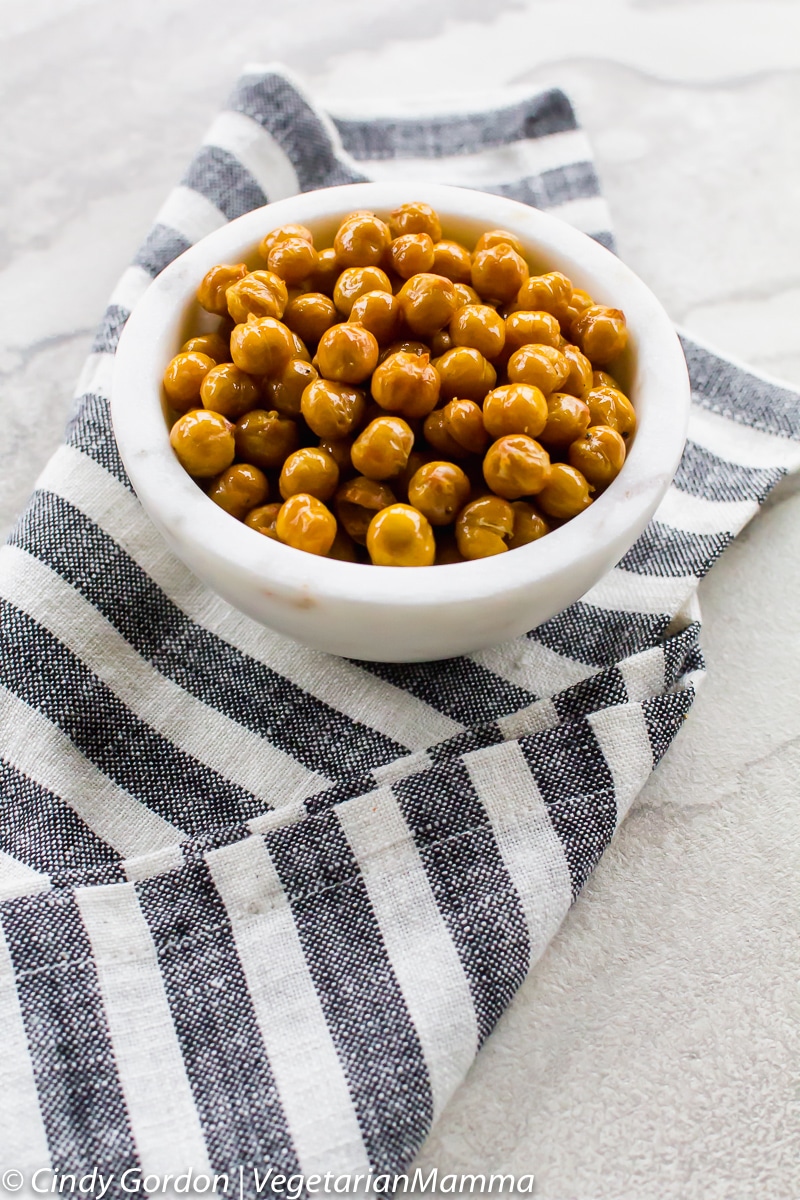 Air Fryer Chickpeas
We are huge fans of chickpeas. Did you know that garbanzo beans are really chickpeas and vice versa?
We love the mild flavor that the beans provide, yet they still pack a punch of protein. Chickpeas generally have about 15 grams of protein per cup.
This recipe uses canned chickpeas. These are the ones that are pre-cooked and you can even eat them directly from the can.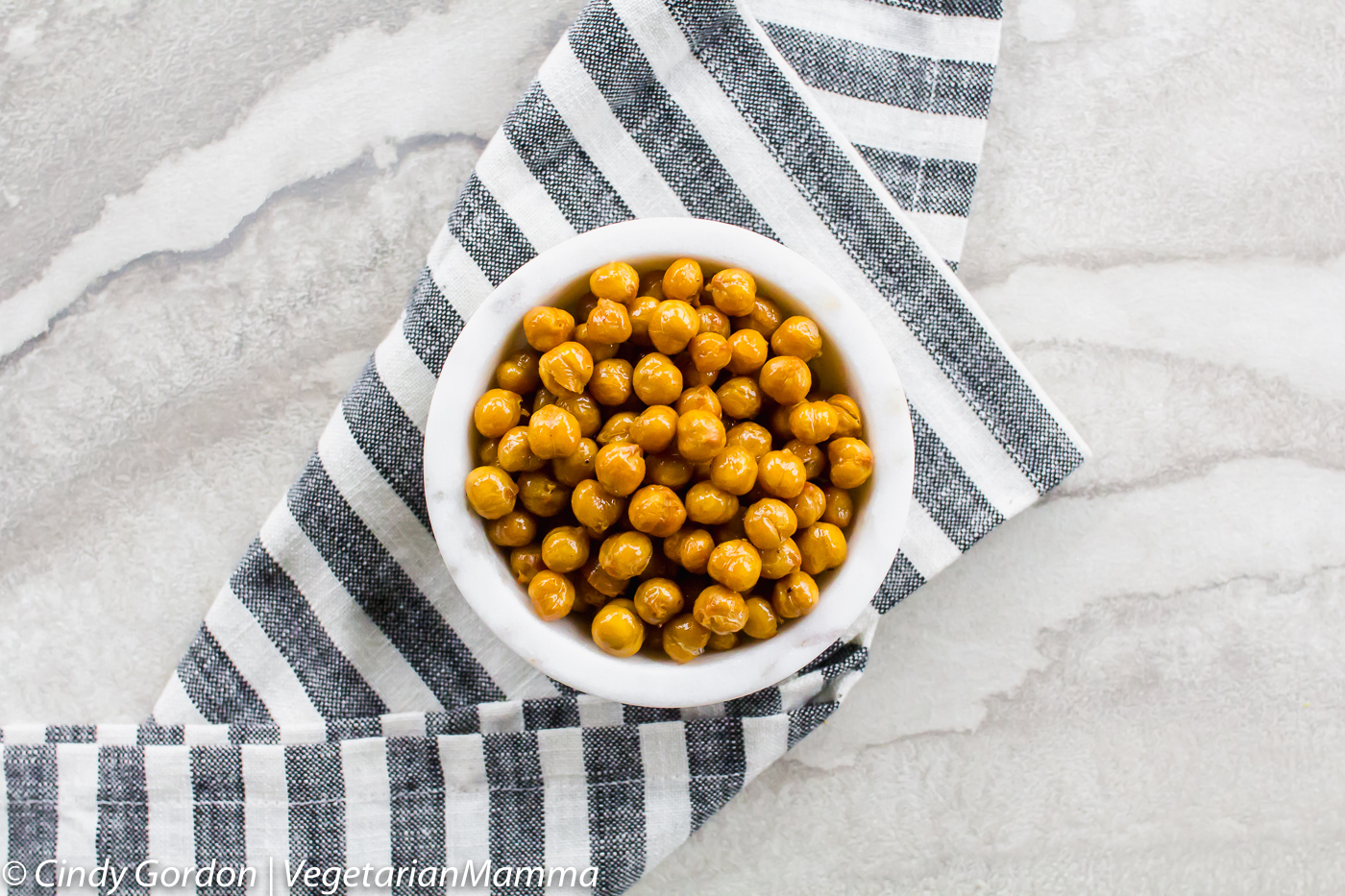 WHAT CAN YOU ACTUALLY COOK IN AN AIR FRYER?
The options of what you can cook in this amazing appliance are truly endless! You know I'm crazy over this fried green beans recipe, but we've also cooked tofu, potatoes, french fries, Brussel sprouts and more! Anything that your taste buds want to try straight out of this gadget, give it a go!
While we don't eat meat in our family, that doesn't mean that you can't cook up some fried chicken, chicken tenders, or anything else beer battered or deep fried to that perfect golden brown that you love and that you want with ease in the air fryer basket.
The great part about cooking with an air fryer? The cook time is a breeze. Like literally no time…at all.
For us, we love to use our Power AirFryer XL (affiliate ad link) Yes, so that makes all of our air fryer recipes, specially power air fryer xl recipes!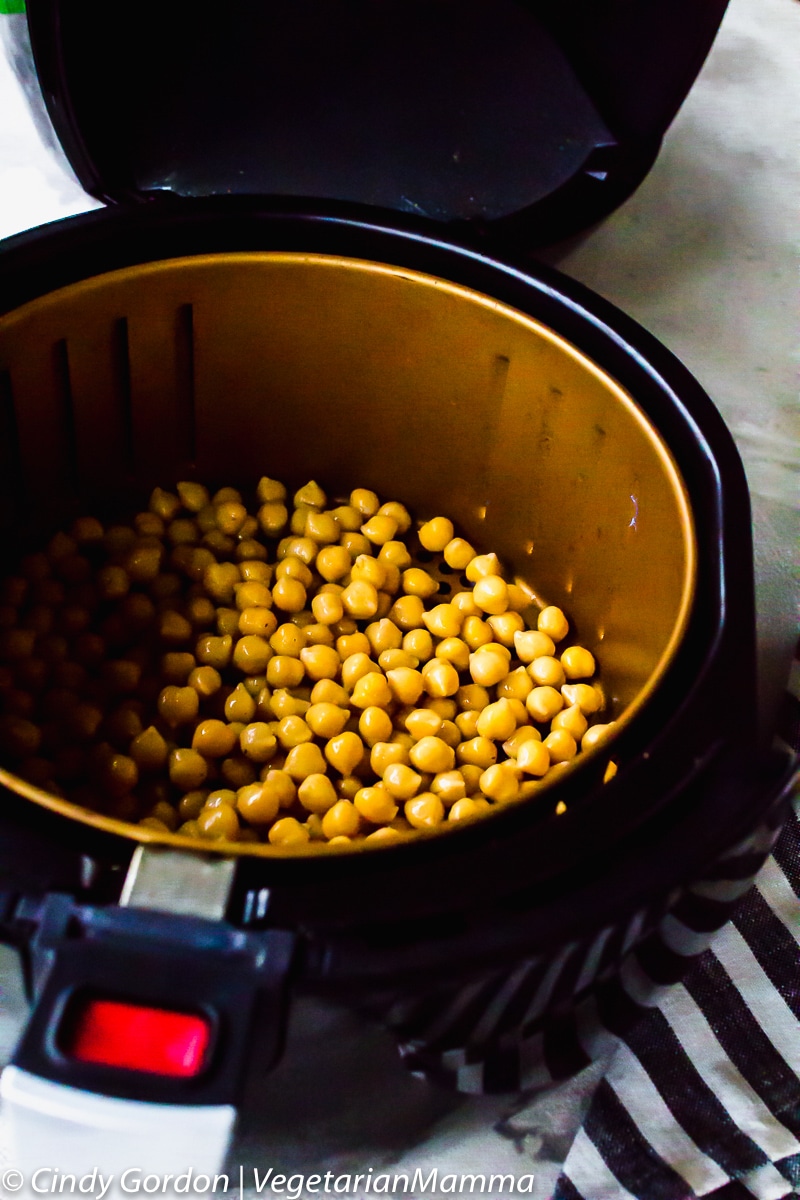 How do I clean my air fryer?
That is a great question and it will vary by model. For our power fryer Xl we have a removable inner basket. So we can hand wash each basket individually. It is listed on the new ones in the instruction manual that the basket is dishwasher safe. Be sure to check your manual.
The inside of the air fryer really shouldn't get dirty. If it does, let it COOL completely. Then take a damp rag and wipe out the inside. Cleaning your oil less fryer is easy!
How do you make crispy air fryer chickpeas?
In a small bowl mix the beans with the oil.

Put beans into air fryer basket and cook at 390 degrees F for 15 minutes. Shake at the 7 minute mark. Shake again at the 12 minute mark and season with salt and pepper. Continue to cook.

ENJOY!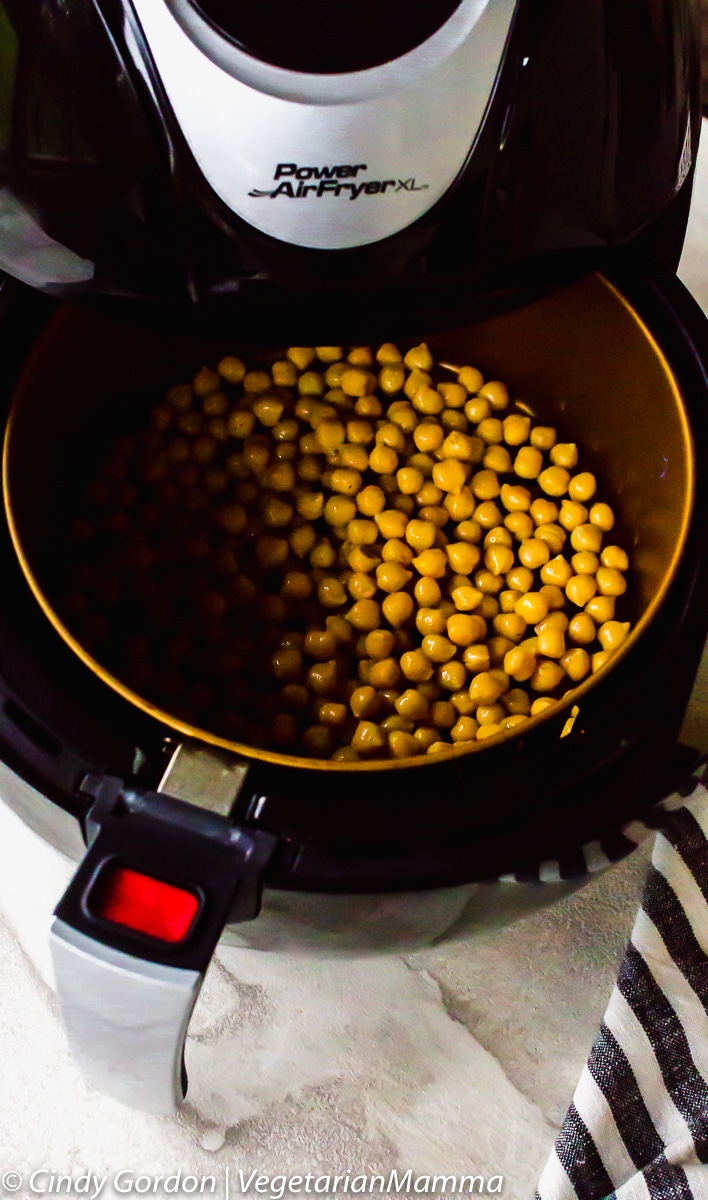 Question time:
How to store your crispy garbanzo beans
You will need to store your beans in an airtight container. I suggest keeping the container out of heat or coolness. Storing them in your cabinet or pantry works best. I have tried storing these in the fridge and if there is any moisture in your container the beans will get a touch soggy! So stick to the pantry!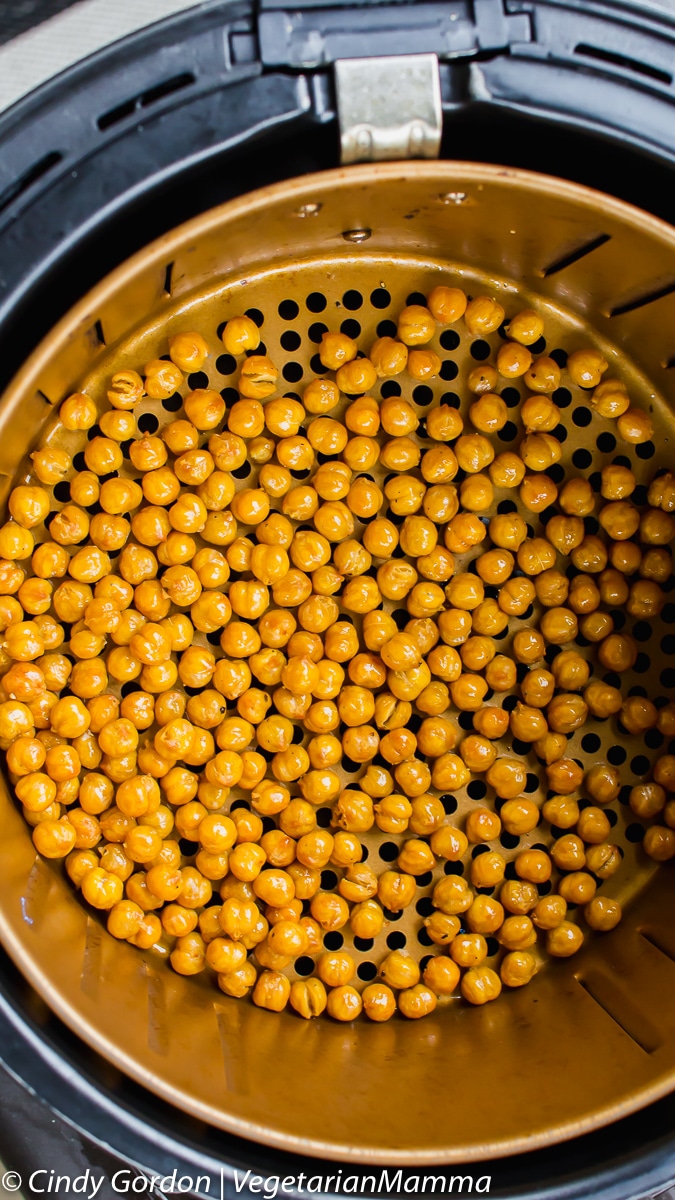 I want my crunchy chickpeas snack crunchier!
Just play with the cook time. I would suggest bumping it up by a minute until you find the "doneness" that you are looking for. I cooked mine in a power airfryer Xl and sometimes the time varies between machines.
Can I add spices to my chickpeas in air fryer?
Yes, you can totally add spices to your chickpeas when you are cooking them in the air fryer. I would suggest that add the spices in during the last 3-4 minutes of cooking. Adding the spices in at the start is not a great idea because the spices may come out with a "burnt" taste from the heat.
Double Batch Cooking?
These are pretty addicting so you might want to double the batch. But I caution you when loading up your air fryer basket. Do NOT crowd that basket. It is best to do the chickpeas in smaller batches! You'll be happy that you did!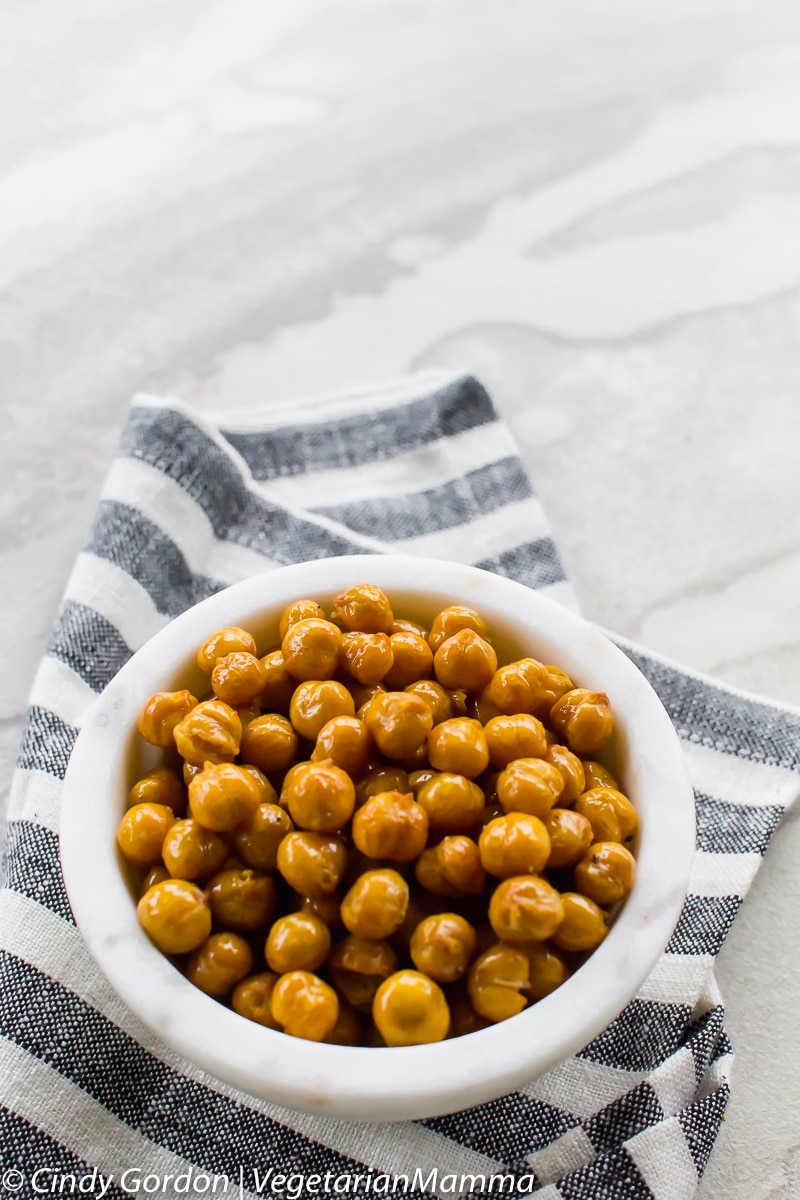 Chickpea Skins
You do not need to rub off the chickpea skins before using your oil less fryer. You may see some recipes for hummus that require that as a step but not for this recipe. Skins on!
Dried Chickpeas
For this recipe, you need to use canned chickpeas that have been drained and rinsed. The chickpeas need to be cooked. Dried garbanzo beans will not work for this recipe.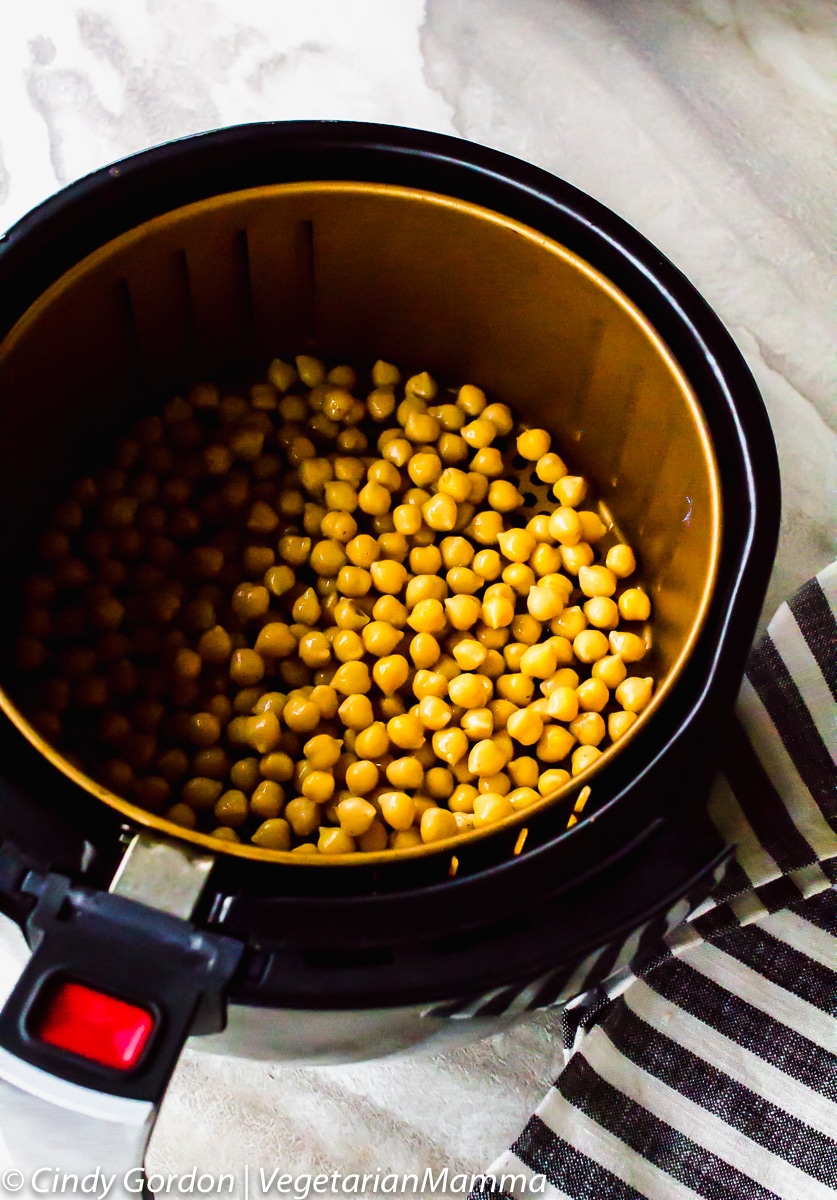 I don't have an air fryer! But I want one!
That's okay, you can check out all the fryers we recommend on our air fryer review post
I don't have the same air fryer as you!
That's okay! Each air fryer seems to run a touch differently. If you don't have a power airfryer xl, you might need to adjust your cooking times a bit. Just watch carefully in the last 2-3 minutes.
But wait, you use oil?
Yes, we do use oil in this recipe though this is an oil less fryer. I prefer to add a little oil into this recipe to help the chickpeas crisp up!
What can I use these crispy chickpeas with?
These make a great salad topper instead ofair fryer croutons like this kale quinoa salad. You could also use them as a topping on this taco pasta salad.
How should I store these crispy chickpeas?
These are best store in an airtight container with the lid off to prevent them from losing their crunch!
Other Air Fryer Recipes:
My sweet friend Amanda from Eat At Our Table has a delicious Air Fryer Recipes for Mozzarella Sticks. You have got to check this out!
Still don't have an air fryer of your own? Be sure to check out our air fryer reviews from several of the top models out there.
(And while I'm crazy over my Air Fryer, I'm also just as crazy about my Instant Pot as well. I love gadgets, what can I say? If you are looking for a few instant recipes or easy instant pot recipes, you can check out our instant pot stuffed peppers, instant pot taco soup, instant pot cheesy potato leek soup, instant pot black beans and instant pot leek soup.)
Pin these crispy chickpeas for later: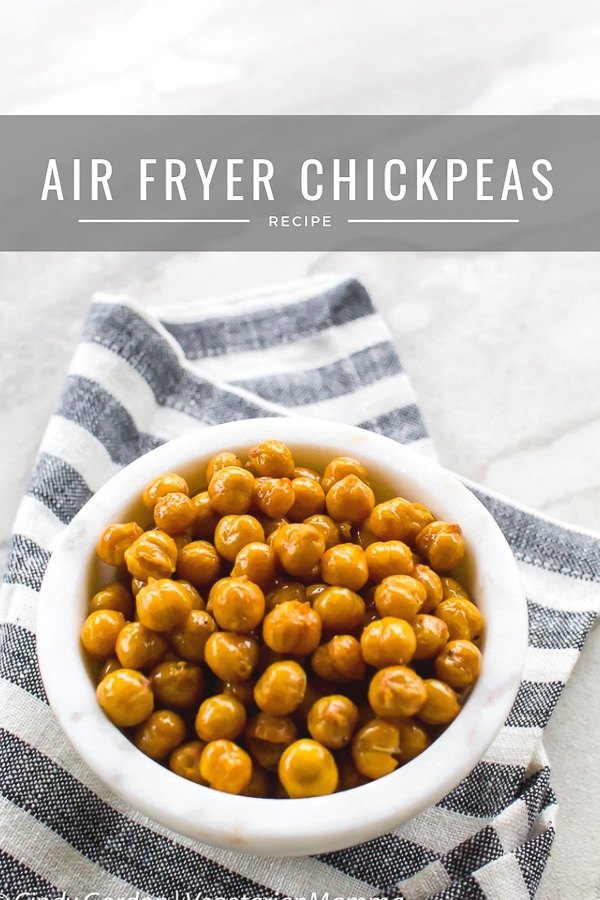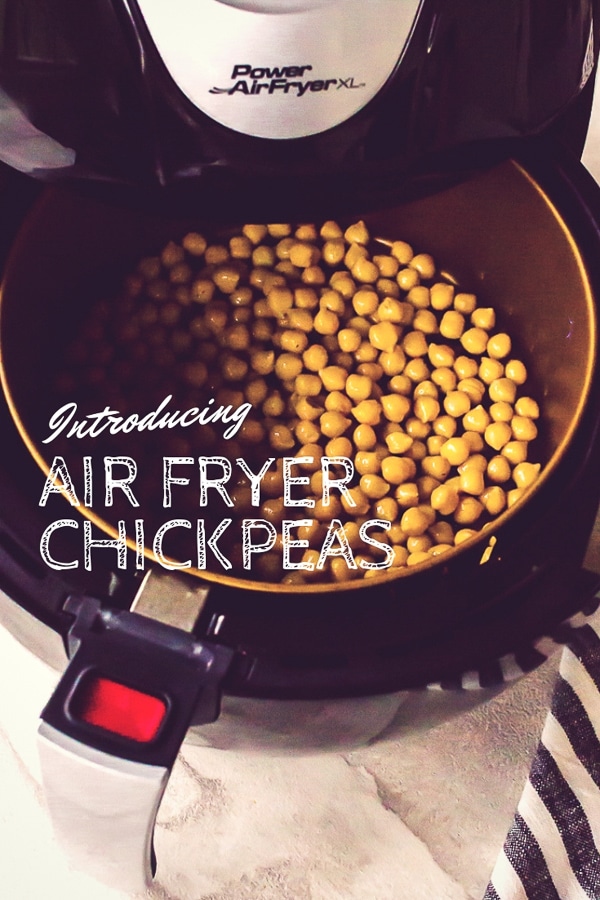 Vegetarian Air Fryer Resources – We have a vegetarian air fryer newsletter, which you can subscribe to here. We also have a specific vegetarian air fryer recipes group on facebook. You can find that Veg Air Fryer FB Group here.
If you are looking for vegetarian recipes beyond air fryer ones, we have a Vegetarian Newsletter as well as a Vegetarian Recipes facebook group. This newsletter and FB group offers up recipes that on the stove, in the oven, on the grill, in the instant pot and more!
Other Resources:
More Air Fryer Goodies: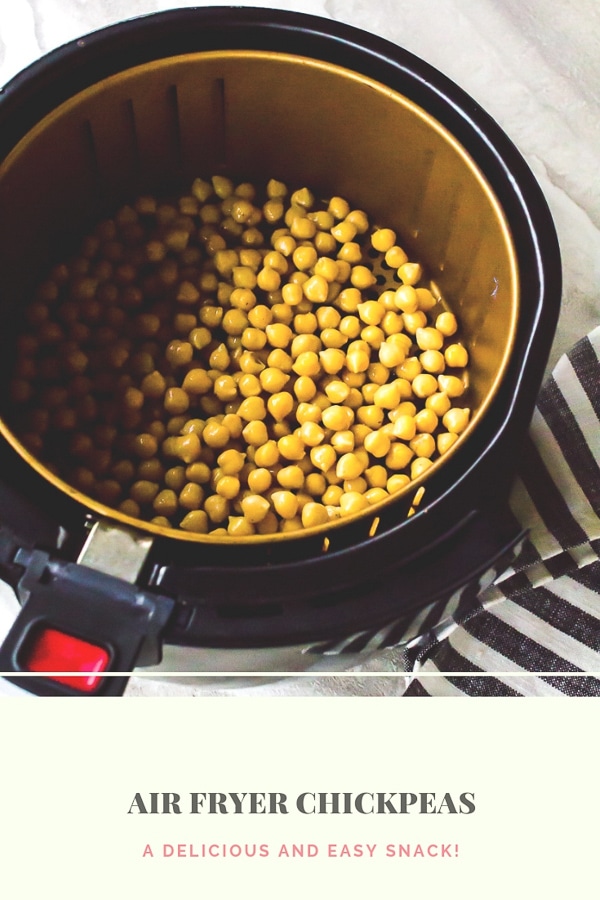 Get your crispy chickpea recipe here:
Air Fryer Chickpeas
Air Fryer Chickpeas are a quick and delicious airfryer snack. You are going to love this addicting air fried garbanzo beans.

Instructions
In a small bowl mix the beans with the oil.

Put beans into air fryer basket and cook at 390 degrees F for 15 minutes. Shake at the 7 minute mark. Shake again at the 12 minute mark and season with salt and pepper. Continue to cook.
Notes
If you prefer a crispier chickpea cook a touch longer. Try cooking 1-2 minutes until you reach the crisp you want!
Nutrition
Calories:
205
kcal
|
Carbohydrates:
29
g
|
Protein:
9
g
|
Fat:
6
g
|
Sodium:
7
mg
|
Potassium:
309
mg
|
Fiber:
8
g
|
Sugar:
5
g
|
Vitamin A:
30
IU
|
Vitamin C:
1.4
mg
|
Calcium:
52
mg
|
Iron:
3.1
mg
All though this website attempts to provide accurate nutritional information, the information should only be considered an estimate. Varying factors such as different product types, different brands, etc. can change nutritional information. It is your responsibility as a consumer to read all labels to make sure the ingredients fit your dietary needs as well as calculate your own nutritional information as a double check.
Question: Let's talk! Drop me a comment below telling me if you've made any recipes in an air fryer before? What type of air fryer do you have? What type of food have you made?