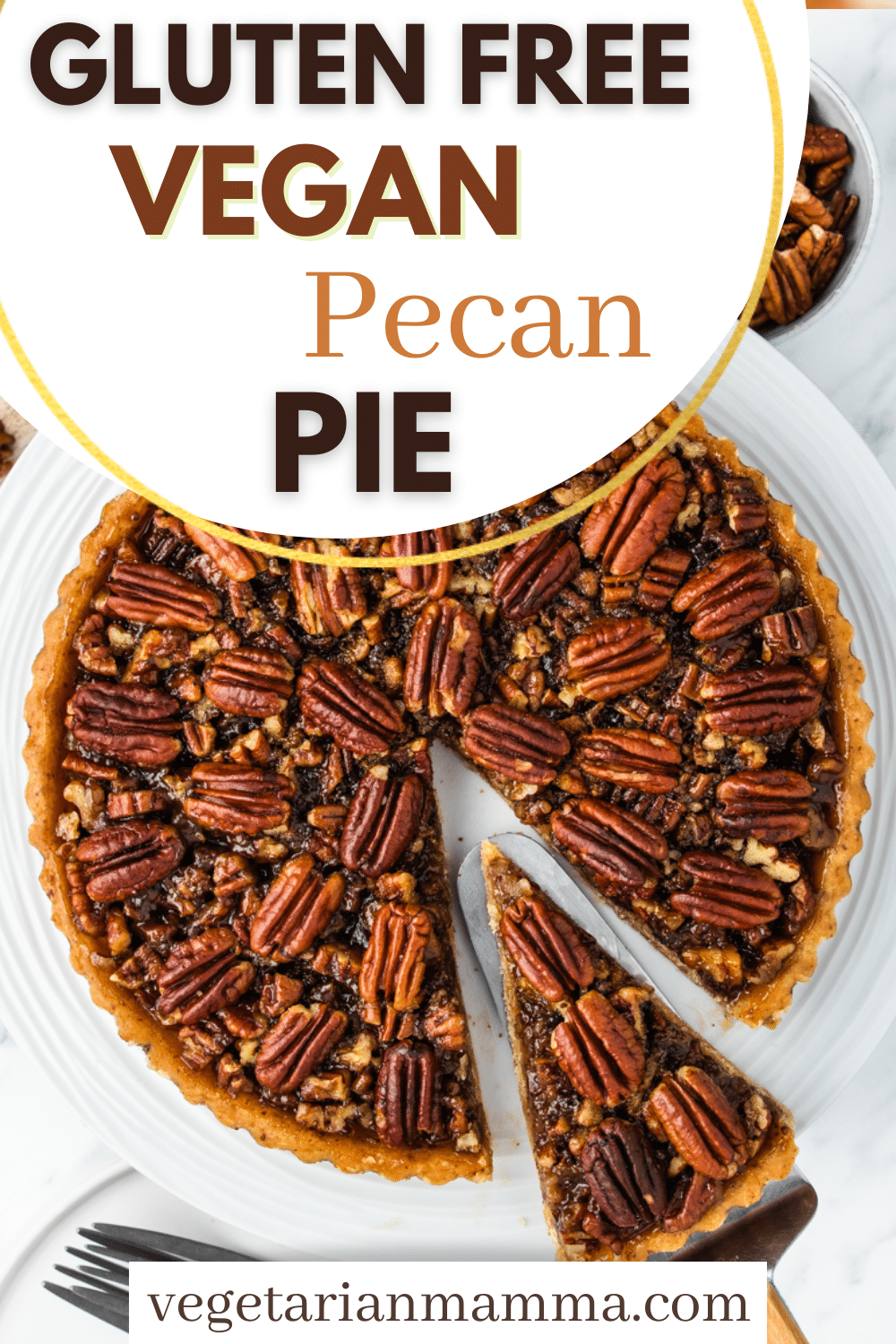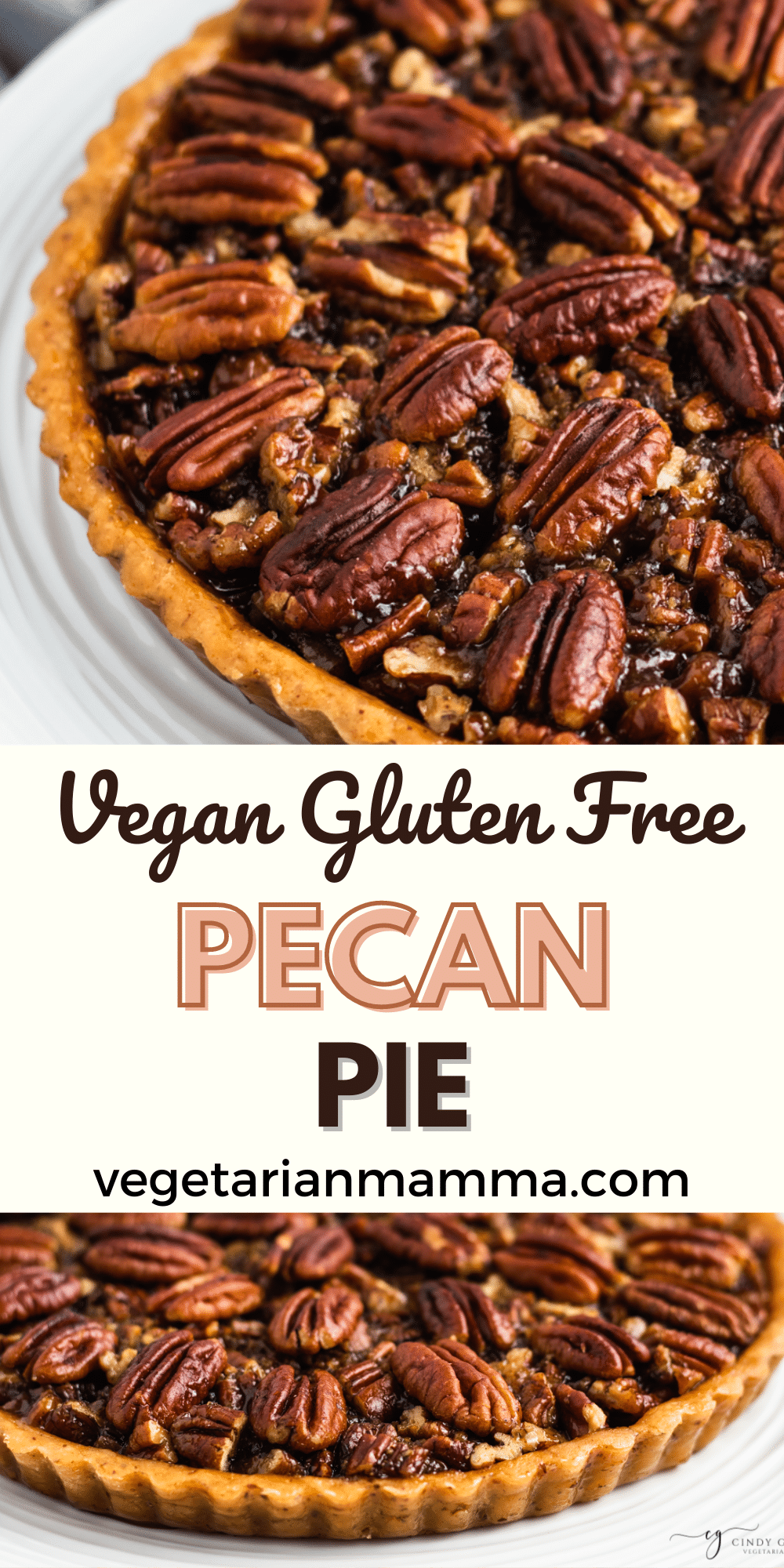 This Vegan Pecan Pie is so sugary and rich, no one will believe it's dairy and egg free! This recipe also has no corn syrup and uses a homemade gluten-free crust.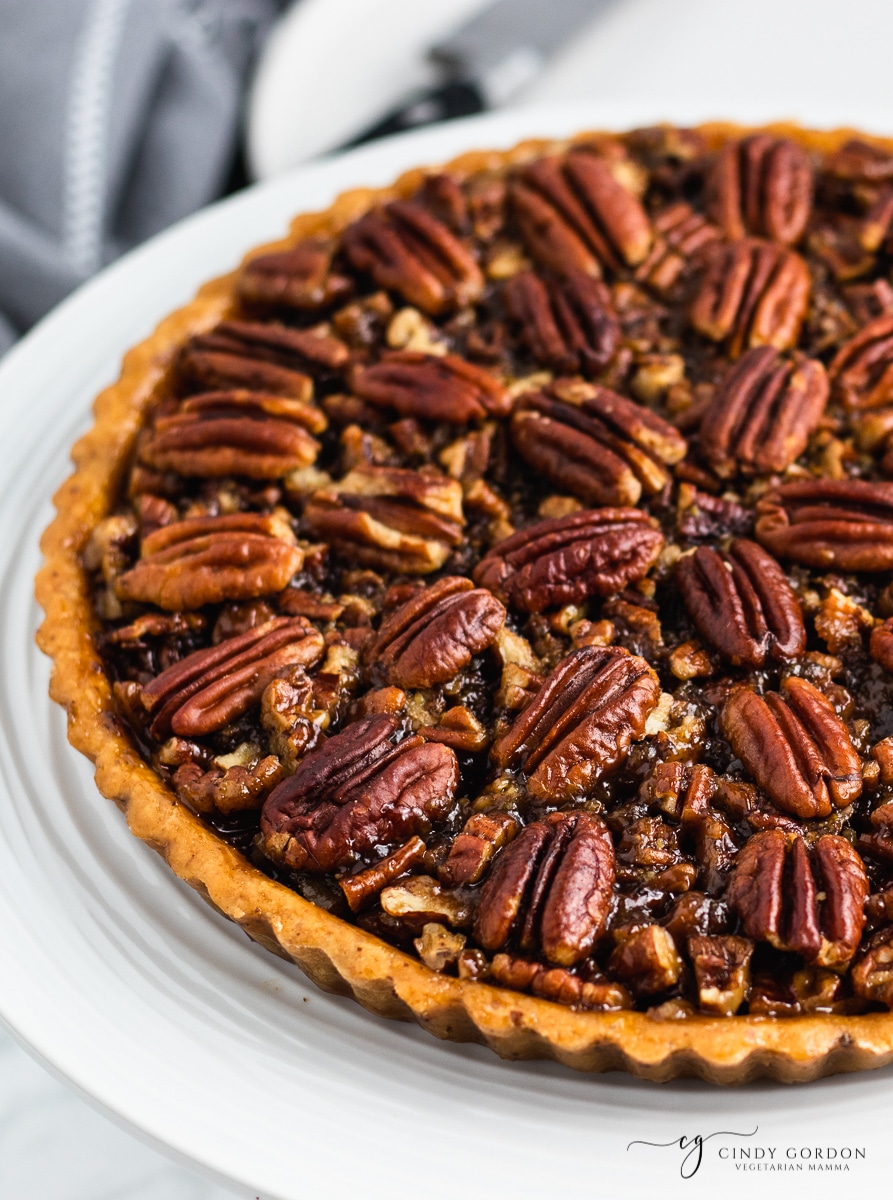 VEGAN PECAN PIE RECIPE
Once I nailed my vegan pie crust recipe, I started learning to make delicious vegan versions of every pie I love. I had to start with Vegan Pecan Pie, and this easy holiday recipe does not disappoint! It is made with a simple homemade crust and just a few all-natural ingredients in the ooey gooey filling.
This recipe uses no eggs, no dairy, and no corn syrup! It's super sweet thanks to the brown sugar. The filling is also held together with flax eggs and a little cornstarch. It's easy enough to make Thanksgiving morning, but you can also make it ahead of time, too!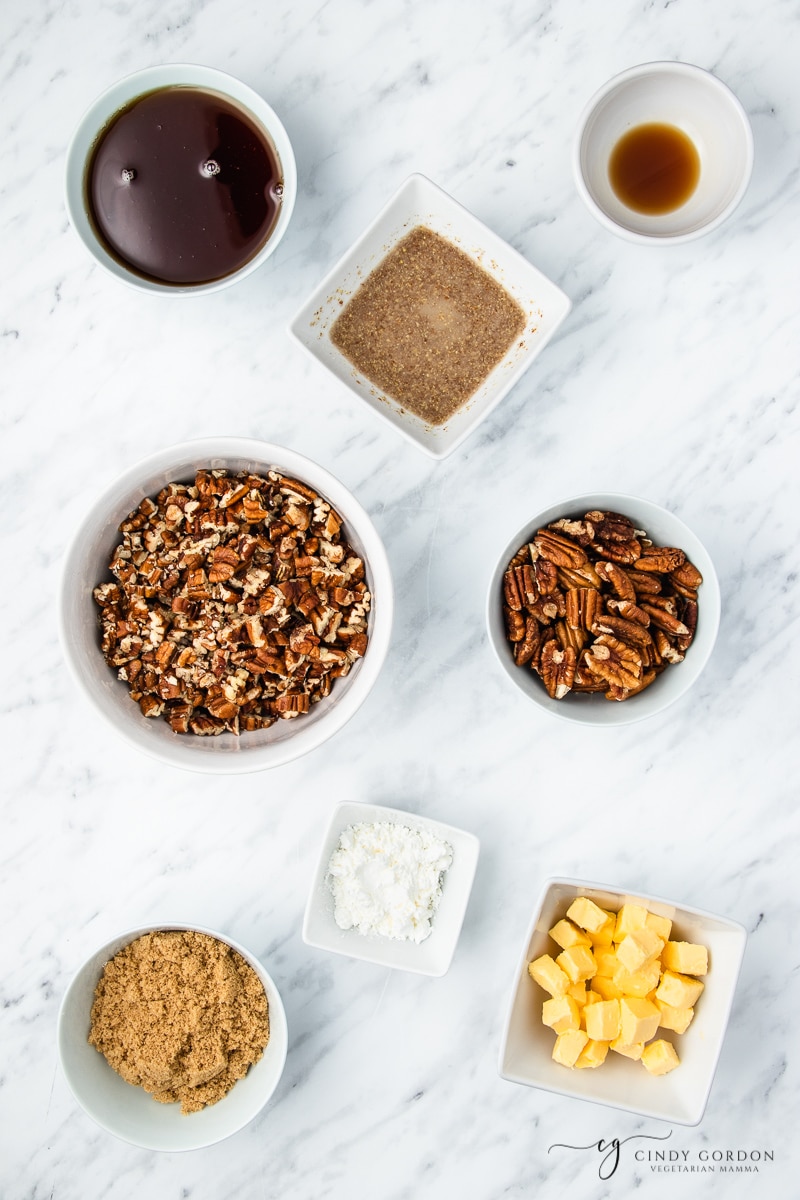 INGREDIENTS IN VEGAN PECAN PIE
Vegan butter: Be sure to melt the dairy-free butter when prepping all your pie ingredients. You want it to be warm so the sugar can dissolve completely but not boiling hot.
Brown sugar: I love the deep richness brown sugar adds to this vegan pecan pie. The sugar and molasses together is perfect for this recipe!
Maple syrup: For that perfect fall sweetness, maple syrup is perfect! It is also my favorite vegan sweetener.
Vanilla extract: You cannot bake a vegan pecan pie without vanilla extract. It has all that baked yummy flavor in just a few drops!
Salt: For that deliciously sweet and nutty flavor, a pinch of salt is necessary.
Cornstarch: To make the most perfect pecan pie slices, you need a little cornstarch so the filling isn't just pudding. I use cornstarch instead of flour to keep this vegan pecan pie gluten free, too.
Flax eggs: This is truly the best vegan egg replacement I have ever used! All you need is ground flaxseed and water to make a flax egg.
Pecans: I use roughly chopped pecans in the filling, plus some gorgeous whole pecans for decoration on top. You can buy pre-chopped nuts or chop them yourself.
Vegan Pie Crust: Put it all in this easy-to-make vegan pie crust that is also totally gluten free! Use a food processor to make this super crisp, buttery crust quickly and easily for savory or sweet pies.
If you have any questions about vegan pecan pie, please leave a comment below and I will get back to you ASAP!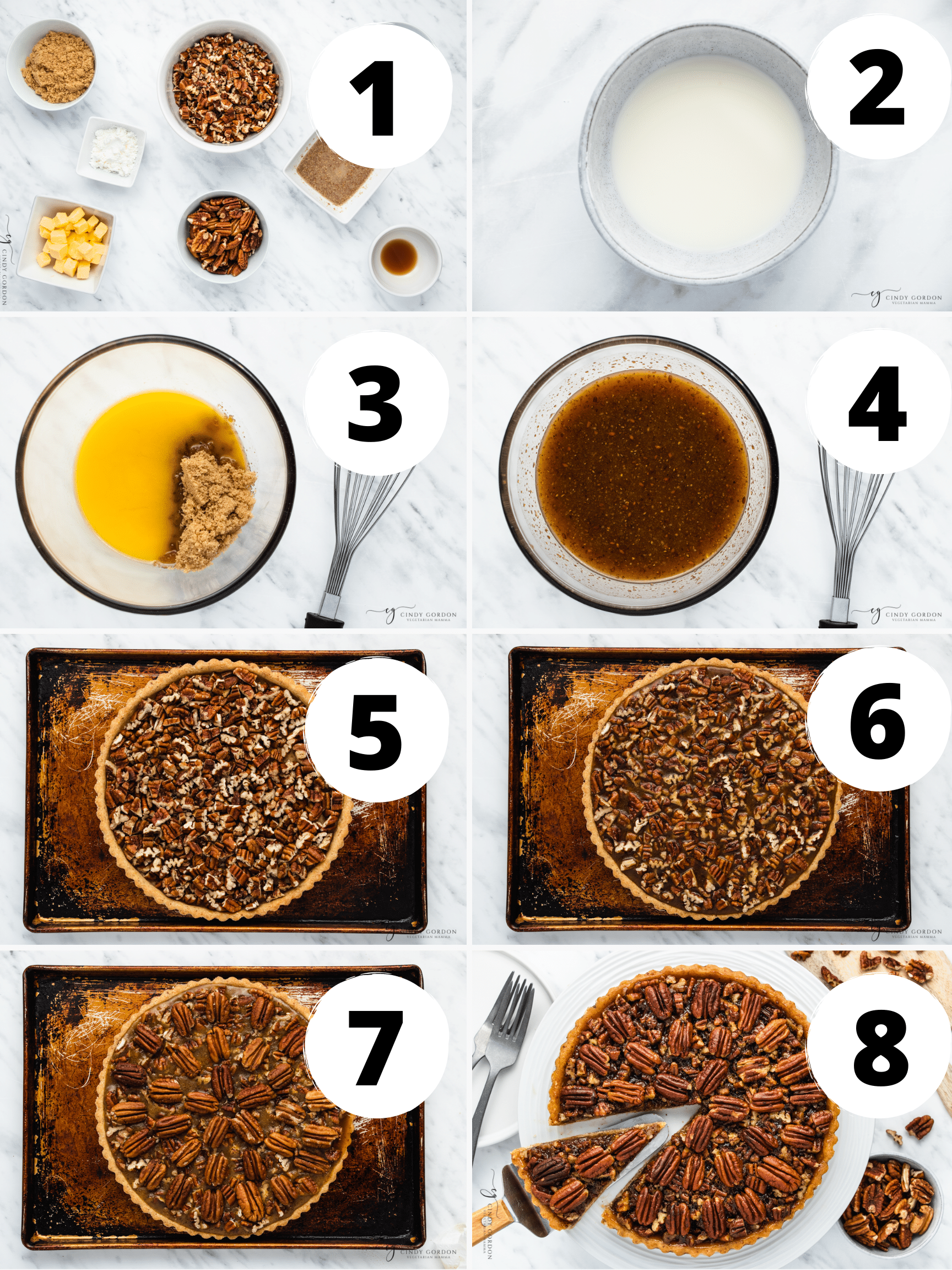 HOW TO MAKE VEGAN PECAN PIE
First, preheat the oven and prep all your vegan pecan pie ingredients.
Mix the cornstarch and water together, adding a tablespoon of water at a time to the bowl. You are looking for a smooth milky liquid with no lumps.
Then, melt the vegan butter in a microwave-safe bowl. Whisk the brown sugar into the butter.
Now, whisk the maple syrup, vanilla extract, flax eggs, and salt into the butter mixture. Add the cornstarch mixture, and whisk again until super smooth and combined.
For the easiest cleanup, put your par-baked vegan pie crust on a baking sheet to catch any drips. Cover the crust evenly with chopped pecans.
Next, gently pour the filling mixture over the pecans, covering as much as you can. Arrange the whole pecans on top for a beautiful finish.
Bake the vegan pecan pie until it is mostly set but the center is still slightly jiggly. It will continue to set as it cools.
Before serving, let the pie cool on the baking sheet before carefully moving it to a plate or wire rack. Let it cool completely before slicing. Store at room temperature in an airtight container.
These numbered steps match the numbered photos above and are for illustration purposes. For the complete list of ingredients and instructions for the best vegan pecan pie, please see the recipe below.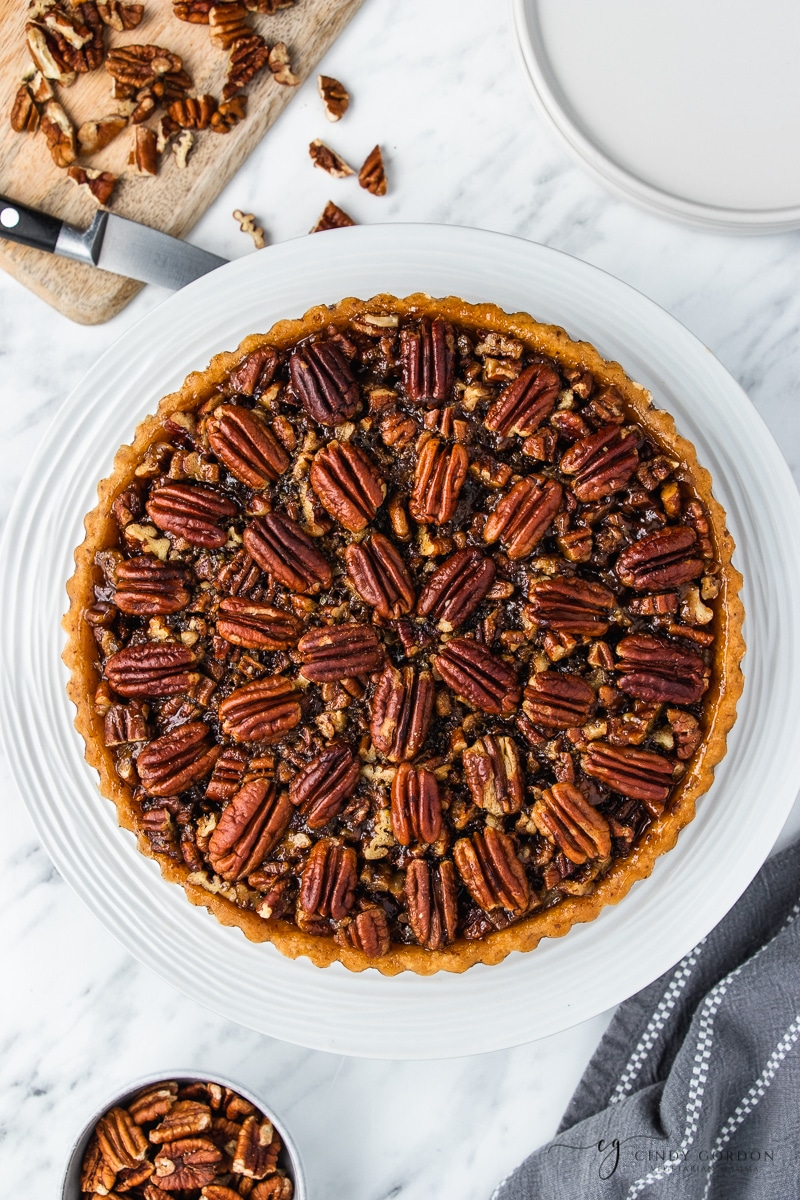 WHAT TO SERVE WITH VEGAN PECAN PIE
This vegan pecan pie is crunchy, gooey, and perfectly sweet. I love to top mine with a scoop of whipped coconut cream or vegan vanilla ice cream.
For a totally vegan holiday dinner, try this vegan stuffing recipe! This recipe is super herbaceous and perfect to impress your meat-eating family members with all plant-based ingredients.
Thanksgiving fruit salad is another healthy holiday side, made with seasonal fruit and warm spices.
Looking for another easy vegan dessert recipe? These vegan pumpkin cookies are soft, chewy, and oh-so-delicious. Plus, they are gluten free!
Save room on the stove this Thanksgiving and make your side dishes in the air fryer! From green bean casserole to creamed corn, you can make your entire holiday dinner in the air fryer.
HOW DO YOU KNOW IF VEGAN PECAN PIE IS DONE?
For that perfectly set but still creamy pecan pie filling, you want to pull it out of the oven at the right time. Since you cannot do the standard toothpick test, how can you know your vegan pecan pie is fully baked?
I bake my pie about half an hour, but time can range on every oven. When the filling is mostly set, give the pecan pie a gentle shake. If the edges are still but the center wobbles slightly, it is time to cool!
Luckily, the vegan pecan pie will continue to set as it cools to room temperature.
HOW LONG DOES IT TAKE PECAN PIE TO SET?
There is nothing worse than baking a beautiful vegan pecan pie only to cut it too soon. How long should you let a pecan pie cool before slicing?
For the best results, let the pie cool completely. This ensures a beautifully set slice of vegan pecan pie with no lost runny filling.
I prefer vegan pecan pie at room temperature, but you can also chill your pie in the fridge before serving.
HOW TO STORE VEGAN PECAN PIE LEFTOVERS
Most pecan pies need to be refrigerated because of the eggs and cream. However, since this pecan pie recipe is totally plant-based, there is no need to refrigerate it!
Be sure to cover the pie completely to keep it fresh. You can store the pie in the fridge or on the counter at room temperature.
You can also make this vegan pecan pie recipe ahead of time! I like to make mine one day early, but you can make this recipe up to 3 days in advance. You can also freeze a whole baked pie. Simply thaw in the fridge the night before, and enjoy!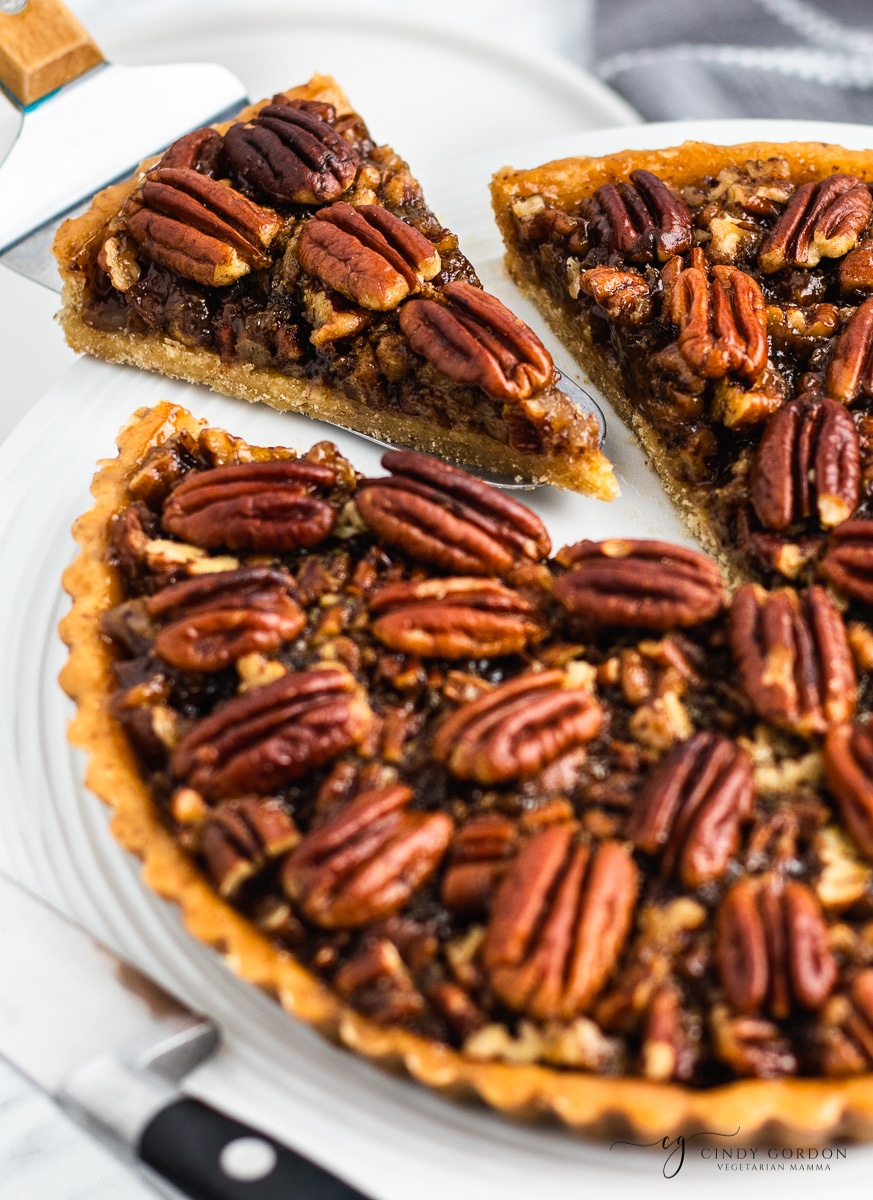 MORE VEGAN DESSERT RECIPES
Vegan Pumpkin Cheesecake is luscious, creamy, and so easy! Make this amazing vegan dessert for holiday dinners packed with pumpkin spice flavor.
Christmas is coming, and I know I will be making these gingerbread bites in the air fryer again this year! Just swap for vegan cream cheese.
These Vegan Sugar Cookies are so buttery and crunchy. Leave them plain or add vegan frosting for a festive dessert option.
Keep it classic this year with a beautiful Vegan Apple Pie. I love the safflower oil instead of butter for that delicious flavor.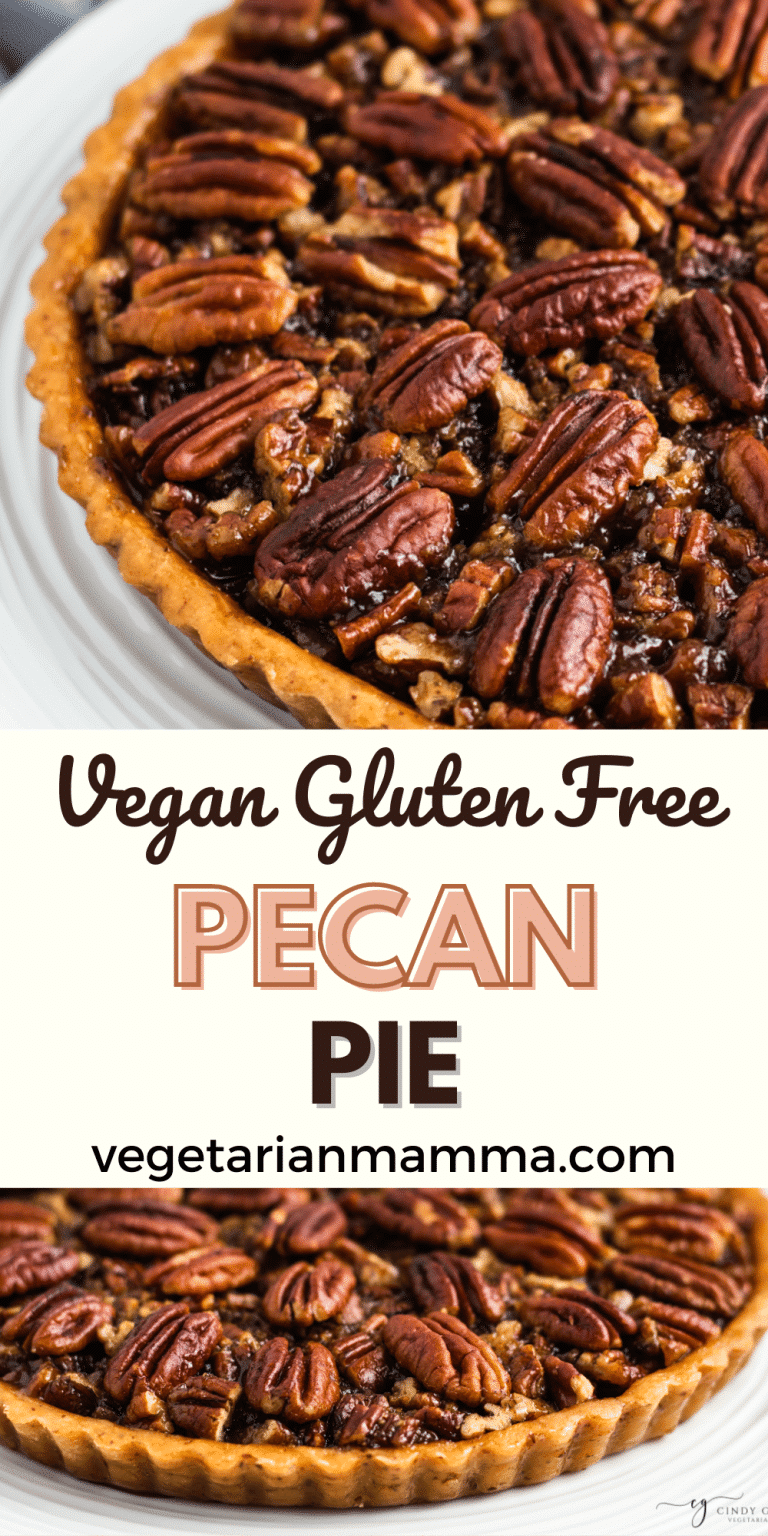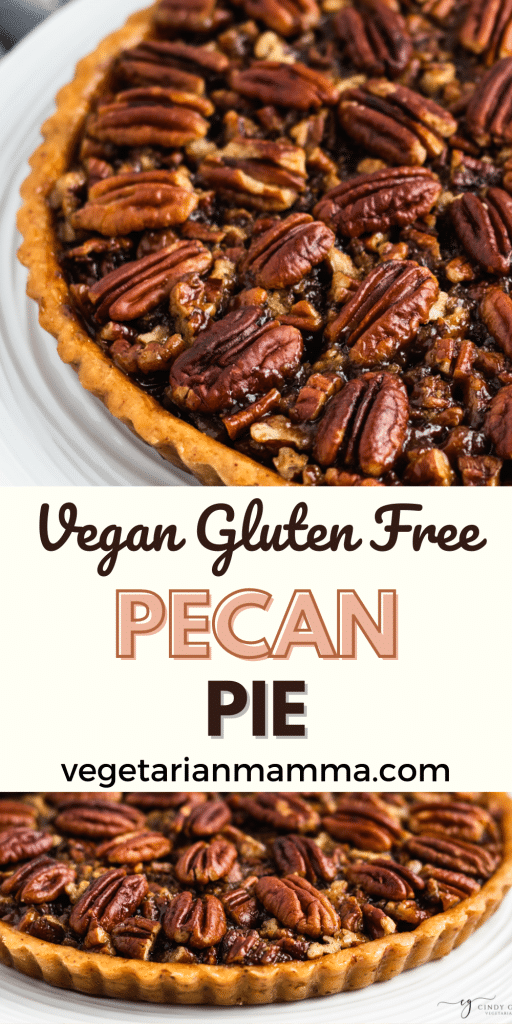 Have you made this recipe? Please leave a comment AND rating below! It helps other readers!
Be sure to tag @VegetarianMamma on instagram, if you share a picture on the gram! Let's get social, you can follow me on Youtube, Instagram, Facebook, Pinterest or join one of our Facebook Groups: Tasty Vegetarian Recipes and Vegetarian Air Fryer Recipes.
Don't forget to subscribe to our EMAIL newsletter.
Vegan Pecan Pie
This gluten-free pecan pie recipe is so easy with no corn syrup! Make this Thanksgiving favorite with all plant-based ingredients and a simple homemade vegan pie crust.
Instructions
Preheat oven to 350 degrees F (180 degrees C).

In a small bowl, mix the cornstarch with 4 teaspoons water, adding 1 teaspoon of water at a time and mixing after each addition. Stir until combined into a milky liquid with no lumps.

Melt the butter in a bowl in the microwave. Whisk in the brown sugar.

Add the maple syrup, vanilla, flax eggs, and salt and whisk again to combine. Add the cornstarch mixture, and whisk again.

Place pie crust on a baking sheet. Fill the pie crust with chopped pecans, spreading them out evenly.

Pour the filling mixture over the top of the pecans, and arrange the extra whole pecans on top as desired.

Make for 30 to 35 minutes, until the pie is mostly set but the center still jiggles slightly.

Leave on baking sheet for about 10 minutes before carefully transferring to a plate to cool.
Notes
Find my Vegan Pie Crust recipe here.
Nutrition
Calories:
361
kcal
|
Carbohydrates:
39
g
|
Protein:
2
g
|
Fat:
23
g
|
Saturated Fat:
3
g
|
Polyunsaturated Fat:
7
g
|
Monounsaturated Fat:
11
g
|
Trans Fat:
1
g
|
Sodium:
141
mg
|
Potassium:
199
mg
|
Fiber:
3
g
|
Sugar:
32
g
|
Vitamin A:
372
IU
|
Vitamin C:
1
mg
|
Calcium:
66
mg
|
Iron:
1
mg
All though this website attempts to provide accurate nutritional information, the information should only be considered an estimate. Varying factors such as different product types, different brands, etc. can change nutritional information. It is your responsibility as a consumer to read all labels to make sure the ingredients fit your dietary needs as well as calculate your own nutritional information as a double check.