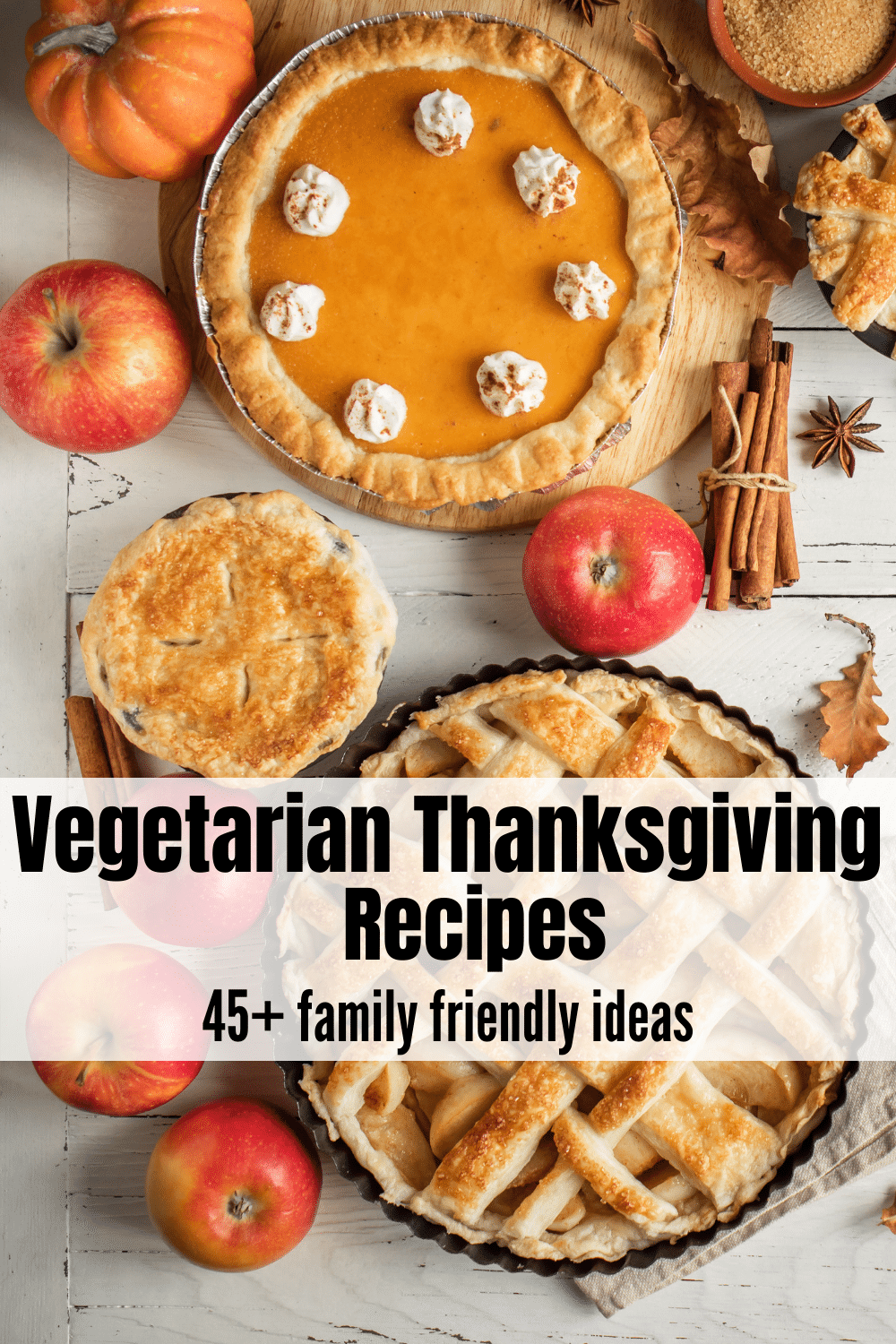 These are the best Vegetarian Thanksgiving Recipes for your Fall holiday menu! Delicious main dishes, sides, desserts, & more. Read on to see over 45+ Vegetarian Thanksgiving Recipes that are yummy and easy to make.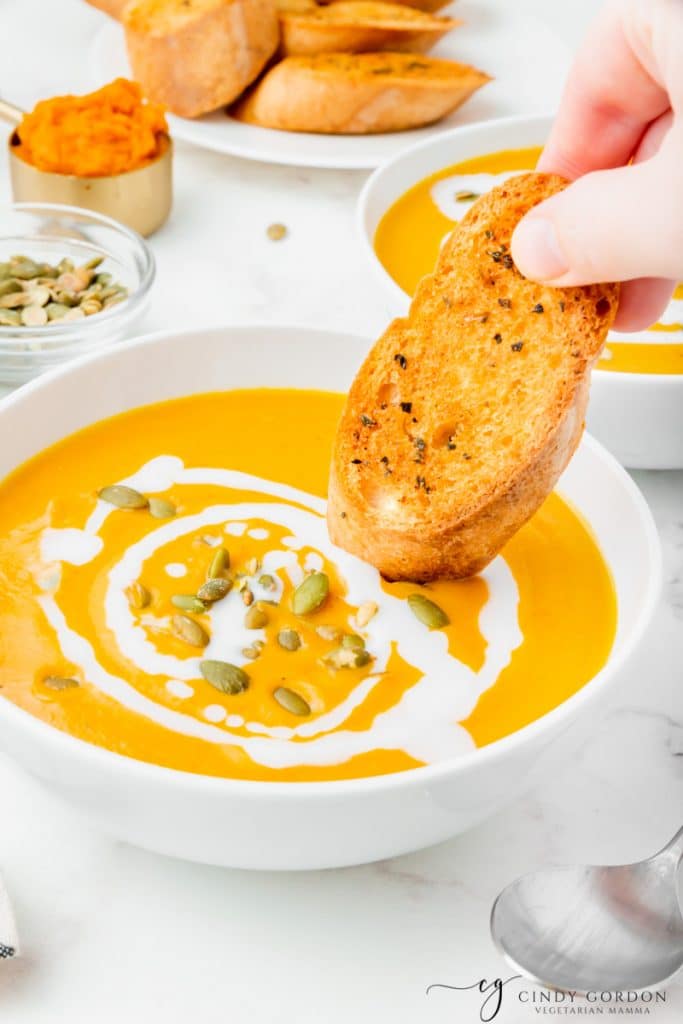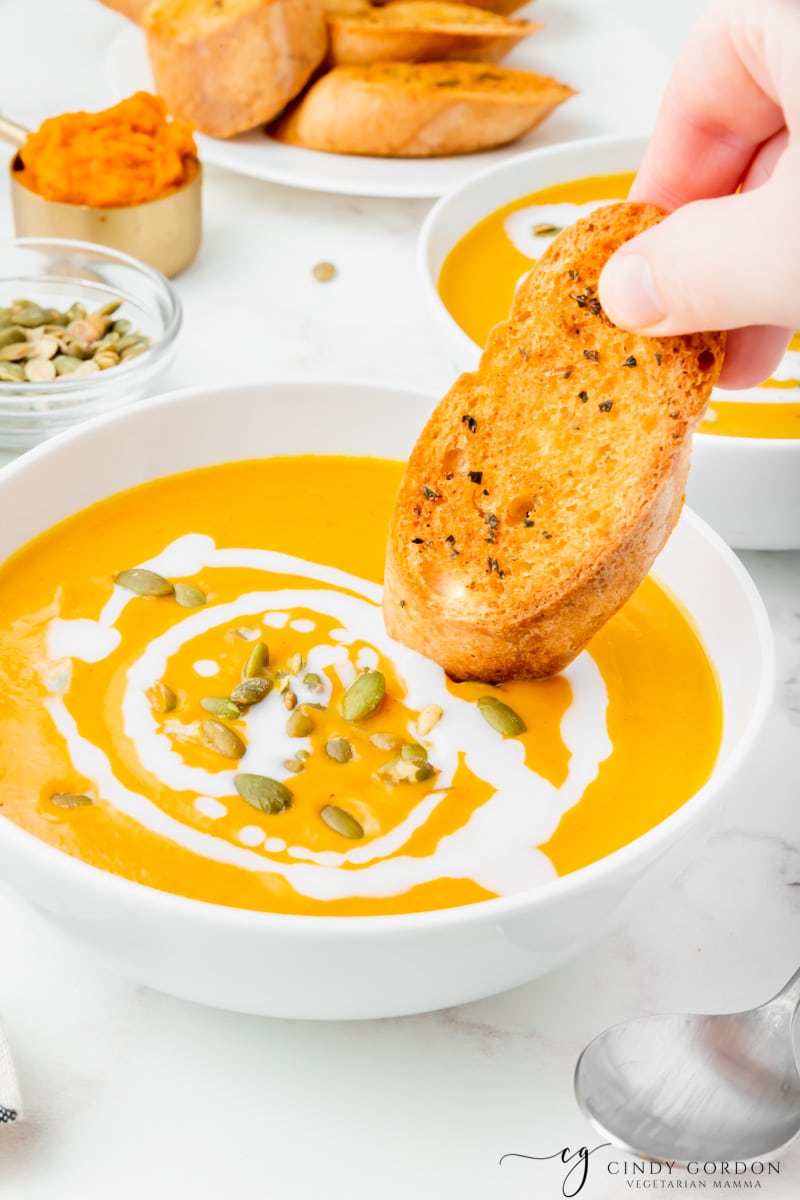 45+ Most Delicious Vegetarian Thanksgiving Recipes
Thanksgiving talk is usually dominated by turkey, but there are plenty of plant-forward dishes that are equally festive. Try these vegetarian Thanksgiving recipes for a meatless or meat-reduced holiday meal. With these delicious vegetarian recipes, everyone can give thanks.
From meatless main dishes to vegetable sides​, you won't miss the turkey at all. We rounded up 45+ amazing vegetarian Thanksgiving recipes that won't leave you feeling left out — or hungry — at the table.
Thanksgiving Day is a day filled with lots of delicious food and family. Every year, we all gather together to enjoy the holiday's best dishes- from the main dish to green bean casserole! But sometimes those favorite dishes can contain animal products, and you and your family may worry about whether or not to take a break from our favorite dishes. But never fear- this list of recipes is here to solve all your problems!
If you're vegan, vegetarian, or just looking to make a healthy dish for the holiday, we promise, these Vegetarian Thanksgiving recipes will be perfect for your family.
Vegetarian Thanksgiving Tips
- Plan ahead and make a grocery list for all the ingredients you'll need to purchase.
- Try using some of your favorite recipes from last year and pick some new vegetarian Thanksgiving recipes from this list. This is an easy way to ensure that you'll have a great meal.
- Keep track of the items on your list to make sure you don't forget anything. One item someone might forget is pie crust, which can be bought in bulk at some grocery stores.
- Check to see if your family is hosting the Thanksgiving dinner at their house this year. If they are, start looking for recipes that you can make ahead of time. Remember to be thoughtful and make adaptations for everybody's dietary restrictions.
Vegetarian Thanksgiving Recipes - Main Dishes
Try one of our meatless main dish menu ideas for Thanksgiving. Each of these fall entree recipes is vegetarian and most of them are vegan as well. Thanksgiving recipes are for everyone.
Vegan Shepherd's Pie - The combination of hearty veggies and gravy topped with a comforting vegan mashed potato crust makes this Vegan Shepherd's Pie a family staple for weeknights, rainy days and vegetarian Thanksgiving recipes!
Pumpkin Pasta - Vegan Pumpkin Alfredo is a pumpkin pasta dish that's rich, savory, and perfect for fall. Pumpkin puree, vegan cheese subs and delicious Italian flavors come together to create a creamy, delightful meal for your family.
Vegetable Ragu - Vegetable Ragu is a hearty and flavorful pasta dish that is perfect for your dinner table. This vegetable ragu recipe is just right for busy week nights or lazy weekends.
Beyond Meat Meatloaf - Beyond Meat meatloaf is the vegan comfort food of your dreams! Enjoy all the flavors of a traditional meatloaf with a plant-based protein swap instead of meat.
Mushroom Spaghetti Squash - Spaghetti Squash is common during the fall and can provide a hearty spaghetti-style meal. Mushroom Spaghetti Squash brings some delicious earthy undertones to your table and is a great plant-based option for cold nights.
Vegetarian Stuffed Peppers - Vegetarian Stuffed Peppers are filled to the brim with flavorful rice, beans, tomatoes then covered with heaps of melted cheese. These vegetarian stuffed bell peppers are perfect for a deliciously filling week-night meal.
Tater Tot Casserole - Vegetarian tater tot casserole is a fun dish that the entire family will love. This is a kid friendly vegetarian thanksgiving recipe.
Balsamic Tofu and Mushrooms - Balsamic Tofu and Mushrooms is a beautiful dish that brings a satisfying earthy flavor to your dinner table.
Deconstructed Lasagna - Deconstructed Lasagna is our version of the ultimate comfort food dinner. Tender noodles enveloped in flavorful sauce and topped with cheese.
Gluten Free Eggplant Parmesan - Gluten Free Eggplant Parmesan is easy to make! This dish is baked, not fried! We have included Dairy-free and Vegan options too for this vegetarian Thanksgiving recipe!
Vegan Carbonara - Vegan Carbonara is totally egg-free and made with no dairy! Make your own carbonara sauce with soaked cashews, coconut milk, nutritional yeast, and a little lemon juice.
Vegetarian Enchiladas - Vegetarian Enchiladas are a hearty and comforting meal! These tortillas are stuffed with tofu, rice, and beans and smothered in a smooth enchilada sauce.
Tasty Vegetarian Thanksgiving Recipes - Soup
Fall Soups are great for vegetarians because they are so easy to make and they not only look delicious but add delicious flavor to your holiday table. The perfect fall soup is a hearty, warm bowl of goodness that will keep you full throughout the chilly days. There are many different types to chose from below for your vegetarian thanksgiving menu.
Vegan Pumpkin Soup - Vegan Pumpkin Soup is the thick and creamy fall soup of your dreams! Make the most luscious low-carb soup with canned pumpkin puree and coconut milk topped with pumpkin seeds for a yummy crunch.
Vegan Beef Stew - This Vegan Beef Stew is a savory blend of fresh herbs and vegetables. The stew combines plant-based ingredients to deliver superb flavor and texture.
Vegan Potato Soup - Vegan Potato Soup is super creamy and perfect for winter! This simple soup is packed with carrots, celery, onions, and yellow potatoes for a heartwarming, comforting dinner in an hour.
Vegan Corn Chowder - Vegan Corn Chowder is a soup that is perfect for any holiday with its chunky sweet corn and creamy coconut milk base.
Tofu Chili - Hearty Tofu Chili is the best vegan comfort food. It is the perfect soup or main for a vegetarian Thanksgiving celebration! You can make this chili recipe in less than an hour with tons of succulent veggies and protein-packed beans.
Vegetarian Potato Soup - Vegetarian Potato Soup is a comforting vegetarian soup that you can enjoy year-round. Who said homemade potato and cheese soup couldn't be delicious?
Potato Leek Soup - Potato Leek Soup made without cream is the perfect simple recipe for dinner time. Soup makes a delicious meal for busy week nights!
Vegetarian Thanksgiving Recipes - Salad
Thanksgiving salads are great for vegetarians because they are light and flavorful. Here is a list of our favorite vegetarian Thanksgiving salad recipes that you can try this year.
Vegan Croutons - Vegan Croutons are the crunchy piece your favorite soup or salad is missing! You only need 5 pantry staples to whip up these homemade croutons.
Broccoli Cranberry Salad - Whip together this mouthwatering broccoli salad that is sweetened with cranberries for a perfect vegetarian Thanksgiving recipe.
Oil Free Salad Dressing - This vegan balsamic oil free salad dressing is low calories and high in flavor. Packed with sweet and savory flavor notes, this will become your go-to salad dressing, and it's so easy to make. Toss with a simple green salad and you've got yourself a vegetarian Thanksgiving recipe for your dinner table!
Quinoa Salad - This quinoa chickpea salad combines all of my favorite flavors together in one scrumptious dish! Mouthwatering Mediterranean flavors like kalamata olives, crisp cucumbers, juicy tomatoes and more!
Thanksgiving Fruit Salad - has seasonal fruits like apples and grapes included, and is seasoned with pumpkin spice!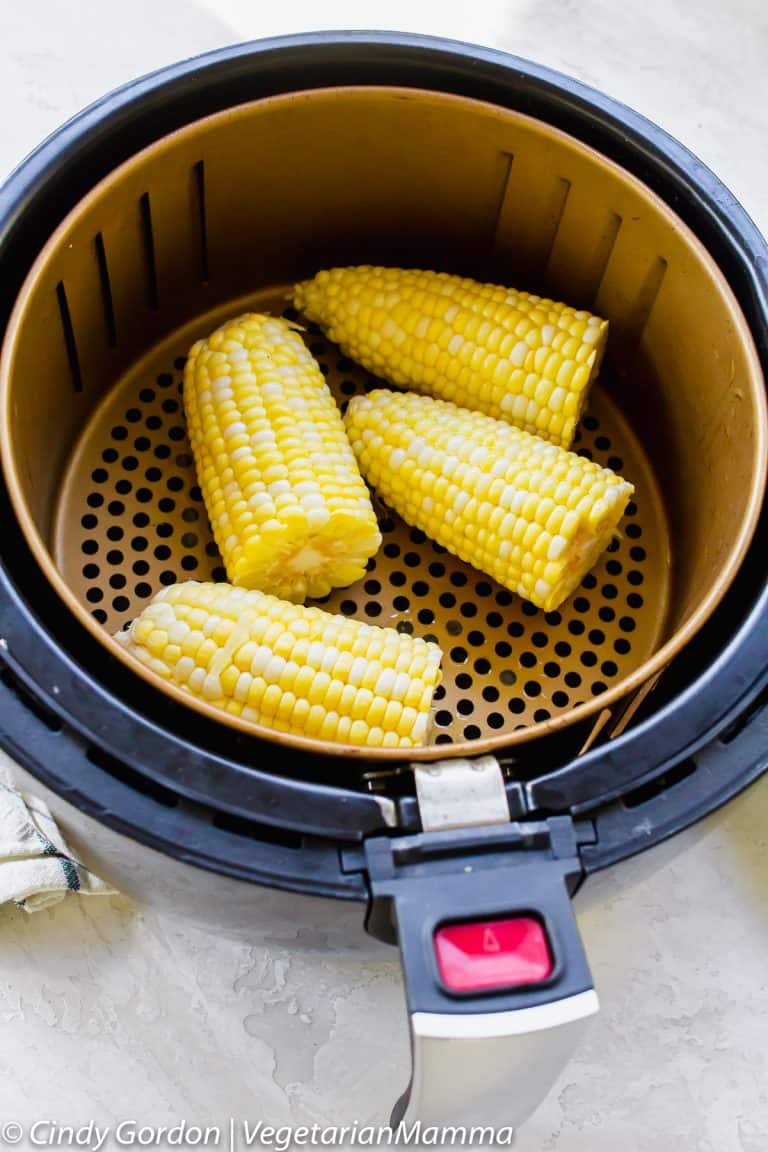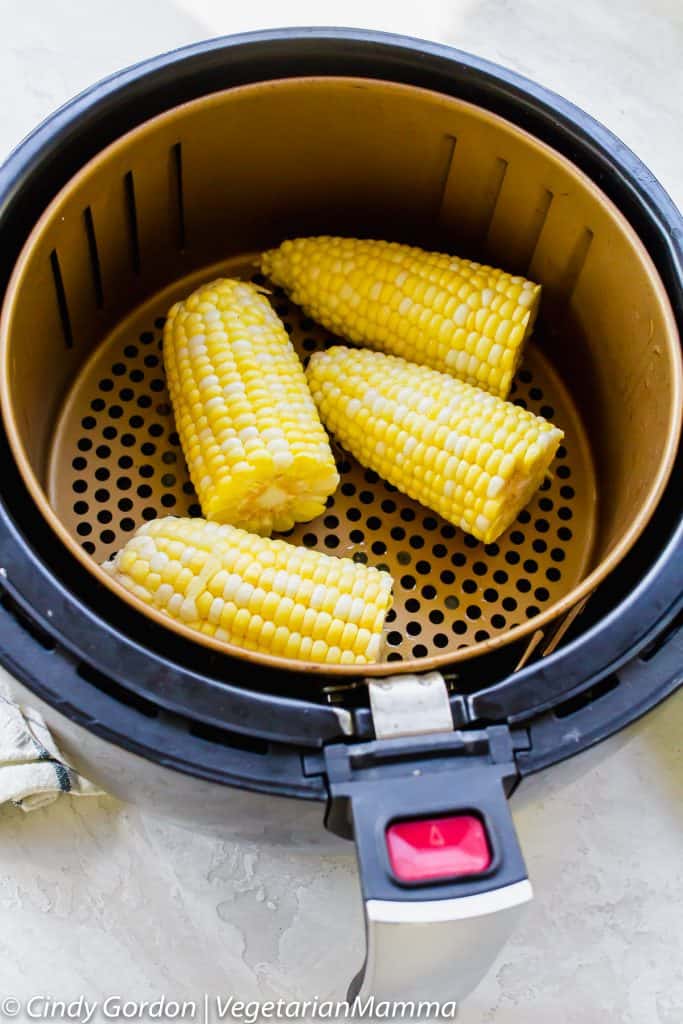 Vegetarian Thanksgiving Recipes - Side Dishes
Side dish recipes are important because they're delicious and filling. These recipes are the best of the best, so there's no need to worry about anything else when it comes to vegetarian Thanksgiving recipes.
Vegan Stuffing - This Vegan Stuffing is the perfect holiday side dish! Packed with carrots, leeks, and celery, it will impress even your meat-eating family!
Vegan Mashed Potatoes - These five-ingredient Vegan Mashed Potatoes are the perfect quick, comforting, and flavorful side dish for a thanksgiving dinner.
Vegan Sweet Potato Casserole - If you want to impress the crowd at your next holiday gathering, bring a dish of Vegan Sweet Potato Casserole. The fluffy sweet potato filling and crunchy pecan topping will be the star of the show!
Vegan Green Bean Casserole - Vegan Green Bean Casserole is your traditional Thanksgiving holiday hit without the dairy! Dress it up or keep it plain for my favorite vegan side dish for every family gathering!
Cheesy Broccoli Casserole - This casserole will easily become a favorite among your broccoli casserole recipes! You are going to love the combination of cheese, broccoli and hash browns!
Air Fryer Corn on the Cob - The airfryer quickly roasts the sweet corn, fresh or frozen, into an irresistible side dish! You are going to love this air fried corn on the cob!
Vegan Zucchini Fritters - Vegan Zucchini Fritters are crunchy on the outside, fluffy on the inside, and so easy to make in the oven! Add carrots and baby spinach for an easy side dish that's ready in less than 30 minutes.
Air Fryer Green Beans - Air Fryer Green Beans will be the perfect addition to grow your collection of delicious air fryer recipes! If you love green beans, this is a quick and tasty way to make them!
Instant Pot Baked Beans - Vegetarian Pressure Cooker Baked Beans are a delicious and easy side dish for any time of the year. This no soak instant pot baked bean recipe has a sweet and smoky flavor. This hearty dish will have you coming back for a second helping.
Air Fryer Roasted Potatoes - Air Fryer Roasted Potatoes will complement any holiday or thanksgiving dinner. Easy to make and delicious to eat!
Instant Pot Sweet Potatoes - Instant Pot Sweet Potatoes are cooked in a half hour from start to finish! They come out fluffy, smooth, and perfectly cooked every time!
Air Fryer Sweet Potato - Air Fryer Baked Sweet Potato is a delicious side dish to compliment any meal. Just pop the sweet potatoes in the air fryer and you'll have a sweet treat in no time.
Calico Beans - Calico Beans is a hearty filling dish that can be used as a main or a side. This vegetarian version of the dish is naturally gluten-free.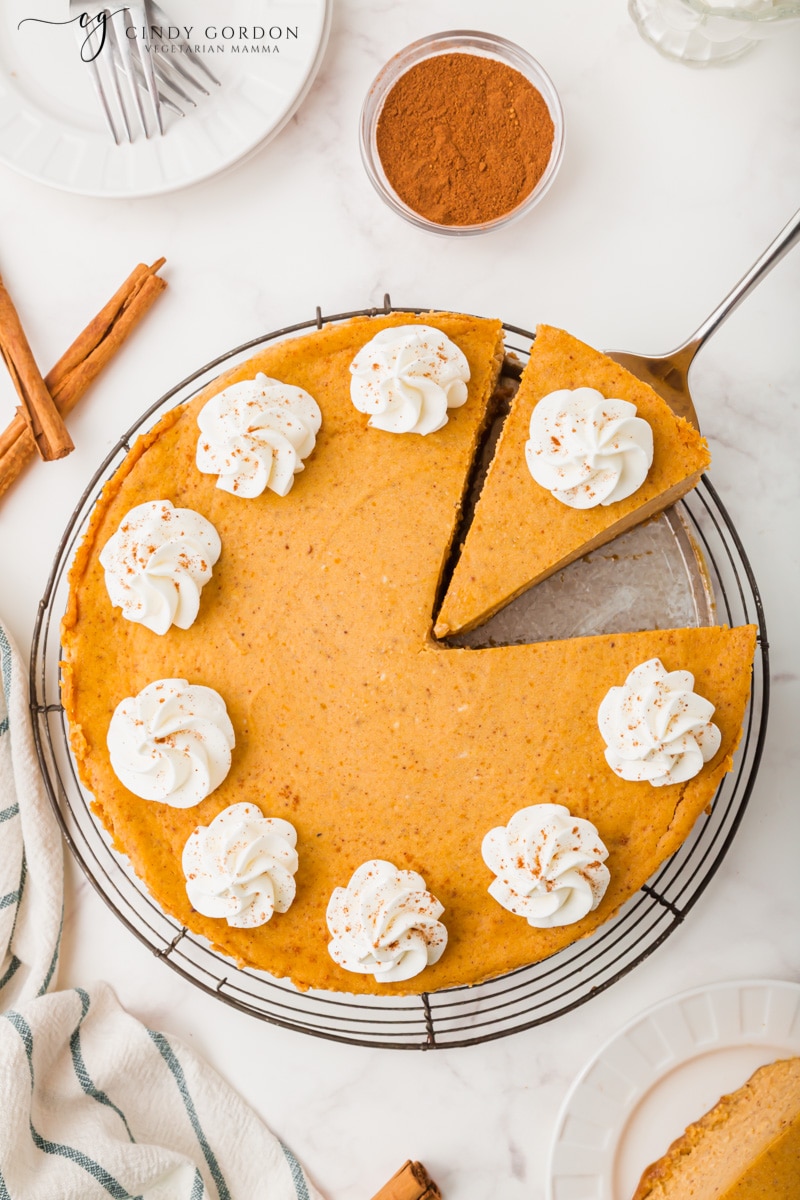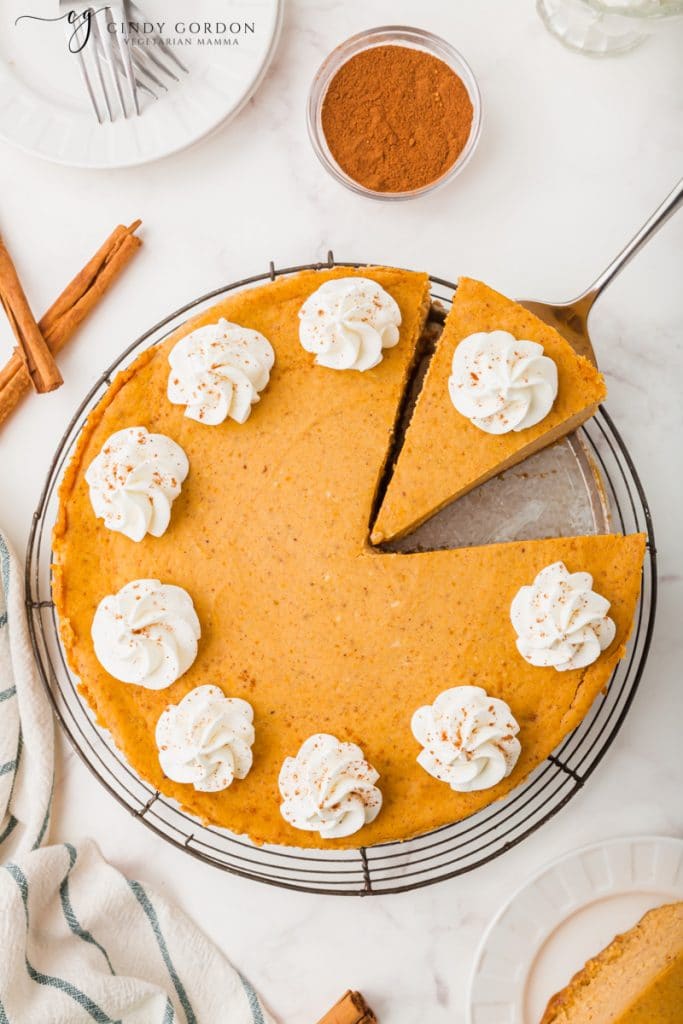 Vegetarian Thanksgiving Recipes -Dessert
Thanksgiving dinner was originally called "harvest feast." In our harvest feasts, we always have dessert. Traditional thanksgiving desserts are pumpkin pie and apple pie. Holiday baking can be time intensive so try to mix it up with recipes like these vegetarian desserts below.
Vegan Apple Crisp - This simple yet delicious Vegan Apple Crisp is the perfect holiday dessert! The crunchy oat topping and sweet cooked apple filling goes great on every table.
Instant Pot Apple Butter - Instant Pot Apple Butter is the best vegan fruit spread made with whole apples and a bunch of fall flavors. No need to simmer apples, cinnamon, nutmeg, and cloves all day thanks to this handy pressure cooker!
Cherry Delight Dessert - Cherry pie filling dessert is basically a relaxed version of cherry cheesecake. This dairy-free and gluten-free fluffy cheesecake also doubles as a cherry delight dessert recipe.
Vegan Pumpkin Cookies - These Vegan Pumpkin Cookies are the perfect easy fall dessert! Creamy pumpkin puree and a delicious pumpkin spice blend make these chewy gluten-free cookies the best of the season.
Vegan Pumpklin Cheesecake - Vegan Pumpkin Cheesecake is luscious, creamy, and so easy! Make this amazing vegan dessert for holiday dinners packed with pumpkin spice flavor.
Vegan Pumpkin Bread - Vegan Pumpkin Bread is a quick and easy gluten-free bread that everyone will love for fall! If you miss Starbucks pumpkin bread, you won't with this delicious vegan recipe.
Vegan Chocolate Chip Pumpkin Cookies - Vegan Pumpkin Chocolate Chip Cookies are the soft and chewy fall cookie of your dreams! These gluten-free cookies are so easy to make with no fancy ingredients required.
Vegan Snickerdoodle Cookies - Vegan Snickerdoodle Cookies are so chewy and soft, you'll never believe they're gluten-free! Rolled in homemade cinnamon sugar, they're the perfect simple cookie recipe.
Vegetarian Thanksgiving Recipes - Appetizers
Holiday appetizers are crowd favorites. If you're looking for a new take on Thanksgiving appetizers, we've got your back with our top 2 favorite vegetarian recipes! With the flavor of these, you will not need more than two! We promise!
Wild Rice Stuffed Mushrooms - Wild Rice Stuffed Mushrooms are an insanely easy to make mushroom appetizer. These vegetarian stuffed mushrooms will even make meat eaters drool with delight!
Vegetarian Charcuterie Board - This Vegetarian Charcuterie Board will be your newest obsession. Push aside the traditional meat and cheese platter and welcome this vegetarian option!
What do vegetarians eat instead of turkey for Thanksgiving?
A vegetarian option might be a vegan turkey, which is very similar to regular roasted turkeys. The main difference in the recipe is swapping out the meat for tofu and vegetable proteins, which also means it's vegetarian.
Some other options for vegetarians might be to swap out the meat in their favorite dish, like swapping bacon bits with soyrizo crumbles or using tofu instead of ground beef.
What is a vegan turkey?
A vegan turkey is a dish that is very similar to regular roasted turkeys. The main difference in the recipe is swapping out the meat for tofu and vegetable proteins, which also means it's vegetarian.
What is the most popular side dish on Thanksgiving?
Most people would say mashed potatoes since it is the perfect mix of creamy and buttery, but there are so many other options! How about roasted sweet potatoes with a little bit of salt and pepper? Or maybe you're more in the mood for macaroni and cheese, which is totally possible too!
Vegetarian Thanksgiving Recipes: Zucchini Corn Cakes
Looking for Vegetarian Thanksgiving Recipes? Read on to see over45+ Vegetarian Thanksgiving Recipes that are delicious and easy to make. Air Fryer Zucchini Fritters is another great way to use your air fryer. This zucchini fritters recipe uses shredded zucchini and fresh corn. You are going to love these zucchini patties.
Ingredients
1-2

T

Taco Seasoning

check to make sure its GF, many times there are hidden ingredients in there

2

cups

cornmeal

1

teaspoon

baking powder

¼

teaspoon

sea salt

2

eggs

¾

cup

milk

¼

cup

honey

¼

cup

melted butter

¾

cup

shredded cheddar cheese

2

cups

frozen or fresh corn

½

cup

shredded zucchini

Spray oil for air frying
Instructions
To make your air fryer zucchini fritters, mix together ingredients, stirring in 1-2 T of taco seasoning.

Scoop 1-2 Tablespoons of corn mixture and press down to form a "patty".

Places zucchini fritters into the air fryer. cook at 380 degrees F for 5 minutes. Flip patties and cook for another 3 minutes.

Let your zucchini fritters rest 4-5 minutes before eating.

ENJOY!
Notes
These Zucchini Corn Cakes freeze wonderfully!
Tips and Tricks for your Air Fryer Zucchini Fritters:
If you have made these before using the skillet method, they will be brown up as much because you are not cooking them in an oil bath. Likewise, the zucchini fritters will also not crisp up as much.

If you do not have an air fryer, you can make these zucchini fritters by using our

Zucchini Corn Fritters

recipe.

It is key to let your zucchini fritters rest for 4-5 minutes after cooking in the air fryer. This helps the fritters to become firmer.
Nutrition
Calories:
361
kcal
|
Carbohydrates:
56
g
|
Protein:
12
g
|
Fat:
10
g
|
Saturated Fat:
5
g
|
Cholesterol:
72
mg
|
Sodium:
257
mg
|
Potassium:
320
mg
|
Fiber:
6
g
|
Sugar:
14
g
|
Vitamin A:
310
IU
|
Vitamin C:
0.2
mg
|
Calcium:
180
mg
|
Iron:
2.2
mg
All though this website attempts to provide accurate nutritional information, the information should only be considered an estimate. Varying factors such as different product types, different brands, etc. can change nutritional information. It is your responsibility as a consumer to read all labels to make sure the ingredients fit your dietary needs as well as calculate your own nutritional information as a double check.
Fun Fact: There are about 100,000 turkeys raised on farms in the US for Thanksgiving each year! We won't be using any turkeys in this recipe post though. It is said in 1840, the first ever Thanksgiving feast was served in New York.
So the time has come for you to decide which of these Vegetarian Thanksgiving Recipes you are going to make! What did you choose? Leave a comment below telling us what recipes you selected to make.
Have you made any of the recipes? Even better? Drop a comment telling us which ones you made and how they turned out!