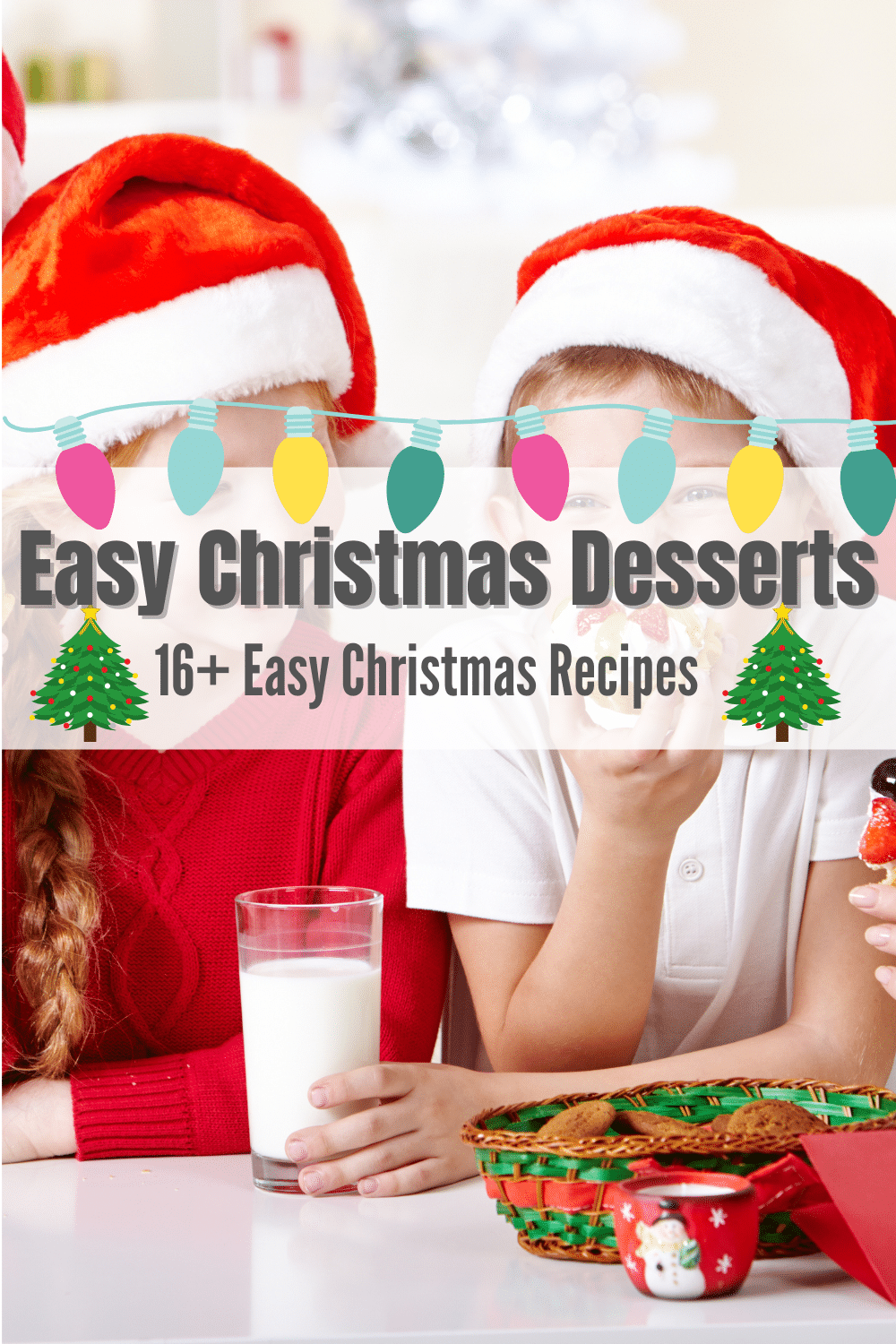 Prep for the holidays with these easy Christmas desserts! From the best Christmas cookies to show-stopping Christmas dinner desserts, we have all the best Christmas dessert recipes here, including gluten-free recipes and vegan dessert recipes. Read on to learn how to make 16+ easy Christmas desserts.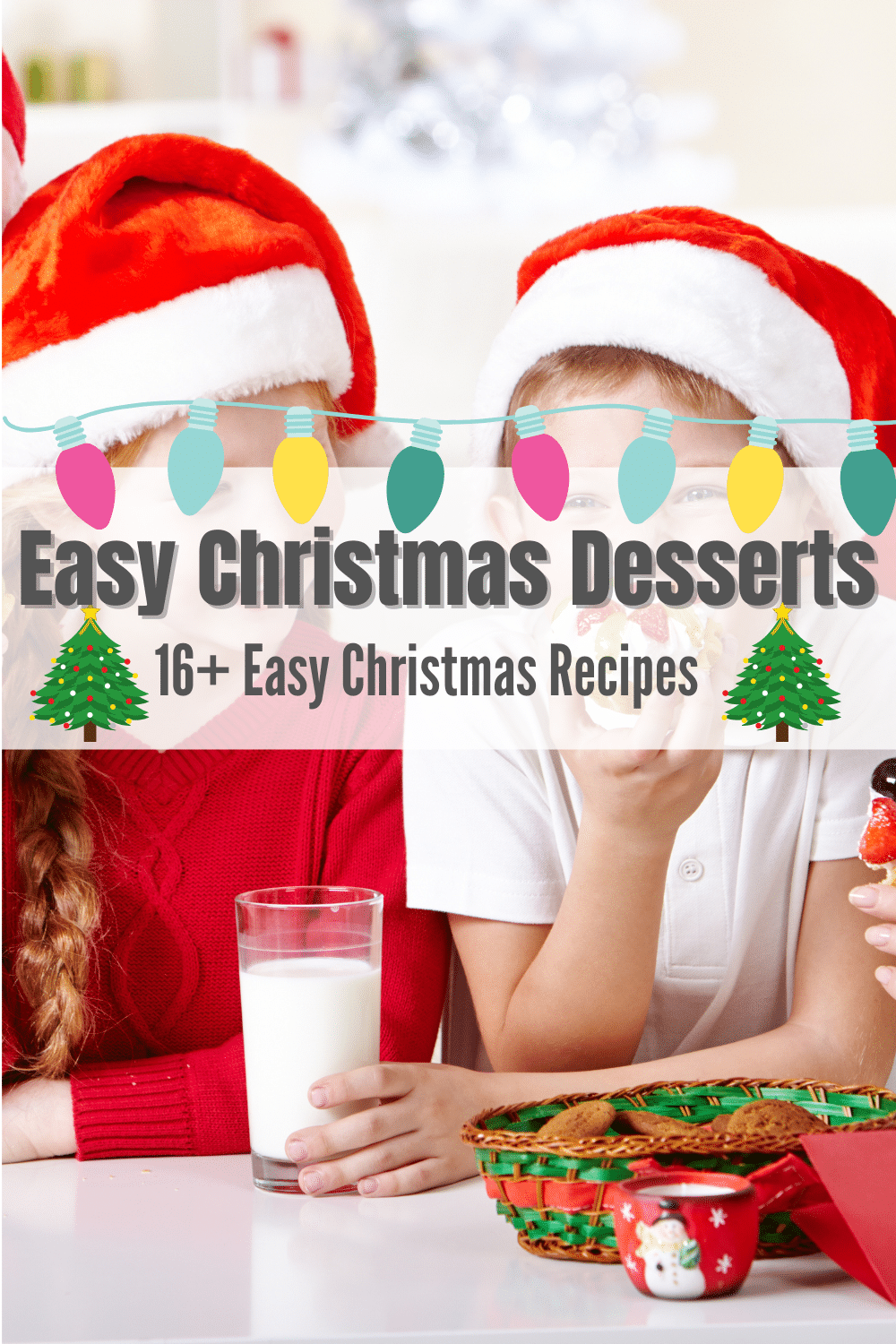 WELCOME TO EASY CHRISTMAS DESSERTS
Are you looking for the best gluten-free and vegan Christmas dessert recipes? We are so happy you are here! We love to help people become experts with vegan and gluten-free baking. If you are new, we suggest that you start with this list of easy Christmas desserts. We have a whole community just waiting to welcome you!
Whether you are looking for gluten-free cookie recipes for the annual Christmas cookie swap, or you need a new stunning dessert for the table, I have all the best Christmas desserts for the season! Most of these recipes are gluten-free and vegan already, but they also can easily be adjusted for any diet.
Whether you are a seasoned air fryer expert or a beginner, we have got some easy and delicious air fryer vegetable recipes to share with you today! After all the hearty main and side dishes, be sure to save room for these easy Christmas desserts everyone will love.
BEST TIPS FOR MAKING EASY CHRISTMAS DESSERTS
Plan the menu. Since most. of these ingredients are vegan, you can plan your dishes and buy your ingredients early! This gives you a less stressful shopping experience and a guarantee you will have the best Christmas sprinkles.
Make ahead of time. Take the stress out of the holidays, and make dishes in advance! Most of these easy Christmas dessert recipes can be made at least 1 day in advance for a stress-free Christmas morning.
Go with what you know. Christmas is packed with parties, dinners, and especially desserts. Variety is great, but making one or two great desserts is better than making a ton of desserts that end up as leftovers! I like to make two Christmas dessert recipes every year: a family classic, and something new I want to try. That way, I know at least one of my dishes will be loved!
Get the timing down. If you are planning to bake something on Christmas so it is piping hot, be sure to plan the perfect timing to get it in the oven. Remember: There will be snags along the way, so give yourself time ranges instead of firm start times.
Ask for help. The beauty of Christmas is it is a family holiday! If you are new to baking, ask your best family baker for tips in the kitchen. If you have children, find easy Christmas dessert recipes they can help decorate. You do not have to do all the work yourself this year!
FAVORITE EASY CHRISTMAS DESSERTS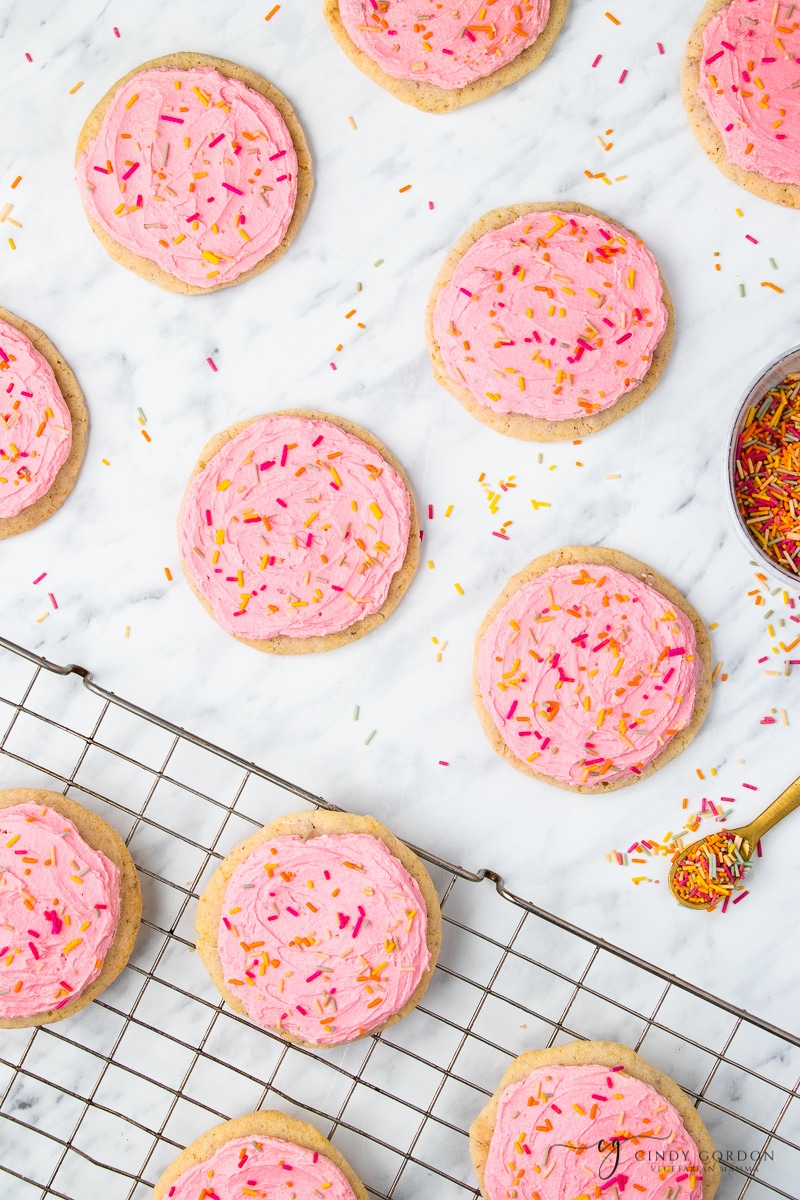 Vegan Frosted Sugar Cookies: I love fluffy sugar cookies so much! That sweet, pillowy cookie covered in delicious frosting is a perfect Christmas dessert. This vegan cookie recipe is topped with vegan frosting, too, but no one needs to know.
Cherry Delight: If you love that cheesecake flavor but do not love all the work, this is the easy Christmas dessert recipe for you! It is bright, beautiful, and makes a statement on your Christmas dinner table, yet it is so simple to make even your kids can help.
Vegan Gingerbread Cookies: These Vegan Gingerbread Cookies are the ultimate Christmas cookies! Decorate angels, ornaments, stars, and gingerbread people with these perfectly chewy cookies and homemade vegan royal icing. No one will guess these cookies are vegan and gluten-free with the adorable frosted decorations. Try to save some for Santa!
Christmas Pretzels: Made with just pretzels, chocolate, and M&Ms, these sweet and salty treats are simple to make, and a great filler for Christmas cookie platters.
No-Bake Fig and Orange Cheesecake: This no-bake cheesecake recipe is topped with quintessential Christmas flavors! Skip the figgy pudding and make this vegan fig and orange cheesecake filled with warm spices and topped with fresh fig slices, roasted walnuts, and blueberries. Plus, it is gluten free and refined sugar free, too!
Peanut Butter Blossom Cookies: Did you know you can make Christmas cookies in the air fryer? You truly can! Air Fryer Peanut Butter Blossom Cookies are a delicious traditional Christmas cookie topped with Hershey's Kisses. Make these cookies in the air fryer in 7 minutes!
Vegan Panna Cotta: When you are hosting a formal Christmas dinner, individual desserts are the best option. You will love this Vegan Panna Cotta that is perfectly creamy and chocolatey, too. You only need 6 ingredients and a couple hours to chill to whip together this decadent dessert that feels so fancy. If you have never had panna cotta, imagine a firm pudding that is so luscious you will fall in love with every bowl.
Air Fryer Gingerbread Bites: During Christmas, anything goes — including dessert for breakfast. These Air Fryer Gingerbread Bites are like holiday monkey bread stuffed with sweet cream cheese for one great bite! The secret to this gingerbread flavor is in the spices: ginger, cinnamon, allspice, nutmeg, cardamom, and cloves. A little bit of each of these seasonings goes a long way, but this combination is perfect.
THE BEST VEGAN CHRISTMAS DESSERTS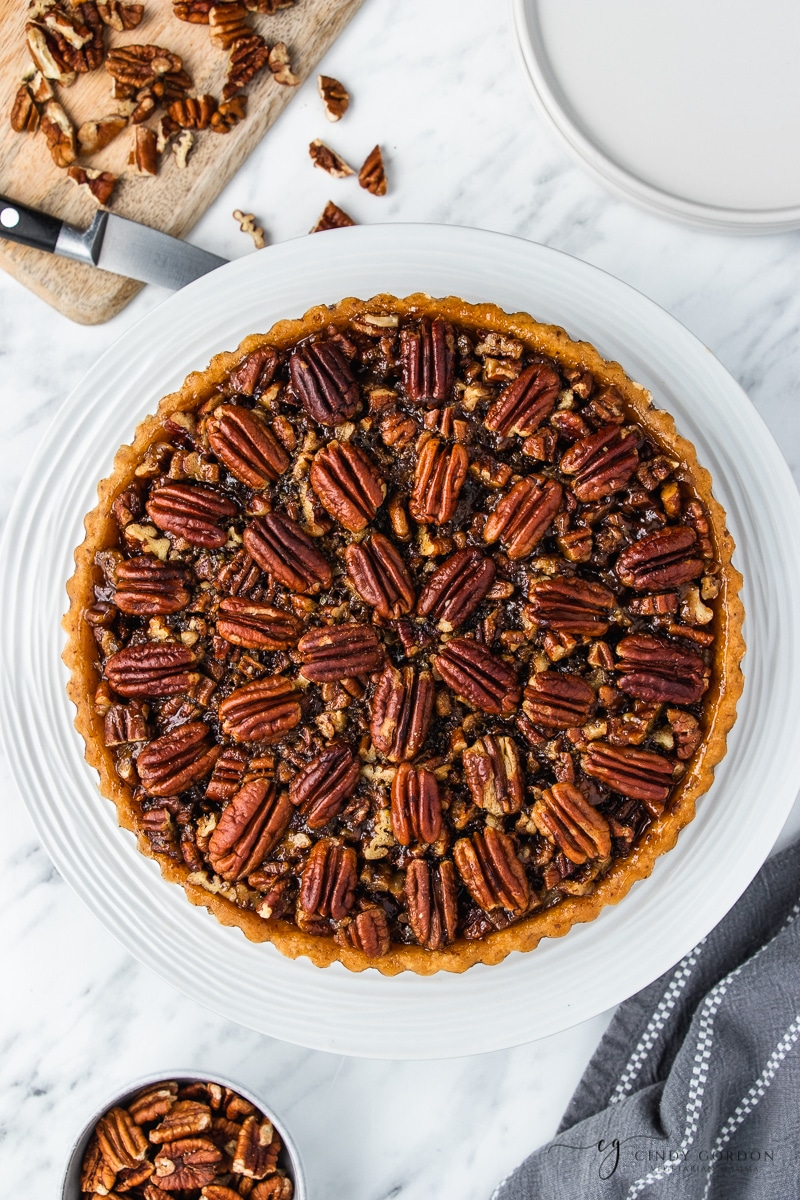 Vegan Pecan Pie: Once I nailed my vegan pie crust recipe, I started learning to make delicious vegan versions of every pie I love. I had to start with Vegan Pecan Pie, and this easy holiday recipe does not disappoint! It is made with a simple homemade crust and just a few all-natural ingredients in the ooey gooey filling.
Vegan Sugar Cookies: I love this vegan cookie recipe because it is so simple with just 8 ingredients. They are also gluten-free, but no one at the Christmas cookie swap will have any idea. They are THAT good. These Vegan Sugar Cookies are perfect for any season! They can be cut into any shape from simple ornaments to Christmas tree cookies and decorated with royal icing, too.
Vegan Pumpkin Cheesecake: I usually stick to pumpkin desserts for Thanksgiving. But there is something about this luscious vegan pumpkin cheesecake I cannot get enough of during the holidays! Keep it gluten free with a crunchy graham cracker crust surrounding a super flavorful and creamy pumpkin filling.
Vegan PB&J Freezer Bars: These simple dessert bars are great for a Christmas cookie swap or kids' Christmas party. These chewy peanut butter bars are topped with a homemade raspberry and chia seed jam for a bright festive color! This no-bake recipe is so easy and beloved by everyone.
Vegan Pie Crust: No matter what pie you make for Christmas, this vegan pie crust is perfect! This easy Christmas dessert recipe is so tender and easy to make from scratch thanks to a food processor and stand mixer. It is flaky, buttery, and oh-so-easy with the food processor! Learn how to use this gluten-free pie crust recipe for delicious savory or sweet pies that do not take all day to make.
MORE EASY CHRISTMAS DESSERT RECIPES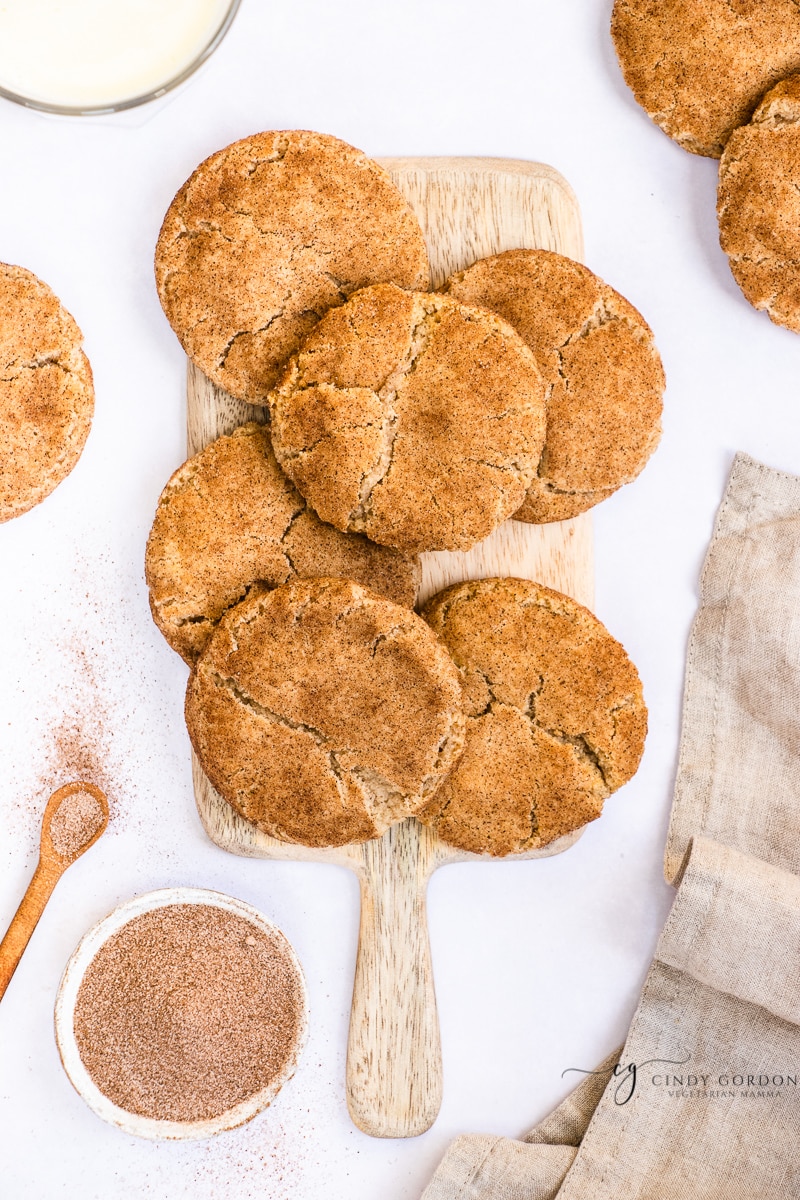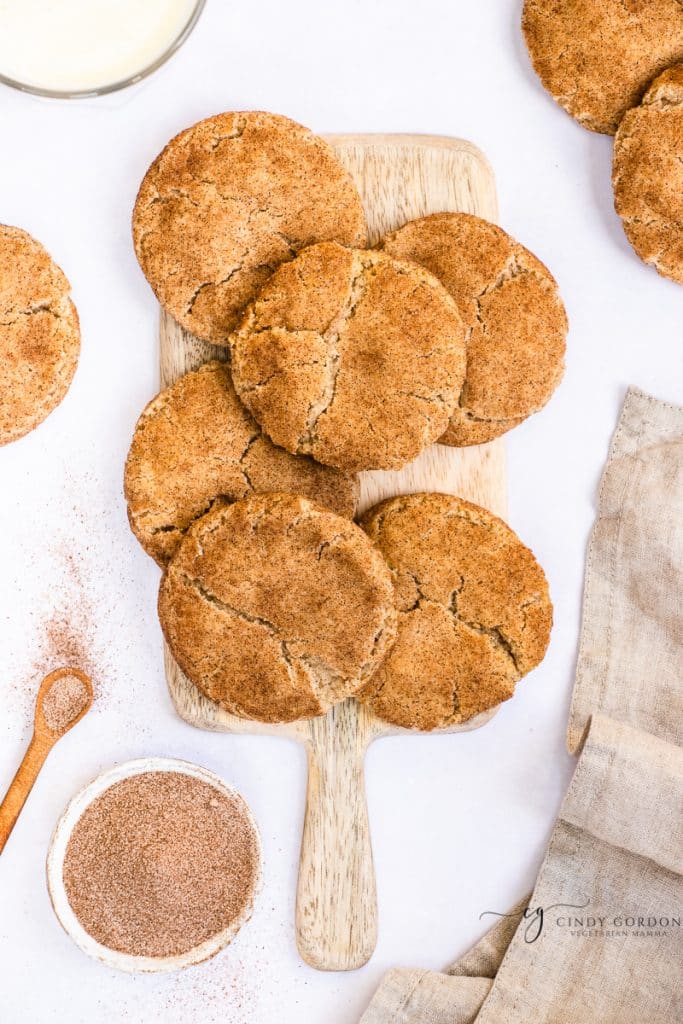 Vegan Snickerdoodle Cookies: These simple homemade cookies are rolled in cinnamon sugar for a delicate but delicious dessert. These sweet and spiced Vegan Snickerdoodle Cookies are so fluffy and soft, you will never believe they are gluten-free, too! There is no occasion where you can't serve them! Find your new favorite Christmas cookie today.
Gluten-Free Tagalong Cookies: I love a good sandwich cookie, and this Girl Scouts copycat recipe is just three ingredients! You can use white chocolate, milk chocolate, or dark chocolate. Just do not forget the red and green sprinkles on top! This salty sweet combo is too hard to resist.
No-Bake Cornflake Cookies: The best Christmas desserts do not have to be complicated! No bake cornflake cookies are an easy and kid friendly treat. Your family will love these crunchy, sweet cornflake cookies that are ready in no time! I top mine with red and green Christmas sprinkles for a festive treat.
Sweet Potato Brownies: I love all things sweet potato, but in a dessert? Trust me, these Sweet Potato Brownies taste like fudgy chocolate and are melt-in-your-mouth decadent. Unlike the classic sweet potato pie, these vegan brownies taste nothing like sweet potatoes! They add a creamy richness to the batter and leave behind an extra moist and chocolatey brownie.
Air Fryer Apple Crisp: I LOVE desserts, but during the holidays, it is hard to eat a rich, decadent dessert after a huge meal! Luckily, this Air Fryer Apple Crisp brings all the dessert I need and none of the heaviness, dairy, or excess breading! This gorgeous air fryer dessert is similar in shape to apple pie but has no crust — just a rolled oat and pecan topping filled with cinnamon and sugar deliciousness.
Gluten-Free Apple Cake: This cake holds a lot of happy memories for me. It is a simple cake that my husband always made. Now, I have adapted the recipe to be gluten-free and nut-free! This apple cake recipe is perfect for those moments when you want a sweet treat in a snap. Plus, you only need 10 ingredients!
Chocolate Covered Cranberries: These sweet and tart berries are really tasty dipped in melted dark chocolate, and simple to make.
Christmas Chocolate Covered Strawberries are extra fun, with designs drawn on with candy melts. I love having a healthy alternative to all the Christmas cookies!
MORE EASY CHRISTMAS RECIPES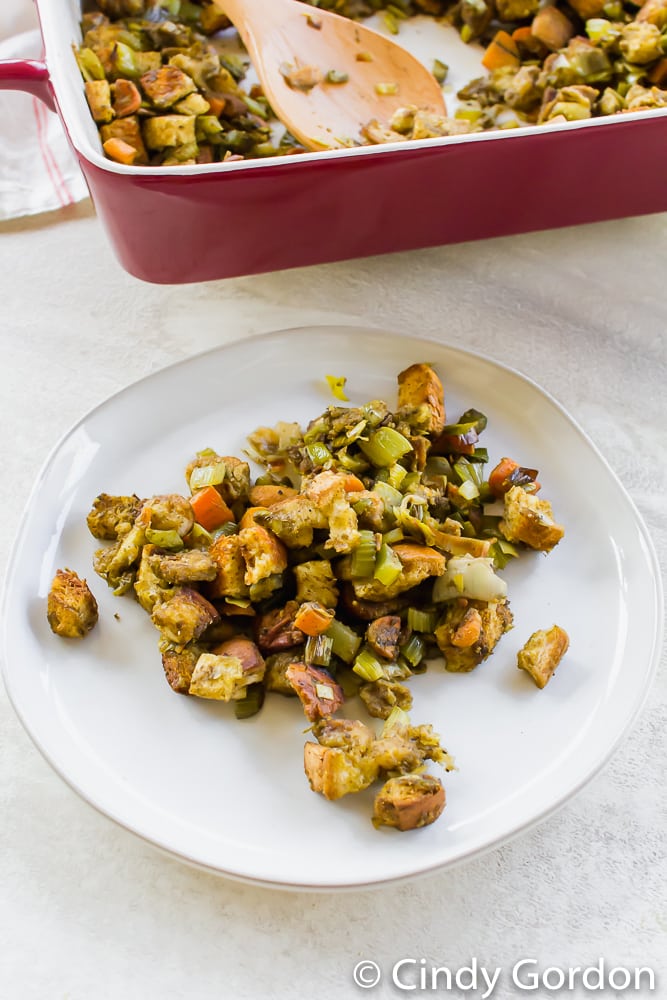 Vegan Stuffing: The sides are the best part of the holidays for me, and this Air Fryer Stuffing is one I am always making for Thanksgiving and Christmas! This rich, hearty side dish is packed with veggies and the must-have for stuffing: bread. If you are gluten-free, you can easily adapt this recipe to fit your dietary needs!
Air Fryer Green Bean Casserole: You can make so many Christmas side dishes in the air fryer! This Vegan Green Bean Casserole takes the heaviness out but still brings you comfort just like grandma's recipe. I prefer using fresh green beans to give it a little extra crunch and flavor. Plus, I swap the typical creamy soup and milk base for coconut milk and vegetable broth mixed for the same concept with fresher ingredients!
Roasted Potatoes and Brussels Sprouts: This is a super simple vegetable side dish! I like to make simple roasted veggies to balance out all the heaviness of Christmas dinner. This way, you can enjoy everything and save room for all the Christmas desserts!
Caramel Apple French Toast Casserole: Start Christmas off right with this easy breakfast casserole recipe! It is a sweet treat to kick off the day, and it is filling enough to keep everyone full until dinner. Plus, you can make it the night before for a simple Christmas morning breakfast!
Sweet Corn Pudding: Gluten-free sweet corn pudding is an allergy-friendly side dish that will bring some delicious flavor to your next meal. This vegan corn pudding recipe is perfect every holiday dinner. It has no eggs, no dairy, no gluten, and no nuts.
Broccoli Casserole: We love easy side dishes in this family! This broccoli casserole recipe is delicious, colorful, and super fresh. This vegetarian recipe idea will be the perfect addition to your dinner table this year!
Christmas Fruit Salad: Give your guests a healthy option when it comes to side dishes or dessert this holiday.
Easy Christmas Desserts : Featuring Vegan Gingerbread Cookies
These gluten-free gingerbread people are the perfect Christmas cookies! Decorate them all with this homemade vegan royal icing for the sweetest spiced treat this holiday season.
Equipment
Baking sheets

Saucepan

2 large mixing bowls

Wooden spoon

Rolling Pin

Cookie cutters

Cooling rack

Piping bag
Ingredients
Gingerbread Cookies Ingredients
Instructions
Preheat the oven to 350 degrees F (180 degrees C). Line 2 baking sheets with parchment paper.

In a medium saucepan, melt the vegan butter, sugar, and molasses over a low heat. Stir frequently.

Once melted, transfer to a large mixing bowl. Add the flax egg and vanilla extract. Beat with a wooden spoon until well combined.

Sieve in the gluten-free flour, and add cinnamon, ground ginger, baking soda, and xanthan gum. Mix together first with a wooden spoon, then by hand to form a dough.

Shake the dough into a ball. Chill in the fridge for 30 minutes.

Split the dough in half, and roll one section with a rolling pin. Cut out shapes using cookie cutters and transfer them to the lined baking sheets.

Bake for 8 to 10 minutes — 8 minutes will result in a softer cookie, and 10 minutes will make them more crisp. Let cookies cool completely on a wire rack before decorating them.

To make the vegan royal icing, sieve the powdered sugar into a large mixing bowl. Add the almond milk and whisk until smooth. Transfer icing to a piping bag with a small tip and decorate as desired.
Nutrition
Calories:
164
kcal
|
Carbohydrates:
31
g
|
Protein:
2
g
|
Fat:
4
g
|
Saturated Fat:
1
g
|
Trans Fat:
1
g
|
Sodium:
89
mg
|
Potassium:
64
mg
|
Fiber:
2
g
|
Sugar:
20
g
|
Vitamin A:
223
IU
|
Vitamin C:
1
mg
|
Calcium:
27
mg
|
Iron:
1
mg
All though this website attempts to provide accurate nutritional information, the information should only be considered an estimate. Varying factors such as different product types, different brands, etc. can change nutritional information. It is your responsibility as a consumer to read all labels to make sure the ingredients fit your dietary needs as well as calculate your own nutritional information as a double check.
EASY CHRISTMAS DESSERTS POST
If you have made any of these easy Christmas dessert recipes, please be sure to leave a comment on the recipe page letting us know what you thought.