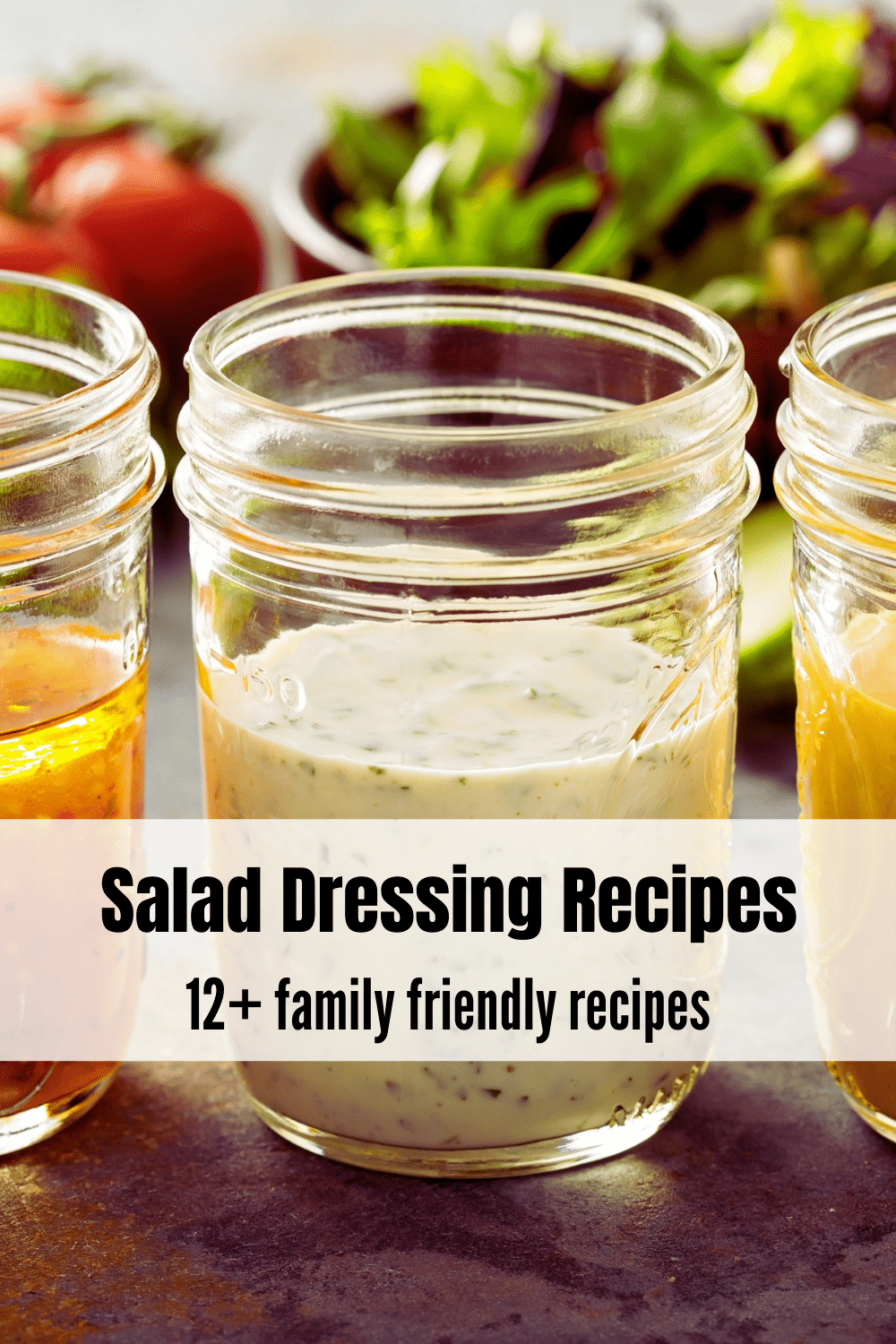 These easy salad dressing recipes are so delicious and perfect for every season! Use them on your favorite salads, as veggie dips, or even on sandwiches and veggie burgers.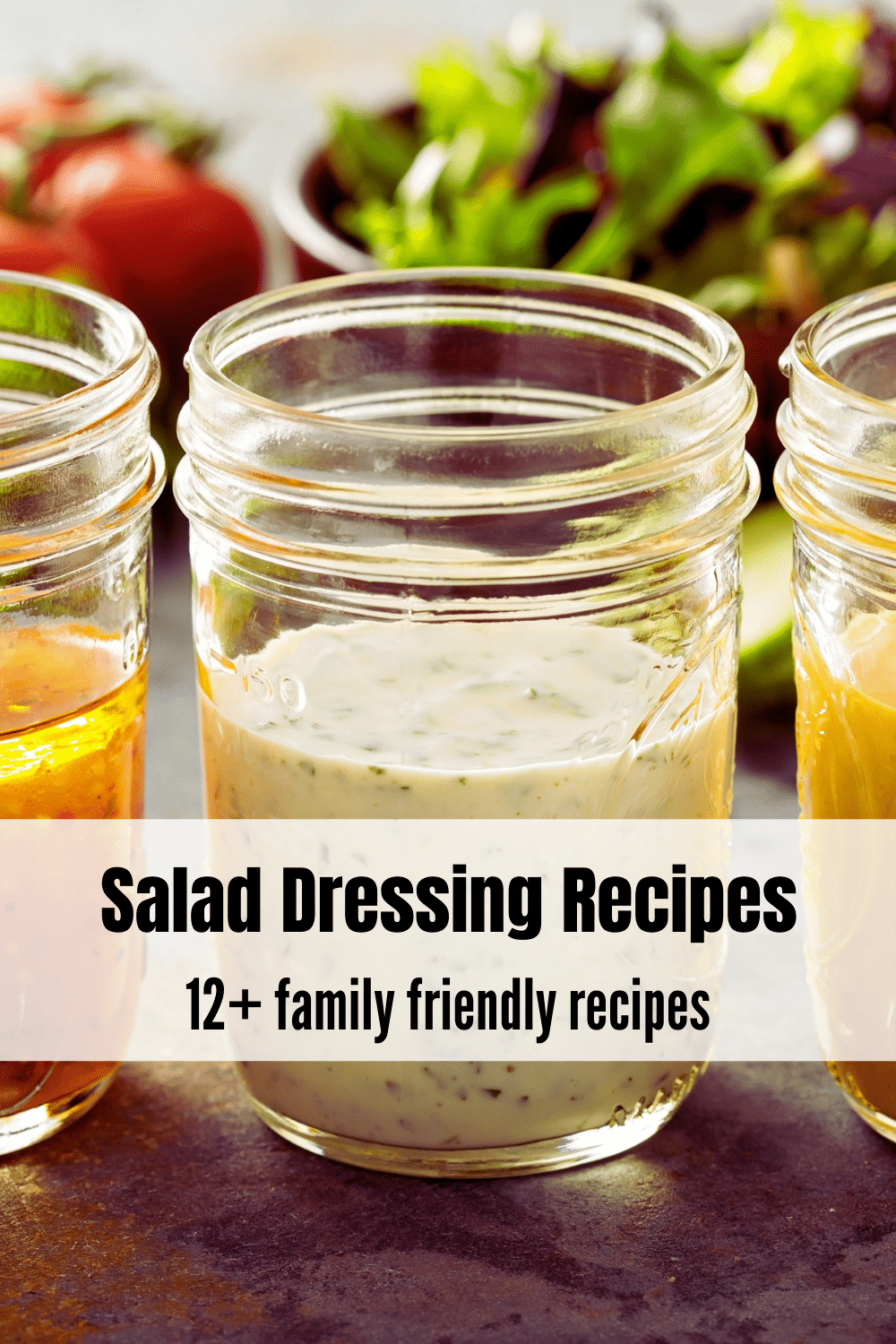 SALAD DRESSING RECIPES
I could eat salads for almost every meal — except dessert. Whether it is a simple salad with lettuce, tomatoes, and croutons, or a decadent dinner salad packed with tons of fruits, veggies, nuts, and seeds, salad dressing really makes the dish!
These salad dressing recipes are some of my absolute favs. From simple vinaigrettes to creamy vegan dressings, you will use these spring, summer, fall, and winter.
Keep scrolling to learn all the essential salad dressing ingredients and some of my tips to make it perfect every time!
INGREDIENTS FOR SALAD DRESSING RECIPES
You can put any flavor profile into a simple salad dressing recipe! Once you get the basics down, you will never use store-bought salad dressing again. Here are the main ingredients in every salad dressing recipe:
Oil: Traditionally, salad dressing recipes — especially vinaigrettes — are made with mostly oil. When you are making salad dressings at home, you want to use a high quality oil. I recommend olive oil, sesame oil, walnut oil, hazelnut oil, or sunflower oil.
Acid: The addition of an acid like lemon juice or red wine vinegar brings that perfect sparkle to the oil! The beauty of making salad dressing at home is you can always add more acid if it is too heavy. You can also add more oil if it gets too acidic.
Sweetness: Not all dressings have a liquid sweetener, but most do. Honey is a popular option, but I use maple syrup to keep my salad dressings vegan.
Herbs: Whether you use fresh herbs or dry herbs, the punch of flavor can take your salad dressing from good to amazing. Try thyme, basil, oregano, cilantro, mint, dill, parsley, or rosemary. A pinch of salt is always important in salad dressing recipes, too!
Extras: It is easy to change or add ingredients to any salad dressing recipe! I recommend trying any combination of nut butters, seasonings, mustards, sweeteners, seeds, or spices.
Equipment: You do not need a fancy blender to make the best salad dressing recipes, either. Salad dressings will separate as they sit. A quick whisk or shake will bring the dressing back to life!
Storage: On average, a creamy homemade salad dressing will last up to 1 week in the fridge, and a vinaigrette will last about 2 weeks. I always have mason jars on hand to keep my salad dressings stored air tight. Plus, it is easy to shake the dressing back together when it naturally begins to separate.
If you have any questions about homemade salad dressing recipes, please leave a comment below and I will get back to you ASAP!
YUMMY SALAD DRESSING RECIPES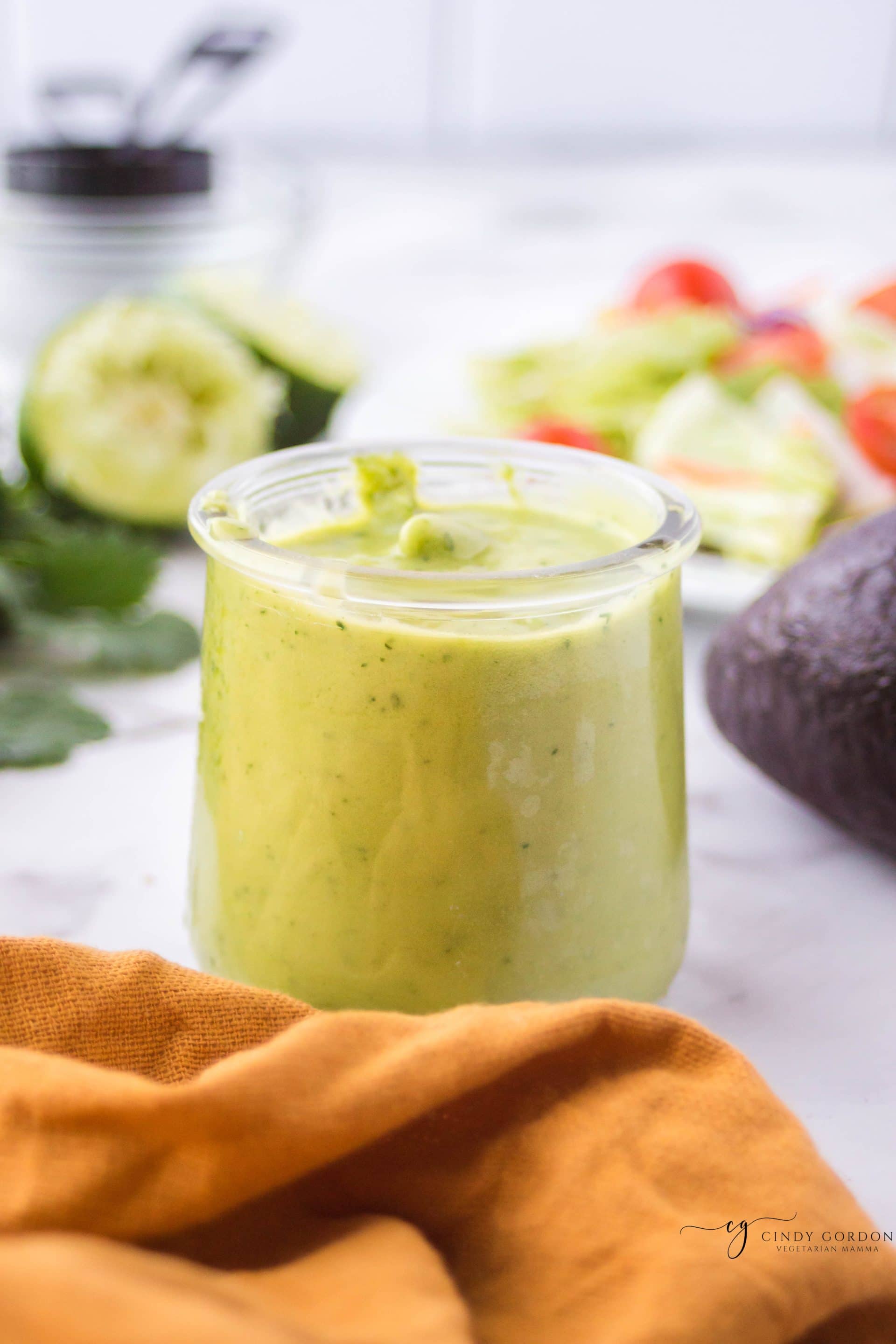 I cannot get enough of this vegan avocado dressing. It has the spirit of a mild guacamole dip with cilantro and lime, but it is thin enough to toss with a salad or use as a dip for chips or veggies. This is a creamy salad dressing recipe that is healthy, delicious, and packed with fresh herbs and citrus.
Balsamic vinegar dressing is a fan favorite. Stop using store-bought and make your own! This salad dressing recipe adds mustard and honey to the classic balsamic vinaigrette. I love to use fresh garlic, too, but powdered garlic works, too!
Traditionally, caesar salad dressing is made with anchovies and is not vegetarian. However, you can ditch all the fish and dairy for a totally vegan caesar dressing! It is a great easy dressing or veggie dip recipe, too.
Almost all salad dressing recipes require oil — almost. This oil-free salad dressing is low calories and high in flavor. Packed with sweet and savory flavor notes, this will become your go-to balsamic salad dressing, and it is so easy to make!
I use Italian dressing for so many things, from simple salads to delicious marinades. Make your own with all-natural ingredients and tons of zesty flavor! This dressing is super bright with white wine vinegar and sweetened with maple syrup.
Dress up that simple leafy green salad with a bright citrus salad dressing! Swap the mayo in this creamy salad dressing recipe for a vegan mayo, too. I love that it is super creamy but still light and bright. Perfect for summer salads!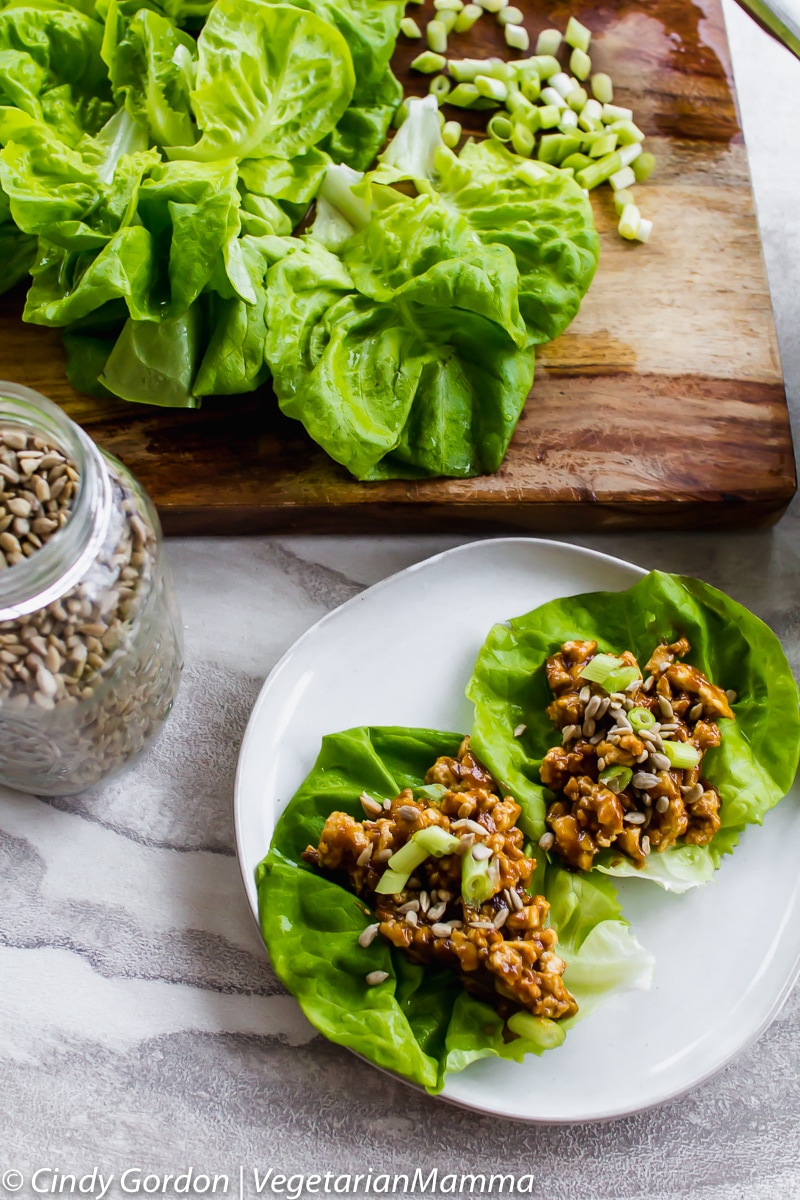 Not all salad dressing recipes have to go on traditional salads! I make a zesty Thai-inspired dressing with sunflower butter, honey, sriracha, and a little sesame oil. It is a great easy weeknight recipe with a little tofu and bibb lettuce leaves.
Fresh herbs are great for a super strong burst of flavor and aromatics. But you can also use dried herbs in homemade salad dressing recipes! I love using this Greek salad dressing recipe because it is made from all pantry staples — olive oil, red wine vinegar, dried herbs, and fresh garlic.
Ranch is THE most popular salad dressing in the United States. Add a little more spice to your homemade ranch dressing with this BBQ ranch! It is also amazing on veggie burgers or as a creamy fry sauce.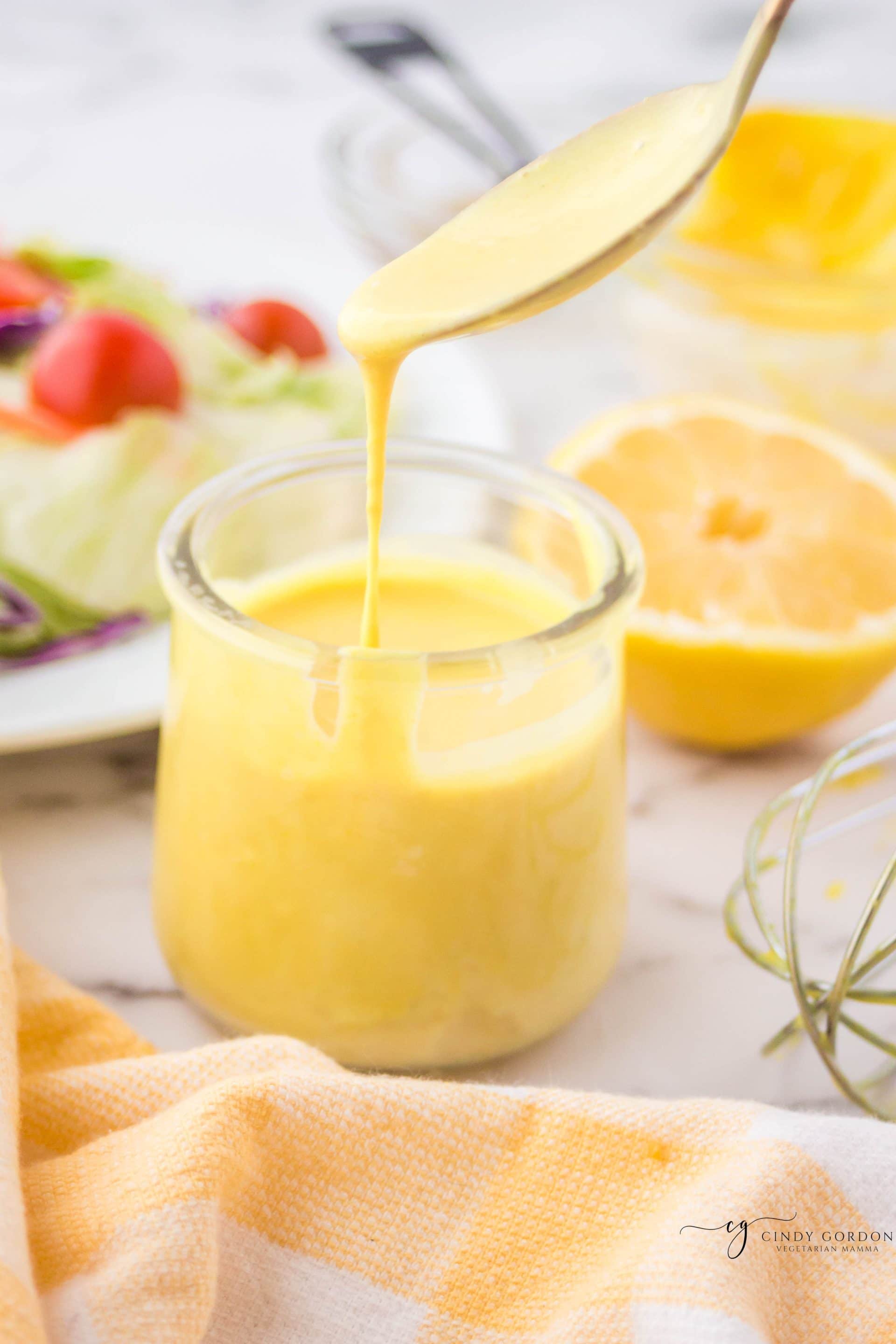 This recipe for vegan honey mustard makes a honey mustard sauce with fresh ingredients that is tastier than anything you can buy. We are using all vegan ingredients to make a honey-less honey mustard. You will want to put this stuff on everything.
If you want a light and creamy sauce that goes with everything, you have found it! This simple creamy tzatziki sauce, is one of my favs. It is great on veggies, salads, sandwiches — anything that needs a cool, clean taste.
If you dream of Olive Garden's endless salad bowls, I have the best salad dressing recipe for you! Try this Olive Garden copycat recipe for a great soup and salad night. I usually have a mason jar in the fridge for a quick and tasty lunch.
MORE EASY SALAD RECIPES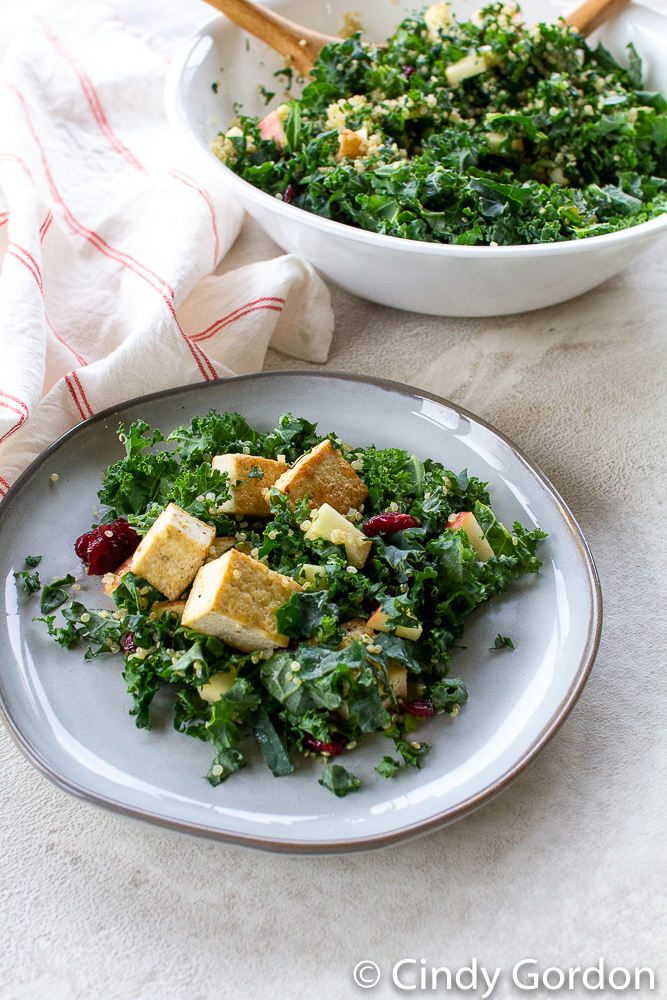 This Tofu Salad is full of delicious fall flavors! Packed with apples, quinoa, dried cranberries, and the bitter bite of kale, add your favorite dressing or use coconut aminos to keep it gluten free!
Mediterranean Chickpea Salad is a delicious meal that can be prepped ahead of time. One bite and you'll be hooked! It's gluten-free and has a deliciously simple homemade dressing.
Did you know that salads don't even have to have lettuce in them? Seriously! Salads do not have to have lettuce or greens in them at all. This Greek Cucumber Salad is packed with veggies but none of them are lettuce.
HOW TO MAKE THE BEST SALAD DRESSINGS
Whether you are new to making salad dressing or are looking for new ideas to spice up a hearty salad, these tips and tricks are great for every recipe!
Taste as you go. If you want that perfect balance of salty, sweet, acidic, and herbaceous, taste as you mix! The beauty of homemade salad dressing recipes is you can always add more to balance out the flavors before it is too late.
Use the best ingredients. When it comes to salad dressings, there is nothing to hide behind. You want to use quality oils, vinegars, and herbs. I always recommend fresh citrus juices, too.
Dress the salad directly. If you are making a big salad and want to save on cleanup, make and dress your salad all in one bowl! Just be sure to add the dressing as close to dinner time as you can. Many salads will begin to wilt if not eaten immediately.
Whisk it or shake it. Most salad dressing recipes call for a whisk to get all the ingredients combined well. However, if you do not have a whisk, that is ok! I like to mix mine in a jar with a lid. This is especially great for storing and remixing the dressing.
Change it up. Want a creamy Italian dressing? Add a little vegan mayo! Want more acid? Add lemon and lime to the mix! There is no end of variations you can make with all of these salad dressing recipes. Once you master this recipe list, you will be able to mix up so many flavors and types for every season.
Make ahead of time. Salad dressings are usually better once the flavors have melded together for a few days. You can always make a salad dressing right before it is time to eat, but letting it sit in the fridge for a couple days adds so much depth of flavor!
Double your recipe. Making a batch of your favorite dressing? Double up! Since these salad dressing recipes last days in the fridge, you can always make extra.
WHAT TO SERVE WITH HOMEMADE SALAD DRESSING RECIPES
Salads need all the textural elements. I love making my own croutons at home with leftover bread! It is a great way to add crunch to your salads and use bread that is too hard for sandwiches.
Looking for a different kind of crunch? Try air fried chickpeas! I toss mine in a garlic and rosemary herb blend. I also love a crunchy air fryer pumpkin seeds. They make a great meal prep healthy snack or salad topper.
Vegan Bacon Bits are the perfect salty, smokey, sweet crunch! Add this meatless bacon to your favorite soup or salad.
If you are on an ovo-vegetarian diet, hard-boiled eggs are a great source of protein in salads! Try making hard boiled eggs in the air fryer for the perfect texture without boiling and waiting.
If you want to add even more flavor to your simple tofu salad, bake the firm tofu cubes in this delicious homemade barbecue sauce! It is perfectly tangy with a hint of smokiness for the best BBQ sauce you will ever make.
HOW TO STORE HOMEMADE SALAD DRESSINGS
On average, a cream-based salad dressing recipe will last about 1 week in the fridge. A vinaigrette dressing, however, will last up to 2 weeks.
Be sure to store it in an airtight container. I like to use mason jars, or even a mustard bottle bound for the trash. Use that extra dab and shake it all up!
Luckily, for most salad dressing recipes, I actually like the dressings better after they sit for a day or two so they flavors can develop more.
WHY DOES SALAD DRESSING EVEN NEED OIL?
In most salad dressing recipes, oil is used to do a few things.
First, it increases the amount of the dressing, and allows the dressing to flow further and coat the lettuce. Second, it adds a decadent, oily mouth feel that many people enjoy.
The thing is, oil is not necessary in order for a salad dressing to be delicious! This oil free dressing is just as tasty as any version with oil in it.
Salad Dressing Recipes : Featuring Vegan Avocado Dressing
These easy salad dressing recipes are so delicious and perfect for every season! Use them on your favorite salads, as veggie dips, or even on sandwiches and veggie burgers.
Ingredients
1

Avocado

seed and skin removed

¼

cup

Olive Oil

2

tbsp

Fresh Lime Juice

¼

cup

Fresh Cilantro Leaves

1

tsp

Minced Garlic

Salt and Pepper

to taste

¼

cup

water

as needed to thin dressing
Instructions
Add the avocado and olive oil to a food processor. Pulse to combine.

Next, add in freshly squeezed lime juice. Pulse to combine.

Then add in the fresh cilantro leaves, minced garlic and combine.

Taste the dressing, add salt and pepper to taste.

Use the water to thin dressing to your desired consistency.

Store in an airtight container in the refrigerator for up to one week.
Notes
Substitute basil, parsley, or other herbs for the cilantro if you like.
Avocado oil can be substituted for olive oil.
When using cilantro, avoid using the stems. They can add a bitter taste to your recipe.
Nutrition
Calories:
136
kcal
|
Carbohydrates:
4
g
|
Protein:
1
g
|
Fat:
14
g
|
Saturated Fat:
2
g
|
Polyunsaturated Fat:
2
g
|
Monounsaturated Fat:
10
g
|
Sodium:
4
mg
|
Potassium:
175
mg
|
Fiber:
2
g
|
Sugar:
1
g
|
Vitamin A:
96
IU
|
Vitamin C:
5
mg
|
Calcium:
7
mg
|
Iron:
1
mg
All though this website attempts to provide accurate nutritional information, the information should only be considered an estimate. Varying factors such as different product types, different brands, etc. can change nutritional information. It is your responsibility as a consumer to read all labels to make sure the ingredients fit your dietary needs as well as calculate your own nutritional information as a double check.