This Mediterranean Rice Bowl is delicious, full of flavor and simple to make. The flavors will send your tastebuds on a trip to another land!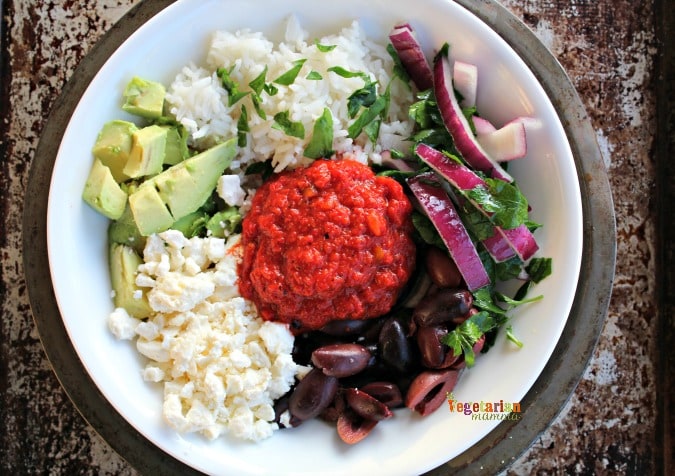 Mediterranean Rice Bowl
Sometimes when you take your favorite simple items and pair them together something wonderful happens. Something so wonderful that your taste buds thank you. That is what happened here.
We took some of our favorite ingredients, blended them together and created this Mediterranean Rice Bowl.
I just love the simplicity of this rice bowl. Sometimes, the most simple food is seriously some of the best food. I honestly can't get enough of this recipe once we make it up. It's just that good and I think you'll agree as well!
I'm not gonna lie, this dish is an absolute breeze on nights when you don't have a ton of time for dinner. It's simple, filling and packed full of flavors that everyone in the house will love.
I also like to add a bit of spice to mine so it's not uncommon for me to put a dash or two of cayenne pepper into the mix as well. The rice does an amazing job at picking up the flavors and everything mixed together is the perfect balance.
If you are a fan of meals in a bowl, you need to check out our Honey Mustard Broccoli Bowl. It is simply amazing as well!
(Notice a trend here...anything in a bowl is oh so good! and oh so simple!)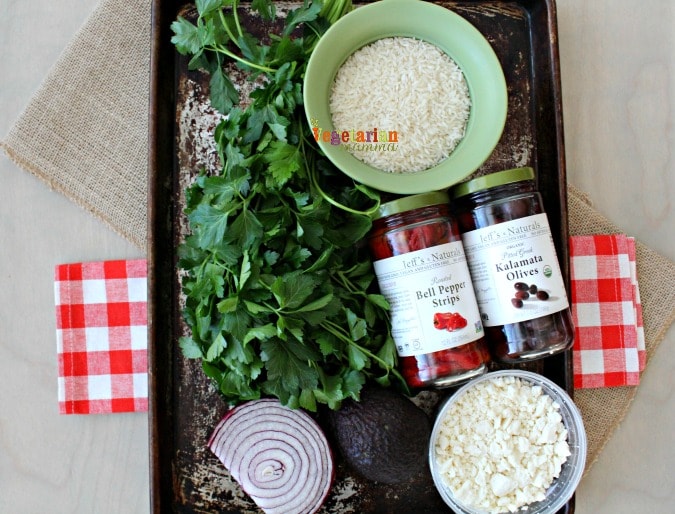 What ingredients are in this Mediterranean Rice Bowl?
That's the beautiful part about this recipe...it's so simple and so are the ingredients! There is nothing processed about it at all and it's a great way to kick start those taste buds into clean and healthy eating!
I love this recipe because it has avocado in it...such a good and healthy fat option! Plus, if your taste buds want to alter it up a bit, do so! This dish is so good about being able to add is some variances that it's fun to have a bit of difference in bites as well.
Simple ingredients such as:
roasted red pepper - (have you ever roasted red peppers yourself? Make this happen at some point in time in your life! There is nothing like the flavor of a fresh roasted red pepper!)
rice - (rice goes so good with so many dishes and I love that it's one of the stars of this show!)
feta cheese (if you are a cheese lover, feta cheese is oh so good)
kalamata olives (these aren't your regular olives - read more about them below)
avocado (avocado's are a great addition to any diet and contain so much good fat!)
red onion (I prefer to like my onions a little more on the sweet side, but you can choose whatever onion works for you)
parsley (a great garnish for a great dish)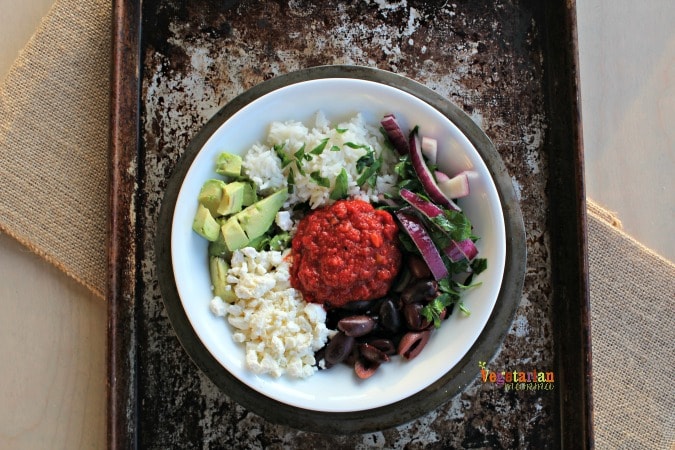 In only a few short minutes, this dish can be constructed only to be devoured by your family.
I often have to remind myself that this was made at home instead of at a restaurant. I find that I'm constantly amazed by my culinary skills in making Meditteranean dishes that taste great and are a healthier option for my family.
The roasted red pepper will delight your palette while the red onion tossed with olive oil and fresh parsley balance out the dish with a little kick.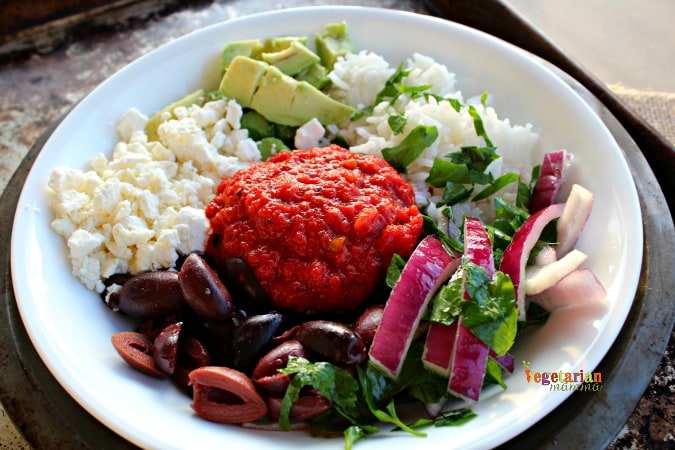 Love Mediterranean Foods? Here are some more!
If you love Mediterranean foods but aren't quite sure what all that entails here are some other foods that are quite common in Mediterranean dishes.
Feta, Grape Leaves, Chickpeas, and Lamb are foods that are quite commonly used in Mediterranean cuisine. I love the majority of these foods so I think that I would love to explore more of the Mediterranean food and recipes!
With all the great recipes on the internet nowadays, it's fun to look up and see what other types of Mediterranean meal ideas you can find. I love heading to the library and going old-school and looking through the cookbooks as well.
There are seriously so many good lunch and dinner ideas out there just waiting to be explored!
Have you ever tried Kalamata Olives?
Kalamata Olives have been eaten for thousands of years and actually pack quite a healthy punch. Contrary to popular belief, this olive is a fruit - not a vegetable. (You learn something new every day!)
These tiny olives pack a big punch in iron and Vitamin A and are a great addition to most Mediterranean dishes. Most Kalamata olives are sold with the pits in them so it's always good information to have before taking a bite!
I love to add them to my rice or salads as they bring in a ton of flavor and are absolutely delicious.
Pin for later!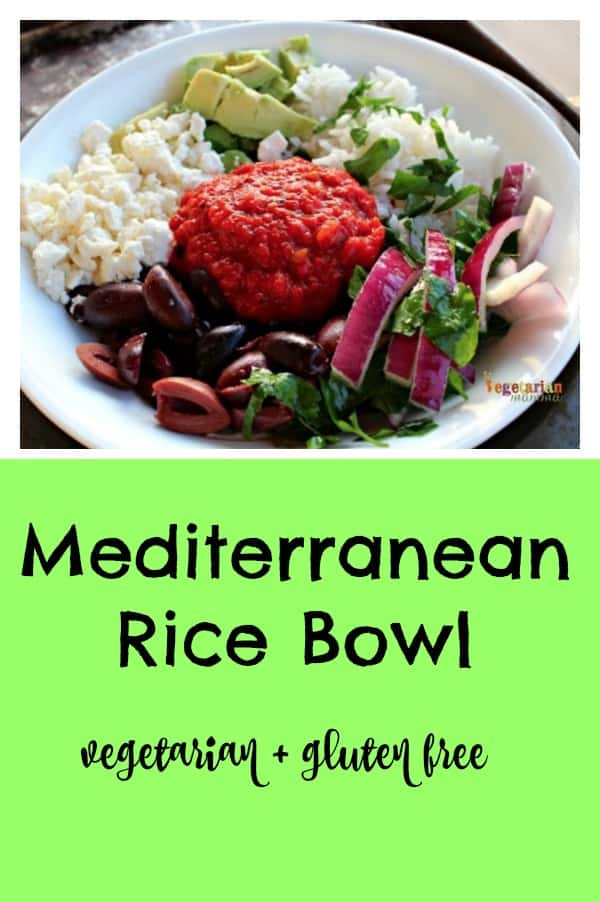 Mediterranean Rice Bowl
This Mediterranean Rice Bowl is delicious, full of flavor and simple to make. The flavors will send your tastebuds on a trip to another land!
Instructions
In a food processor blend roasted red pepper and garlic salt, set aside.

Equally divide rice, cheese, olives and avocado between 4 shallow bowls.

Toss the red onion, olive oil and parsley. Divide onion mixture into the 4 bowls.

Gently top each bowl with the roasted red pepper mix.

Take a seat, relax and enjoy!
Nutrition
Calories:
267
kcal
|
Carbohydrates:
14
g
|
Protein:
8
g
|
Fat:
22
g
|
Saturated Fat:
8
g
|
Cholesterol:
33
mg
|
Sodium:
2210
mg
|
Potassium:
443
mg
|
Fiber:
6
g
|
Sugar:
4
g
|
Vitamin A:
734
IU
|
Vitamin C:
41
mg
|
Calcium:
247
mg
|
Iron:
1
mg
All though this website attempts to provide accurate nutritional information, the information should only be considered an estimate. Varying factors such as different product types, different brands, etc. can change nutritional information. It is your responsibility as a consumer to read all labels to make sure the ingredients fit your dietary needs as well as calculate your own nutritional information as a double check.
Looking for more delicious meal ideas? Check this honey mustard broccoli bowl, easy spanish rice and Judara!
---
I'd love to hear from YOU! Leave me a comment telling me what your favorite ingredient is in this dish! Do you love Mediterranean flavors?