Tofu with Spanish Rice and Beans – This double protein dish (tofu + beans) packs a fun punch of flavor with smoked paprika as the seasoning.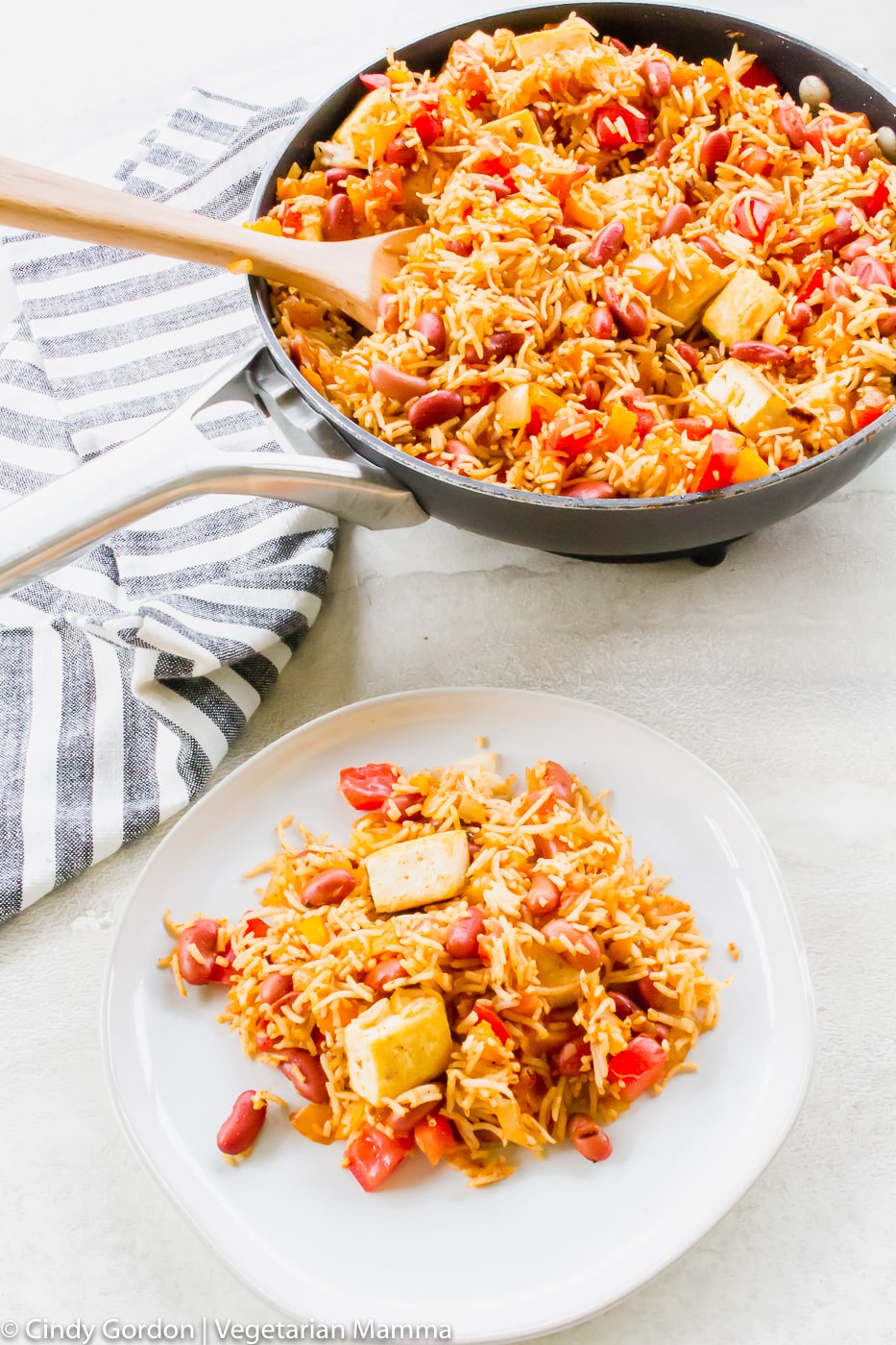 This post is sponsored by EZ Tofu Press and contains affiliate links.
This dish came about after I was researching recipes that used smoke paprika. This double protein dish (tofu + beans) packs a fun punch of flavor with smoked paprika as the seasoning. Tofu with Spanish Rice and Beans is a family favorite at our house!
This is one of those weeknight meals that I know is going to be a hit every single time. We love the smokey flavor and texture of this dish!
And rest easy knowing that it's super simple to make, too. With very little effort, you can easily create a delicious meal for everyone in your family to enjoy. We've made this as our go-to meal so many times, I've seriously lost count. (but I can tell you that no matter how many times we've made it, it's always delicious and always a hit!)
Beans and Rice is a Classic Combination for Vegetarians and Vegans
Not only is a plate of beans and rice filling, but it's nutritious as well, containing protein, vitamins, and minerals to fuel your body. Adding tofu to the mix makes it a very filling and protein-rich meal. The great thing about all three of these items is that they are a blank slate for flavor! Rice, beans, and tofu will all take on the flavor of your dish beautifully as they don't have strong flavors on their own.
And they all do a wonderful job of taking on the flavor of whatever spices that you're cooking with.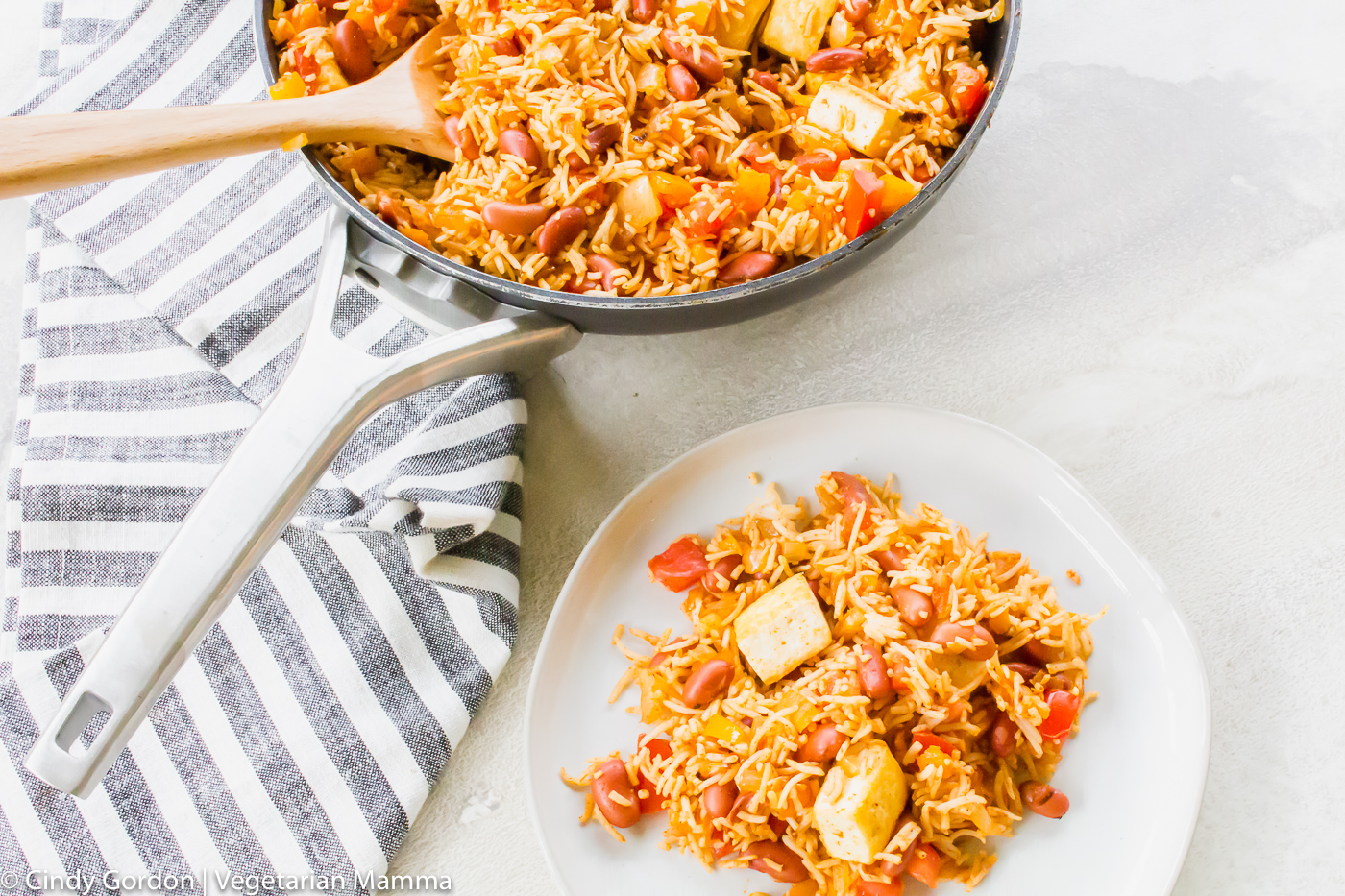 Looking for more Tofu Recipes? We have plenty here!
Find ALL of our Tofu recipes in the Recipe Index.
Anytime I cook with tofu, I use my EZ tofu press. Literally every single time. I've had such a great success using it that there's no reason for me to stop.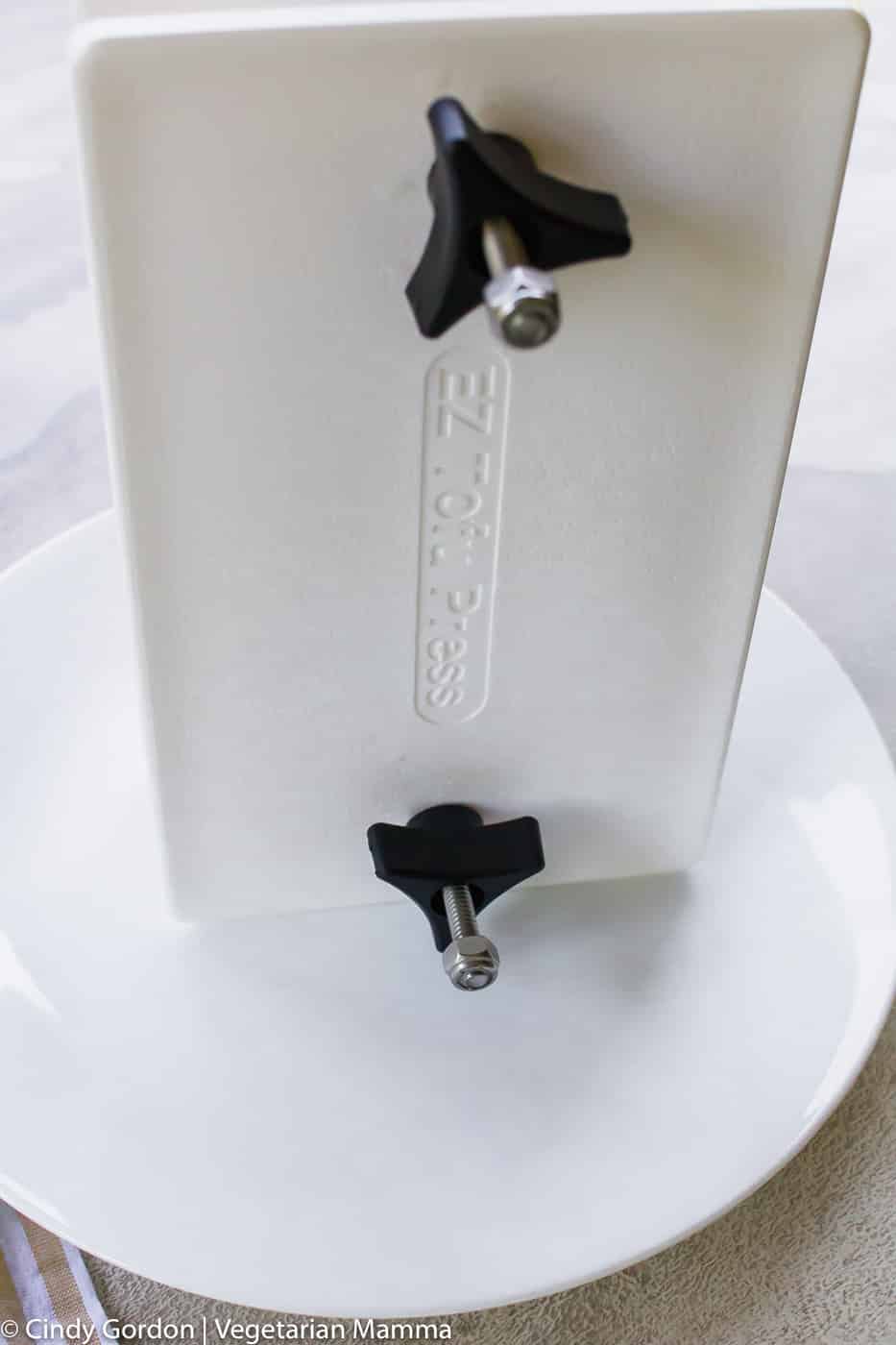 Wondering what the EZ Tofu Press does? With your tofu being packed in water, you're going to need to have a way to remove all that moisture so it cooks correctly. This is where the tofu press comes into play. It removes the water from your tofu for better flavor, taste, and texture. Pressing your tofu is one of the most important steps to getting great tofu. You can buy an EZ Tofu Press onAmazon.
Do you know about the Health Benefits of Eating Tofu?
Many people know what tofu is, but they don't understand that tofu can be healthy as well. Here are some tofu fun facts that I thought you'd all like to know.
Tofu is Low Fat with Zero Cholesterol
A single serving of tofu contains only about 4 grams of fat, compared to 19 grams in a serving of chicken breast. Tofu also has zero cholesterol and contains isoflavones which work to reduce the amount of cholesterol in our bodies, thus preventing heart disease.
Tofu is a Complete Protein
Soy is a complete protein, which means that it contains all of the amino acids that your body cannot create on its own. Fish, meat, and dairy products are also complete protein sources, but if you don't eat those things, tofu is an excellent choice to make sure your body is getting those amino acids.
What is the difference between Spanish rice and Mexican rice?
Did you know that there is a difference between the two? I just learned this a few years ago and thought it was important to pass along.
Typically, real Spanish rice is made using saffron while Mexican rice uses cumin. Interesting, huh? And what a huge flavor difference as well!
Why is my tofu sticking to my saute pan?
This happens sometimes and it's so frustrating. After all, the point of having your tofu cut up into little cubes and cooked is so it keeps its texture and shape.
If you notice that your tofu is sticking to your pan, there could be a number of things happening.
First, your pan might not be hot enough quite yet. You want your pan to be pretty hot. If it is, then you shouldn't have any issues with the tofu sticking.
But, if it's hot and still sticking, then your tofu might just have too much moisture in it to fry up golden brown. This is why I think it's imperative for everyone to have an EZ Tofu Press! When it comes to tofu and moisture, you don't want the two to mix.
How do you store leftover Spanish rice and beans?
If you happen to have some leftover, just store it in an airtight container and keep it in the fridge. We usually like to eat up leftovers within the next 48 hours, if at all possible. And once you're ready to eat it, you just need to get it out of the fridge and warm it up slowly in a skillet on the stove or zap it for a few seconds in the microwave.
Are you ready for this super simple recipe? I think you're going to enjoy all the tastes and flavors, just as much as we do.
And let me tell you something, from one parent to another…when the kids ask for rice and beans as their dinner wants, that's just music to your ears!
Pin this Tofu with Spanish Rice and Beans recipe: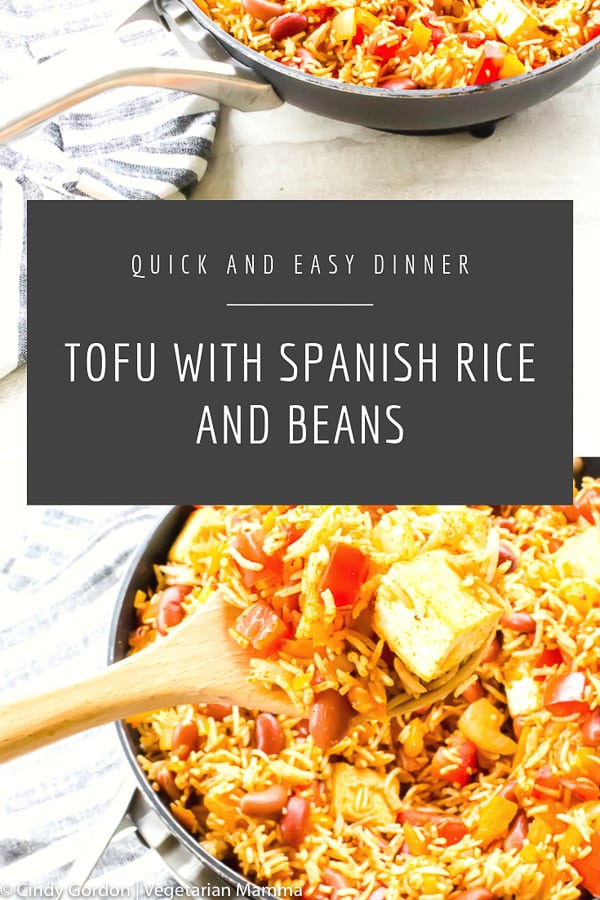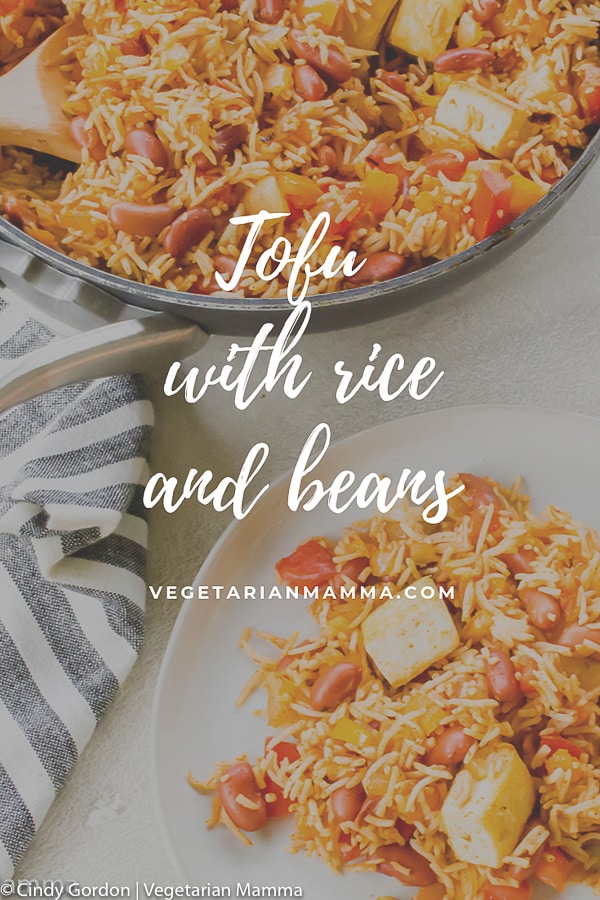 Get This Easy Rice and Beans Recipe here!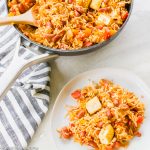 Print Recipe
Tofu with Spanish Rice and Beans
Tofu with Beans and Rice is a protein packed meal and a classic combination.
Ingredients
1

package of extra firm tofu

cubed

1

onion

diced

1

bell pepper

diced (you pick the color)

3

cups

of cooked rice

you pick your favorite kind of rice

1.5

cups

of tomatoes

I prefer fresh romas

1.5

cups

of kidney beans

1/2

cup

of peas

1

t

cumin

1

t

smoked paprika

more or less to taste

1/2

t

chili powder

more or less to taste
Instructions
In a hot skillet saute the cubed tofu until its brown. Set aside.

Saute onion then add bell pepper.

When onion and pepper are soft stir in remaining ingredients (except cooked tofu). Cook for 10-15 minutes. If your mixture becomes dry, try adding a bit of water.

Add your cooked tofu and serve.
Nutrition
Calories:
370
kcal
|
Carbohydrates:
60
g
|
Protein:
20
g
|
Fat:
5
g
|
Sodium:
19
mg
|
Potassium:
608
mg
|
Fiber:
9
g
|
Sugar:
5
g
|
Vitamin A:
1880
IU
|
Vitamin C:
55.7
mg
|
Calcium:
175
mg
|
Iron:
4.5
mg
All though this website attempts to provide accurate nutritional information, the information should only be considered an estimate. Varying factors such as different product types, different brands, etc. can change nutritional information. It is your responsibility as a consumer to read all labels to make sure the ingredients fit your dietary needs as well as calculate your own nutritional information as a double check.
Let's talk! Have you made a dish similar to this?