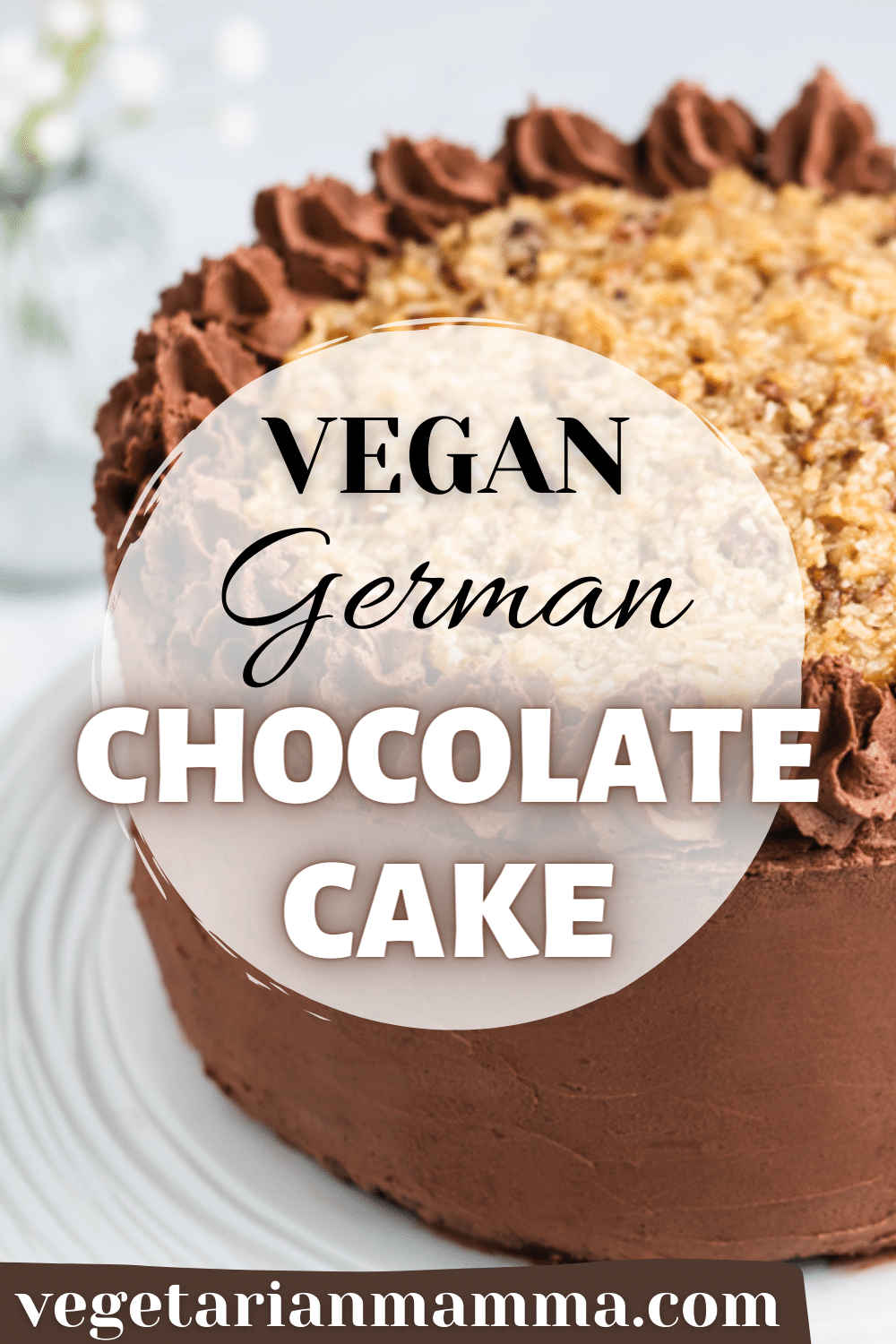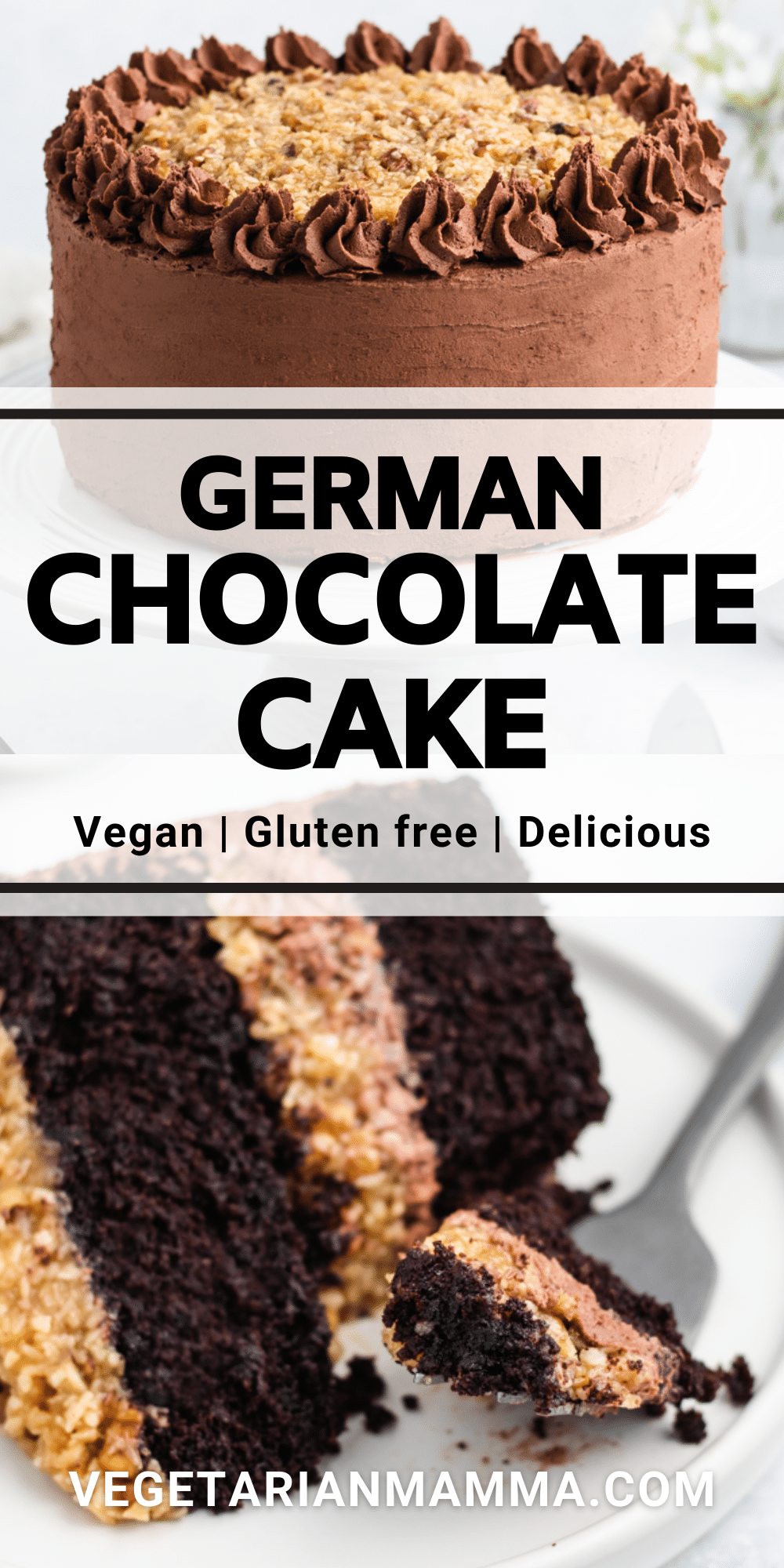 Make the best vegan German chocolate cake from scratch! The moist chocolate cakes are topped with coconut and pecan icing and creamy chocolate buttercream.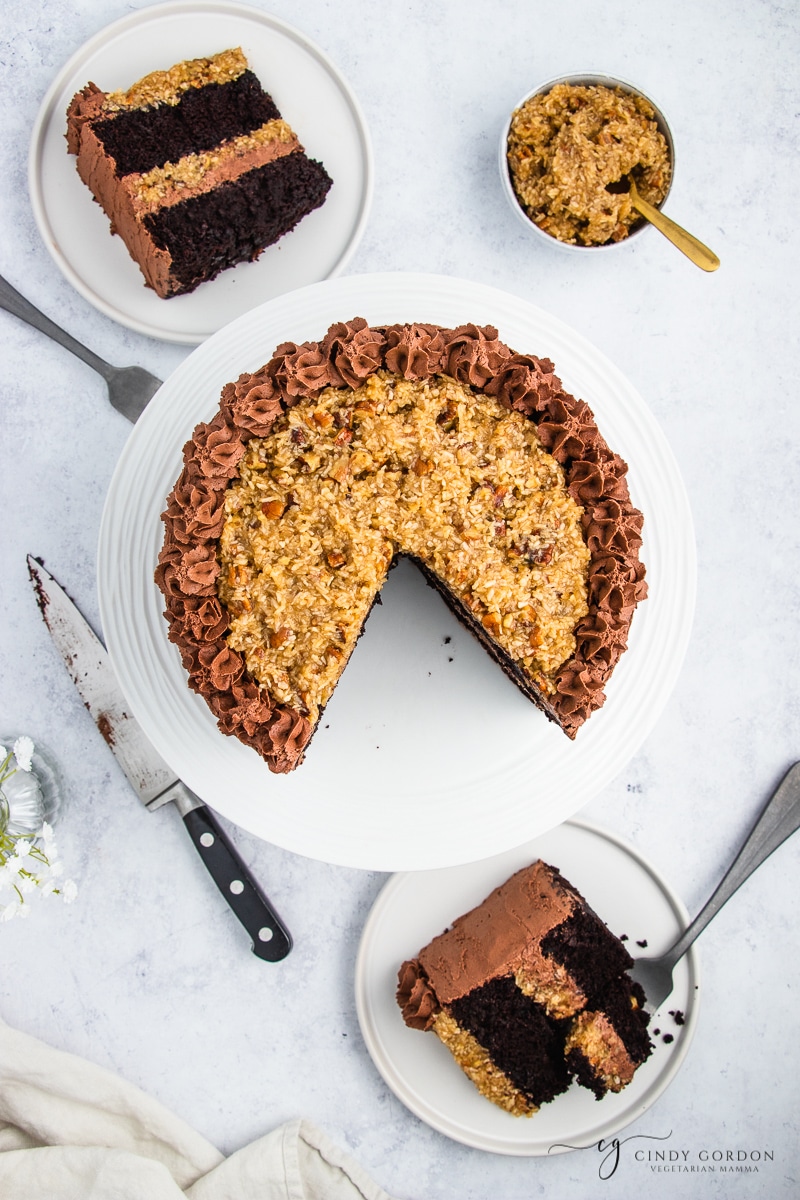 VEGAN GERMAN CHOCOLATE CAKE RECIPE
I would have cake for every meal if I could, but for now it is just for dessert. I have definitely enjoyed a slice of this Vegan German Chocolate Cake for breakfast with a hot latte, though!
This decadent chocolate cake is covered in a smooth pecan-coconut filling and vegan chocolate buttercream, too! I am here to teach you how to make this impressive chocolate cake from scratch for your next dinner party. It is one of my favorite desserts because it's so rich and flavorful.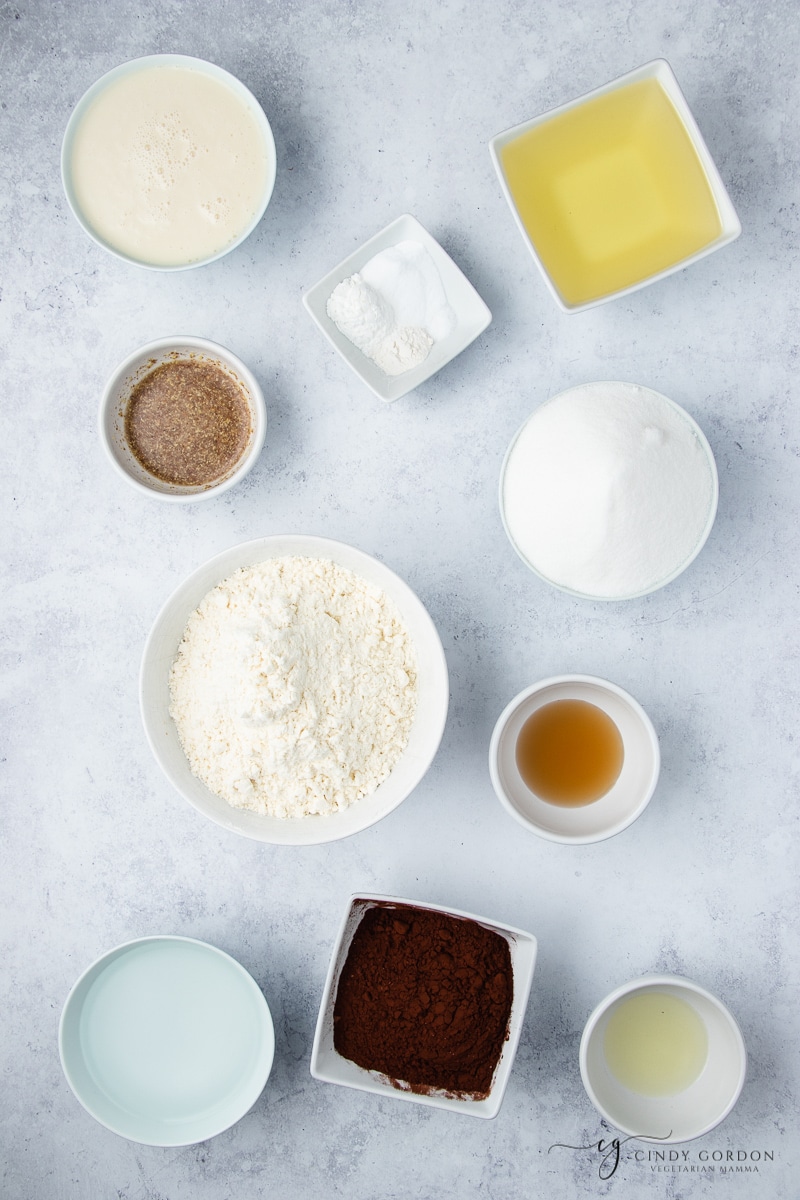 INGREDIENTS IN VEGAN GERMAN CHOCOLATE CAKE
Gluten-free all purpose flour: I use Bob's Red Mill Gluten Free 1-to-1 Baking Flour for all my vegan desserts. It has everything you need for the fluffiest gluten-free treats. Plus, it cuts out so many allergies for a cake everyone can enjoy!
Xanthan gum: If your gluten-free flour mix does not include a gum, be sure to add a little when mixing. If it does, skip this!
Salt: Desserts need salt to balance the yummy sweetness. A little goes a long way, but don't skip it!
Baking powder: I use two leavening agents for this cake! It makes it super fluffy.
Baking soda: For the perfect vegan German chocolate cake, you'll want to add some baking soda to the batter.
Cocoa powder: For the rich chocolate flavor, you will need cocoa powder for the cake and the frosting! Any brand will work here.
Sugar: I use a fine caster sugar for all my desserts. You can always use granulated sugar instead.
Flax egg: When it comes to egg-free baking, there's nothing better than flax eggs! Once I learned how to make a flax egg, my mind was blown. I was wasting so much money on egg substitutes when I had all the ingredients for this in my kitchen!
Oil: You need a little oil for a perfectly moist cake. I use canola oil, but vegetable oil also works in a pinch!
Non-dairy milk: You can use whatever non-dairy milk you have on hand, from almond milk to milkadamia!
Vanilla extract: I love that perfect flavor in vanilla extract. Measure with a spoon or your heart here.
Apple cider vinegar: This adds a great tart flavor to the mix. Plus, it helps this vegan cake recipe rise.
Vegan butter: I use butter for the filling and the frosting! Be sure to have some softened for the creamiest vegan buttercream.
Brown sugar: The nuttiness of brown sugar is so perfect for this cake recipe.
Coconut milk: I add even more coconut flavor to this cake with coconut milk in the filling, too!
Cornstarch: This helps the coconut pecan filling be perfectly thick and creamy without gluten.
Pecans: Keep the pecans chopped small for the best vegan German chocolate cake bite. If you are allergic to nuts, skip this step!
Shredded coconut: I love coconut desserts! This has the perfect texture and flavor for the filling.
Powdered sugar: Add a little powdered sugar at a time for the best vegan buttercream frosting.
If you have any questions about this vegan German chocolate cake, please leave a comment below and I will get back to you ASAP!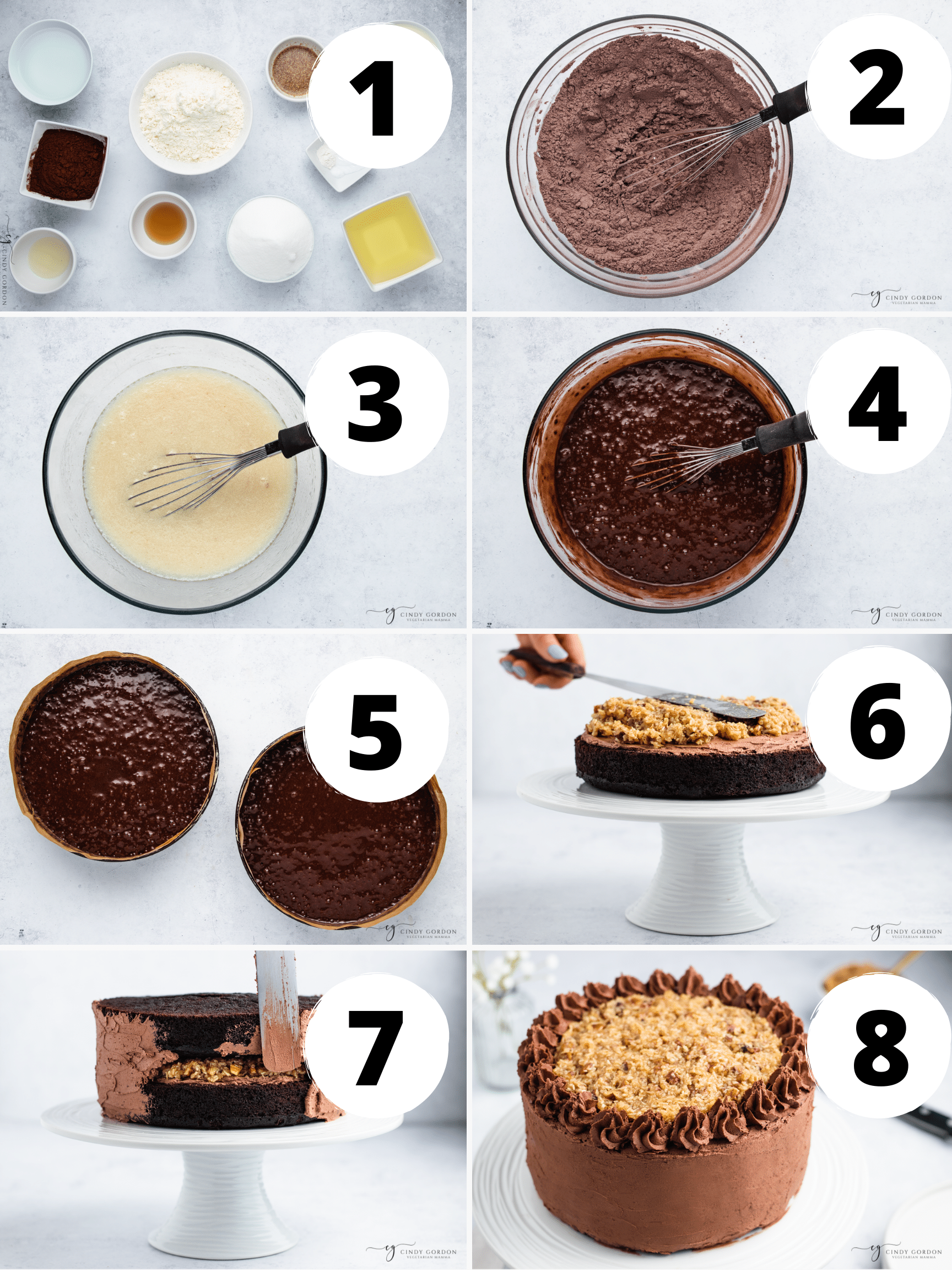 HOW TO MAKE VEGAN GERMAN CHOCOLATE CAKE
First, prep all your ingredients for the vegan German chocolate cake, coconut pecan filling, and chocolate frosting.
Then, whisk together the gluten-free flour, xanthan gum if you need it, baking powder, baking soda, salt, and cocoa powder in a mixing bowl.
In another large mixing bowl, whisk the sugar and oil together. Then, add the flax egg, non-dairy milk, water, vanilla extract, and apple cider vinegar to the mix.
Now, sieve the dry ingredients into the wet ingredients. Whisk together until just combined. Do not over mix!
Transfer the vegan German chocolate cake batter to your prepped baking pans. Divide it evenly between the two. Then, bake until a wooden skewer poked in the center comes out clean. Let cakes cool completely before decorating.
To make the coconut pecan filling, heat the vegan butter, sugar, coconut milk, and cornstarch in a sauce pan. Keep stirring until everything is melted and combined. Simmer for a few minutes, then add the vanilla extract, pecans, and coconut. Let it cool before topping the cooled chocolate cakes.
To make the chocolate frosting, beat the vegan butter with an electric mixer until super smooth. Sieve the powdered sugar and cocoa powder into the butter slowly, whisking after every addition.
For the best German chocolate cake assembly, add a layer of chocolate buttercream and a layer of coconut pecan filling to the top of one cake. Then, add the second cake on top, and spread buttercream around the sides. Spoon more coconut pecan filling on top, and surround it with more buttercream.
If you have any questions about the best vegan German chocolate cake, please leave a comment below and I will get back to you ASAP!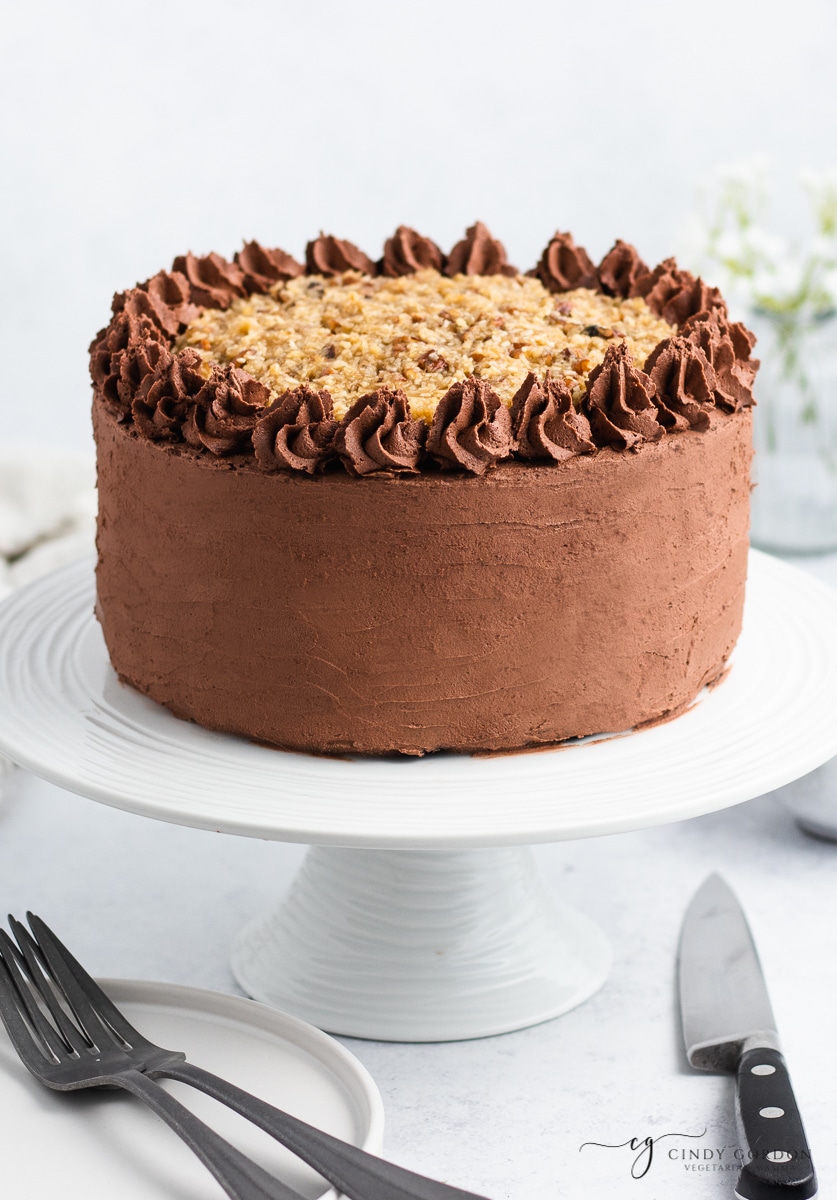 WHAT TO SERVE WITH VEGAN GERMAN CHOCOLATE CAKE
Enjoy your decadent vegan dessert with a warm oat milk latte after dinner! It feels fancy, but it is so easy to make lattes at home with no fancy equipment.
This cake is delicious, but I like to serve it after a light dinner. This vegan pumpkin soup or vegetarian stuffed peppers are the perfect main dishes!
WHAT MAKES GERMAN CHOCOLATE CAKE DIFFERENT?
Fun fact: German chocolate cake is not even German — it is American! It was, however, created with a type of chocolate invented by a man named Samuel German in 1852.
The recipe did not appear publicly until The Dallas Morning News published it in the 1950s. The recipe was picked up by General Foods, and the rest is history!
The key to making a German chocolate cake is using sweetened baking chocolate. It also is made with a luscious custard-like icing filled with shaved coconut and chopped pecans. Some cake recipes use only this coconut icing, but I combine mine with a chocolate buttercream for even more chocolatey flavor!
WHAT MAKES VEGAN CAKES MOIST?
Most cakes get their moisture from animal byproducts like dairy and eggs. But how do you keep a vegan cake from getting dry without using dairy?
Have you ever tried an olive oil cake? It is so moist and fluffy and usually vegan, too! Adding oil and vegan butter, plus choosing the best vegan egg replacement, is key.
I always use a flax egg for my vegan baking. It only takes 2 ingredients to make, and all my baked goods from cookies and cakes to brownies and pies come out perfect! I use one for this vegan German chocolate recipe, too!
You can also get a dry cake from over-mixing or over-baking. Be sure to whisk until the wet and dry ingredients are just combined. Plus, use the toothpick test to see when your cake is done!
There are so many choices when it comes to gluten-free flours. We typically use a gluten-free all-purpose flour. We have found that Bob's Red Mill (blue bag) Gluten Free Cup for Cup works well with our recipes. It is important to get the BLUE bag and not the red bag.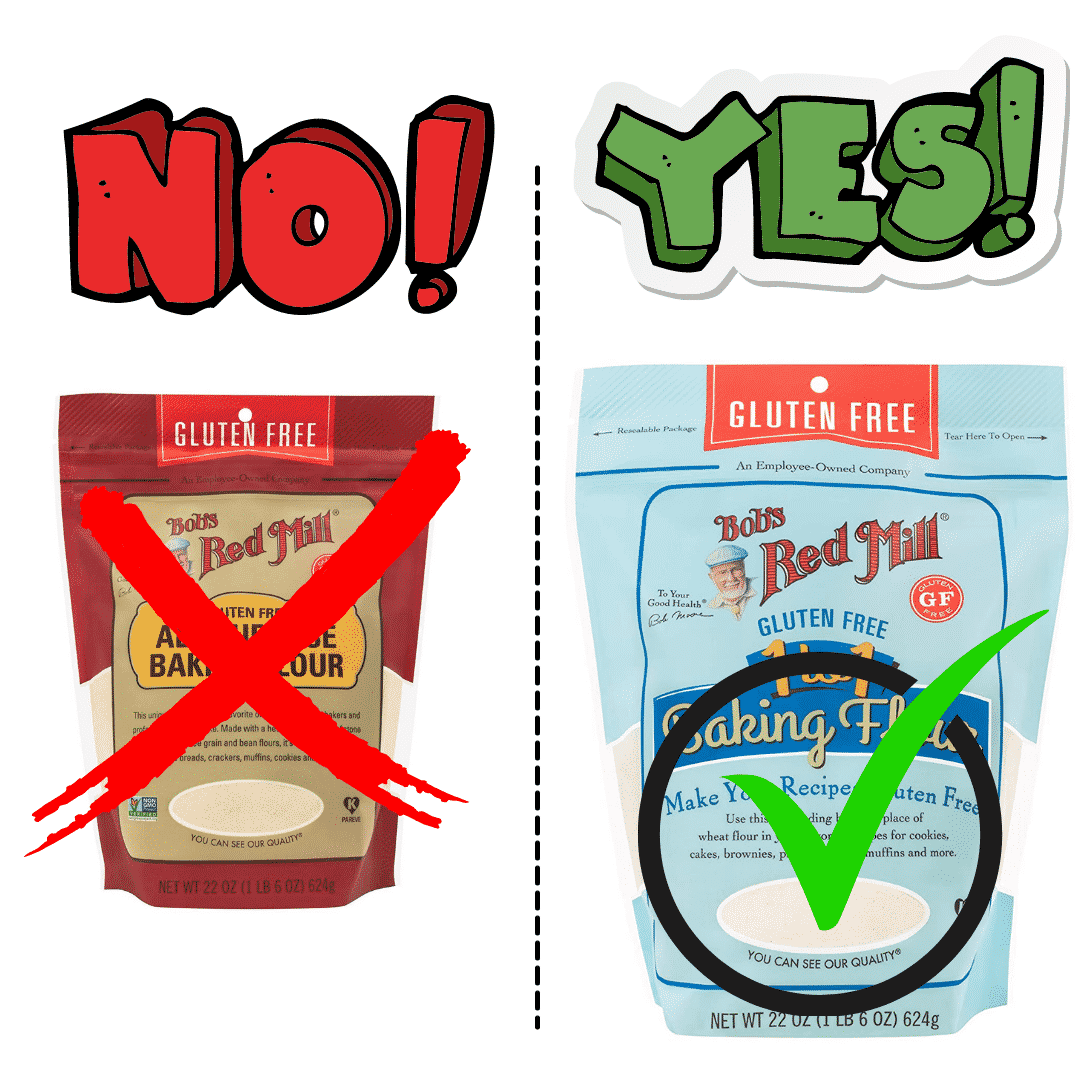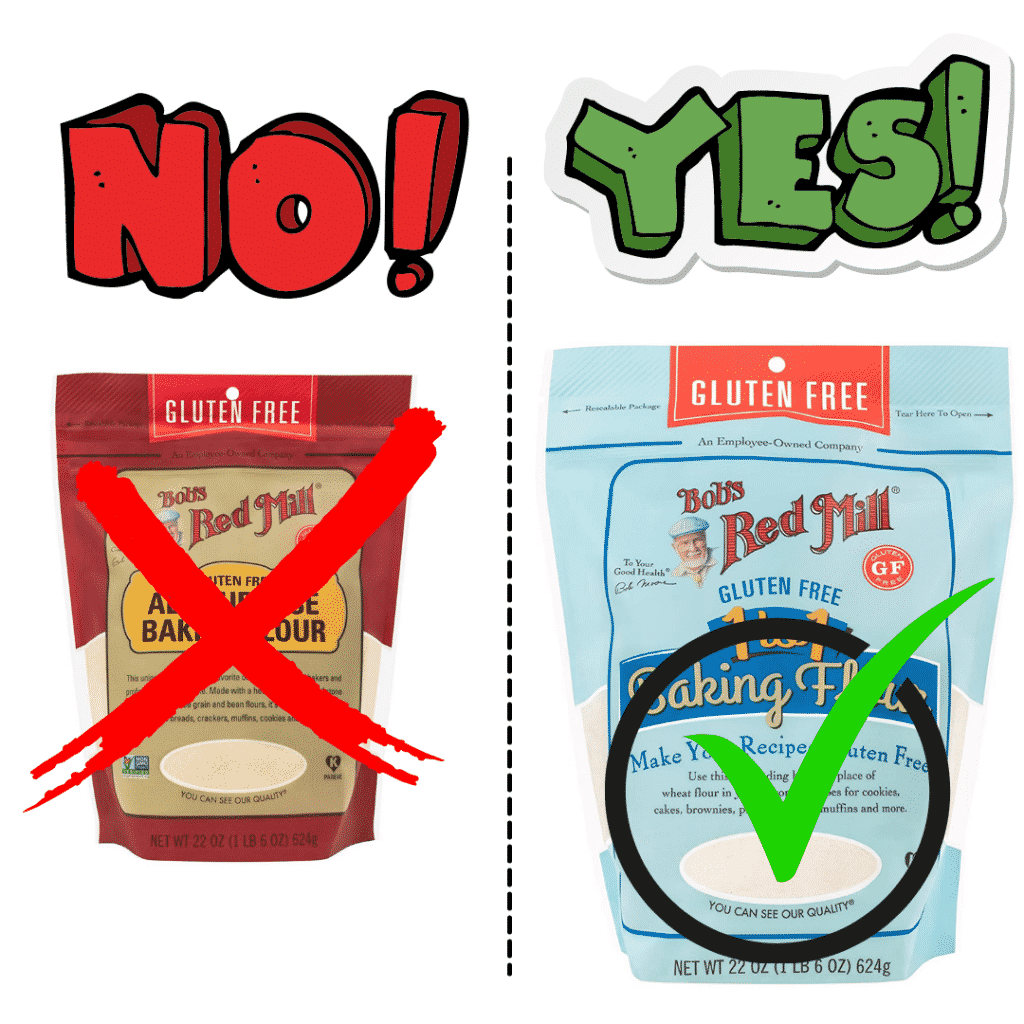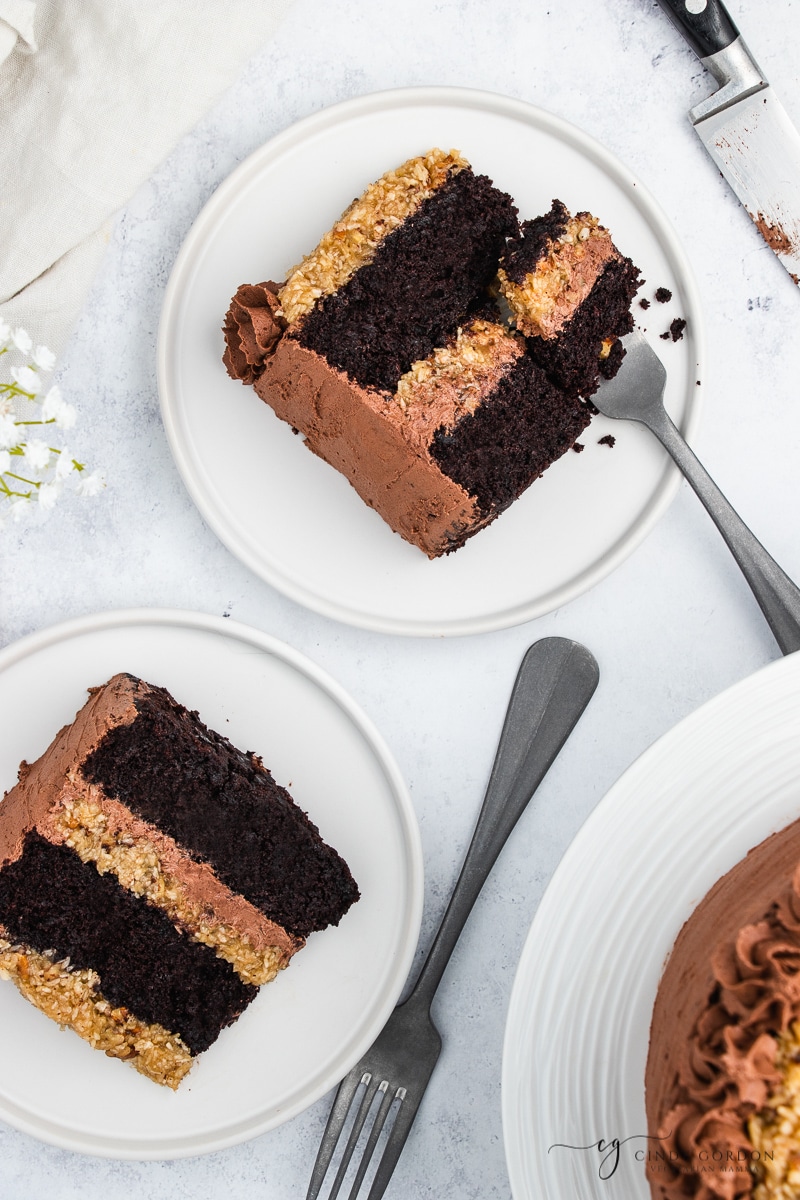 MORE TASTY VEGAN DESSERT RECIPES
Sweet Potato Brownies are chocolatey, moist, and totally vegan! This decadent dessert recipe is so easy to make and packed with natural ingredients and tons of chocolate chips. Plus, it has all the nutrition of a sweet potato but none of the taste.
Air Fryer Oatmeal Cookies have never been easier or more delicious! These cookies are sweet, chewy, and packed with raisins. They're also vegan and gluten-free, so perfect to serve any crowd.
I love a deep, rich chocolate frosting. But sometimes, you want that creamy tang of cream cheese. Add this 4-ingredient vegan cream cheese frosting to your favorite vegan cake, cookies, or donuts.
Simple can sometimes be the best. This vegan birthday cake recipe is so simple but delicious with a moist, fluffy yellow cake surrounded by a creamy vegan buttercream frosting. Yum!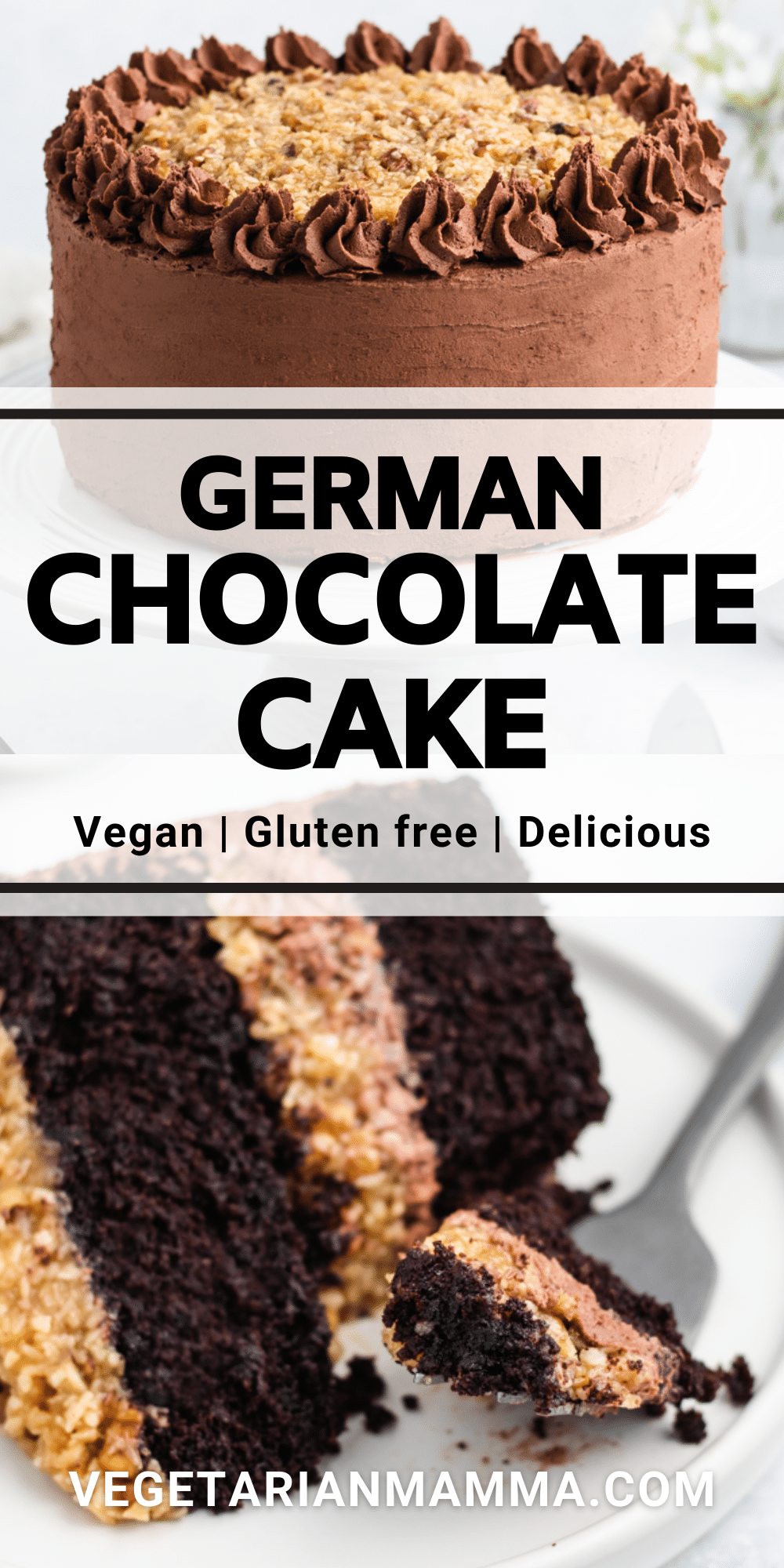 Have you made this recipe? Please leave a comment AND rating below! It helps other readers!
Be sure to tag @VegetarianMamma on instagram, if you share a picture on the gram! Let's get social, you can follow me on Youtube, Instagram, Facebook, Pinterest or join one of our Facebook Groups: Tasty Vegetarian Recipes and Vegetarian Air Fryer Recipes.
Don't forget to subscribe to our EMAIL newsletter.
Vegan German Chocolate Cake
This gluten-free cake recipe is so decadent and easy to make! Skip the dairy with this vegan buttercream and coconut-pecan filling.
Equipment
Two 8" cake pans

Three mixing bowls

Wire cooling rack

Large saucepan
Ingredients
Chocolate Cake Ingredients
Coconut Pecan Filling Ingredients
Chocolate Buttercream Frosting Ingredients
Instructions
To Make Chocolate Cakes
Preheat the oven to 350 degrees F (180 degrees C). Grease and line two 8" round cake pans.

Whisk together the gluten free flour, xanthan gum, baking powder, baking soda, salt, and cocoa powder in a mixing bowl.

In another large bowl, whisk together the sugar and oil. Then, add the flax egg, oil, non-dairy milk, water, vanilla extract, and apple cider vinegar, and whisk to combine.

Sieve the flour mixture into the bowl with the wet ingredients and whisk everything together until just combined.

Transfer the cake mixture to the prepared pans, dividing it evenly between the two.

Bake for 35 to 45 minutes, or until a skewer poked into the center of each cake comes out clean.

Leave the cakes in the pans for about 10 minutes before transferring them to a wire rack to cool completely.
To Make Coconut Pecan Filling
Heat the butter, sugar, coconut milk, and cornstarch in a large saucepan over medium heat. Stir frequently while everything begins to melt together.

Simmer for 5 minutes until thickened.

Remove the pan from the heat, and stir in the vanilla extract. Then, add the pecans and coconut. Stir well to combine. Let the mixture cool a little before putting on the cake.
To Make Vegan Chocolate Buttercream Frosting
In a large mixing bowl, beat the butter with an electric whisk until smooth.

Gradually sieve in powdered sugar and cocoa powder a little at a time, whisking well after each addition until smooth.
To Assemble Vegan German Chocolate Cake
Place one cake layer on a large plate or cake stand, and spread chocolate frosting on top in an even layer.

Spoon about half of the coconut pecan mixture on top and spread it out evenly.

Place the second cake layer on top, and spread chocolate frosting all around the sides.

Spoon the other half of the coconut pecan mixture on top of the cake, spreading it out but leaving a gap of about an inch and a half wide around the edge.

Pipe swirls of chocolate frosting around the edge to fill the gap.
Nutrition
Calories:
862
kcal
|
Carbohydrates:
86
g
|
Protein:
7
g
|
Fat:
59
g
|
Saturated Fat:
17
g
|
Polyunsaturated Fat:
14
g
|
Monounsaturated Fat:
25
g
|
Trans Fat:
1
g
|
Sodium:
735
mg
|
Potassium:
349
mg
|
Fiber:
7
g
|
Sugar:
62
g
|
Vitamin A:
1300
IU
|
Vitamin C:
3
mg
|
Calcium:
94
mg
|
Iron:
3
mg
All though this website attempts to provide accurate nutritional information, the information should only be considered an estimate. Varying factors such as different product types, different brands, etc. can change nutritional information. It is your responsibility as a consumer to read all labels to make sure the ingredients fit your dietary needs as well as calculate your own nutritional information as a double check.