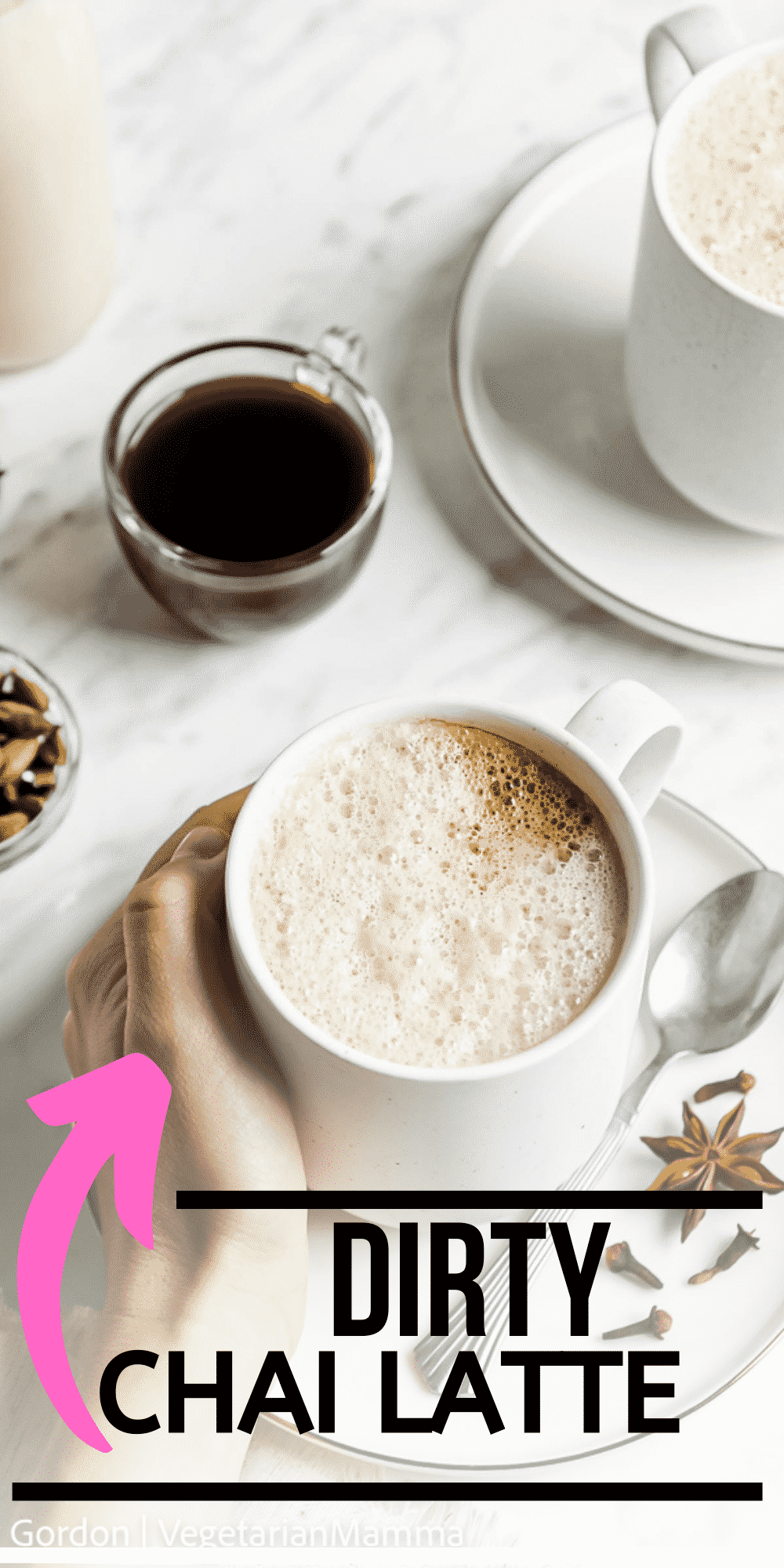 The Dirty Chai Latte is a popular drink that is served up at many coffee shops. We've created a vegan Dirty Chai Latte Starbucks CopyCat recipe that you can make at home for a fraction of the price!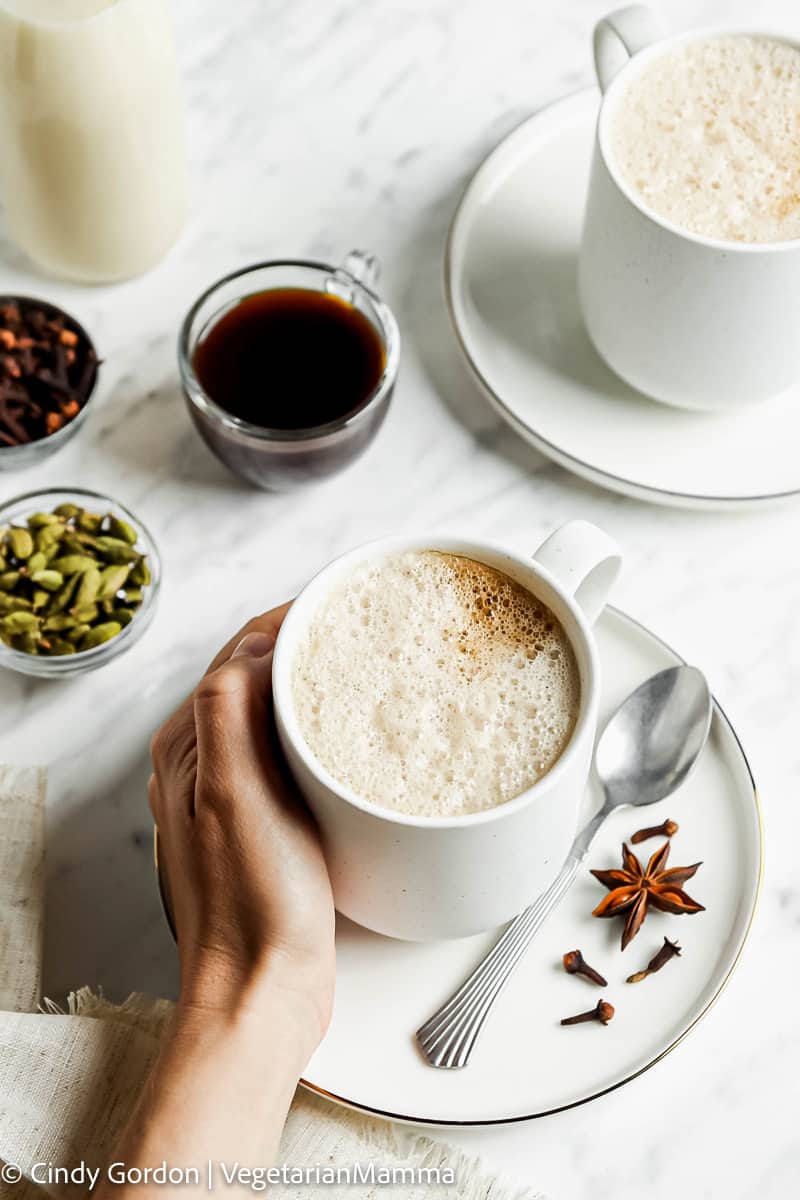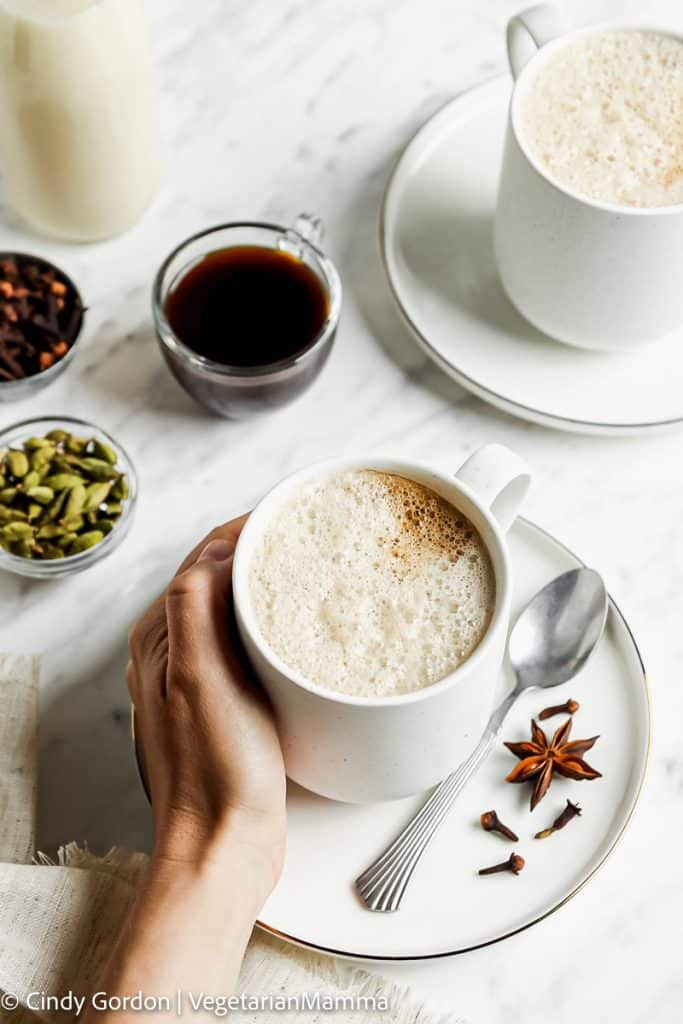 DIRTY CHAI LATTE RECIPE
Love coffeehouse drinks but want to make them at home? Us, too! While we love heading to the coffee shop it can consume a lot of time and money! We have been working to create some of our favorite coffee shop drink recipes at home.
We love the dirty chai latte because you can drink it warm or cold over ice! You can order a dirty chai latte at Starbucks but it is not vegan. They use honey in it. But when you make it at home, you can make it vegan!
Make an Iced Chai Latte if you prefer your coffeehouse drinks cold. If you love making delicious coffee house drinks at home, you have got to check out our turmeric latte, iced matcha latte and our oat milk latte.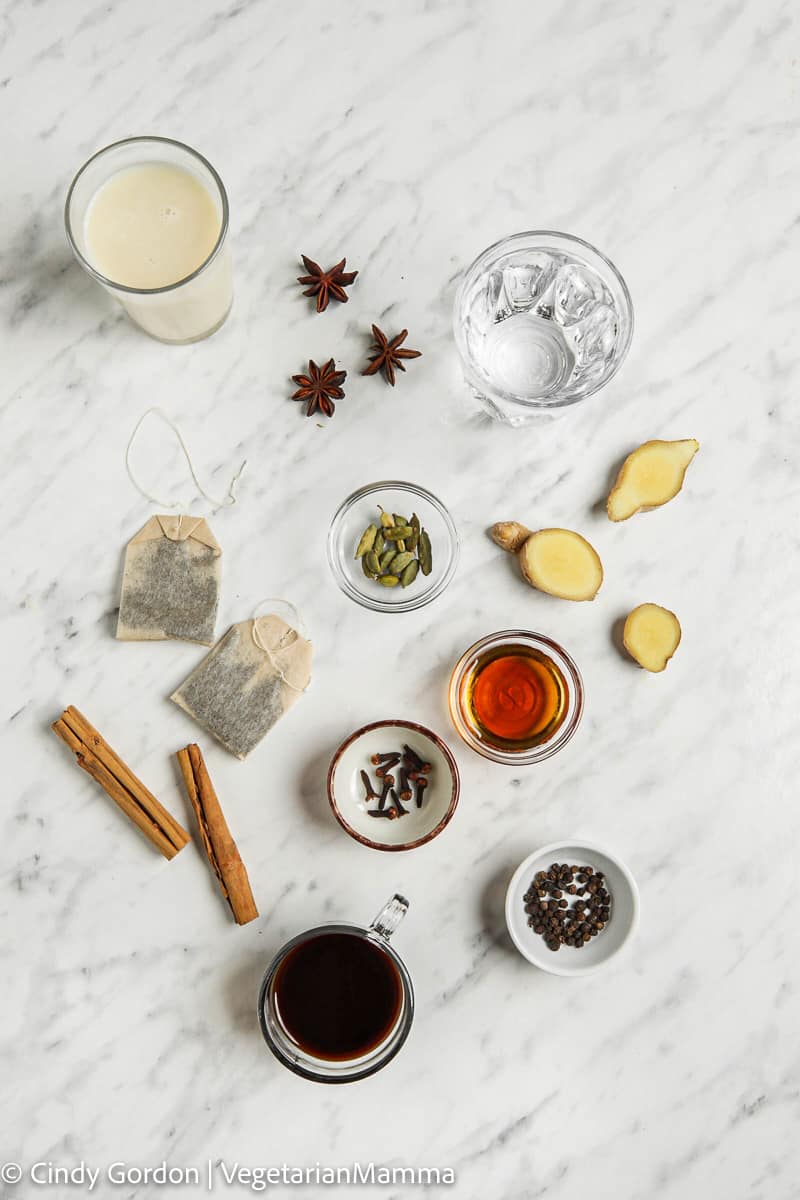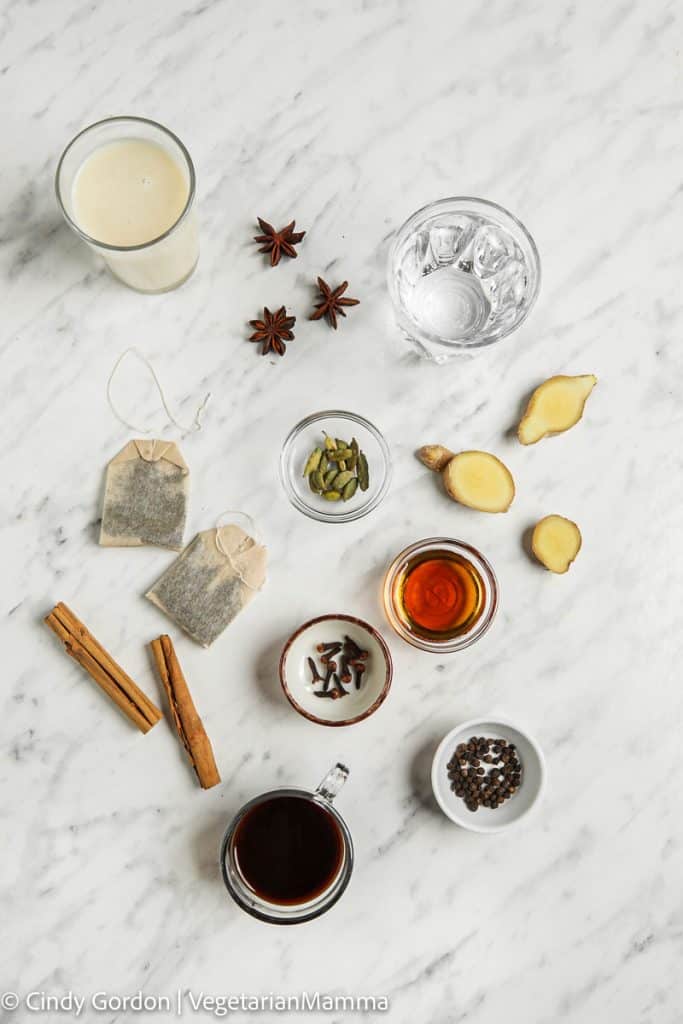 INGREDIENTS IN A DIRTY CHAI LATTE
water - Use still tap or still bottled water for this latte.
vegetable or nut milk - I love coconut milk, but you can use your favorite milk here. I've also made this with Hemp Milk and nut milk.
black tea bags - Use your favorite brand of tea or you can grab some black tea from online as well.
cinnamons sticks - I always seem to have cinnamon sticks in my pantry. Any brand of cinnamon sticks will work.
whole cardamom pods - Be sure to use the whole cardamon pods and not ground cardamon.
whole cloves - Be sure to use whole cloves and not ground cloves.
star anise - Star anise is a fun spice because it has a neat shape and a unique taste!
pepper corns - While this might seem like an interesting ingredient, the whole pepper corns add depth to the favor!
ginger - You will need to use fresh ginger for this recipe, you do not need to peel the ginger.
maple syrup - You can use any brand of real maple syrup, I love to use local maple syrup.
If you have any questions, please leave a comment below and I will get back to you!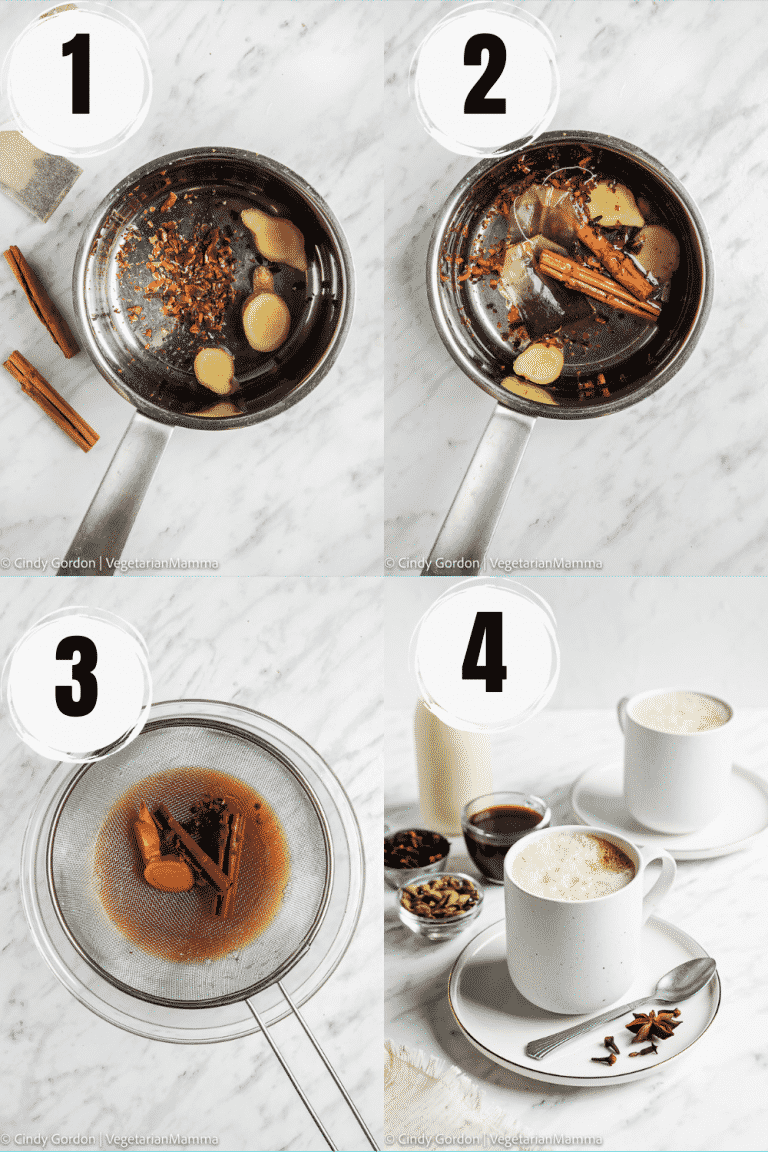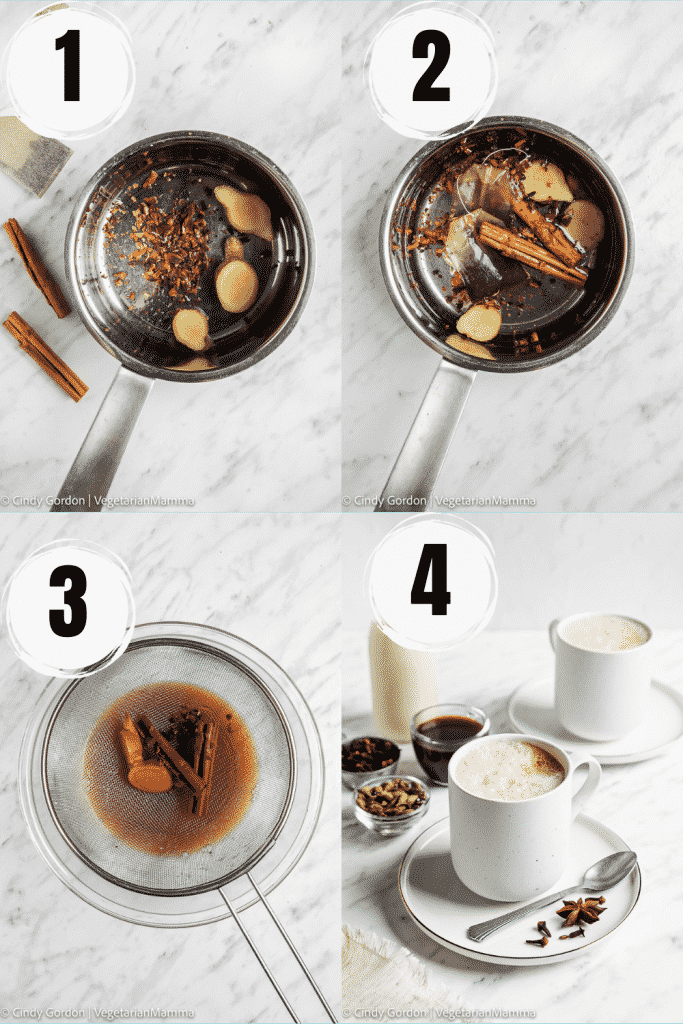 HOW TO MAKE A DIRTY CHAI LATTE STARBUCKS COPY CAT
First crush the cardamom pods, cloves, star anise, peppercorns. Place in a small pot the crushed spices with 2 water, the ginger, cinnamon sticks and black tea.
Bring to a boil and turn the heat off. Immediately take out the black tea bags. Let stand.
Pour the mixture through a strainer to separate the grounds from the chai.
Assemble the iced chai latte. Specific directions below in the recipe card.
These numbered steps match the numbered photos above and are for illustration purposes. For the complete list of ingredients and instructions, please see the recipe below.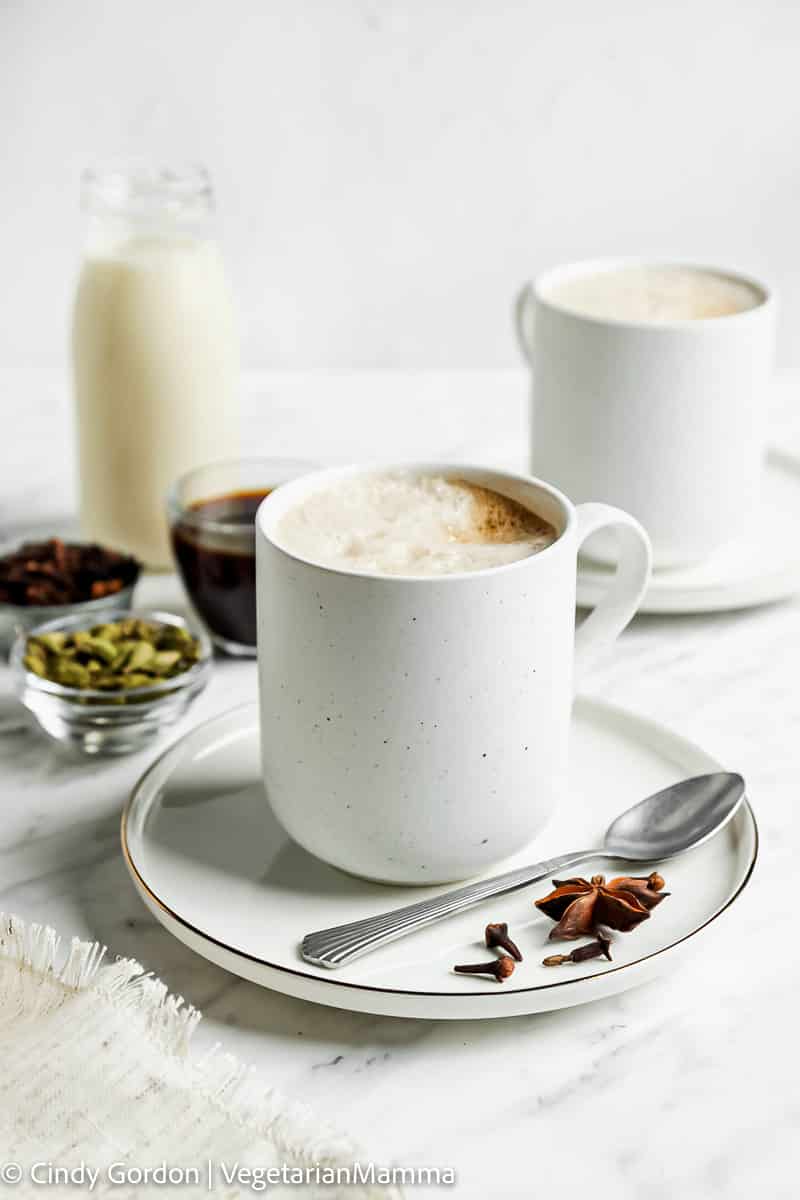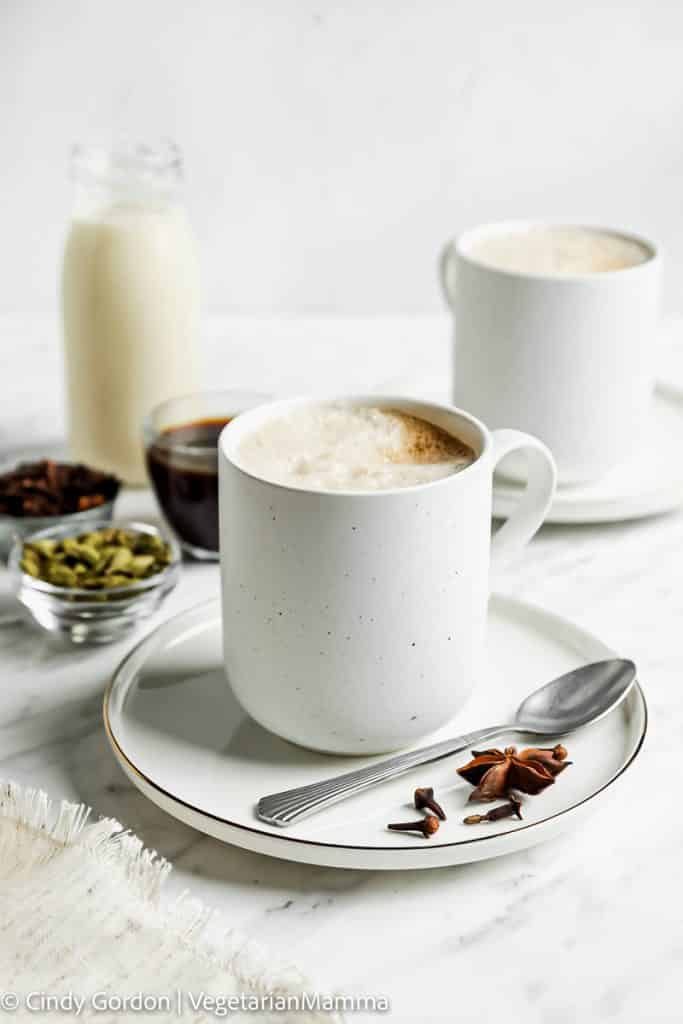 WHAT TO SERVE WITH A DIRTY CHAI LATTE
If you are looking for something hearty to pair with your Dirty Chai Latte Starbucks CopyCat in the morning, a tofu scramble skillet is perfect. You can even double this recipe to make breakfast tomorrow, even easier!
Start your day off right with banana chia pudding, which is meal prep friendly and a mug of our turmeric latte!
Like a breakfast that will stick with you a little longer through the day? Our vegan grits are simple to make and taste delicious too!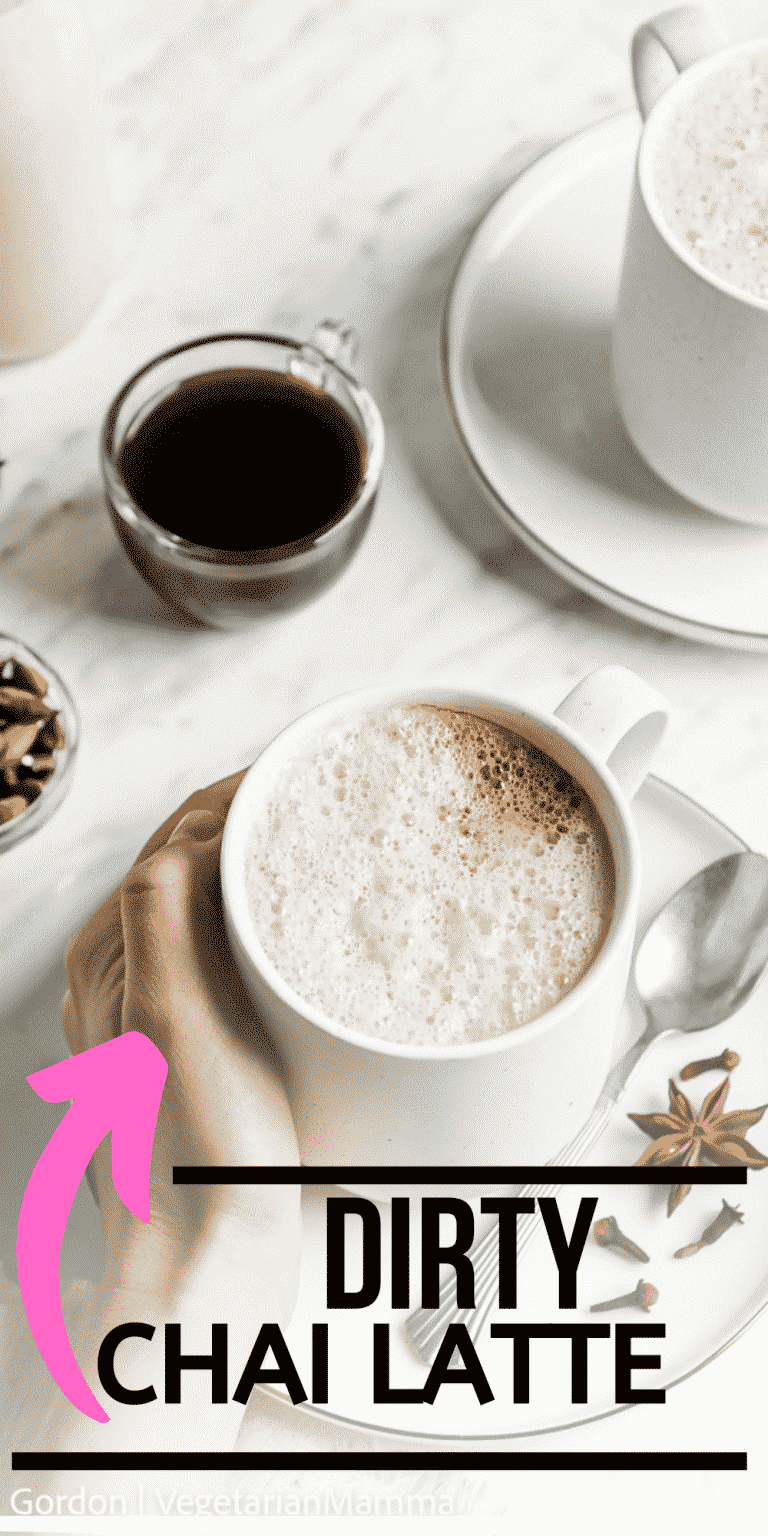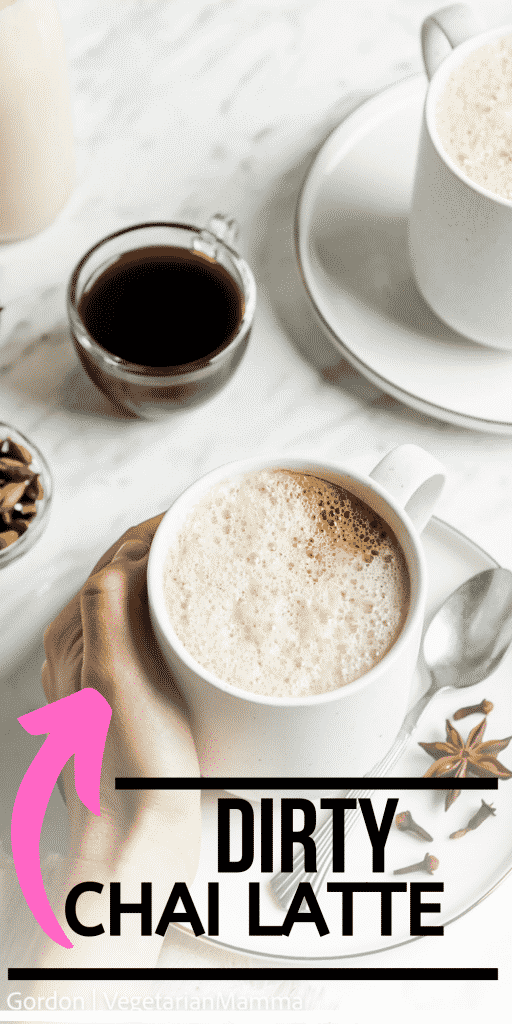 Have you made this recipe? Please leave a comment AND rating below! It helps other readers!
Be sure to tag @VegetarianMamma on instagram, if you share a picture on the gram! Let's get social, you can follow me on Youtube, Instagram, Facebook, Pinterest or join one of our Facebook Groups: Tasty Vegetarian Recipes and Vegetarian Air Fryer Recipes.
Don't forget to subscribe to our EMAIL newsletter.