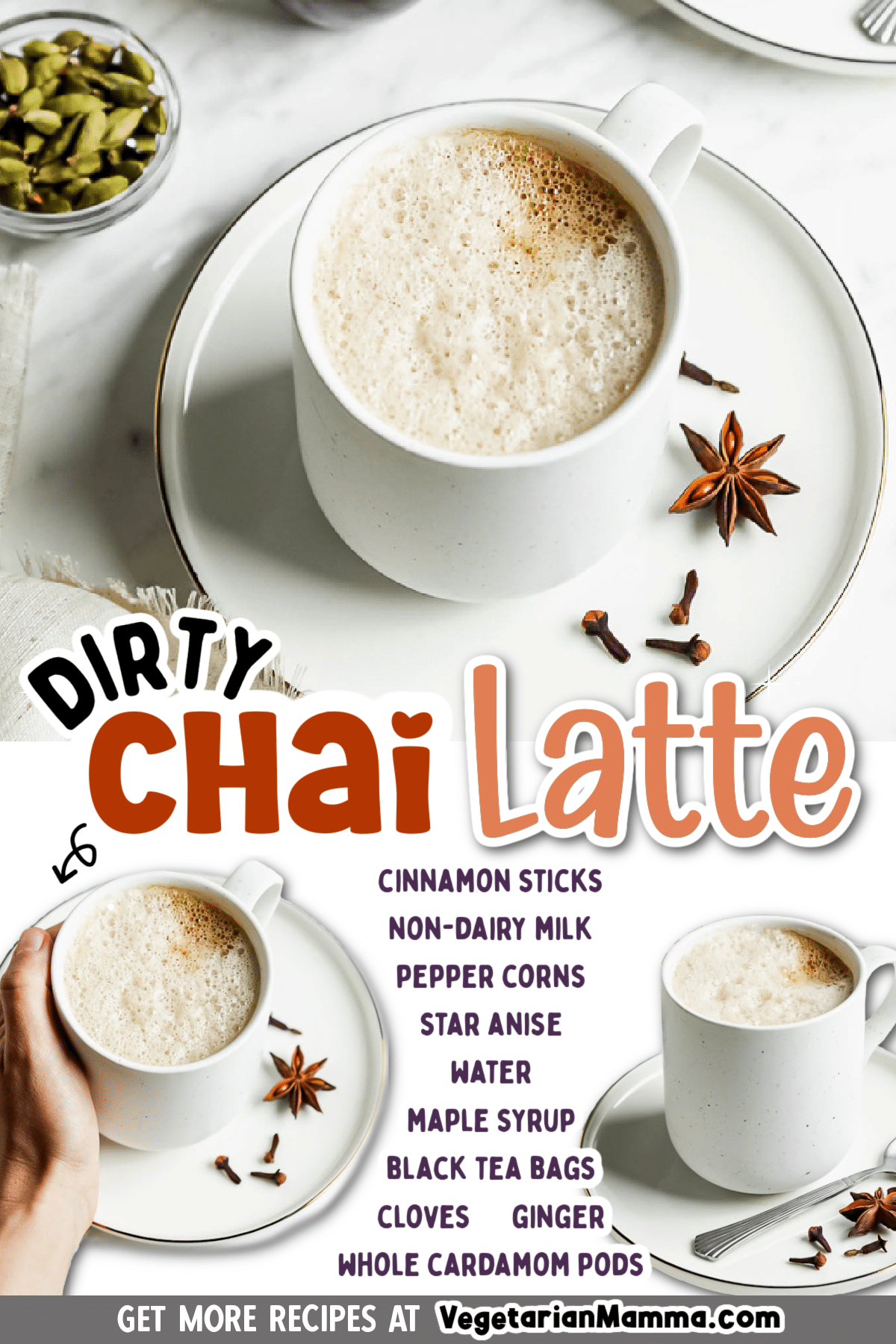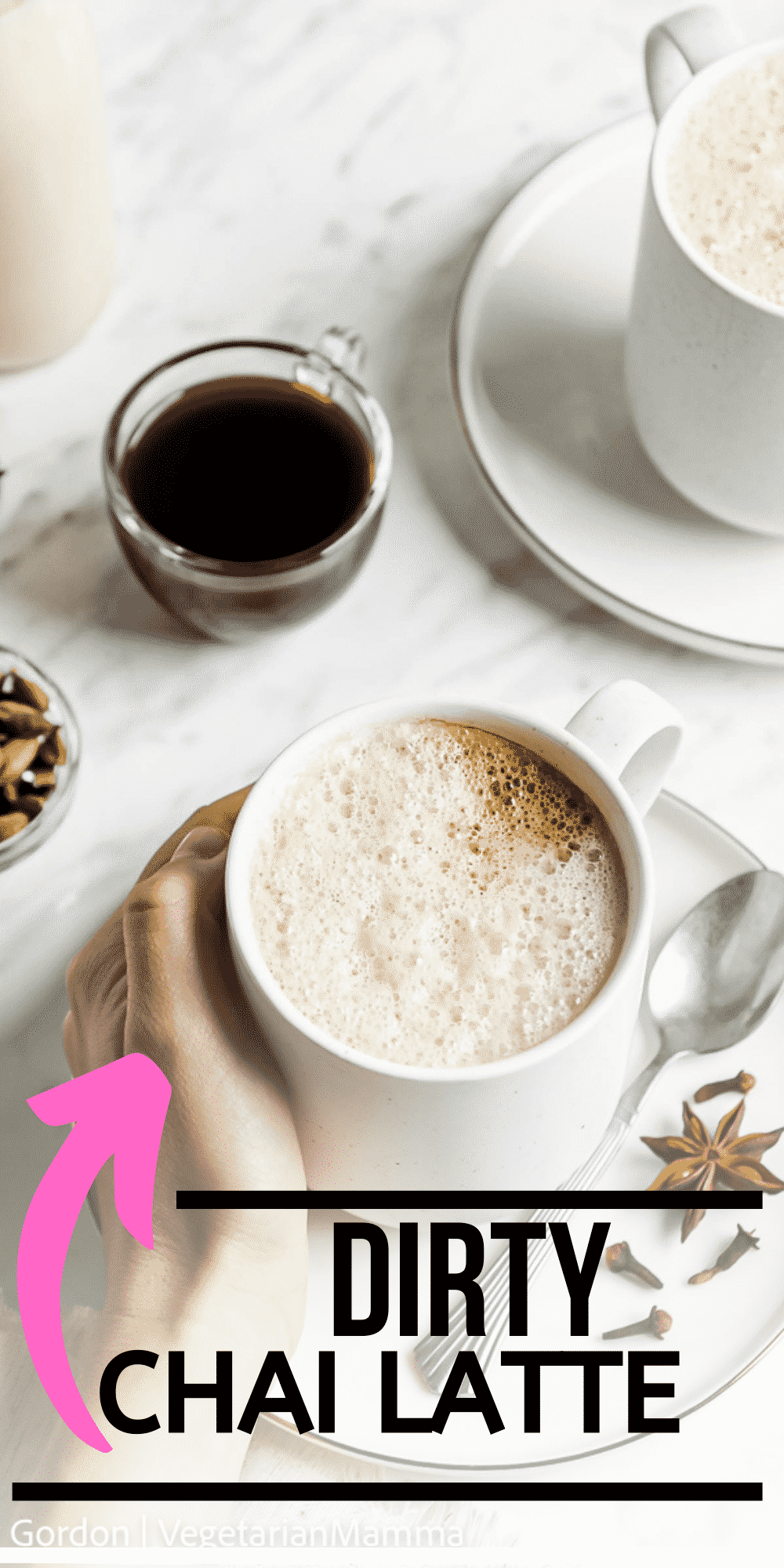 The Dirty Chai Latte is a popular drink that is served up at many coffee shops. We've created a vegan Dirty Chai Latte Starbucks CopyCat recipe that you can make at home for a fraction of the price!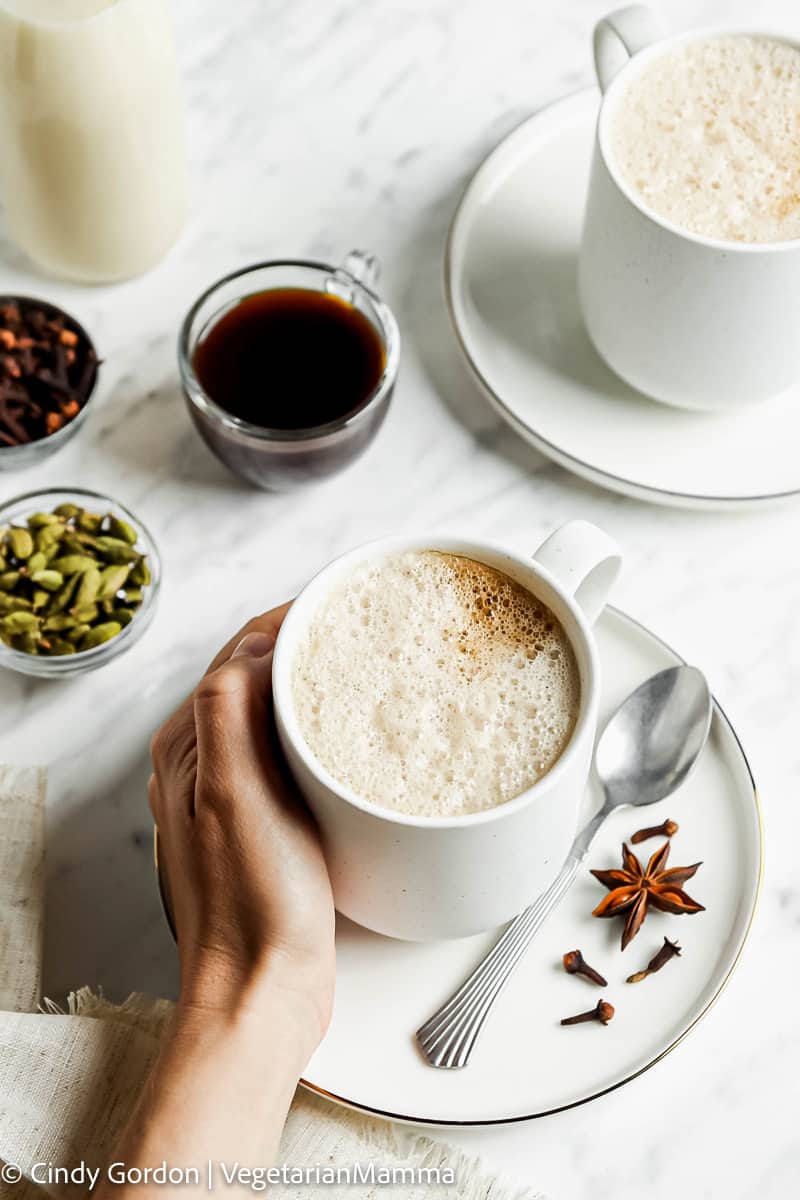 DIRTY CHAI LATTE RECIPE
Love coffeehouse drinks but want to make them at home? Us, too! While we love heading to the coffee shop it can consume a lot of time and money! We have been working to create some of our favorite coffee shop drink recipes at home.
We love the dirty chai latte because you can drink it warm or cold over ice! You can order a dirty chai latte at Starbucks but it is not vegan. They use honey in it. But when you make a Dirty Chai Latte at home, you can make it vegan!
Make an Iced Chai Latte if you prefer your coffeehouse drinks cold. If you love making delicious coffee house drinks at home, you have got to check out our turmeric latte, iced matcha latte and our oat milk latte too.
WHAT IS A DIRTY CHAI?
If you aren't yet familiar with this amazing drink, you are in for a treat! Making a chai latte "dirty" means that we'll add espresso or coffee to it, giving it another layer of flavor and some extra buzz.
WHY YOU WILL LOVE THIS DIRTY CHAI RECIPE
Easy, Scratch Chai Recipe: You can buy chai latte concentrate, but why would you when it's easy to make this sweet, spiced tea from scratch using traditional chai spices!? Cardamom, ginger, anise, and all the rest are so flavorful and amazing, especially when you use whole spices rather than ground.
Make Ahead: You can double or triple this recipe so that you have a homemade masala chai latte concentrate in your fridge, ready to go for the week!
Dirty Chai Latte exactly the way you want - This mix of chai tea and coffee is the perfect morning pick-me up. A chai latte without coffee can be made using this recipe too, so I'll let you decide how much caffeine you need! You can even make it decaf by using decaf tea bags and decaf espresso. Being able to customize your drink is the best part about making your own starbucks recipes at home!
It's Vegan! - While traditional chai recipes and most that you'll find at coffee shops will use honey as a sweetener, this recipe uses a plant based sweetener instead. It's an easy swap that makes a big difference!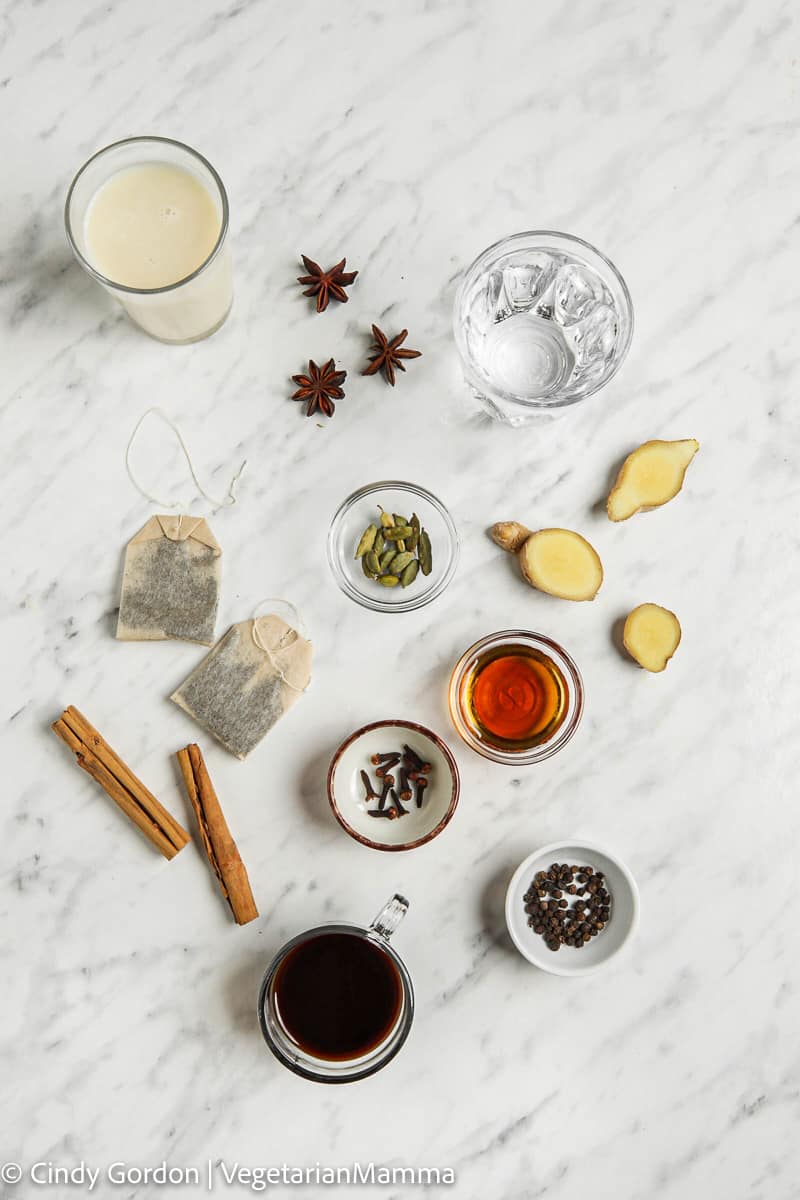 INGREDIENTS IN A DIRTY CHAI LATTE
Water - Use still tap or still bottled water for this latte.
Vegetable or nut milk - I love coconut milk, but you can use your favorite milk here. I've also made this with Hemp Milk and Macadamia nut milk.
Black tea bags - Use your favorite brand of tea or you can grab some black tea from online as well. If you prefer loose tea, just use 2 tablespoons in a tea strainer for this chai recipe.
Cinnamons sticks - I always seem to have cinnamon sticks in my pantry. Any brand of cinnamon sticks will work.
Whole cardamom pods - Be sure to use the whole cardamom pods and not ground cardamom. We will slowly extract all of the best flavor from whole pods.
whole cloves - Be sure to use whole cloves and not ground cloves.
star anise - Star anise is a fun spice because it has a neat shape and a unique taste!
pepper corns - While this might seem like an interesting ingredient, the whole pepper corns add depth to the favor!
ginger - You will need to use fresh ginger for this recipe, you do not need to peel the ginger.
Maple syrup - You can use any brand of real maple syrup, I love to use local maple syrup.
Espresso - A shot of espresso or 2 ounces of very strong coffee are needed to assemble a classic dirty chai latte.
If you have any questions about this Dirty Chai Latte, please leave a comment below and I will get back to you!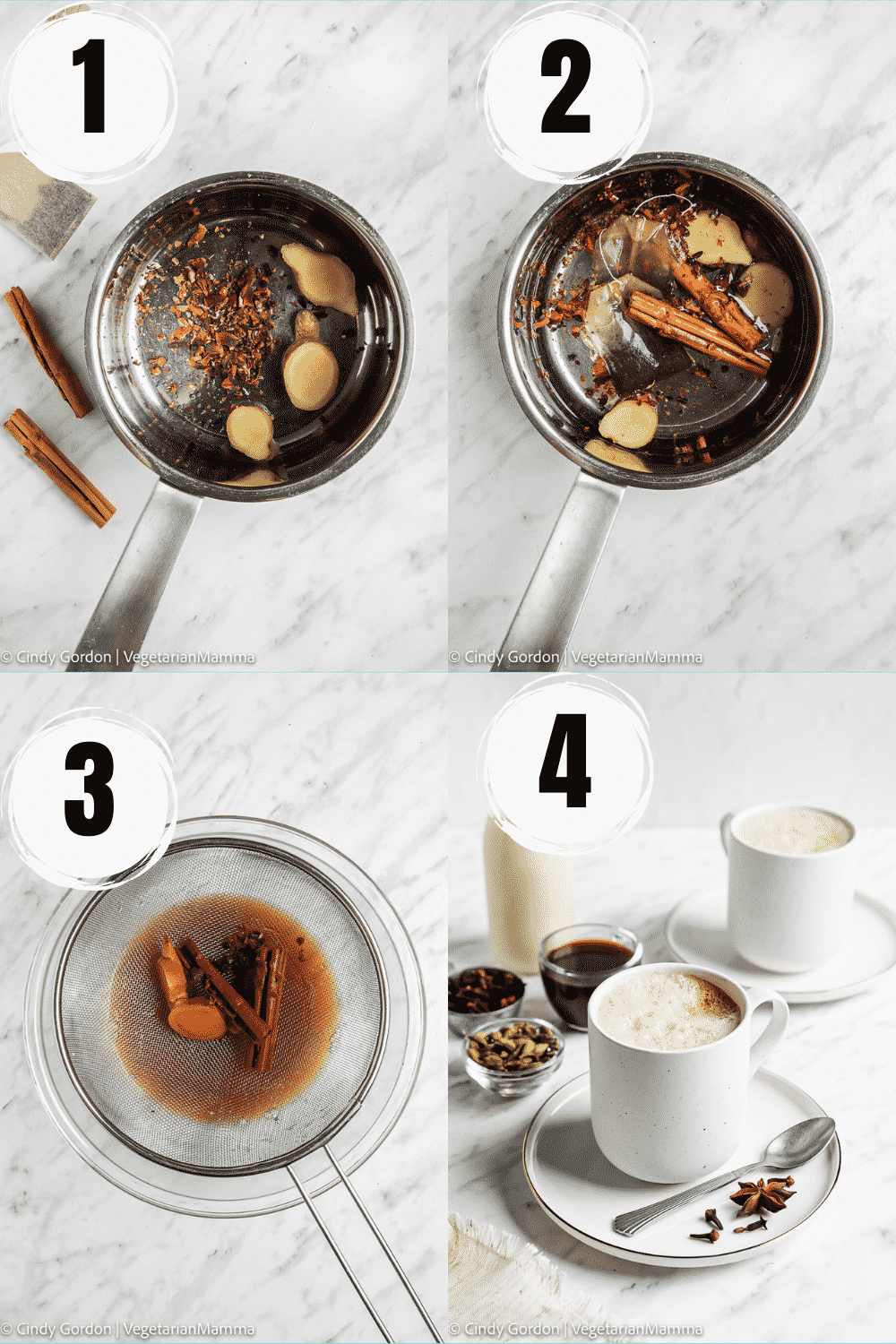 HOW TO MAKE A DIRTY CHAI LATTE STARBUCKS COPY CAT
First crush the cardamom pods, cloves, star anise, peppercorns in a mortar and pestle or using another method below. Place the crushed spices in a small pot with water, the ginger, cinnamon sticks and black tea.
Bring to a boil and turn the heat off. Immediately take out the black tea bags. Let stand for at least 20 minutes to steep.
Pour the mixture through a strainer to separate the grounds from the chai.
Assemble the hot or iced chai latte using this chai milk tea, espresso, and vegan milk. Specific directions are below and in the recipe card.
These numbered steps match the numbered photos above and are for illustration purposes. For the complete list of ingredients and instructions, please see the Dirty Chai Latte recipe below.
HOW TO CRUSH SPICES FOR CHAI LATTE?
If you aren't used to working with whole spices, you might be wondering what the best way to crush them is. Here are a few easy options:
Use a Mortar and Pestle - This is a traditional heavy-duty tool used to crush spices by pressing them and breaking them up. It's a very efficient tool for crushing small amounts of spices, and also works well for crushing garlic and spices for delicious savory recipes like Basil Pesto.
A Spice Grinder - This wouldn't be my first choice, but it does a great job of breaking the spices into small pieces quickly. Some people keep a small coffee grinder for this purpose, just don't use your spice grinder to grind coffee too. The flavors will mix!
Smash Them - Put your whole spices into a sturdy plastic zipper bag. Place the bag on a cutting board, and go at it with a small heavy frying pan, a flat meat mallet, or a rolling pin. This method is pretty fun actually.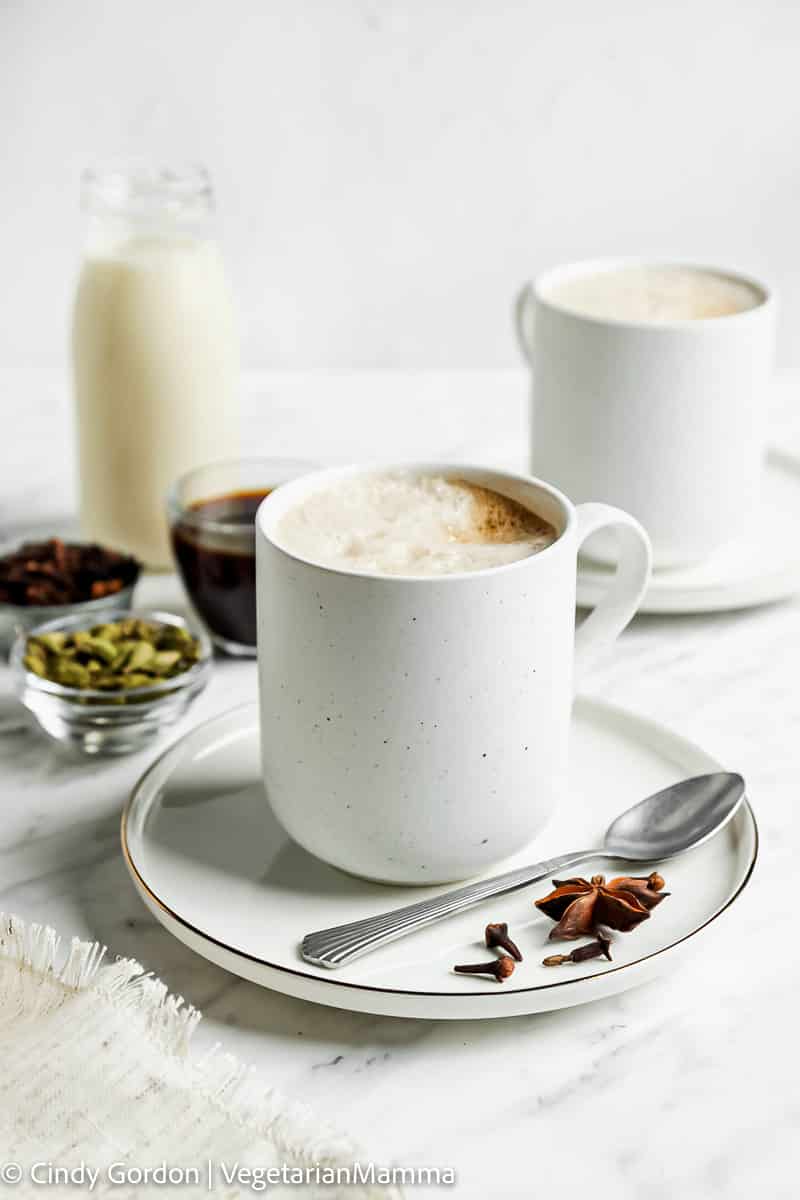 HOW TO FROTH VEGAN MILK FOR LATTES
While it's not necessary to froth the milk when making this copycat chai latte, it does add a certain element that is really fun and makes the experience more authentic. Frothing or foaming vegan milk is simple, but it will be different depending on the type of vegan milk you choose!
Tip 1: Use a refrigerated non-dairy milk. These will froth better than the sheft-stable types.
Tip 2: For a good vegan milk froth, choose soy milk, oat milk, or almond milk. These three will aerate better than others. Oat milk makes amazing, creamy lattes.
Tip 3: Use a frothing tool. Your options range from inexpensive to very expensive, so choose a tool that matches your budget. I like to use a handheld milk frothing wand that cost about $15. An immersion blender can froth milk too.
Tip 4: Heat the milk. Warm the milk slightly on the stovetop or the microwave, especially if you are making a hot dirty chai latte. Warming vegan milk usually allows it to foam better, so you can warm it up to add to chilled chai lattes too.
HOW TO STORE DIRTY CHAI LATTE MIX
You can choose to enjoy your vegan chai latte immediately, or store it, without adding the milk, in an airtight container (i suggest a glass jar) in the fridge for up to a week. When you're ready, add the milk and espresso and enjoy hot or iced.
Make chai tea ice cubes with any leftovers. These can be added to cold brew coffee to add lots of sweet, spicy flavor.
THE BEST DIRTY CHAI LATTE RATIO
I've found that the most delicious ratio for a dirty chai latte is this:
1 shot of espresso to ½ cup of homemade Chai to ½ cup of dairy-free milk to 1 tablespoon of maple syrup.
That's my favorite chai drink, and I think it matches the dirty chai Starbucks makes. You can adjust the ratio to suit your own tastes.
IS A DIRTY CHAI LATTE HEALTHY?
This will depend on what type of healthy you mean. The spices used to make this chai latte recipe have been enjoyed around the world for many, many years and have been thought of as healing. Fresh ginger is a digestive calming food, and a bit of caffeine has been shown to be healthy in most situations too.
We've made this recipe vegan and dairy free, and it's suitable for gluten free diets as well. Swap out the maple syrup with a sugar free vegan sweetener to make this a low carb latte recipe if you'd like.
WHAT TO SERVE WITH A DIRTY CHAI LATTE
If you are looking for something hearty to pair with your Dirty Chai Latte Starbucks CopyCat in the morning, a tofu scramble skillet is perfect. You can even double this Dirty Chai Latte recipe to make breakfast tomorrow, even easier!
Start your day off right with banana chia pudding, which is meal prep friendly and a mug of our turmeric latte!
Like a breakfast that will stick with you a little longer through the day? Our vegan grits are simple to make and taste delicious too!
Maybe you just love the coffee flavor but you want something a little thicker? Try this coffee flavored ice cream!
You can bake with the flavors of a dirty chai latte too! Try pumpkin chai glazed donuts. Want to try something new? Check out this Affogato. Its a fun twist that involves coffee and ice cream!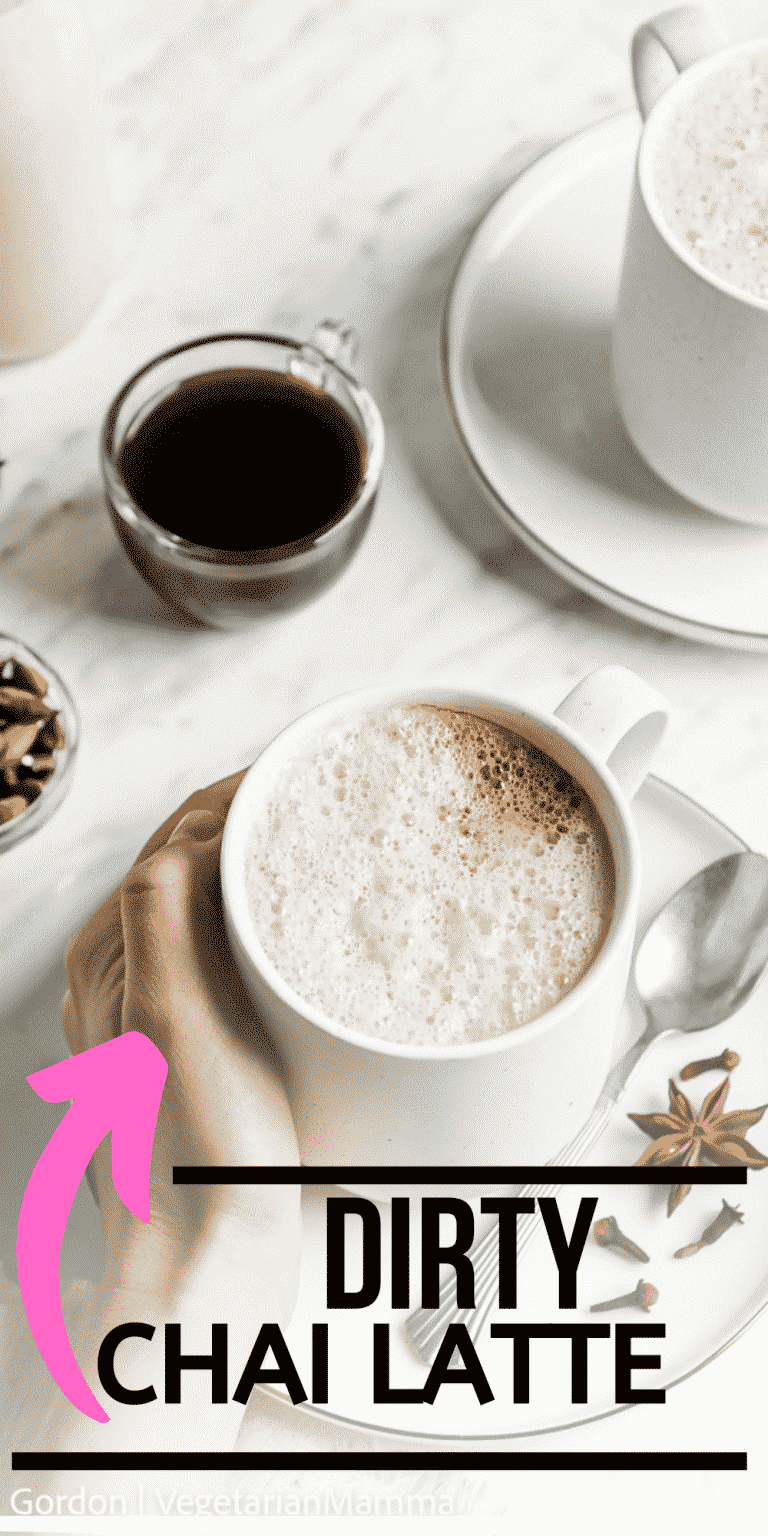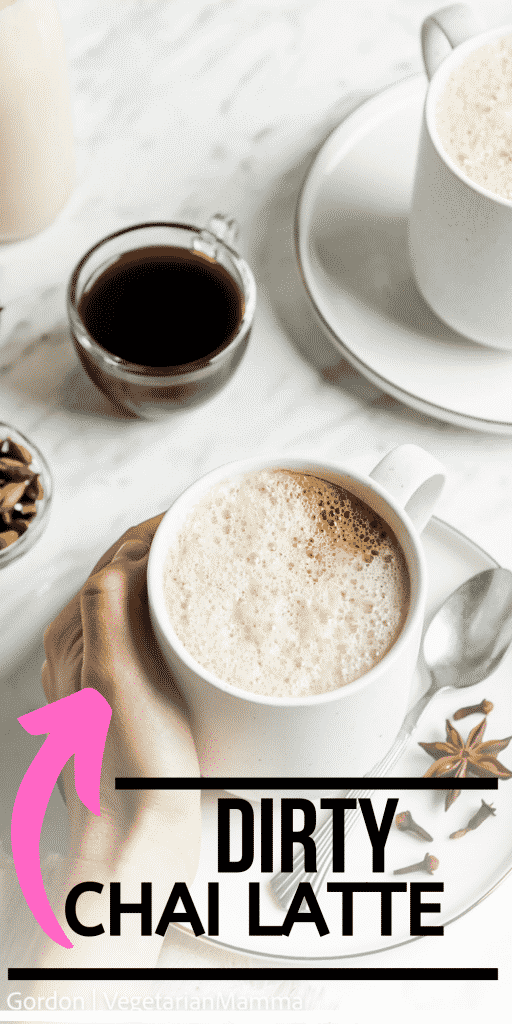 Have you made this recipe? Please leave a comment AND rating below! It helps other readers!
Be sure to tag @VegetarianMamma on instagram, if you share a picture on the gram! Let's get social, you can follow me on Youtube, Instagram, Facebook, Pinterest or join one of our Facebook Groups: Tasty Vegetarian Recipes and Vegetarian Air Fryer Recipes.
Don't forget to subscribe to our EMAIL newsletter.
Dirty Chai Latte (Starbucks Copy Cat)
The Dirty Chai Latte is a popular drink that is served up at many coffee shops. We've created a vegan Dirty Chai Latte Starbucks CopyCat recipe that you can make at home for a fraction of the price!
Instructions
First crush the cardamom pods, cloves, star anise, peppercorns. Place the crushed spices in a small pot with 2 cups of water, ginger, cinnamon sticks and, black tea.

Bring to a boil and turn the heat off. Immediately take out the black tea bags because it can get bitter. Let stand for at least 20 minutes or for several hours.

Pour the mixture through a strainer to separate the grounds from the chai.

Assemble the iced chai latte: Place a few ice cubes in a glass then add ½ cup of the chai mixture together with ½ cup of vegetable milk, a shot of espesso, and one tablespoon of maple syrup. Stir to combine adding more maple syrup or milk, if desired.
Notes
The best ratio for a dirty chai latte is 1 shot espresso to ½ cup chai tea to ½ cup milk and 1 tablespoon sweetener. Feel free to adjust this to your own taste.
Dirty chai can be enjoyed hot or cold. For a hot latte, warm the tea mixture in the microwave or on the stove, and add hot milk.
A mortar and pestle does a great job of crushing whole spices for this recipe. You can also put the spices in a bag and crush with a heavy object.
Nutrition
Calories:
128
kcal
|
Carbohydrates:
21
g
|
Protein:
5
g
|
Fat:
3
g
|
Saturated Fat:
1
g
|
Polyunsaturated Fat:
1
g
|
Monounsaturated Fat:
1
g
|
Sodium:
71
mg
|
Potassium:
647
mg
|
Fiber:
3
g
|
Sugar:
6
g
|
Vitamin A:
471
IU
|
Vitamin C:
10
mg
|
Calcium:
228
mg
|
Iron:
2
mg
All though this website attempts to provide accurate nutritional information, the information should only be considered an estimate. Varying factors such as different product types, different brands, etc. can change nutritional information. It is your responsibility as a consumer to read all labels to make sure the ingredients fit your dietary needs as well as calculate your own nutritional information as a double check.