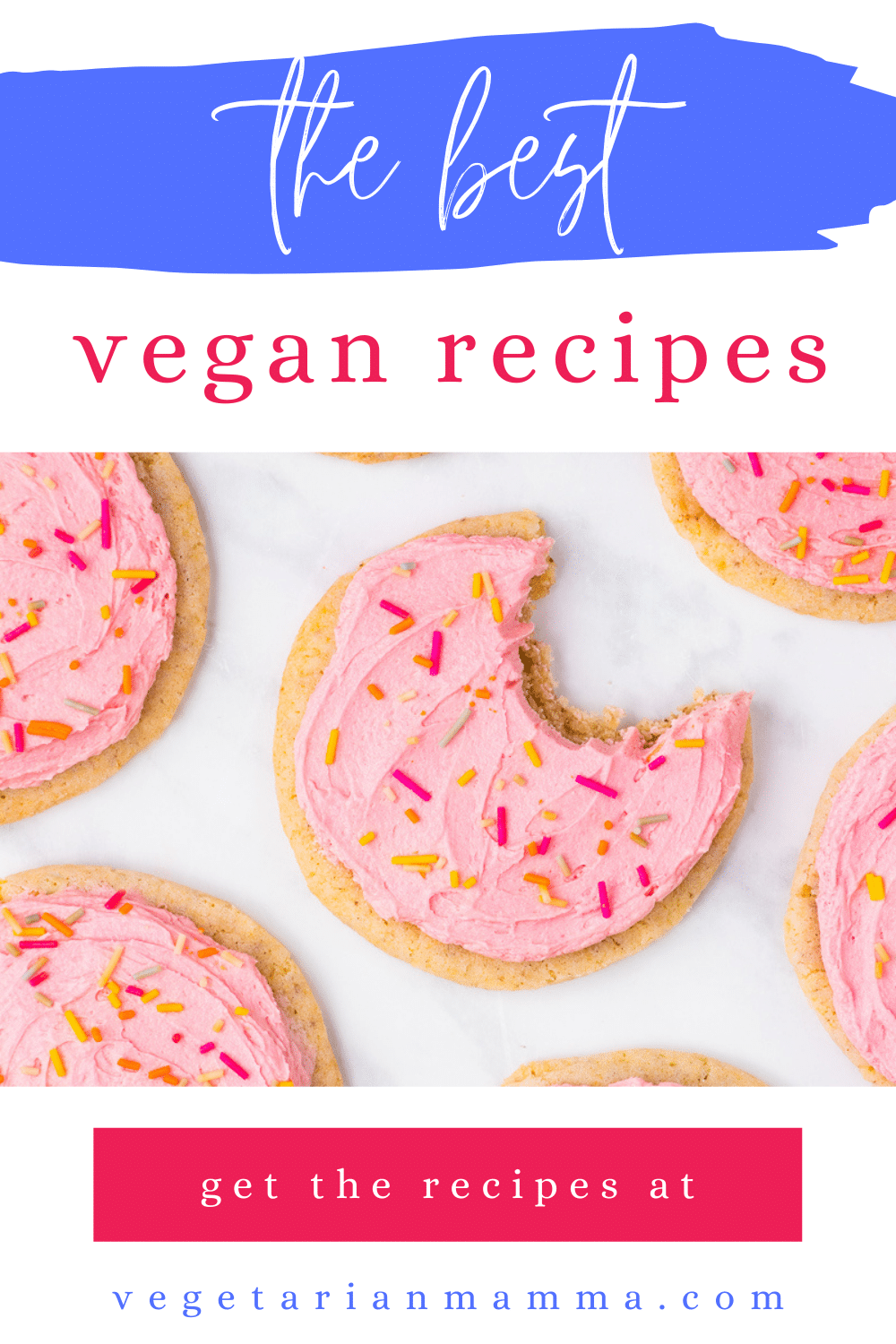 These are truly the best vegan recipes! This list has it all, from flavorful vegan dinner recipes to easy meal prep snacks and even decadent vegan desserts. Read on to learn how to make over 19+ amazing vegan recipes.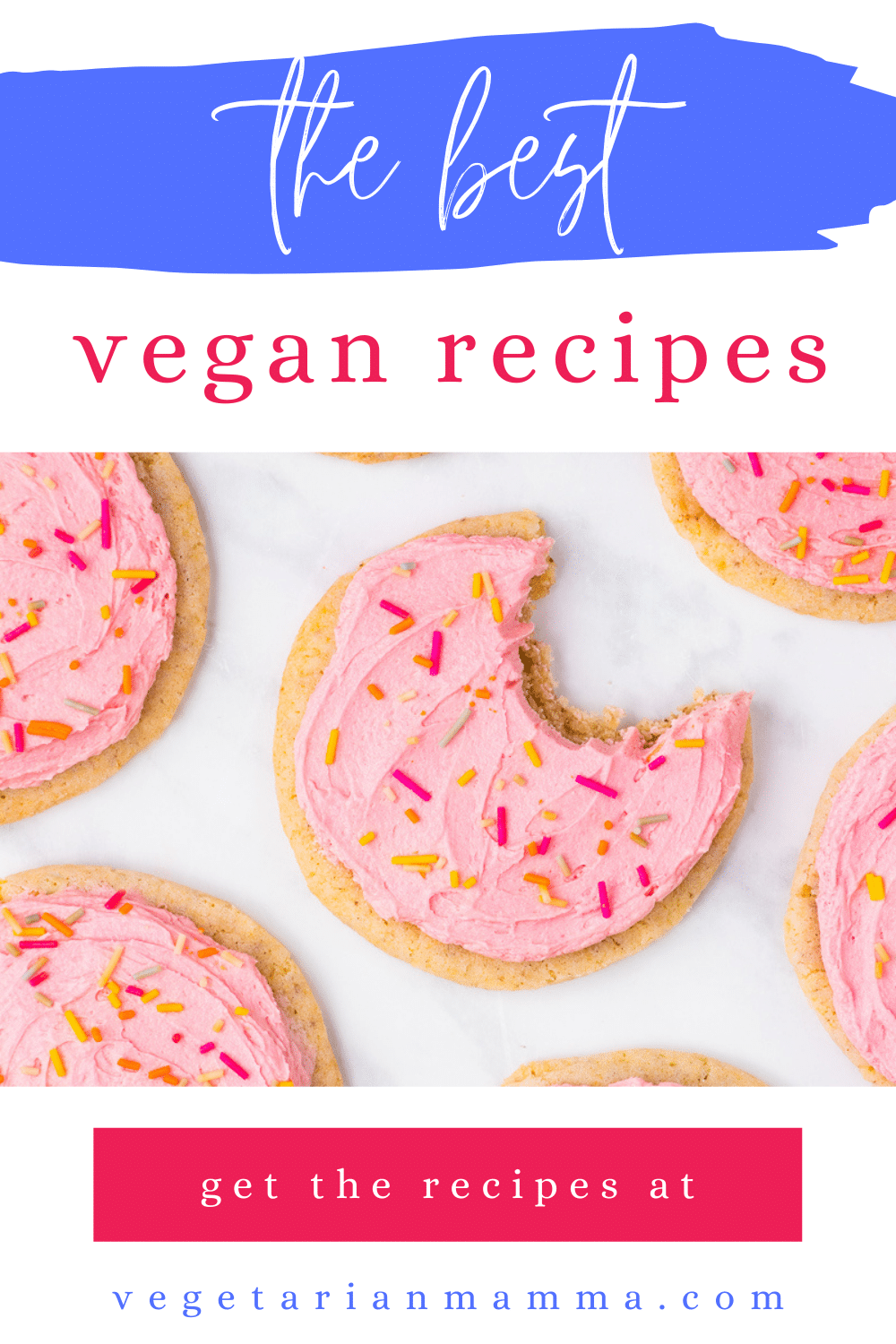 WELCOME TO THE BEST VEGAN RECIPES!
Are you looking for new ideas and easy recipes for your plant-based diet? We are so happy you are here! We love to help people learn about vegetarian life, make healthy recipes, and — most importantly — make delicious food! If you are new, we have a whole community just waiting to welcome you!
Whether you are a lifelong vegan or are looking for more Meatless Monday recipes, we have got some delicious and easy vegan recipes to share with you today! This list is packed with tips, ideas, and my favorite recipes from main dishes and sides to appetizers and snacks.
TIPS FOR MAKING THE BEST VEGAN RECIPES
Meal prep. Whether it is healthy vegan lunch recipes or easy veg snacks, meal prepping can save you so much time, stress, and honestly money. Most of these recipes will last at least 4 days in the fridge. You can make a bunch of lunches and snacks on a lazy weekend and enjoy healthy vegan meals all week long.
Swap the proteins. Many of these recipes are made with tofu, plant-based proteins, or just packed with veggies. However, it is so easy to switch it up and use your favorite proteins! Crispy tofu is one of the best additions to any easy vegan recipe for more texture.
Add some heat with spices. If you want to add a little bit of spice or heat to your easy vegetarian recipes, we suggest red pepper flakes. Easy burritos are the perfect vegan dish that you can easily raise the heat with additional spices.
Freeze for later. Some recipes do not freeze well. But, since a lot of these recipes are dairy free, they will freeze great for leftovers that last months. I especially find myself freezing pans of enchiladas, spaghetti sauce, and burritos for a quick heat-and-eat dinner.
Save room for dessert. I have a major sweet tooth. Since I also avoid gluten, I have started making so many amazing vegan desserts from quick cookies to decadent layer cakes. Make your own vegan treats with all-natural ingredients to keep the guilt at bay when you indulge.
BEST VEGAN DINNER RECIPES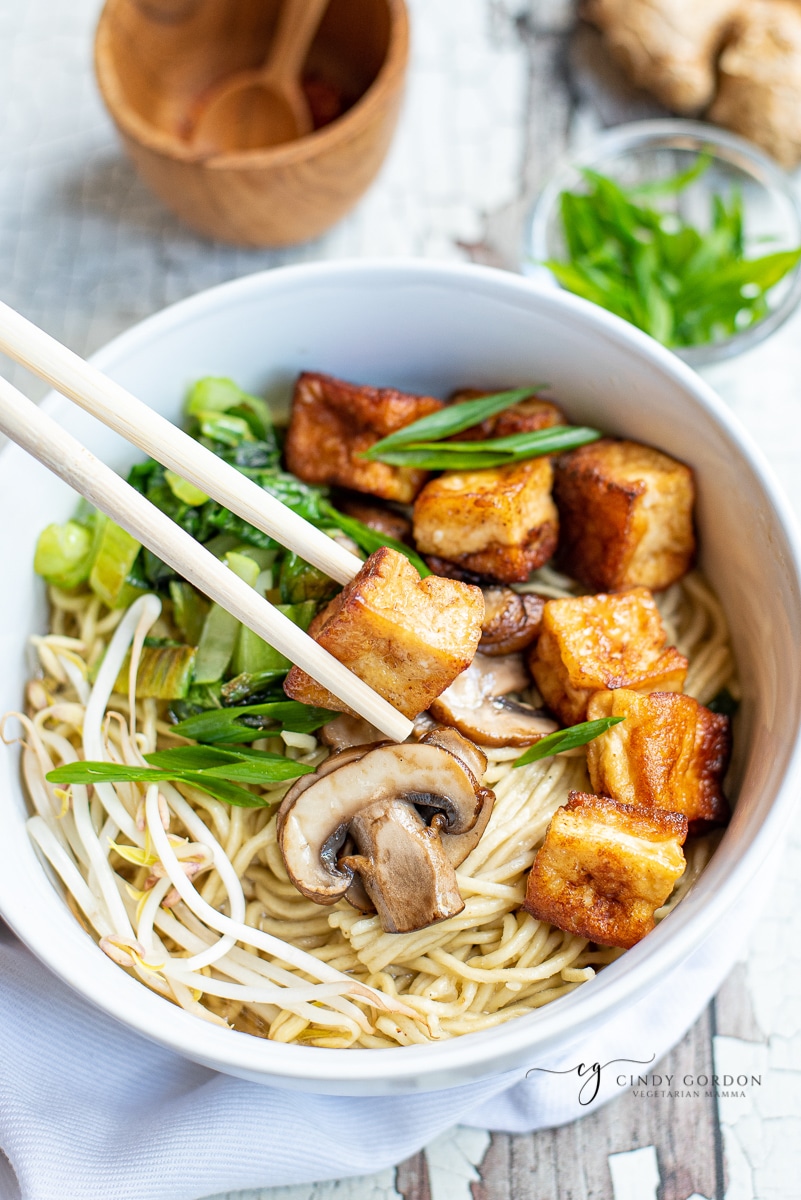 Tofu Soup: I love a slow-simmered soup recipe, but I do not always love waiting. This Tofu Soup is so easy and ready as fast as you can chop and boil! If you love crispy tofu with an Asian-inspired marinade, you have to try this delicious vegan soup recipe that's ready in minutes instead of hours.
Air Fryer Tostadas: Tacos are always on my menu, and these Air Fryer Tostadas are a fun twist on the classic hard taco! Most tortillas are naturally vegan, so this is an easy recipe to modify for almost any diet! Another favorite vegan meal is my Tofu Tacos. I like to keep mine simple with black beans, shredded cheese, black olives, tomatoes, and lettuce, but let your creativity go wild.
Vegan Shepherd's Pie: The combination of hearty veggies and gravy topped with a comforting vegan mashed potato crust makes this Vegan Shepherd's Pie a family staple for weeknights and rainy days. The garlicky, pillowy vegan mashed potato crust covers the view of the stars of this delicious dish: the vegetables. Leeks, mushrooms, carrots and peas carry this traditional Irish entrée without all the meat!
Mexican Sweet Potatoes: Switch it up next Taco Tuesday and put all your favs in a baked sweet potato! These Air Fryer Mexican Sweet Potatoes are a delicious twist on a baked potato that will knock your socks off! We are topping these beauties with a fresh, homemade salsa made from black beans, corn, onion, jalapeño and more. Fresh lime juice and cilantro bring all the authentic Mexican flavor.
Instant Pot Pad Thai: Make this wonderfully seasoned Pad Thai dish, packed with vegetables and noodles, in the Instant Pot for a simple, fast, homemade meal that's better than takeout. Traditional pad Thai includes tamarind paste and fish sauce, but we are leaving both of those out in favor of using simplified, vegan ingredients instead.
FAVORITE VEGAN RECIPES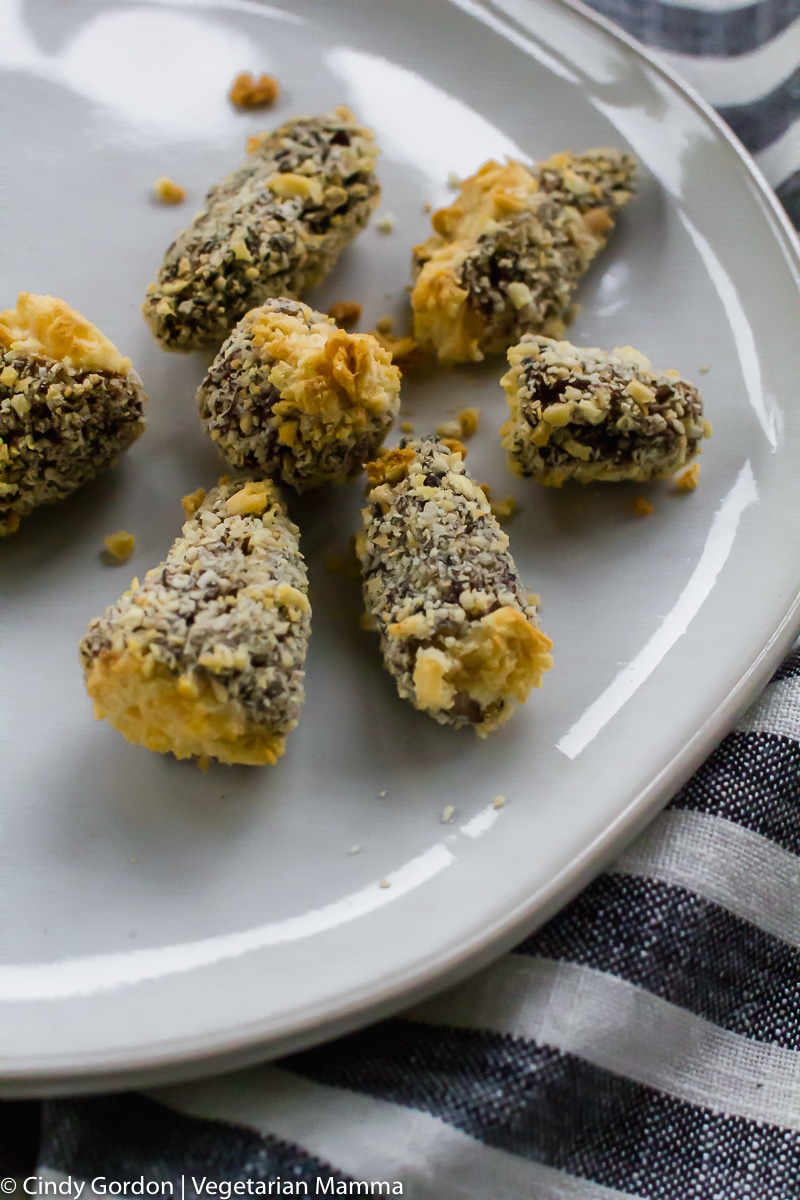 Air Fryer Morel Mushrooms: I could eat mushrooms for every meal, but these stuffed mushrooms are my absolute favs. Air Fryer Morel Mushrooms are an earthy, mouthwatering fried morel mushroom recipe! They are stuffed with vegan cream cheese and breaded to perfection.
Vegan Burritos: Looking for a fun takeout-style recipe that you can make at home? Try this delicious and hearty vegan burrito! They're filled with protein and veggies to keep you satisfied on the go! These easy burritos are filled with lots of yummy and healthy ingredients, and taste even better than the ones you have to stand in line to get!
Bliss Balls: This is my favorite vegan meal prep snack! The luscious chocolate and tahini truffle center is super healthy, and it's all coated with nutty sesame seeds. This bliss ball recipe is gluten free — made with almond flour and coconut flour. They're as small as donut holes but packed with fiber, protein, and healthy fats in every bite.
Vegan Beef Stew: I always ate beef stew over rice as a kid. It was my favorite comfort food! Now, I skip all the meat but still make the same hearty, warm, hug in a bowl. This vegan beef stew is a savory blend of fresh herbs and vegetables. The stew combines plant-based ingredients to deliver superb flavor and texture.
Air Fried Oreos: Fried food was a big part of my childhood. It's cheap, easy, and you can fry almost anything! These Air Fried Oreos are the perfect quick and delicious dessert to whip up after dinner. With just three simple ingredients — Oreos, canned crescent rolls, and powdered sugar — anyone can help with this vegan dessert recipe!
SEASONAL VEGAN RECIPES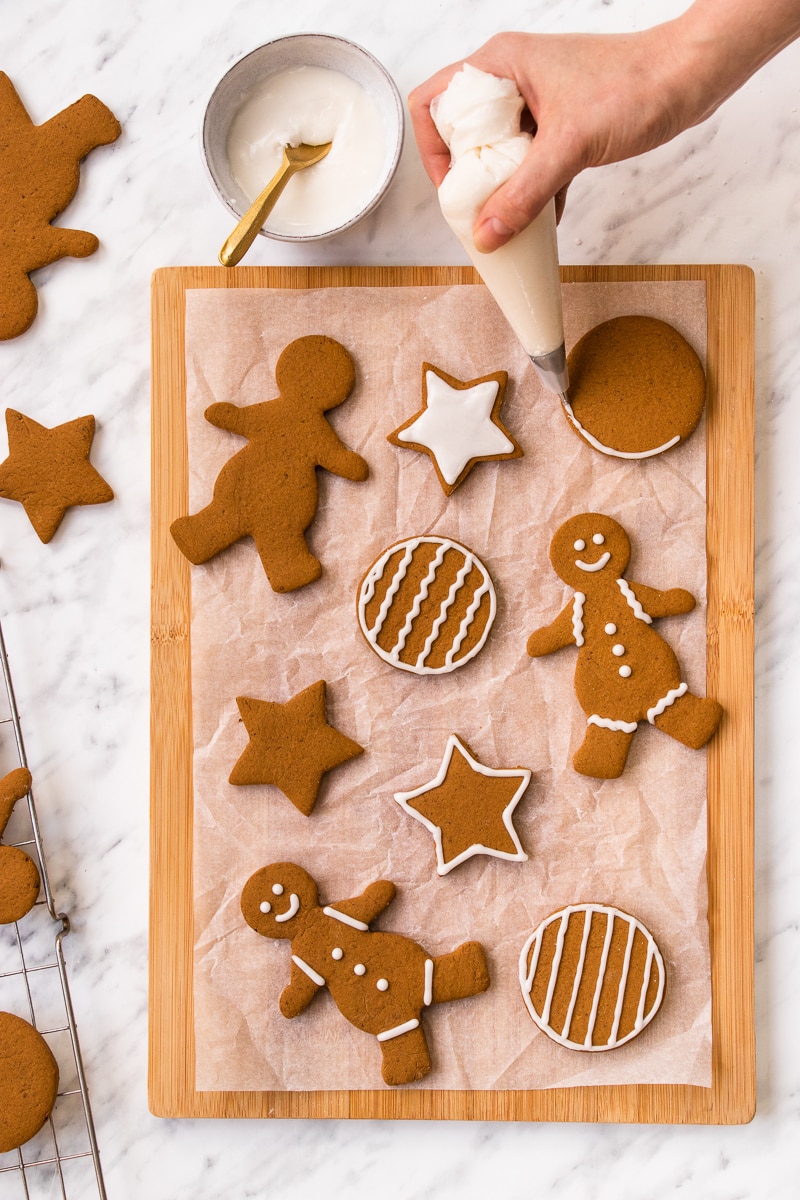 Vegan Gingerbread Cookies: I love making Christmas cookies, and there's no more classic cookie than gingerbread cookies! Decorate angels, ornaments, stars, and gingerbread people with these perfectly chewy cookies and homemade vegan royal icing. It's always a toss-up between these and my lemon cranberry cookies for best holiday dessert. And did I mention they're gluten-free, too? Try to save some for Santa!
Air Fryer Sweet Potato Casserole: If you want to impress the crowd at your next holiday gathering, bring a dish of Air Fryer Sweet Potato Casserole. This Vegan Air Fryer Sweet Potato Casserole is a decadent dairy free, gluten free version of everyone's favorite sweet potato recipe. The fluffy sweet cinnamon spiced filling is made with coconut milk for extra creaminess and flavor. The fluffy sweet potato filling and crunchy pecan topping will be the star of the show!
Vegan Sweet Potato Pie: Thanksgiving is the best holiday! It is filled with family, friends, and of course — food. I always bring a dessert, and it is usually this Vegan Sweet Potato Pie! If you are a fan of pumpkin pie, you have to try this recipe for your holiday table this year. I keep this sweet potato pie gluten-free with a simple, creamy filling and a gluten-free pie crust.
Air Fryer Green Bean Casserole: Green bean casserole has always been one of my favorite holiday treats, but the heaviness of it is comparable to a main meat! This Vegan Green Bean Casserole takes the heaviness out but still brings you comfort just like grandma's original recipe. I prefer using fresh green beans to give it a little extra crunch. I also swap the typical creamy soup and milk base for coconut milk and vegetable broth mixed with sautéed mushrooms and onions.
VEGAN DESSERT RECIPES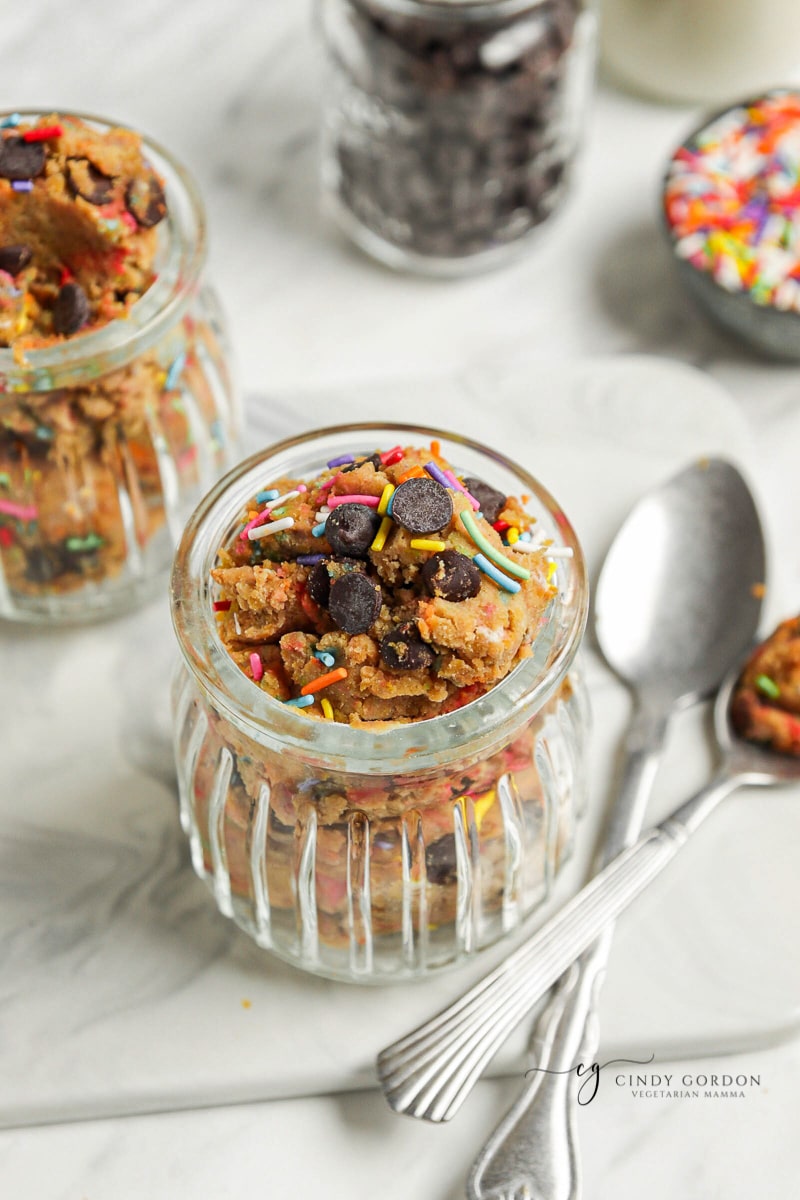 Edible Vegan Cookie Dough: Homemade vegan cookies are my favorite dessert, but I don't like to wait. Enter Chickpea Cookie Dough! This totally edible raw cookie dough is made with basic vegan ingredients for a sweet treat packed with chocolate and sprinkles. This gluten-free raw cookie dough is made with coconut flour, coconut sugar, and of course chickpeas!
Vegan Panna Cotta: Sometimes, you just need a little chocolate. You'll love this Vegan Panna Cotta that's perfectly creamy and chocolatey, too. You only need 6 ingredients and a couple hours to chill to whip together this decadent dessert! You can make it in advance, and the leftovers last so long you'll never waste it — if you have leftovers at all.
Vegan Pecan Pie: Once I nailed my vegan pie crust recipe, I started learning to make delicious vegan versions of every pie I love. I had to start with Vegan Pecan Pie, and this easy holiday recipe does not disappoint! It is made with a simple homemade crust and just a few all-natural ingredients in the ooey gooey filling.
Vegan Chocolate Mug Cake: Whenever I have a chocolate craving that can't be cured, I make these super rich Vegan Chocolate Mug Cakes. This totally gluten-free dessert is made in the microwave in just one minute. This single-serve dessert is made with almond flour and cornflour instead of all-purpose flour but it's still just as fluffy with a beautiful rise. Like my beloved Campfire Brownies, this mug cake recipe is so fast and easy you can make it any time with almost no cleanup.
Sweet Potato Brownies: Gone are the days of dry, crumbly vegan brownies! Sweet Potato Brownies are chocolatey, moist, and totally gluten-free, too. This decadent dessert recipe is so easy to make and packed with natural ingredients and tons of chocolate chips. The roasted sweet potatoes add a creamy richness to the batter and leave behind an extra moist and chocolatey brownie.
MORE VEGAN RECIPES
Once you have mastered all of these vegan recipes, try this list of vegan air fryer recipes, too! learn all the best air fryer tips and our frequently asked questions. Learn all the best air fryer tips and our frequently asked questions.
Tofu was such a pain to make until I got my trusty tofu press! I love making these easy tofu recipes for an easy weeknight dinner. If you prepare tofu correctly, it an be mouthwatering, we promise!
I love all things potatoes. Mashed, baked, roasted — they're all comforting and delicious with minimal work. But the best way to make potatoes, I think, is in the air fryer. If you have never made potatoes in the air fryer, you are in for a treat! Cooking potatoes in your air fryer is quick, simple and oh so delicious.
I love homemade cookies, but I do not love waiting for them. Homemade These vegan cookies are so easy to make with no dairy or eggs! From simple chocolate chip cookies to festive Christmas cookie recipes, you will find everything you need here for the best vegan cookies.
Best Vegan Recipes : Featuring Vegan Beef Stew
These are truly the best vegan recipes! This list has it all, from flavorful vegan dinner recipes to easy meal prep snacks and even decadent vegan desserts. Read on to learn how to make over 19+ amazing vegan recipes.
Instructions
Heat oil in a large soup pot. When oil is warm add in celery, carrots and onion. Saute until soft.

Next, add in the minced garlic and chopped mushrooms. Stir and saute for 3 minutes. Then slowly add flour while stirring. Everything in the pot should be lightly and evenly coated with flour.

Add the veggie broth and water to the pot.

Pour in the cubed and peeled potatoes to the pot mixture. Turn up the heat to a medium high heat.

Add in the fresh herbs and liquid smoke. Bring mixture to a boil, then turn down and simmer for 30 minutes or until potatoes are tender.

(Optional: Take 1-2 cups of stew mixture and blend in a blender until smooth, then return to pot.)

Pour in the frozen peas, stir and let the stew rest for 5 minutes. Enjoy!
Nutrition
Calories:
98
kcal
|
Carbohydrates:
15
g
|
Protein:
3
g
|
Fat:
4
g
|
Saturated Fat:
1
g
|
Sodium:
505
mg
|
Potassium:
329
mg
|
Fiber:
3
g
|
Sugar:
5
g
|
Vitamin A:
4480
IU
|
Vitamin C:
11
mg
|
Calcium:
43
mg
|
Iron:
1
mg
All though this website attempts to provide accurate nutritional information, the information should only be considered an estimate. Varying factors such as different product types, different brands, etc. can change nutritional information. It is your responsibility as a consumer to read all labels to make sure the ingredients fit your dietary needs as well as calculate your own nutritional information as a double check.
BEST VEGAN RECIPES POST
If you have made any of the best vegan recipes, please be sure to leave a comment on the recipe page letting us know what you thought!