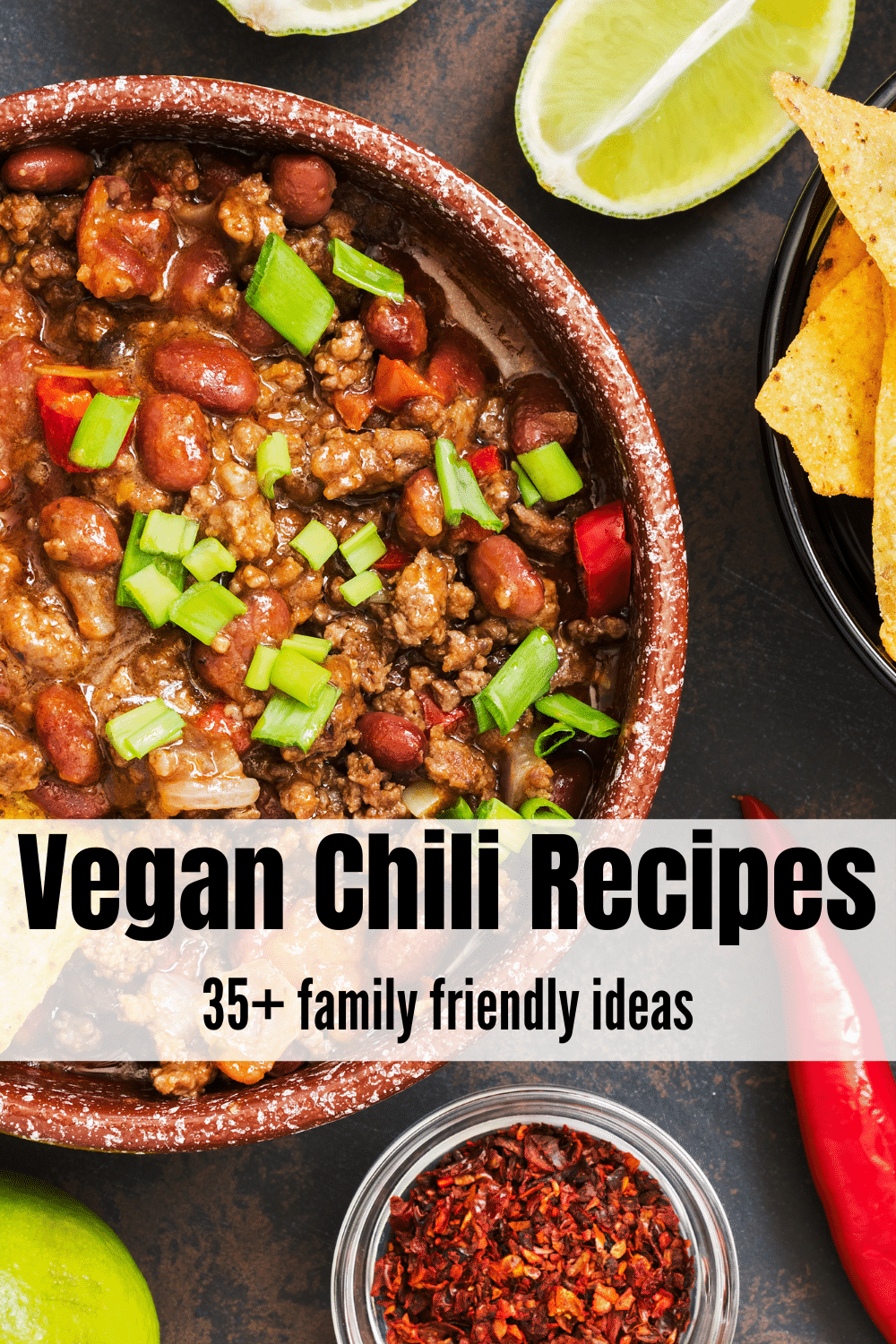 These 35 vegan chili recipes are a great way to warm up on a cold day. They're hearty, delicious and healthy – perfect for vegetarian or vegan diets.
Vegan Chili is an easy weeknight recipe that anyone can make. If you are looking for a meatless chili recipe, we are sharing the best today!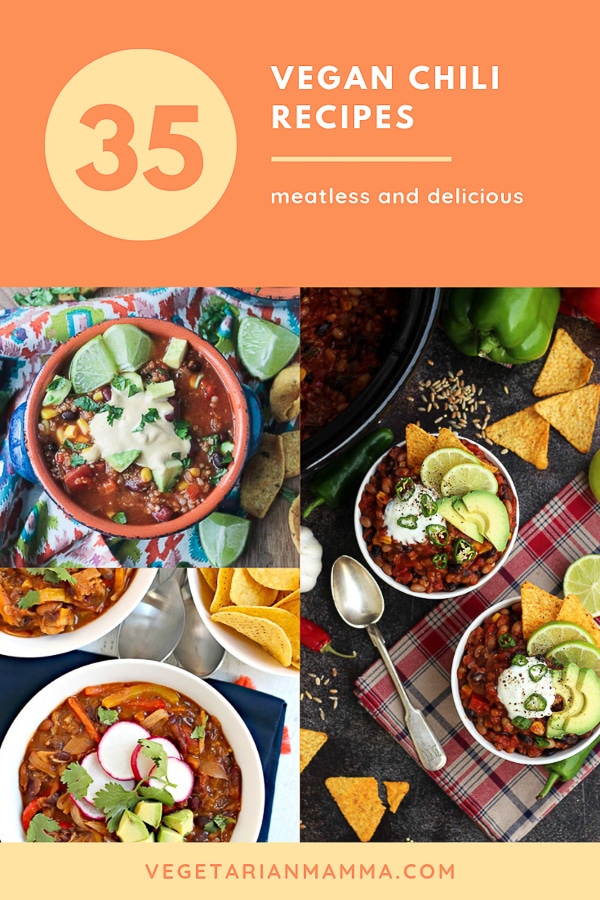 The best vegan chili
Vegan chili recipes is what we are talking about today! It's good to eat some vegan chili while the weather is still warm or even when its chilly! Some people think that it's time to make a batch of your favorite chili recipe when the weather is cool. Granted, it does taste pretty amazing on a cool fall day when you are at your favorite tailgate party!
But, homemade chili is not just reserved for cooler temperatures. Chili recipes can be made and enjoyed all year long! There are even some seasonal chili recipes that feature pumpkin flavors!
Do you like to eat your vegan chili with a side of cornbread? I sure do! I like my vegan chili served that way because it is sweet and spicy! We make the most delicious Air Fryer Cornbread, which would is perfect for eating alongside these recipes! We use a flax egg and dairy free ingredients to make the cornbread vegan! You can adapt almost any recipe to make it vegan!
Pretty sure, I've tried enough vegetarian chili recipes out there to have tasted some pretty delicious award winning chilis!
Rumor has it that the first batch of chili (chili con carne) in America was back in 1731. The story continues that the chili was made by a group of women who has emigrated from the Spanish Canary Islands. It is said that they actually called it "spicy Spanish stew" and not chili as we call it today! Thanks to What's Cooking America for that info!
Typically chili has some sort of a chili pepper in it, whether you use an actual pepper or use chili powder!Let's take a look at the actual pepper. The green chili pepper has been growing in the United States for quite some time. Historians estimate that it has been growing in the US for more than 400 years!
Chili peppers are used all across the world in many types of cuisines! European,, Asian and Middle Eastern cuisines commonly feature chili peppers!So what if you are using chili powder? There are often times chili peppers in that too! It is usually a blend of peppers and other spices including cumin, oregano, salt and peppercorn.
The love for this type of food really took off during the mid-1800s. The Cowboys and prospectors popularized the recipe during the Gold Rush!The first official chili cook-off took place in 1967 in Terlinga Texas! Surprisingly, it ended in a tie between a Texan and a New Yorker!
Today we are sharing with you some amazing Vegan Chili Recipes! So these recipes contain NO MEAT! Many of them do contain your favorite ingredients: kidney beans, tomato sauce, frozen corn, green pepper (bell pepper), diced tomatoes! Most of the recipes are quick and easy and many are gluten free!
If you are looking for vegetarian chili recipe crockpot or vegetarian chili recipe slow cooker, we have got you covered! Oh yes and we threw in some instant pot vegetarian chili recipes too! You will have a hard time finding which one to start with because there are so many drool worthy recipes!
For anyone looking to try something new, this list of 35 vegan chili recipes is sure to provide plenty of inspiration for your next dinner.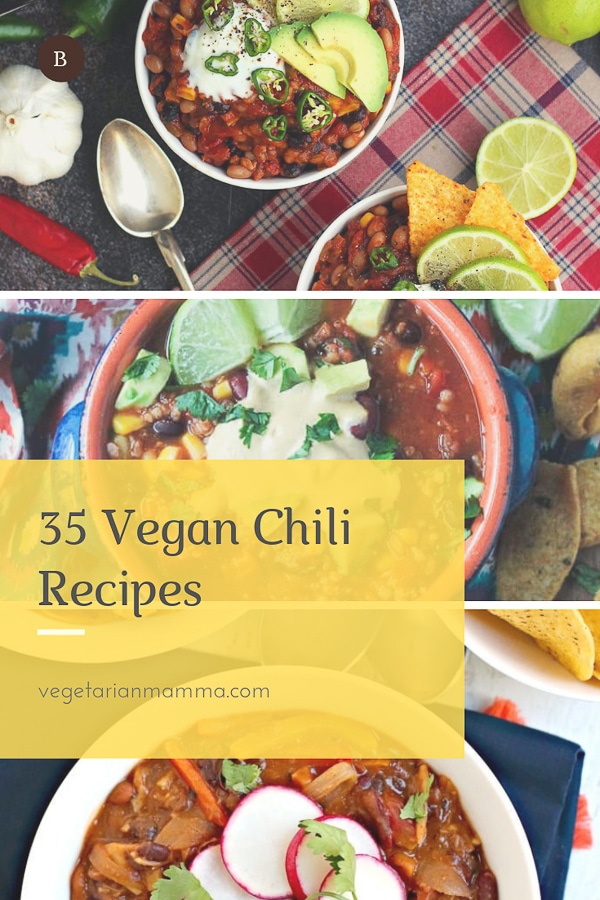 Our FAVORITE Vegan Chili Recipes
If you are looking for a filling, healthy meal that can be served in multiple ways, then chili is the perfect dish to make! Chili recipes come with all sorts of variations and ingredients. One of the key ingredients in chili is meat, but there are plenty of variations that do not use any meat.
Since we are talking about vegan chili today, we will be using alternative protein sources such as tofu, beans, lentils, etc. There are many different variations of chili, some using beans and lentils while others just use spices. These are our top 3 vegan chili recipes!
Sweet Vegetarian Chili - Love to warm up with a sweet chili? Try this game-day vegetarian chili on for size! It is a veg chili but hearty enough that your meat eating friends won't notice!
Instant Pot 4 Bean Chili - Instant Pot Four Bean Chili is a hearty and delicious dinner that you can have ready in a snap. Whether you are cuddling up with a warm bowl of chili or fixing a game day feast, this instant pot chili is perfect.
Tofu Chili - Hearty Tofu Chili is the best vegan comfort food. You can make this chili recipe in less than an hour with tons of succulent veggies and protein-packed beans.
Vegan Chili Slow Cooker
Vegan Slow cooker chili recipes are the perfect meal for a chilly day. Slow cooker chili recipes are also an easy addition to get your family on the right track for healthier eating. These vegan slow cooker chili recipes combine protein-rich beans with veggies, spices and other healthy ingredients like tomatoes, ginger, garlic and sweet potatoes to create a dish that is light on calories but big on flavor.
May people are apprehensive to use their slow cooker because of the mess it leaves behind. Here are some tips for you! ProTip: Some slow cookers can only be washed in the dishwasher with a low heat drying cycle, check the manual to see if you can put the slow cooker insert into the dishwasher!
ProTip: If you are washing your slow cooker by hand, it is important to use soap and water only! Ensure you are using a dishwasher soap that is free of phosphates. Phosphate additives can cause the slow cooker to change color and corrode over time.
Slow Cook Potato Curry - Vegan Yack Attack has created a gluten free, soy free and vegan chili recipe. It marries the flavors of curry with traditional chili, but using a vegan twist!
Slow Cooker Black Bean Butternut Squash Chili - Veggie Inspired has created a mouthwatering slow cooker vegan chili recipe! This chili recipe is packed with black beans for a punch of protein and butternut squash to round out your veggie servings for the day! It is a must try for game day!
Best Slow Cooker Vegan Chili - Happy Kitchen has created a vegan classic to the classic bowl of chili. This vegan chili recipe is 100% amazing and 100% full of flavor!
Slow cooker Vegan Chili - Watch Learn Eat has created a beautiful and tasty vegan chili recipe. This vegan chili is oil-free and full of delicious vegetables! A butternut squash is the true hidden gem of this vegan chili recipe!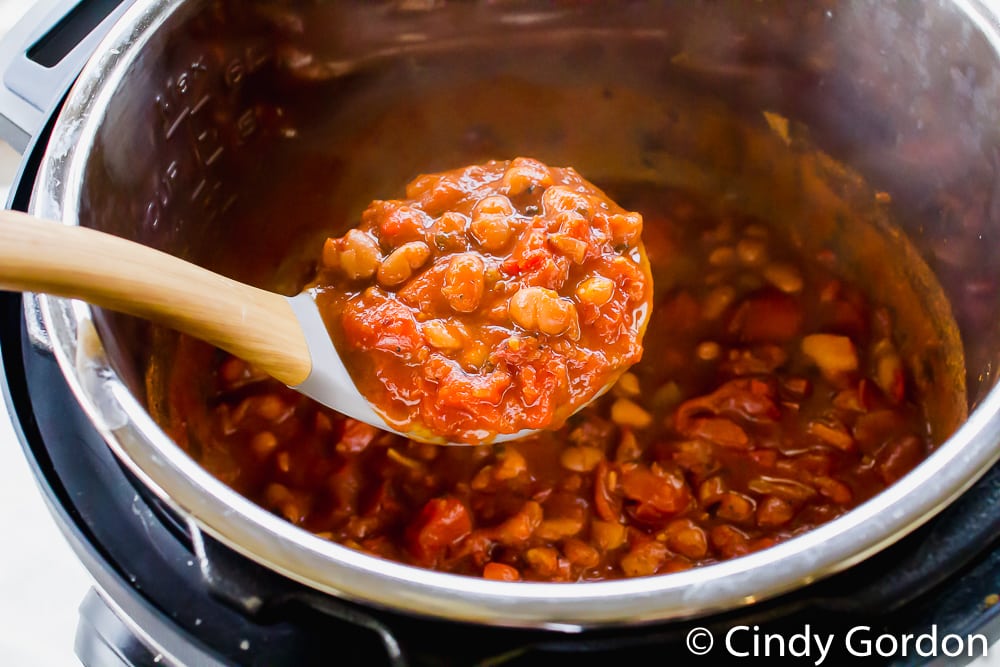 Vegan Instant Pot Chili
Making chili in the instant pot is such a breeze, and it's so delicious too. I've put together some my favorite vegan chili recipes for you to try out, but make sure you do them justice by following all of these easy steps. ProTip: Mix the ingredients thoroughly before adding to the pot. ProTip: If you are using tomatoes, make sure they are canned crushed or whole peeled. If not, use fresh.
If you are worried about clean up duty when it comes to making vegan chili in your instant pot, here are some tips to help you out. ProTip: The pot works best when you rinse it right after use, or if necessary cover with a film of cooking oil and wipe clean.
ProTip: Scrub off any stuck on pieces, then place the instant pot in your dishwasher. If you don't have a dish washer, use warm water and soap to hand wash the pot along with any other dishes that need it.
ProTip: Do not use a steel wool pad or abrasive cleaning products. These can scratch the nonstick coating which will make it less effective and difficult to clean in future uses.
Vegan InstantPot Lentil Chili - Profusion Curry describes their vegan chili recipe has having a deep and rich flavor. I would agree after trying this recipe! I appreciate that both stove top and instant pot directions are included for this vegan chili recipe!
Instant Pot Three Bean Chili - The Belly Rules the Mind uses three different types of beans in this chili, you can use canned or dry. Be sure to soak and precook your beans if you are using dry beans. The zucchini and sweet potato add to the chunky texture of this vegan chili!
Vegetarian Bean Chili (Instant Pot) - Profusion Curry has created a vegan skinny chili! It has only 200 calories per serving. This chili is hearty and filling. It is tasty enough to satisfy any vegetarian or meat eater!
4 Bean Instant Pot Chili - Boulder Locavore has created a 30 minute vegan chili recipe. It tastes great with minimal effort as it only has 4 active minute of cooking!
Instant Pot Vegan Chipotle Chili - Flavor the Moments has created this delicious vegan chili recipe that features chipotle as the star. This chili not only has directions on how to make it in theinstant pot but it also has directions for the slowcooker and stove top.
Instant Pot Chili with Canned Beans and Tofu - Glue and Glitter makes this easy instant pot vegan chili using canned beans and tofu. It is extremely easy to make and delicious to eat.
Vegan Chili Recipes - Other
Vegan chili recipes are about as easy to make as regular ones, but they tend to be healthier and more nutritious. This type of chili is typically made with beans for a hearty dish that will fill you up.
In vegan chili, meat is replaced with beans or soy products such as tofu. Vegan chili can be made without any animal products whatsoever and still taste great!
3 Bean Chili - Cadrys Kitchen
Smoky Black Bean Chili - Life Current Blog
Vegan Jamaican Jerk Chili with Mango Salsa - The Organic Kitchen
Jamaican Jerk Chkn Chili - Veganosity
Quinoa Chili - There is Life After Wheat
Vegan Chili - The Honour System
Vegetarian Chili - Taste Love and Nourish
Butternut Squash Quinoa Chili - Life Made Simple Bakes
Sweet Potato Black Bean Chili - Shane and Simple
Easy Vegan Chili - Neils Healthy Meals
Easy One Pot Spicy Vegan Chili - Vibrant Plate
Three Bean Chili - Diannes Vegan Kitchen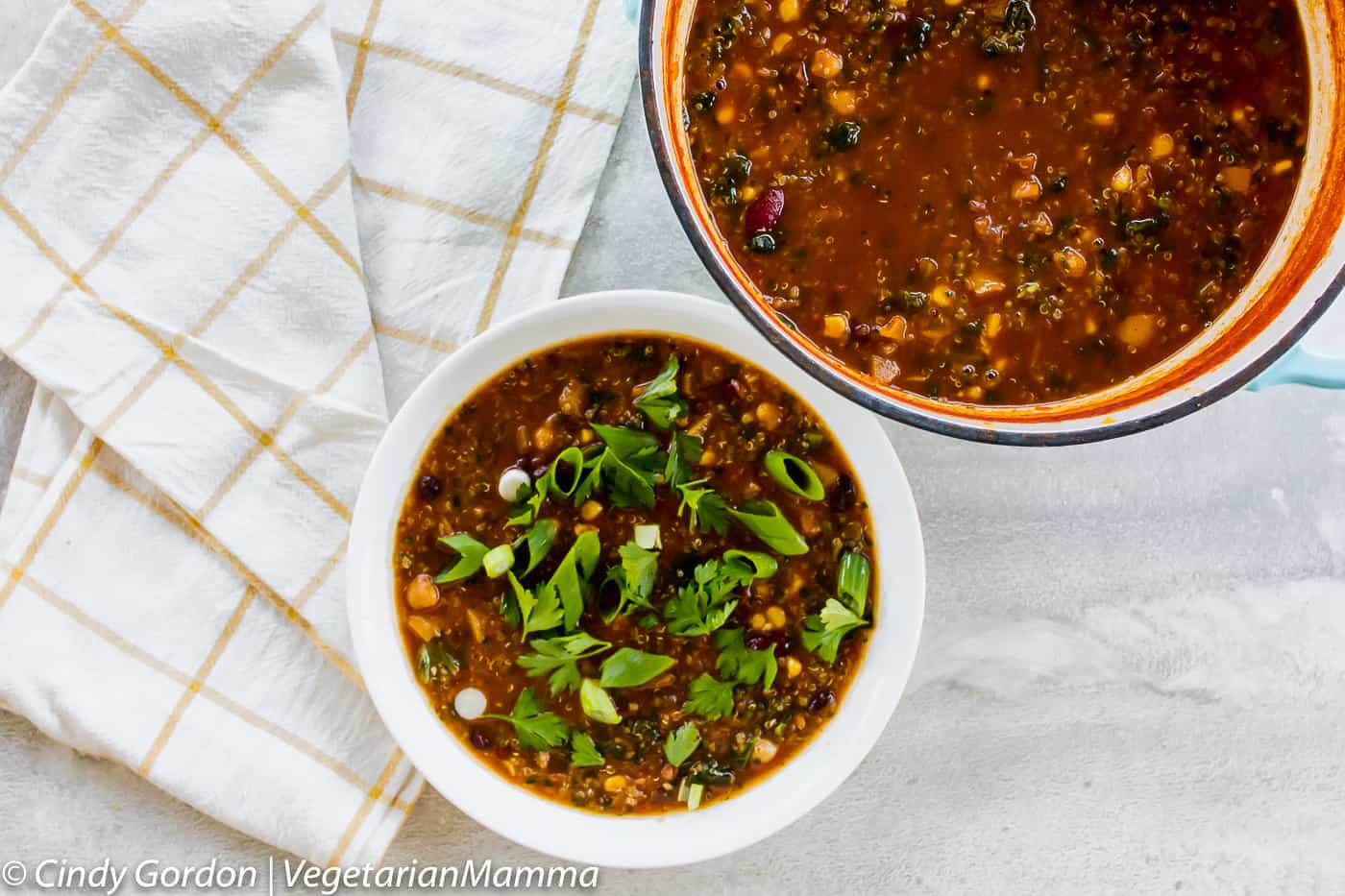 Pumpkin Chili
Cooking with pumpkin has never been easier or tastier! From sweet to savory, this vegan chili recipes have it all.
Chili with pumpkin tastes like fall. Nothing gets me into the flannel shirt cozy vibe like the pumpkin flavor! Chili in the fall is a cozy way to get in all the flavors of pumpkin pie without any of the work. If we can cut some corners when it comes to work in the kitchen, I am for it!
White Bean Pumpkin Chili - Diannes Vegan Kitchen combines the best to things about fall (in my humble opinion) 🙂 She has combined pumpkin and chili to create a delicious fall inspired vegan chili! Instant pot chili is great because it cooks everything in one pot and doesn't require you to use a lot of pots or spend a lot of time in the kitchen!
Pumpkin Chili - Brian over at Krumpli has created this delicious pumpkin chili that also features one. of our favorite hearty fall vegetables: butternut squash. Butternut squash is good because it provides a good amount of fiber, potassium and vitamin A.
Instant Pot Chipotle Pumpkin Vegan Chili - Mother Would Know has created a very filling vegan chili mac. What is chili mac, you might ask? Chili mac is a dish that usually has chili, pasta and sometimes cheese sauce. In this case, we would use a vegan cheese option. It is really good if you want something hearty, but not too heavy.
Instant Pot Pumpkin Black Bean Chili Mac - Flavor the Moments has a delicious and very easy to make instant pot vegan chili. If you are not sure about using your instant pot or are a beginner instant pot user, this is a great recipe to start with.
Jackfruit Chili
Nowadays, there are many vegetarian alternatives to using meat as the main ingredients of chili. For example, black beans and green lentils provide protein and fiber, which are essential nutrients for vegetarians and vegans.
There is also Jackfruit! Jackfruit is a staple food in South East Asia but is becoming very popular in the United States!
Jackfruit Chili - Veggies Save The Day created this vegan chili using jackfruit as the protein source. If you have not tried jackfruit yet, you need to. Trying for the first time in chili is a great way to test it out!
Jackfruit Chili - VNutrition and Wellness has created the ultimate fall comfort meal with their jackfruit vegan chili! Let it slowly cook all day, filling your home with delicious smells!
Lentil chili
Lentil Chili is an easy and healthy vegan meal. Spicy lentils mixed with hearty vegetables like carrots, onions, green peppers and celery then simmered in a tomato sauce. A vegan chili recipe for a healthy and tasty meatless meal!
Veggie Chilli - The Cook Report has created this veggie chili that features sweet potato. I say it is the star of the dish but others might argue it is the lentils. Either way, the pairing of lentils and sweet potato are amazing!
Hearty Two Bean and Lentil Chili - Darcies Dish created a sugar free, low fat lentil chili. Your family will love how much flavor she has packed into this chili!
Lentil Sweet Potato Chili - Delightful Adventures has created a delicious slow cooker lentil vegan chili. This chili is SOOOO comforting, my family loved it when we made it! We topped it with some diced avocado!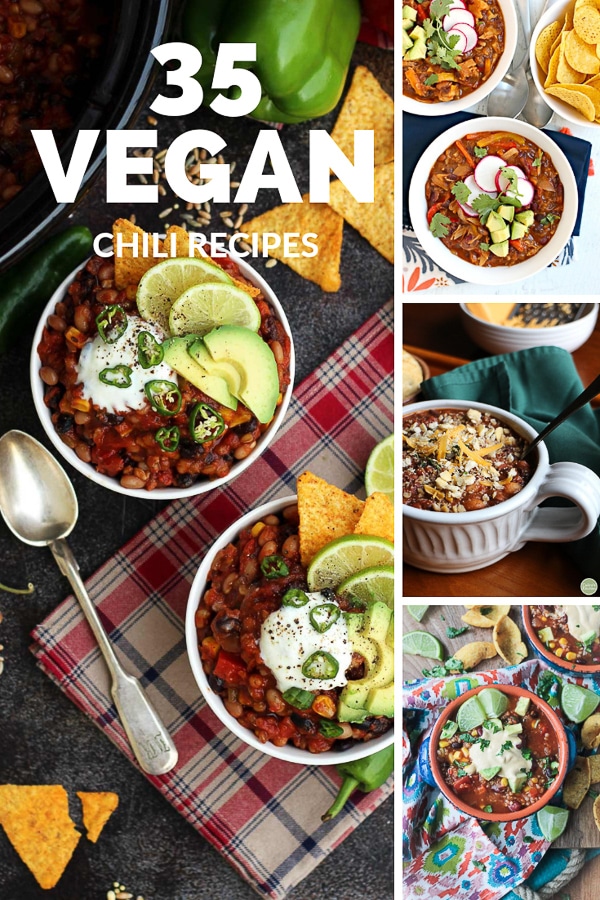 How to thicken the chili
When you are making vegan chili, one of the most important steps is to thicken it up. One way to do this is by adding a roux made from flour and oil. The flour helps to absorb the liquids and the oil helps it to brown.
If you are gluten-free, then you can use a commercial roux mix instead of flour or any other starch that will thicken your chili. I think that adding a roux is an important step when making vegan chili. And of course you can certainly go the gluten free all purpose flour route as well.
Chili Toppings
Many people like to add their own toppings to chili, such as cheese or sour cream. However, these are not the only possible toppings for vegan chili recipes! The following list of ideas includes some delicious and healthy topping ideas for vegan chili:
sliced avocado
chopped tomatoes
guacamole (made out of avocados, onions, garlic, lime juice)
salsa (made out of tomatoes, onions, peppers)
crushed tortilla chips
chopped fresh cilantro
sliced scallions
shredded vegan cheese (like Daiya)
What can you replace lentils with?
We have a couple of vegan lentil chili recipes listed above. Lentils are a popular ingredient in vegan chili recipes. In some cases, you can use black beans as a replacement for lentils. In other cases, you may need to replace the lentils with something else entirely.
Does chili traditionally have beans?
No, chili traditionally does not have beans. Chili usually has meat and is served with cheese on top of rice or pasta sometimes. The word "chili", which means pepper in Spanish, is thought to have come from the Nahuatl word "chīlli". The chili pepper is native to Latin America.
Leftover Chili?
When you cook a pot of chili, it's always a good idea to make enough for leftovers. Why not double the recipe and freeze half so that whenever you want to whip up a quick meal, you can do so? Some chili recipes taste even better the second day!
Vegan Chili Recipes : Instant Pot Four Bean Chili
Instant Pot Four Bean Chili is a hearty and delicious dinner that you can have ready in a snap. Whether you are cuddling up with a warm bowl of chili or fixing a game day feast, this instant pot chili is perfect.
Instructions
Using your instant pot, turn on the saute feature. Add oil and onions. Saute until soft.

Next add in all ingredients.

Close your IP with your lid on secure. Make sure the vent is slide to the "sealing" side. Select the manual function, high pressure and 12 minutes.

Let pressure release naturally for 5 minutes, then carefully release remaining pressure using the quick release method.

Stir, divide into bowls and top with any special additional toppings you wish!
Notes
Topping ideas: sour cream, cheese, green onions, avocado
Nutrition
Calories:
124
kcal
|
Carbohydrates:
18
g
|
Protein:
5
g
|
Fat:
5
g
|
Saturated Fat:
1
g
|
Sodium:
873
mg
|
Potassium:
128
mg
|
Fiber:
5
g
|
Sugar:
3
g
|
Vitamin A:
1205
IU
|
Vitamin C:
2
mg
|
Calcium:
62
mg
|
Iron:
2
mg
All though this website attempts to provide accurate nutritional information, the information should only be considered an estimate. Varying factors such as different product types, different brands, etc. can change nutritional information. It is your responsibility as a consumer to read all labels to make sure the ingredients fit your dietary needs as well as calculate your own nutritional information as a double check.
Vegan chili recipes are a great way to make your favorite dish vegan. Not only does it allow you to enjoy all the traditional flavors of chili, but it also provides an opportunity for people to switch up their chili recipe and try something new.
Let's talk: Can you believe how many vegan chili recipes are on this list? Drop me a comment below telling me if you found the best vegan chili recipe winner today from our list! I think you might, with such an extensive list! Seriously though, have you tried any of these vegan chili recipes?