Love to warm up with a sweet chili? Try this game-day vegetarian chili on for size! It is a veg chili but hearty enough that your meat eating friends won't notice!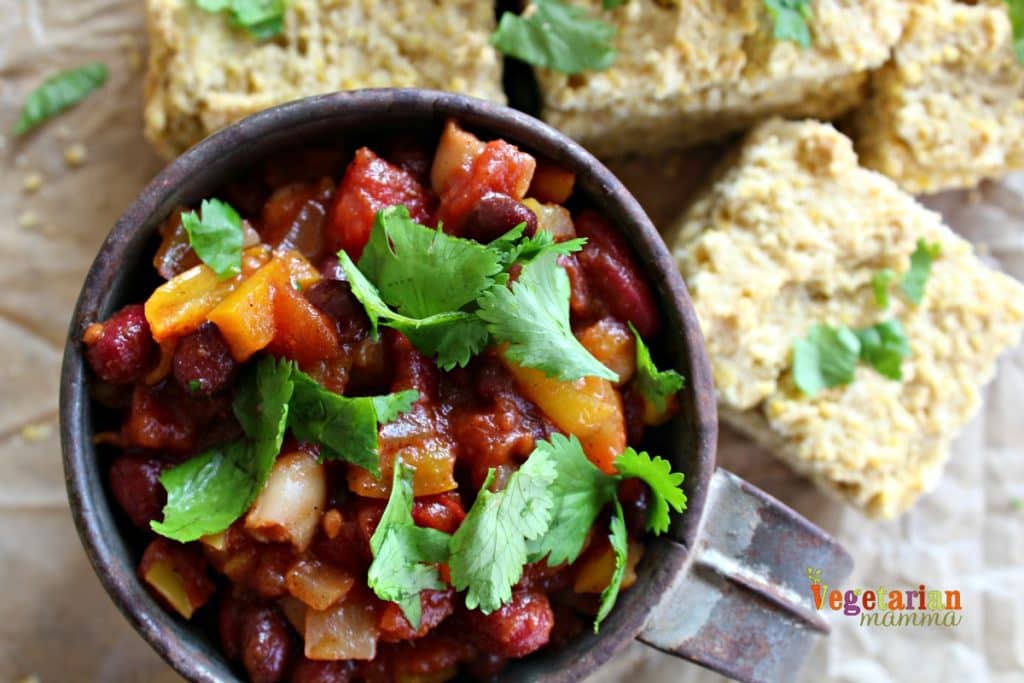 This my friends is one of my favorite recipes!  It has truly withstood the test of 'my family' over many years.
This is one of the first "vegetarian" recipes that we ever made!
I remember it was during my Weight Watchers days that I found it 🙂  By the way, it is 3 points per serving, at least according to my calculations YEARS ago!
We recently updated the pictures! New pictures but the same great recipe!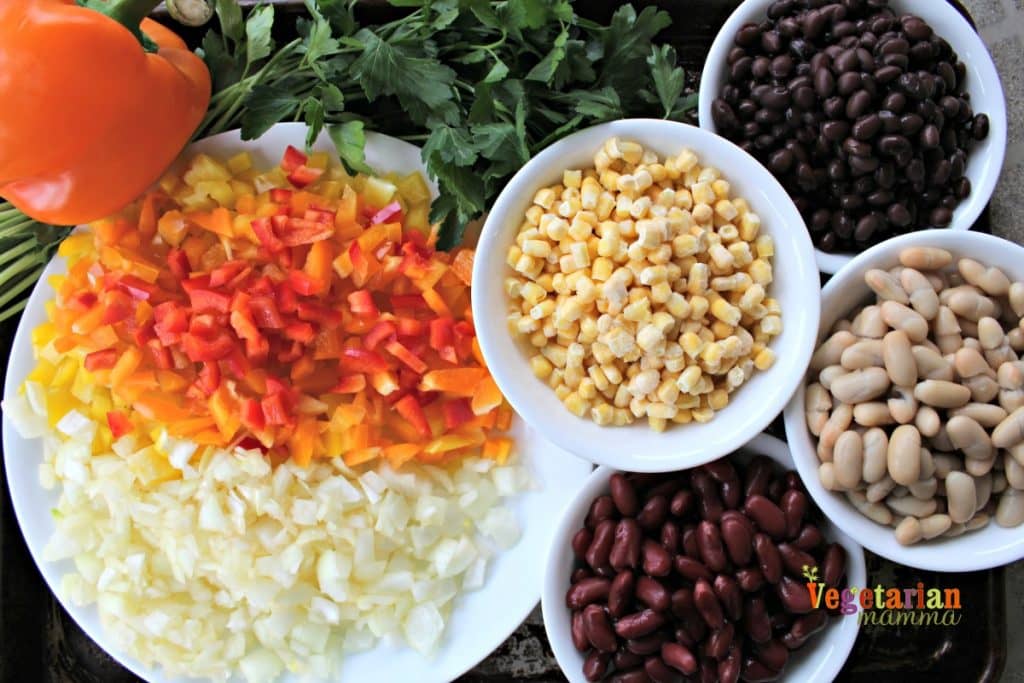 These simple ingredient pack a HUGE amount of flavor!
Chances are you have most of them in your fridge, freezer and pantry!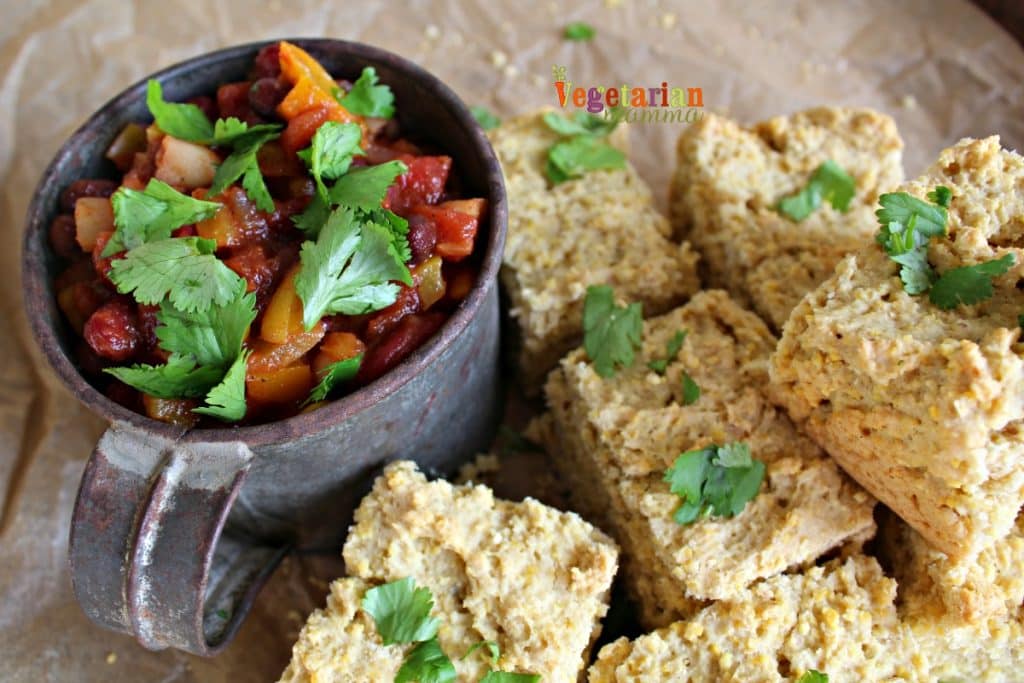 Looking for a Vegetarian Paleo Chili? Check out what Perry's Plate posted! YUM!
I love this recipe because you can make it as sweet as you like by adjusting the sugar added.
This recipe also doubles well and freezes well.  What more can a girl ask for?

Sweet Vegetarian Chili
Author:
Cindy Gordon (Vegetarian Mamma)
This chili tastes even better the next day!
Ingredients
1 T olive oil
½ cup onion, diced
1½ cups bell pepper, diced (pick your favorite color of bell pepper)
6 t chili powder
½ cup sugar
3 T balsamic vinegar
1 28oz can of crushed tomatoes (I like fire roasted)
1½ cup black beans (no liquid)
1½ cup red kidney beans (no liquid)
1½ cup white beans (no liquid) (Use your favorite white bean)
1 cup of corn (fresh niblets or frozen)
Instructions
In a large stockpot, saute the onions and bell peppers until soft.
Add remaining ingredients. Bring to a boil.
Simmer for 25 minutes.
Serve warm and enjoy!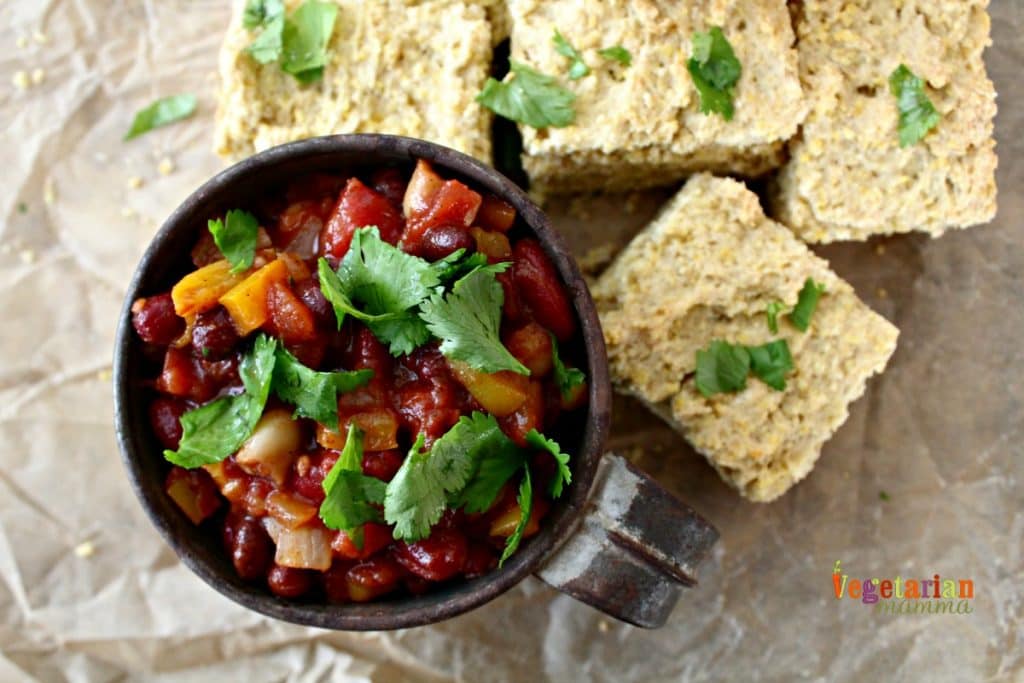 Let's talk! Leave me a comment telling me your favorite way to "dress" your chili! Do you love to add cilantro? Sour Cream? Green Onions?